Gabriel Martinelli: Arsenal's Versatile Attacking Threat
Amidst the heaps of praise given to Arsenal talisman Bukayo Saka and captain Martin Ødegaard, the accomplishments of top goalscorer Gabriel Martinelli have seemingly gone under the radar. The 21-year-old may have had a rocky spell since returning from the World Cup but has 11 Premier League goals already to his name this season and was recently rewarded with a new long-term contract at the Emirates. Besides, there's a reason Pep Guardiola labelled him "an incredible weapon" and Jurgen Klopp described him as "a talent of the century". 
There's an increasing debate amongst Arsenal fans and some football fans in general, about Martinelli's best position in the long term. Injuries to Gabriel Jesus, Eddie Nketiah and now Leandro Trossard might just force Mikel Arteta's hand in experimenting with deploying Martinelli as a striker.
Interestingly, a number of this Arsenal team have been re-profiled under Arteta's tutelage. Most obviously, Granit Xhaka is now utilised as an advanced 8 as opposed to the deep-lying playmaker he was when Arteta first arrived. Bukayo Saka played left-back in Arteta's first game in charge – now he is one of the best wingers in world football.
Then there's Thomas Partey developing into a world-class single pivot player from the marauding box-to-box midfielder he was at Atletico Madrid, and Ben White going from centre-back to right-back, Ødegaard playing deeper, etc etc. The point is: if anyone can morph Martinelli into a top-class center-forward, it may well be Mikel Arteta. 
The conspicuous advantage Martinelli brings as the central focal point is his deadly transitional threat, which we saw glimpses of during the second half of the Bournemouth game. His runs in behind complement the final ball capabilities of Ødegaard and Fabio Vieira but being somewhat restricted to playing wide left reduce these opportunities occurring.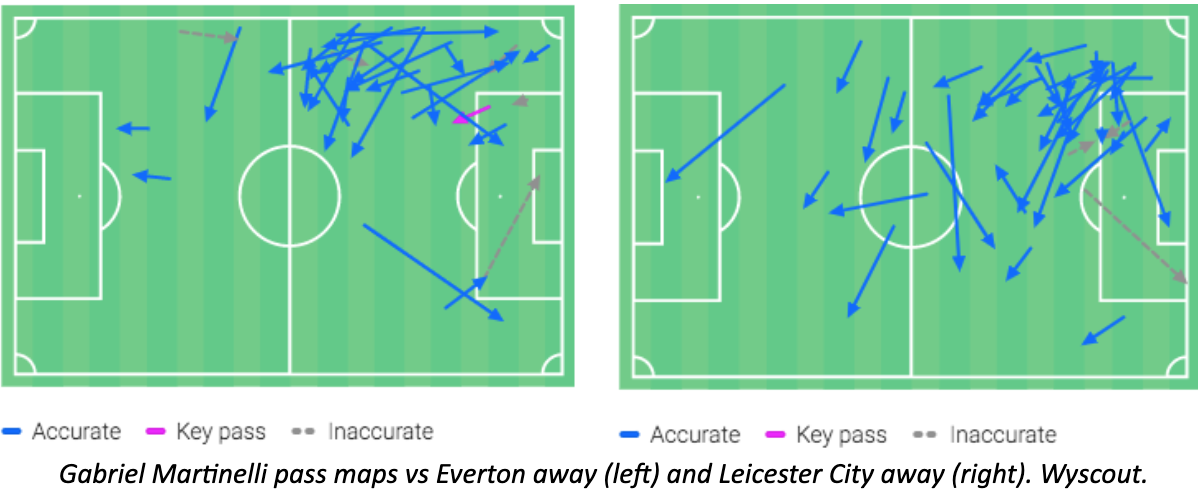 Martinelli hit a hot run of goalscoring form at the start of the season and that was thanks in large part to the socio-affective relationship between him and fellow countryman Gabriel Jesus. The former seems to lack the same level of autonomous synergy with Eddie Nketiah, who is more focused on remaining central and positioning himself between the centrebacks. The pair don't combine that often, which some fans believe has directly affected Martinelli's overall game, despite the numbers remaining pretty similar (see chart below).
As the numbers indicate, his overall numbers have been similar for the most part. The only slight deteriorations are the decreases in shot accuracy and dribble success rate. Meanwhile, it seems he's been involved in the penalty box more but has been putting it into the penalty box less. 
The niggle to Trossard is a shame because it seemed as if he and Martinelli had started to develop some nice chemistry, where the Belgian would roam to the left enabling Martinelli to attack the space inside, perfectly demonstrated for the winning goal vs Leicester City. Most of his goals have come from similar moves, running into the channel between the opposition's right-back and centre-back and slotting it into the far corner. These are the situations Martinelli thrives from because he is, by nature, an inside forward. 
However, the growing injury list in the forwards' department for Arsenal means it's likely we're going to see Martinelli play centrally, for the next game or two at least. The last time he had a run of games up front was under Unai Emery, where he actually produced seriously impressive numbers (7 goals and 1 assist in 4 starts). He provided savvy box movement and surprising aerial strength, as well as the things we have come to learn about him today: the tenacity, the relentlessness, attacking the box, ball-striking, etc. 
Of course, things have changed in his game since. He's a lot more polished now, which was something Arteta made clear he wanted to refine at the start of his tenure when he talked about 'putting some gears in his play'. He's still scoring goals from similarly central positions though, despite his overall shot map floating left, as you'd expect.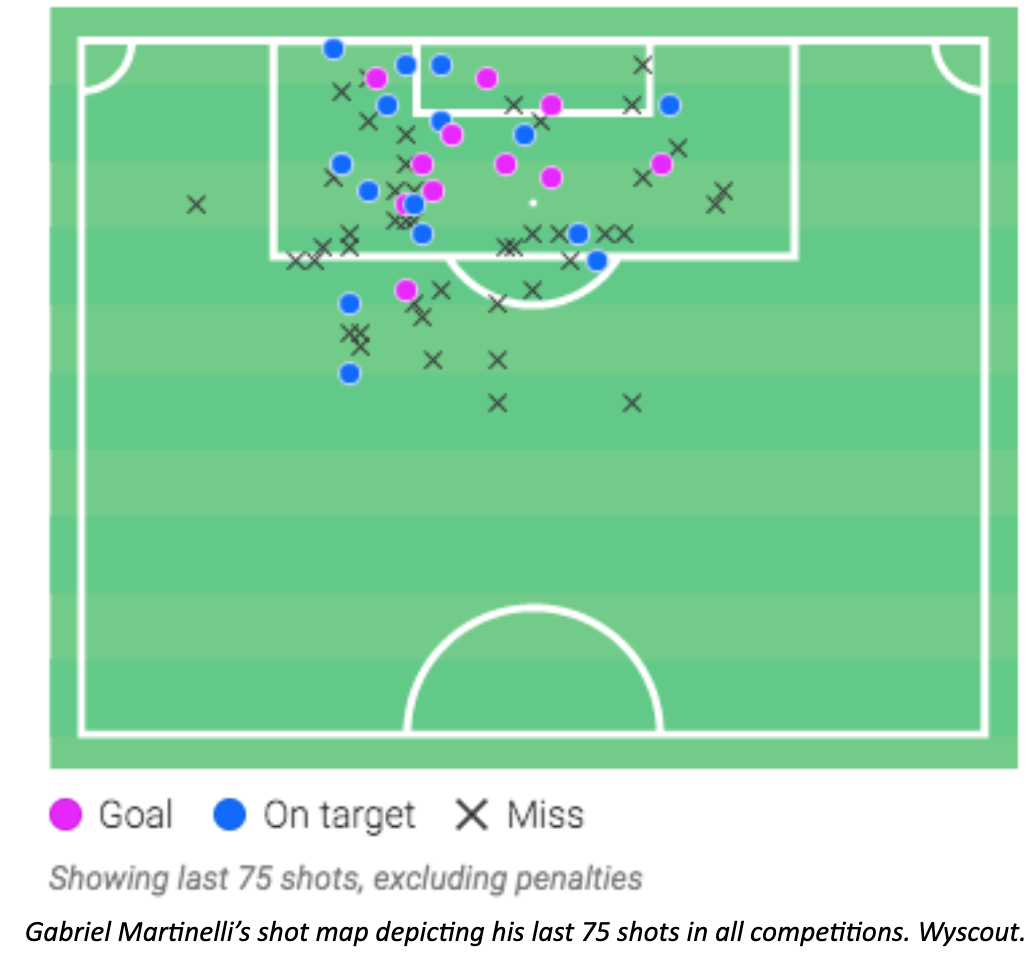 Martinelli may possess similar physical quality as the likes of Vinicius Junior, Rafael Leao and teammate Saka, but doesn't quite boast the same elite 1v1 dribbling strengths. Of course, he's incredibly explosive and can blitz just about anybody for pace but he's a bit more predictable in his footwork and technique.
This isn't to say he's bad 1v1 though – these are the elites of the world we're comparing him to here. Besides, his willingness to attack the box, finishing ability on both feet and relentless work rate more than make up for it, hence why he's a starter for one of the best teams in Europe right now. 
But can he transition to playing as a striker? Well, he possesses a lot of the tools required to be one. Besides, Sadio Mane, for example – a somewhat similar profile, adapted into a centre forward at the back end of last season for Liverpool, so what's stopping Martinelli being able to do the same? 
Sure, Arteta may want more positional discipline and back-to-goal quality in his centre forward but this is something that can be developed with time. His head-down dribbling style probably limits his playmaking services as a centre forward, but they have plenty of creative types around him. Still, having him cut centrally still seems preferable for the time being, but it's an option.
The Brazilian forward can provide depth at right wing too. He isn't the type of player that's completely limited to inversion, despite being more familiar there. Indeed, he spent some time playing on the right in his youthful days for Ituana. His game is simplified on the right, where he can just run doggedly down the line and use his dominant foot to cross the ball or complete a cutback.
He's also capable of scoring goals and making runs from these areas too if you can cast your mind back to the Newcastle home game from last season. Nevertheless, over the course of his career he's probably going to get starts all across the front line, much like Mane has, as well as Raheem Sterling and even Cristiano Ronaldo. He may become a pure centre forward as he learns the role in his later career. 
Ultimately, Martinelli's impressive production rate at 21 years old isn't by luck or coincidence; he's a special talent. Jesus's return should coincide with the left-hand side of Arsenal's play, as a whole, return to the level of fluidity it was operating at before the World Cup.
The rotations between Gabriel Martinelli, Granit Xhaka and Oleksandr Zinchenko within the flank, the half-space and the full-back/central position as well as Gabriel Jesus swinging out wide, attracting markers with him and Martinelli attacking the vacated space – making his role sort of in between an inverted winger and an inside forward.
This accentuates his electrifying off-ball movements and transitional threat rather than relying more on 1v1 take-ons in wide areas and crosses. Besides, the more active he is centrally, the more he gets to converse with Martin Ødegaard and Bukayo Saka, meaning the more goals he'll score. 
By: James Lloyd / @Jlloyd2000
Featured Image: @GabFoligno / David Price – Arsenal FC