Hakim Ziyech: The Potential Master Key in Chelsea's Attack
It only took Thomas Tuchel nine minutes to lose his patience with Hakim Ziyech. The Watford game was precariously balanced at 1-1 and the 28-year-old Moroccan had already failed with a cross-field diagonal to Marcos Alonso which was intercepted, received a yellow for fouling João Pedro on the counter, bafflingly passed the ball out of play in transition and woefully over-hit a through ball on the counter.
After he spun and hastily scuffed another through ball to Kai Havertz in the 69th minute, Tuchel exploded. "Keep the ball!" he screamed repeatedly at Ziyech, wildly pumping his palms downwards to make the point. Three minutes later, Ziyech scored the winner.
Little sums up Ziyech more accurately than that 12-minute spell against Watford. During his Chelsea career, he has regularly walked the tightrope between infuriating and ingenious, becoming a divisive figure across the Blues' fanbase.
BTL takes a look at the Moroccan wizard's playing style, and why his unique skill set could be the master key that unlocks the most stubborn of doors for the Blues.
High-risk / High-reward Conundrum
Let us first get the obvious out of the way – Ziyech has obvious, glaring technical deficiencies. Among players who have played at least 360 PL minutes in the Chelsea squad this season, Ziyech's pass completion rate is the second-worst at 72.1%, behind only Timo Werner (68.1%).
Ziyech's ball retention is suspect too; he is the most dispossessed player at 2.50/90 minutes, tied with Ruben Loftus-Cheek. Ziyech's struggles in tight spaces or under pressure are made harder to accept by the fact that Chelsea's last three owners of the creator's wand – Eden Hazard, Cesc Fabregas and Juan Mata – were all elegant press-resistant wizards with a far more consistent output.
These metrics often lead to an unfair maligning or overshadowing of Ziyech's strengths but seem symptomatic of players with his high-risk/high-reward style of play. For instance, among United players with at least 180 minutes this season, Bruno Fernandes is also 2nd worst with a pass completion of 73.8% (74.6% last season).
Trent Alexander Arnold's pass% was 71.6% in Liverpool's title-winning season, was 75.3% last year and is 77.2% in the current season. Ambitious forward passes played on instinct or in a split-second have a high failure rate and are an occupational hazard for a creative player.
They are also a necessity as it takes only one good one to unlock even a five-man backline like Ziyech illustrates here.
No one else at Chelsea can make this pass. Ziyech is simply our most creative player
pic.twitter.com/NxQh0v47QR

— 🌊 (@Vintage_Cfc) November 20, 2021
Direct Threat
Where Ziyech really excels, however, is in the level of direct threat he provides. At Ajax, he was the creative fulcrum in either a wide right or central role, from where he'd deliver dipping and curling deliveries at angles that were a nightmare to defend or pierce defenses with deft passes.
His long-range shooting was also a highlight – a repetitive Arjen Robben-esque maneuver of cutting in from the right onto his stronger foot, making a yard and fizzing shots towards the top left corner of the goal.
While 79 goals in 10 seasons of the Eredivisie was impressive, it was his 88 assists – 51 of which came in his last four seasons at Ajax – that made him a lucrative lockpick.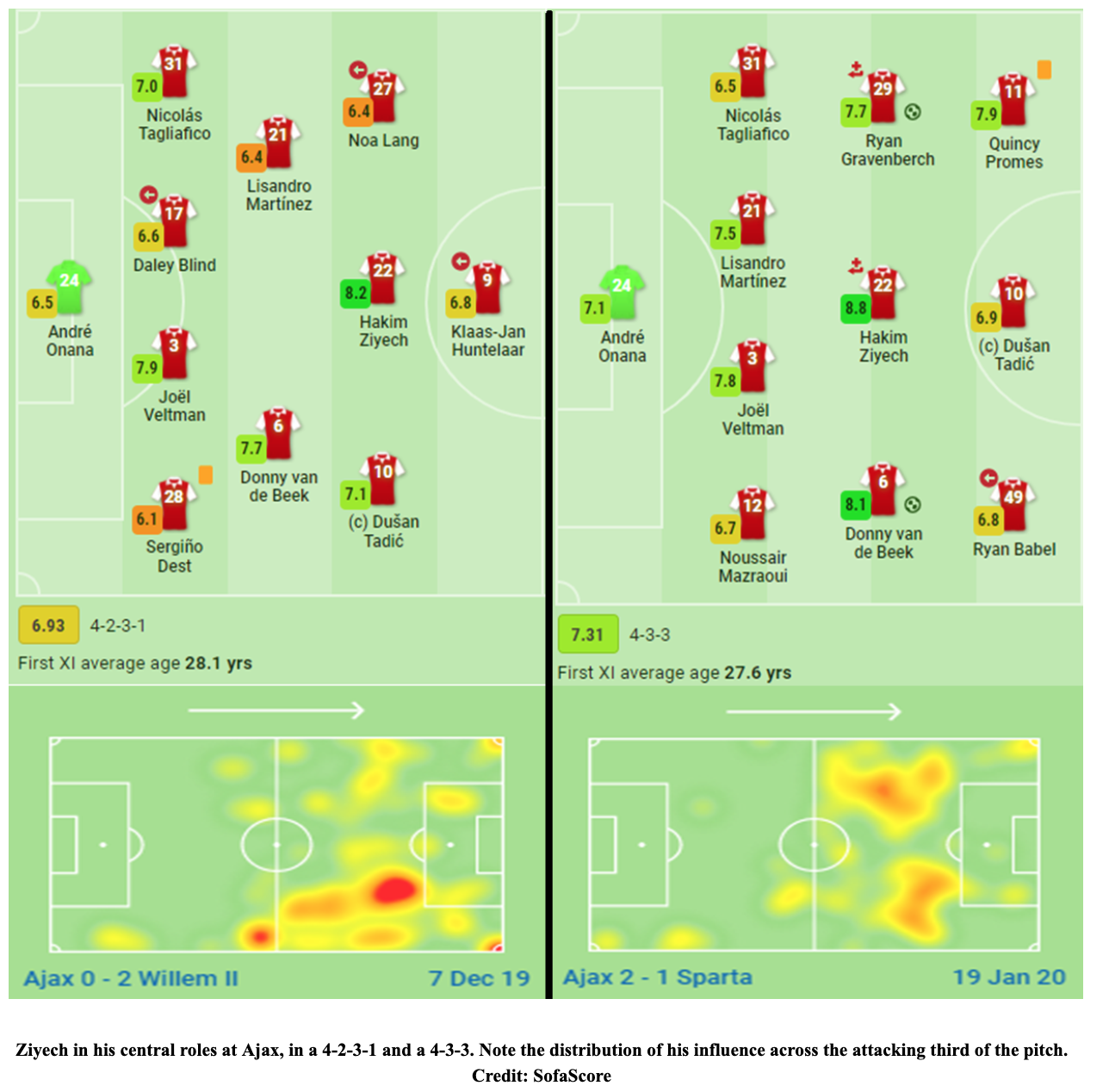 Recreating those ideal conditions for him to thrive in was understandably tougher at Chelsea. In the Eredivisie, Ziyech played as an advanced 8 or right-winger in a 4-3-3 or a 4-2-3-1. Under Frank Lampard, Ziyech was used predominantly as the right-winger in a 4-3-3.
A run of poor form, a difficult adaptation period and injuries were definite factors, but it was perhaps the delegation of a rigid role on the right and the poor finishing of Chelsea's attacking unit that made Ziyech's performances largely underwhelming.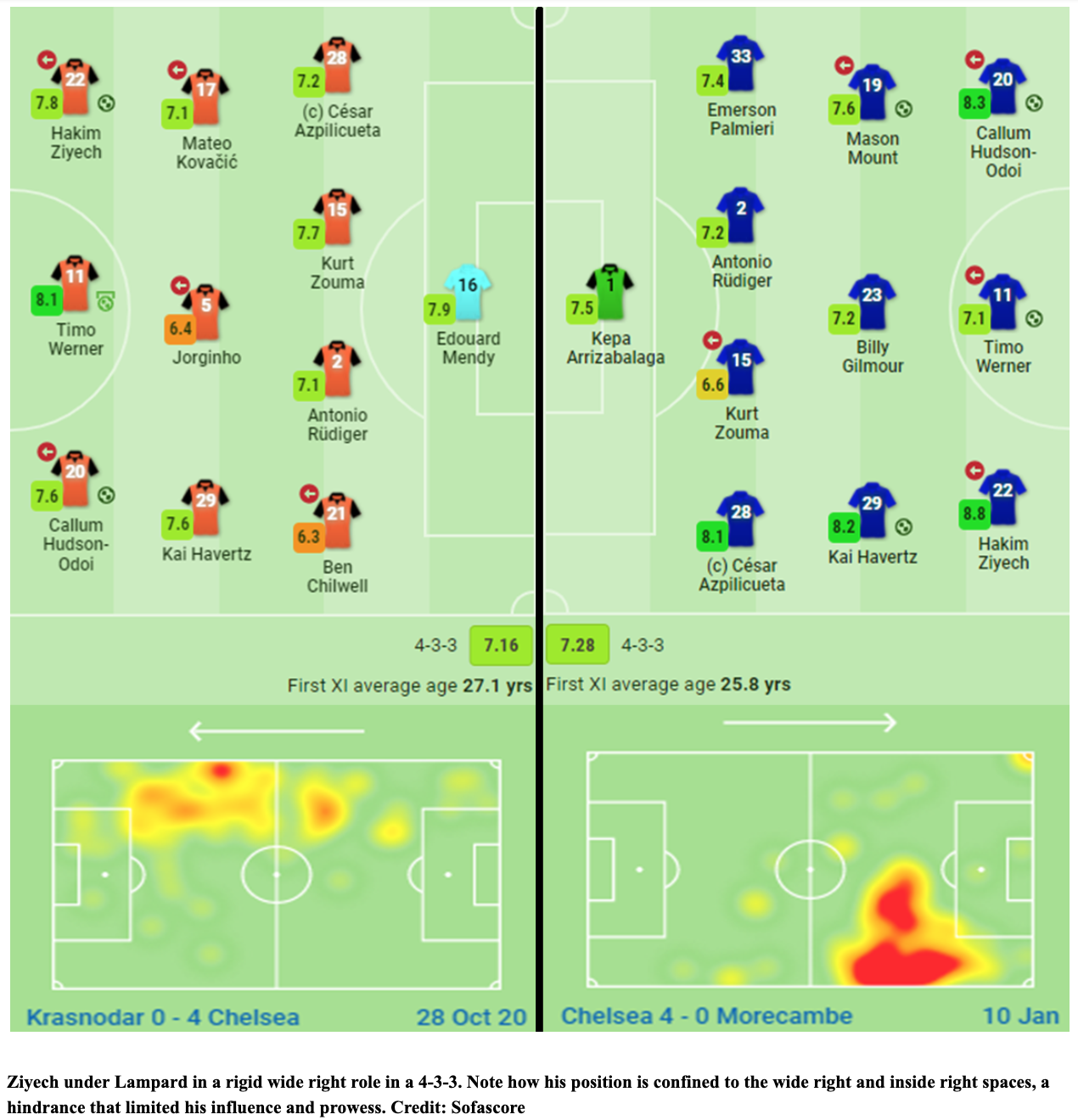 Tactical Evolution
Tuchel almost certainly understood that the absence of a slightly more central role may have been hampering Ziyech. In his first game at Wolves, Ziyech was deployed in the now-familiar "half-winger" role (as Tuchel calls it) behind the center-forward.
Despite no goals or assists, he impressed with 4 key passes and recorded 110 touches, his most in a game for Chelsea in the league (his 2nd highest tally was 82 vs. Sheffield United). In the away game against Leeds a month-and-a-half later, Tuchel played a 4-4-1-1/4-4-2 with Ziyech slightly more central, with additional freedom to pick his spaces.
The game ended goalless just like the Wolves game, but Ziyech alone made 3 key passes; as many as Mason Mount, Christian Pulisic and Kai Havertz combined. It was now abundantly clear that access to the central zone and relaxing his positional rigidity brought the best out of him.
Five days later, Ziyech started against Atlético and was given similar freedom to drop deeper centrally, move laterally to #10 or the left flank, and centrally advanced as a #9 (when the CF drifted wide). When Werner, the CF that evening, countered from the left, Ziyech burst forward from the center circle and scored.
This positional fluidity became a regular occurrence until the end of the season, with the two matches against Manchester City proving to be particularly illuminating. It was Werner again who drifted left in the FA Cup tie against City, while Ziyech popped up in the vacant space in the center of the box to score.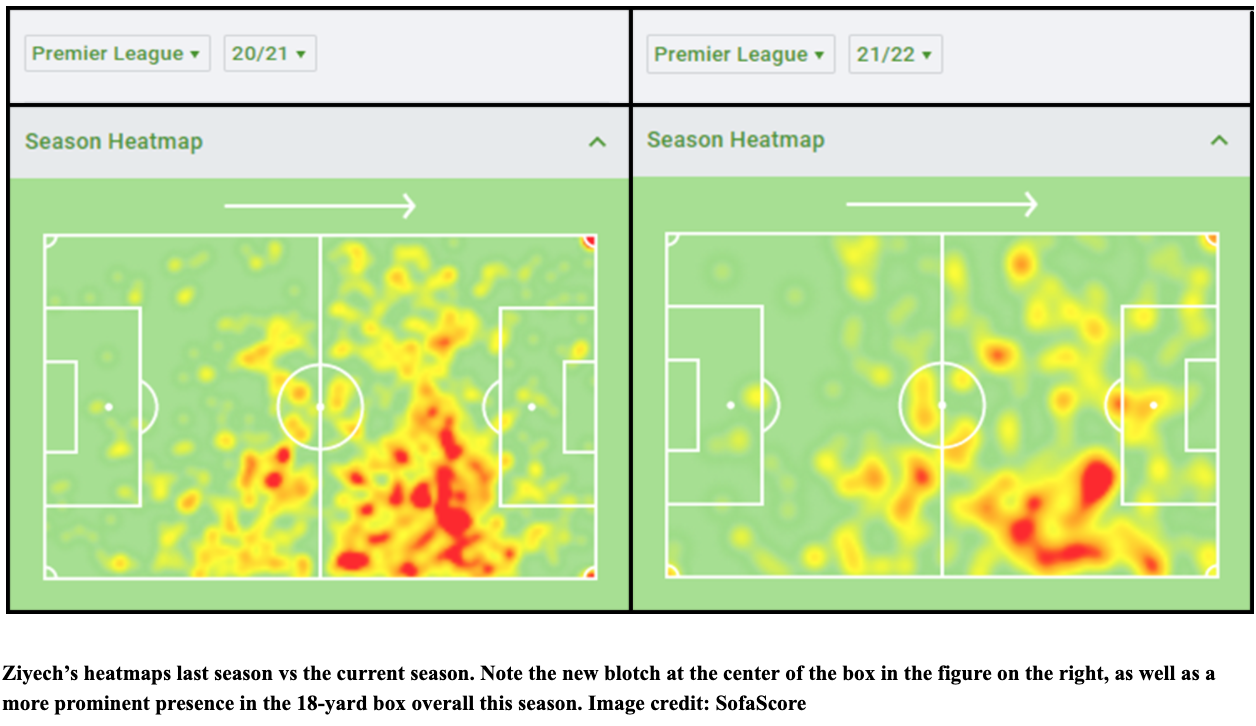 What made this blueprint possible for Tuchel to consider was that Ziyech wasn't the brand of luxury #10s like Mesut Özil, who were quickly becoming liabilities off the ball and were quickly going out of existence. Ziyech, who has been often unfairly branded lazy, is a fierce presser and offers high defensive output off the ball.
For instance, in the last two games he has completed 90 minutes in, Ziyech attempted more pressures than anyone in the Chelsea side (21 vs Juventus, 27 vs. Manchester United), and in both those games, he also attempted the most tackles and duels (14 vs. Juventus, 19 vs. United).
Among Chelsea players with at least 4 starts, only Mateo Kovačić (23.6 per 90) presses more often than Ziyech (21.1). The Moroccan winger is ensuring that his individual freedom doesn't come at the cost of the unit having to carry a passenger.
The Benefits
Thomas Tuchel has continued to modify and improve his tactically, and a few of them, such as using Kanté to create numerical disruptions on the right, seem to be reaping benefits for Ziyech. In the Super Cup vs. Villarreal, he continued taking up positions on both flanks.
His goal was a result of Havertz drifting to the left wing, opening up space in the middle which he attacked and scored from, before suffering an injury in the 43rd minute. Ziyech admitted that he struggled to shake off the physical and psychological trauma of that dislocated shoulder until recently.
After a short, rough patch, 2 goals and 4 assists in his last 8 games as well as encouraging underlying stats suggest he could find his best form again.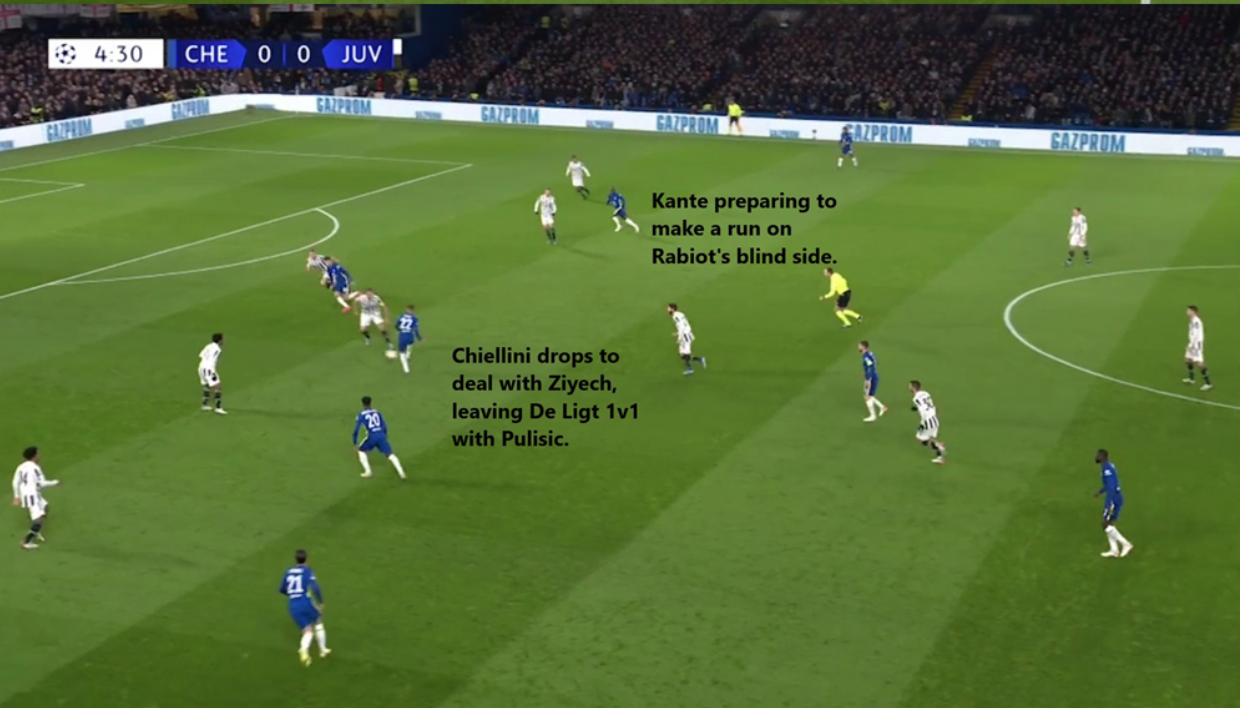 Among players with at least 360 minutes in the league this season, Ziyech is the most prolific shooter with 5.23 shots/90. His 1.59 shots on target/90 put him tied 2nd alongside Cristiano Ronaldo; only Mohamed Salah's 1.73 shots on target/90 rank higher.
To put that into Chelsea's context, Kai Havertz has taken 23 shots in 766 minutes; Ziyech has also taken 23, but in 396 minutes. With 2.43 key passes, Ziyech is also a vital creator, behind only Reece James (2.43) and Callum-Hudson Odoi (2.62). His 6.76 touches in the penalty area/90 are second only to Werner's with 8.85.      

This new positional freedom is reflected in the difference between his shot zones last season in the current one. Not only have his shots deviated from the right half-space towards the center but the quality of his shots have improved too (npxG has more than tripled from 0.15 to 0.54). The volume of his shots has also risen significantly (2.69 to 5.23), while his average shot distance has dropped from 21.8 yards to 18.3 shots.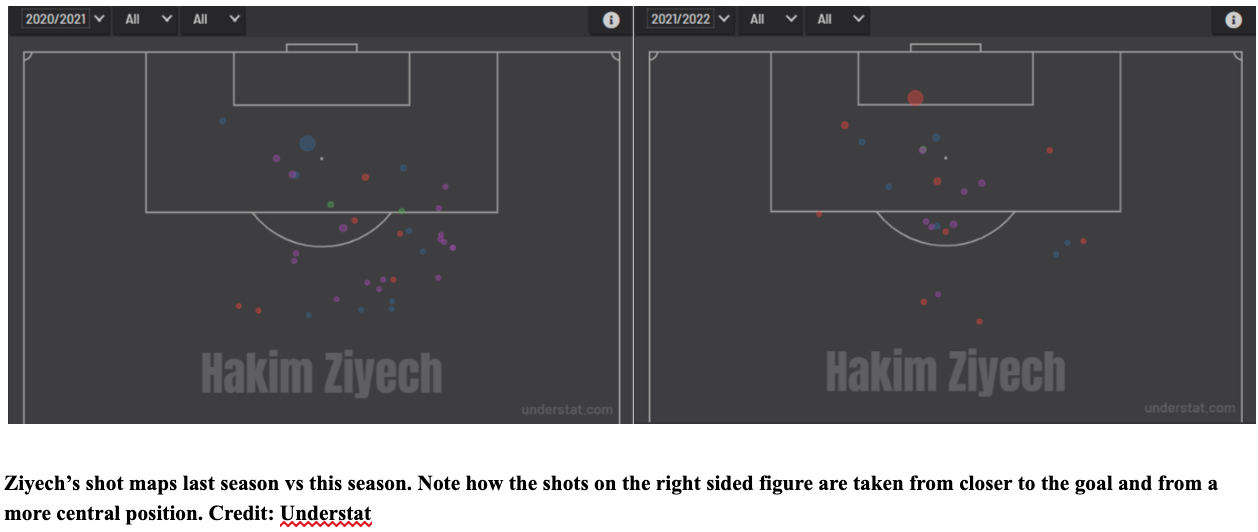 Having put his injury woes firmly behind him for now, Ziyech's underlying numbers and an upturn in form suggest that the Moroccan wizard could be rediscovering the magic that made all of Europe take notice in the 2018/19 campaign.
With Romelu Lukaku struggling to adapt from a vertical, quick-transition system at Belgium and Inter to a patient, possession-based style at Chelsea, Hakim Ziyech, with his instinctual, quick and high-risk passing, could unlock a £97.5 million treasure trove.
By: @CFCCentral3
Featured Image: @GabFoligno / Robbie Jay Barratt – AMA / Getty Images