How Enzo Fernández Has Lived up to the Hype and Delivered on the World's Biggest Stage for Argentina
Throughout the current 2022/23 season, Enzo Fernández has emerged as one of the most talented midfielders in European football. Having only joined Benfica from Argentine giants River Plate in the summer of 2022, Fernández has quickly proven that the reported €10 million (plus an additional €8 million) fee Benfica paid to acquire his services was a considerable bargain.
With a €120 million release clause inserted into his Benfica contract, the Primeira Liga leaders will be looking to make a substantial profit on the gifted youngster if/when the time should come for him to leave the club; a possibility that is becoming increasingly likely as he continues to impress. It goes without saying that €120 million is an exorbitant fee to pay for any footballer, let alone one who has yet to complete a full season in Europe, but if the last few months have taught us anything, it is that a fee in that region would only be justifiable for a handful of young players and Enzo Fernández certainly belongs in that group.
Despite his hot start to the season, many football fans were still unaware of Enzo Fernández and his transcendent abilities. He's been a vital cog in the machine that has led to Benfica's fairly comfortable lead atop the Portuguese first division, as well as playing a key role in the club securing top spot in a Champions League group that included Paris Saint-Germain and Juventus.
When one includes the fact that Benfica remain undefeated in all competitions this season, it is quite a surprise that the Buenos-Aires born midfielder hadn't received the same public acclaim as some of his contemporaries such as Aurélien Tchouaméni, Jude Bellingham and Pedri. This was until the 2022 FIFA World Cup.
Enzo Fernández started the World Cup on the bench, and his absence was certainly felt as Argentina suffered a shocking defeat at the hands of Saudi Arabia. The midfield trio of Leandro Paredes, Rodrigo De Paul and Papu Gómez simply did not provide enough control or deep progression in the middle of the park, forcing Lionel Messi to drop deeper and become less dangerous higher up the pitch.
Lionel Scaloni's counter for the following game against Mexico was to replace Paredes and Gómez with Guido Rodríguez and Alexis Mac Allister. Despite these changes, Argentina continued to struggle to gain a foothold on the game and went into the break at 0-0. With the game continuing in the same direction early in the second half, Lionel Scaloni finally made the substitution that would change the game and, ultimately, change the course of Argentina's entire World Cup campaign.
Enzo Fernández would replace Guido Rodríguez and be deployed as the holding midfielder. It didn't take long for Argentina to find the breakthrough as Lionel Messi fired an effort from outside the box into the bottom corner. It came as no surprise that the greatest player of this generation opened the scoring, but the introduction of Enzo Fernández played a major role in facilitating this.
Fernández is a progressive and dynamic passer and possesses the ability to single-handedly control the tempo of the game. His specific attributes allowed Lionel Messi to receive the ball in higher and more dangerous zones as he no longer had to drop particularly deep to receive possession. The following data shows how special a passer Enzo Fernández has been this season for Benfica and how he matches up against other midfielders in Europe.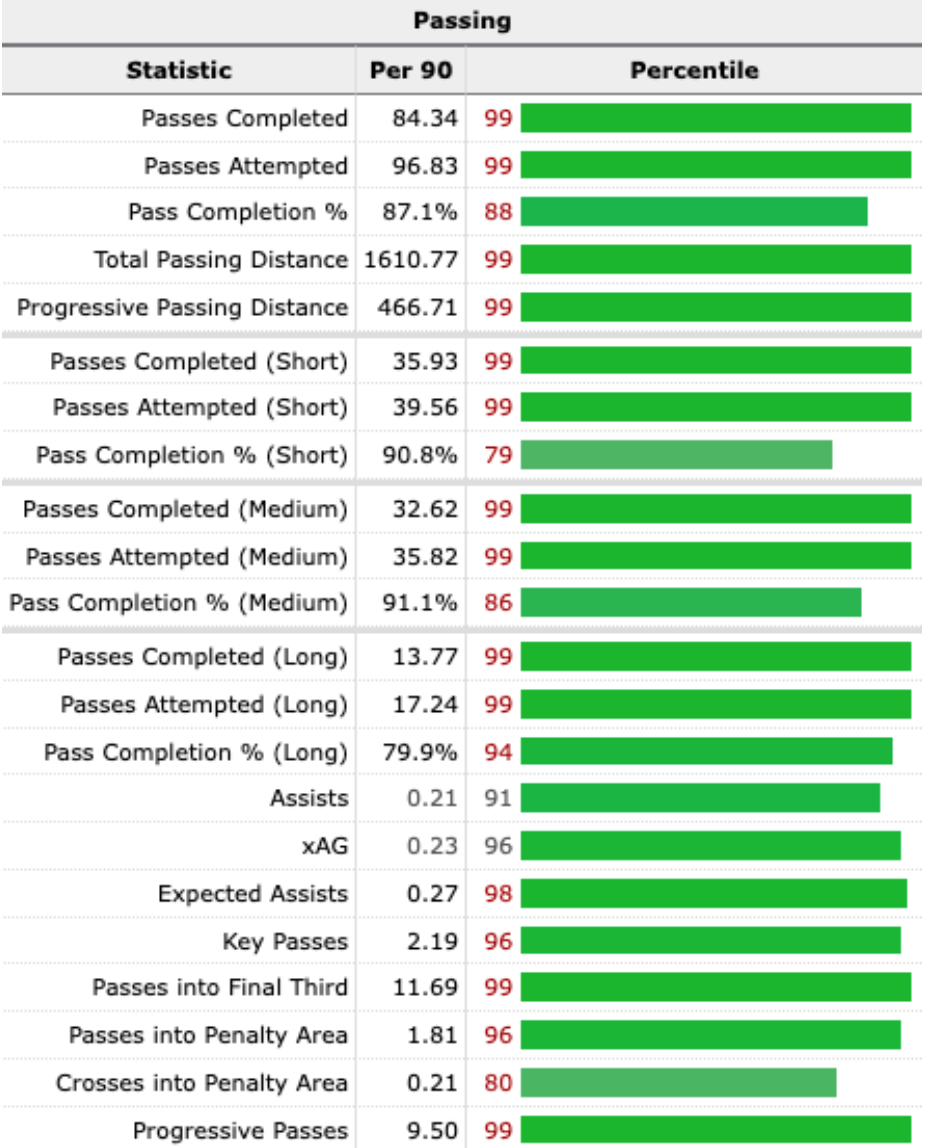 Enzo Fernández's passing statistics [FBREF]
It's simply abnormal to excel to this extent as both a volume passer and a progressive passer. He comfortably controls the tempo of a game whilst also operating as the chief ball progressor and a major creative influence for his team. This is a big reason that many people — myself included — see Enzo Fernández as more of a no. 8 than a no. 6. He is the epitome of a complete midfielder and should be allowed to influence the game in all areas; playing as a no.8 allows him to do so. This is made increasingly evident by his touch volume and, more importantly, touch locations.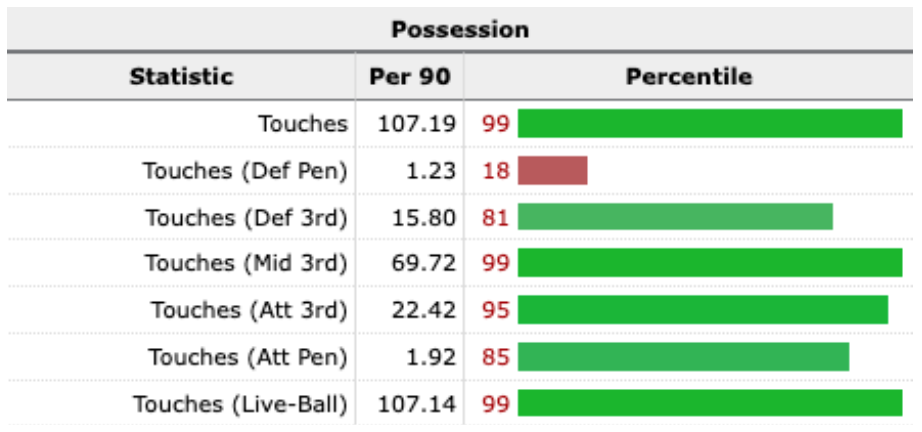 Enzo Fernández's touches statitstics [FBREF]
Enzo Fernández prioritises making an impact in more advanced positions on the pitch and he is fully adept at doing so. Whilst these statistics are influenced by how dominant the current Benfica side are, part of the reason for that is the presence of a world-class midfielder like Fernández pulling the strings in the middle of the park. Unlike his role with Argentina, Enzo Fernández is deployed as more of an all-action, box-to-box midfielder by Benfica manager Roger Schmidt.
This allows him to use his vast array of abilities and attributes to influence all aspects of the game from start to finish. His versatility is a hugely valuable skill and allows for creative tactical flexibility from his coach. This is one of the major reasons he's attracted interest from a host of Europe's bigger clubs who largely deploy different playing styles such as Real Madrid, Manchester United, Liverpool and Chelsea. He could fit seamlessly into every side and instantly improve them due to his versatility and overall quality.
As the FIFA World Cup progressed, Enzo Fernández only became more influential for his nation. He brought an element of calm and control that was arguably only matched by Lionel Messi himself. These performances ultimately earned the Argentinian starlet the "FIFA Young Player Award" for the best young player of the tournament.
This was certainly a well-deserved achievement and validated the decision to make Fernández a key part of the national team setup in their quest to become world champions. Any scouts who may have had doubts about the midfielder before the tournament would surely have had those fears alleviated as he proved his quality at the absolute highest level and helped his nation win football's ultimate prize.
Rayan Cherki: The Next Superstar to Emerge From Lyon's Academy?
Enzo Fernández is heavily linked with a move to Premier League heavyweights Chelsea and many reliable sources have stated that only the agreement of a fee has prevented the Benfica star from making the move to London, with Chelsea attempting to negotiate a fee that goes above the €120 million release clause set by Benfica, but with a more favourable payment structure for the Blues as opposed to a one-time payment.
Chelsea manager Graham Potter is famous for his tactically flexible systems and his desire for players who can operate in these systems. This makes the pursuit of Enzo Fernández a logical one due to his quality in a number of roles and his experience playing under possession-based, tactically astute coaches. Should Chelsea fail to agree a deal in January, there will doubtless be a plethora of clubs pursuing the emerging superstar with Manchester United, Liverpool and Real Madrid all actively pursuing high quality midfielders to bolster their squads.
Benfica only acquired Fernández' services ~6 months ago and will be in no rush to sell unless they receive an offer they cannot refuse, therefore the race for the midfield talisman will be an intense one. Whoever should win this race will be receiving one of the very best midfielders in the world who is still only 21 years old and has the best years of his career ahead of him; a tantalising prospect to say the very least.
By: Lebohang Mwamuka / @lebzygold
Featured Image: @GabFoligno / Carlos Rodrigues / Getty Images