Rayan Cherki: The Next Superstar to Emerge From Lyon's Academy?
Very rarely does a player come along who truly mesmerises onlookers with what he can do with a football at his feet. There's a level of natural ability that can scarcely be taught and only be admired — Lyon's Rayan Cherki possesses that ability.
An incredibly gifted offensive player with the innate ability to create something out of nothing, Cherki is the gem of the Olympique Lyonnais academy. He is said to be the greatest talent ever produced by the academy; a big claim considering this is the same academy that produced one Karim Benzema — perhaps you've heard of him?
Cherki is already attracting interest from clubs throughout Europe with UEFA Champions League holders Real Madrid being linked with a move for the Lyonnais starlet. Scouts do still possess some reservations towards the young Frenchman due to his lack of effort defensively, but his natural talent is so overwhelming that those weaknesses will likely be seen as necessary costs to incur as a result of his production offensively. He is a one-of-a-kind player and it's worth taking a look at what makes the youngster so special.
One of the first things one notices when watching Rayan Cherki is that he appears to be ambipedal, as he can seemingly utilise both feet equally well. This is a rare trait for humans to have and only further enhances how dangerous and unpredictable Cherki is with a football at his feet.
He can play on both flanks and offers both a narrow and wide threat from these positions. With most wide players, you can force them in a certain direction as they're less productive with their weaker foot, but Cherki has no such deficiencies in his game.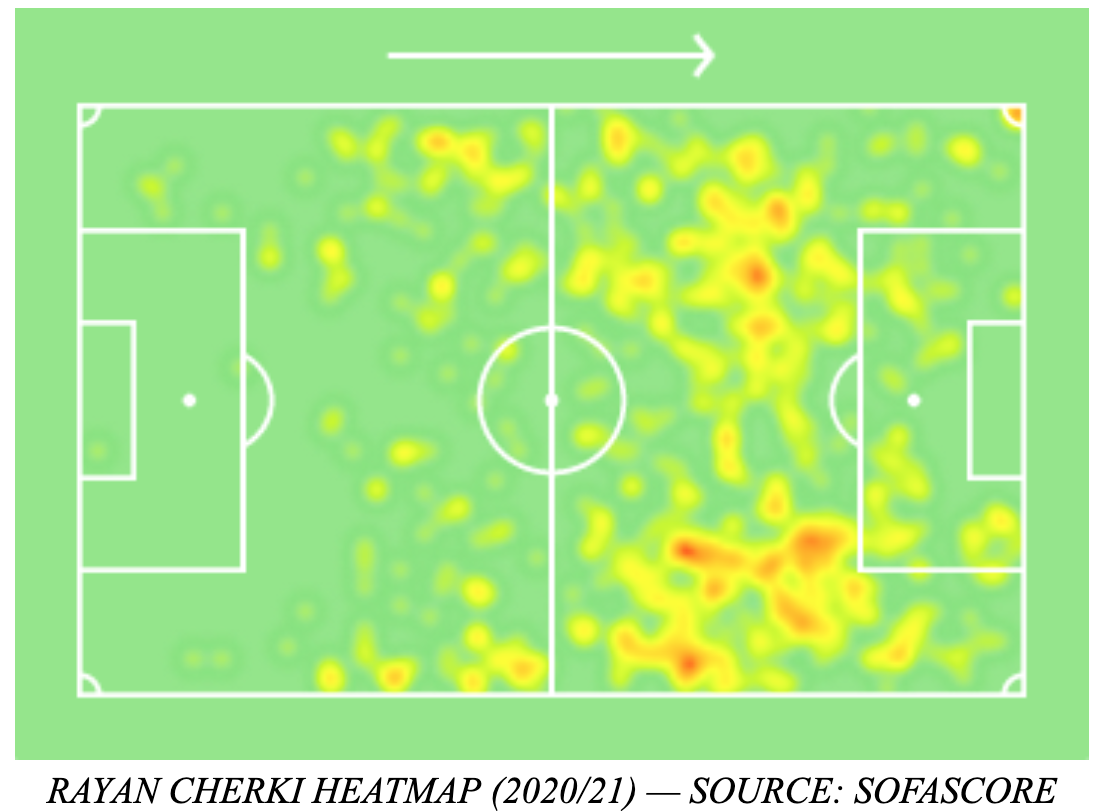 Unfortunately, Cherki's 2021/22 season was cut short due to a fractured metatarsal, so a better representation of his positioning would be from the 2020/21 season. As the heatmap shows, he can be (and often is) deployed on either wing. This versatility is extremely valuable to coaches and he possesses the skillset to eventually play as a central attacking midfielder, too.
The Lyon starlet is very proactive when he receives an opportunity to play. He often seeks out the ball and looks to use his vast array of skills to progress play or create a chance. His proactivity leads to him receiving a large number of touches and completing a high volume of passes throughout a game.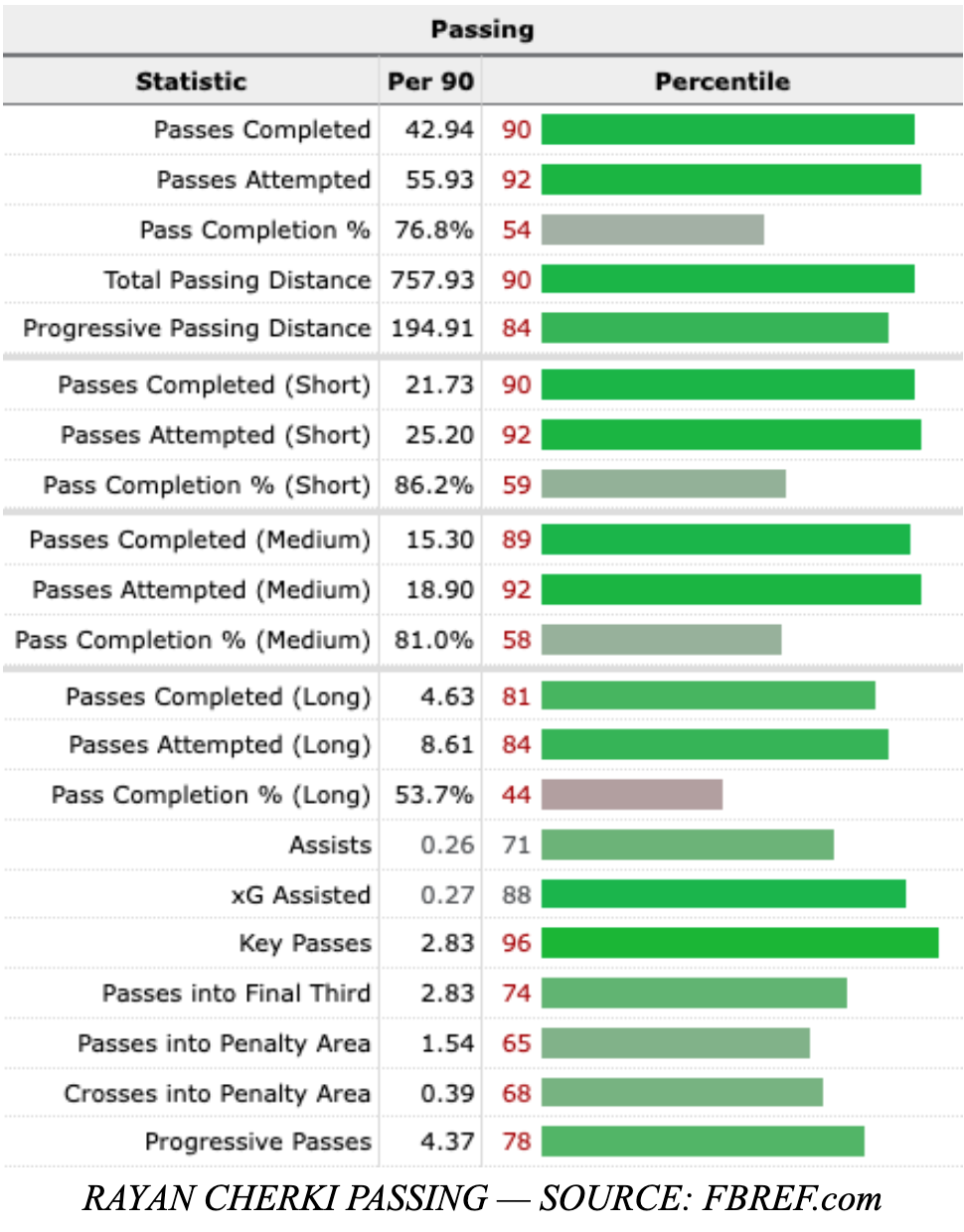 Cherki is a volume passer and also manages to maintain his progressive passing proficiency. This is shown in his high volume of short, medium and long passes but his comparatively low completion %. He's a risk taker and is often rewarded with valuable production, ranking in the 88th percentile for expected assists and the 96th percentile for key passes. This would be massively impressive for any player, let alone a teenager.
He's an inventive ball progressor and has both the confidence and ability to pull off remarkable passes. This may come in the form of lifted crosses or ground passes, but the accuracy is maintained. It's worth taking a look at some footage of Cherki's more impressive assists.
Not only is he a volume passer, but he also possesses a number of ways in which he can use his passing gifts. He's extremely dangerous as both a live-ball and dead-ball creator and immediately brings calculable creation value when he's on the field of play. That oft-changing style of production makes him difficult to gameplan against and he provides a notable X factor for his side.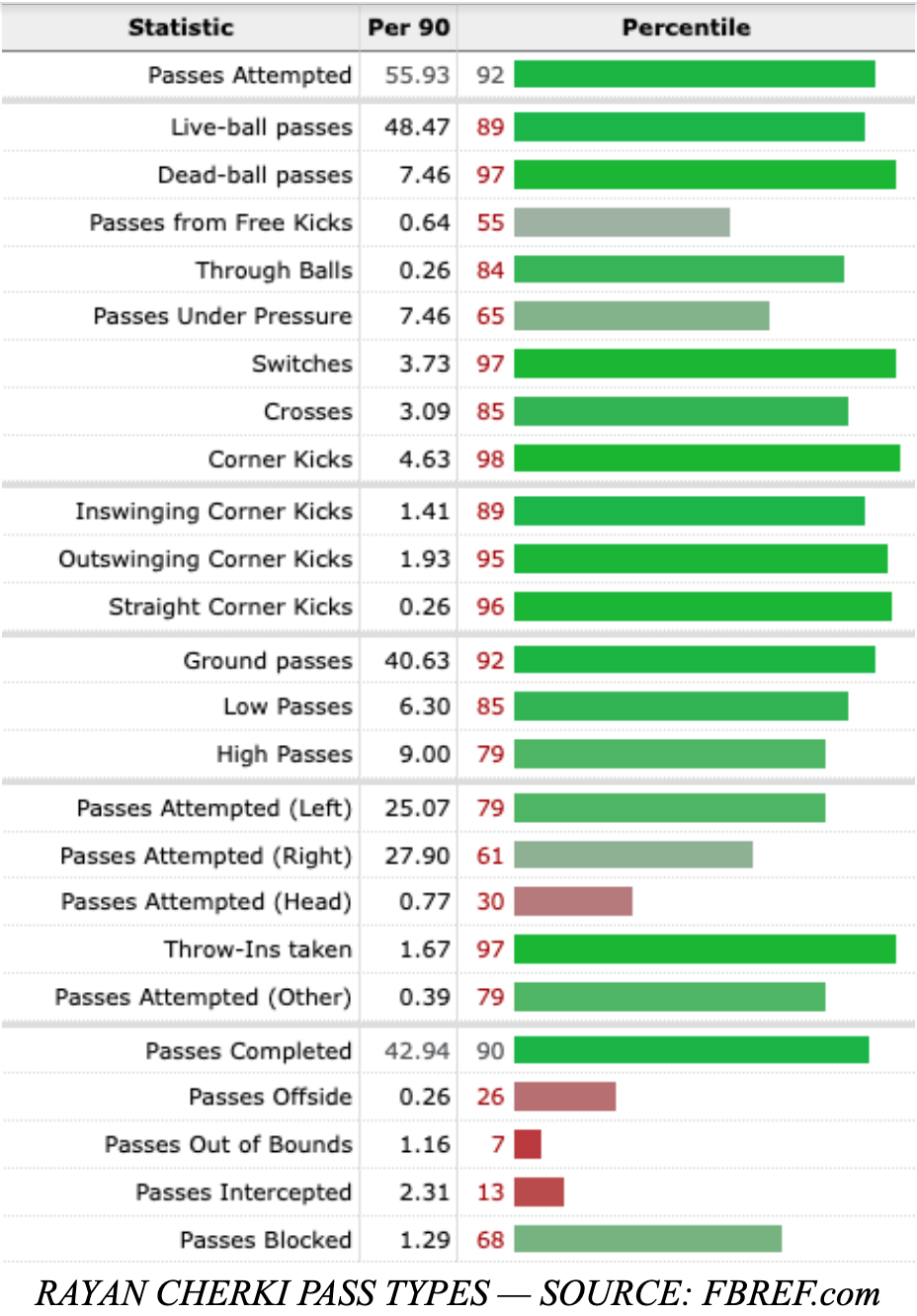 Ranking in the higher percentiles in so many different passing types is a remarkable feat and is perhaps indicative of a creative player who should receive more minutes. He's an adventurous passer but still tends to make good decisions, especially in advanced positions. However, perhaps most interestingly, passing isn't actually Cherki's greatest strength or most effective attribute.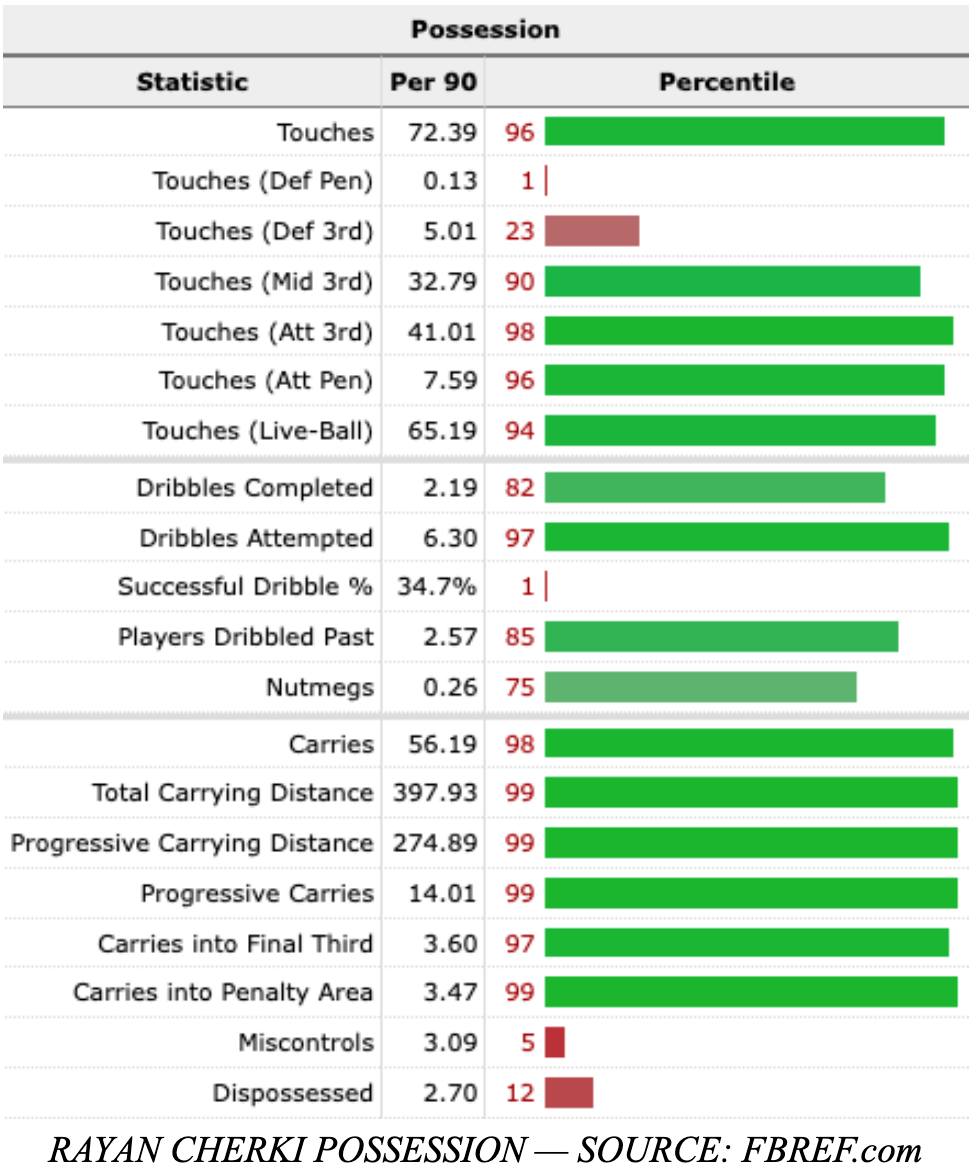 Rayan Cherki is an absolutely phenomenal ball carrier. He doesn't possess a particularly notable top speed, but he's very smooth in possession and is a powerful runner. The Frenchman uses his strong fame and broad shoulders to hold off defenders, whilst his defined legs allow him to progress the ball over large distances consistently throughout a game. The statistics evidently show a player in the elite tier of ball carriers in Europe. These are incredible statistics for anybody, especially a player who is only 19 years old.
Cherki could certainly improve his successful dribble % and that's somewhat a symptom of how high his dribble attempt volume is, but the willingness to attack defenders is always an encouraging sign. His successful dribble volume is still very impressive in terms of pure counting stats, but losing the ball so often is never ideal for a coach and may result in a reluctance to give the youngster heavy minutes.
Regardless of the occasional accuracy issues, Rayan Cherki is still an excellent 1v1 dribbler and that's an attribute that is very difficult to find and even more difficult to coach. His physical traits, such as his strong frame and low centre of gravity, are rather similar to those of a younger Eden Hazard, giving him that quick burst of acceleration and ability to maintain control during powerful runs.
The similarities in their playstyles are evident too, and Cherki will be hoping to follow a similar career trajectory. Hazard was likely a more mature footballer at that age, but Cherki's decision-making and ball security will likely improve with age and complement his physical and technical gifts as well. The obvious glaring weakness of Cherki's game is his defending (or lack thereof). The Lyonnais upstart has often been accused of being a lazy player out of possession and the data supports this.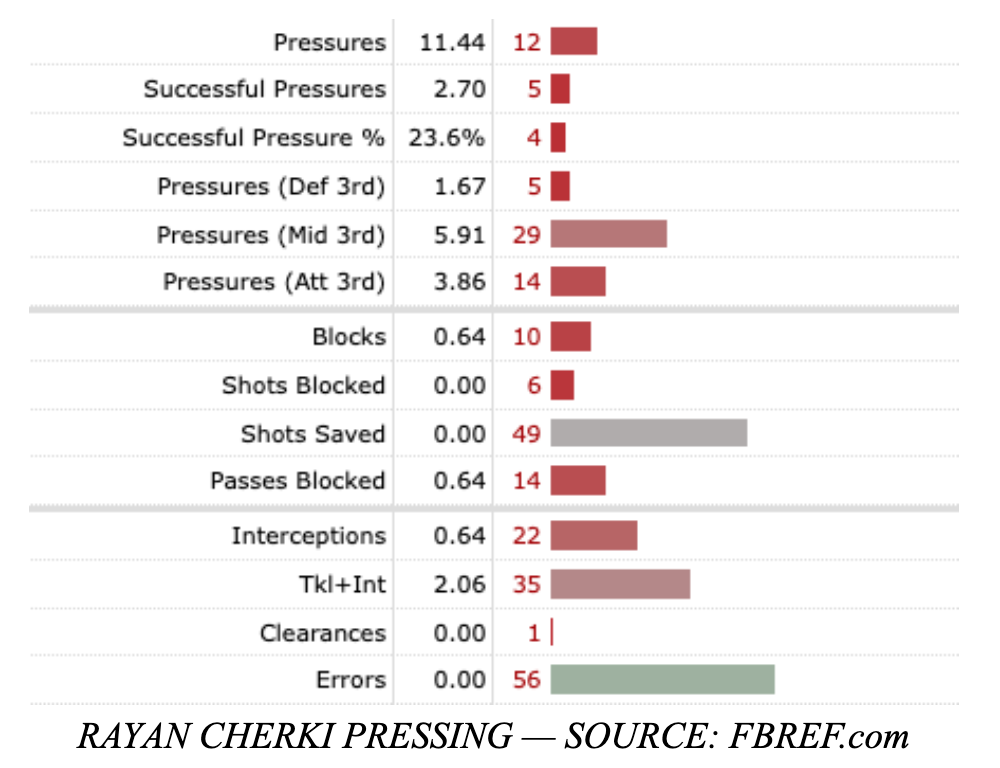 Pressing is such a vital component of many coaches' strategies in modern football, it's hard to imagine Cherki being trusted at the highest level with such underwhelming pressing statistics. In a data-driven sport, these numbers won't go unnoticed and likely won't be acceptable for most coaches.
Many believe that it is this precise lack of engagement defensively that has resulted in Lyon's prodigious academy graduate not receiving the gametime he likely desires. It's possible that his overwhelming talent will offset many of these defensive deficiencies, but, evidently, Lyon's coaches aren't prepared to trust him quite yet until he proves to be more reliable without the ball.
There is a theory that his incredible talent and the fact that he's been dubbed the gem of Lyon's academy has led the 19-year-old to undervalue the importance of his defensive contribution to the team's success, but it's something he'll need to learn to adapt to his game quickly if he wishes to increase his minutes and earn a big money move in the future.
Rayan Cherki's future is ultimately up to him. He can certainly become one of the best players of his generation like Karim Benzema, or he may end up being the next big "what if" player, much like fellow Frenchman Hatem Ben Arfa.
A football career is relatively short and the decisions one makes at the beginning of their career may go a long way towards shaping the next 15 years. As has been expressed in this article, Cherki is a special talent and it's his choice as to what exactly he does with those gifts.
By: Lebohang Mwamuka / @lebzygold
Featured Image: @GabFoligno / John Berry / Getty Images