How Rodrigo de Paul Will Fit Into Atlético Madrid
Fresh off winning Argentina's first Copa America in which he played a pivotal role, star Rodrigo De Paul recently made a switch worth around €35 million from Udinese back to Spain – joining Atlético Madrid, having previously played for Valencia (2014-2016). The long-awaited next step in his career comes after making over 170 appearances during 5 seasons in Italy.
Rodrigo has been long admired by top clubs around Europe, rightfully so, as he has been a consistent top performer for Le Zebrette. At 27, there's no question when it comes to his maturity and world-class ability in the center of the park, which will be on show in La Liga once more as Atleti look to defend their title this upcoming season ahead of favorites Barcelona and local rivals Real Madrid.
Diego Simeone is blessed with a plethora of midfield options, and the addition of De Paul will be a welcome headache in their ranks as they also look to compete for silverware in the Champions League. Let's take a deeper look at De Paul's main attributes and how he fits into Simeone's tactical set-up.
Rodrigo De Paul's Style of Play
De Paul predominantly played in a central midfield role during his time at Udinese, in which he flourished, but is equally adept on either flank with his dribbling (3 per 90) and superb ball carrying skills, successfully holding off opponents while doing so, averaging just over 9 carries every game which is one of the attributes that make him special.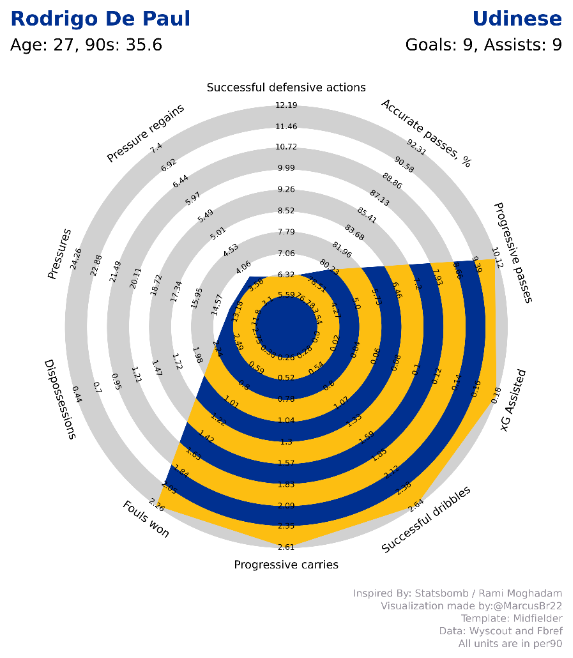 He is also known similarly for his impressive passing range and ability to dictate play from deep if need be. All these qualities give him the rare freedom to be able to play in any midfield role with equal command and ease due to his tactical intelligence.
Typical aspects of his style also include creating space for teammates with smart, sharp turns. This added with his aforementioned ball-carrying prowess allows him to easily bypass opposition presses. He regularly plays forward through balls, which could be beneficial this season for players such as Yannick Carrasco and Renan Lodi who prefer to run in behind defenses.
Last season he was only bettered by three players in the top 5 leagues in regards to completed passes into the opposition box, topping off the season with an outstanding 97 of them. When he is not on the ball himself, the Argentine tends to make inside runs, drifting centrally to help create over-loads and increase his teammates' passing options in the half-spaces.
Although not really a midfielder with inherent excellent defensive capabilities, Udinese's system required him to track back and press whenever the team lost the ball which will most likely carry on into his duties under Simeone. Moreover in Udinese's 3-5-2, his midfield partner, Roberto Pereyra dropped deep at times whilst Rodrigo made bursting runs forward from midfield in hopes of creating chances or even scoring himself.
Most of his goals came after lengthy off-the-ball runs through the inside channel and away from where the possession had progressed; positioning himself away from opponents to ensure better angles from which to shoot, whether doing so from distance or under pressure closer to goal. He could also be found extremely wide, linking up with the full-back making overlapping runs.
How Does He Fit In Simeone's System
Simeone typically used the 3-5-2 last season, with Koke or Marcos Llorente as the right CM and Saúl as his partner at left CM. The latest transfer rumours suggest, Saúl Ñíguez is most likely to leave this summer or at least is the one who is expected to be sacrificed to accommodate De Paul.
Llorente seems immovable from the squad right now due to his largely successful debut season for Los Colchoneros. Koke would often remain deep, in front of the defense, while Llorente would keep drifting forward centrally or wide as he generally does to good effect – Rodrigo's introduction to the team will be more attack-minded, bringing more balance between Atleti's defense and attack.
When Yannick Carrasco cut in from wing-back, Saul would help maintain the width. This could pose to be bit unnatural for De Paul who likes operating in half-spaces though. The solution to this potential dilemma could be, when Carrasco moves forward, De Paul can be present lower than him, to provide him a passing option centrally or instead De Paul may deliberately start dropping off when the ball is played towards him, forcing the opposition defender to make a choice.
Either he comes in to cover De Paul – in this case, that would leave Carrasco free. If the defender keeps tabs on Carrasco, De Paul can turn and drive into the box. The Argentine can also alternatively be asked to stay deep, working as a double pivot with Koke and feed in through balls into the space ahead for either Luis Suárez, Ángel Correa or João Félix – an art form at which he will surely be the best at Atleti, as he quite obviously outperforms Saúl, Koke and the others in this department.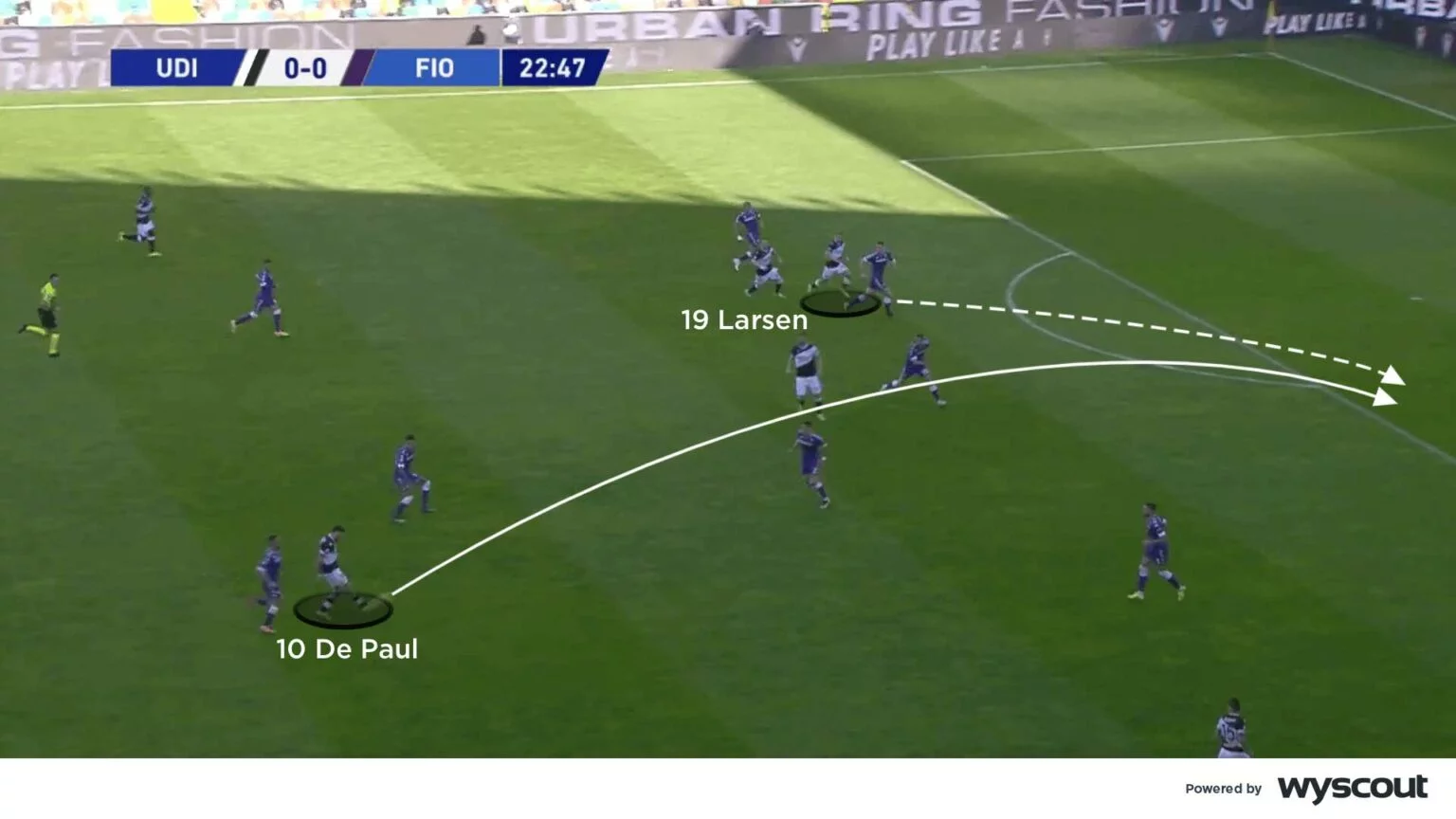 Simeone can also switch the formation to a 4-4-2, here De Paul can be deployed in his natural right-sided midfield role, operating wholly in half-spaces, as Llorente did to fruitfully in their title-winning campaign. He would play the same supportive role/put the opposition full-back in a dilemma, combining with Kieran Trippier (if he stays) and Llorente. 
His quick one-twos with his RB can also be used to build from the back and bypass opposition presses fluidly and still leave that option off picking a measured pass into a forward.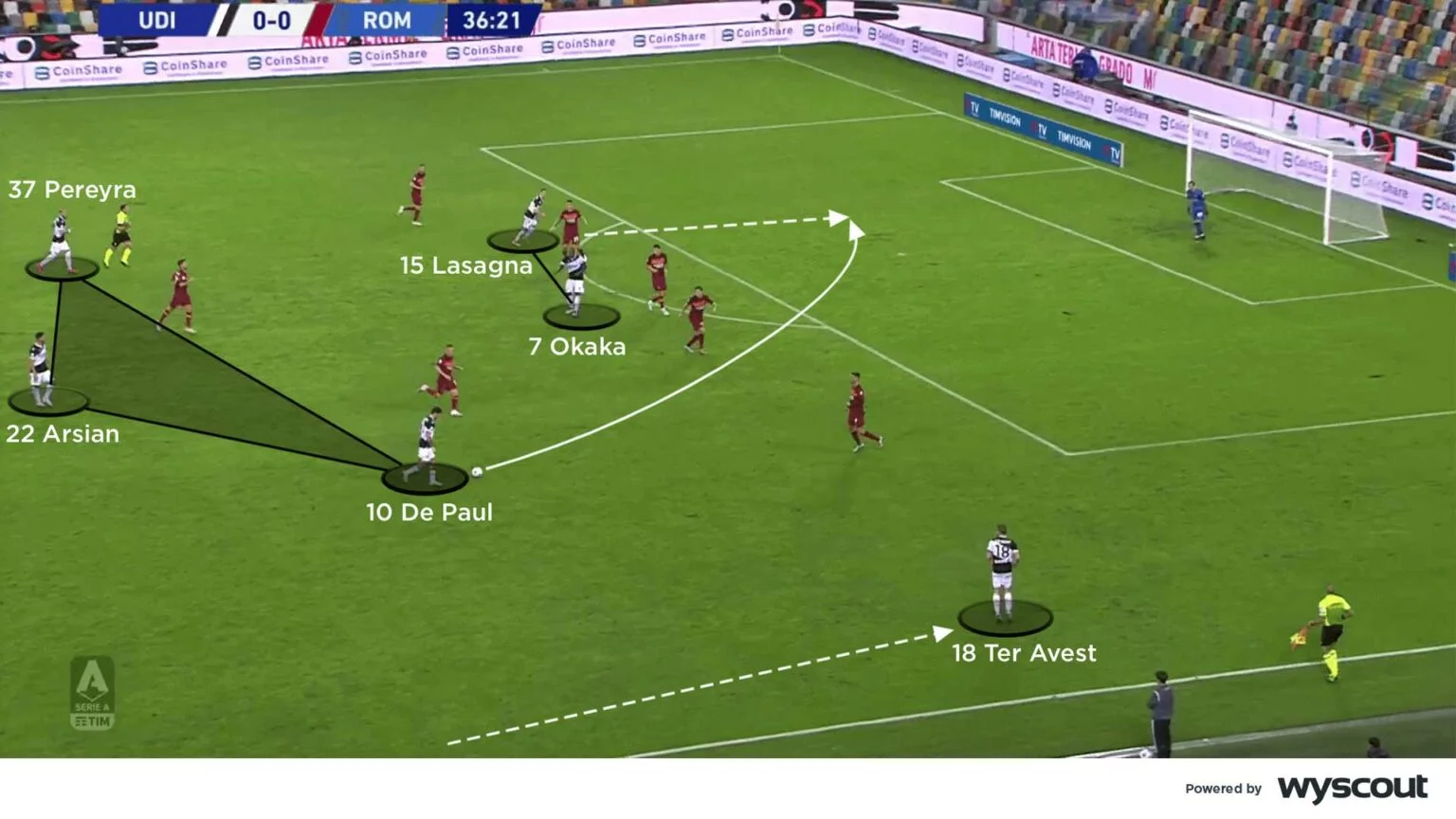 Conclusion
Whatever may be the case, Simeone will have to tweak his tactics a bit to accommodate De Paul into his plans. Nonetheless, when used to his full potential, Rodrigo can be a brilliant player in various ways; hopefully solve Atleti's goal-scoring woes by adding more numbers in attack, creating likewise with his fearless progressive passing.
It's natural for the average football fan to fear that Simeone, known for his overtly defensive tactics may well get it wrong with one of the best midfielders in the business currently. A very exciting season ahead for Simeone and his men should they keep up their free-flowing football and stubborn defensive gallantry. 
By: Vuyo Regálo II / @RegaloJnr
Featured Image: @GabFoligno / Fran Santiago – Getty Images