Player Analysis: Marcos Llorente
Marcos Llorente has been one of the revelations of this season. Helping Atlético de Madrid fight for the title has been aided by his goal creation which has been magnificent. Seeing as he is a midfielder, the fact that he has 12 goals and 10 assists is astonishing. This proves that Diego Simeone has managed to find and exploit Llorente's best features.
Through his good season, he has managed to make the Spanish national team. After having bought him from Real Madrid, Llorente has proved their previous club wrong, with the possibility of beating them to the title. In this analysis, we will observe Llorente's best traits, where he positions himself, and how he helps his team. The data shown here will be offered with the help of FBREF.com.
Trademark Movement
Llorente is probably one of the best players who attacks spaces at the moment. I say this because throughout the season he has constantly made good runs in behind which have been dangerous. More specifically, there is one movement that has now become his trademark as he does it so often and so well. Since he is usually played at the right centre-midfielder role in a 3-5-2 formation, this movement starts when the right wing-back is on the ball.
Tactical Analysis: Diego Simeone's Atlético Madrid In Possession
As we can see below, the right wing-back has possession and Llorente sprints into the space on the right, as if he was a winger. Llorente does this movement many times per game. The reason why it is so effective is that runs in behind that start from deep can surprise defences. This is because they are not expecting a midfielder to run into the space that should be occupied by a winger.
What usually happens is that the right wing-back is being marked by the opponent left-back, which then leaves space behind him. Very rarely will an opponent midfielder follow Llorente when he makes this run so that means that a centre-back has to come in to mark Llorente. This in turn disrupts the defence and leaves spaces that Atlético players can take advantage of. 
Through this movement have come many of his goal creation opportunities and once again, I want to mention how exaggerated it is the number of times in a game he will do this movement. A stat that proves this is him making 2.11 crosses per game, as these crosses usually come after making this movement. This stat places him in the 98th percentile for this.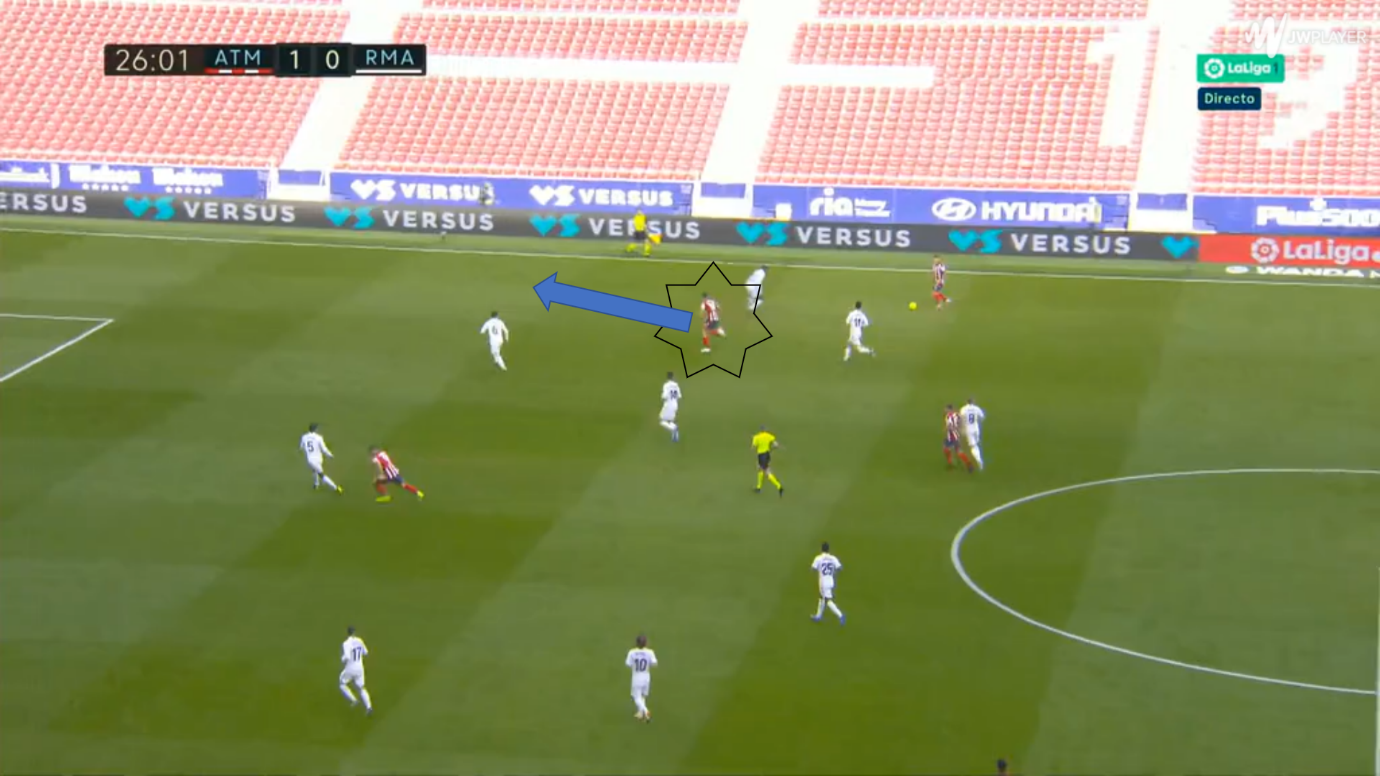 Build-up
Llorente is not active in the build-up, letting Koke or Saúl take responsibility to play the ball out. While the centre-backs and the pivot play the ball out, Llorente positions himself between the midfield and defensive line of the opponents, as seen below. He does this to become an option for a progressive pass. In fact, he has some of the lowest passing metrics for midfielders, making 38.29 attempted passes per game, and having a total passing distance of 512.40 yards per game. These place him in the 16th and 10th percentile.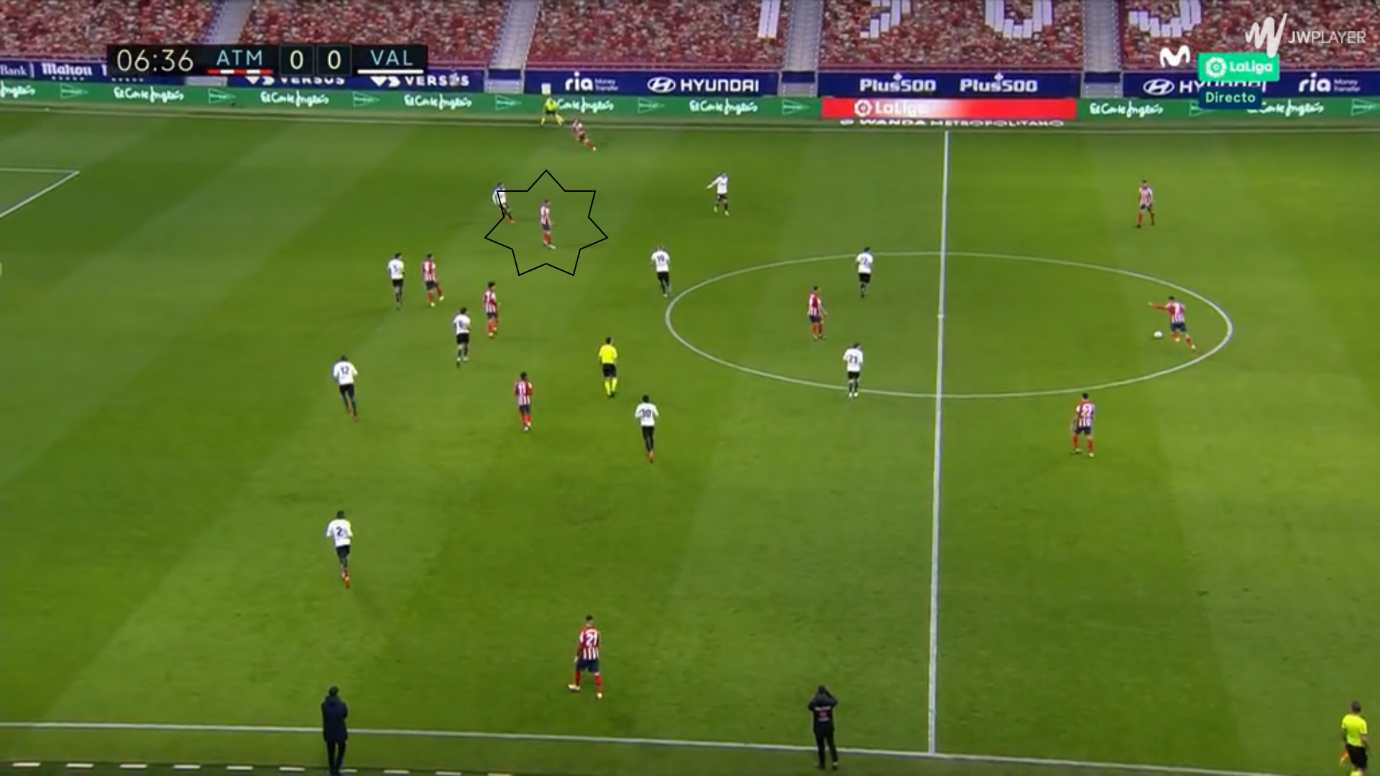 The reason why he stays between the two opponent lines and close to the opponent left-back is to make the left-back doubt whether to mark him, or mark the wing-back that is wide. When he does receive the ball in these positions, he has a clear objective and that is to control and pass it to the wing-back that is wide. In the following three images we can see an example of this. He is between the lines and comes down a bit to receive in time and space.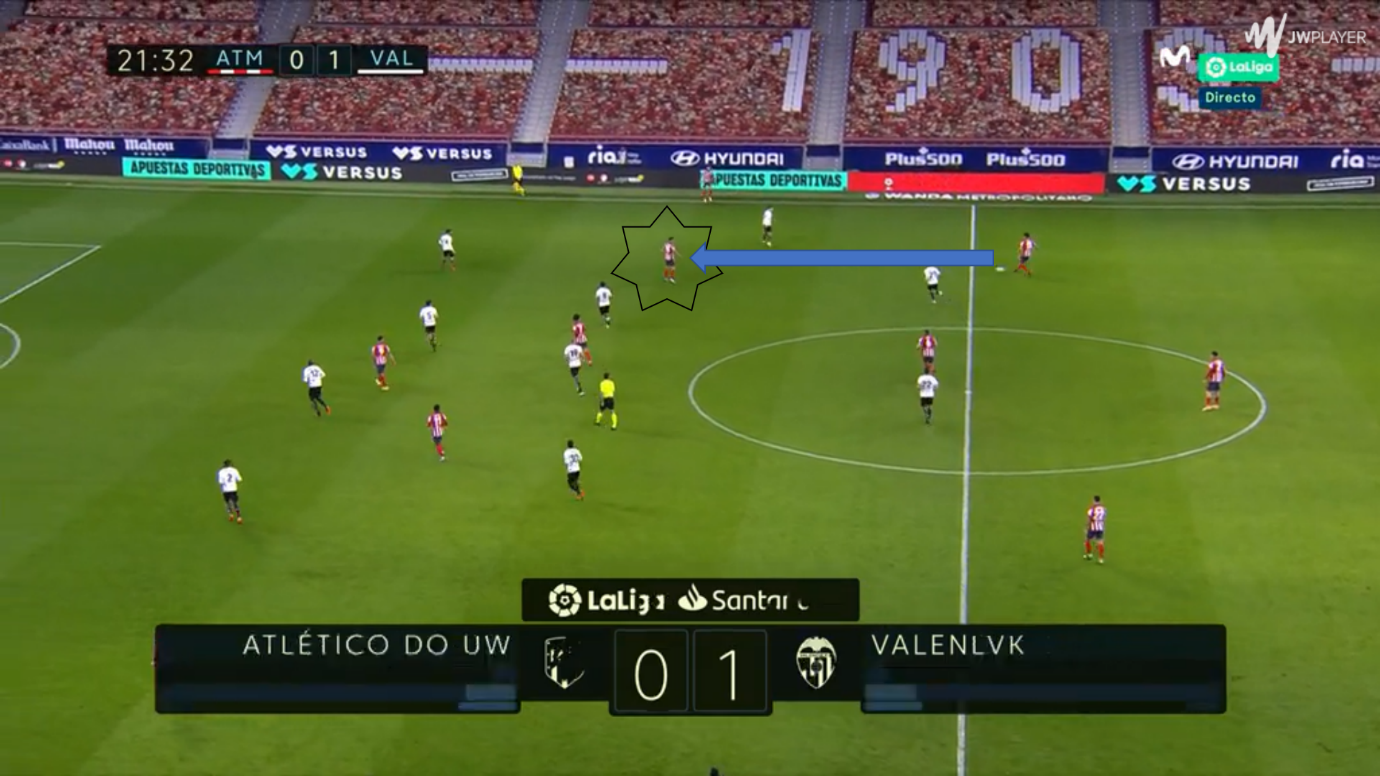 After controlling, he immediately passes it to the wing-back. Then, he tries to start his trademark movement that we mentioned before. This movement shows that it has been trained before and it becomes a way to quickly go from building up, to on the attack with few touches.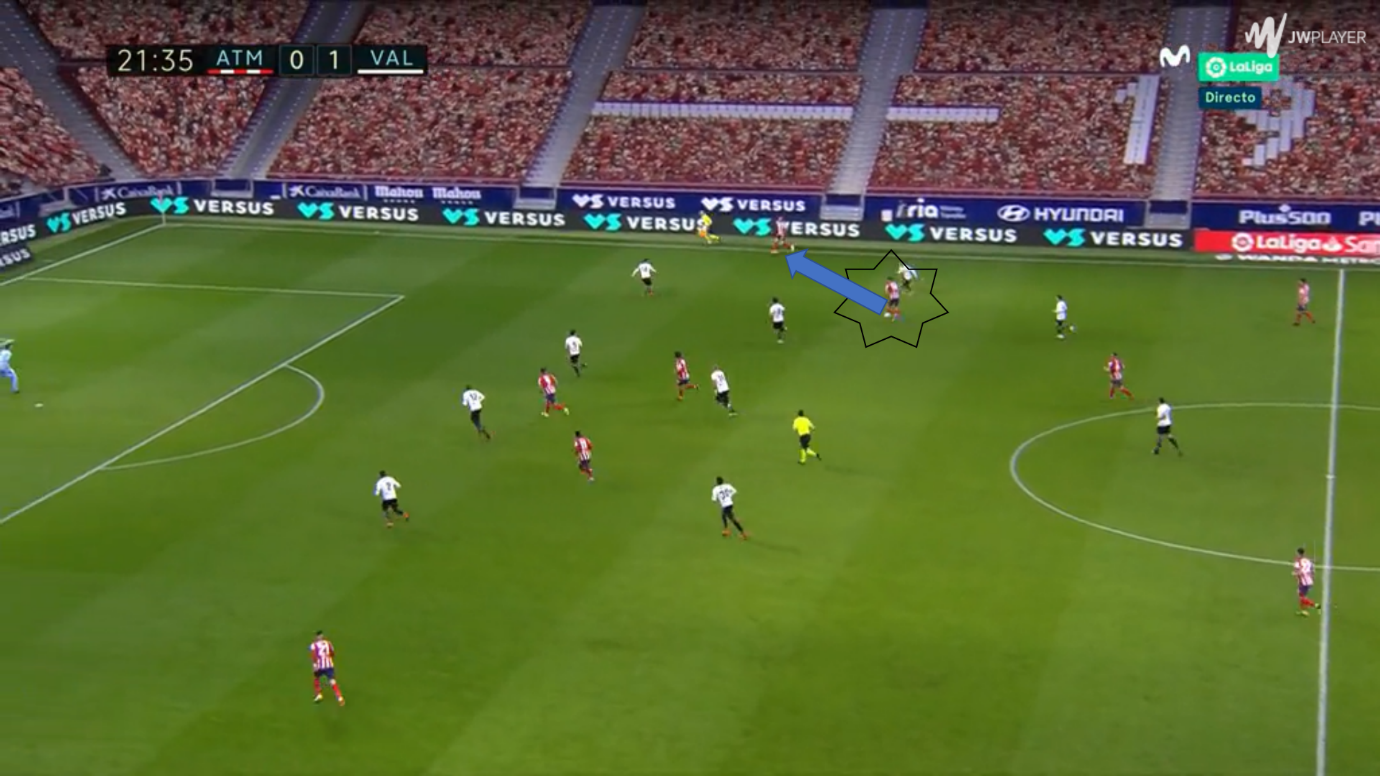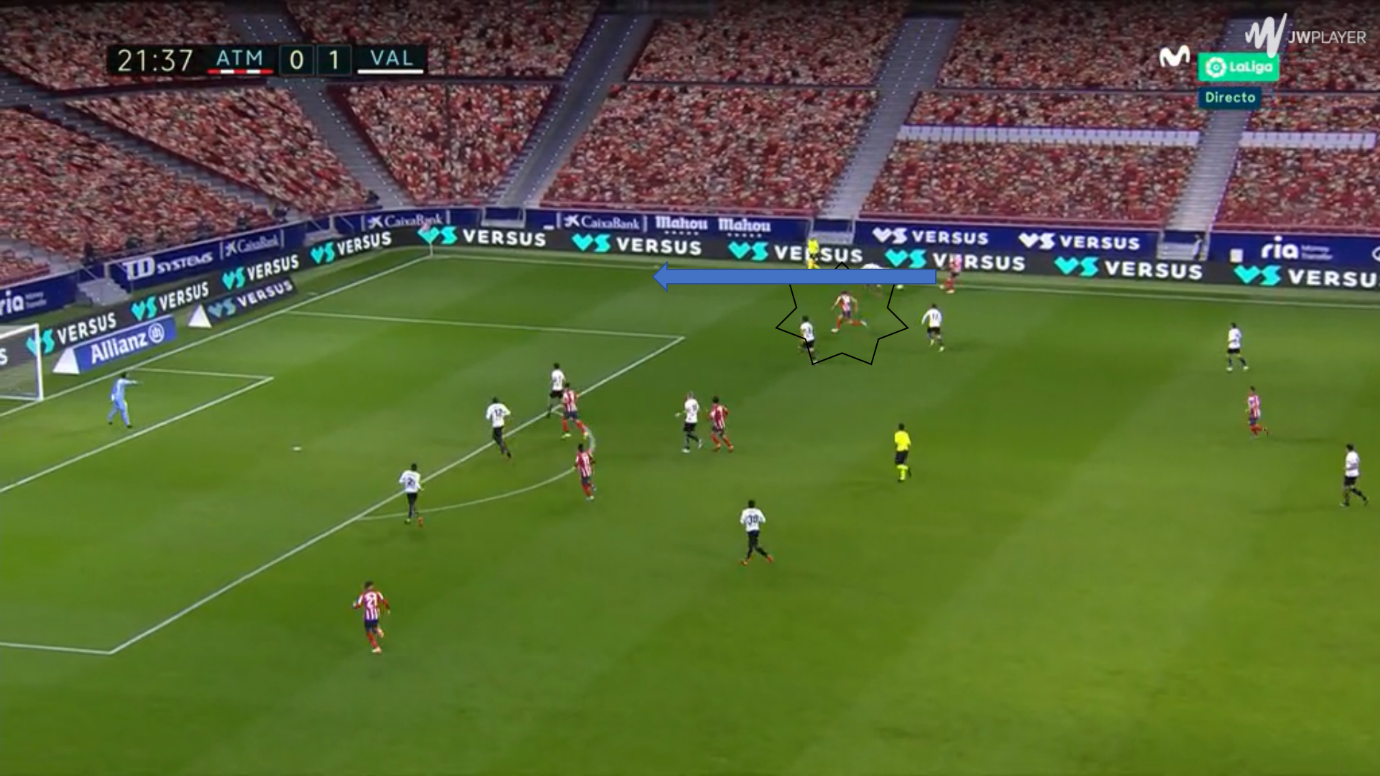 In general, Llorente does not help much in the actual build-up, but when he does receive it in between the lines, it is a high intensity play.
Ball Carrier
I think it's safe to say that Llorente is a great ball carrier. Not in the sense that he does it a lot, but when he does progress with the ball at his feet, it is with a high burst of energy, trying to create danger. Making 4.61 progressive carries per game places him in the 62nd percentile which is more than average but not a lot. However, he makes 0.83 carries into the penalty area per game, and this puts him in the 98th percentile.
Therefore, when he does carry the ball, it is with the intention to be direct and get to the goal. One example of his physicality and ball carrying is in the game against Real Madrid. The first image is when he recovers the ball in his own half, and the second image is him still sprinting deep in Madrid's half. Moreover, he makes 0.22 successful dribbles that lead to a shot attempt per game, making him one of the best in this.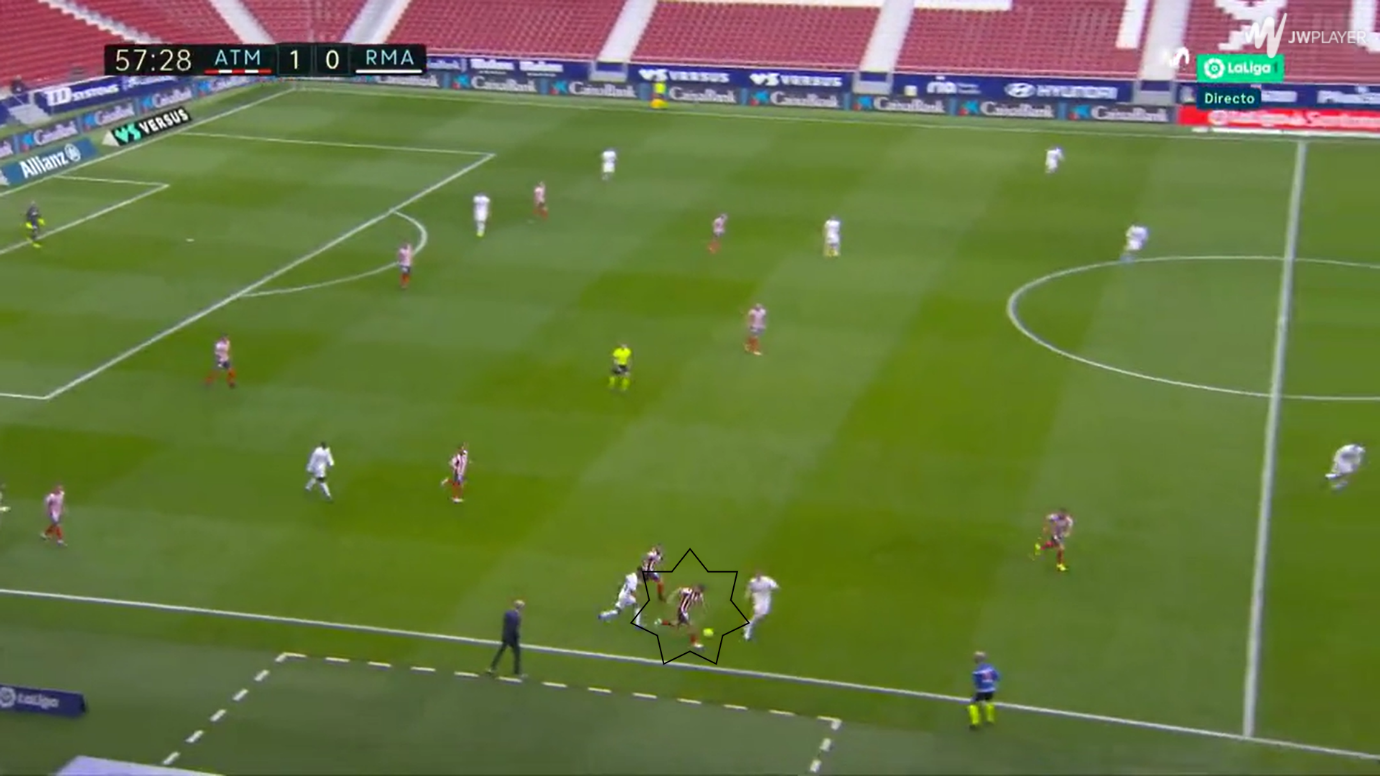 Versatility
Intelligent football players can understand the roles of different positions and execute them. This is true for Llorente, who when needed is played in other places. Simeone has also placed him at striker due to his attacking nature, and at right wing-back due to his physicality and ability to go forwards. In fact, when he plays with Spain, he is being right-back. This can be understood when realising that Spain have always had attacking full-backs, and that they need their full-backs to drop quickly to avoid a counter-attack.
For now, we have been focusing on Llorente when he has the ball. But what about him without the ball? Being a midfielder, it is obvious that defensive work is needed and this is no problem for him. Playing in a 3-5-2, there are no wingers. Thus, to avoid having a 2vs1 situation on the wing, it is Llorente who has to go press the full-back.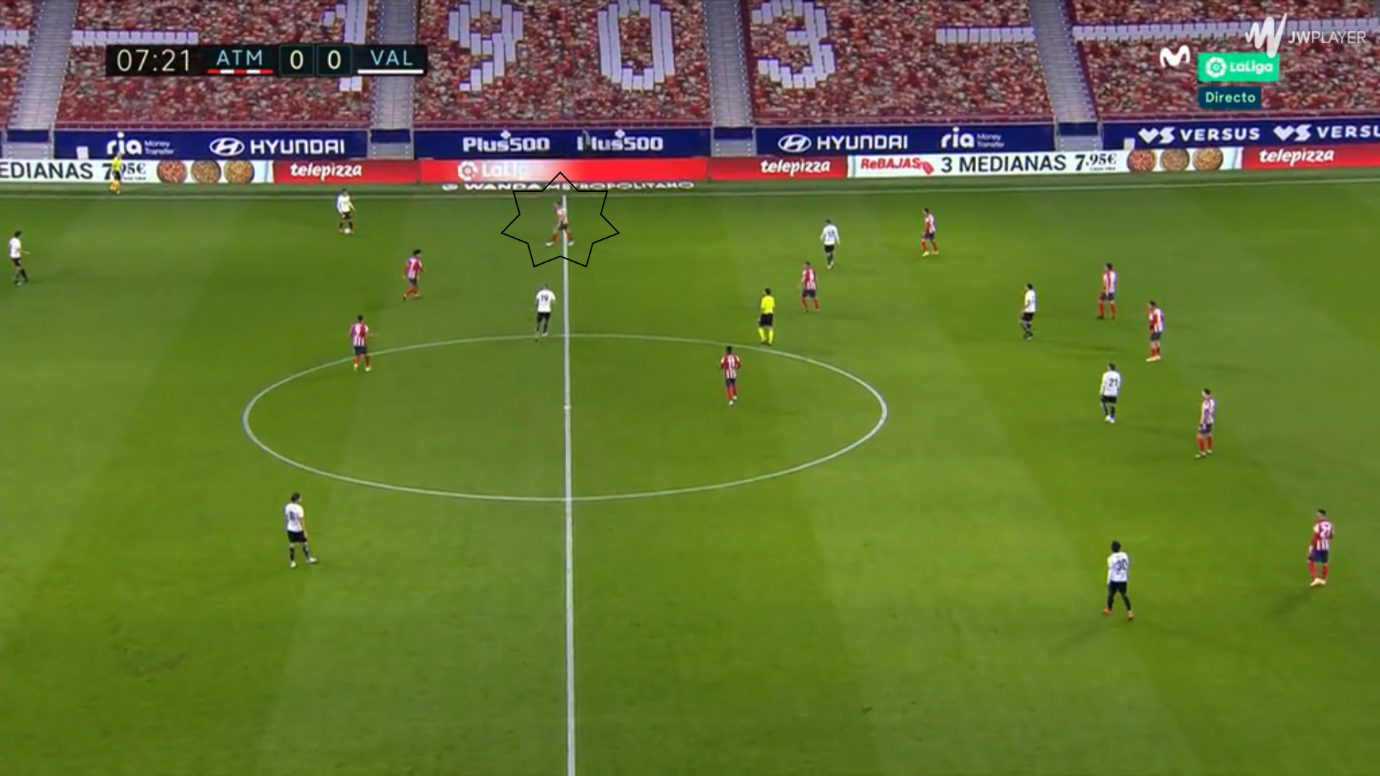 Also, he is quite active in winning the ball back high up the pitch, where he makes 0.58 tackles and 6.30 pressures in the attacking third per game, both of these being very high stats for midfielders.  He has one of the highest stats for non-penalty expected goals plus expected assists at 0.31 per game. This means that roughly every three games, he is expected to make a goal or an assist. 
Furthermore, he makes 0.49 goal-creating actions per game, which is in the 95th percentile and makes 3.89 touches in the opponent's penalty area. All these just continue proving how present and effective he is in the attack. 
Conclusion
Overall, Marcos Llorente is excelling for Atlético de Madrid this season, as Simeone has found the role that suits him best. With him either running into the space or driving from deep, he is able to create danger for his team, shown by his incredible stats. Added to this is the fact that he has the physicality to attack and defend the whole game with intensity.
As for defending, he also helps the team by being organised when he has to go up to the left-back, and when he has to defend higher up the pitch. Seeing his level, it would be foolish of Luis Enrique not to call him up to this summer's tournament, and even though he will probably play at right-back position, we hope that he will shine. 
By: Jaime Fernandez Valencia
Featured Image: @GabFoligno / Aitor Alcalde Colomer / Getty Images