How Tammy Abraham Will Fit Into José Mourinho's Roma
It has been an up and down past two seasons for Tammy Abraham. After a  productive loan spell in the Championship for Aston Villa, Abraham enjoyed a solid breakout 19/20 season under then-manager Frank Lampard as he was given the number 9 shirt and the responsibility of leading the attack as the figure ahead and with the club taking a new direction in promoting youth, Lampard was pinning his faith in the Camberwell born striker to provide the goods.
The Cobham product did not disappoint, scoring 18 goals and registering 6 assists in all competitions, but after an underwhelming start to the following campaign, Lampard was sacked and Thomas Tuchel's arrival would come as a blow to Abraham's future at the club – the young striker was frozen out of a goal-shy Tuchel-led Chelsea team. The biggest indictment at the lack of faith that Tuchel has in Abraham was for all to see (or, not) in the FA Cup final, where the 23-year-old was left out of the matchday squad entirely – despite scoring four goals in three games to get them to the final. 
Tammy Abraham scores lots of goals. He scored them at youth level, he scored them in the Championship — the 2016/17 campaign saw him register 23 goals for Bristol City to keep them afloat in the second tier — and he's scoring them now at the top level. Simply put it, he's been a remarkable goalscorer since he first kicked a ball. With a reported €40 million move to Roma on the brink of completion, it seems like this could be the vital next step in the career progression of Tammy Abraham. 
José Mourinho isn't blessed with a plethora of striking options, and the exit of aging marksmen Edin Džeko to Inter Milan only strengths the need for a striker and the addition of Abraham will be an exciting player to welcome into their starting XI as they also look to compete for the European spots. This article will take a look at Abraham's playing style and how he fits into Mourinho's tactical set-up. 
Tammy Abraham's Style of Play
Tammy has been fundamentally recognized as an efficient goalscorer during his career, but there are other strong features of Tammy's game that cannot be discounted. He is great at making smart decoy runs, is a great presser, and can be dangerous with his dribbling and crossing from wider areas. As seen in his shot map below from last season, Abraham is a distinct "penalty box" striker.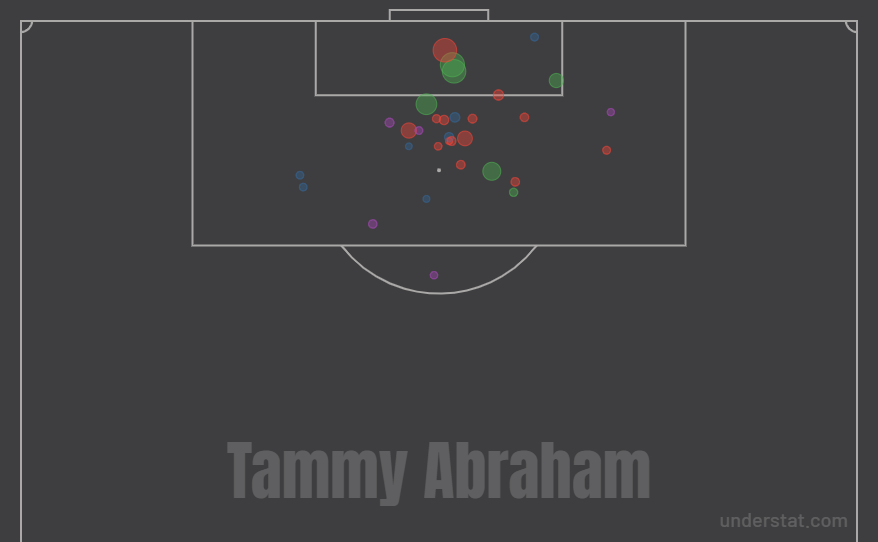 Photo: Understat
He is also known for his variety of supporting movements to join and create attacks. His most common movement involves attacking the spaces behind an opposing defense, to pursue through-balls. Those direct, penetrative runs contribute to regular goalscoring chances, though his finishing when one-on-one still needs to improve.
His aforementioned improved linkup play allows him to easily bring the inside forwards into play typically Nicolò Zaniolo on the right and Henrikh Mkhitaryan on the left, which could be beneficial for two players who prefer making deep runs into the box. 
Even though he isn't a player you would think of as a hybrid between a 9 and a 10 like Leicester City's Kelechi Iheanacho or Liverpool's Roberto Firmino. Last season he had a 0.43 Goal-Creating Actions showing that he can be that unselfish striker who brings the attacking midfielders around him into play. 
Although not a striker with inherent excellent work rate capabilities, Lampard's and Tuchel's system required him to track back and press whenever the team lost the ball which will most likely carry on into his duties under José Mourinho; last season Abraham had 13.43 pressures per 90. Moreover in Tuchel's 3-4-3, he had two floating 10s on either side of him allowing Abraham to focus on the main objective of getting into the box and getting into good positions to finish chances.
Whereas Mourinho will probably set up in a 4-2-3-1 meaning Abraham centered as the loan striker with Lorenzo Pellegrini occupying the 10 roles behind him, the Italian is most comparable to Abraham's best friend Mason Mount according to Fbref so expect an intriguing partnership to be developed in the early part of the seasons. 
How Does He Fit In Mourinho's System
As stated Mourinho will start the season in his traditional 4-2-3-1, with Nicolò Zaniolo and Henrikh Mkhitaryan in the attacking wide positions and   Lorenzo Pellegrini in the central attacking midfield. With Edin Džeko off to Inter Milan, it's expected Abraham will start straight away as the starting striker even with the notable competition of Borja Mayoral and Eldor Shomurodov. 
From what's been expected Mourinho's setup will be very similar to Lampard's set-up early on last season – counter-attacking 4-2-3-1 with 3 attacking midfielders behind a lone striker. Most of Roma's chance creation in the attacking third will come from Lorenzo Pellegrini who will look to play line-breaking passes through for the runners ahead of him.
 Zaniolo and Mkhitaryan will help with the running in behind and so would Abraham to a certain extent depending on the opposition's defensive line.  This could pose a comfortable Abraham who is used to this type of style during his time with Lampard. The example below this shows the type of position and run Abraham makes when the chief creator has the ball.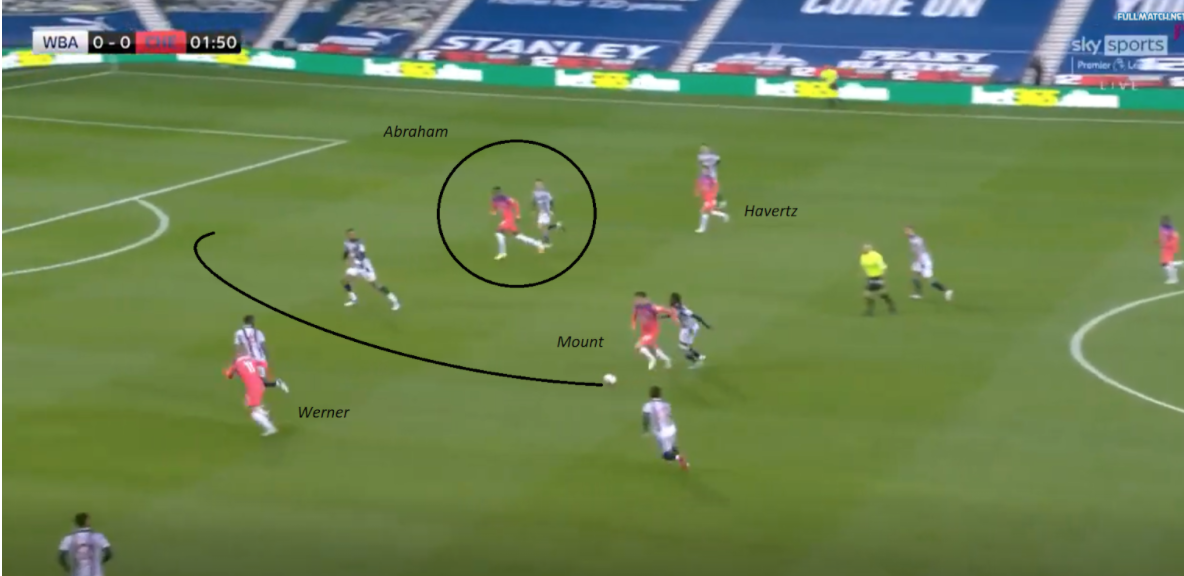 Mason Mount has the ball in a threatening position and Timo Werner makes a run from the left inwards the left half-space to receive the ball between the lines. Abraham is making an even more threatening run in behind the blind side of the West Brom defender, Mount sees this and plays a pass with the right amount of curve to put Abraham through on goal,
Eventually, Abraham overhits his pass across the face of the goal for an easy tap-in for Werner even though Chelsea didn't score the intention was seen in the move and it shows how intelligent Abraham can be. The one non-negotiable with a Mourinho team is work rate – Abraham's commitment to press will be in show, at times, he can be a bit lackadaisical when he presses, however, he makes up for that with his knowledge of who to press and when to do it.
Abraham's 13.75 pressures per 90 and his 3.69 successful pressures per 90 rank in the 48th and 54th percentile, respectively, among Premier League forwards. Here, he springs to press the goalkeeper who is on the ball, but does that with his body at an angle where he closes the potential passing line to the left center-back: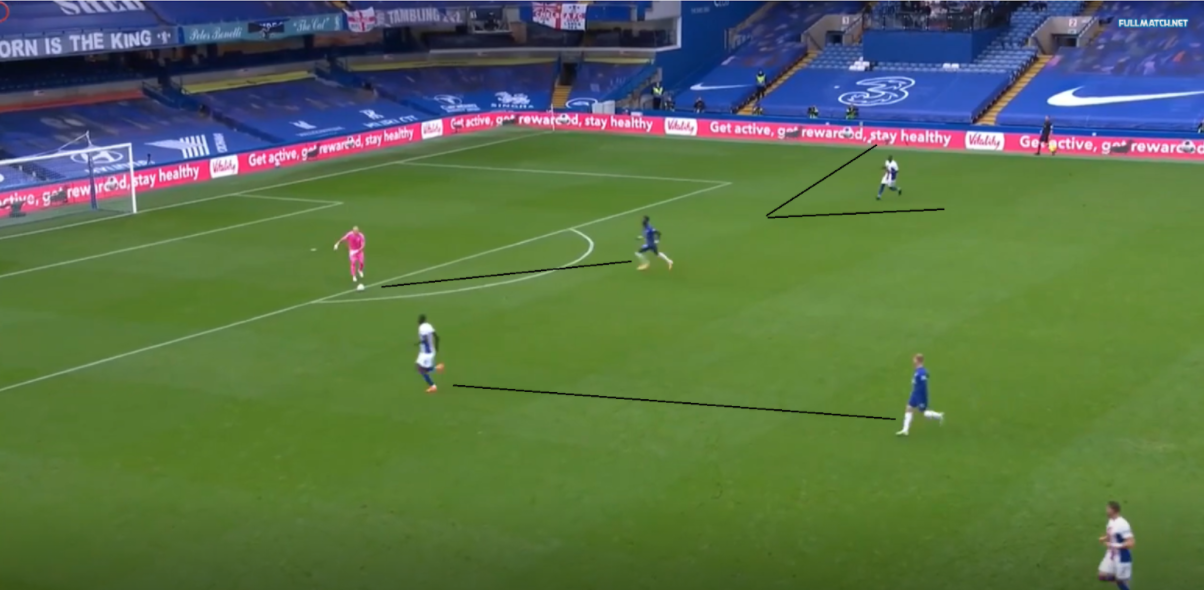 Conclusion
José Mourinho won't have to tweak his tactics to accommodate Abraham into his plans.  This is a positive as the Portuguese will be looking to hit the ground running with the players he already has. There are still areas of Tammy's game that could do with much improvement, particularly his heading, but if his recent willingness to adapt and greatly develop his hold-up play is anything to go by, I'm sure we will see it happen.
He's been around the top level for so long, it's easy to forget that Tammy Abraham is still just 23 years old. Given the right chances, Tammy Abraham can realistically score 20+ goals in all competitions for Roma within his first season in Serie A.
It's common for the football fan to fear that Mourinho, known for his overtly defensive tactics may well negatively affect a young promising center-forward in the mold of Tammy Abraham but a very interesting season ahead for the Giallorossi as they look to regain some sort of pride of their prestigious history.
This promises to be a great move for all parties. The player goes to a team that he's feels wanted and appreciated for the qualities he brings, Roma gets a young center forward with a credible amount of potential to build their team around and Chelsea once again makes a healthy amount of profit from another Cobham graduate.
By: Raphael Adelugba / @RaphaelAdelugb0
Featured Image: @GabFoligno / Robin Jones – AFC Bournemouth