Illan Meslier: Leeds United's Number One
The 22-year-old French goalkeeping sensation has become a staple between the sticks for a top-heavy Leeds squad.
The final weekend of the 2021–22 Premier League season was poised to be a classic standoff across the board, with the champion, European qualification, and relegation yet to be decided after 37 matches. At the bottom of the table, Burnley held the advantage over Leeds United on goal difference, although safety was anything but certain for either club. 
In the closing stages of a chaotic day of football, Leeds remained level with Brentford, courtesy of a clinical penalty by winger Raphinha, while Burnley trailed at home to Newcastle with a brace from striker Callum Wilson.
As Raphinha's stoppage-time corner was cleared from the box, winger Jack Harrison followed up with a ferocious strike into the bottom corner, sending the away end into a frenzy and securing Leeds' place in the English top flight. 
After Securing Survival on the Final Day of the Season, Where Do Leeds United Go From Here?
Besides ensuring at least another year in England's highest division, Leeds' survival prevented a cut-price exodus of star players, including Raphinha, Kalvin Phillips, and Illan Meslier. In addition, the Yorkshire club has already announced the signing of American midfielder Brenden Aaronson, kickstarting a new era under manager Jesse Marsch.
Leaky Concessions
Signed from Lorient for £5 million, Meslier impressed former manager Marcelo Bielsa as first-choice goalkeeper near the end of the 2019–20 campaign, earning Premier League promotion after 16 prolonged years. The following season, Meslier would record 11 clean sheets, a Premier League record for goalkeepers under the age of 21.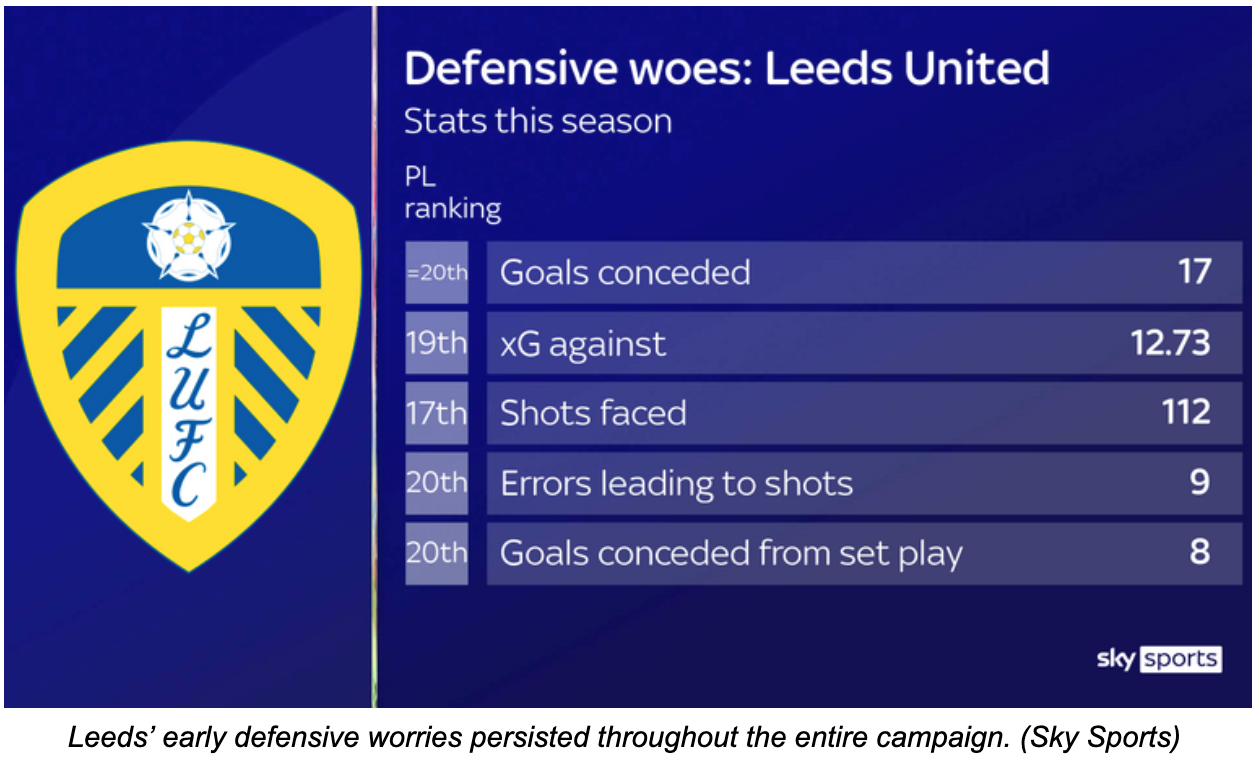 However, this year, Leeds have conceded a remarkable 79 goals, keeping only 5 clean sheets in the process. As such, Meslier ranks in the 98th percentile for shots faced per 90 minutes with 5.72, producing 3.70 saves per 90 minutes at the 95th percentile; naturally, both of these statistics are highly inflated, as his save percentage of 65.6% only places him in the 24th percentile.
Yet, this low save percentage can be attributed to the relative difficulty of shots that Meslier faces, as the club's 0.30 post-shot expected goals per shot on target ranks 8th in the league.
Moreover, injuries have plagued the backline, with no outright defender playing more than 30 matches this season. Without defensive solidity and structure, Leeds were unable to utilize their highly mobile style of play under Bielsa, eventually leading to the Argentine's sacking on February 27.
Sweeping Presence
Weighing roughly 75 kilograms, Meslier is definitely undersized for claiming crosses and commanding the penalty area, conceding 11 goals from corners and 3 goals from free-kicks.
Still, he sits in the 72nd percentile for the percentage of crosses stopped at 8.6%, but facing only 6.52 crosses per 90 minutes, which lies in the 11th percentile, indicates that opposing teams prefer to play through central channels against Leeds to exploit defensive gaps.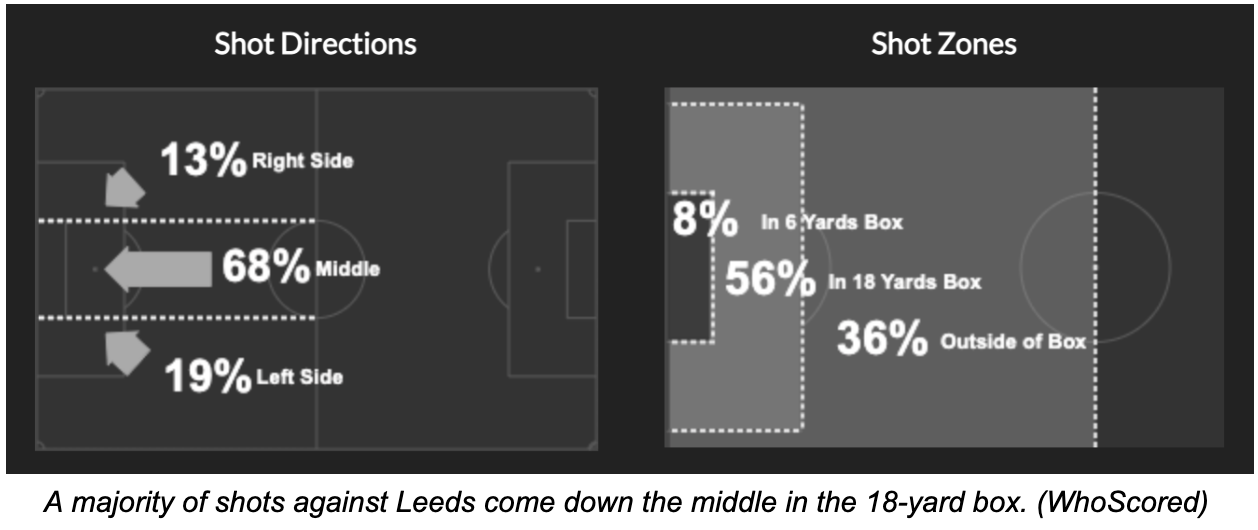 Outside of the penalty box, Meslier notches 0.98 defensive actions every match, a testament to his satisfactory sweeping ability. Especially with Leeds' high defensive line and aggregate press, Meslier's functionality as an auxiliary defender provides an extra option when playing out from the back.
In terms of distribution, Meslier prefers short passes that inspire build-up play rather than long balls over the top, reflected by an average goal kick distance of 38.9 yards and an average pass length of 32.9 yards.
Nonetheless, the young goalkeeper is relatively unstable in possession when compared to Liverpool's Alisson Becker or Manchester City's Ederson Moraes, likely due to inexperience in such a demanding league.
Brenden Aaronson: Why Are Leeds So Keen on the Salzburg Youngster?
Having featured in every match this season, the upcoming Premier League campaign under Marsch will provide Meslier with more refinement in all departments of goalkeeping.
With longtime captain Hugo Lloris leading Tottenham Hotspur to Champions League qualification and A.C. Milan's Mike Maignan playing a pivotal role in winning the Serie A title, Meslier will have to accelerate his development if he wishes to make an international appearance for France, whether or not he remains at Leeds United. 
"I was incredibly impressed to meet a group of young men in the Premier League with such strong characters, so much belief in each other, and so little selfishness," Marsch admitted.
"You're never fully complete, but we're taking steps in the right direction and I've tried to encourage the team to really have a hunger to get better, a hunger to be clearer, a hunger to understand each other more, and a hunger for everything on or away from the pitch.
By: Jason Cheng / @jcheng025
Featured Image: @GabFoligno / Visionhaus / Getty Images