Is Kalidou Koulibaly a Good Signing for Chelsea?
So far the transfer window has been a relatively tricky one for Chelsea.
In terms of outgoings, the loss of Antonio Rudiger to Real Madrid for free, was a bad start. They have also seen Andreas Christensen depart to Madrid's rivals, Barcelona, for free, and the measly £7 million loan fee they received as Romelu Lukaku made his return to Inter Milan doesn't do much to recoup the near-£100 million transfer fee which they paid for the Belgian just a year ago.
In terms of incomings, the addition of Raheem Sterling from Manchester City is a very positive sign and Blues fans will be delighted to have picked him up, but other than that, manager Thomas Tuchel will be getting a little bit nervous that in a summer where he had planned to reinvigorate and refresh his squad, more first team players have departed than arrived.
Raheem Sterling: The Premier League Centurion Headed for Thomas Tuchel's Chelsea
There has been another major signing for them though, that being Kalidou Koulibaly from Napoli. Chelsea paid just over £30 million for the Senegalese, who has been brought in to help with the replacement of Rudiger and Christensen.
Although Koulibaly has been an incredibly important player for Napoli for a long time, it will be very interesting to see how he adapts to playing in the Premier League, and also to playing in a back three.
Rudiger and Christensen, along with Cesar Azpilicueta and Trevoh Chalobah, were the four players who regularly featured as the outside centre-backs for Chelsea in 2021/22, and we can use Smarterscout data to assess what Tuchel expects and requires from those positions.
Smarterscout gives players a rating between 0 and 99 in a number of areas, based on their real-life performances and statistics. From here, we can make predictions as to how Koulibaly might fare in his new team.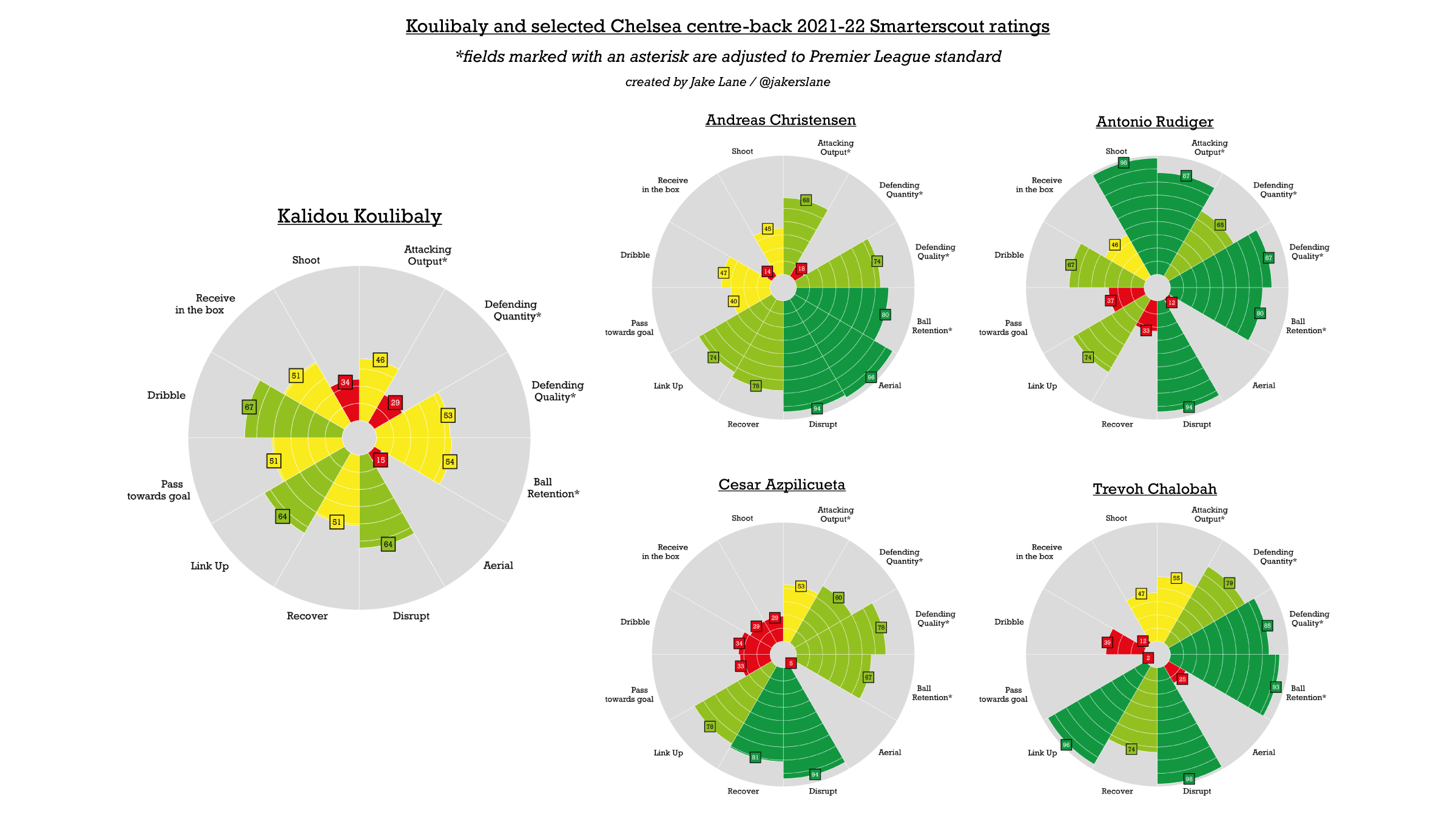 There are some clear similarities in the pizza charts belonging to Rudiger, Christensen, Azpilicueta, and Chalobah, which makes it easy for us to analyse what is required of them within Tuchel's 3-4-3 system. All four have impressive scores for 'Attacking Output', 'Ball Retention', and most notably, 'Defending Quality'.
It's also worth pointing out that while Christensen has a significantly lower 'Defending Quantity' score than his teammates, his 'Aerial' score is much bigger, which simply indicates that he does his defending in a slightly different way.
What we know from this is that Tuchel's outside centre-backs are required to do a lot of defending, and they have to be extremely efficient at it as well, with little room for error. They also have to contribute a lot while their team has the ball, with a lot of responsibility for retaining possession in particular. So how does Koulibaly's skill set transfer to that?
Well, it doesn't make great viewing for Chelsea fans. His attacking output is reasonable, and could probably go up a level relatively easy, but it is definitely a worrying sign that he has clearly had very different responsibilities for Napoli.
He has been required to do much less defending generally, and even when he has been required to, he hasn't done it to a level of quality that comes close to Chelsea's options last season. He also has a much lower score for ball retention. These early indicators suggest that he already looks like a downgrade.
As you can see demonstrated above, Koulibaly completes noticeably fewer passes than Chelsea's other options, and generally with a worse success rate, too.
Azpilicueta is an exception here due to his minutes spent at right wing-back, which would have skewed his data due to the fact he would have been expected to progress play more and attempt higher-risk passes.
It's also worth noting that it wouldn't be a surprise to see Koulibaly struggle to adapt to Premier League football in another area – the aerial demands.
Not only do Premier League games, on average, see players competing in more aerial duels than in Serie A games (35.5 per 90 compared to 34.1 per 90), but Chelsea games specifically saw more on average than Napoli games did.
In 2021-22, the average Napoli match saw just 23 aerial duels per 90, whereas the average Chelsea game saw 30.8, and this exposure to more headed battles isn't likely to help Koulibaly, as it's actually one of his key weaknesses.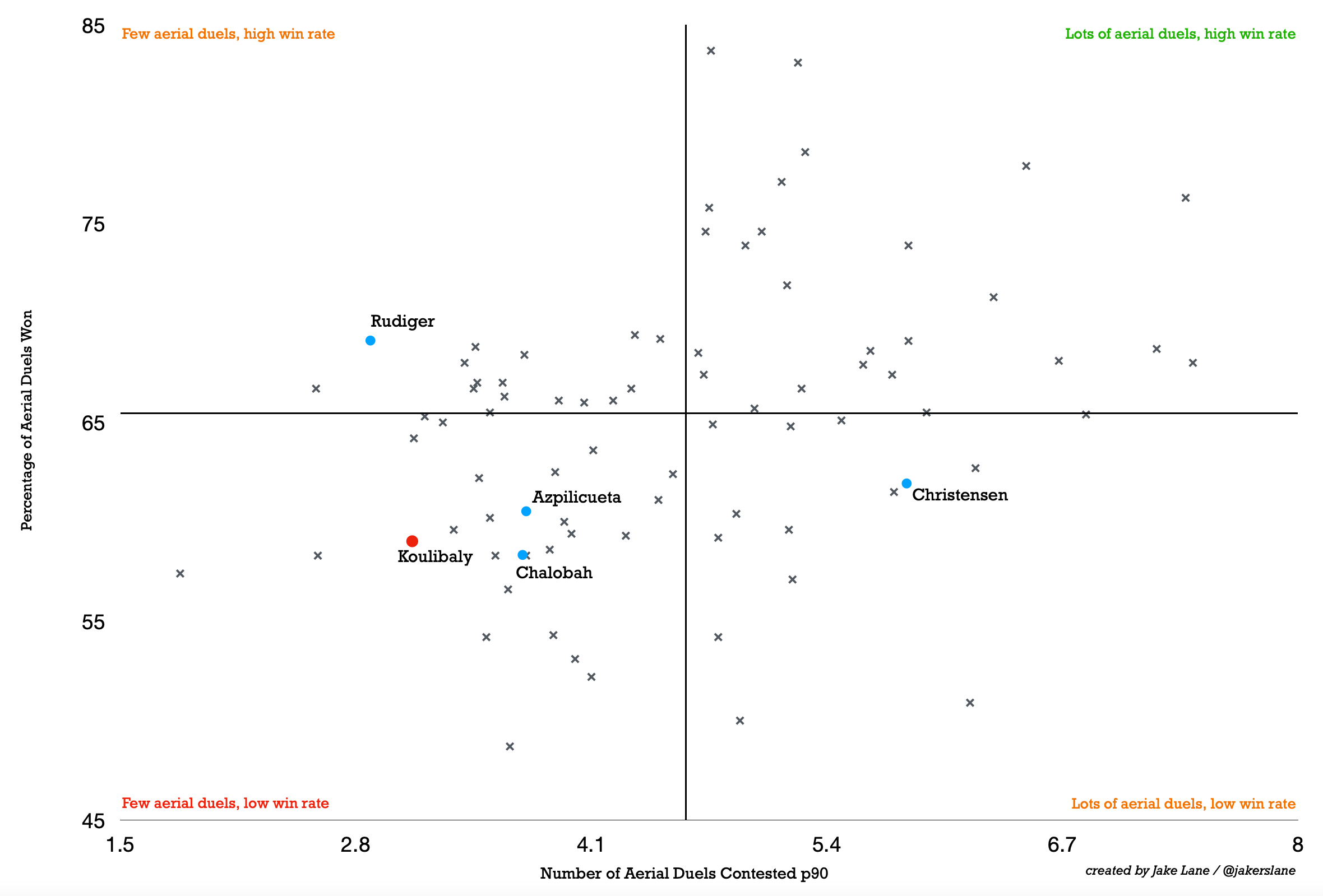 As you can see, although he had a similar win rate in aerial duels to Christensen, the Dane was engaging in far more of them, and although he engaged in a similar amount of duels to Rudiger, the German was far more successful in them.
It's certainly a worry that Koulibaly's aerial duel statistics would have been among the worst for Premier League centre-backs last season, and he is only going to have to get involved more going forward.
Another thing we have to consider is related to ball progression. How do Chelsea's outside centre-backs progress their team up the pitch, and how does that compare to Koulibaly? Unfortunately, this isn't too promising either.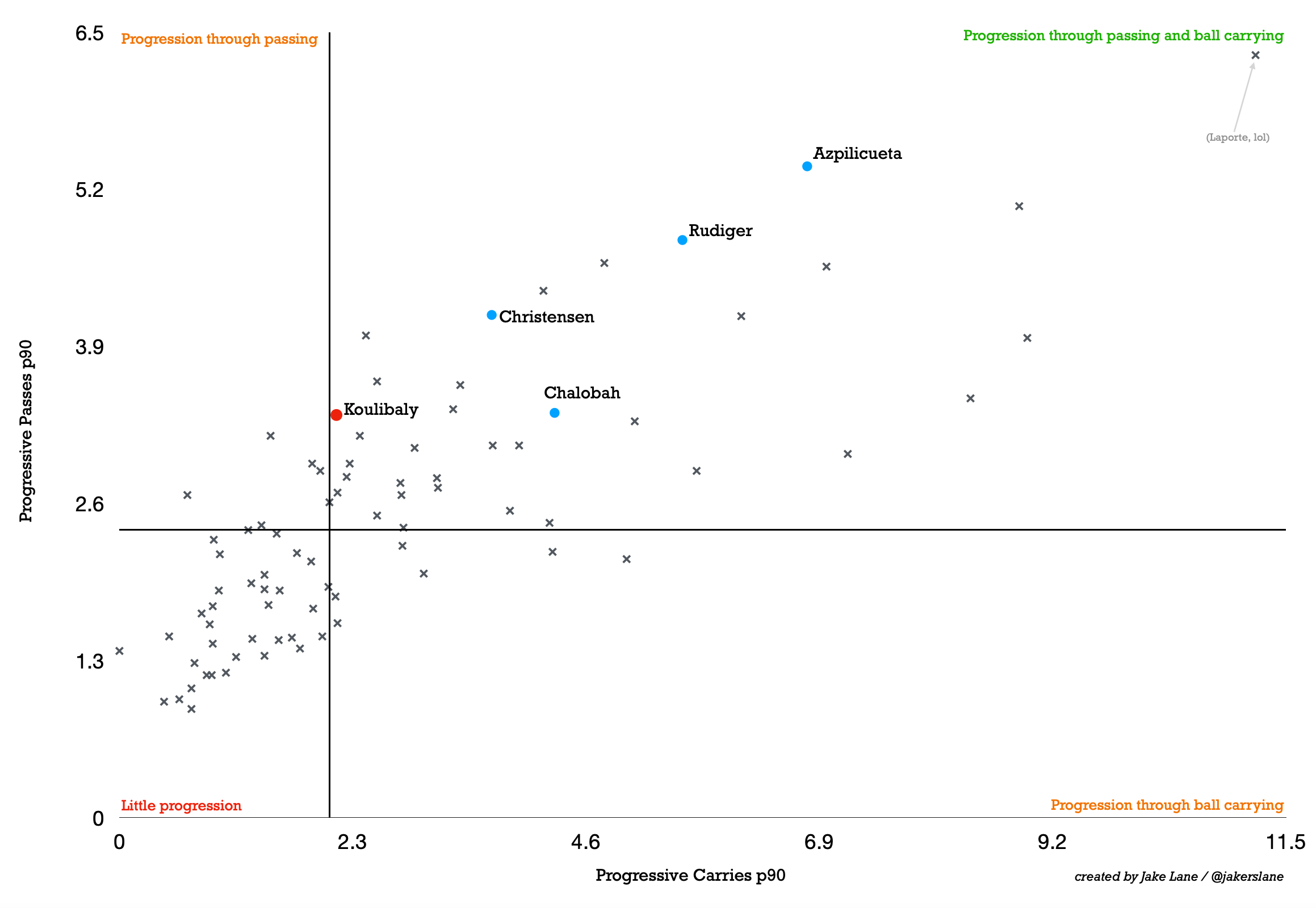 Once again, the Senegalese is far behind Chelsea's 21-22 crop here, and will need to step his game up in a big way in order to fill the boots of the departed Rudiger and Christensen.
Granted, he might be given some leeway here. Due to the different systems being played at Chelsea and Napoli, the Blues' centre-backs are likely given a much greater deal of responsibility in this area than Koulibaly was, particularly regarding carries.
If Chelsea are struggling to break down a block, it can be an option for the centre-backs to dribble into midfield in order to try and draw the defending team out of their shape, while still leaving two other centre-backs to cover behind them.
In a back-four system, Koulibaly wouldn't have had as much freedom to do this, and it wouldn't be a great surprise to see his numbers improve in Tuchel's system. That being said, the number of areas where he is going to either have to improve or adapt his game is a bit of a red flag.
Koulibaly is 31 years old now, that's not the sort of age where you would typically be taking your game to the next level, so the move to the toughest league in the world may not be a particularly easy one for him, and it is an extremely big ask expecting him to fill the boots of Antonio Rudiger, who was one of Europe's best last season.
Kalidou Koulibaly: Chelsea's Incoming Senegalese Defender and the Legacy He Leaves in Napoli
There are areas of similarity between the two. For example, Smarterscout gives them similar scores for both 'Link-Up' and 'Dribble', and the Senegalese's preference for 'Disrupt' style defending over 'Recover' style defending is consistent with the rest of the Chelsea defenders, even if to a slightly lesser extent.
Koulibaly shouldn't be written off immediately. There are aspects to his game that may adapt well to a more freeing 3-4-3 system, and at Napoli he has demonstrated a reasonable ability to do some of the things that Thomas Tuchel wants his centre-backs to do. However, there are major question marks over how he might adapt to life in the Premier League, and some tendencies he has which will need to be drastically changed to suit this Chelsea side.
In a transfer window that has so far failed to live up to the expectations of Chelsea supporters, Koulibaly being the keystone centre-back addition for 22-23 might be a big problem in the club's attempts to catch Liverpool and Manchester City.
By: Jake Lane / @jakerslane
Featured Image: @GabFoligno / Chelsea FC