Raheem Sterling: The Premier League Centurion Headed for Thomas Tuchel's Chelsea
It started as a rumour. However, it has been established that Thomas Tuchel has earmarked Manchester City's unpredictable winger, Raheem Sterling, as his primary target as he looks to bolster his attacking options for the next campaign.
For a man that has scored over 100 Premier League goals at just 27 years of age, his potential move to Stamford Bridge has been met with disapproval, discontent and some might say disrespect by a large section of the Chelsea faithful with some calling for the signing of Richarlison or Ralphinha instead.
The Jamaican-born England international has been greatly underappreciated despite enjoying a trophy-laden and productive career. This disrespect is not just from the Citizens, or Chelsea supporters, but by football fans as a whole. It's baffling, to say the least, seeing as he is one of the best wingers in world football.
Trading Merseyside for Manchester
Raheem Sterling was promoted to Liverpool's senior team in 2012. The little winger had bamboozled the Under 23 league with eight goals and ten assists in 22 appearances and proved too good for his fellow kids. Liverpool manager Kenny Dalglish turned to 17-year-old Sterling as the Reds were minutes away from an embarrassing 2-1 home defeat to Wigan Athletic. His cameo made him the club's third-youngest player in history.
His debut goal against Reading in October 2012 made him the second-youngest player to score for the club after Michael Owen. He made substitute appearances in the latter stages of the season as Liverpool dwindled towards an eighth-placed finish, but the following years would see Sterling become a beacon of hope in the club's resurgence.
The Resurgence Of Antonio Rudiger Under Thomas Tuchel and a New Adventure at Real Madrid
Sterling endured a turbulent relationship with Liverpool towards the end of his stay at Anfield. In the campaign before his departure, his performances split the Kop in two. Some claimed he was the best English talent of his generation, while others implied he made little contribution to the club.
With the sale of Luis Suarez, Daniel Sturridge struggling with injury, and Steven Gerrard's gradual decline, the then 20-year-old became the club's main man. He finished the season as Liverpool's second top scorer with seven goals, bested only by Gerrard's nine.
Only Jordan Henderson (15) was involved in more goals than the Raz (14), but it wasn't enough to satisfy the thirsty Anfield crowd craving glory. Feeling unappreciated on a £35k a week salary, he knocked back a couple of improved offers from the Liverpool hierarchy, including an offer of £100k a week before moving to City.  
It wasn't his decision to switch Anfield for the Etihad that angered the Kop but rather the way it happened. Sterling was a starlet with the world at his feet. There was no doubt about his talent as a fine footballer or as Phil Roscoe described him, "one of the best young players in England, if not the best."
He wanted what he felt was best for his career, but his ambitions came off as motivated by greed. His representatives felt he deserved to be on the same wages as the injury-prone Daniel Sturridge. 
There seemed to be a plethora of reasons why the talented forward wanted a move, ranging from being unhappy playing at wing-back, despite hardly featuring in the role, to the issue of trophies. His camp finally made it clear that he felt bullied by the club. Whatever that means. 
After refusing three contract proposals and declining to travel with the squad for preseason duties, it became clear to the Liverpool hierarchy that he would not budge on his stance, and £49M later, Sterling was unveiled as a new Manchester City player.
Life after Switching Colours
Raheem Sterling became (at the time) the most expensive English player when he switched Red for Blue. As always, with the big-money move came high expectations.
His move was tainted by the atrocious way it occurred. The spotlight was firmly fixed on him. City fans hoped he would perform, and Liverpool fans hoped he would fall off the stage. Sterling had to prove doubters wrong and rewrite his story to come out on top.
Seven years, over 100 goals, scores of assists, and four Premier League trophies later, you would think he has done enough to end the debates over his value or impact at both international and club levels, but that hasn't been the case. Despite his achievements, some fans still do not believe he is good enough. 
Since joining City, Sterling has excelled for club and country. Only the Champions League title has eluded him. Since Pep Guardiola arrived at the Etihad in 2016, Sterling has been one of Manchester City's best and most consistent outfield players alongside Kevin De Bruyne, and the stats back it up. His 131 goals in 339 appearances place him second on City's all-time goal-scoring chart, only bettered by the legendary Sergio Aguero. 
His first four seasons in Manchester went according to script. He was a regular starter, won trophies for sport, and was an influential figure in the dressing room. However, turbulence rocked his boat in the 2020/21 campaign, where he went through a spell of poor form. His rough patch didn't last very long as the mesmerising winger sprung back to life with City, dazzling with goals and assists against Club Brugge, Everton, Paris Saint-Germain, and Aston Villa.
He had lost his place in the starting eleven at club and international levels. However, even though future club teammate Jack Grealish had a better season, Gareth Southgate put his faith in Sterling at Euro 2020. He repaid his waistcoat-wearing manager's faith by scoring crucial goals for England on their way to the final.
After rediscovering his form and place in the team, he opened up about his mental health struggles and how it affected his game. He not only overcame his setback but regained his blistering form. Nine years on from his debut in the competition, Sterling is on course to becoming one of the Premier League greats.
Analysing Sterling's Last Campaign
The 27-year-old forward has not hit the heights he has in recent campaigns yet was instrumental when given the chance. Some say he has experienced a decline, yet his stats are still impressive.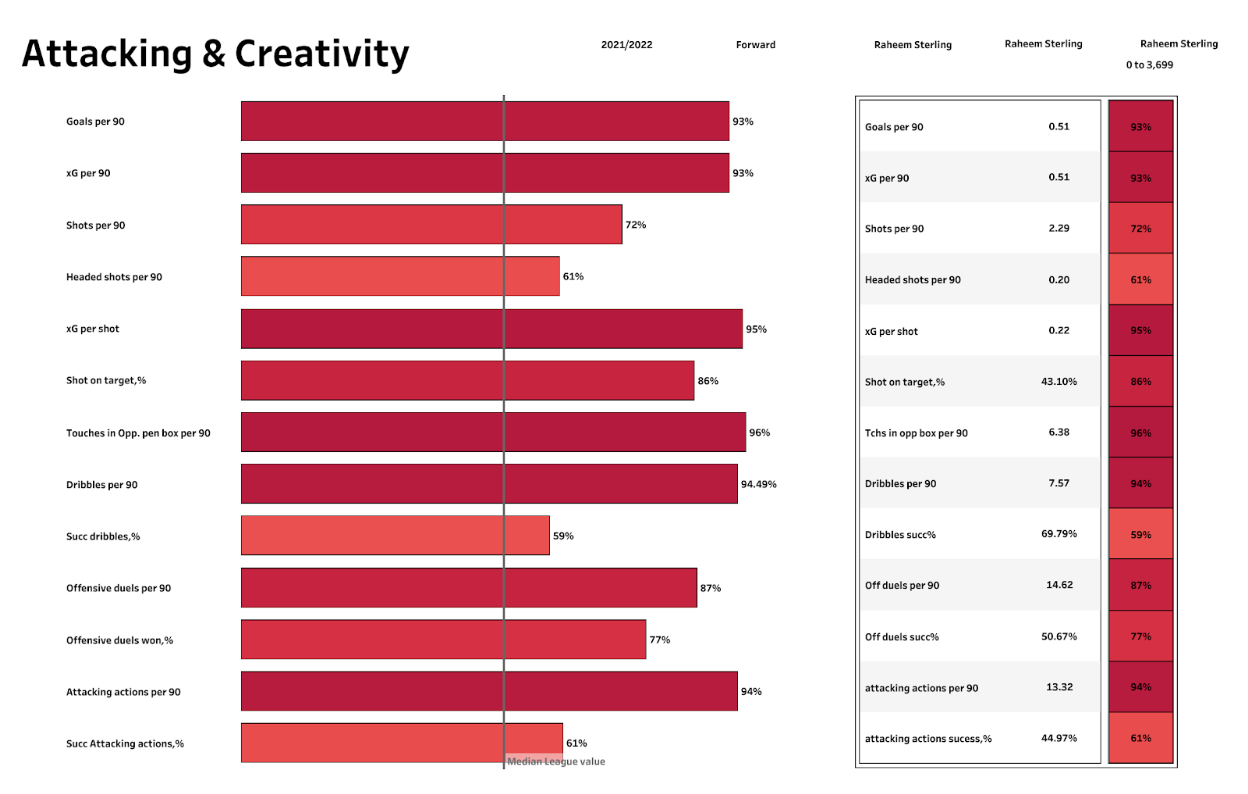 Sterling made 30 appearances, totalling  2,128 minutes for City in the Premier League. During that time, he scored 13 goals at a rate of 0.51 goals per 90. He generated an xG per shot of 0.22, ranking him in the top 5% of forwards.
Over 43% of his shots hit the target. The 27-year-old took 6.38 touches in the opposition's penalty box, which puts him in the 96th percentile for this category. He also attempted 7.57 dribbles per 90 at a success rate of nearly 70%.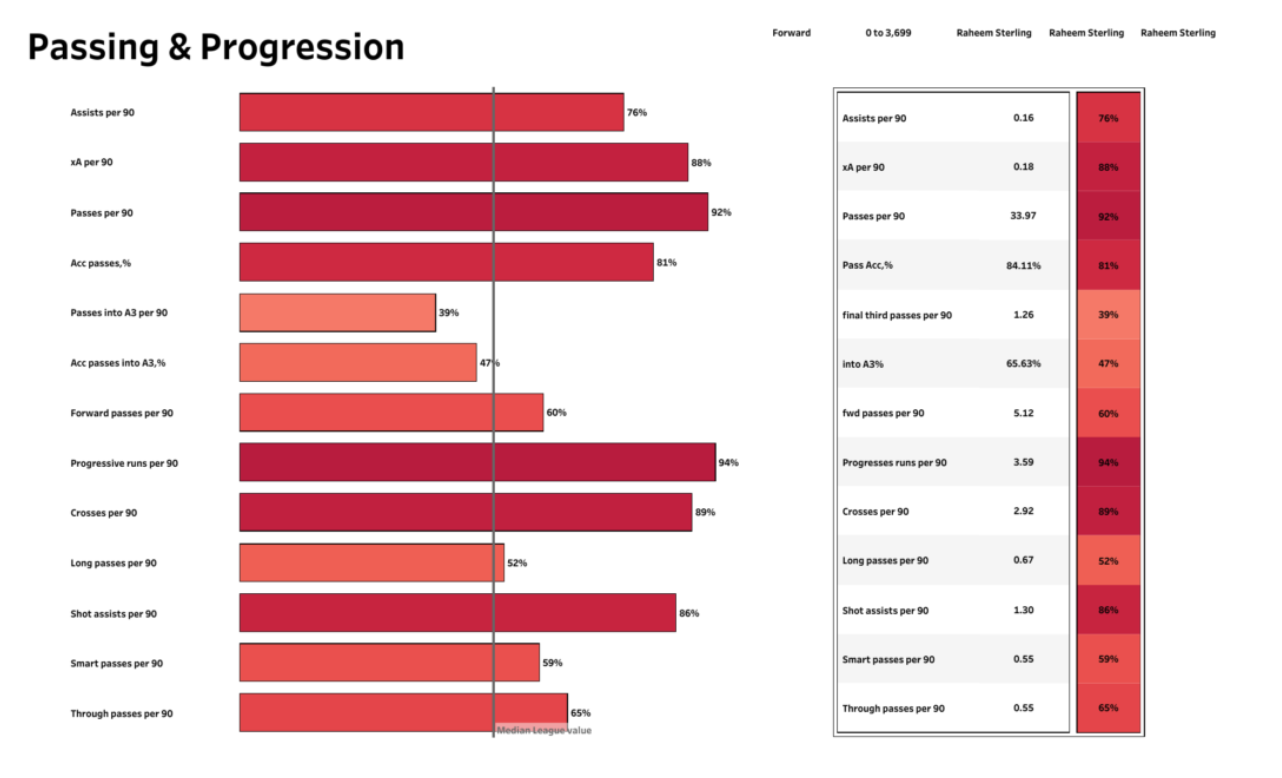 Sterling provided five assists in the Premier League at a rate of 0.16 assists per 90. He attempted nearly 34 passes per 90, ranking him in the top 8% of forwards. He also made over 3.59 progressive runs per 90, which put him in the 94th percentile for this category.
The Englishman completed nearly eight progressive carries and 2.2 carries into the opposition's penalty area. His 2.33 passes into the opponents' penalty box rank fourth in the City squad among regulars.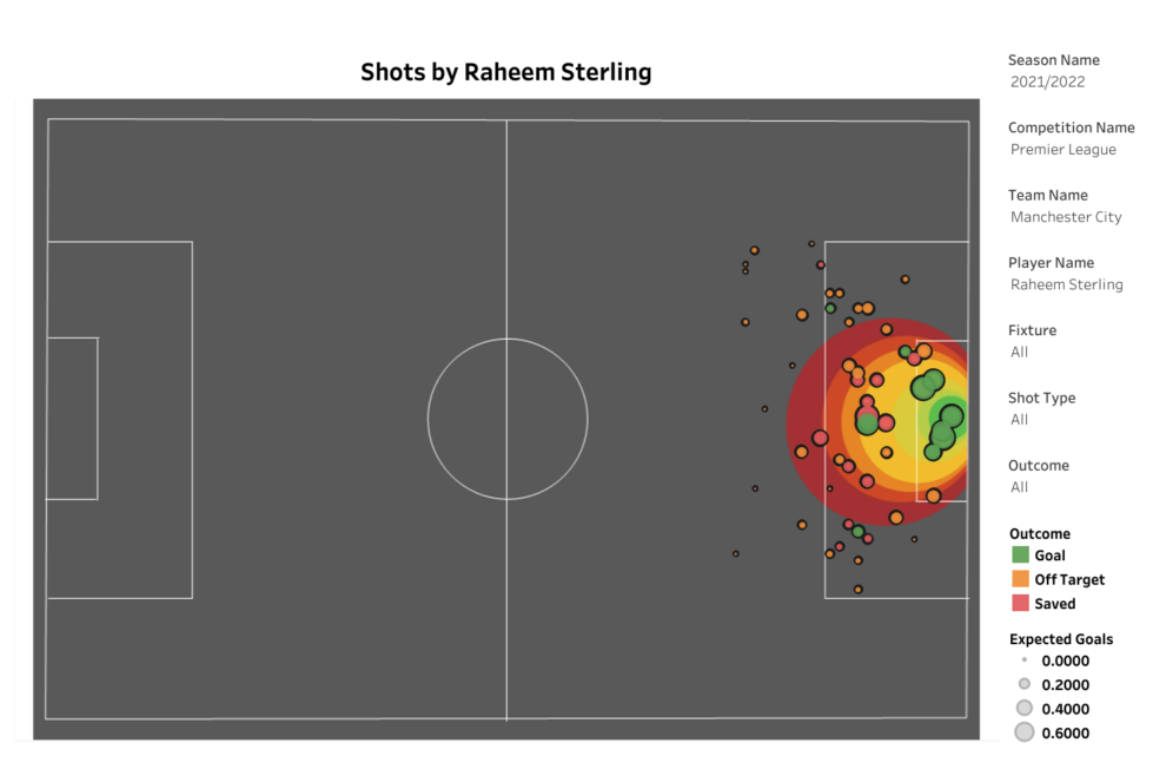 The winger attempted 58 shots in the Premier League, hitting the target 25 times. He is dynamic enough to be self-sufficient and create chances for himself. He can also be a real fox in the box, popping up in dangerous areas and burying chances. Of his 15 non-penalty goals in all competitions last campaign, ten came inside the 6-yard area, four from the 18-yard area, and just one came from outside the box. 
Under-appreciated and Disrespected
Sterling has always been underappreciated and disrespected. He is often scrutinised for missing big chances, which is not an unfounded opinion but still ridiculous. Last season, Lewandowski scored 35 Bundesliga goals, but it was not mentioned that he missed 32 big chances.
During the 2020/21 campaign, he broke Gerd Muller's domestic goal record by scoring 41 Bundesliga goals. He missed 25 big chances. Sterling's stats compared to players who enjoyed a high scoring 21/22 campaign; Cristiano Ronaldo – 18 goals – 13 big chances missed (bcm), Kylian Mbappe – 28 goals – 23 bcm, Mohamed Salah –  23 goals – 17 bcm, Raheem Sterling – 13  goals – 13 bcm.
Top players miss big chances, but that also means they score a lot of goals. When they get into the right positions but fail to score enough goals despite missing big chances, as in the case of Timo Werner, then you can get worried. Sterling is not a man without faults either.
It's always frustrating when he finds a way to convert the hard chances but spurns the easier ones. But he has nothing else to prove. His numbers speak for themselves. However, he is more scrutinised than the likes of Mo Salah, not because he's unable to affect the game positively, but because he misses a lot of big chances against high-profile teams.
Missing chances against "small" teams might go under the radar, but in big matches like the famous one against Lyon, people pay closer attention, which is what separates Sterling from the rest of the pack. The lack of faith shown in him by fans is contradicted by the managers he has worked under because he is a player that can affect games in ways no other player can.
With the fate of the PL trophy hanging in the balance and the team 2-0 down with 20 minutes to go, City had to overcome Gerrard's stubborn Aston Villa side. While many would have fond memories of Ilkay Gundogan's brace, Sterling's introduction helped turn the game around in City's favour. 
His assist for Ilkay Gundogan's first goal was typical of his strengths as a wide forward. He stretched the defence, took on and beat his man 1v1, drove toward the byline before executing a looping cross for the German to head home. It was basic, unflattering, yet effective, and that's Raheem Sterling.
That goal turned the tides in favour of the Citizens. For the rest of the game, Sterling continued to stretch the defensive line, allowing Kevin de Bruyne and Gundogan to attack the spaces. KDB's darting run into the box before squaring for Gundogan to net his second also proves that. But of course, Sterling wouldn't get enough credit for the part he played in the comeback because he wasn't on the scoresheet. 
Sterling didn't always know how to score. His time at Liverpool proved that, but he was still a kid. And for a kid, the numbers he put up were impressive. He had 48 goal contributions in 129 games. He scored goals but was more of a dribbler until Pep reconstructed his playing mechanism and turned him into a potent goal threat. 131 goals later, the transformation proved effective. 
He possesses a wonderful balance of power and poise. His pace is complemented by precision and tactical intelligence, and he has a fearlessness and freedom about him which characterises his play.
Born in Colombia, Thriving in Dallas, is Jesús Ferreira the Answer to the USMNT's Striker Predicament?
Cherry-picked stats can be used to tell a story, but with Sterling, all stats point to him being a top player, yet it isn't enough to win over some respect and recognition. To quote Micah Richards, despite all that Sterling has done for the club, most City fans don't believe he is good enough to play for the club, and they are wrong.
Is Chelsea the Next Step for Him?
According to several reports, the Englishman is Chelsea's primary target. After City sealed the £100M move for Jack Grealish, Sterling slipped down the pecking order, but it wasn't enough to drastically reduce his game time as Grealish himself was unstable.
But with the signing of Erling Haaland, the promise of first-team football is not one Pep or City can guarantee. With that in mind and a year left on his current deal, Sterling may move on after seven years at the Etihad. 
It's no secret that if Chelsea were to compete for glory next season, they have to improve their current attacking options. Hakim Ziyech, Christian Pulisic, Callum Hudson Odoi, and Timo Werner have failed to be consistent threats when given the chance.
Romelu Lukaku spent his supposed glorious return to the Bridge, hung up on his time at San Siro. Kai Havertz isn't quite the finished article, but there are aspects of his game that have shown he can be relied upon.
However, the addition of Raheem Sterling would not just be an instant improvement to this current Chelsea side, but it would also give the young forwards a more mature figure to learn from in their development.
Reports suggest City would demand up to £50 million but Chelsea feel confident they can secure a deal for £35 million — it is likely they will have to meet in the middle.
What Sterling Would Offer Chelsea's Attack
Thomas Tuchel's side lacked precision and maturity in the final third, which was evident in their profligacy in front of goal. Their need for a dynamic winger that can take a man on 1v1, stretch the opposition defence, run behind them and take chances was constantly on display. Despite sitting third in goals scored behind City and Liverpool, those numbers could easily have been more if they were more potent in the opposition box.
Mason Mount was pushed up to the right side of the front three to solve the creative problem alongside Reece James, and while they have been exceptional in their roles, Chelsea lacked the prolific left-sided winger to rack up the goals. That's where Sterling comes in. 
Yes, he misses big chances too, but his mentality, phenomenal off-the-ball movement, good decision-making, and goal-scoring prowess would daunt any of Chelsea's other attackers. Pulisic was inconsistent, Hudson Odoi was often out of the squad for one reason or the other, and Timo Werner was, well, Timo Werner.
With Sterling, a mature, well-developed, more consistent serial title winner, Chelsea could solve their goal-scoring problems in one fell swoop because even on his bad days, he is better than the options on the blue roster. His versatility would also be a bonus as he can play anywhere across the front three.
The England international is a positive influence, always looking for a breakthrough. He always wants to make something happen and refuses to back down from a challenge or concede defeat.
He has that steel and mentality that gives him the ability to overcome setbacks or obstacles, and over the years, that attitude has worked in his favour. Not even the barrage of criticism from the British media for gun tattoos and buying his mum a house could stop him. 
From the 15-year-old kid who was scared to go live on an interview to the 20-year-old boy labelled "the money-grabbing kid", the 2014 Golden Boy winner has endured a career filled with mixed emotions. I'm not sure what else the dazzling winger needs to do to prove himself, but he is undoubtedly one of the best wingers in world football.
By: Onyekachi Uwanabi / @__Kachi_
Featured Image: @GabFoligno / Eddie Keogh – The FA