Ivan Perisic Struggles to Convince at Tottenham
The signing of Ivan Perisic was met with much excitement by the Tottenham faithful. The Croatian was a key piece of Antonio Conte's Scudetto-winning team in 2020-2021 and has been one of Europe's most consistent players over the last decade.
When he was signed by the Italian for the North London outfit, he was touted as a key piece for Conte's intricate puzzle. Fast forward to March and now Perisic is struggling to convince, having been benched for Ben Davies in Tottenham's 2-0 wins against West Ham and Chelsea, before returning to the XI in their 1-0 defeat to Sheffield United in the FA Cup and a 1-0 defeat to Wolves in the league. This is how it has gone wrong for the Croatian.
Structural Issues
At Inter Milan, where Conte used Perisic to such devastating effect, the system in place was 3-5-2. At Tottenham, he has deployed a 3-4-3. Many would say there is almost no difference between the two, however, for the wingbacks, there are completely different responsibilities.
As a wing-back in a 3-5-2, you have more space for yourself as a 1 v 1 winger to attack the opposite fullback, which is what Perisic prefers to do. Whereas in a 3-4-3 you must work in tandem with the winger. The issue with this at Tottenham and a big issue all over the pitch has been spacing.
Whenever Heung-Min Son is played at left wing, he and Perisic often get into each other's spaces when attacking. Also, Son's combination play outside the box isn't one of his strongest suits. These factors often lead to both players invading each other's spaces and poor ball retention on the left-hand side.
At Inter, whenever pressed, Perisic had a variety of options who were comfortable on the ball to pass it to. He had Alessandro Bastoni, Christian Eriksen, Hakan Çalhanoğlu, and Lautaro Martinez as options, all of whom were comfortable at receiving and turning out of pressure. At Tottenham, he has limited options.
The 3-4-3 means the left central midfielder must be more reserved due to them playing in a pivot. The LCM has been occupied by Pierre-Emile Højbjerg, who even though has been a goal threat, is not great in the build-up and doesn't offer a viable option for Perisic whenever he receives the ball on the left wing.
This means he is forced to go long to Harry Kane, and to the annoyance of Spurs fans, this means the ex-Bayern man often hooks the ball first time into central areas. The annoyance is due to the low levels of success this provides.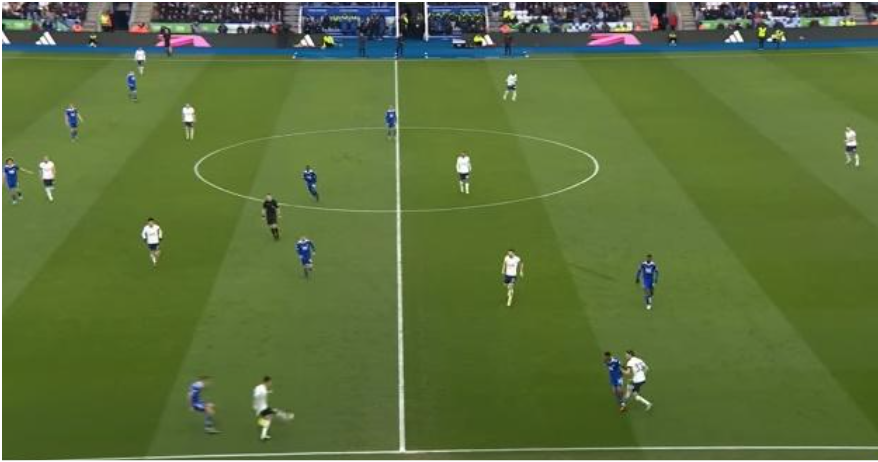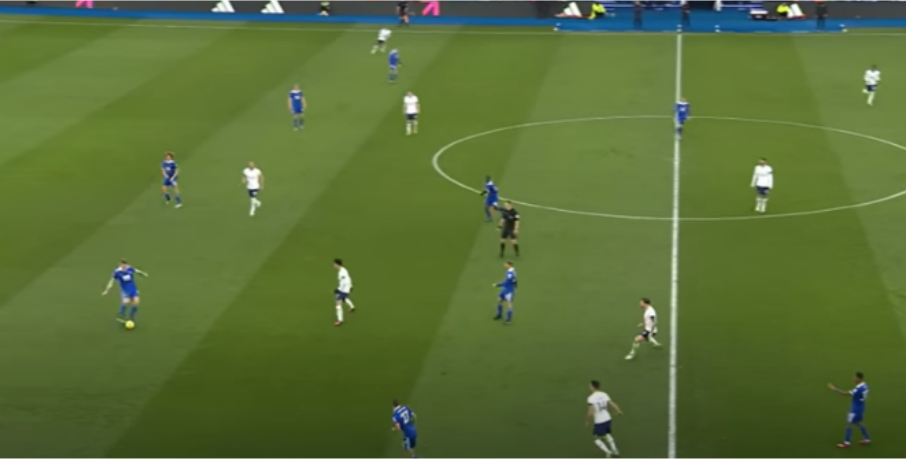 For example, against Leicester, under pressure from Timothy Castagne, Perisic hooked the ball into the middle first time, for Son or Kane, without looking. He had Højbjerg there as an option but ignored the Dane. As expected, this no-look reverse pass goes straight to Harry Souttar, Leicester's centre-back, who quickly passes it to Kelechi Iheanacho on the counter.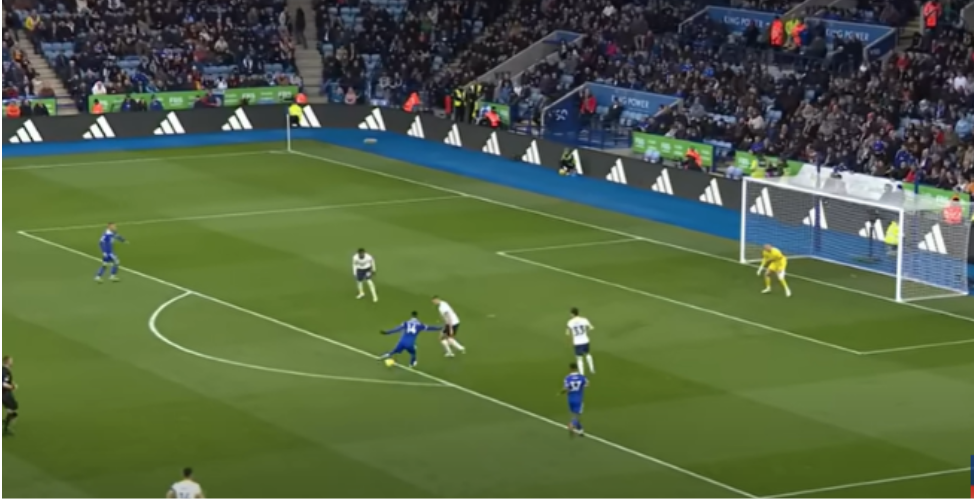 The Nigerian attacker then drives with the ball and slots it past Fraser Forster in goal, making the score 3-1. All of this came from Perisic's mistake, justifying Tottenham's fans' annoyance with him.
Defensive Woes
The main issue with Perisic has been his defensive deficiencies. As a wingback in this system, when defending, he is the left-back of a 5-man backline. This leaves him 1 v 1 with the opposite winger or fullback. His 1 v 1 defending has been maligned by the Spurs faithful, with many a winger leaving the Croatian behind and making him show his age.
Perhaps, the key question is why a 34-year-old is being asked to play wingback in his first season in the Premier League. Not to delve deep into stereotypes, but the level of competition in England this season surpasses Italy, Perisic's previous pit stop, by some margin. So, expecting him at this age to keep up with the likes of Bukayo Saka, Mohamed Salah and marauding right-backs isn't exactly fair.
Statistically, his defending looks even worse. Compared to every other player in Europe's big 5 leagues over the last year, the Croatian averages 1.72 tackles per 90 minutes and his interceptions are 0.92 p90 which is in the lower 7th percentile of all players. You could argue that his role defensively is to shuffle attackers into central areas for the combative central midfielders to win back possession.
However, the eye test says differently and shows him quite clearly getting beat consistently and not being able to defend adequately. His off-the-ball defending has been as poor as his 1 v 1 defending, with him often reacting a second too late to off-the-ball attacking movements, some of which have been costly for Tottenham.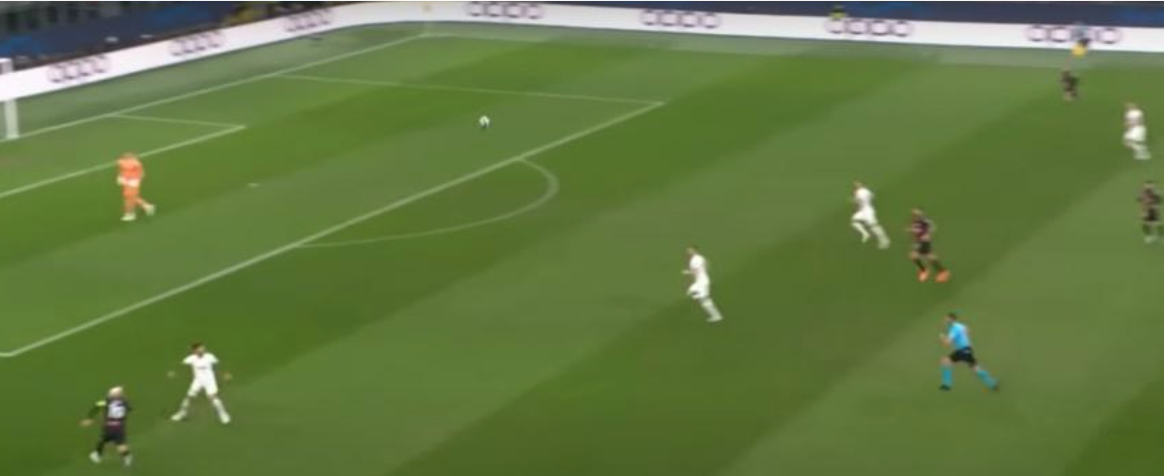 At the top of the picture, you can see Milan's wingback Alexis Saelemaekers making a movement behind the Croatian. Perisic doesn't check behind him once, as he is too occupied with the ball on the other side of the pitch.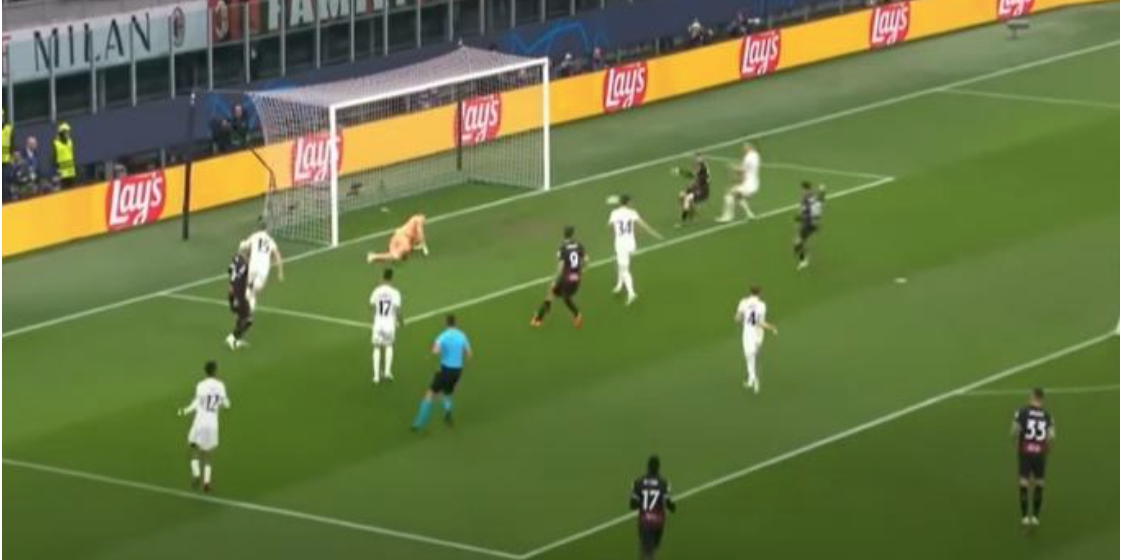 Realising his mistake, the Croatian charges back to stop the cutback going to Saelemaekers. However, the ball doesn't go back to the Belgian but instead to the incoming Brahim Diaz. If Perisic was positioned correctly, he could've been able to attempt to block the ball and potentially stop the goal.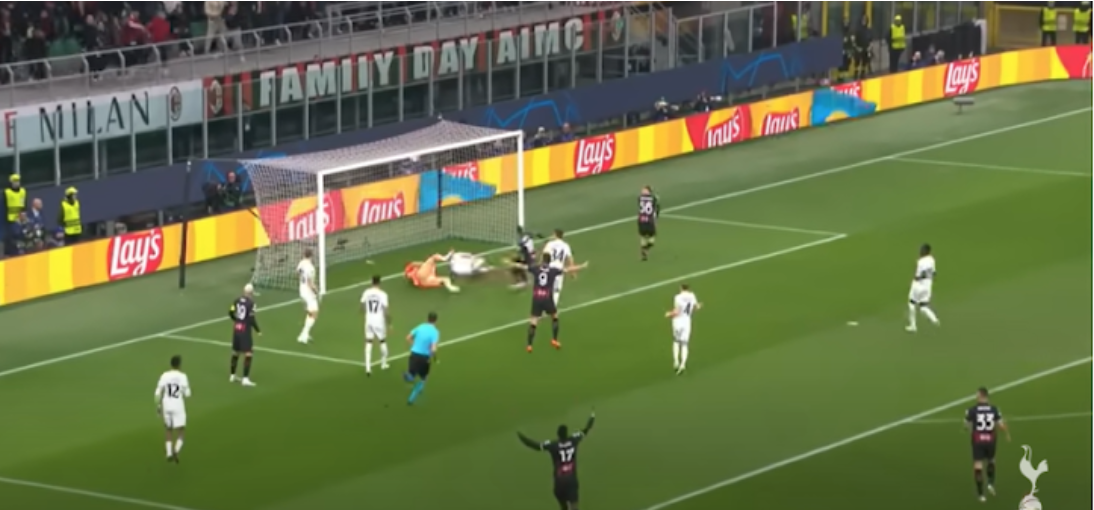 Instead, he ends up tripping over himself and falling into the goal, whilst Diaz heads in the rebound to his own shot. A comical failure that could have been easily averted. His defensive frailties in a largely defensive team have meant that he has now been ousted from the starting 11 to the bench. Tottenham have kept clean sheets and won four of their last five Premier League games. The last two have not included him in the starting 11 and they have looked defensively strong without him. This makes things look bleak for the Croatian to stake a claim back into the team. 

Offensive Firepower
The one thing which might help Perisic get a look in is his offensive output. Even though he has no goals in 32 appearances for Spurs, a startling fact considering how adept the bipedal winger is at finishing. Instead, he has been helping his teammates score. Before the World Cup, the Croatian racked up seven assists in all competitions, with him now on nine. Almost all of them have come from set pieces, as his crossing ability is probably amongst the best in the Premier League, from open play and dead-ball situations.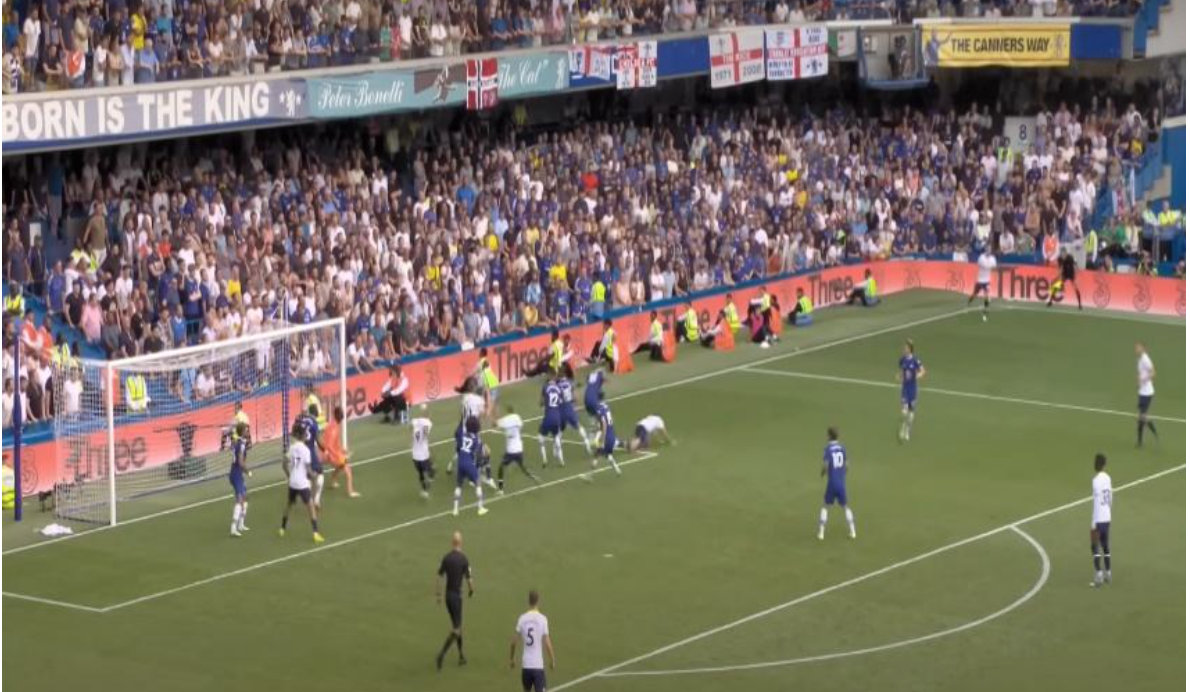 Him being bipedal means that he can take corners from both sides, a big advantage for this Spurs side. On corners, he often aims just past the near post, far enough so the goalkeeper cannot come to claim it. In the attached picture, Edouard Mendy is rooted to the spot as Kane attacks the ball and heads it past the Senegalese, equalising for Tottenham in the 96th Minute.
His dribbling stats this season however have been poor. He has only attempted 20 dribbles and completed 6, which gives him a dribble success rate of 30%. This puts him in the lower 36th percentile of all players in the Premier League. However, when he is 1 v 1 on the touchline against the opposite fullback, he often uses a single or double stepover to create separation and puts in consistently good crosses into the box.
Nevertheless, his declining athleticism has meant that carrying the ball over long distances is much harder for him. To maximise his offensive output and not put much defensive work on his shoulders, Perisic could be shifted to the front line instead. This sounds like a crazy idea for a player who has no goals this season, but against Liverpool when he started alongside Harry Kane up front in a 3-5-2, he hit the woodwork twice and was unlucky not to score.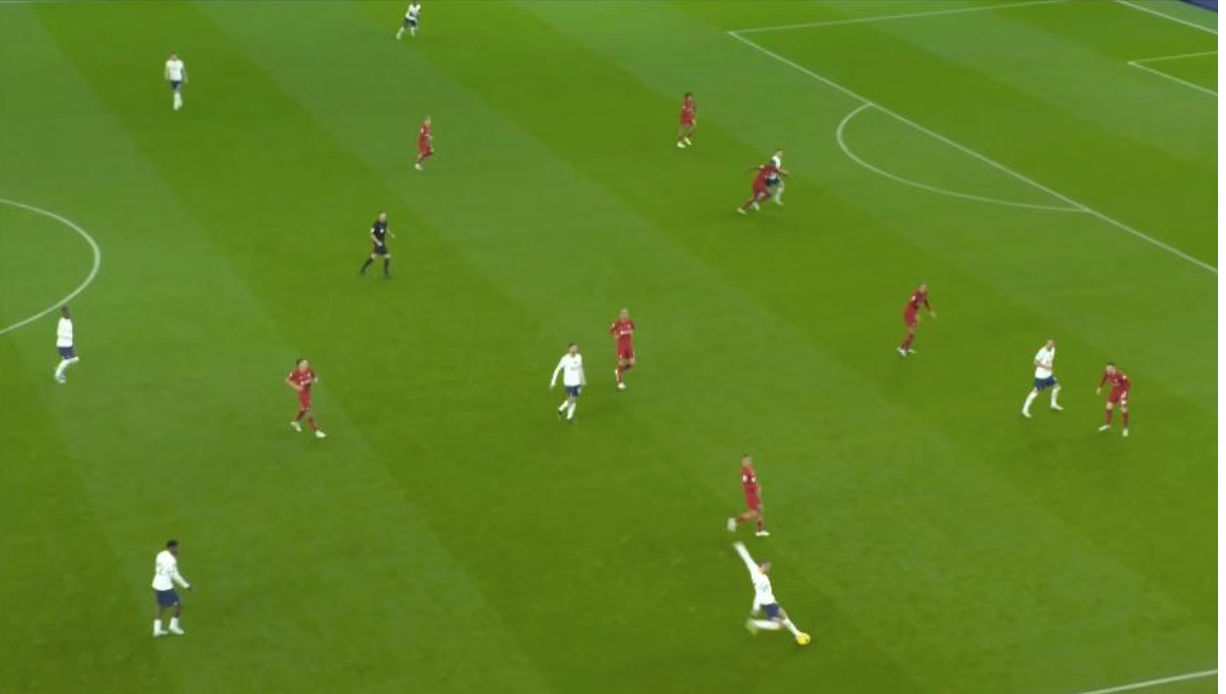 Perisic asks for the ball to be played behind and immediately makes the run in behind Ibrahima Konate, catching the Frenchman unaware.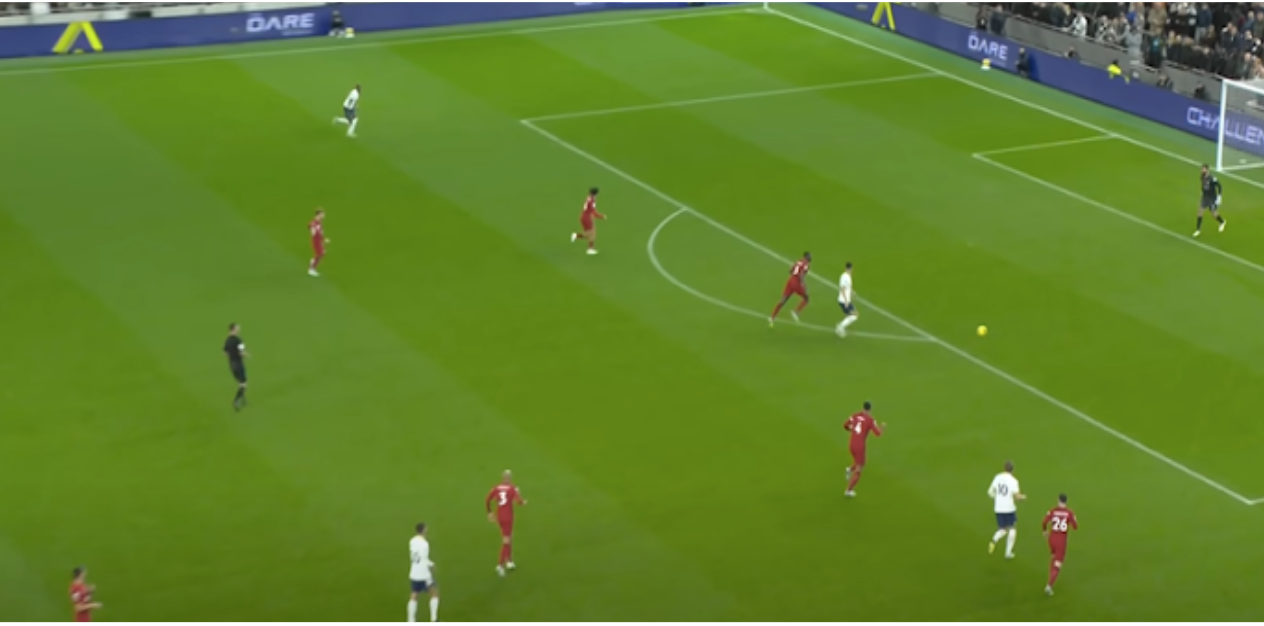 The ball is too strong for the Croatian, and it seems like the play is dead.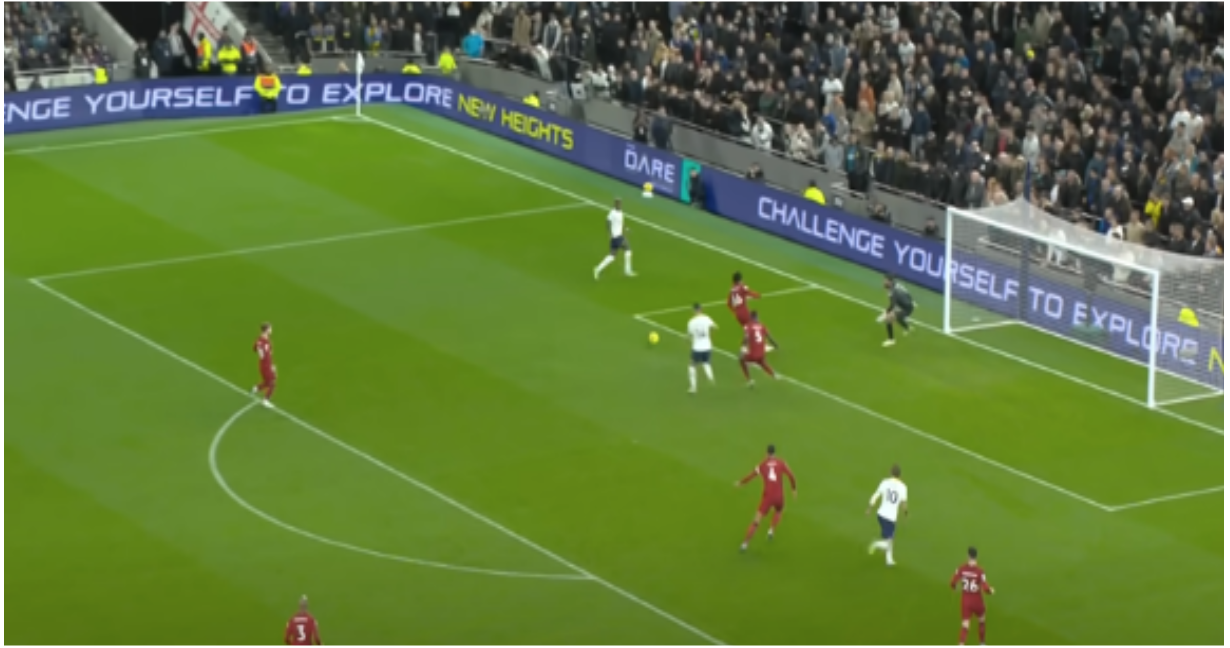 However, Ryan Sessegnon, who played wing-back this game, doesn't give up on the play and reaches the overhit ball. Perisic, showing his attacking instincts, moves behind Konate and gets a clean shot off, hitting the bar.
Truthfully, Perisic should've scored against Liverpool, but his attacking movements showed promise. He can be used as an attacking option by Spurs off the bench or even start games alongside Kane, giving opponents another box threat to worry about. Whether he will be used like this remains to be seen, given spurs attacking depth, but it can be a valid plan B.
What started off as a great season for him has now fizzled out for the treble-winning winger. Beating out Ryan Sessegnon and Sergio Reguilon for the wing-back spot must have felt like confirmation of his starting place. Yet, consistent poor performances have meant he is now on the bench.
Something which must sting him after being a starter for almost all of his career. Now it is up to him to regain his place in this Spurs team. One thing is definite. If these defensive mistakes carry on, then the Croatian better become used to his current seating arrangement.
By: Abu Yasin / @Abuy2j
Featured Image: @GabFoligno / @GabFoligno / Giuseppe Bellini / Getty Images