Jack Grealish's Breakthrough at Manchester City
Being a new signing in a Pep Guardiola team is like breaking into a new pair of expensive shoes. It's a painful and patient experience but once you break into them, you're wearing them everywhere and everyone envies you for being able to afford them. Especially if they're worth £100 million.
For Jack Grealish, being a Guardiola signing means getting to grips with a system that already has 11 functioning parts. At times, it means sacrificing the spontaneous for the monotony. For a maverick like Grealish, sacrificing the spontaneous for the functional has been difficult.
He only had 3 goals and 3 assists last season in the Premier League and fell in the background when Manchester City won the league in 2021/22, their fourth league title in five years. However, this season, he has taken centre stage alongside City's usual stars and is becoming a key part of their title charge.
In recent weeks, the ex-Aston Villa talisman has shown why Manchester City spent so much on him. He is more confident and direct and is impacting the scoreline. This season he has 5 goals and 6 assists in 24 Premier League games, almost double his tally from last season in three fewer games. There have been many reasons behind this, and one of these is Guardiola's tactical tweaks.
With the introduction of Erling Haaland, the Cityzens added a raging bull and have unleashed him in the Premier League's China Shop as he has scored 32 league goals in 28 appearances. Yet, this came at the cost of less control in games due to how direct and vertical City had become. To synergise both control and Haaland's goal threat, Pep has introduced a 3-2-2-3 formation with the middle two forming a box midfield.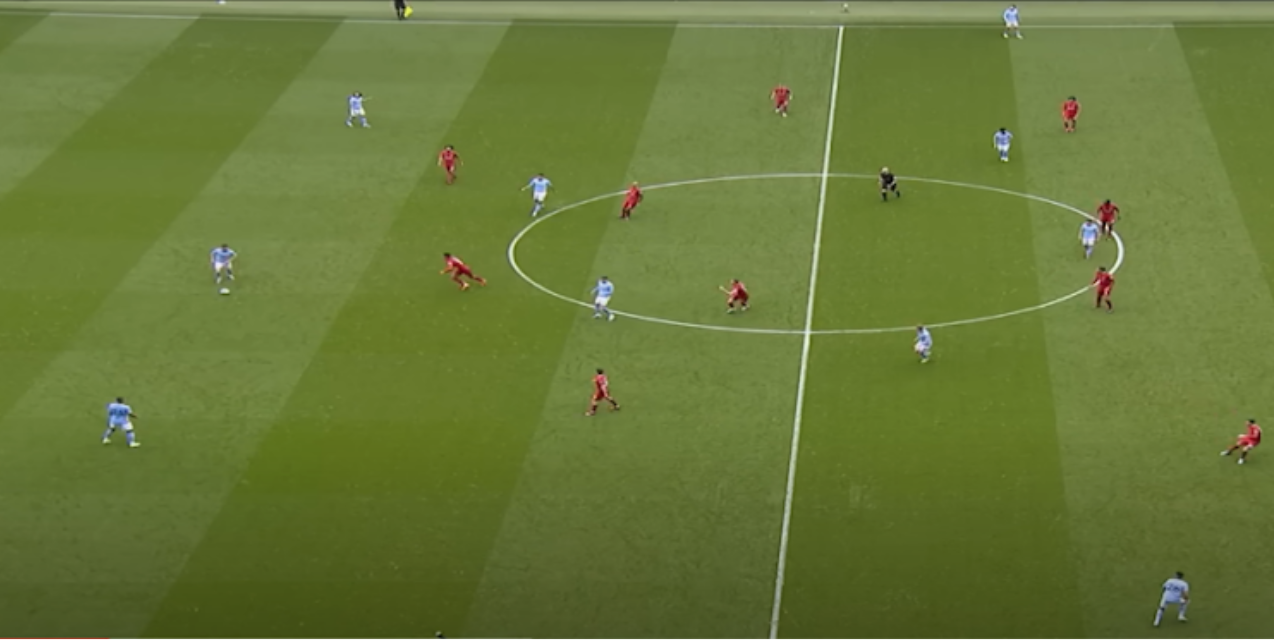 Against Liverpool, this box midfield invites the press from Liverpool and opens passing angles for the man in possession.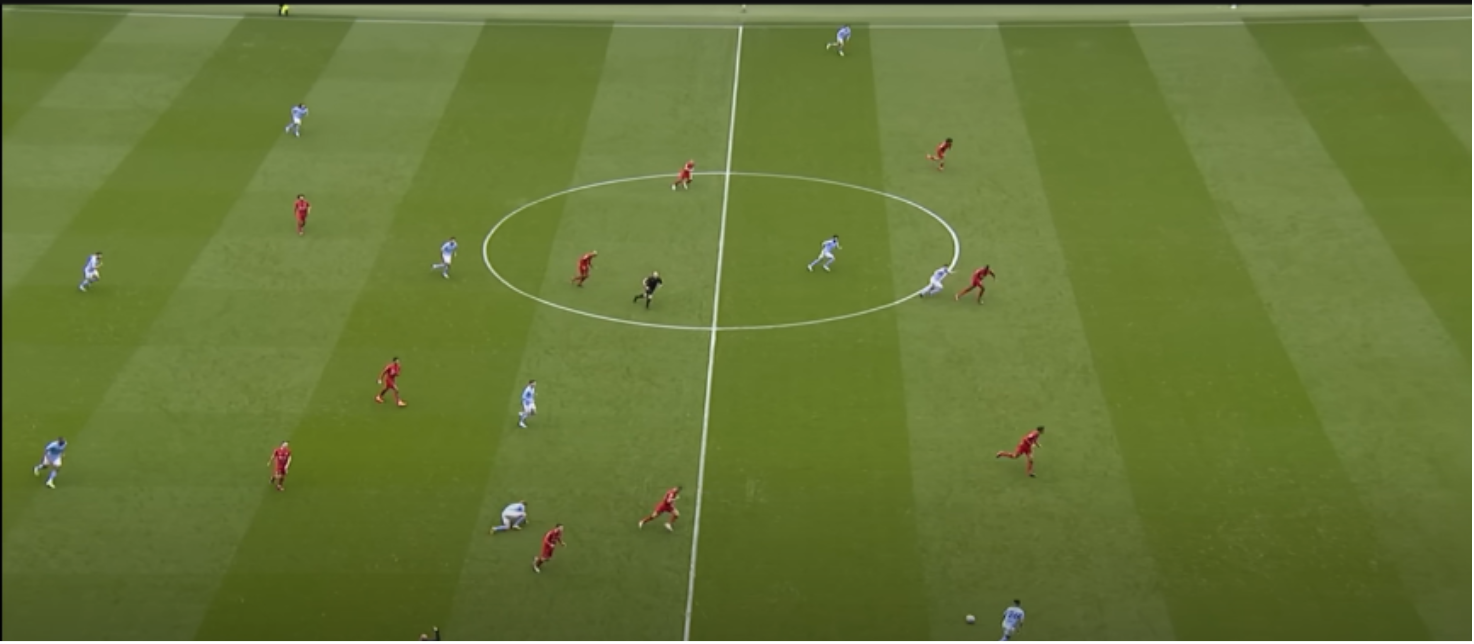 Then when played through the press, City are overloaded on one side, which draws Liverpool players in. This leaves Grealish hanging off the last line in space. Grealish then receives the ball in time and space, and with no hesitation plays it to Julian Alvarez who scores past Alisson.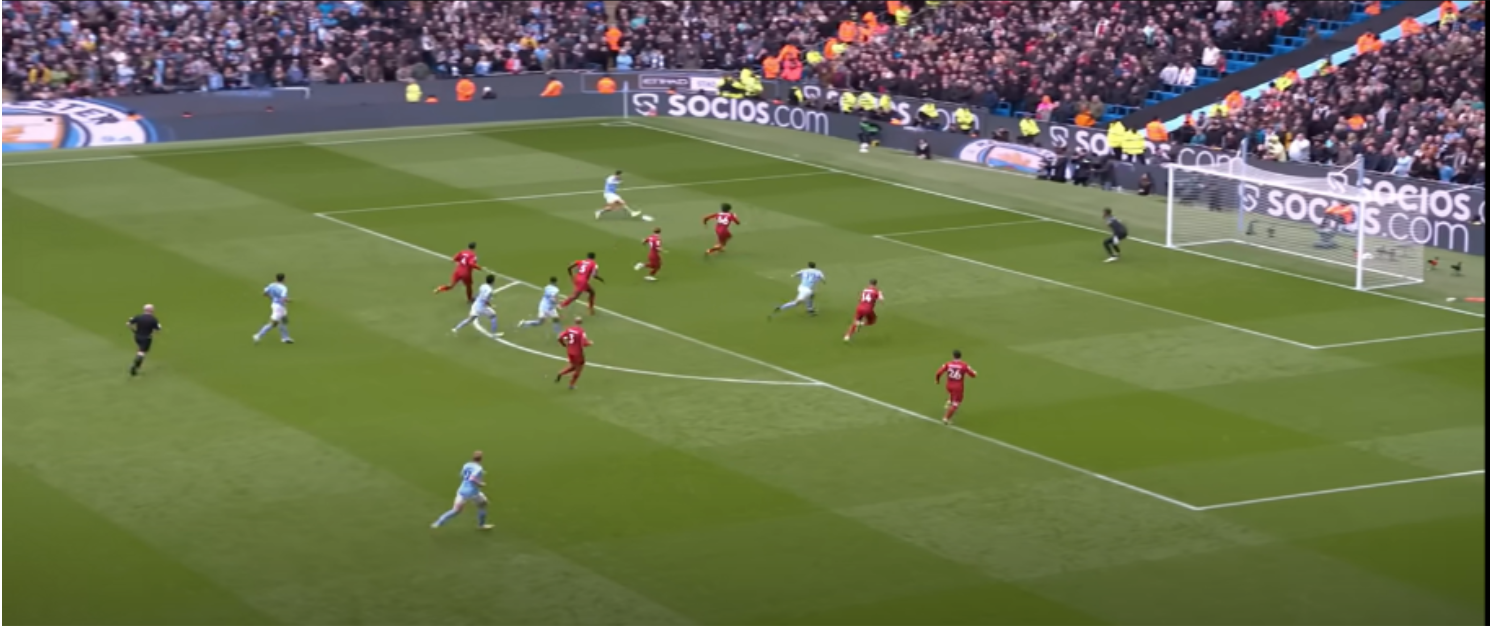 Overloading one wing and switching it to the other side has been a staple in Guardiola's teams from his Barcelona days. At City, this box midfield allows this with added defensive cover and has given Grealish more time and space to receive the ball in dangerous situations like the one above. Having the likes of Ilkay Gundogan and Kevin De Bruyne as floating 10s who quickly switch it to him in 1v1 situations means he can do what he does best: driving at defenders and picking out his teammates.
This was a sharp contrast to last season when he was stuck on the wing, and endlessly recycling possession. A higher starting position with less responsibility on him to help control the game has meant an uptick in form for the Birmingham-born attacker. The box midfield gives Kevin De Bruyne the license to drift over to the left-hand side and combine and interchange with Grealish.
Usually, De Bruyne would be shoehorned on the right-hand side of the midfield, yet the fluidity of this new system allows him to drift and puts Grealish in proximity with City's most impactful player, which can have a devastating impact on the opposition.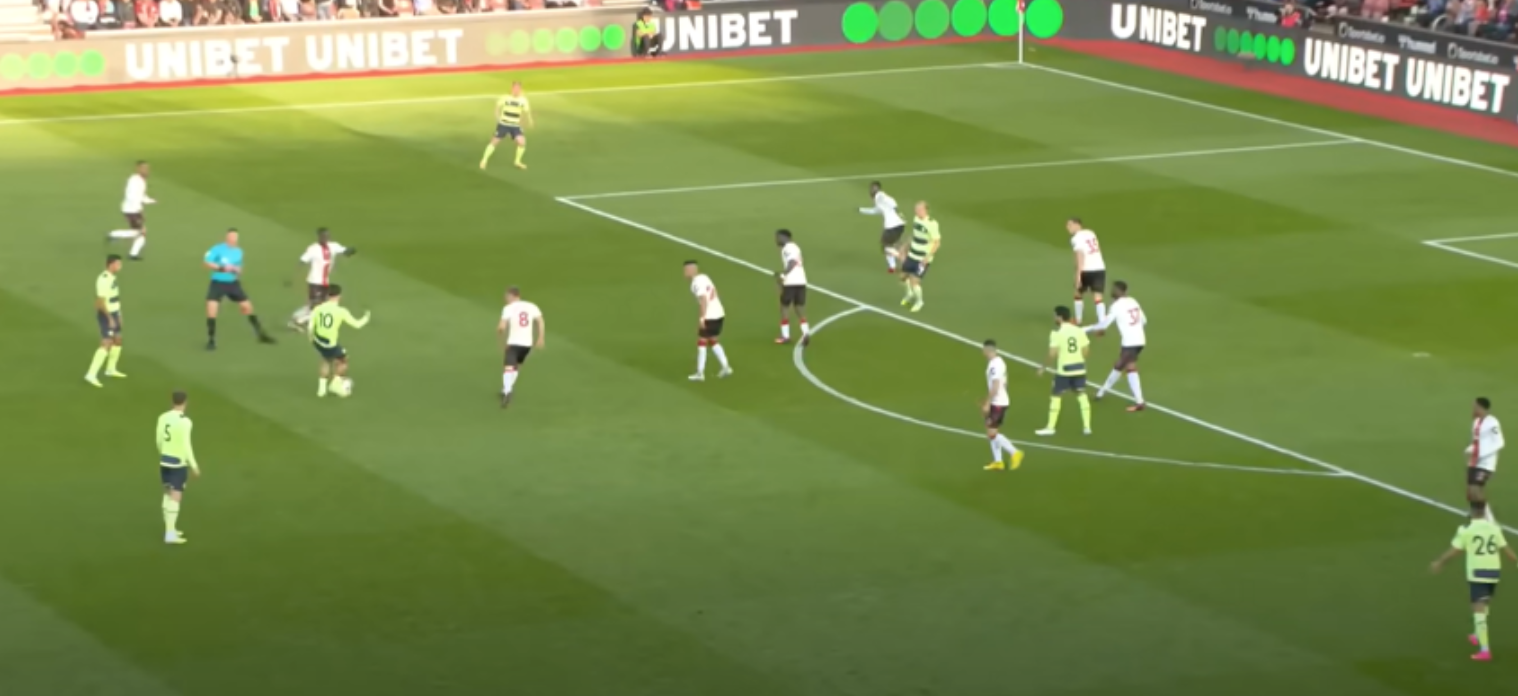 In this example against Southampton, Grealish has moved to a central area, an area considered almost taboo for him last season. He has attracted five Southampton players to him, which has opened space out wide, De Bruyne unsurprisingly occupies this space.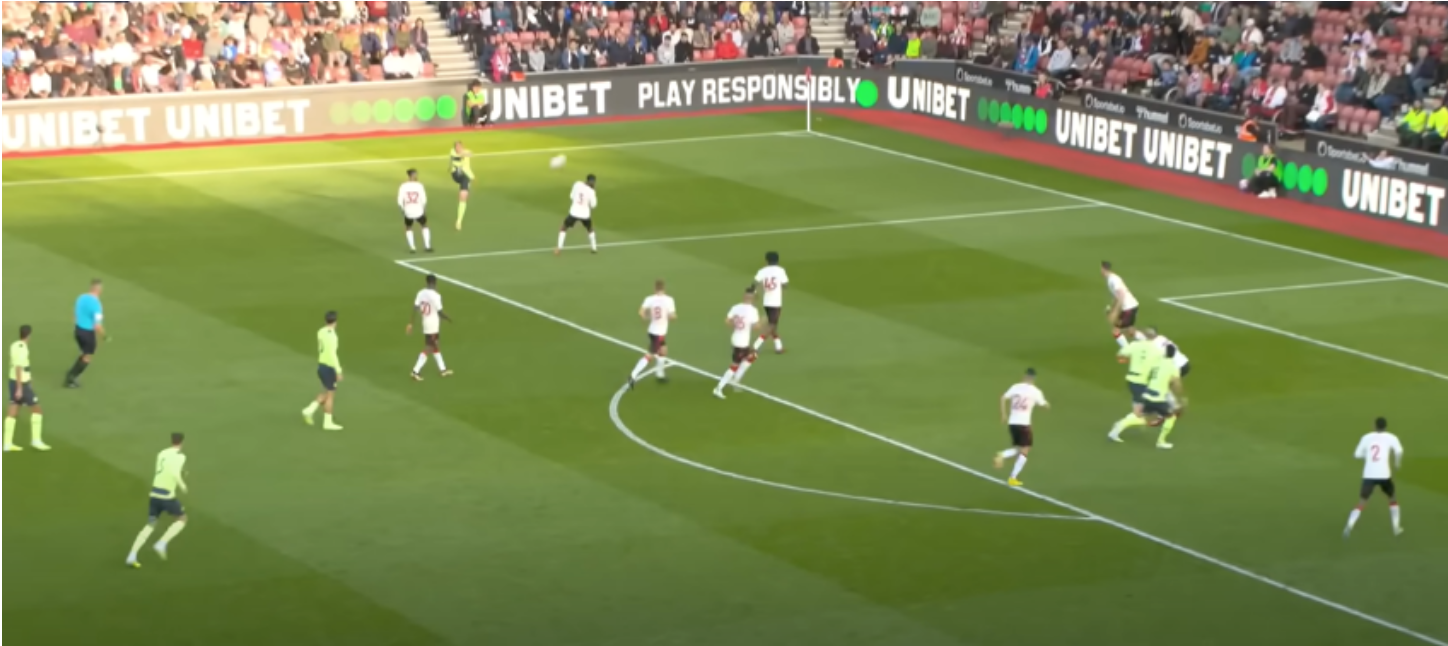 Grealish quickly plays it out wide to De Bruyne who then whips it into the box perfectly. Leaving someone who reached 100 assists in the Premier League in record time with that much space is criminal and indicative of why Southampton are where they are.
The ball floats perfectly for Haaland to attack it, who punishes the Saints. An excellent goal was made by the rotation of De Bruyne and Grealish.


From being isolated on the wing to drifting and combining with other midfielders, Grealish is almost a new (the Aston Villa version of himself) man. His newfound confidence is also because of him having more protection behind him. This means that he can be more attacking and not as fearful of losing the ball. He has Rodri, either of the floating 10s and most importantly, he has Nathan Ake behind him.
The Dutchman's introduction to the LCB/LB position has been key for Grealish. This is because he stays behind and defends the zone behind him and when he does get forward, he is a conventional overlapping fullback, which creates space for City's number 10. Nevertheless, the biggest factor in the Englishman's uptick in form is due to Joao Cancelo departing on loan in January.
Since the World Cup, the English international has 4 goals and 6 assists in 16 Premier League appearances. He has also improved in every attacking metric as shown by the image below, which was created by @SayedZeesh on Twitter.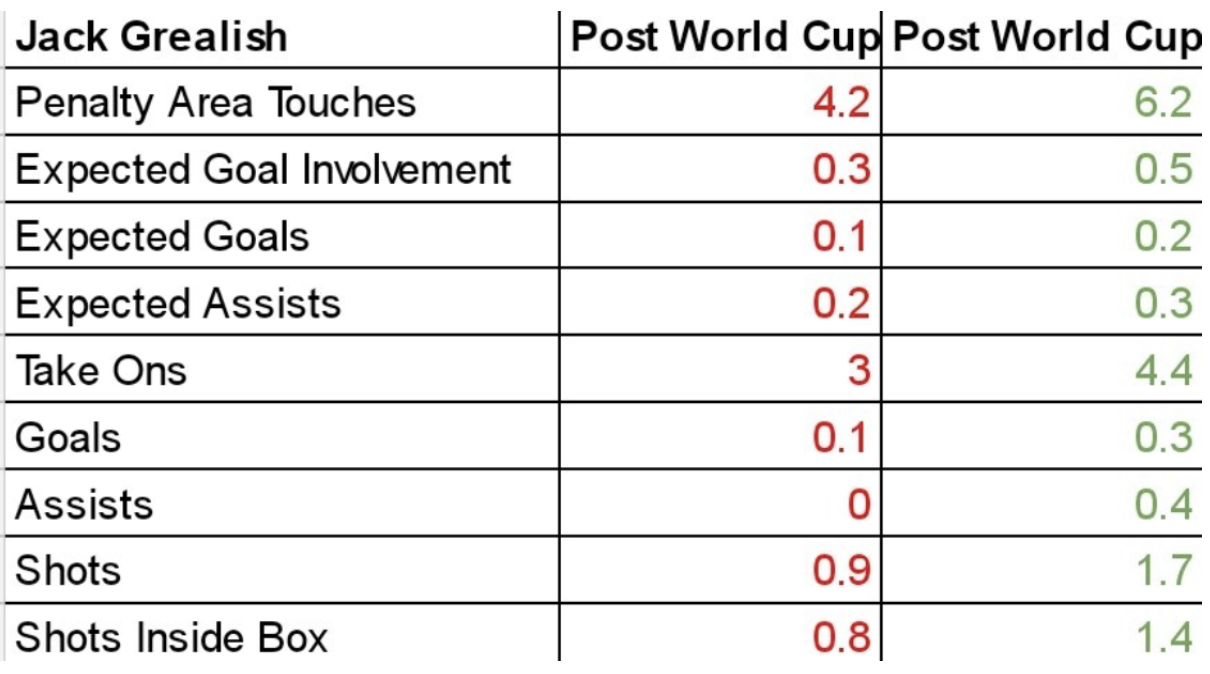 Cancelo was played as an inverted creative left back and was the main creative force on City's left-hand side. This meant that Grealish was instructed to hold the width on the left wing and to play the ball almost always to Cancelo, instead of turning and driving at the defence or combining with others as he is now. Cancelo was invading the England international's space and as a result, he was stuck in first gear for the first 18 months of his City career.
With Cancelo being loaned out, John Stones is now the inverted fullback on the right-hand side, but instead of being a creative outlet, he sits alongside Rodri as part of their box midfield due to his insane technical ability and intelligence. This means Grealish now has the keys to City's left-hand side instead of Cancelo and is flourishing in the space the Portuguese has now vacated.
It has taken Grealish some time to find his feet under Guardiola. But, if you were to disregard the price tag, this is the norm for new signings at Manchester City. Mahrez only had 14 league starts in his first season at the club. Julian Alvarez, a standout at the World Cup is not a starter and Kalvin Phillips has hardly kicked a ball. It has taken Phil Foden a few seasons to become a mainstay in the starting.
Curses, Gods and Fate: How Argentina Finally Broke the Cycle of Suffering
Gabriel Jesus was always seen as their backup option and Zinchenko was never the starting left-back over a whole season. Now, both are key components behind Arsenal's title charge. This shows the high level at the club and how hard it is for even the most talented players to stake down a position in the starting 11. 
Jack Grealish is finally showing why Manchester City spent all that money on him. He is not the lead man he was at Aston Villa. But now, he is sharing the centre stage alongside the blue half of Manchester's established stars. He has changed from simply playing to City's relentless beat to now forging his own sound on the left-hand side, with the respect of his more established bandmates who've been mainstays at the top of the charts for years. Whether or not this is enough to catch up to Arsenal remains to be seen, but one thing is certain, Jack Grealish will have a huge say in this title race.
By: Abu Yasin / @abuy2j
Featured Image: @GabFoligno / Adam Davy – PA Images