Jayden Bogle: Sheffield United's Buccaneering Young Wingback
It has been far from a straightforward path to life in the Premier League for Jayden Bogle. Born in Reading, Bogle began his development with the Royals before being released at the age of 14. After a brief spell with Swindon Town, he joined Derby County's academy on January 20, 2016, ahead of leaving full-time education in the summer in pursuit of his footballing career.
Bogle bided his time in the reserves before breaking into the first team under Frank Lampard. At 18 years old, he was a revelation at Pride Park as the Rams made their way to the promotion play-offs before narrowly losing to Aston Villa in the Final in Wembley. His fortunes worsened the following season, as Phillip Cocu's side fought off the threat of relegation to finish 10th in the Championship.
Under immense financial pressure in the wake of the COVID-19 pandemic, Derby sold Bogle and Max Lowe — his wing-back partner on the other flank — to Sheffield United for a package deal of £15 million on September 7, 2020. Whilst Bogle was limited to just one appearance in his first three months in South Yorkshire, his fortunes turned around on December 20 when he came off the bench against Brighton & Hove Albion and scored the opening goal within nine minutes.
Bogle started the first five matches of the new year, playing as the right-sided wingback on Chris Wilder's 3-5-2, and while he dropped to the bench for Sheffield United's 2-1 victory over Manchester United, he has started the next two matches as a left wingback, grabbing a vital equalizer against West Bromwich Albion as the Blades came from behind to defeat Sam Allardyce's side in a relegation six-pointer.
After seeming destined for one of the worst seasons in Premier League history, Sheffield United have launched a respectable run of form, winning three of their last five league matches and climbing to just ten points away from safety. While they are still mired at the bottom of the table, the Blades have reason for optimism with Bogle, who, after an impressive string of performances in the Championship, is finally making a name for himself in England's top flight.
One of the biggest reasons for Bogle's emergence in the side in recent weeks has been his dynamic movement off the ball as well as his attacking instinct. As Newcastle's disorganized defensive line tries to reorganize, Bogle quickly moves out into space on the right, creating the passing lane for his teammate. The ball is passed over towards the striker.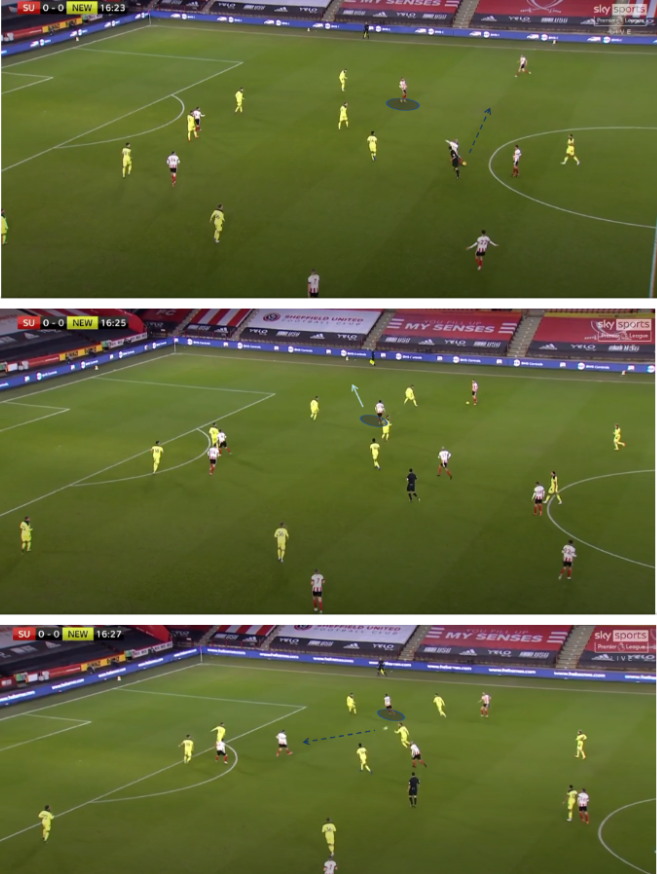 The 20-year-old wingback has a great sense of positioning, pulling a Newcastle defender with him and creating space that can then be exploited by his teammate.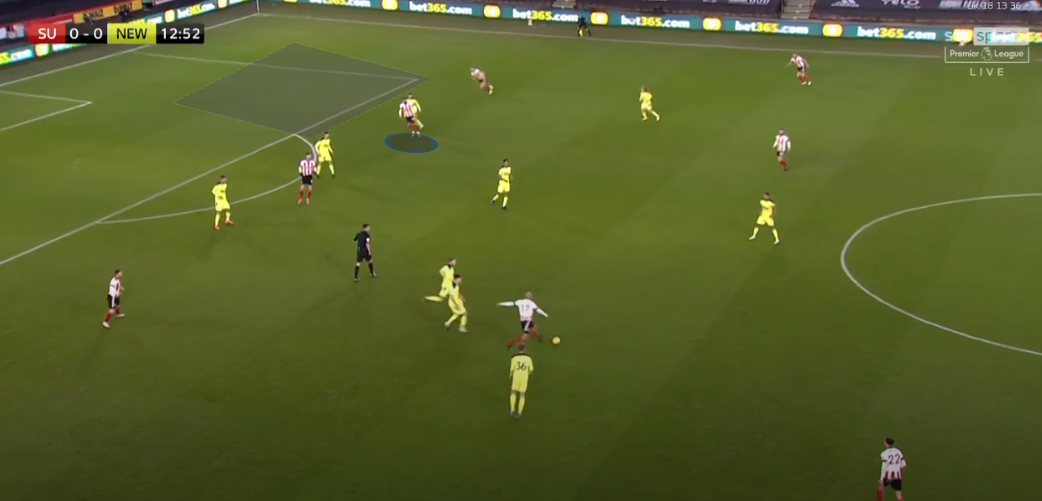 In this example, Bogle passes the ball into the half-space that finds David McGoldrick before running forward to exploit the right flank with a third-man run.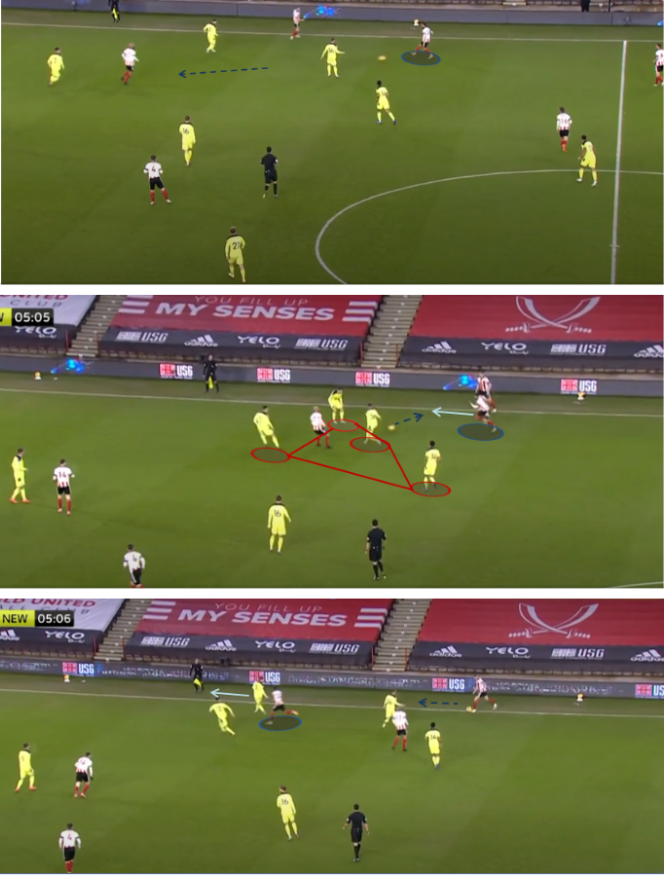 As seen below by his pass map, Bogle is constantly involved in the final third, advancing forward and finding teammates in the box with his pinpoint crosses and through balls.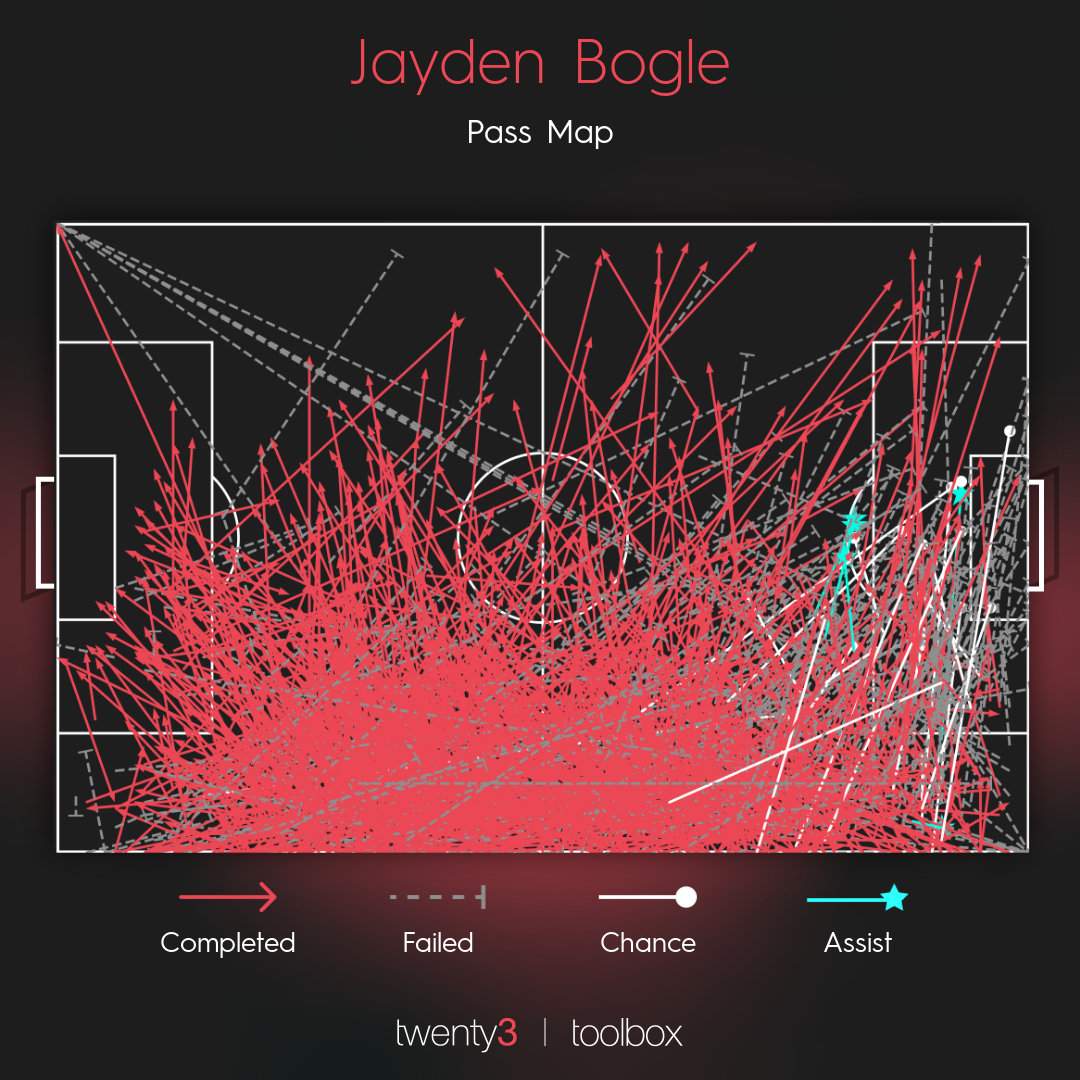 Elusive Dribbling Skills
Even more impressive than his movement and knowledge of where to go is his dribbling. With the ball glued to his feet, Bogle utilizes his pace, change of direction, and vision in the final third to break forward. His signature stepover move constantly sends the defender the wrong way, clearing Bogle's path for a cross or a quick one-two with a striker. In the below example, Bogle makes an inverted run to bypass the left back and create space in the right half-space, breaking the opponent's line of pressure in the process.
With his mixture of close control and physical tools, Bogle is a powerful dribbler who is very difficult to knock off the ball when he reaches full stride. This unique combination makes an elusive threat on either flank, but with George Baldock set to miss the next few weeks due to a hamstring injury, he will be expected to be a mainstay on the right for the foreseeable future.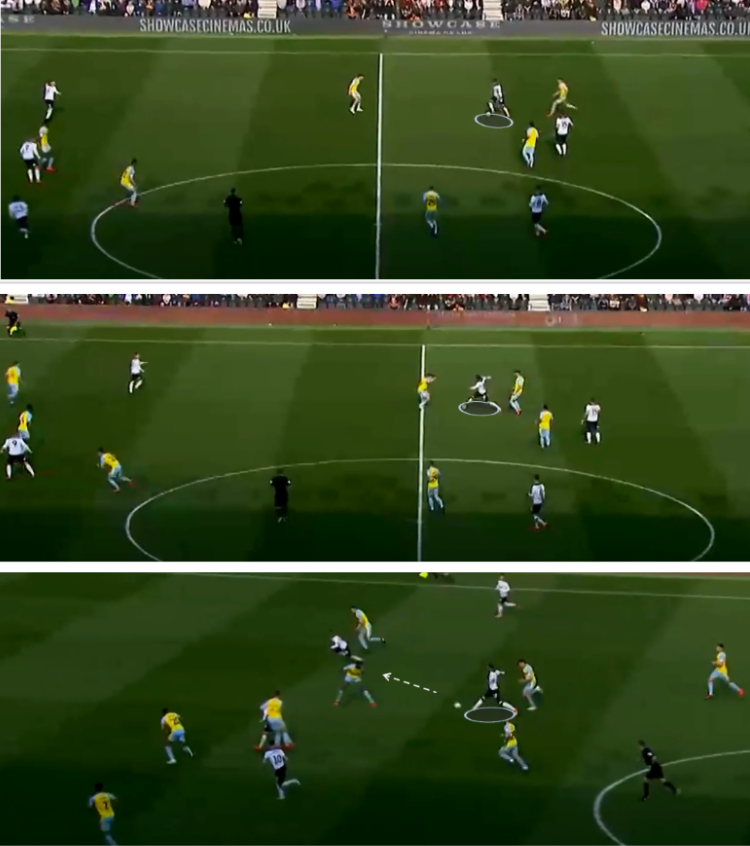 Bogle is a tricky player to stop on the counter-attack, as his powerful running style and fantastic decision-making allows him to catch a back-tracking defense off-guard and wreak havoc in the final third. He is excellent at manipulating the ball in tight spaces, gaining separation from his marker, and wriggling away from a cluster of players to weasel his way into the attacking area.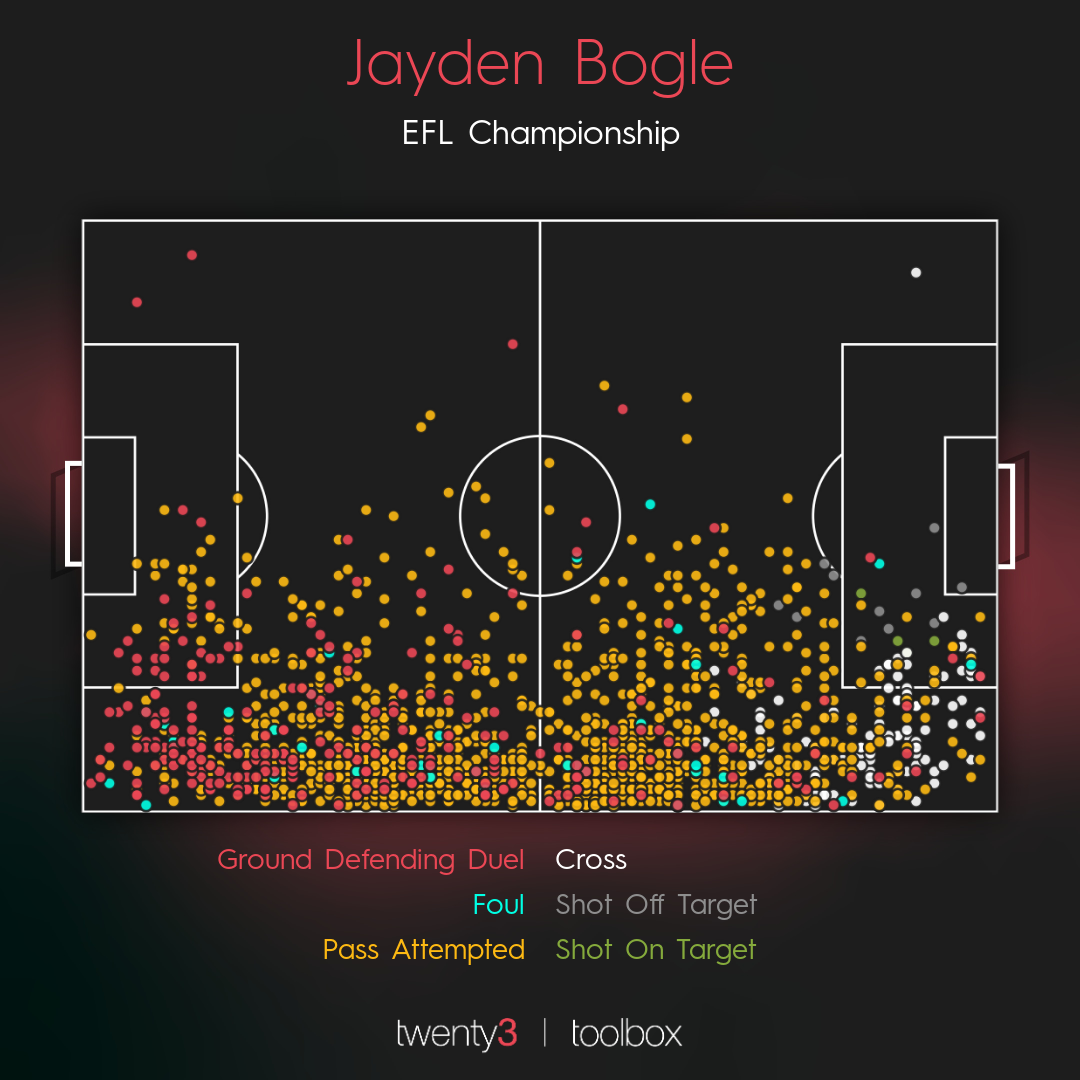 While Bogle stands out in the attacking facets, he is no slouch in the defensive side either. He knows when exactly to put his foot in to make a clean tackle, setting his eye on the ball and picking the right moment to make an intervention. His anticipation and stellar reading of the game allows him to get into the correct position and cleanly win the ball away from the opponent.
However, one disadvantage of his style is his overly aggressive commitment which can then be exploited by opposing forwards, as seen in the below example against Manchester City. As Bogle tries to win the ball back from Ferran Torres, who is backing into him, Torres swiftly turns and eludes Bogle and Ethan Ampadu before finding Gabriel Jesus, who makes no mistake with the finish. City would go on to hold on for a 1-0 victory at the Etihad Stadium.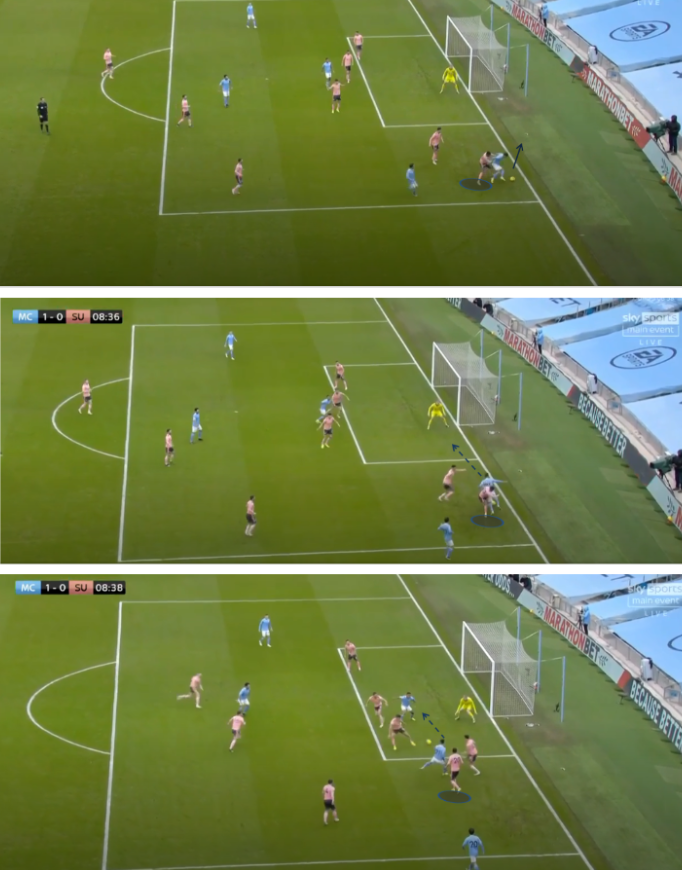 Conclusion
It remains to be seen whether or not Sheffield United can muster a miraculous escape from relegation, but at the moment, the Blades look primed for a swift return to the Championship. There are plenty of reasons why Chris Wilder's side have regressed after their phenomenal 2019/20 campaign, and one of the biggest factors has been recruitment: Max Lowe has struggled to beat out Enda Stevens for a starting spot, whilst Oliver Burke and Rhian Brewster have failed to provide the necessary bite in front of goal.
Aaron Ramsdale has been a colossal downgrade from Dean Henderson between the sticks, whilst Ethan Ampadu, save his recent performances for the Blades, has struggled for consistency after joining on loan from Chelsea. The biggest positive, however, has been Jayden Bogle, who, at 20 years of age, is playing a vital role behind Sheffield United's unlikely revival in form.
His performances at Bramall Lane could convince the club to sell George Baldock this summer whilst he still has a year left on his contract, and give Bogle the keys to the starting right wingback position. Only time will tell whether or not he'll be playing in the Championship or the Premier League next season, but Bogle has proven that he can be a vital asset for the Blades in the short-term and long-term future.
By: Omar Mokhtar
Featured Image: @GabFoligno / Glyn Kirk – AFP