Analyzing the Roots Behind Sheffield United's Decline
Chris Wilder was named the runner-up manager of the year by the League Manager's Association last July. Less than 7 months later, his Sheffield United side sit bottom of the league with only 2 points from 17 games. The Blades took the Premier League by storm in the 2019-20 season as they finished 9th, on 54 points, in their first season back in the Premier League since the 2010-11 season.
Wilder set his side up in a 5-3-2 which often limited the opposition and created chances in transition with efficient attacking play. Wilder received plaudits for his unique overlapping centre backs tactic and Sheffield United were in the running for European football for most of the season. 
This season has been the polar opposite. The Blades are yet to win a game and although they don't look quite as bad as 2 points from 17 games may suggest, it's clear that they're not the same team as they were last season. Star defender Jack O'Connell has been out of action since September 21 with a knee injury, and with club-record signing Sander Berge set to miss up to four months with a leg injury, their relegation is all a mere formality at this point.
Home Form and the Importance of Fans
In the 2019-20 season, Sheffield United were significantly better when playing at home than when they played away. They gained 33 points at home and 21 away from home.

 Photo: Fbref.com
Bramall Lane's atmosphere is regarded as one of the best atmospheres in the Premier League and Wilder's side clearly took advantage of it. Sheffield United's form declined after Project Restart when they began to play in empty stadiums.
Sheffield United's points per game dropped from around 1.54 (with fans) to 1.1 without fans in the 19-20 season. It's clear that they benefitted from crowds, especially their home crowd. This may be due to the way they play; Sheffield United often sit in their mid-block or in a low block, soak up pressure, and hit teams on the counter-attack. This defence-first style is what got them their 54 point finish in 19-20.

Photo: Fbref.com
Fans help this style of play because the atmosphere from the crowd can help force errors in the attacking team which allows for more counter-attacking opportunities and also takes the sting out of the opposition's attack. They often cheer defensive actions, which makes defending less taxing as players receive encouragement for good defending. In addition, fans can often drive the defensive team up the pitch which helps sides like Sheffield United get into the opposition's half and sustain attacking pressure.
Without fans, the defensive team can face wave after wave of attack which makes it more likely that they're broken down. The attacking team faces less pressure from the crowd and the defensive team cannot feed off the crowd which can make defending deep more taxing.
Defending deep requires constant focus which fatigues players both mentally and physically. The more sustained pressure the attacking team can put the defensive side under, the more likely they are to score. Liverpool won the league in 2019-20 through putting sides under sustained pressure.
The difficulty posed to defensive teams without fans may be the reason for other teams changing their game plans. For example, Wolves (alongside Sheffield United) were the best defensive side in the league in 2019-20, and their defence-first approach led them to a 7th place finish. However, Nuno Espírito Santo has moved away from his 5-at-the-back system in recent months and has switched to a more attacking 4-2-3-1 system. This could be due to the difficulty of defending for long periods without fans in stadiums.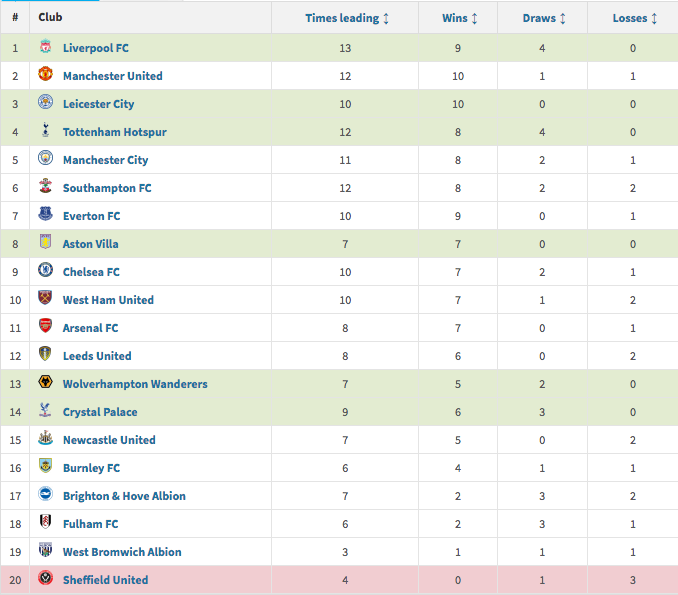 Photo: Transfermarkt
This table shows how Premier League teams have performed when they have taken the lead this season. Sheffield United have taken the lead on only 4 occasions this season, and have ended up losing on 3 out of 4 of these occasions and they came away with a draw on the other occasion.
Sheffield United have taken the lead against Liverpool, Manchester United and Chelsea this season. All 3 sides put them under sustained pressure and eventually overwhelmed Wilder's side, but what's most concerning is that Wilder's side have only led 4 times this season. 
Lack of Quality Attackers
Sheffield United have scored the least goals out of any team in the Premier League this season. They are also one of the 6 teams who are underperforming their xG- meaning they have scored fewer goals than they are expected to have according to the Expected Goals (xG) metric.
They have accumulated an xG of 15.8 but have only scored 8 goals. This is a massive underperformance, especially when considering the fact that most teams are overperforming their xG this season. Attack has always been the department in which Sheffield United have required improvement. They had the 4th best defence in the league last season, conceding only 39 goals, but they only scored 39 goals which put them at 16th for goals scored. 
Sheffield United would've gone into the summer transfer window with plans of making acquisitions that could increase their tally of 39 goals scored in 2019-20. Wilder wanted Ollie Watkins but they were priced out of a move for him when Aston Villa agreed to pay £28 million for him. 
Instead, the Blades signed Rhian Brewster, an attacking prospect from Liverpool, for £23.4 million (according to Transfermarkt). As of yet, Brewster has only played 604 minutes this season and has yet to score a league goal. Although it's understandable that Sheffield United couldn't financially compete for certain players, they certainly made a mistake in not looking for a proven goalscorer.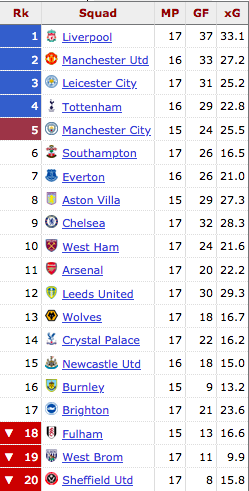 Photo: Fbref.com
Brewster was an unknown quantity, having never made a Premier League appearance before signing for the Blades. Newcastle United, whose fans often complain about their transfer signings, made a shrewd attacking signing in this past transfer window. They signed Callum Wilson from AFC Bournemouth for just over £20 million (according to Transfermarkt), less than Sheffield United paid for Brewster. 
Wilson has netted 8 times for Newcastle, the same amount of goals Sheffield United have scored this season, and has also contributed 3 assists. He's been involved in 11 of Newcastle's 18 goals this season. Sheffield United needed attacking signings that would provide this level of impact.
Looking at the summer transfer window in 2019, they spent over £35 million combined on Oli McBurnie, Lys Mousset, and Callum Robinson. McBurnie has only scored 7 goals in over 2,900 minutes since signing for Wilder's side whilst Mousset has scored 6 goals in over 1,400 minutes. Robinson has since moved to West Brom after scoring a single goal for the Blades last season. These signings, especially McBurnie (who cost over £15 million), didn't work out. 
It's clear that United's attacking signings haven't been successful. This becomes an even bigger issue in Sheffield United's 5-3-2 system as the front 2 are the only forwards in the side. This puts a lot of the goalscoring burden on the 2 centre forwards.
Wilder has opted for a 5-2-3 system in recent weeks. It's likely that he has made this change in order to get another forward onto the pitch in an attempt to score more goals. Their poor attack is also part of the reason for Sheffield United conceding so many goals this season (29 this season, 39 in the whole of 19-20). 
Sheffield United offer so little in the final third that they rarely sustain pressure against their opposition. This means that their opposition can deal with their attacking spells quickly and easily which allows them to force them onto the back foot. This stops them from gaining periods of momentum. Teams can then hit them with wave after wave of attack, making them more likely to concede.
Midfield Trio Headache
Because the two centre forwards are the only forwards in the side, the midfield 3 has a lot of creative responsibility in Sheffield United's system. Last season, the midfield 3 was almost always made up of Oliver Norwood, John Lundstram and John Fleck. Norwood, who captained the side, would sit in the #6 position and dictate play from a deeper position whilst Fleck and Lundstram played on the left and right of the 3, respectively. 
Fleck provided accurate passing in transition, good crossing and good passing in general whilst Lundstram provided intensity, an extra body in attack and goals. Together, Fleck and Lundstram provided 10 goals and 5 assists which massively helped Sheffield United's attacking play. However, the duo have both played under 800 minutes this season.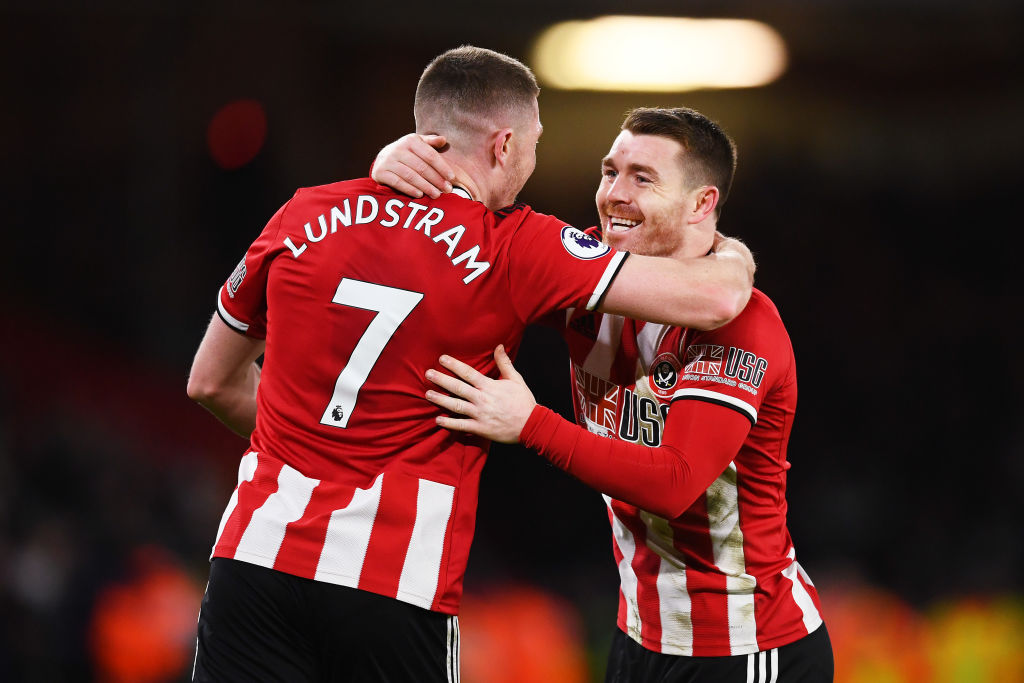 Photo: Clive Mason/Getty Images
Fleck had a spell out with injury but after returning, hasn't been able to get back into the side. Lundstram was suspended after receiving a red card against Brighton but has not featured anywhere near as much as he did last season (he has played less than 800 minutes this season), possibly because he has refused to sign a contract extension with the club and seems to be running his contract down to leave on a free transfer in summer. 
Similarly, Oliver Norwood has dropped to the bench and has only started 6 times this season after starting 37 out of Sheffield United's 38 league games last season. It's clear that Wilder has lost faith in his go-to midfield trio in the 19-20 season. Sander Berge, Ethan Ampadu and Ben Osborn have filled the void but offer substantially less in terms of attacking output. They have played over 2,500 minutes combined and have only contributed one goal (a penalty scored by Berge). 
It's worth mentioning that Lundstram and Fleck have both yet to score this season and that the change in personnel was largely down to a drop in form from the usual trio. However, it's certainly difficult to replace an entire midfield 3 in such a short period of time. In a time of difficulty, you want players that you can trust and you would have expected the trio of Norwood, Fleck and Lundstram to have delivered for Wilder.
Set-Piece Woes
Sheffield United have been without Jack O'Connell since the second game of the season after an ongoing knee issue resulted in him requiring knee surgery. This has been a big loss to the side as O'Connell has been a mainstay in the side since Sheffield United were in League One, having joined in 2016 on an undisclosed fee from Brentford.

O'Connell is arguably Sheffield United's best centre-back in the air. He won 73% of his aerial duels in 19-20, with John Egan and Chris Basham winning 71% and 62% respectively. Losing his aerial presence may have led to Sheffield United's vulnerability to set-pieces and crosses.
Sheffield United are joint second for most set-piece goals conceded this season (8 set-piece goals conceded) whilst they have only managed to score from 3 set-pieces themselves. When you need to make up for a lack of quality in attack, you want to use set-pieces to your advantage. Sheffield United haven't done that this season and have struggled to defend them whilst barely scoring from them (joint 3rd last for set-pieces scored). 
For example, Sheffield United took the lead away to Chelsea. Chelsea ended up winning the game 4-1 after scoring 2 set-piece goals. Similarly, they concede a lot of goals from crosses which may also be due to O'Connell's absence. They often fail to deal with crosses into the box and often concede from the loose ball (eg. Ché Adams' goal and Gylfi Sigurðsson's winner against them).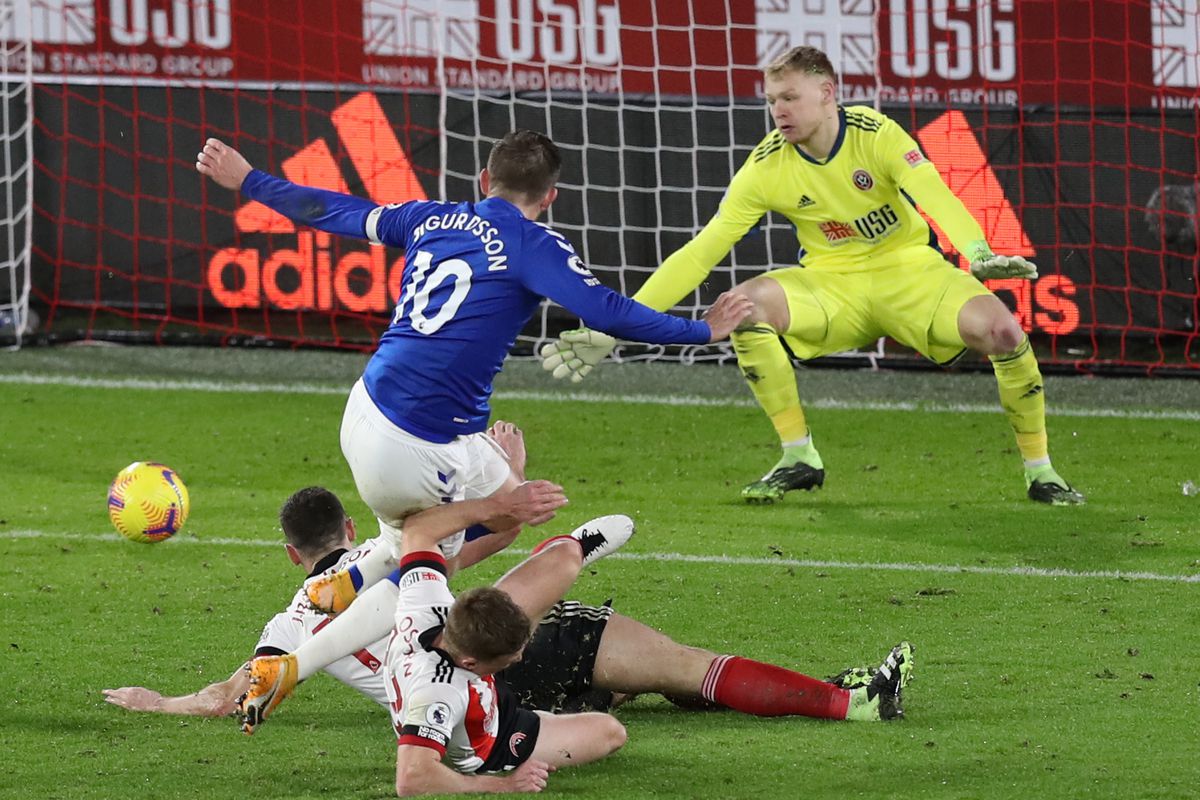 Photo: George Wood / Pool / AFP via Getty Images
These issues could also be down to the dropoff Aaron Ramsdale from Dean Henderson, who returned to Manchester United in summer. Henderson had a save percentage of 75% last season whilst Aaron Ramsdale currently has a save percentage of 67%. Ramsdale has been caught in 'no man's land' from set-pieces on occasion (eg. for Chelsea's 3rd goal).
Overperformance and Underperformance
Some statisticians would say that Sheffield United's decline was certain to happen after their successful first season back in the Premier League. They were expected to concede 48 goals last season (according to fbref.com) and only conceded 39. In that sense, they had some luck on their side last season. This season, they've been expected to concede 25.5 goals and have conceded 29. 
There is definitely an argument that Sheffield United overperformed last season and are severely underperforming this season. This has played a small part in Sheffield United's decline this season but can't completely legislate for the dropoff from 9th to dead last with 2 points from a possible 51.
Conclusion
Chris Wilder's achievements in the 2019-20 season were truly spectacular. Without a global pandemic causing football to be put on hold and to be played without fans, Wilder likely would have led Sheffield United into European football.
As of today, Sheffield United look certain to be relegated as they sit on 2 points from 17 games but there are clear reasons for their downfall. A lack of fans, poor attacking signings, a poor squad, injuries, poor set-pieces and a bit of bad luck have all contributed to the Blades' decline. A lot of these things are out of Wilder's hands. 
Although he must shoulder some of the blame, it almost feels fair that Sheffield United are being forced back to the Championship. They have a Championship side and most would've expected them to be relegated in 19-20. The fact that Wilder is still in a job says a lot about his pedigree as a manager and what he has done for the football club. It's hard to make an argument that any other manager in world football would change the fortunes of this Sheffield United side.
By: Rahul Mall
Featured Image: @GabFoligno / Clive Rose – Getty Images