Joško Gvardiol: RB Leipzig's Croatian Gem in Defense
After making that illustrious run to the World Cup final in 2018, Croatia is building a new generation of superstars to take over from that storied team that captured the eyes of the entire footballing world 4 years ago. Joško Gvardiol is one of the faces of that new generation.
Despite the centre-back being just 20 years old, Joško has already made 9 appearances for the Croatia national team(including starts at the European Championships) and has played more than 70 games at first-team level for Dinamo Zagreb and RB Leipzig, the latter club which Gvardiol moved to in 2020 for a base fee of €16 million. 
For someone so young, Gvardiol is really the complete package of a modern day centre-half. His ability to progress the ball, range of passing, excellent carrying and dribbling skills, no-nonsense tenaciousness, and fantastic active and 1v1 defending, among other traits, make Joško one of the best young centre-backs in the world, and one of the best defenders in the Bundesliga, full stop.
A Constant Threat in Attack
The role of a centre-back has evolved over recent years. From just being the player who would put out fires and clean up damage imposed upon them, the centre-back(s) is now fundamental to their team's buildup play and sustaining of attacks. Gvardiol is no different.
In fact, Gvardiol is so threatening in possession and with his passing that he ranks first in the entire Bundesliga for expected threat(xT) and xT from passes. One of his many great traits.

xT data from Soccerment
Expected Threat is a base-valuing framework whose goal is to take a step back from the more known actions of sequences such as shots and key passes, and rather assign credit to the preceding actions which made these key actions like shots possible at all. We can tell based on Gvardiol's frankly nuts xT ranking that he's imperative to Leipzig's attacks.
In addition to xT, Gvardiol also is among the best in Germany(all positions included!!) for xGBuildup, a metric coined by Understat which sums the total xG of every possession the player was involved in without key passes in shots. 
Though not often being involved in actions that force the opposition goalkeeper's hand (as is the case with most centre-backs), he is indispensable for Leipzig in the construction of their attacks.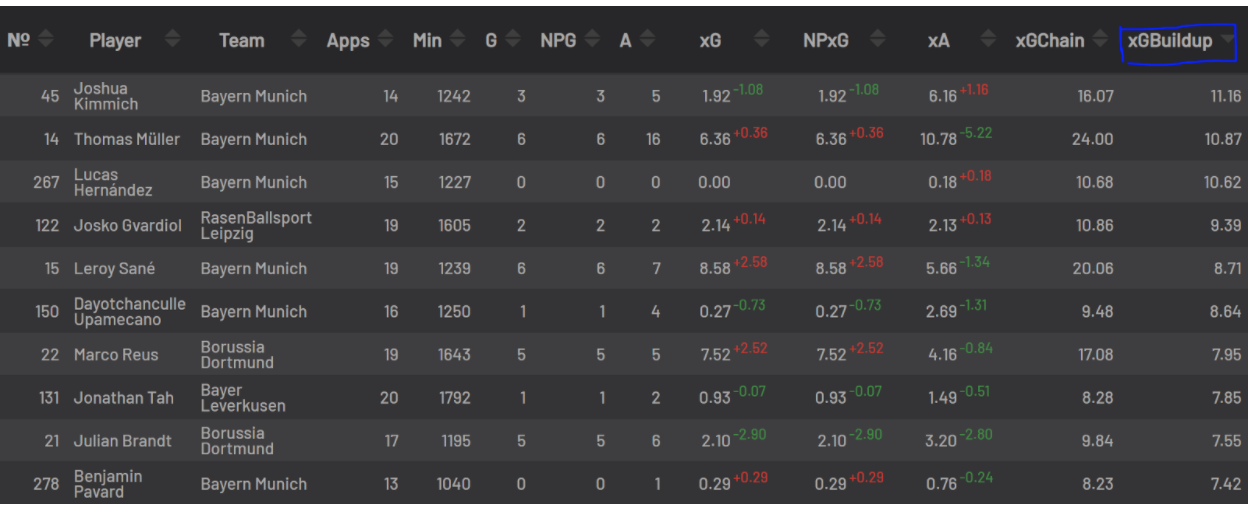 Data: Understat
A Forward-Thinking Presence in Defense
Being able to move the ball up the pitch is paramount to a team's success; as previously stated, the modern-day centre-back must be very good at progressing the ball, by means of either passes or carries. 
The "stopper" is a dying breed in the modern game, and the "ball-playing defender" is becoming much more commonplace.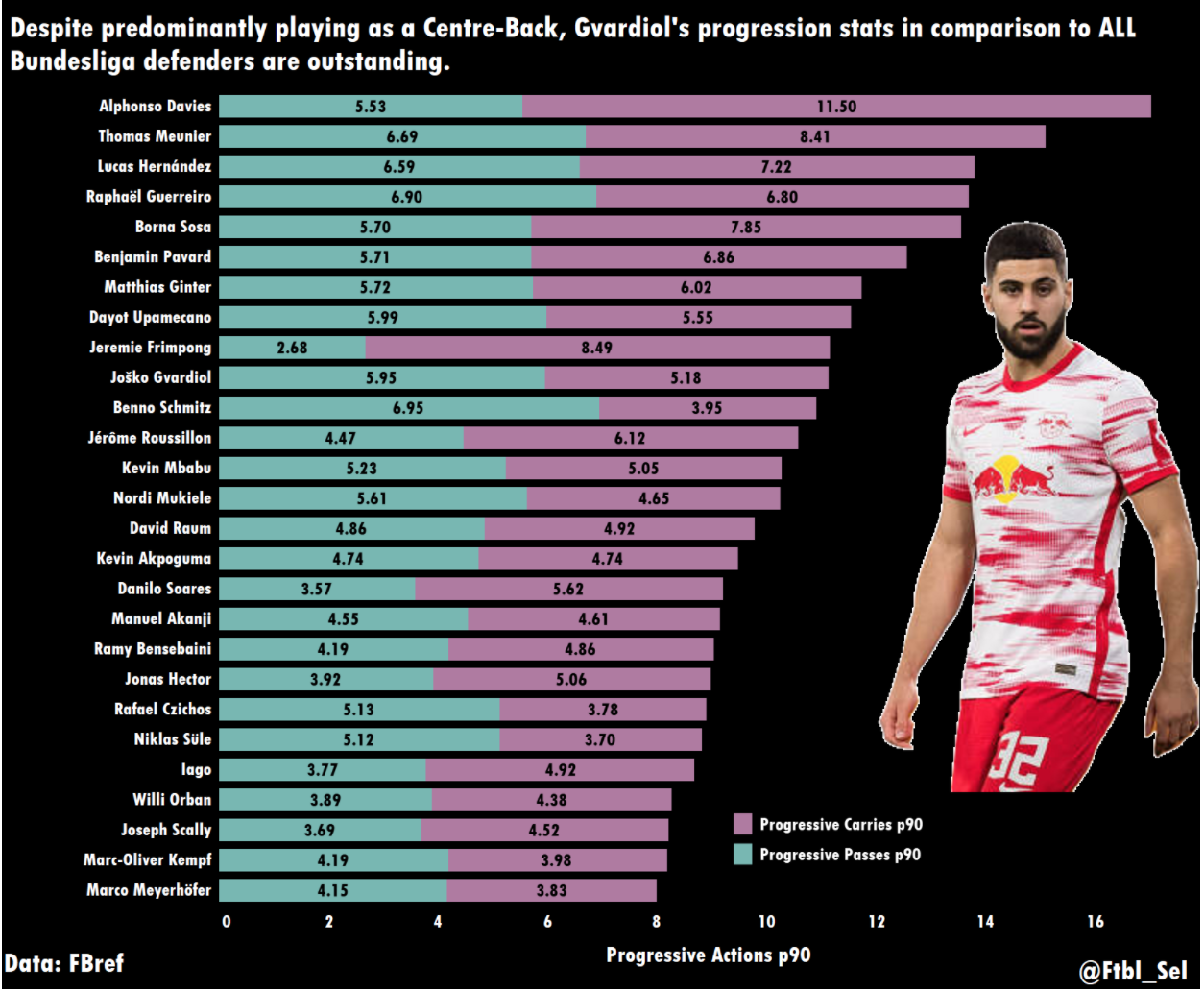 Gvardiol is one of the most progressive defenders in the Bundesliga, and ranks second amongst all centre-backs only behind Bayern star Lucas Hernández for combined progressive actions per 90, factoring both passes and carries into consideration.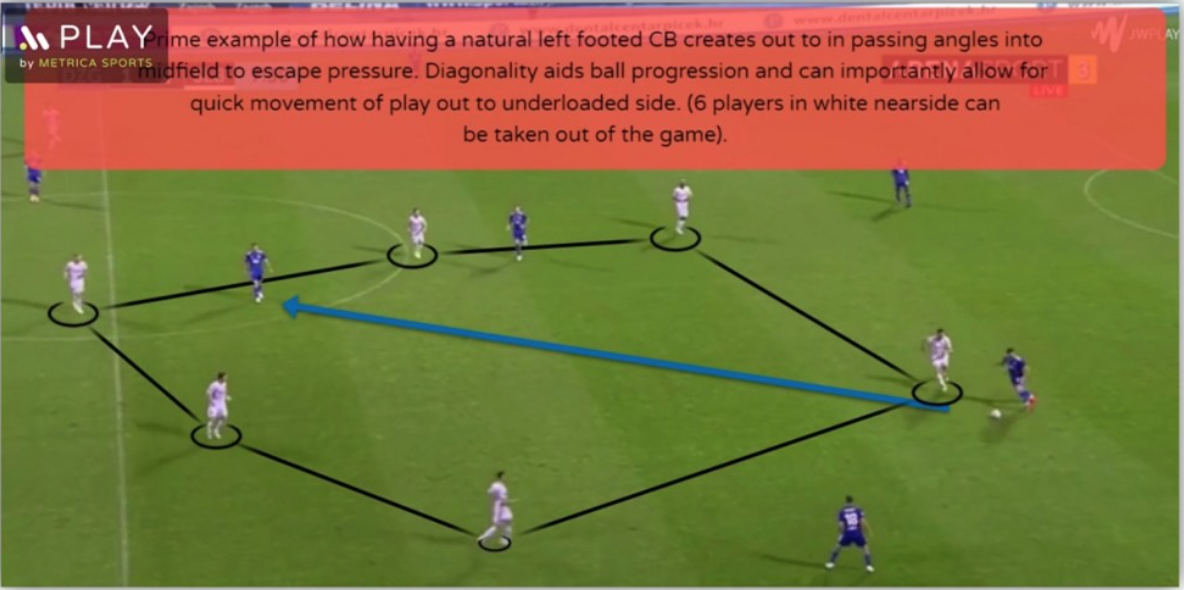 Gvardiol's propensity to always try to make the penetrative pass, even when under pressure, greatly allows his teams to have more freedom in buildup.
This, along with the above photo of one of the instances of Gvardiol brilliantly breaking a line to move the ball forward, illustrates how he always wants to make something happen with the ball.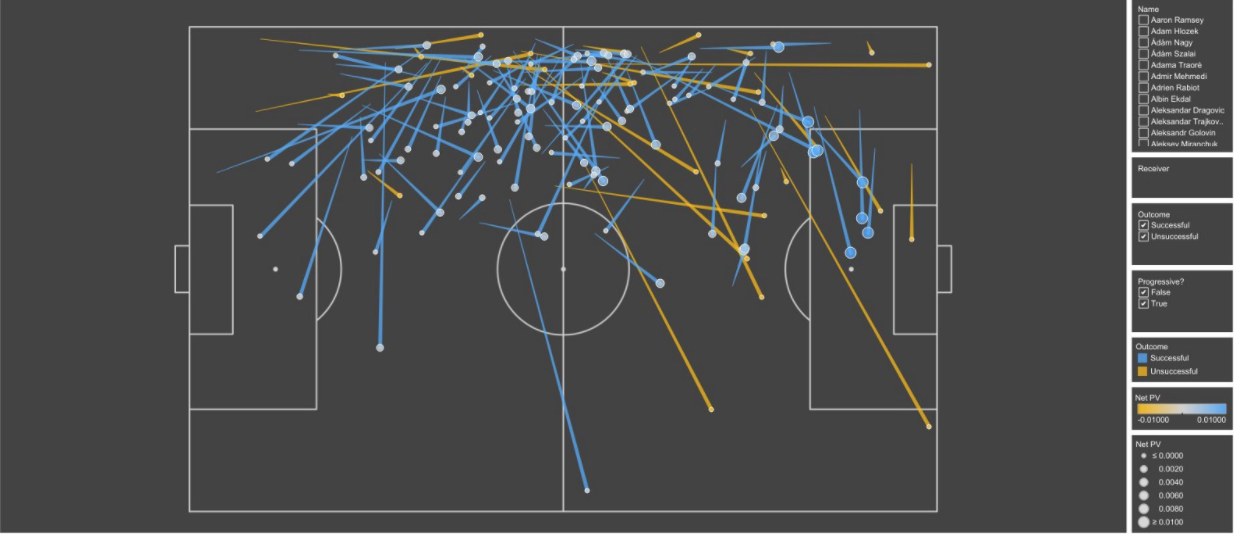 Gvardiol's pass map at EURO 2020. We can see the range of passes he completes just from a quick look at this viz.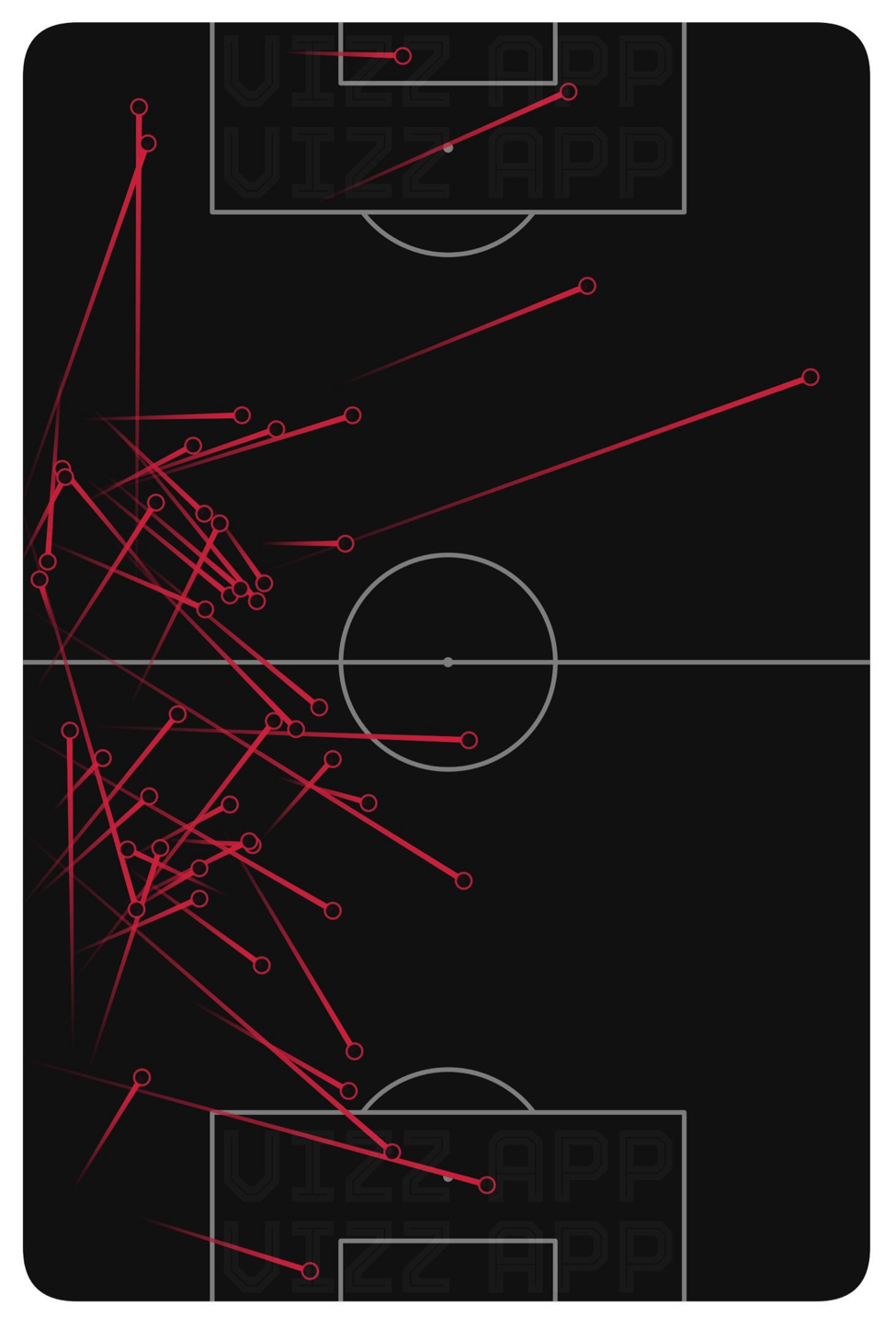 He also isn't afraid of making those passes under pressure, ranking 5th across the Bundesliga and 1st in his Leipzig team for this metric.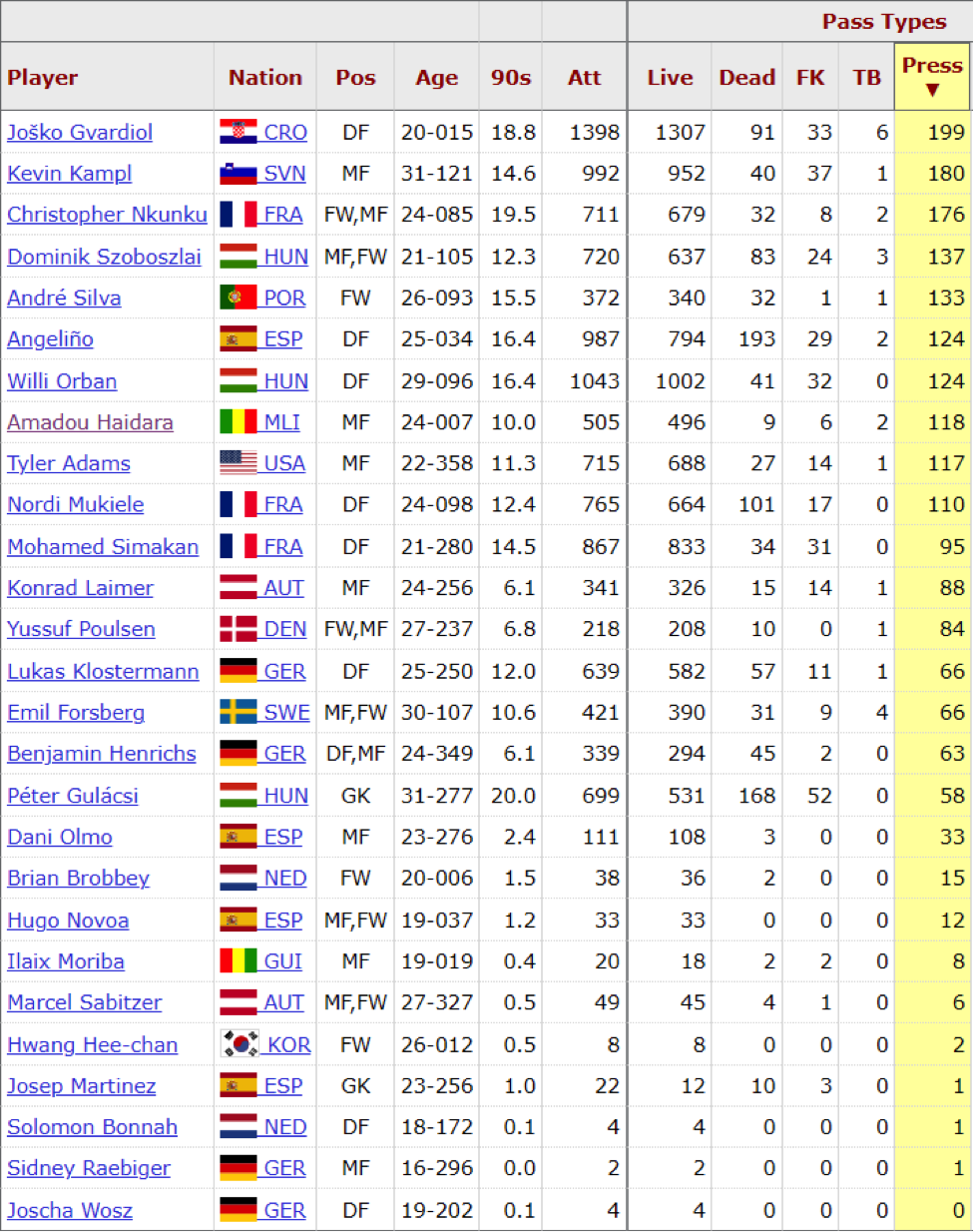 Additionally, his progressive brilliance can be validated by the aformentioned xT stat, where he leads the Bundesliga. It's obvious that his penetrative passing and carrying is very threatening and that he loves moving the ball forward.
Final Third Penetration: Exploiting the Opponent's Defensive Line
Moving the ball into the opposition final third, allowing attackers to quickly get into dangerous positions, is another key element in being a modern-day centre-back. 
Whether it be through solo runs like Gvardiol often does (see below), or brilliant switches of play to forwards that allow them to carry into space, rapidly getting the football into the last third of pitch is a great skill, and benefits team attacks massively.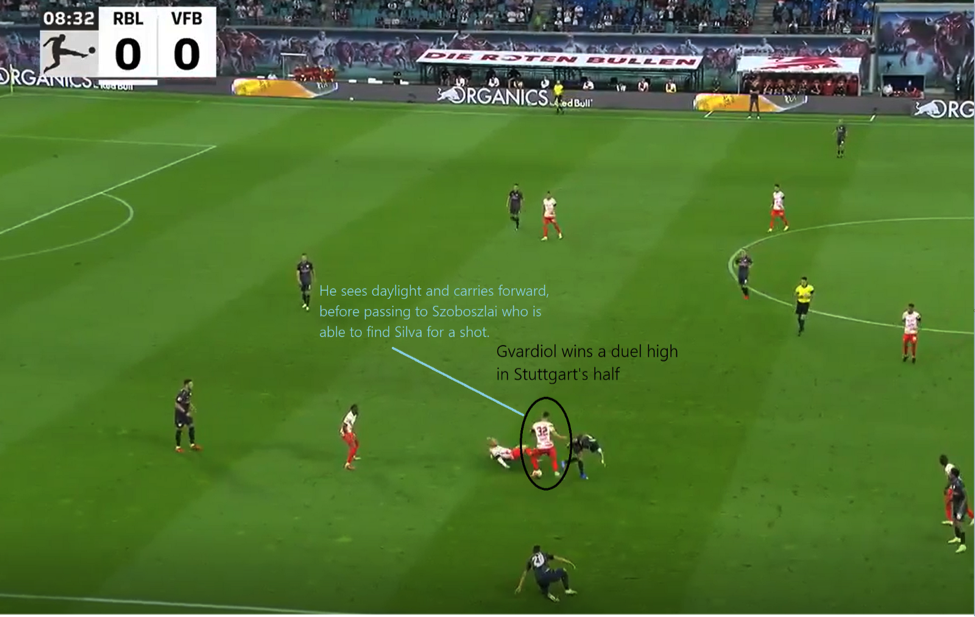 Here, Gvardiol wins the ball in a threatening zone. He sees space ahead of him due to the gaps in Stuttgart's block and exploits it. He ends up igniting a move that leads to a shot for Leipzig.
His ability to calmly thread passes into the final third along with his prowess at carrying makes him an all-round excellent utilizer of this key zone. Though carrying into this space is his specialty, he is very adept at passing into the final third too.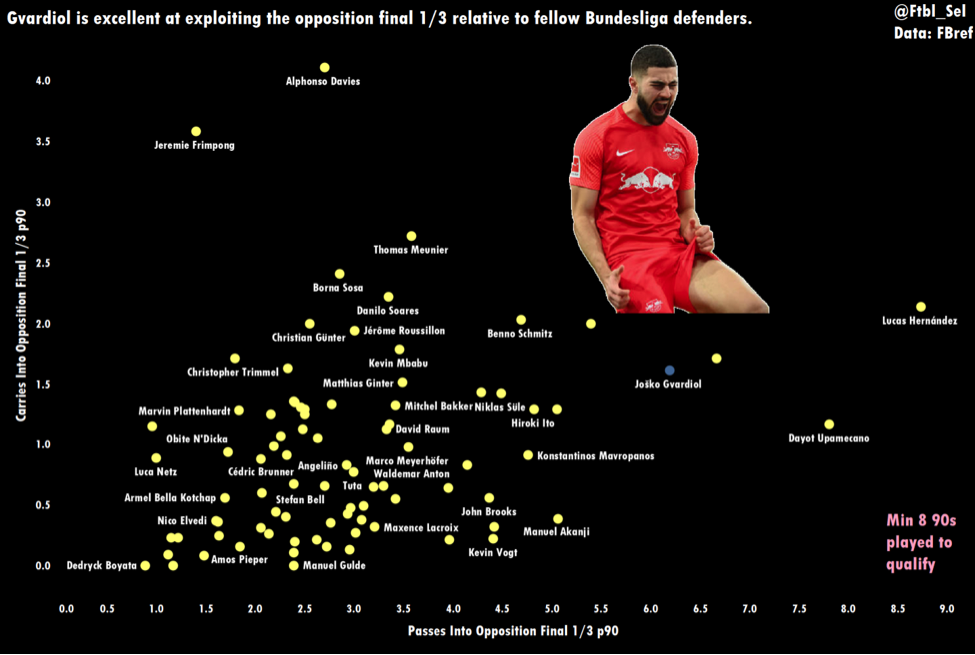 The above scatterplot illustrates final third exploitation among all Bundesliga defenders, where Gvardiol ranks very highly (comfortably among the 4 best for passes and above average for carries) when adjudged against fellow defenders. 
Defensive Style: Beautifully Old-School
Yes, this piece has repeatedly touched on the importance of centre-backs in possession in the modern game. Yes, this piece has repeatedly stressed the need for a centre-back to be strong in possession and comfortable on the ball. 
Though these skills are absolutely necessary, active defending is a skill which can never go amiss for centre-backs. After all, one of their main objectives, along with that of their goalkeeper, is to try to prevent the other team from scoring.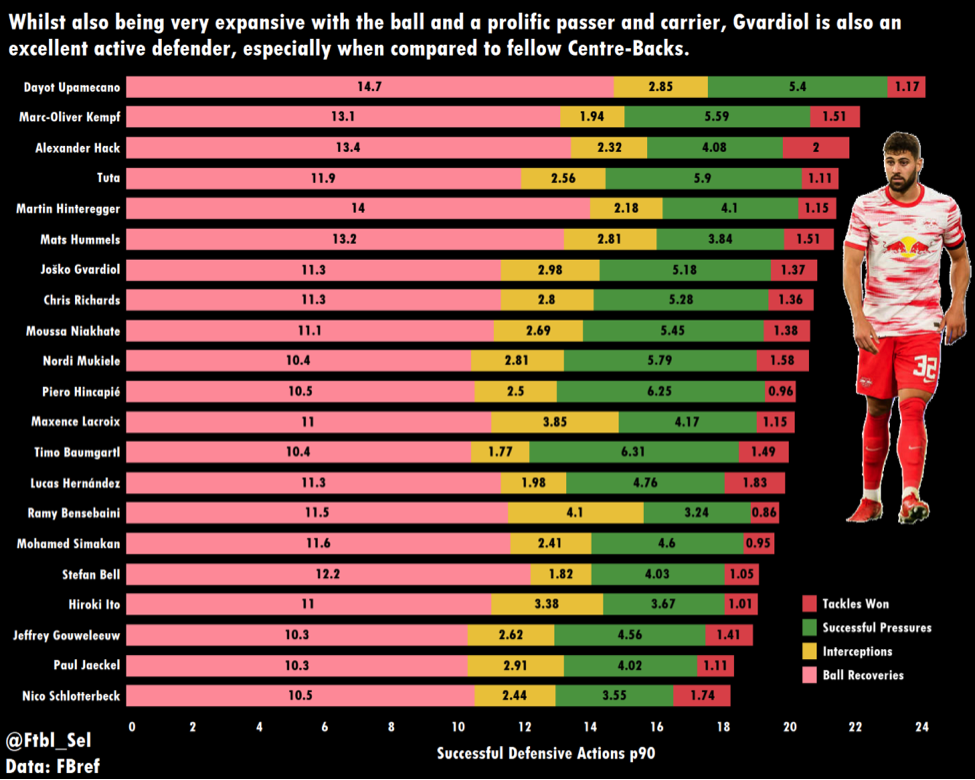 Gvardiol does this excellently; his tackling ability is top-notch and combined with his excellent recovery pace, he is a very good active defender and often comes out on top when he engages in duels.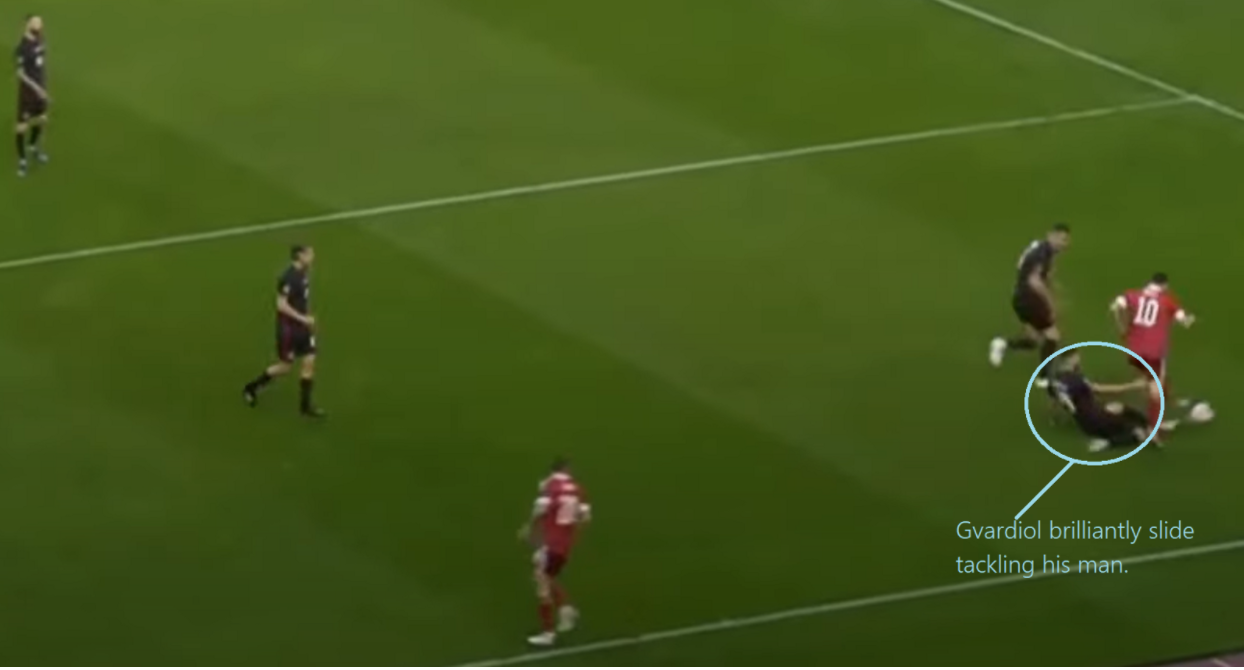 Gvardiol tracks his runner and is able to pull off a great slide tackle in order to force the ball out of play. He combines his recovery pace and direct duel engagement well here. 
Overall
Yes, Gvardiol plays in a back 3 for Leipzig. Tedesco's system and Gvardiol's positional play as the centre-back who pushes the farthest up the pitch means his attacking numbers could be a bit inflated.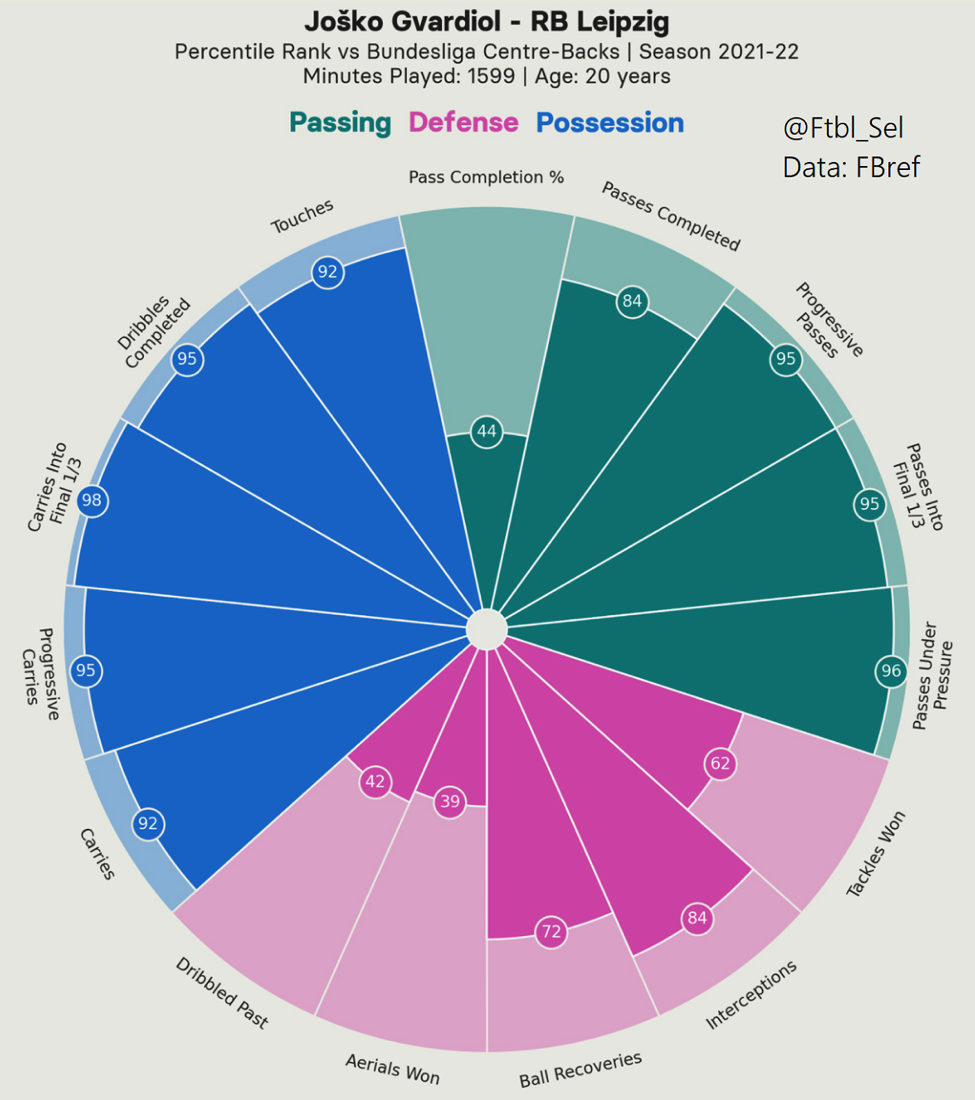 However, his overall data and perception around him suggests that he is in fact, one of the best young defenders in Europe at the moment.
By: Anirudh Iyer / @Ftbl_Sel
Featured Image: @GabFoligno / Boris Streubel – Getty Images