Kevin De Bruyne: From Troublesome Teen to Generational Playmaker
"Sometimes you could slap Kevin around the head because he didn't listen. He was a stubborn boy," KRC Genk technical director of youth Koen Daerden explains.
Considering his now cool and down-to-earth persona, it's hard to imagine Kevin De Bruyne as being a handful in training, but it wasn't bad behaviour that caused several meltdowns in his early years. Rather, his innate need to win and intense drive to always get better left the young Belgian under constant frustration as a youth player. 
It's clear that De Bruyne still has that fire inside of him and on occasion in recent years it's shown. Flashback to his now famous "Let me talk, let me talk!" argument with David Silva in City's Champions League match against Napoli in 2017.
The Belgian, angered with being booked by the referee, had to be corralled back to the home side's dressing room in a fit of rage. De Bruyne now likens the incident as 'like arguing with his wife' but it's that desire that has taken him from a troublesome teen at Genk to arguably the world's third best player today. 
Photo: BT Sport
He's had other run-ins in his career. At 19, he reportedly told star player Elyaniv Barda that he wasn't working hard enough in training, he accused Genk teammates of not trying hard enough during a half-time TV interview in 2012, and at Wolfsburg, he was punished for shouting expletives at a ball boy who he thought was purposely slowing the match down. The Belgian will do anything to win. 
De Bruyne has again shone this season despite Manchester City coming up short to Liverpool in the Premier League title race. His 11 goals and 18 assists in 33 Premier League matches make for phenomenal reading and his recent performance against the Anfield side in a thumping 4-0 win at the Etihad Stadium left many, watching from the safety of home, drooling in front of their television sets. 
His upbringing in his native Belgium tested him to the limit at times. The Belgian maestro joined local side KRC Genk at the age of eight and excelled with the club's youth academy both on and off the pitch. At first, football wasn't everything for the youngster, who put his studies first and foremost above all other aspects of life. De Bruyne studied Latin for two years at a young age on the whim of wanting to learn more.
On the side, his love for football grew and as a youngster he joined local amateur side VV Drongen, the team from the town of his birth. At age 8 he left for Gent "because their training sessions were much better," he berated his VV Drongen youth coach with. Despite his young age, De Bruyne knew what worked for him best, and after a torrid period with Gent, he joined rivals Genk in 2005.
Genk provided De Bruyne with a much more suitable and stable platform to work. The young Belgian warmed to the club's staff in the east of the country and despite tantrums every now and again in training, De Bruyne's development excelled at an alarming rate. 
Photo: EuroFootball / Getty
On the pitch, the midfielder's skill shone brightly in Genk's academy, and he often played in higher age groups to keep him challenged on the pitch. But despite his appearance as a shy boy off the pitch, his attitude on the pitch bore stark contrast.
He was a demanding, loud-mouthed player who joined in with the club's first team training at the age of just 17. His brash nature on the field, constantly yelling at his teammates where to run and what to do left senior players stunned at first, but it's now evident that from an early age, the Belgian always wanted to do the best he could, to influence every part of every match he played in. 
"At times, Kevin would enter disputes with both teammates and coaches; it wasn't always easy. But these things are normal. The special ones with extra talent have their own vision and he went on to do very well, of course. He's a special one." Daerden says. 
De Bruyne broke into Genk's first team in 2008 and enjoyed four years with the senior side. During his time in Genk, the midfielder scored 17 goals and provided 36 assists though 113 appearances, helping his side to win the Belgian Pro League in 2011, the Belgian Cup in 2009 and the Belgian Super Cup in 2011.
His appearances for Genk led to international call ups, first with Belgium's U-18 side in late 2008 and with the countries U-21 side in early 2011. His brilliance at club level was clear to see on the pitch, especially with his man-of-the-match performance against RSC Charleroi in August of 2010 where he scored twice and assisted once in a 60-minute left-wing cameo appearance.
Over the following seasons, De Bruyne grew in stature, becoming a more imposing player on the left-hand side of midfield and after playing against them twice in the Champions League group stage in 2012, he sealed a transfer to England, joining London side Chelsea in a deal rumoured to be worth around the £7 million.
Photo: Getty
Signed by manager André Villas-Boas as the long-term replacement for Frank Lampard, De Bruyne was immediately sent back on loan to KRC Genk as a clause of the transfer where he saw out the 2011-12 season. 
Back at Genk, De Bruyne picked up where he left off, adding more goals and assists from his left-wing position, but his full potential wasn't realised until a match versus his old side KAA Gent in March of 2012 where he played the full 90 minutes in central midfield.
Despite lining up against strong opposition that afternoon, De Bruyne thrived playing centrally, scoring once and grabbing two assists during the match, his performance so spellbinding that he wouldn't play again at left midfield for the club.
With Genk in the Jupiler Pro League end of season play-off phase, De Bruyne played centrally in the first five matches of the competition, grabbing another four assists before suffering a season-ending injury at home to Belgian champions Anderlecht. It would prove to be his last appearance in the blue and white of KRC Genk before he moved to Stamford Bridge permanently. 
In the summer of 2012, De Bruyne joined the Chelsea squad on their pre-season tour of North America, making his debut in a match against MLS outfit Seattle Sounders and playing the first half of his side's match against Paris Saint-Germain at Yankee Stadium.
Despite his eye-catching appearances in pre-season, De Bruyne was again sent out on loan, this time to Bundesliga side Werder Bremen with Chelsea's management viewing the German league as a perfect stepping stone between his native Belgium and his new home in England. They were right.
Photo: Bundesliga
De Bruyne put on a show in Bremen, scoring ten times and assisting ten times in 34 matches for the German side whilst playing as a central attacking midfielder. In the summer of 2013, De Bruyne arrived back at Stamford Bridge full of confidence and with the belief that he would play a major part in Chelsea's first-team squad under returning manager José Mourinho.
In truth, De Bruyne wasn't given enough playing time on his return to London and arguably became the first of many young players to be alienated by Mourinho for little to no reason, much like with Tanguy Ndombele at Tottenham this season.
Despite an assist on the opening day of the Premier League season against lowly Hull City, De Bruyne quickly became disgruntled at his lack of playing time and in December, the Belgian confronted his Portuguese manager regarding his lack of minutes on the pitch. Speaking to the Guardian in 2017, De Bruyne spoke in depth about what happened in that meeting.
"He showed us the stats of all attacking midfielders: assists, goals, pass percentage, decisive actions, dribbles. He wanted to prove that I didn't perform at the same level as the others. I answered him: 'Sorry, that's not logical. I've played fewer games. How can you compare us?'

That wasn't fair. Mourinho told me things about competition, training hard, there's always a chance that you'll play. He also made it clear that he wasn't keen on letting me go, even not on loan – 'you are a good player'. I've told him that I had a feeling that I would never get a fair chance. That's when the club started looking at a transfer too."

Photo: Getty
Chelsea reluctantly granted De Bruyne the transfer he wanted and in January 2014, the Belgian midfielder joined Bundesliga side VFL Wolfsburg for a fee close to €25 million, a move that was a huge gamble for the German side. It's safe to say that on reflection, the gamble paid off both in the short and the long term for Die Wölfe.
With the bit between his teeth and a desire to show Chelsea what they had missed out on, De Bruyne was straight back to his usual best in Germany. Through the 16 Bundesliga matches he played a part in during the second half of the 2013-14 season, the Belgian scored three times and provided six assists as he helped Wolfsburg to turn around their season and qualify for the Europa League.
Across those 16 league matches, De Bruyne was mostly used as a right winger where he enjoyed operating in the half space between the opposition left back and left centre back. The following season, De Bruyne would wow German football fans with his world-class performances. 51 matches. 16 goals. 28 assists. Bundesliga player of the season and DFB-Pokal winner. 
The 2014-15 season was the season where De Bruyne took the next step, becoming a consistently world-class performer for a Wolfsburg team who finished runners-up in the Bundesliga, won the DFB-Pokal Cup, and reached the quarter-finals of the Europa League. 
Starting the season on the left wing under manager Dieter Hecking, De Bruyne was soon moved inside to play as Wolfsburg's central attacking midfield after a slow start to the campaign by his own usual sky high standards. With the Bundesliga side normally adopting a 4-2-3-1 system, the Belgian maestro was given as much freedom as he wanted to control matches from the attacking midfield position.
Photo: Michael Sohn / AP
With Ivan Perišić and Daniel Caligiuri the two favoured wingers on his outside and a defensive midfield pair of Joshua Guilavogui and Luiz Gustavo anchoring the centre of the park, De Bruyne acted as the main focal point of the side, seamlessly linking the midfield and defence to the wingers and main striker.
On five occasions during the 2014-15 season, De Bruyne had games with three direct goal contributions, his best performance arguably coming in a home clash against Bayern Munich where he single-handedly dismantled the opposition defence. During the thumping 4-1 home victory over the eventual Bundesliga champions, De Bruyne bagged a brace and set up Bas Dost as Wolfsburg ran riot on the counter-attack.
De Bruyne's other stand-out performance that season came against Italian giants Inter Milan in the last 16 of the Europa League. Again, the Belgian international shone, scoring twice and getting another assist to help Wolfsburg reach the next stage of the competition. 
His greatest strengths were finally fully unlocked at Wolfsburg that season. His work and drive for the collective was inspirational, the Belgian always having an eye for a better placed teammate and then delivering the ball to them with extraordinary precision.
Wolfsburg central defender Naldo stated at the time: "he's incredibly important for us, an absolute team player and a fantastic footballer. The kind of player any top club in Europe would love to have."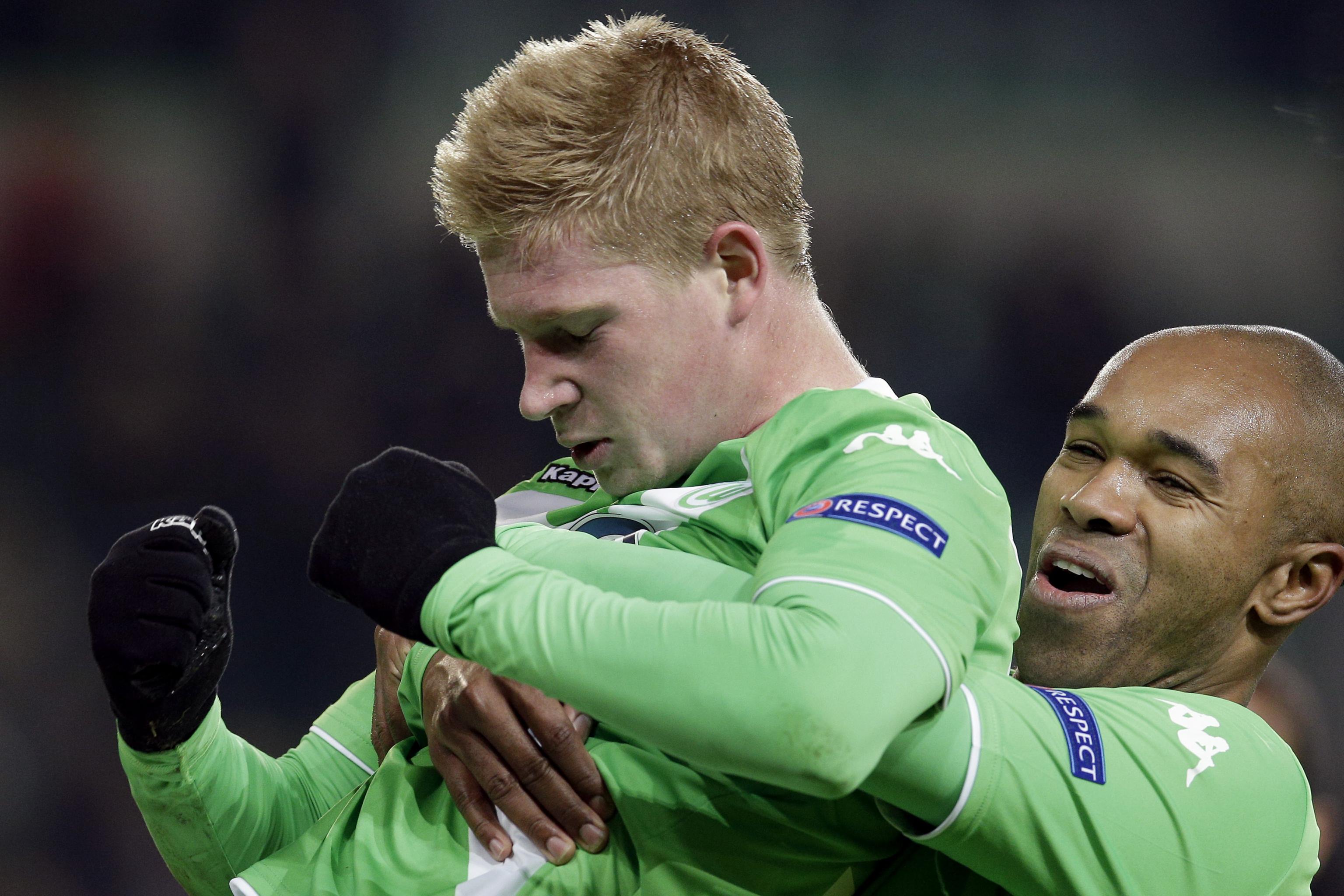 Photo: Michael Sohn / AP
Hecking added; "He's our outstanding player this season and he does everything for the team without acting the big star. That's the best thing of all, it's no big deal for him, he just wants to play football and that's pretty rare in itself." 
Despite rumours of a transfer abroad after such a fantastic campaign with Wolfsburg, De Bruyne remained at Volkswagen Arena for the start of the following 2015-16 season. They picked up where they had left off the season before by beating Bayern Munich in the DFL-Supercup, the Belgian star assisting a late strike from Nicklas Bendtner before scoring himself in the subsequent penalty shoot-out.
He continued his good form by scoring his first goal of the season and providing two assists in a 4–1 win at Stuttgarter Kickers in the first round of the DFB-Pokal the following week. By now the transfer speculation surrounding the Belgian attacking midfielder had intensified and his German team, despite stating otherwise in the press, were resigned to losing their star player.
De Bruyne himself went public, stating to German press that he wouldn't force Wolfsburg to sell him but understandably wanted the club to be upfront with him and his family regarding any offers:
"If an offer does come, I will hear about it and how much it is, but I have not yet heard anything… I would not go to England just to prove that I can play there. I do not have to go to England… If I go there it's because for me and for my family it is a good choice. That's the key for me."
By late August, Kevin De Bruyne had joined Manchester City in a deal worth around £55 million, with Wolfsburg sporting director Klaus Allofs remarking that City had made an 'astonishing' wage offer to the Belgian superstar. 
Photo: Manchester City FC
His transfer to City, the second most expensive in British history at the time, had come at the perfect time for De Bruyne, who despite stating he didn't need to prove himself in England after his failed Chelsea move, still had a burning desire to succeed in the Premier League. He quickly got to work for City, scoring three times in his first five Premier League matches with the club, adding three assists along the way.
De Bruyne's first stand-out Manchester City performance came in a 6-1 demolition of Newcastle United at the Etihad Stadium as he scored and set up two, a feat he'd repeat in his first season against Southampton, Sunderland and Hull City in the EFL Cup. His versatility in particular shone that year, playing 16 times centrally in midfield, 15 times on the right wing and 12 times on the left wing as boss Manuel Pellegrini experimented with the Belgian international.
Suffering with a knee injury during the mid-season, De Bruyne finished his first full English campaign with 16 goals and 14 assists in all competitions, an EFL Cup winners medal and a spot on the 23-man shortlist for the Ballon d'Or.
His standout moment came with the winning goal versus Paris Saint-Germain in the second leg of the Champions League quarterfinals, bending a sublime effort past Kevin Trapp in the opposition goal which saw Manchester City qualify for the semi-finals of the competition for the first time in club history. 
Photo: Getty
Regardless of De Bruyne's personal successes during the season, Manchester City finished the Premier League campaign in 4th spot, well below the chairman's pre-season objective and as a result, Pellegrini left the club in the summer. He was replaced by Pep Guardiola, and since the Catalan's move to the Etihad, he and De Bruyne have helped Manchester City dominate domestically. 
Since Guardiola's arrival in the summer of 2016, the Belgian superstar has played 176 times across all competitions for Manchester City, scoring on 38 occasions and contributing an outrageous 74 assists. His progression under one of the world's finest managers has been nothing short of staggering.
In recent times, De Bruyne has been utilised in central midfield as the deep-lying playmaker and although he is technically further from the action, he's never been so important for a City side looking to win the Champions League for the first time this season. His blend of power, technique, positioning and vision make him the best midfielder in the world at present. 
"I think he is a special, outstanding player. He makes everything. Without the ball he is the first fighter, and with the ball he is clear – he sees absolutely everything," said Guardiola. When you consider that Guardiola has played alongside and managed some of the greatest ever central midfielders like Xavi and Andreas Iniesta, His praise of De Bruyne speaks volumes. 
On the international level, De Bruyne has also made a big impact. With 74 international caps to his name, De Bruyne has been a main focal point in Belgium's drive to the top of the FIFA rankings, as they became the world's number one ranked team in 2019 for the first tim
e in their 116-year history.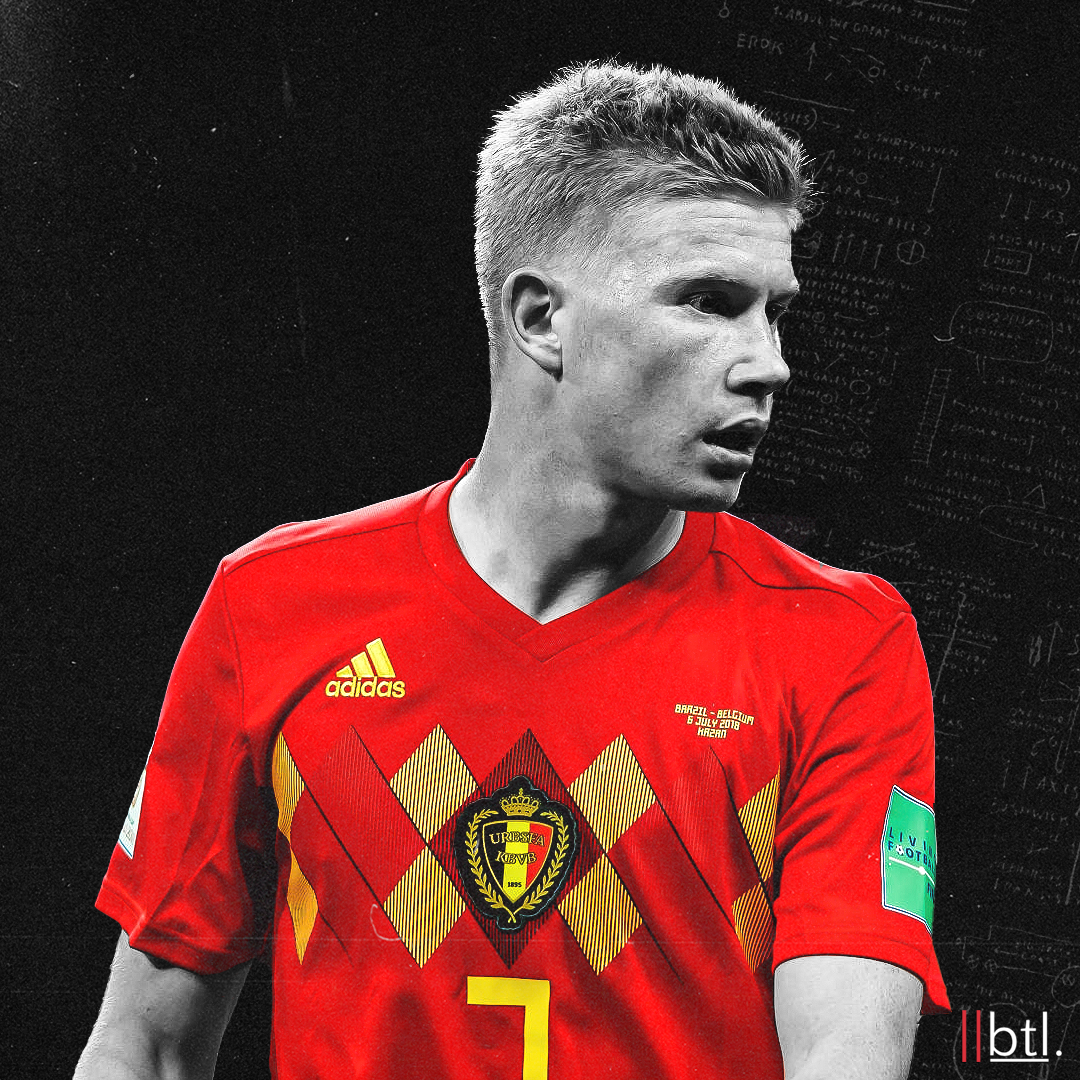 His elegance on the world stage has been on full display since he made his full international debut against Finland in August 2010, and as of 2020, De Bruyne has scored 19 times for Die Roten Teufel. 
Featuring in the 2014 World Cup as well as the 2016 European Championships, the talented playmaker helped his national team to finish third in the 2018 FIFA World Cup, playing every minute in a campaign that saw them outclass Brazil in the quarterfinals, winning 2-1, as well defeat England in the third-place match.
Now at the age of 29, De Bruyne is hitting his prime but he's already proven himself as a serial winner. In terms of titles, the former Genk youth product has now won the Premier League twice, the FA Cup once, the EFL Cup four times and the Community Shield once. On a personal level, the midfield maestro has won many an accolade to date, from featuring in the PFA Team of the Year in 2017-18 to the UEFA Team of the Year in both 2017 and 2019.
This season has arguably been his most impressive in England. Making the transition to central midfield could have posed a problem, but De Bruyne has worked hard to make the position his own.
With the ability to change, influence and control any match he features in, no matter the scale of the occasion, the Belgian superstar has developed into one of world football's greatest players and has come a long way from his troublesome upbringing with KRC Genk.
By: Nathan Evans
Featured Image: @GabFoligno