Kingsley Coman: Bayern's French Talisman in Attack
Kingsley Coman had been an opinion divider among Bayern fans for the longest time. His career already has an astonishing 11 league titles, a UEFA Champions League title, a UEFA Nations League title and multiple other cups at the age of just 26.
However, despite these accolades, Coman was the type of player who was very capable of being the X-factor in a game thanks to his incredible directness and ability to play on either wing but also have moments in games (be it final balls, shots on goals) which leave you scratching your head. 
The perfectionists among Bayern fans wanted him to improve that end product and do it on a more consistent basis. Being second fiddle to Arjen Robben and Franck Ribery is never easy. Despite the invaluable under-the-wing advice that he would have received from these two greats, the lack of playing time seemed to be stunting his growth.
As a result, after a breakthrough season in 2015-16, he was rather underwhelming in 2016-17 (2 goals/1 assist) and the first half of 2017-18 under Carlo Ancelotti. Robben and Ribery's regular niggles allowed Coman more and more playing time and after Jupp Heynckes took over, he seemed to have won his spot on one of the wings with Robben and Ribery battling it out for the other.
Coman had some scintillating displays including one vs. Besiktas in a 5-0 UEFA Champions League Round of 16 match. However, frustratingly, he was sidelined for the rest of the season and missed the World Cup in 2018 too. 
This soon became an issue with him, with 23 further separate injuries and layoffs (including a heart problem) keeping him out of footballing action. A lot of these were muscular injuries which was concerning. In fact, at the age of 22, he even considered retiring from the sport altogether.
"It was a very difficult year. When I hurt myself, it was the end of the world for me. I hope I don't have to relive what I've been through. Enough is enough. I will not accept a third operation – it will mean maybe my foot is not made for this level. I will then lead another life, an anonymous life," Coman said in 2018.
Strengths and Roles
If you asked any Bayern fan at 3 am in their sleep what Coman's strength was, they would all reply with his one-on-one ability and rapid pace allowing him to have unbelievably good progression numbers.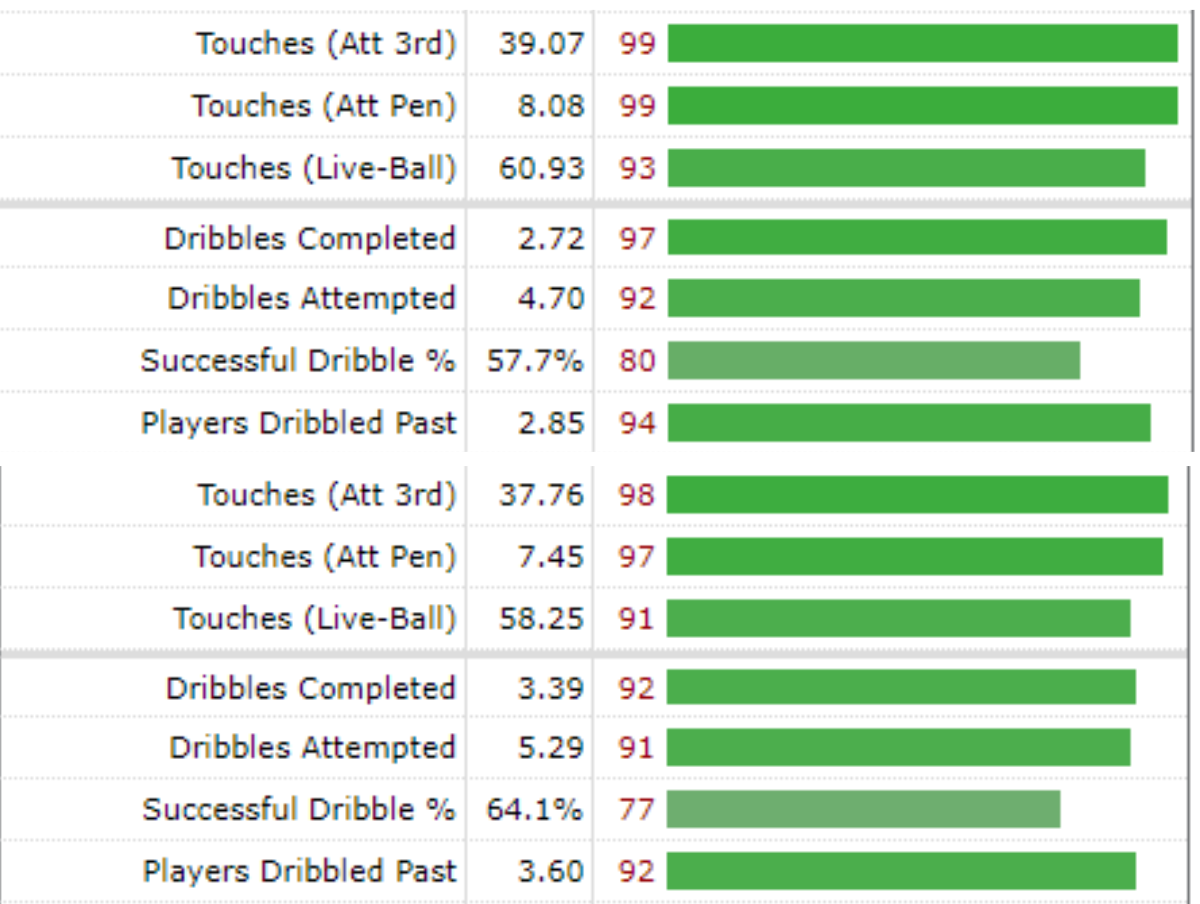 (21-22 Bundesliga / 20-21 Bundesliga – Percentiles compared vs Wingers/Attacking Mids – FBRef)
From the above percentile charts, it can be seen that Coman has been a consistent elite ball progressor. When playing for a team like Bayern, that may not be the easiest thing to do. Playing against a plethora of deep blocks the pace, dynamism, and penchant to take players on provides Bayern a deadly alternative weapon in terms of chance creation when Joshua Kimmich's clipped passes / Thomas Muller's dexterity / Jamal Musiala's twinkle toe feet do not work. 
Different manager have interpreted Coman's role within the system differently. Pep Guardiola and Jupp Heynckes operated with him in a typical Bayern 4-2-3-1. He thrived in this role in terms of ball progression and then end product.
Carlo Ancelotti's 4-3-3 meanwhile, meant that the wide forwards had the extra pressure to contribute directly to goals (more suited to Robben and Ribery at the time) leading to him having a very average stint under Ancelotti.
Hansi Flick employed the typical 4-2-3-1 that Bayern usually used with the highest of high lines Bayern had seen for a while. Coman having scored the winning goal in the UEFA Champions League Final had his most consistent and productive season in a Bayern shirt with 15 league goals and assists. 
But having played a few games for France at RWB, Nagelsmann used a different set-up playing with a back-4 in defence and a back-3 in attack (with Benjamin Pavard becoming the hybrid 3rd CB). This meant the player holding width on the right was Coman.
This is reflected in the stats below with carries into the final third increasing considerably — the one on the bottom reflects his stats in 2021/22, Julian Nagelsmann's first season in charge, whilst the one on top reflects his stats in 2020/21, Hansi Flick's second and final year in charge.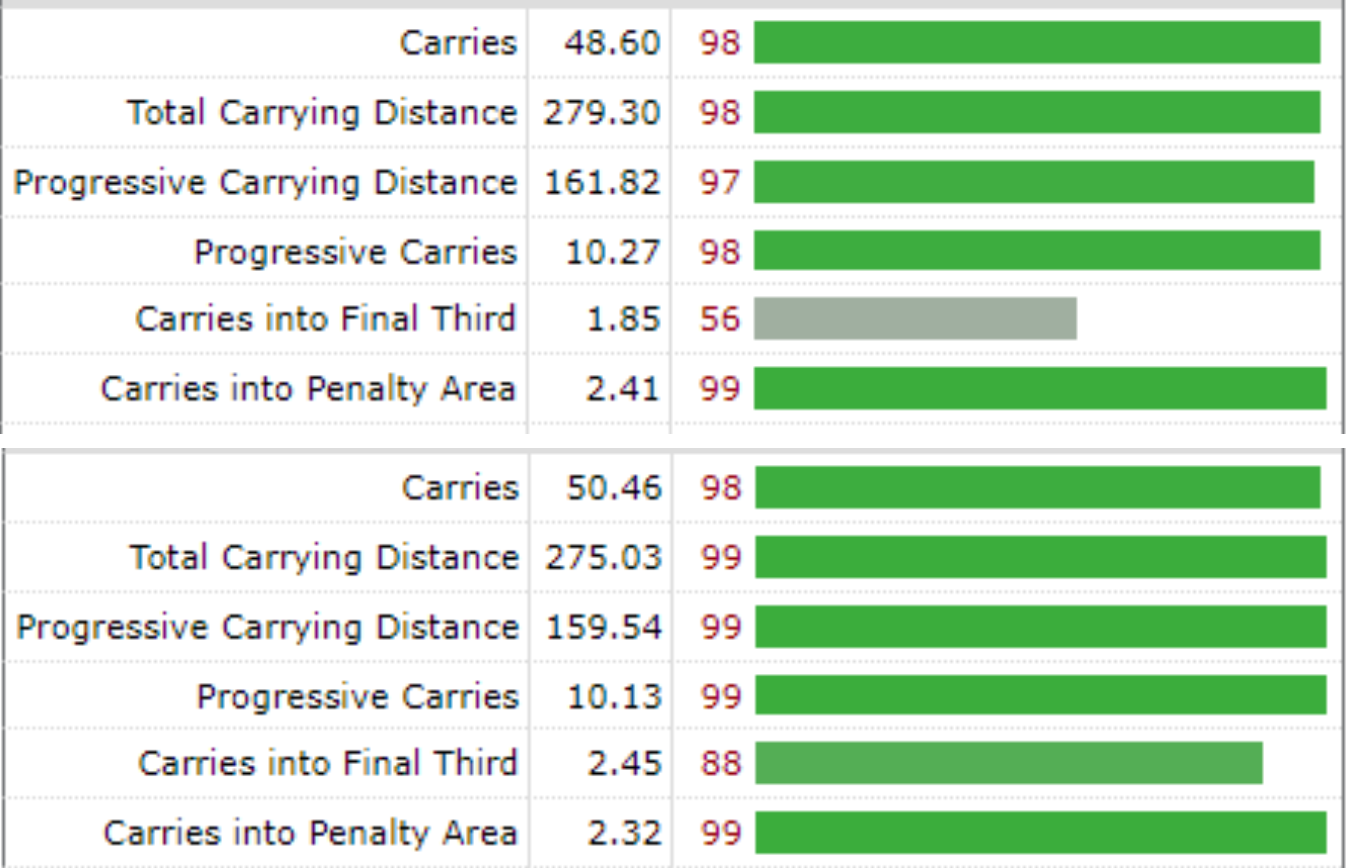 [FBRef]
This is also reflected in the average positions in the respective seasons with Coman spending a lot more time in the middle and defensive third in 2021-22.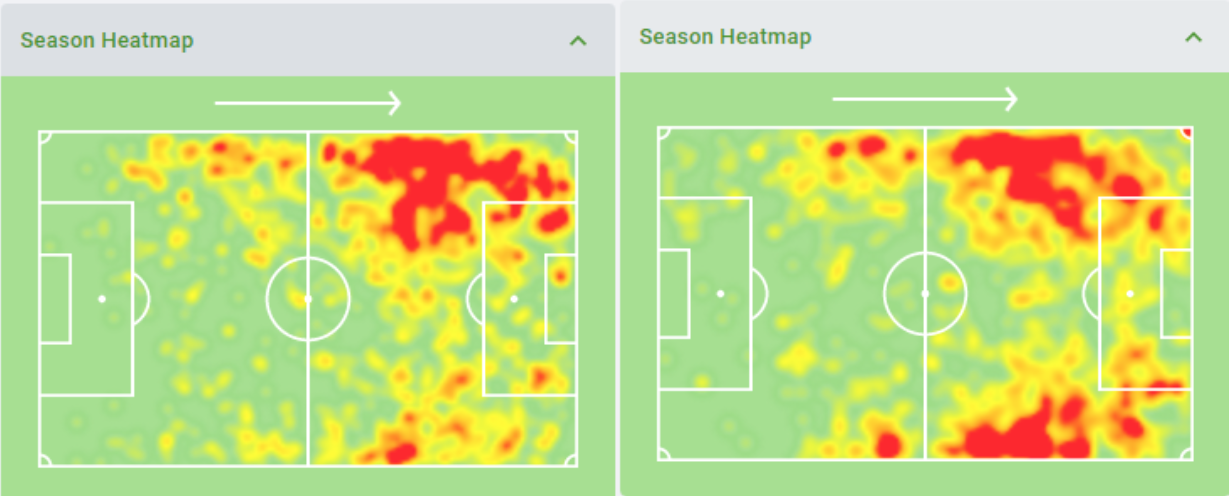 (Coman's average position in 20-21 vss 21-22 – data SofaScore)
Contract Situation and Extension
Kingsley Coman's previous contract expired in summer 2023. Bayern were considering their options to extend him but at their own price.  Coman stopped using agent Pini Zahavi (who does not have the best relationship with Bayern) to represent him as it was his father Christian doing that. 
Even around October 2021, with Leroy Sane and Serge Gnabry being the first choice wingers and Bayern flying, there were no talks with Coman. His future was up in the air with Bayern focussing on extending Joshua Kimmich and Leon Goretzka as well as considering alternatives if Coman was to be sold. At different times, some of the names included Karim Adeyemi, Raphinha and Ousmane Dembele.
However, Nagelsmann truly valued Coman, pushed for his extension and even bigged his abilities and his will to extend him in the media. He valued his ability to take players on from extremely wide positions. Jamal Musiala, Leroy Sane, Serge Gnabry and Thomas Muller all preferred to operate in inside channels/half-spaces. Coman and Alphonso Davies were the only wide dribblers in the Bayern squad making them so important for the team's success.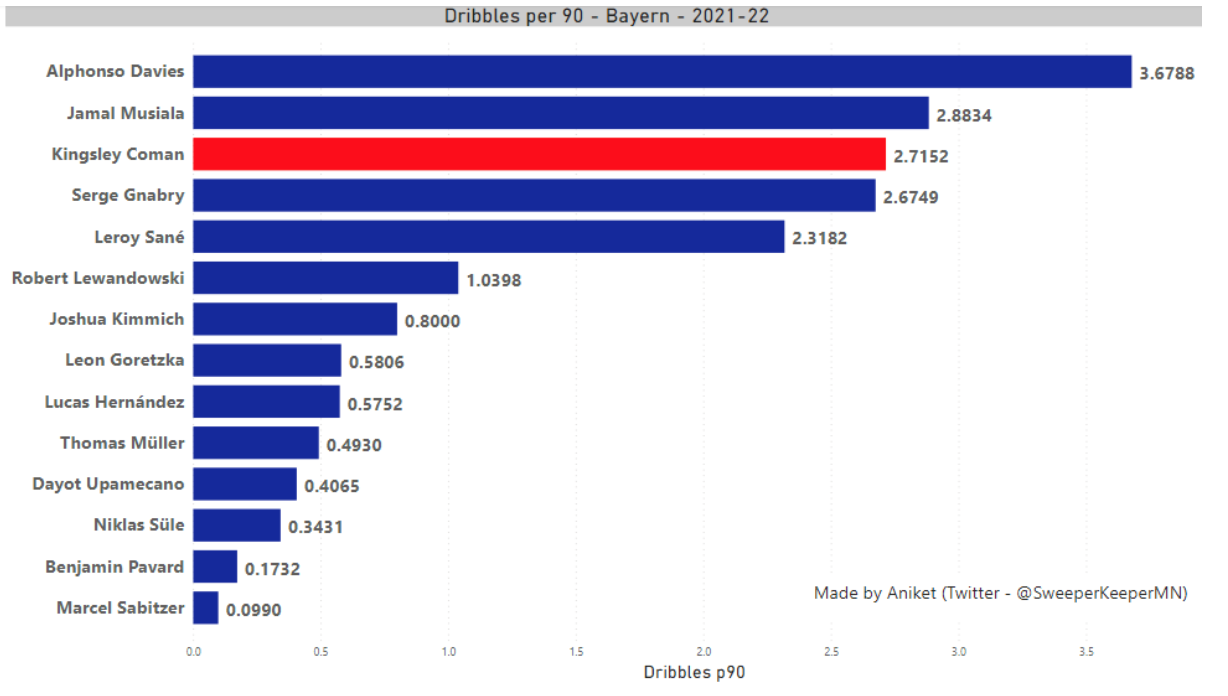 Come November, there was still no movement. Contract talks were on hold. Coman, who earned €12m gross per year,  demanded around €12 million net – demands that were rejected by the club. Around this time, Davies was sidelined indefinitely with a heart condition that required care.
Nagelsmann had to employ wingers at wing-back as a result. Coman shone during this period which convinced and sparked a determination in the board to get his extension done promptly. It showed them how unique he was to the club.
In January, after the winter break, Coman saw this intent from the board and made it his priority to stay. Following a few weeks of negotiations, an agreement was reached to keep Coman at the club until 2027 earning 15 million euros per year.
Bayern also saw him as a leader in the team. He is a part of Bayern's team council and is the representative of Bayern's French-speaking players (of which there are plenty — Benjamin Pavard, Lucas Hernandez, Sadio Mané, Mathys Tel, Dayot Upamecano, Bouna Sarr).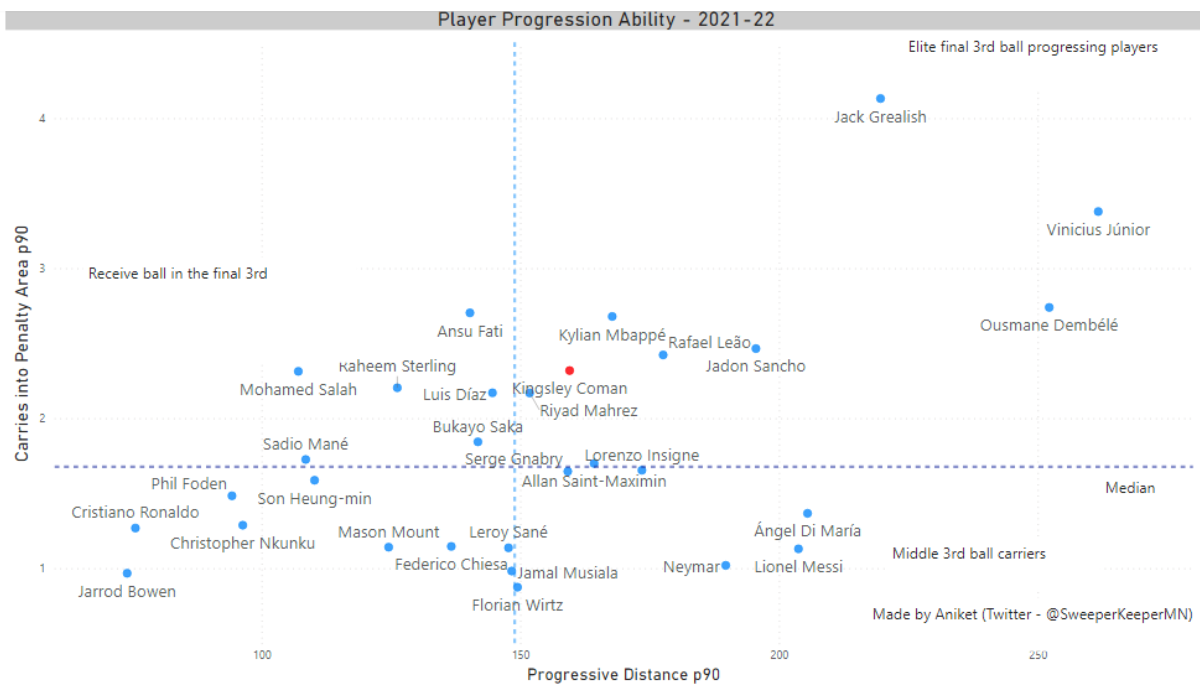 His numbers in most dribble-related categories are stupendous. Last season was no exception as the above graph shows. The next step for him has to be improving on his goal contribution numbers even further. With Robert Lewandowski's exit to Barcelona, it looks like Bayern will play a very fluid front 4 and the goals will have to be spread around (9 different scorers already).
As it stands, Jamal Musiala, Thomas Muller, Sadio Mane and Serge Gnabry have made those 4 spots their own leaving Sane and Coman to compete for a spot. This should fire up these very talented individuals even more and with a World Cup mid-season, this could be Kingsley Coman's best season yet.
By: Aniket Raman / @SweeperKeeperMN
Featured Image: @Juanffrann / Lars Baron – Getty Images