Konrad de la Fuente: Ligue 1's Newest Wonderkid
It's arguably premature to sensationalise a 20-year-old youngster just four matchdays into the new season. Those matches are also the first senior games Konrad de la Fuente has ever played outside of Barcelona's B team, so we're still in the wilderness regarding his full footballing ability.
Yet Konrad, as he prefers to be called, has already attracted praise from those within Ligue 1 coverage, with L'Equipe noting him as a 'tormentor of opposing defences'. Konrad's dream of being the first American to play for Barcelona may have taken a hit – he never played for the A-side – but Konrad has had a lightning start to his career in Europe's top 5 leagues.
The spotlight on the southern French coast may have been stolen by the recent scenes at the derby between Nice and Marseille. By the end of the season though, Konrad is a player who, barring injury, could and should be in the team of the season. 
Miami to Catalonia
Konrad was born in Miami, Florida in July 2001. Aged 11, his family moved to Catalonia, after his Haitian father took a job at a Haitian consulate in the city. Within just two years of playing local football, he was picked up for Barcelona, aged 13.
A dedicated, obedient professional, Konrad has stood out from an early age, climbing his way through youth ranks of Barcelona and the US National team at a steady pace. He was a member of the 2019 U-20 US World Cup squad, starting the quarter-final against Ecuador where the US were knocked out.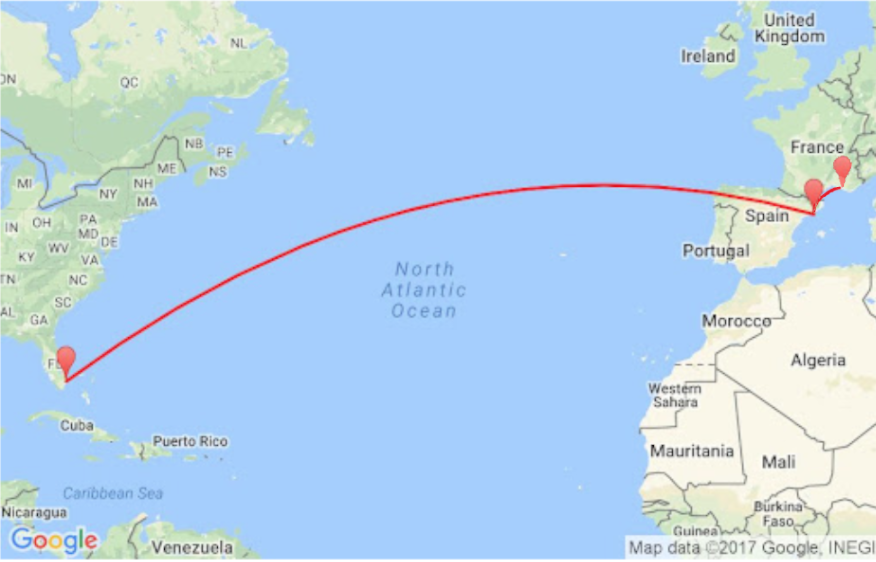 Konrad's career journey so far
Despite being on the verge of the Barcelona first team, Konrad was one of the first names shipped out in Joan Laporta's ill-fated quest to keep Lionel Messi in Spain. It's a shame –Ronald Koeman had praised Konrad after a club-friendly earlier in the 20/21 season, calling him the 'standout young player' after a match against Girona.
Konrad instead took a 1-hour flight across the Mediterranean to Marseille in the Summer of 2021, joining on a 4 year deal with OM. Barcelona received a £2.7 million fee, somehow below the Transfermarkt value at the time of £3.6 million. Konrad's intention to make the senior US national team by the 2022 Qatar World Cup is said to be a driving force in his bid for first-team football.
Working under Jorge Sampaoli was no doubt another huge attraction to Konrad too. The Argentine manager moved to France in February 2021 from Santos, after André Villas-Boas walked out in fury.  Sampaoli has opted to play a 3-2-4-1 with Marseille, with high pressing and extreme fluidity. Under Sampaoli, Konrad has been positioned as the left-winger, with high demands placed on the American's shoulders.
Role in the Sampaoli System
Sampaoli's system is driven to creating space in front of players, and for that Konrad needs to hug the touchline as much as possible. Out of possession though, he is tasked to drop like a wing back, as Konrad is the only true source of width on the left-hand side for Marseille.
Once he has the ball, Konrad is tasked to drive inside and look for cut-back opportunities. This should be an issue on paper; Konrad is a right-footed player, so moving on the outside to cross the ball should be a task he struggles with.
It has taken less than four games though to prove Konrad de la Fuente is very gifted on both feet. This can be linked to his days in La Masia, where Konrad liked to play on his weaker foot and hug the sideline to improve his all-around game. Let's look at matchday one against Montpellier, where Konrad was faced up by Junior Sambia. Sambia won 54% of his ground duels last season and is a very speedy right back.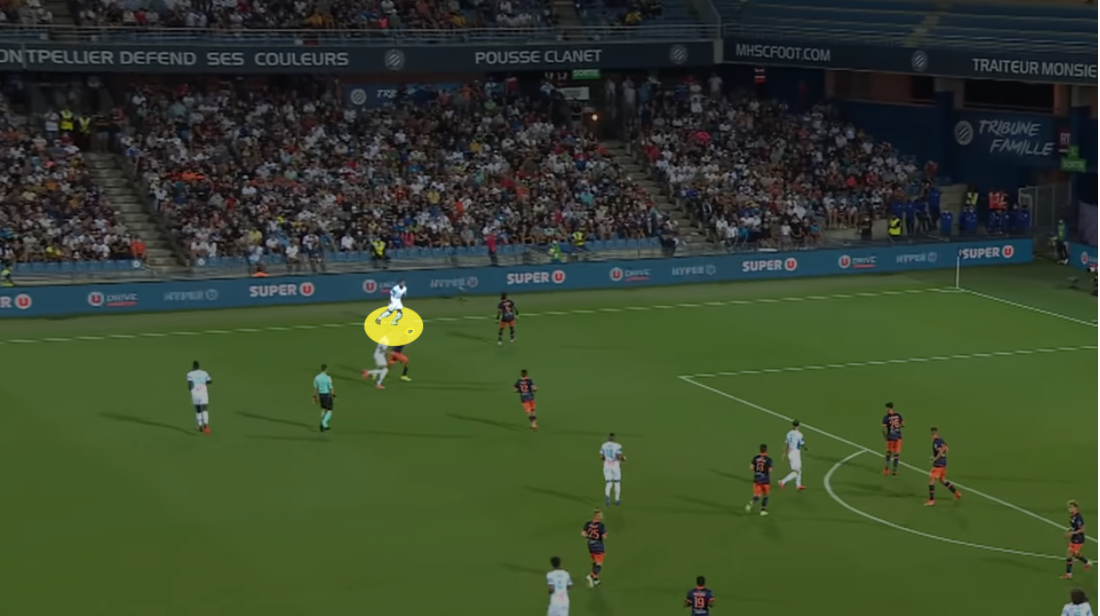 Yet Konrad made him look like an amateur. You can see below after Konrad receives the ball, he is doubled up on by Sambia and Gaëtan Laborde. Laborde has the inside covered, forcing Konrad to go on his weaker side.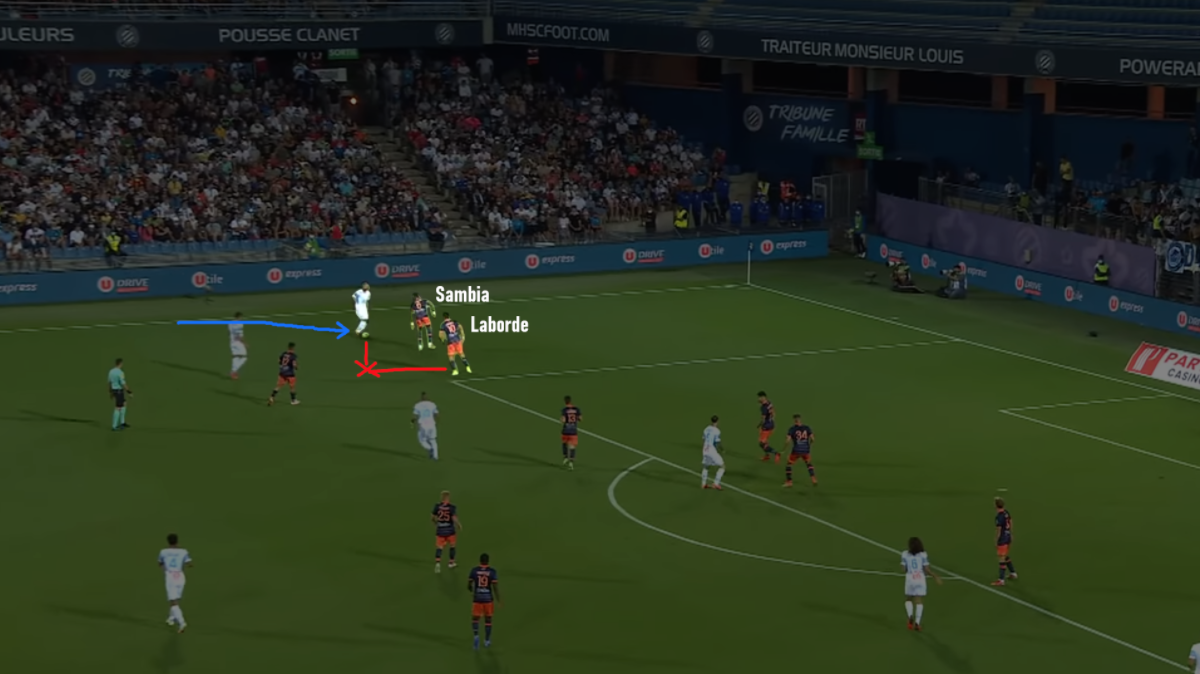 ..then leave Sambia in the dust, before laying a ball across the box to find Cengiz Ünder to score.
Another great moment for Konrad came against Bordeaux on matchday two in Ligue 1. Konrad had dropped inside his own half from a Bordeaux goal kick, and before latching on to a second ball to drive towards goal. This is the point where many youngsters would fail. Moving at pace, with both teammates and opposition players moving around you, it would be easy to make a poor pass or even go alone.
Instead, Konrad tapped a deft ball behind the Bordeaux defence, perfectly timed to give his teammate Gerson space to cross the ball. Gerson would pull the ball back for Ünder to score two games in a row. Konrad has shown electric pace and mature understanding of the game in both matches.
How Seriously Should We Take This?
Most data providers have cut Marseille's stats from their game against Nice, where Konrad came off the bench mere minutes before the game was abandoned. Still, the American has had 5 shots, made 4 key passes, completed 10 shot-creating actions and 6 dribbles from less than 240 minutes of football.
Right now, that means Konrad is averaging 1.94 shots p90, 1.5 key passes p90, 3.88 SCA p90 and completing 2.3 dribbles p90. That would profile pretty favorably to Sadio Mané from 20/21, as the Senegalese forward completed 0.5 less SCA p90 and only 0.4 dribbles more.
This isn't to say Marseille's number 20 will keep these numbers up, but it provides a good reference point. Even Sampaoli has said himself how impressed his coaching staff have been with Konrad's early performances. "Konrad is a young player with little experience. He played a lot with Barça B. He is a young player who makes the difference offensively, he fits well into the system."
If he can maintain the output he is currently producing, we could be looking at a superstar footballer. He's shown explosiveness, ability on both feet and mature thinking in the final third. For a recently turned 20-year-old in his first season of top European football, that's very promising indeed. 
By: Alex Barker / @EuroExpert_
Featured Image: @GabFoligno / Johnny Fidelin – Icon Sport