Analyzing Jorge Sampaoli's Time in Brazil
After two years and two months, Jorge Sampaoli's time in Brazil has reached its end. The 60-year-old rescinded his contract as Atlético Mineiro manager on February 22; four days later, he was announced as the new coach of Olympique de Marseille, replacing caretaker manager Nasser Larguet and taking charge on a contract until June 2023.
Sampaoli took charge of Santos FC on December 13, 2018, after a season that saw the Peixe finish 10th in the Brasileirão and crash out of the Copa Libertadores in the Round of 16. His arrival in Vila Belmiro caused plenty of division within the local press and fanbase, becoming the first foreign manager of Santos since 1977 when fellow Argentine José Ramos Delgado briefly managed the club.
His first experience in Brazilian football came in 2011 when his Universidad de Chile side faced off against Flamengo in the Copa Sudamericana Round of 16. Going up against a Rubro-Negro side featuring the likes of Ronaldinho and David Braz, who played under Sampaoli at Santos, Universidad de Chile won the first leg 4-0, before progressing with a 1-0 victory at the Maracanã.
After brushing past Arsenal de Sarandí in the quarterfinals, Universidad de Chile eliminated Vasco da Gama with a 3-1 aggregate score, before defeating LDU Quito in the Finals. It was the perfect ending to a season that saw La U crowned as champions both in the Torneo Apertura and Clausura. One year after tasting glory in Santiago, Sampaoli took charge of the Chilean national team, having left with an impressive record of 80 wins in 135 matches.
Having previously struggled under Claudio Borghi, Chile immediately improved under Sampaoli, winning three of their first World Cup qualifiers and booking their ticket to the 2014 FIFA World Cup in Brazil. Embracing a return to the aggressive, high-pressing days of former manager Marcelo Bielsa, Chile defeated Australia and reigning world champions Spain in the group stage, before being eliminated by the hosts on penalties.
The following year, Chile sought to redeem themselves in the Copa América. After topping a group of Bolivia, Ecuador, and Mexico, La Roja advanced past Uruguay and Peru, before facing off against Argentina in Santiago. After a goal-less 120 minutes, Matías Fernandez, Arturo Vidal and Charles Aránguiz converted from the spot, whilst Gonzalo Higuaín and Éver Banega failed to find the back of the net. Alexis Sánchez sealed the victory with the final kick of the game, beating Sergio Romero with an audacious panenka kick. 99 years after competing in the first ever Copa América, Chile had finally won their first ever international championship.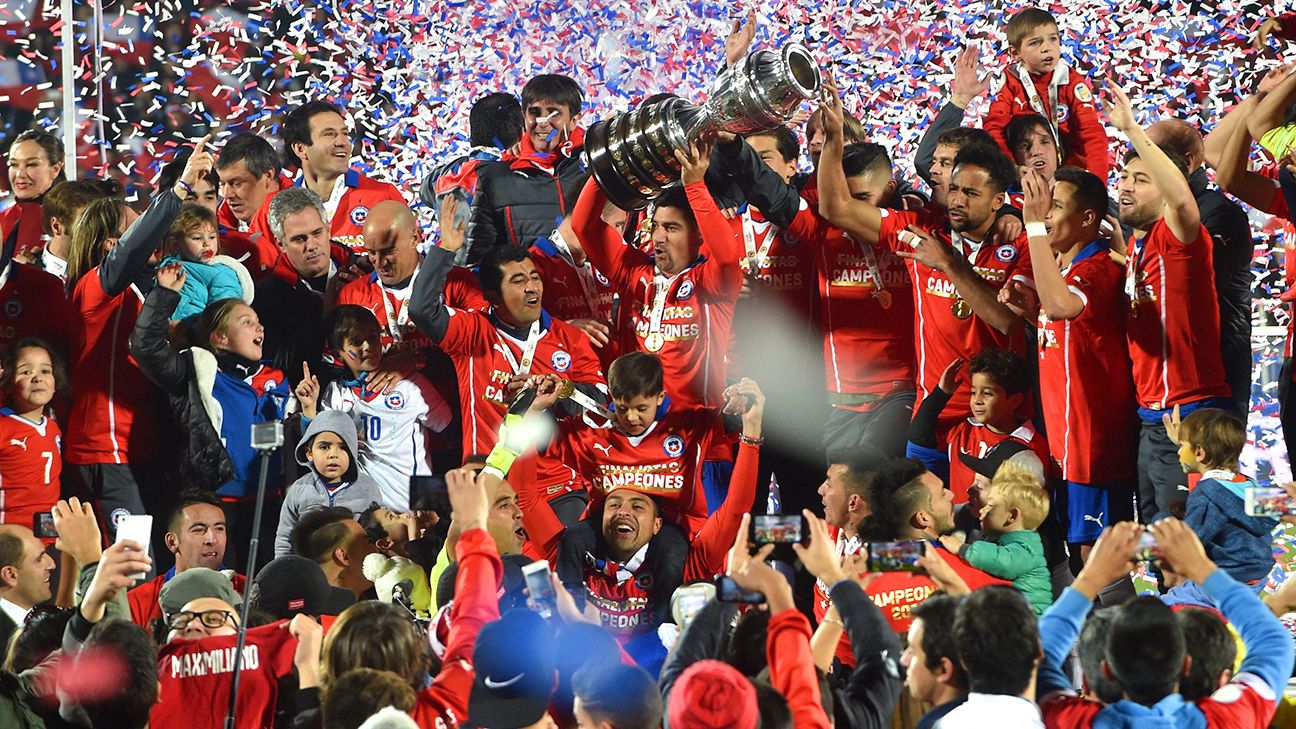 Photo: Rodrigo Arangua/AFP/Getty Images
Sampaoli resigned from his position on January 19, 2016 following Arturo Salah's electoral victory as the president of the Asociación Nacional de Fútbol Profesional, the Chilean footballing association. He would not have to wait long before his next opportunity, however, taking charge of Sevilla FC on a two-year contract after Unai Emery's departure to Paris Saint-Germain. After 30 years of coaching, Sampaoli was headed to Europe for the first time in his career.
Despite losing to Barcelona and Real Madrid in the Supercopa de España and the UEFA SuperCup, respectively, Sevilla enjoyed a red-hot start under Sampaoli, pushing Barcelona and Real Madrid for the league title and ending Los Blancos' 40-match unbeaten run. With a squad boasting the likes of Samir Nasri, Wissam Ben Yedder, and Vitolo, Sevilla looked to have a genuine shot of winning their first league title since 1946.
However, their aspirations came crashing down to Earth on March 14. After winning the first leg at home, Sevilla faced off against relegation-threatened Leicester City at the King Power Stadium. Craig Shakespeare's side mustered an improbable 2-0 victory on the back of goals from Wes Morgan and Marc Albrighton; Sevilla headed back to Andalusia with their tails between their legs.
Sevilla would go on to lose to Atlético Madrid, Barcelona, Málaga and Real Madrid, whilst dropping points to Sporting Gijón, Valencia and Real Sociedad, finishing in a disappointing fourth place. The departure of sporting director Monchi to Roma only added insult to injury, and soon, it became apparent that Sampaoli would force his exit after just one year in charge.
On June 1, Sampaoli was announced as the new manager of the Argentina national team, his first job in his native country since coaching hometown side Alumni de Casilda in 2001. As the third Albiceleste manager since Alejandro Sabella's resignation following the 2014 FIFA World Cup Final, Sampaoli struggled to impose his tactics in the national team, as Argentina drew their first three matches to Uruguay, Venezuela and Peru.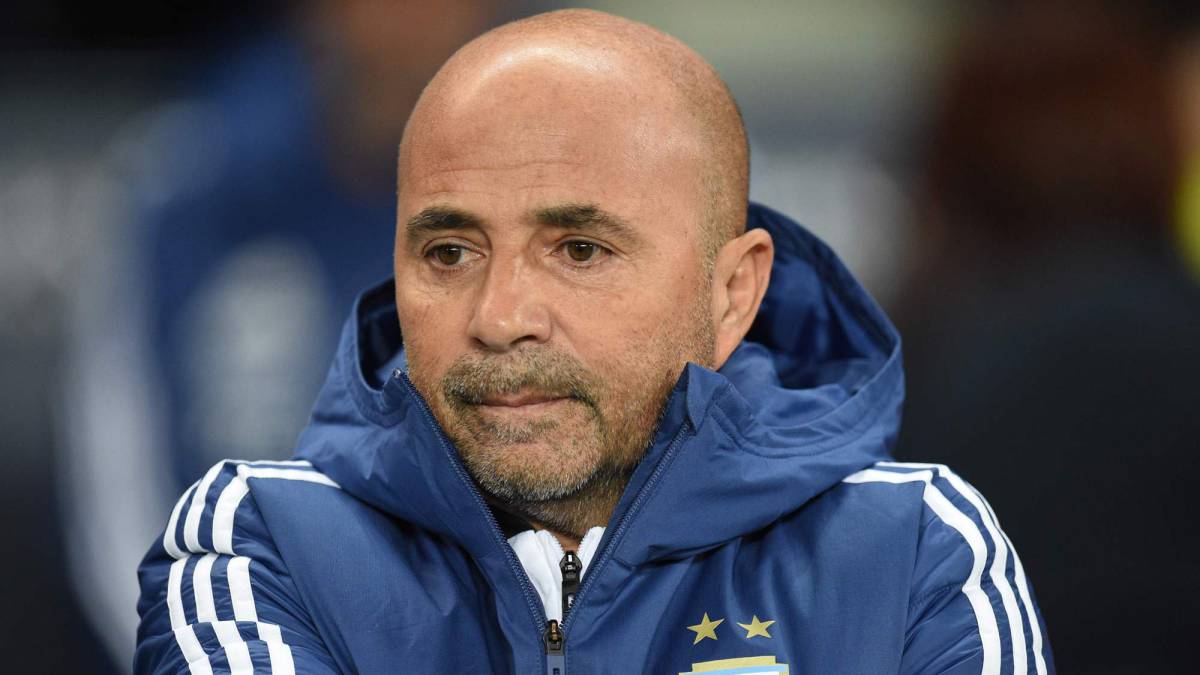 Photo: Oli Scarff / AFP
They found themselves in need of a victory in the final World Cup qualifier against Ecuador to guarantee qualification to the 2018 FIFA World Cup, but despite falling behind in the first minute to a goal from Romario Ibarra, Argentina sealed progression via a hat-trick from Lionel Messi in Quito. Argentina's tournament began in Moscow against debutants Iceland, who snatched a 1-1 draw after Alfreð Finnbogason's goal quickly cancelled out Sergio Agüero's opener.
The following match, Argentina found themselves outdueled, outplayed, and outfought as eventual champions Croatia took a commanding 3-0 victory in Nizhny Novgorod. Argentina looked headed for an early elimination after Victor Moses equalized from the spot after the break, but they narrowly eked out a victory via the unlikeliest of sources as Marcos Rojo converted a cross from Gabriel Mercado in the dying minutes. It was to little avail, however, when France bounced Argentina from the competition via a consagratory performance from 19-year-old Kylian Mbappé, who led the champions to victory with a brace
Five months after leaving his position by mutual consent, Sampaoli was appointed as Santos manager, replacing Cuca following a disappointing midtable finish. Before he could manage his first match, however, he would have to cope with two major departures; Bruno Henrique joined Flamengo for a fee of $23 million Brazilian Reais, whilst Gabriel 'Gabigol' Barbosa headed to Flamengo on a season-long loan.
Sampaoli's first test occurred in the Campeonato Paulista, and even within the first few weeks, his Santos team exemplified the style that sharply divided public opinion during his time in Brazil. Santos won their first four matches by a combined scoreline of 9-1, and the following match, they lost 1-5 to fourth-division side Ituano; a 17-year-old winger by the name of Gabriel Martinelli grabbed an assist during the rout.
Despite losing their final two group stage matches to Novorizontino and Botafogo-SP, Santos finished second in their group and advanced past Red Bull Brasil to set up a match-up with Corinthians in the semifinals. After losing 1-2 at Arena Corinthians, they managed to force a penalty shootout via a late goal from Gustavo Henrique, but they were narrowly edged on penalties after Víctor Ferraz missed from the spot. Corinthians would go on to defeat São Paulo in the Final.
Sampaoli did little to silence his critics in knockout competitions; after eliminating lower-league sides Altos and América de Natal in the Copa do Brasil, Santos brushed past Atlético Goianiense and Vasco da Gama before taking on Atlético Mineiro in the Round of 16. Having mustered a stalemate in Belo Horizonte, Santos took an early lead in the second leg via Gustavo Henrique, but they were eliminated via a brace from Colombian winger Yimmi Chará. They fared even worse in international competition, as Club Atlético River Plate eliminated them from the Copa Sudamericana in the first stage.
Santos began the Campeonato Brasileirão season on April 28 following the eliminations in the Copa Sudamericana and the Campeonato Paulista, with Sampaoli in desperate need of a strong start to the season in order to silence the critics and turn the season around. To kick off the league campaign, they visited the 2017 Copa Libertadores champions Grêmio in Porto Alegre and grabbed two early goals via Eduardo Sasha and Felipe Jonathan en route to a 2-1 victory.
A stalemate against CSA sandwiched in between victories over Fluminense and Vasco da Gama saw Santos move to second in the league, but their impressive start came to a grinding halt on Matchday Five as Palmeiras took a 4-0 victory at home, throwing a bucket of cold water on Santos' red-hot form. However, after a draw against Internacional, Santos bounced back and strung together seven consecutive victories to advance to the top of the table.
However, following a resounding 6-1 victory against Goiás, Santos suffered a horrendous run of form in the month of August. After back-to-back losses against São Paulo and Cruzeiro, Santos relinquished a 3-0 lead to draw at home against Fortaleza, and while they did manage to narrowly defeat Chapecoense, they only barely secured a draw against Athletico Paranaense following a late penalty goal from Carlos Sánchez.
On September 14, Santos paid a visit to Rio de Janeiro to take on league leaders Flamengo at the Maracanã. Going up against an attack led by ex Santos men Gabriel Barbosa and Bruno Henrique, the away side weathered a storm of attacks, but they were unable to keep a clean sheet; seconds before halftime, Gabigol raced down the right flank, cut inside, and lofted a ball past Everson and into the back of the net. It was a golaço of the highest caliber, a testament to Flamengo's superior individual quality.
A humiliating 0-3 defeat to Grêmio followed by a draw at Fluminense saw the gap between Flamengo and Santos continue to widen, and while Sampaoli's side did manage to string together an impressive run of form in October and November, they were unable to prevent the Rubro-Negro from picking up even more steam under Jorge Jesus. By the time the two sides faced off again on December 8 — a 4-0 victory for Santos — Flamengo had already sealed the title two weeks prior.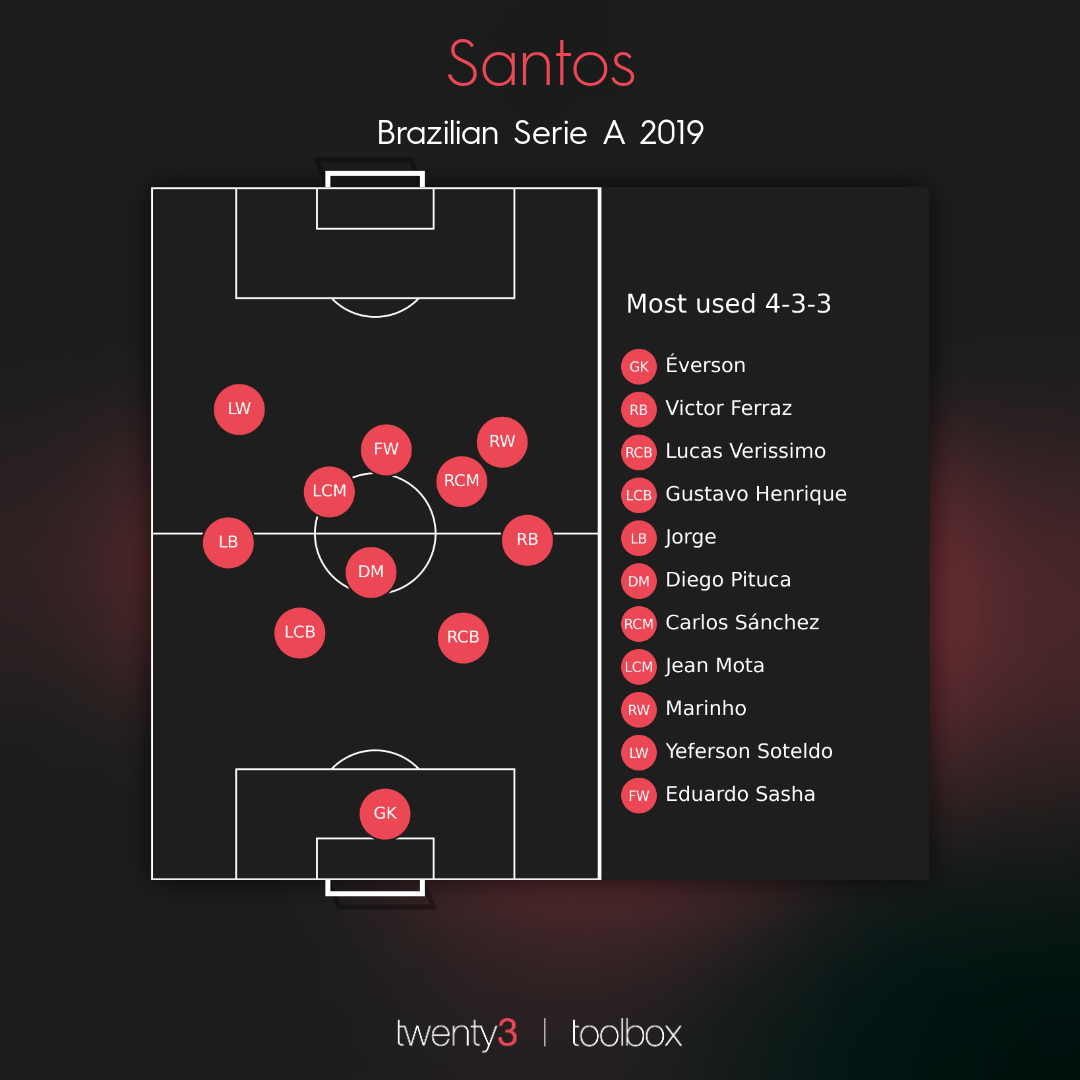 Photo: Twenty3/Wyscout
Whilst Santos would finish a whopping 16 points behind Flamengo, their tally of 74 points — their highest-ever total in the modern 20-team league format — would have seen them won the Campeonato Brasileiro in 2017, 2011, 2010, and 2009. Under the reign of Sampaoli, Santos proved to be a force of nature at Vila Belmiro, winning 33 matches, drawing four, and only losing to Grêmio at home.
As Jesus (briefly) continued at his post after a season that saw Flamengo win the Copa Libertadores, the Campeonato Carioca, and their seventh league title, Sampaoli announced his decision to step down from his post on December 9. Nevertheless, Santos were one of the biggest surprises of the 2019 Brasileirão season, finishing in second place, albeit level on points with Palmeiras, and qualifying for the Libertadores.
The Argentine's departure was brought about by a disagreement with the club's board, with Sampaoli demanding a laundry list of signings to prepare the club for the demands of the Copa Libertadores. Santos, however, found themselves in the midst of a financial crisis and were unable to purchase players, forced to part ways with key players such as Felipe Aguilar and Yuri Alberto. As his relationship with club president José Carlos Peres — who would be impeached in September — continued to worsen, Sampaoli resigned following the last match of the season.
Whilst Sampaoli had spoken to Palmeiras about the possibility of taking over as manager, he announced his new destination on March 1: Atlético Mineiro. Since winning the 2013 Copa Libertadores, the Galo had struggled to reclaim their previous triumphs, having finished 9th, 6th, and 13th prior to Sampaoli's announcement. However, with the financial backing of Rubens Menin, Mineiro had finally begun to dream of climbing the totem pole of Brazilian football.
As the co-founder of MRV Engenharia, Brazil's leading home builder, the 65-year-old billionaire has used his fortune to invest in the club and engineer a similar project to what Leila Pereira achieved with Palmeiras in prior years. Mineiro had made the ambitious move of hiring former Venezuela manager Rafael Dudamel in January, but after losing to Unión de Santa Fe in the first stage of the Copa Sudamericana, the pressure began to mount on Dudamel.
The final straw came on February 26, when they were eliminated from the Copa do Brasil by Afogados — a team that only recently achieved promotion to Brazil's fourth division. Dudamel was sacked, and after a brief spell with caretaker manager James Freitas, Sampaoli was hired on a contract through December 2021.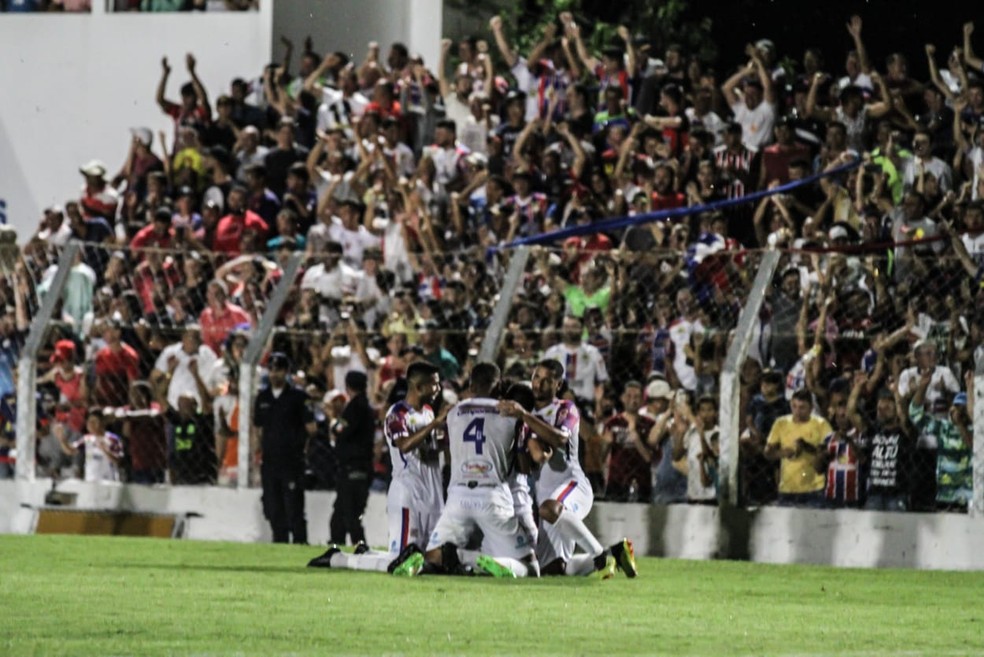 Photo: Cláudio Gomes / Ascom Afogados FC
The Argentine arrived with the mission of transforming the Alvinegro club from a midtable side to a title challenger, with the goal of competing in both the Campeonato Brasileiro and the Campeonato Mineiro, and unlike Santos, his new club had the financial resources to back up his ambition. Several players who had previously worked with Sampaoli, such as Éverson, Mariano, and Eduardo Sasha, arrived in Minas Gerais, whilst other high-profile players such as Allan and Marrony were brought in as well.
Sampaoli's first match came on March 14, as Mineiro took a commanding 3-1 victory over Villa Nova in the Campeonato Mineiro. However, the growing spread of the COVID-19 pandemic meant that his team would have to wait over four months to dispute their second official match, a 1-1 draw against América-MG in the regional tournament. The pause came as a blessing in disguise, as the Mineiro squad had time to learn Sampaoli's tactics and return from the break stronger than ever before.
Atlético Mineiro took three consecutive victories over CA Patrocinense and América-MG to book their ticket to the Campeonato Mineiro Final, where they would defeat Tombense over two legs. They opened their league season against the defending champions at the Maracanã, going up against a Flamengo side that had recently appointed Pep Guardiola's longtime assistant — Domènec Torrent — as manager following Jorge Jesus' departure to Benfica.
Whilst Flamengo came close to opening the scoring early on, it was Mineiro that broke the deadlock in the 24th minute; Guilherme Arana latched onto Marquinhos' through ball and launched a cross that deflected off Filipe Luís and into the back of the net. Mineiro would go on to take all three points, displaying an impressive level of football and keeping the likes of Gabigol and Giorgian De Arrascaeta under wraps.
Atlético Mineiro would continue their momentum with victories over Corinthians and Ceará, setting the tone for a fantastic first half to the season that would see them battle it out with Eduardo Coudet's Internacional for the top spot of the Brasileirão and lead many Atleticanos to dream of achieving their first league title since 1971. Whilst many of their competitors were forced to balance several competitions at once, Atlético Mineiro only had to concentrate in the league after winning the Campeonato Mineiro on August 30.
Boasting intense pressing and a possession-based style, Atlético Mineiro mounted an impressive run of form to cling to the top of the leaderboard, but after taking just two points from a possible twelve against Fluminense, Bahia, Sport Recife, and Palmeiras, they fell to fourth in the table. Nevertheless, they bounced back and began the second half of the league season with a resounding 4-0 victory over Flamengo, which saw Torrent dismissed and replaced by Rogério Ceni.
Despite beating Corinthians in their following match and briefly retaking the top spot, Atlético Mineiro failed to demonstrate the same kind of consistency and intensity that had marked their performances in the first half of the season. They would end up losing to Botafogo, Goiás, and Vasco da Gama, all of whom were relegated, whilst also losing to Bahia and Fortaleza, both of whom had just barely staved off relegation in the final weeks of the campaign.
Atlético Mineiro suffered humiliating 0-3 defeats to São Paulo and Palmeiras and dropped points to the likes of Red Bull Bragantino, Ceará and Athletico Paranaense, falling further and further behind the likes of Internacional and Flamengo in the title race. As Cuca led Santos past Grêmio and Boca Juniors and into the Copa Libertadores Final, where they would narrowly lose to Palmeiras, Sampaoli's heavily funded Mineiro side faded away.
In the end, they finished third in the league — only three points behind champions Flamengo — a misleading result given São Paulo's horrendous end to their campaign after losing their grip on first place as well as Mineiro's fairly meaningless back-to-back wins over Sport Recife and Palmeiras to close out the season — but an impressive finish in comparison to recent years. Still, Atlético Mineiro showed signs of wear-and-tear and inconsistency and failed to reach the expectations that had precluded the season.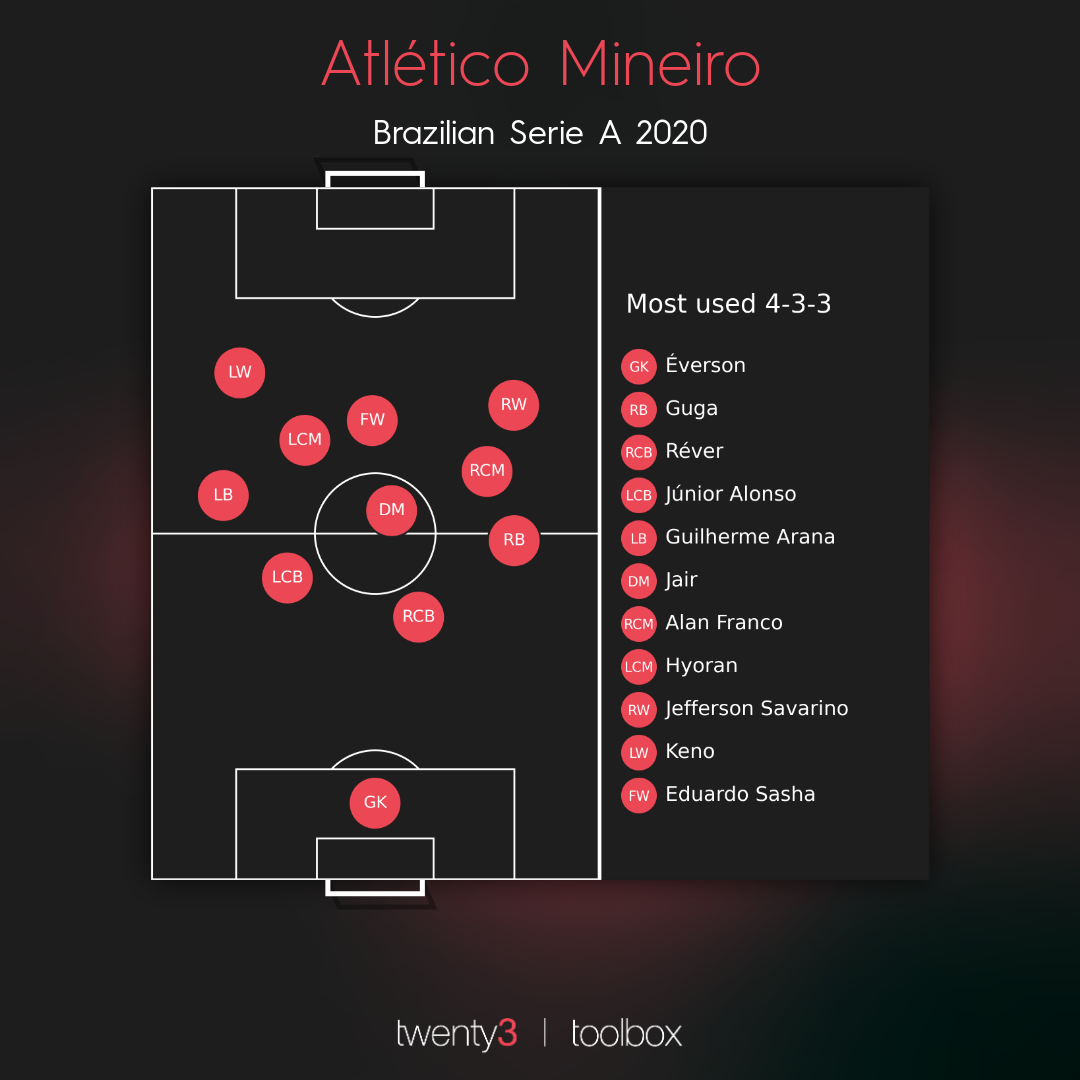 Photo: Twenty3/Wyscout
In his lone season in Belo Horizonte, Sampaoli continued with the 4-3-3 that he had utilized during his time at Santos, albeit adapting his set-up depending on the opponent. The right back Guga, who had arrived from Avaí to replace Emerson following his move to Real Betis, typically dropped deep to form a back three with Réver and Júnior Alonso, whilst the left back Guilherme Arana pushed further up the pitch.
Outside of the usual starters, Sampaoli also enjoyed a deep squad at his disposal, with the likes of Igor Rabello, Nathan, Marrony, and Matías Zaracho being solid rotational options. Eduardo Vargas, who had worked with Sampaoli both at Universidad de Chile as well as the Chilean national team, arrived from Tigres in November with the objective of providing a reliable source of goals, but he could only muster two goals and two assists in 16 league appearances.
It is little surprise that the bulk of Mineiro's attacks came via the left flank when looking at the individual starters. Júnior Alonso, who had spent the past two years on loan at Celta Vigo and Boca Juniors, arrived from Lille on a four-year deal for a fee of €3 million and proved to be an excellent reinforcement with his quality on the ball and experience in defense.
After playing a vital role in Corinthians' Brasileirão triumph, Guilherme Arana earned a €12 million move to Sevilla in December 2017, but he failed to settle in and was promptly loaned out to Atalanta, where he too struggled to beat out Robin Gosens for a starting spot. However, after joining Mineiro on an 18-month loan move with an obligation to buy, Arana found a new lease on life under Sampaoli, dropping deep when needed and bursting forward to provide energy and width in attack.
Following a spell in the Middle East, Keno returned to Brazil on June 18, joining Atlético Mineiro on a three-year deal with the option of a one-year extension. Even at 31 years of age, the left winger proved to be the team's attacking talisman with 10 goals and 9 assists, demonstrating his quality as one of the finest players in the country.
From a tactical point-of-view, Sampaoli's Santos and Atlético Mineiro sides were fairly similar; the Argentine is a devotee of Pep Guardiola's "Juego de Posición," focusing on heavy possession, numerical superiority during the build-up play and positional interchanges to find the free man in attack.
O que é o jogo de posição? O Atlético de Jorge Sampaoli explica. Construção paciente, ocupação racional e permanente dos espaços, calma para atrair saltos em pressão e encontrar jogadores livres nas costas da marcação, variação de corredor e quase um golaço de Hyoran. pic.twitter.com/uFglXCFqLl

— Higor Santos (@HigorSantos_10) February 1, 2021
The wingers in Sampaoli's teams often occupy wide positions to stretch the field and allow the other teammates to occupy the halfspaces, whilst the mobile center forward (Eduardo Sasha during both spells) can move around and take up space between the lines to provide a passing option in the final third.
By taking a look at the passing network of both Atlético Mineiro and Santos, we can get an even better look of the characteristics of Sampaoli's style of play. His 'juego de posición' style heavily prioritizes passing triangles between the fullback, midfielder and winger to draw out opposing defenders and create space for teammates, constantly stretching apart the opposing defense with quick combinations.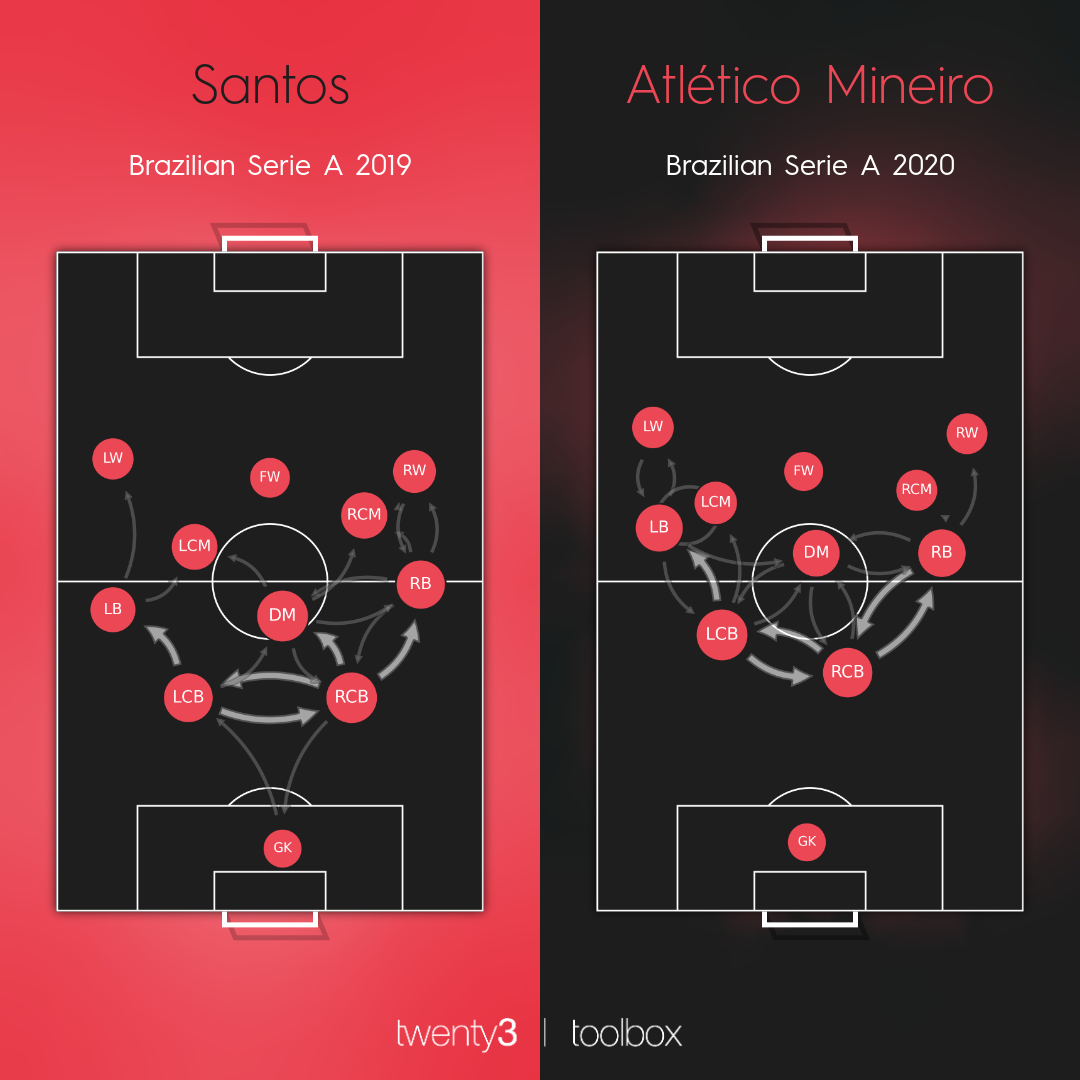 Photo: Twenty3/Wyscout
Despite the evident similarities, there are some differences between Sampaoli's two Brazilian sides. At Santos, the defensive midfielder Diego Pituca would typically drop between the two center backs to form a makeshift back three, whilst at Mineiro, Guga would drop to the right side of a back three to provide a passing option for the two center backs.
At Santos, the bulk of attacks (39%) came through the right, with Victor Ferraz, Carlos Sánchez and Marinho combining on the right flank, whilst at Atlético Mineiro, they focused on building possession via the left flank (38%) with Arana remaining close to Hyoran and Keno, as seen in the below diagrams demonstrating their flank attacks.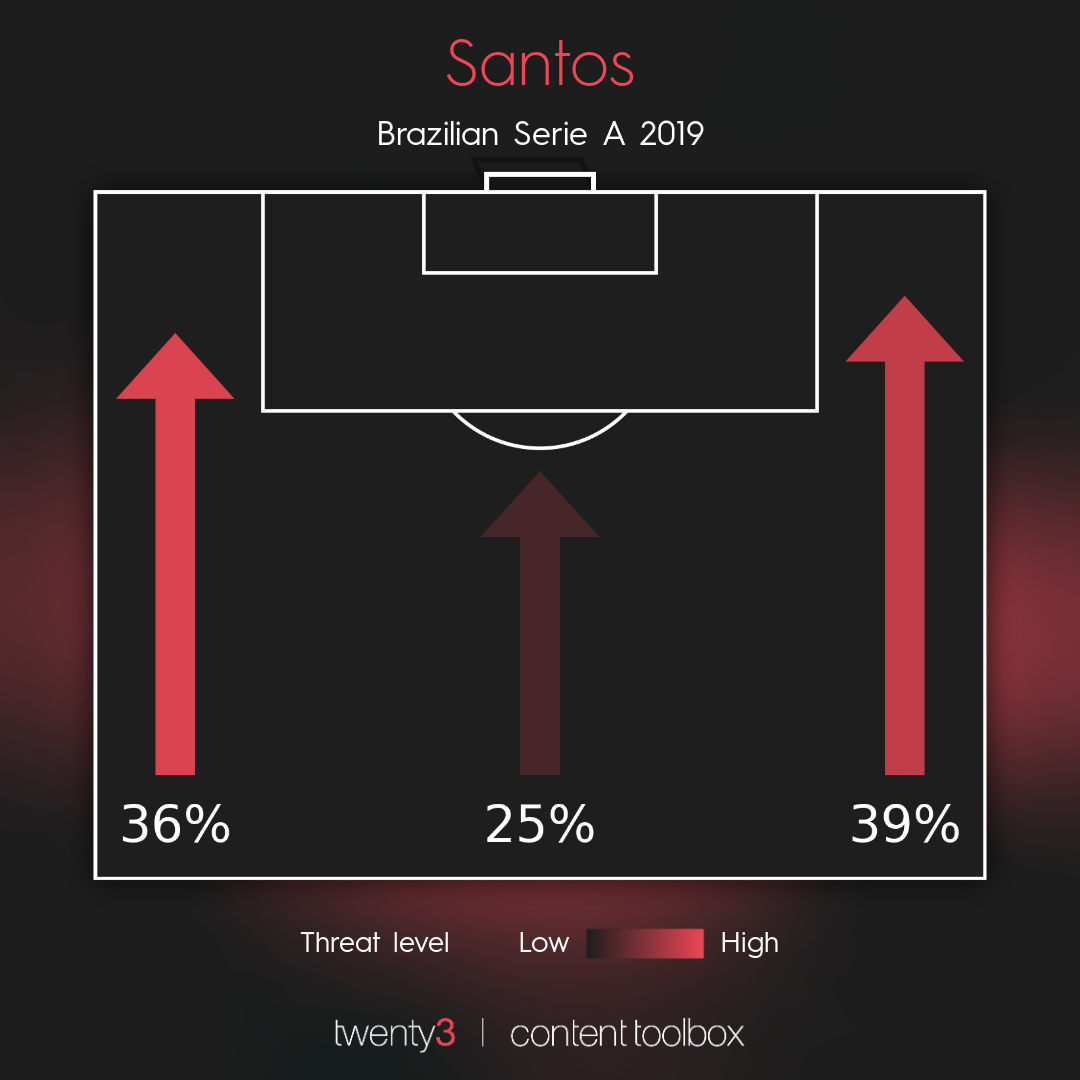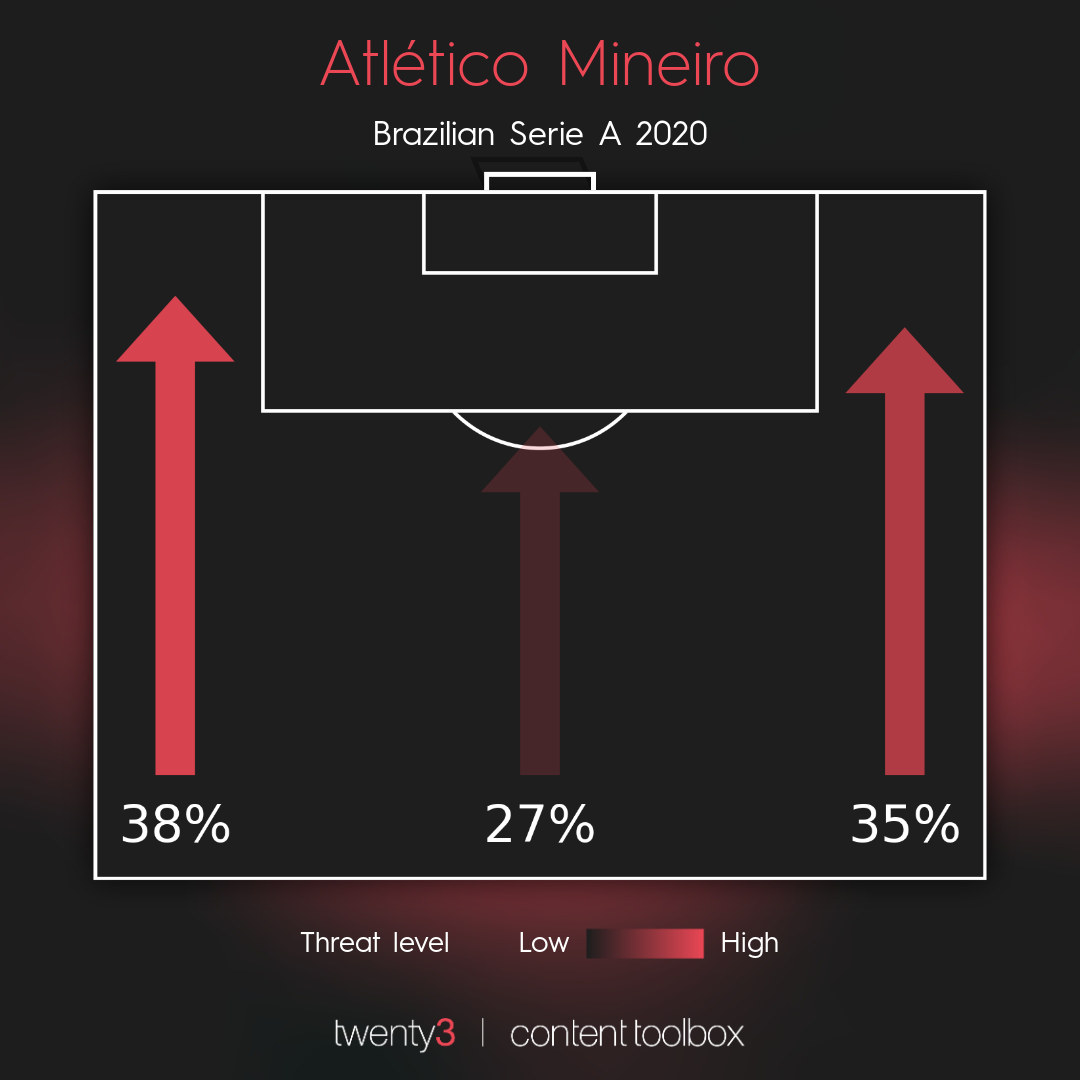 Photo: Twenty3/Wyscout
Whether in Brazil, Chile, or Spain, Sampaoli's teams have been renowned for their high amount of chances created. In each of the past two seasons, his teams have finished second in the league in terms of Expected Goals, averaging around three goals per two games. In terms of generating spaces, their players look to invert their positions and play long balls to take advantage of the opponents' vulnerabilities.
In order to execute this strategy, they constantly look to occupy the final third and apply immediate pressure after losing the ball. If they do give away possession, the attackers will already be in position to pressure the opponent and the defenders and midfielders will move up to help execute the pressure and close down the spaces.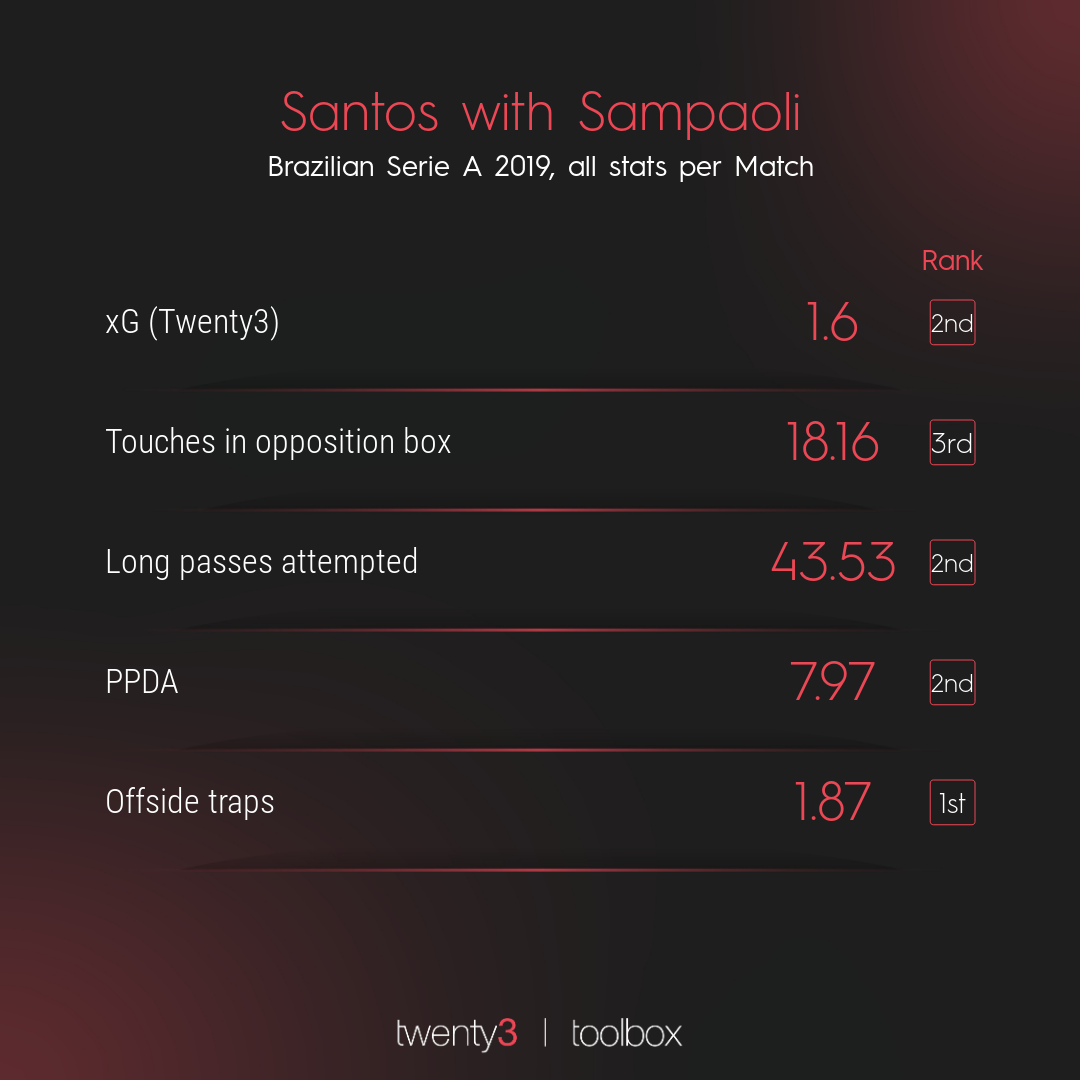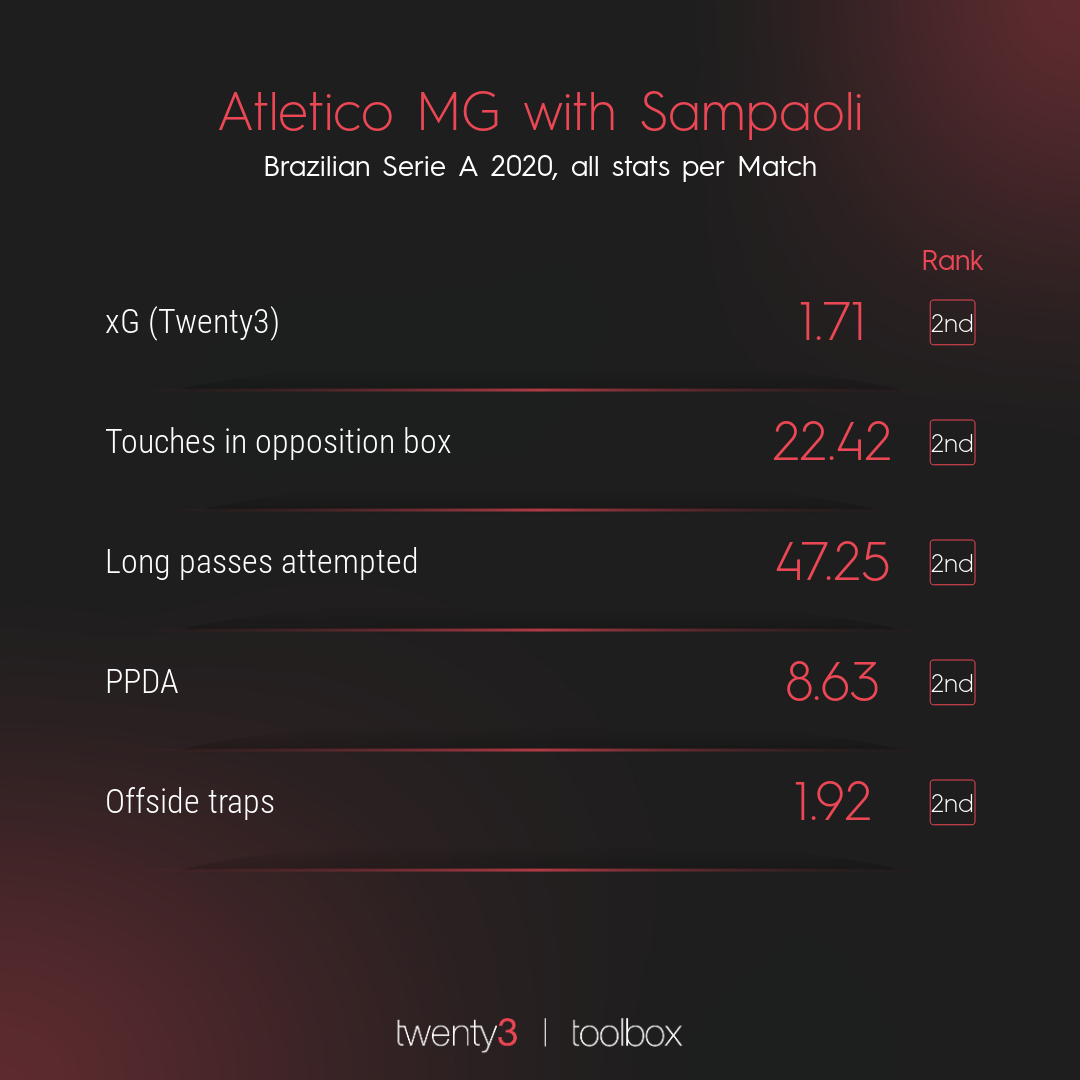 Photo: Twenty3/Wyscout
This style of play demands plenty of chemistry and physical vigor. His Santos team was incredibly combative and led the Brasileirão in attempted defensive duels, although they also ended up being one of the five worst teams in terms of fouls conceded. This constant indiscipline became an undesirable mark of the team; amonst the 20 teams in the league, Santos finished first in terms of yellow cards and second in terms of red cards.
Despite this indiscipline, Santos finished with the most clean sheets in the league with 18, and they conceded 33 goals in 38 matches; only Palmeiras (32), Athletico Paranaense (32), and São Paulo (30) conceded fewer. This defensive solidity proved vital in Santos' second-placed finish, and it is little surprise that Sampaoli decided to bring Éverson with him to Mineiro following his impressive performances in goal for Santos.
At the Galo, the story was different. The opposing teams had already grown accustomed to Sampaoli's style of play and many of them utilized a low block in an attempt to nullify the attack. This common defensive strategy is demonstrated in the amount of accelerations, as Atlético Mineiro finished last in this category in Série A; due to these low blocks, there was little space for attacking players to take advantage of and sprint into the final third.
To break down these low blocks, Atlético Mineiro attempted more passing exchanges to pull apart the defense and create space in the final third. Whilst Santos averaged 369 passes per match, Atlético increased their tally to 478, the highest average in the 2020 league campaign. However, the defensive solidity that became part-and-parcel of Santos' title challenge ended up becoming a nightmare for Sampaoli and Éverson; Mineiro kept just 12 clean sheets, and their opponents scored 8 more goals than expected.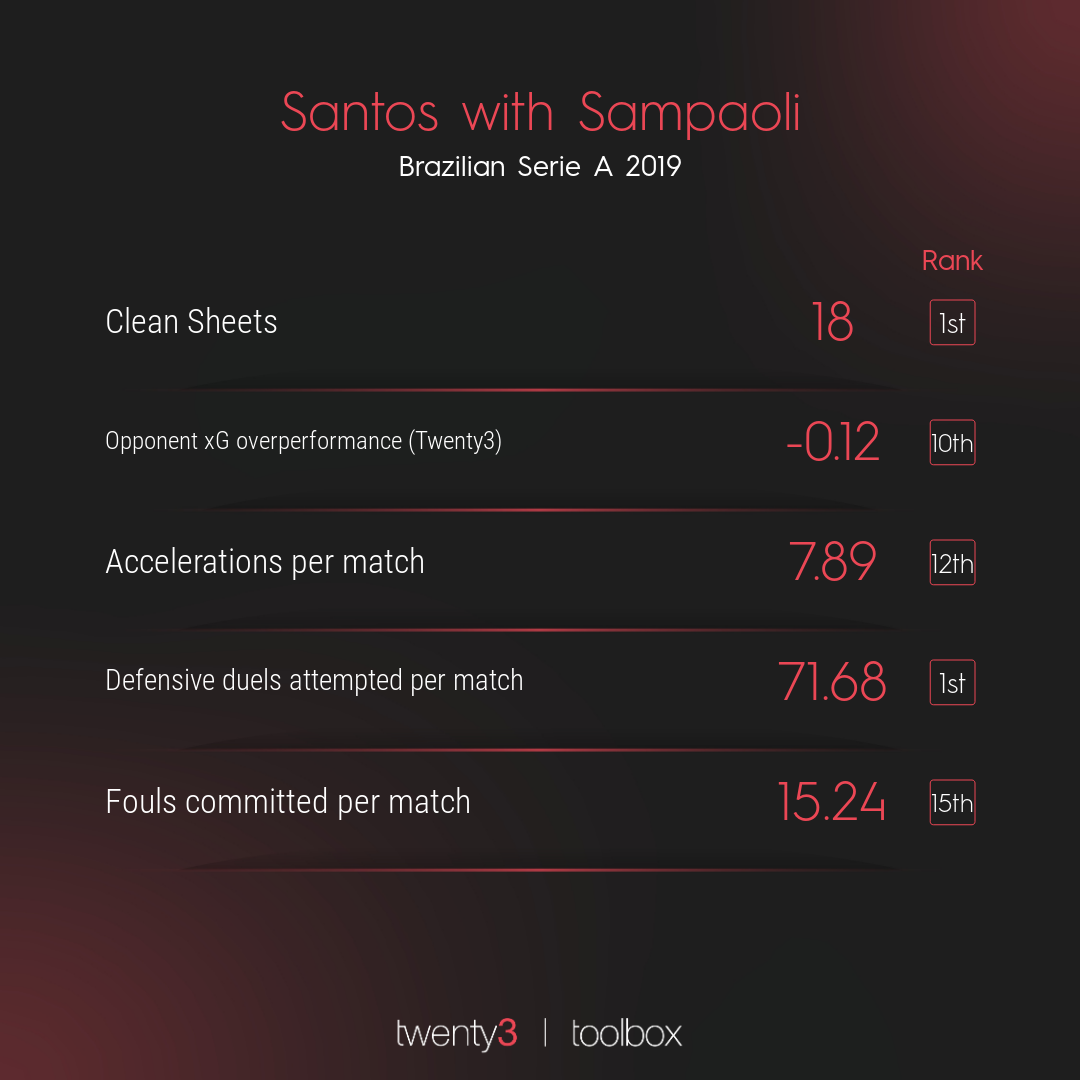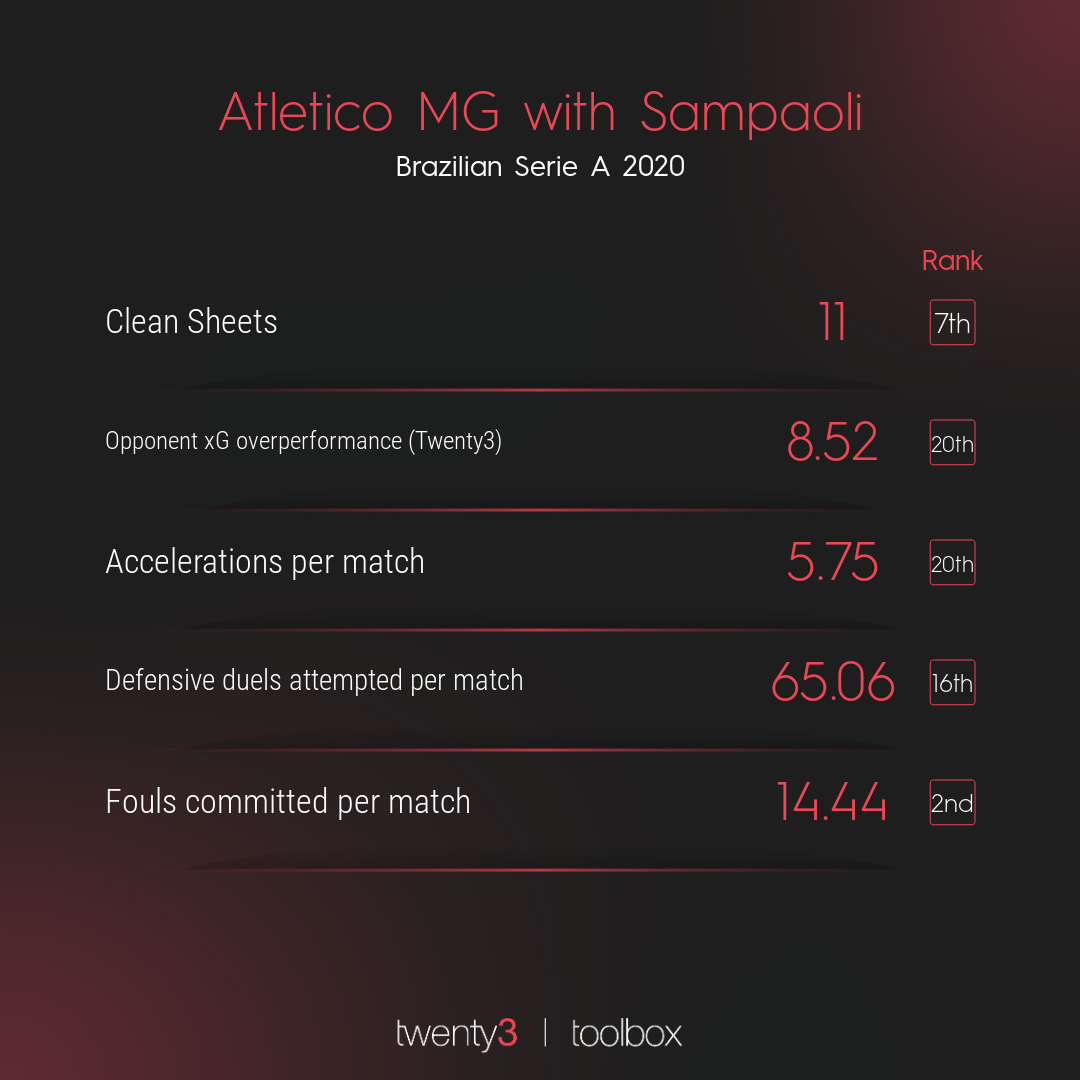 Photo: Twenty3/Wyscout
Despite winning just one trophy, Sampaoli's time in Brazil can be considered a success both in terms of results and performances. However, one thing is certain; his off-the-field relations have continued to be his biggest weakness, whether that be with Chile, Sevilla, Santos or Atlético Mineiro. His relationship with these club executives have always been complicated, and it remains to be seen whether that will change with Marseille president Pablo Longoria.
His ambitious demands in the transfer market eroded his relationship with the Santos board, and whilst he was backed with a generous financial backing at Atlético Mineiro, he struggled to justify the lofty spending with silverware, or at the very least, a lasting title challenge. Over the course of his two years in Brazil, Sampaoli's teams spent nearly 200 million Brazilian reais on transfers (around €30 million), and in many cases, these players were rarely utilized.
Fernando Uribe joined from Flamengo on May 30, 2019, but after 16 goalless appearances, the Colombian striker was released by Santos on September 18, 2020. Léo Sena joined from Goiás for R$ 4 million, and just four months later, he joined Spezia on loan with an option to buy after making just three appearances for Atlético Mineiro.
The most extreme example came with Peruvian midfielder Christian Cueva. Despite previously struggling at São Paulo and being fined twice for indiscipline problems, Santos signed Cueva on a one-year loan deal from Krasnodar on February 7, 2019, with an obligation to buy on a three-year contract for a fee of €6 million. Cueva had played just 156 minutes before being caught fighting in a nightclub in Santos, leading to him being dropped from the first-team squad and joining Pachuca a year after his arrival in Brazil.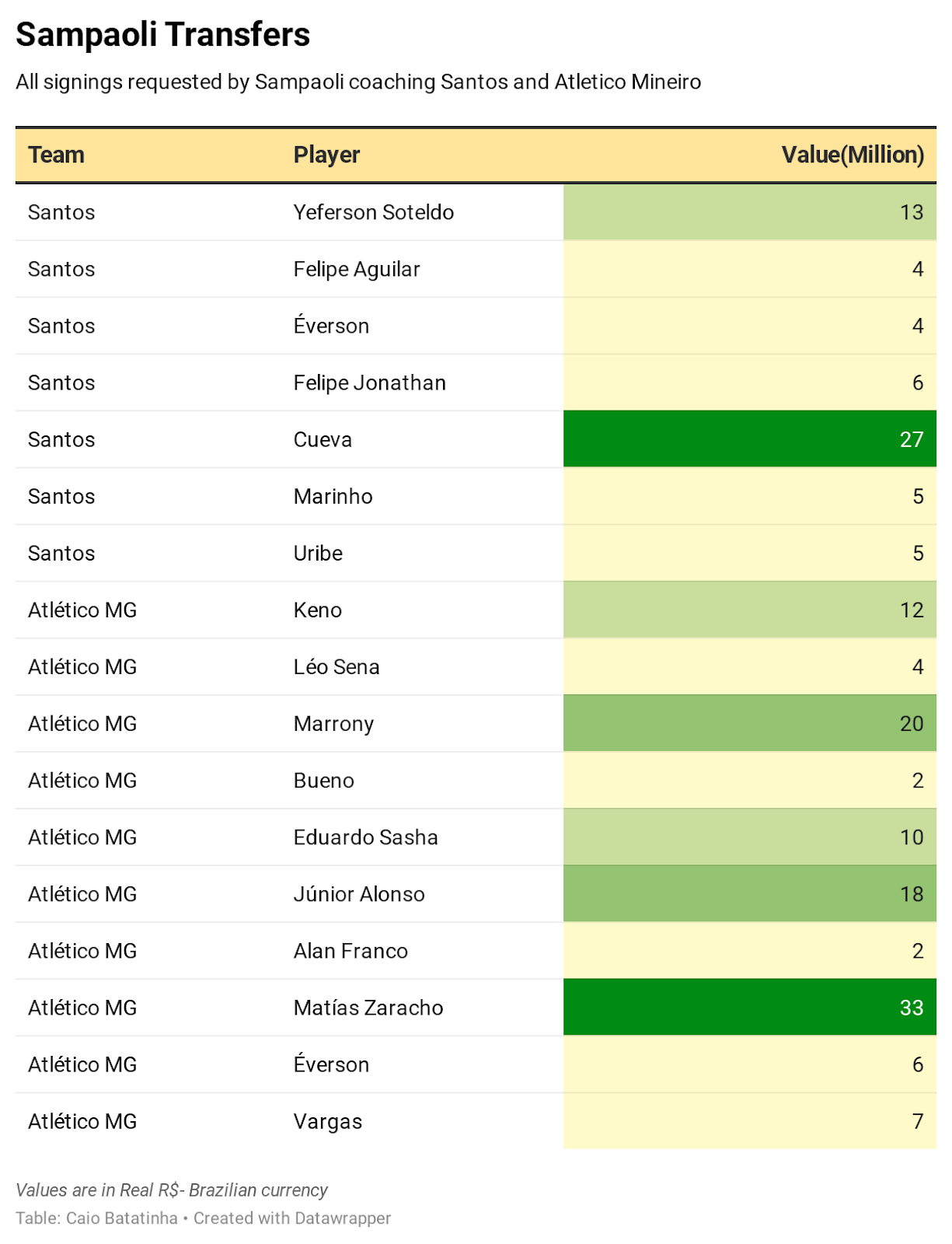 Over the past decade, Olympique de Marseille has been one of the most chaotic clubs in Europe, one that has seen managers such as André Villas-Boas, Rudi Garcia, and one of Sampaoli's major influences — Marcelo Bielsa — come and reach varying levels of success, before abruptly leaving. It has been nine years since the club last won a trophy, and with OM sitting seventh, 20 points behind league leaders Lille, that likely won't be changing anytime soon.
As such, the appointment of Sampaoli on a contract through June 2023 comes as a double-edged sword. On the pitch, Sampaoli is an accomplished manager who can pacify the club's fiery relationship with its supporters, steady the ship, and lead Marseille to the final Europa League spot and potentially even a deep run in the Coupe de France. Off the pitch, he is a man who has always had difficulties seeing eye-to-eye with the club hierarchies, and whose demands in the transfer market may be too high for Marseille to juggle.
Jorge Sampaoli leaves Brazil with just one Campeonato Mineiro in his trophy cabinet, but with a much greater legacy for the country's footballing environment. While he may have been temperamental and difficult to work with, he enabled various footballers to reach a new level under his command and led Santos and Atlético Mineiro from midtable finishes to title challenges in just one year. He now follows the footsteps of Bielsa, in an attempt to showcase his repertoire, brush off the ignominy of his Argentina spell, and prove that his intense style is worth the investment.
By: Caio Batatinha
Featured Image: @GabFoligno / Alexandre Schneider / Getty Images