Kouadio Kone: A Diamond in the Rough
Kouadio Koné is a young midfielder who has been making waves in the Bundesliga with his performances for Borussia Monchengladbach. A product of the Toulouse youth system, Koné recently made the move to Germany in an £8 million transfer, but he has already adapted well to the physicality and pace of the German topflight.
In fact, Koné has been one of the most impressive players in the Bundesliga this season, showcasing his versatility, athleticism, and technical ability. Standing at 6'1", Koné is an imposing figure in midfield, but he also possesses great speed and agility.
UWCL Final 2022: A Tactical Masterclass from Sonia Bompastor
This allows him to cover a lot of ground on the pitch and make an impact both defensively and offensively. In addition, Koné is a very good passer of the ball and has an excellent work ethic.
These qualities have helped him quickly establish himself as one of the best young midfielders in the Bundesliga. It will be interesting to see how he develops, but there is no doubt that he has a bright future ahead of him.
Name: Kouadio Koné
Age: 21 Years 
Height: 185cm
Club: Borussia Monchengladbach 
Nationality: France/Ivory Coast
Position: CM
Contract Expires: 30/06/2025
Attacking
During the attacking phase of play Koné demonstrates an eagerness to be on the ball often without checking who is around him on the pitch, possibly due to youthful exuberance.
When his team is on the attack he can often be seen to make under/overlapping runs out wide with a tactical intelligence not often seen in players so young. When he is in possession shows great ability to retain and shield the ball from opponents.
This ability to retain possession can be seen in the images below. Koné uses his body shape and position to prevent his opponent, who is marking him tightly, from being able to win back possession. 
He then uses his body shape and a drop of the shoulder to create space to execute a pass to a teammate. This excellent body shape allows him to propel himself forward at speed which enables him to be a valuable ball carrier for his team.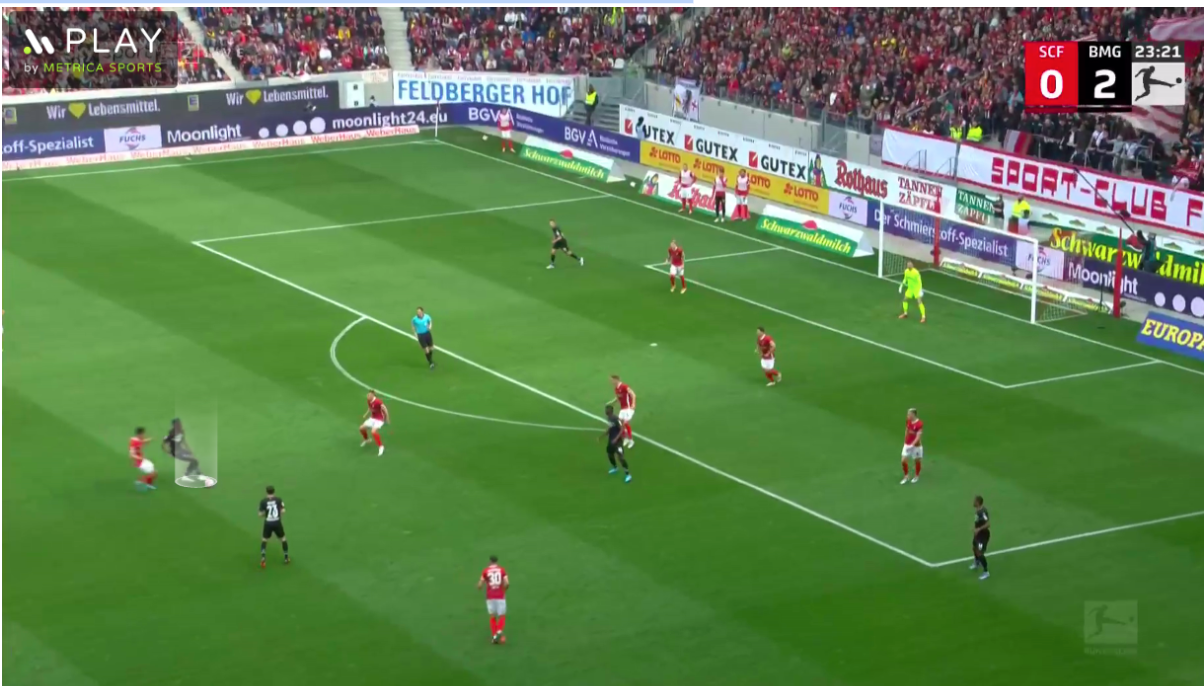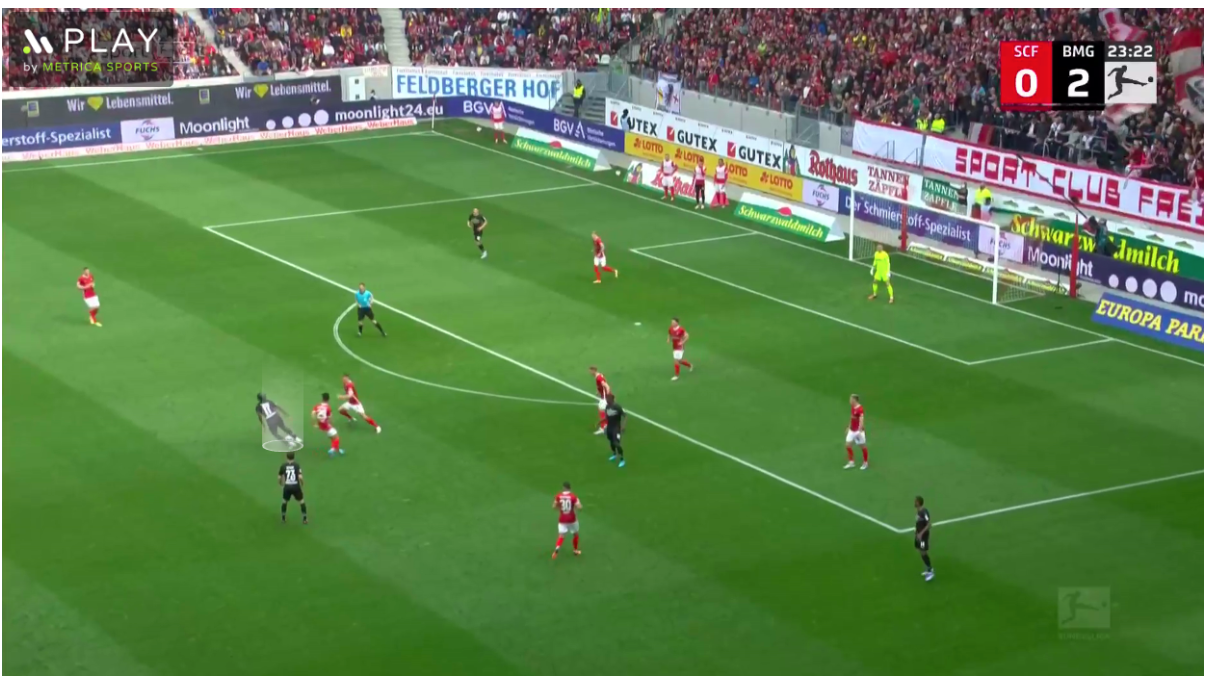 When comparing him with fellow Central Midfielders in the Bundesliga this season, it is clear that he is very comfortable in possession, averaging 5 dribbles per 90 minutes and averaging 1.1 progressive runs per 90 meaning he is keen to progress the attack, akin to a box to box midfielder.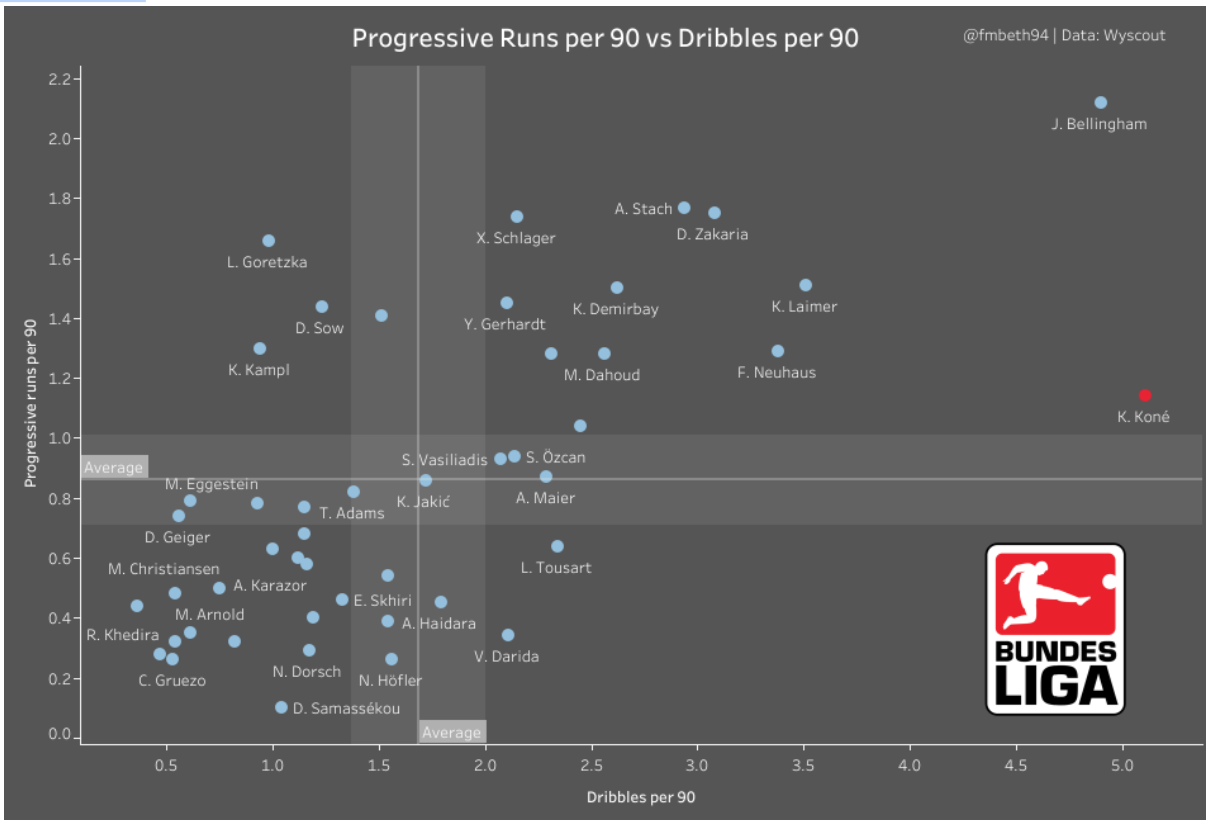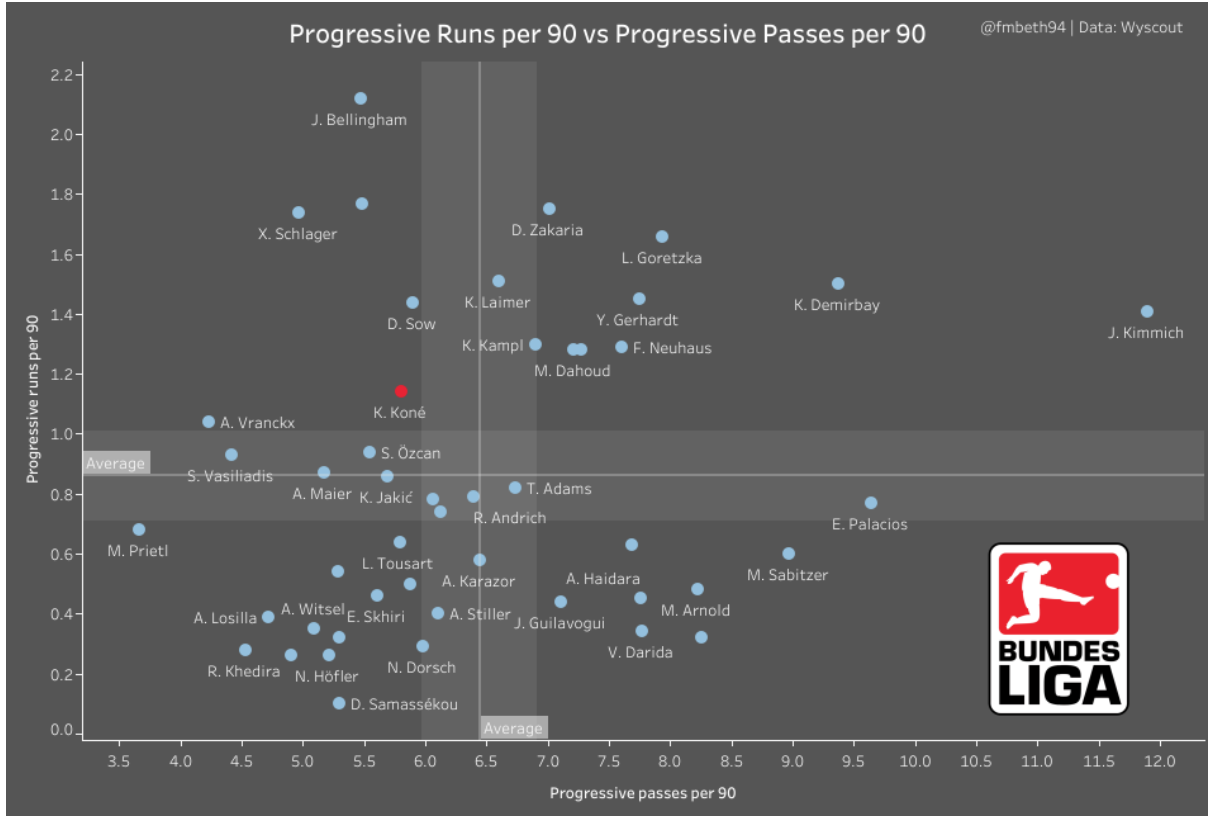 However, Koné does not look to play progressive passes which can hinder him during the attacking phase of play. He mostly looks for a lateral or backward pass, unwilling to commit to a through ball or progressive pass to the forward line.
His passing, though, is extremely accurate, the Frenchman has averaged 88% pass accuracy during the 2021/22 season. He is able to combine well with teammates, due to his passing ability and his ease when on the ball.
This means there is the possibility for quick one-twos to be played which is a great option for his team to play through the lines and bypass the opposition press. 
An area of his attacking game that is somewhat lacking is his goal threat with just 3 goals for the current season. Koné is incredibly confident in the middle of the park however he is not always willing to make the connection to the final third as he had just 20 touches in the opposition penalty area all season. With the right coaching however, this can easily be improved upon.  
Defending: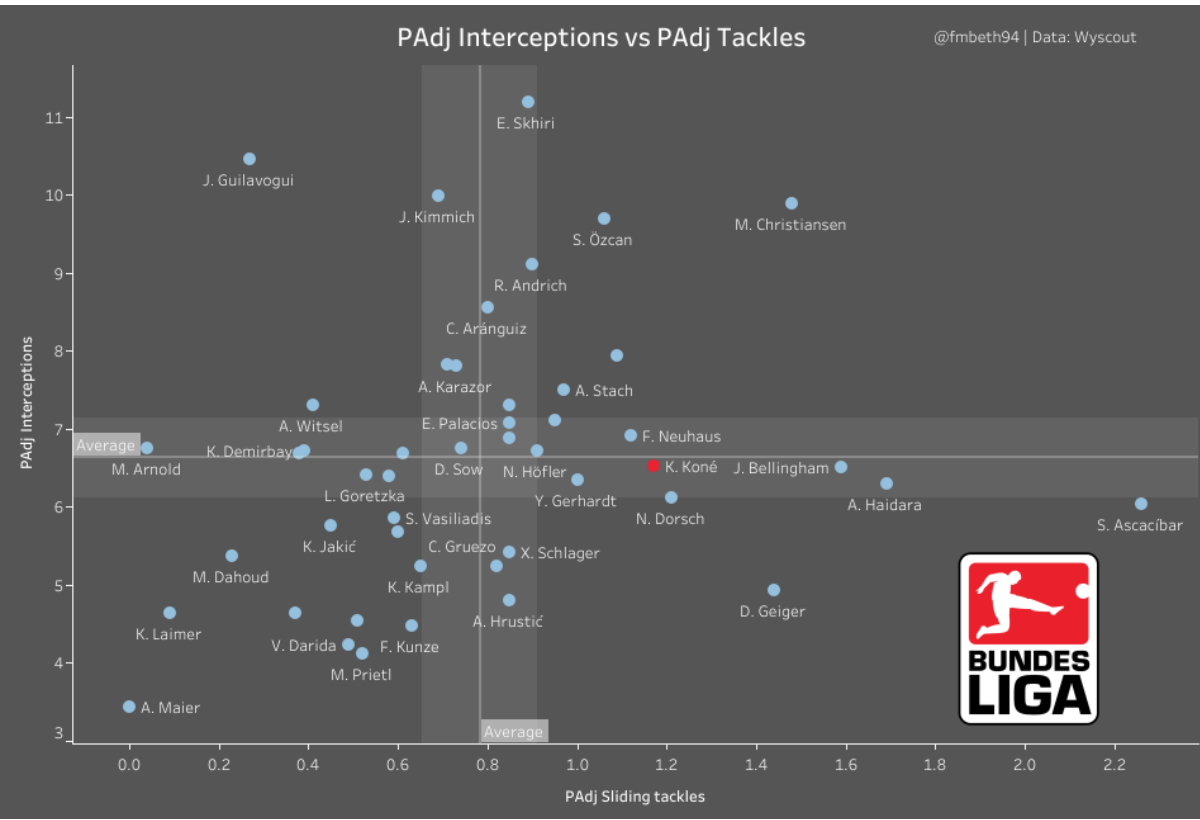 Koné can be considered an aggressive player, unafraid of executing a tackle when required he is happy to put his body on the line for his team, with a 53% tackle success rate for the 21/22 season. He is a decent reader of the game and able to make interceptions.
Looking at the above chart which compares Central Midfielders in the Bundesliga during the 2021/22 season it is apparent that he is on the right track, improvements are needed to his defensive game though. 
When Borussia Monchengladbach have tried to execute a press or counter press this season the young midfielder has sometimes been slow to react which leaves spaces open for the opponents to use.
This awareness of when to press is something that can be coached and will likely improve should he be willing to put the work in on the training pitch.
Moreover, this lack of awareness can also play into a lack of communication with teammates which in turn can cause defensive issues and allow opponents to make successful entries into the penalty area, often unchallenged.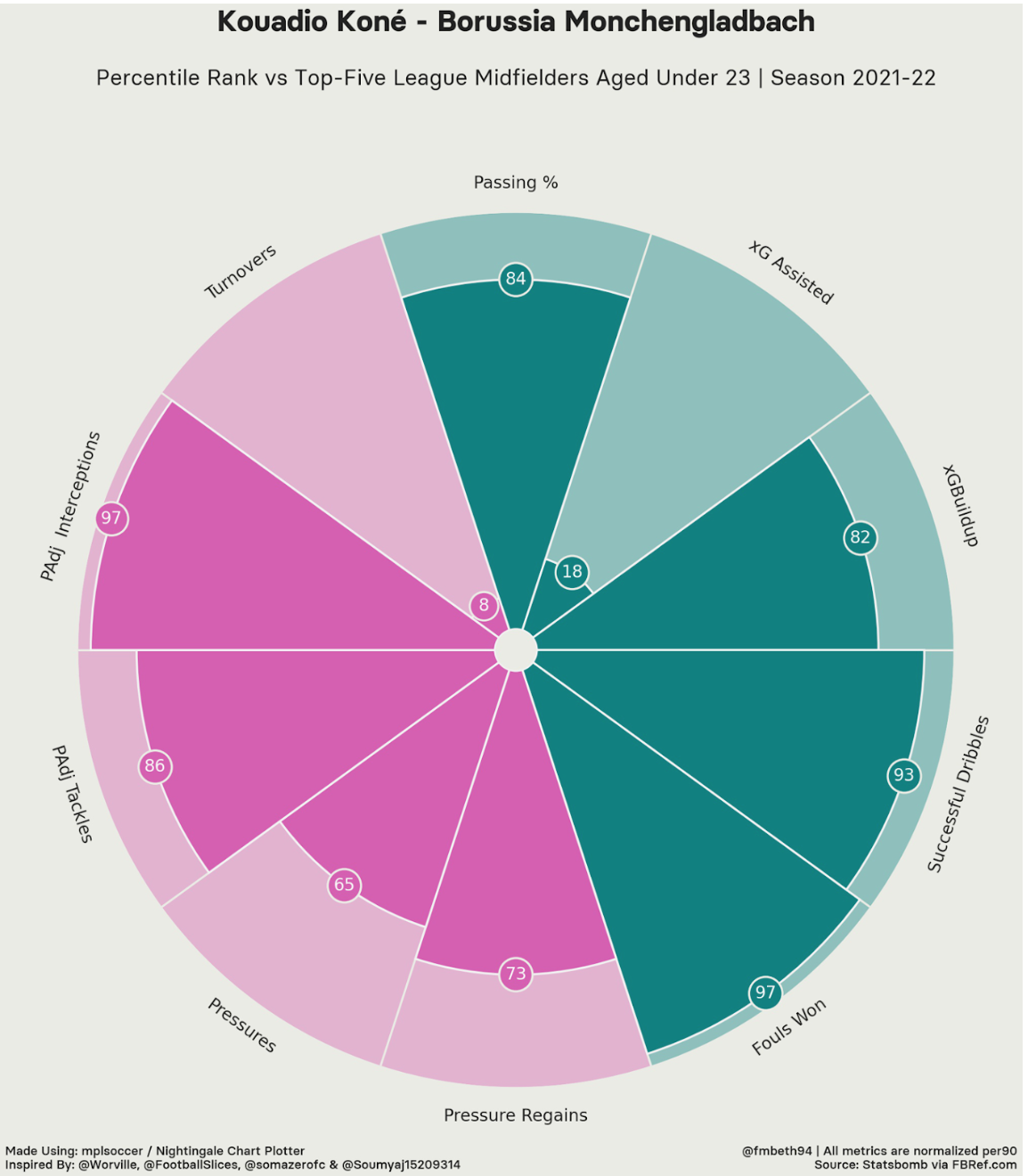 In comparison with his peers Koné actually performs rather well, many of the issues with his game can be rectified with coaching or will likely improve as he gains experience. His ability to retain possession and confidence when dribbling are the most exciting parts of his game and could be a real asset to a top team.
As the opening of the transfer market looms, Kouadio Koné has been linked with a move away from Germany, specifically to the red side of Manchester. Many sources have stated that Ralf Rangnick is an admirer, whether United's interest will diminish since the Austrian is no longer staying on in an advisory capacity remains to be seen.  
If the sought-after youngster was to be likened to a current Premier League midfielder, it would be Yves Bissouma of Brighton. The two are similar in many aspects of their game, while Bissouma is slightly more effective in the defensive department, Kone's dribbling skills are highlighted.
Bissouma himself is often linked with a move to a 'top' team so it is no surprise that many teams are also eyeing Koné as a possible signing similarly.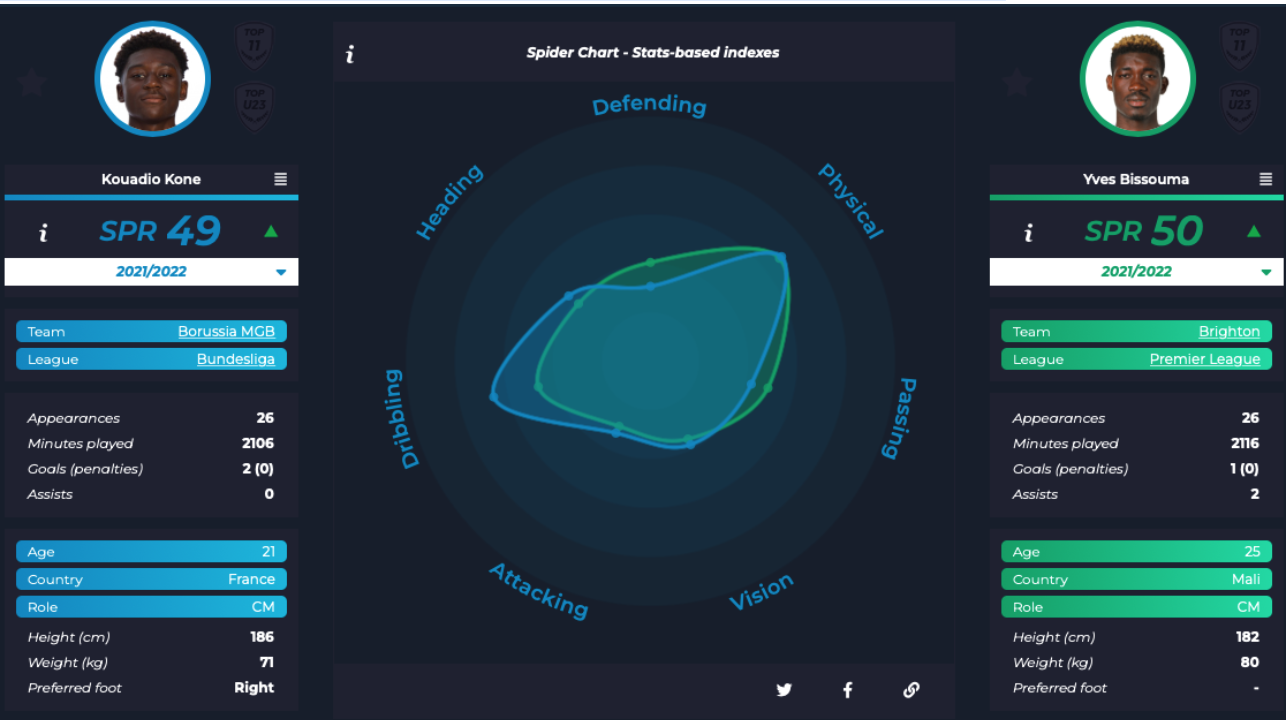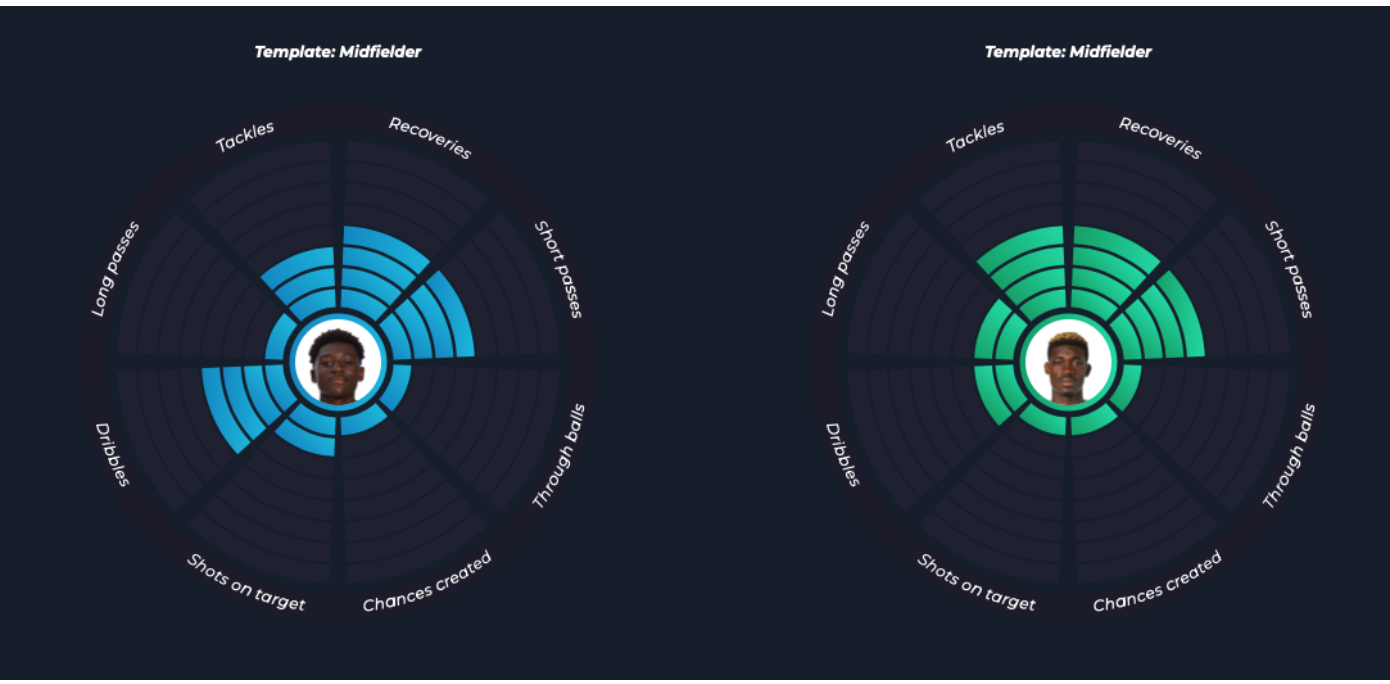 Kouadio Koné is a very interesting young player, born in Paris and developed in Toulouse, he has all the qualities of a potentially great box-to-box midfielder. While there are a number of issues with his current style of play many of them can be attributed to a lack of experience rather than poor technique or a lack of ability.
Should Koné receive the right coaching and plenty of game time he will no doubt develop into an excellent player. His current market value (according to Transfermarkt) is £13.5 million which means even with inflation/negotiations a top team would not have to break the bank to sign him.
It could be argued that Manchester United should seriously consider signing him as opposed to spending a fortune on Frenkie De Jong as the current speculation suggests. 
No matter where Kouadio Koné plays his football next season, he will continue to improve, and we will surely see him gracing the highest stage of club football sooner rather than later. For now, though, he remains a diamond in the rough. 
By: Bethany Limb / @fmbeth94
Featured Image: @GabFoligno / Stuart Franklin / Getty Images