Lorenzo Pellegrini: Roma's Versatile Playmaker
Every country has its approach to the game of football; the Dutch enthralled us with the total football system, a tactical system where an outfield player can take over the role of any outfield player in the team. It was a system credited to Ajax, the Netherlands national team implored this system in the 1970s under the leadership of Rinus Michels who had seen and enjoyed the proficiency following his stint in 1965 as Ajax manager. 
Jimmy Hogan was regarded as the architect of Total Football during his stint with the Austria Wunder and Hungary's golden generation in the 1950s. The success of total football was primarily based on the adaptability of a player irrespective of the position. Ajax revived the ideology in 1965 under Rinus Michels and the timeline of this, fortunately, coincided with the emergence of Johan Cruyff. 
Consequently, this style of football had a huge imprint on its tactical identity of Cruyff. The tactical ideologies of Tiki-Taka and La Pausa were drawn from the Dutch Total Football brought in by Cruyff during his stint as a Barcelona player and as a coach. Like Total Football, Tiki-Taka is a system that places much importance on possession, short passing, and patience. La Pausa was the ability to dictate the pace of the match in anticipation to slow it down. 
At the time that this ideology was at the forefront of world football, it saw the emergence of players such as Xavi, Andres Iniesta, David Silva, Xabi Alonso, Santi Cazorla, and many other extraordinary players. Brazil, on the other hand, has always been quite different in its approach, it was not regimented and wasn't as formulaic in its approach. It was similar to the lifestyle of an artist which is to express them by discarding all rules pertaining to their artistry. 
It was a style that produced Ronaldinho, Romario, Garrincha, Pele, Neymar, Ronaldo, and Rivaldo. Football-oriented nations such as England and Argentina opt for the fundamental aspect of the game. European nations have opted for the need for tactical regimen and the need for fundamentals such as the passing of the ball, running through the lines, and defending the spaces; one of the European nations that have thrived in this aspect is Italy.         
Italy is known for its defensive approach to football, often being used as a stick to beat Serie A by those who tend not to watch it. Catenaccio, which is translated as 'the chain', is a tactical approach in Italian football, placing an emphasis on the defense, organizing a defensive backline that nullifies attacking threats of the opposing team.
It was also known as the door bolt; in this system, there are sweepers positioned ahead of the goalkeeper. Their responsibility was to impose a man-marking approach toward the attack of the opposing team. The 2-3-5 formation structure was used for this approach but it took a different approach when Vittorio Pozo introduced the regista position in the 1930s. 
The regista is a creative player operating in front of the defense, he stays in the center of the defense and its anticipation is to get the ball frequently, receive passes from the backline and dictate the team's play; he is known as the director and he orchestrates the tempo of the team from the center.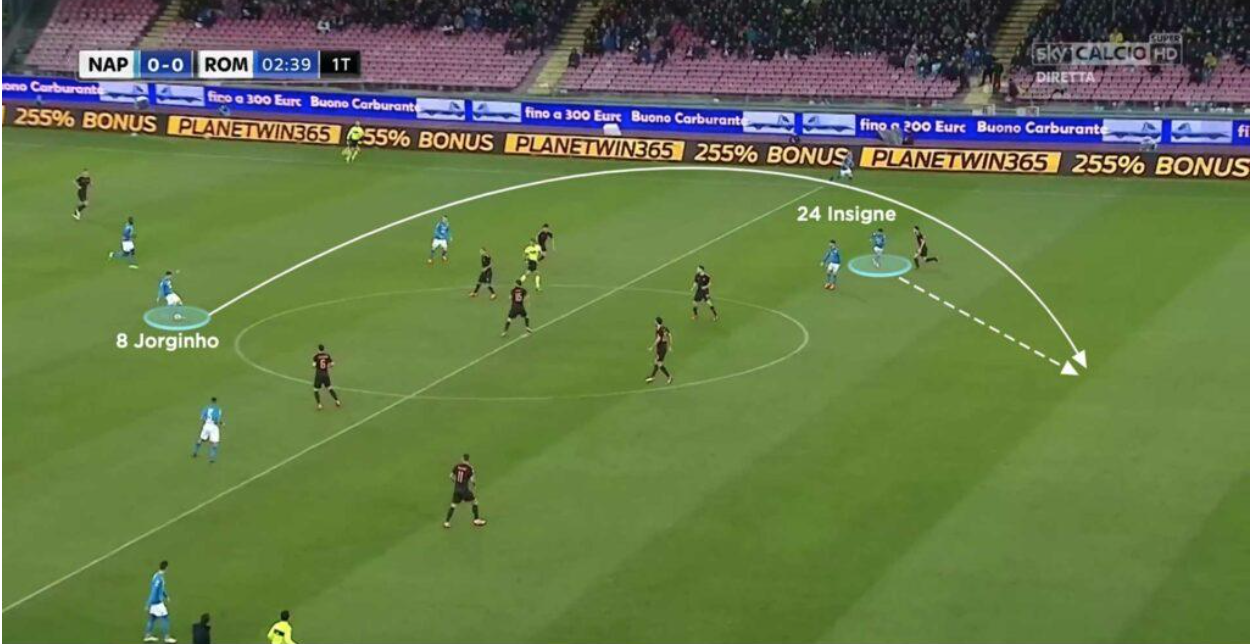 Italy has produced great midfielders that combine their ball distribution skill with their defensive ability such as Andrea Pirlo, Gennaro Gattuso, Demetrio Albertini, Roberto Donadoni, Marco Tardelli, Jorginho, Marco Verratti, Carlo Ancelotti, Giancarlo Antognoni and Gianni Rivera. Could Lorenzo Pellegrini join these leagues of players being a player who can combine his defensive abilities with his ball distribution skills and become the next Italian regista to make a name for himself at the top level of European football?
Lorenzo was born on June 19, 1996, in Rome, joining Roma's academy in 2007, but prior to doing so, he suffered from arrhythmia, an irregular heartbeat, and was forced to undergo treatment before emerging as a bright prospect in Roma's academy and making his first-team debut on March 22, 2015 in a 1-0 Serie A win vs. Cesena.
Three months later, Pellegrini was sold to Sassuolo for €1.25 million with Roma retaining a buyback option, with the 19-year-old making his debut against Carpi on November 8 and scoring his first goal against Sampdoria a month later, racking up 3 goals in 20 appearances in the 2015/16 season for the Neroverdi.
Sassuolo was promoted Serie A in 2013 under the guidance of Eusebio Di Francesco, with the emergence of Simeone Zaza, Antonio Floro Flores and Domenico Berardi being the key talking points of that season. Despite the turbulent period in January 2014, Sassuolo narrowly escaped relegation following the sack of Di Francesco, replacing him with Alberto Malesani, and finishing 17th in their return to the top-flight, and following that up with a 12nd-placed finish.
The 2015/16 season would see Sassuolo finish sixth and qualify for Europe, but the following year would see them regress to 12th despite 6 goals and 6 assists in Serie A from Pellegrini. He became the youngest player to have a hand in 10 goals in a single Serie A campaign, having registered six goals and four assists by April 10, with his impressive form convincing Roma to exercise their buyback option and sign him on a five-year deal for €10 million.
Roma needed a leader following the departures of club legends Francesco Totti and Daniele De Rossi, and they got it in Pellegrini, who established himself as one of the first names on Di Francesco's team sheet and continued to be indispensable under Claudio Ranieri, Paulo Fonseca, and José Mourinho. A deep-lying playmaker who can play as a central midfielder or as an attacking midfielder, he boasts an exceptional passing ability and the ability to time his run in the box to perfection, combining a pinpoint vision with world-class off-the-ball movement.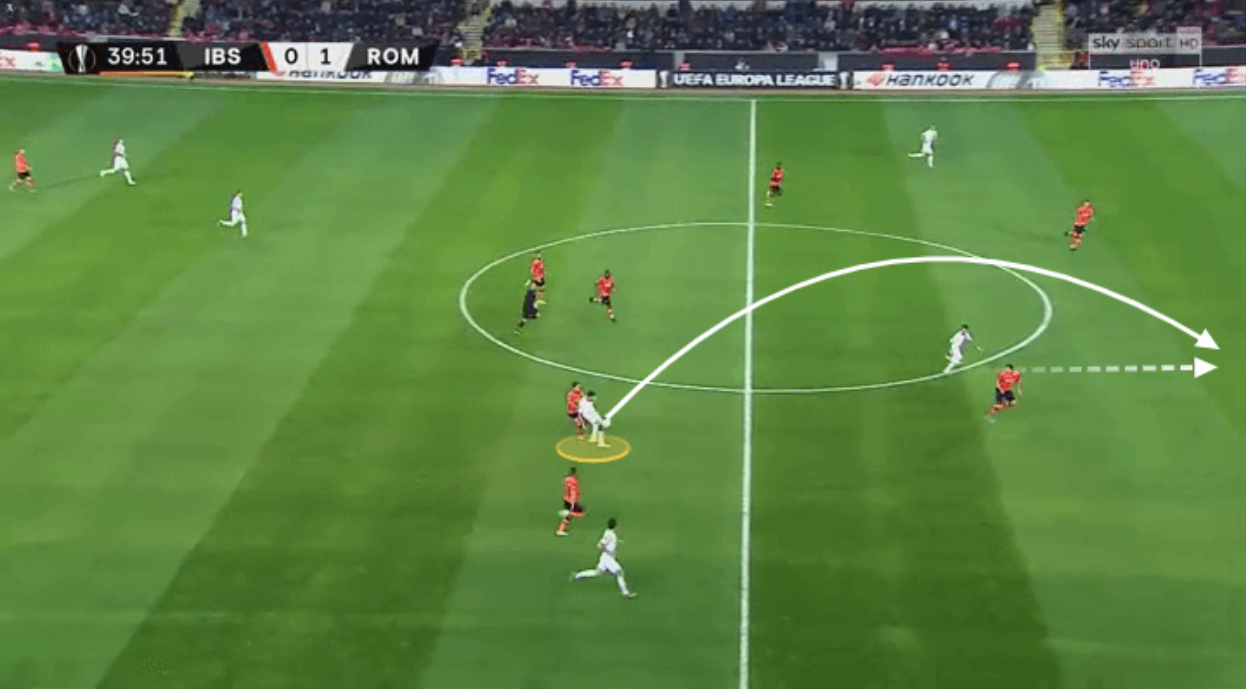 He is a player with a great vision for the game, capable of destabilizing the opposing defense by threading passes in between the lines or drifting to any position to make an inch-perfect cross and create a goal out of nothing.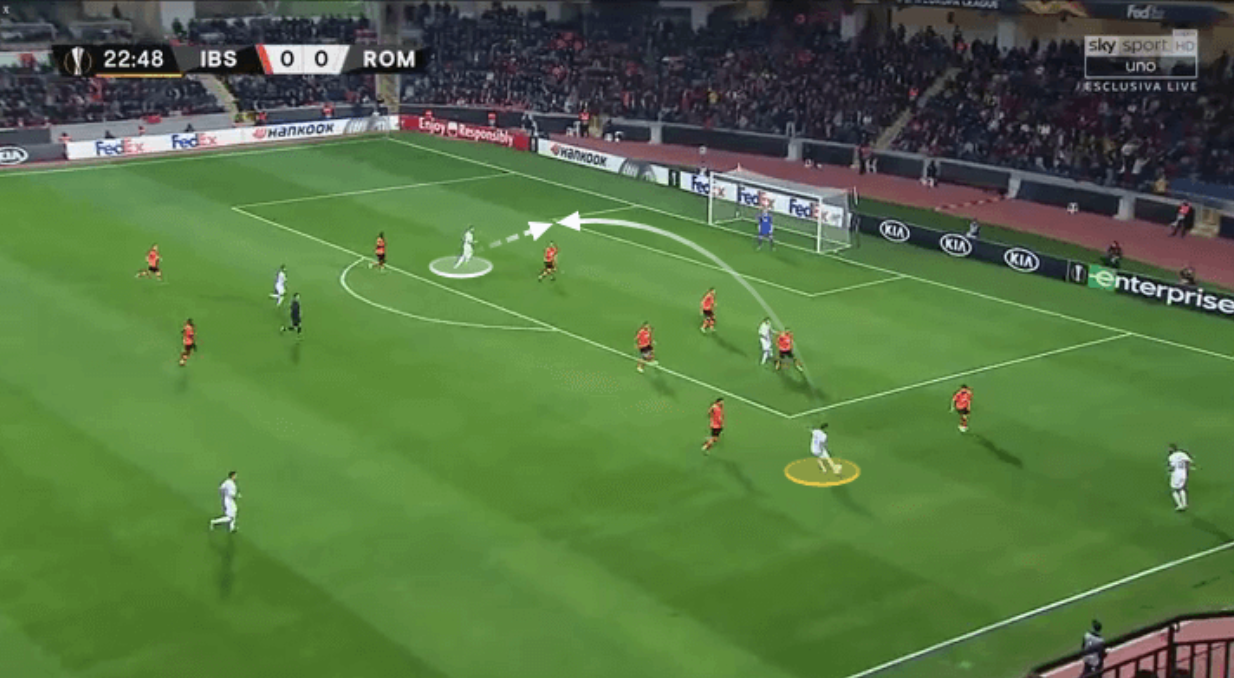 Pellegrini has the kind of drive and versatility that one could liken to his fellow countryman Marco Verratti. He has the capability to combine his creative ability with defensive work. He is a player who can adapt to any system of play with good stamina, positional sense and finishing.
He has shown this by how he has adapted to Mourinho's football at Roma, how important he has become to his plans and he showed the exact same levels of application under Fonseca, who played a fairly opposing style of play to what Mourinho is doing now at Roma.
Lorenzo Pellegrini has the capability to become an indispensable part of Roma's midfield capable of dictating the tempo of the game, wearing the captain's armband and potentially moving to a deeper role in a similar fashion to Andrea Pirlo and many other Italian midfielders, and at 26, he's only getting better.
By: Ogunniyi Abayomi / @OGUNNIYIABAYOM1
Featured Image: @GabFoligno / Mondadori Portfolio