Luka Modric and the Art of Reinventing Oneself in Football
Football can be a brutally short career, but as the sport has become increasingly professionalized, we have seen players evolve as they get close to the late stage of their careers. Despite the flux of players retiring early on the basis of fitness, injuries and lack of match rhythm, we have witnessed footballers reinvent themselves as they grow older, adding more quality to their game despite the demanding requirement of physical fitness as a professional footballer. 
Real Betis legend Joaquin extended his contract; in the 2021/2022 season, Joaquin made 600 appearances becoming one of the most capped players in La Liga at age 40, alongside Jorge Molina of Granada. In this aspect we have witnessed Ryan Giggs at the age of 40, showing off his attacking instinct with Sir Alex Ferguson commenting on his art of reinventing.
Gianluigi Buffon, Zlatan Ibrahimovic, Cristiano Ronaldo, Lionel Messi, Karim Benzema, Thomas Muller, Luka Modric, Ryan Giggs and Andrea Pirlo have been masters of reinventing themselves in football, and even at their old age, they have always performed at a high level.  
Kazuyoshi Miura of Yokohama Football Club, Japan is considered to be the oldest player in the history of the game, showing his skill at 54 years; he has been influential in the J League alongside the legendary Andres Iniesta (Vissel Kobe) plying his trade in Japan.
The landscape of football is ever-evolving, yet players such as Alessandro del Piero, Mario Yepes, Toni Kroos and Luka Modric have proved that age cannot deter their fitness as long as they keep training and finding ways to reinvent themselves. 
Luka Modric renewed his contract after a successful stint with Real Madrid winning the 2021/2022 Laliga Trophy and the 2021/2022 UEFA Champions League. He had a deal to play for one year and his midfield partner Toni Kroos followed that path to build a midfield partnership with Modric for what might seem as the last time following the acquisition of Aurelien Tchouameni from Monaco likewise the availability of Eduardo Camavinga and Federico Valverde at the heart of the midfield.
The Rabona pass to Rodrygo in the UEFA Champions League Round of 16 ties against were reminders of the former Tottenham midfielder but what should strike us more about the quality is how the former Zagreb man keeps evolving despite the age of the playmaker.
Luka Modric was born into very humble circumstances, born in Zadar, Croatia in 1985, a country that had been part of Yugoslavia before the eventual collapse of the Soviet Union in 1991. He would grow up in a war-torn Croatia in 1991, where he saw his grandfather executed by the Serbian rebels. Living as a refugee, he fell in love with football while playing at a hotel park at Kolovare before moving to Hotel Iz, Zadar.
Whilst being the toughest, it was undoubtedly the most poignant event of his life, it was something that shaped the mental toughness Modric has always produced irrespective of his situation. The war moment and living as a refugee as a tender gave birth to the grit and determination likewise the never say die spirit of the Croatian Playmaker. Luka Modric played for representative camps as a refugee and went on to train for NK Zadar. 
Ousmane Dembélé: The Revitalization of a Lost Talent at Barcelona
Despite rejection by Hajduk Split, Tomislav Basic organized a move to Dinamo Zagreb Youth Setup in 2001. Modric moved to Zrinjski Mostar in 2003 on loan from Dinamo Zagreb and it was the season that ignited the spark we often associate with Modric, establishing himself in the Bosnian Premier League.
He was loaned to Inter Zaprensic in 2004 before moving back to Dinamo Zagreb in 2005.  Modric had a stellar stint at Dinamo Zagreb from 2005-2008; he registered 31 goals and 29 league assists before moving to Tottenham in 2008.   
Luka Modric arrived at White Hart Lane in 2008 as a promising player but it became a question of adapting to the physical intensity of the Premier League despite his clear technical ability. He was one of the first signings of the Juande Ramos era, who had arrived at the club following his successful stint at Sevilla.
He had a slow start at Tottenham and suffered a knee injury at the early stage of his career, it was his lightweight stature at the time that led to much criticism by pundits and fans, question the intensity and drive, a quality he proved when Harry Redknapp was appointed as the manager following the departure of Juande Ramos in 2009.
Modric went on to become one of the most outstanding players in the Premier League from 2009-2012 in the white of Spurs. In the 2010-2011 season, he was voted the best player for Tottenham likewise going on to prove himself in the Champions League against Inter Milan and Real Madrid. 
Despite pursuit from Manchester United and Chelsea, Modric left Tottenham for Real Madrid at the price of £30 million. He came on for Mesut Ozil in the 2012 Supercopa Espana for his debut against Barcelona. Modric struggled during the first stint of his Real Madrid career under Jose Mourinho following the competition from Sami Khedira, Xabi Alonso and Mesut Ozil.
Though Modric showed some glimpse of brilliance, he endured his time under Mourinho until his exit in 2013 after a turbulent season in the 2012-2013 season with Barcelona clinching the 22nd La Liga Title. The 2013-2014 season was a definitive season in the career of Luka Modric; the arrival of Carlo Ancelotti proved to be vital following the sales of Mesut Ozil to Arsenal and Khedira to Juventus.
Moreover, the signings of Isco from Malaga and Gareth Bale from Tottenham proved vital, building a partnership with Modric and Xabi Alonso in the Real Madrid midfield. Modric was one of the key players alongside Ronaldo, Bale and Benzema, clinching the 10th Champions League title for the club likewise being one of the best midfielders in this particular season. 
Following the departure of Xabi Alonso in 2014, the arrival of Toni Kroos proved to be one of the best acquisitions, building a strong partnership with Toni Kroos with Casemiro joining the cog going on to build another Champions League-winning side of the 2015-2016, likewise the 2016-2017 season being the midfield orchestrator under the leadership.
It was this status that led winning the Ballon d'Or after a scintillating performance in the 2017-2018 season winning the La Liga and Champions League under Zinedine Zidane likewise a great performance at the 2018 World Cup leading Croatia to the final. 
He repeated this same feat last season following the return of Carlo Ancelotti, Modric was crucial in the clinching of the La Liga and Champions League at Stade de France against Liverpool. He proved to be crucial in midfield and defense, churning out an outstanding and show an outstanding performance for Real Madrid at a time we thought all chips were down following the heavy defeat against Barcelona in the 2021-2022 season.  
Luka Modric is one of the best midfielders of his generation but it is of best we view the catalyst for his emergence into greatness as his move to Real Madrid. He is rejuvenated in each season but what makes him thick is his style of play and his never say die attitude that has evolved each time he comes on for Madrid.
Modric is a great distributor of the ball with a great vision and awareness of the game which has remained unparalleled. Playing alongside a rejuvenated Benzema at the age of 36, Luka Modric was one of the players that have covered more ground and distance than any Real Madrid player alongside Casemiro, David Alaba, Vinicius Junior and Federico Valverde.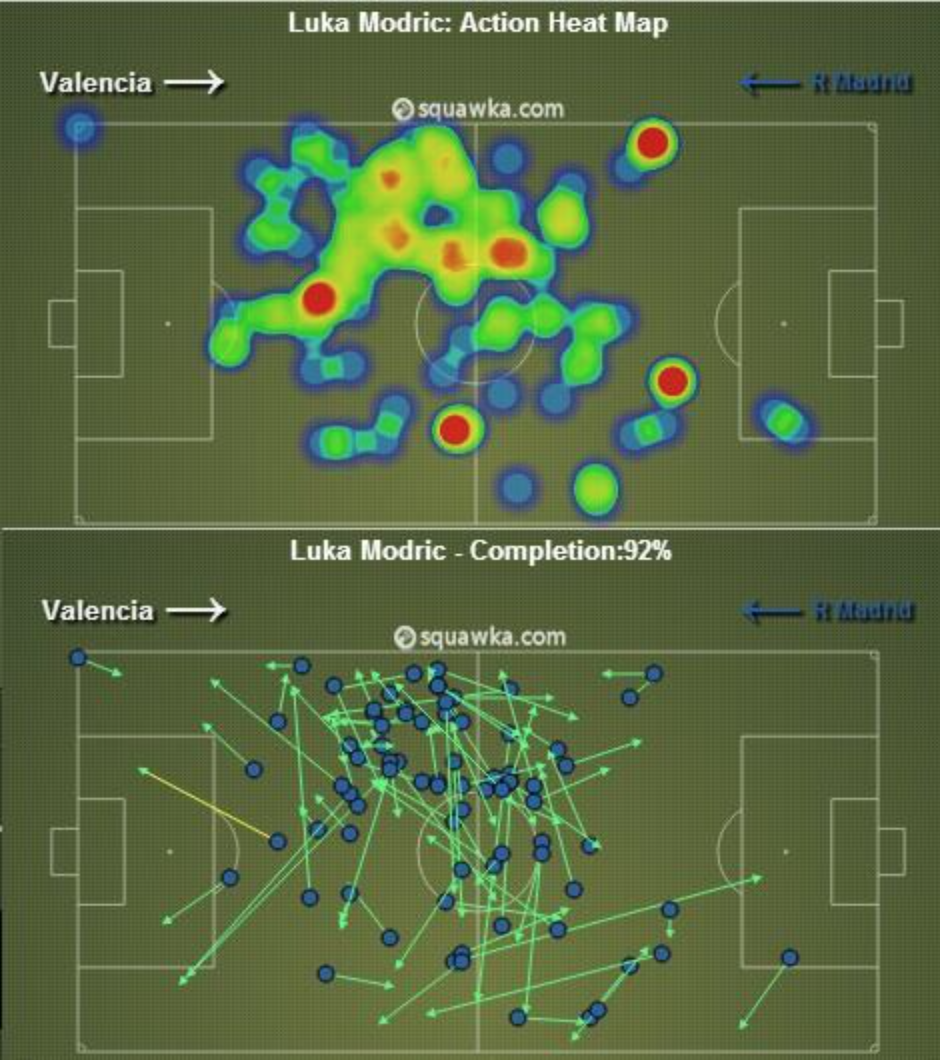 As seen in the heat map against Valencia, Luka Modric has covered more space and at the same time seeking for spaces making 92% pass completion. His versatility in the midfield and the backline are undeniable with the strength to dictate the tempo either as a deep-lying playmaker or an attacking central midfielder.
Luka Modric is a tireless worker of the ball with stability and vision of the game, with age he has been able to rejuvenate himself each season like playing football again as a youngster. According to Infogol, Luka Modric has completed over 1483 passes at the 90% rate; his tackle success of 46% are proof of what he can do on the pitch. 
As we are aware of his contract extension, the question of Modric joining the league of Ibrahimovic, Seedorf, Ryan Giggs and Andrea Pirlo in rejuvenating themselves is on the fan's minds as we will love to see him retire well and enjoy the legendary legacy he has carefully cultivated.
To solidify this status, he has proven to be an absolute legend for Real Madrid and Croatia, taking responsibility and coordinating the midfield when all were down. Modric's creativity and ability to open up the attack are some tools that Carlo Ancelotti has enjoyed from the Croatian midfielder, with a formidable partnership with Kroos and Casemiro.
Luka Modric's tenacity and drive learned and shaped during his time as a refugee continue to prove pivotal to his longevity as a footballer. One could argue his great reinvention is the strengthening of his playmaking versatility. Despite approaching the latter end of his career, he proves a top performer keen on reinventing his role and prolonging his already unique and esteemed legacy. 
By: Ogunniyi Abayomi / @OGUNNIYIABAYOM1
Featured Image: @GabFoligno / Chris Brunskill / Fantasista / Getty Images