Matheus Cunha: The Answer to Manchester United's Goalscoring Woes?
Manchester United's interest in Matheus Cunha won't come as a surprise to those familiar with the Brazilian. That said, neither will Atletico Madrid's reluctance to part with their versatile forward.
Born in the coastal city of João Pessoa, the 23-year-old has followed a unique path to La Liga, transferring from Curitiba's academy to FC Sion of the Swiss Super League, for whom he produced 10 goals and eight assists in his rookie campaign. 
However, Cunha's stay in the Rhône Valley lasted only one season. RB Leipzig swooped for the then-teenager, parting with a €15 million fee to acquire the 6'1" forward.
His tenure in Saxony was similarly brief, albeit for different reasons. Despite developing his skill set, he found himself on the outside looking in under Ralf Rangnick and was transferred to Hertha Berlin for €18 million in the January of 2020.
Who Should Manchester United Replace Cristiano Ronaldo With?
From there, the right-footed attacker boomed for club and country, starring at the Tokyo Olympics for Brazil and earning a transfer to Atletico Madrid ahead of the 2021-22 season.
Now, just one year on, he is once again the subject of intense transfer speculation. Andrea Berta, Atleti's sporting director, has already turned down a €50 million offer from Manchester United and is highly reluctant to enter talks over the Brazilian's future in Madrid.
But why is Cunha always at the centre of an international tug-of-war? Let's find out.
What is Matheus Cunha's Best Position?
This, usually, would not be a complicated question to answer. But it is a little tricky with Cunha because he has drifted between various roles and positions throughout his career, earning his stripes as a "versatile forward". 
Despite wearing the No. 9 with Atleti, the Paraíba-born attacker is at the peak of his powers when operating between the lines in central areas. Although he played the bulk of his football from the left flank during his time in Berlin, Cunha would frequently dart towards the middle of the pitch to receive or advance possession – which is a major theme of his attacking style.
In effect, he is a line-breaking secondary attacker, capable of playing anywhere across the front four. Simple? Ish.
What are Matheus Cunha's Core Strengths?
The 23-year-old's combination of deft ball control, deceptive power, and impressive agility make him a nightmare to defend against on the dribble. When he drops between the lines to receive possession, he uses his technique and physicality to protect the ball and advance play in the attacking third.
As a result, Cunha thrives around the penalty area and has developed into an important tactical connector for club and country. He demonstrated his tenacity in possession in a 3-1 win over FC Porto in December 2021, deploying his precise ball control and upper-body strength to drive from the halfway line, outmuscle two defenders, and attempt an audacious chip. 
Cunha displays a rare level of intuition in the example above, using his arms to create separation between himself and his markers – Chancel Mbemba and Pepe, in this case.
His effectiveness on the dribble is also evident in statistics provided by Wyscout. Since making his professional debut five seasons ago, the seven-time Brazil international has averaged 5.78 dribbles per 90, of which he has completed 54.4 percent. 
More interestingly, Cunha has averaged 14.27 offensive duels per 90, winning 41.7 percent of them. (According to Wyscout, an offensive duel is when "the player in possession is required to protect the ball with his body" while trying "to pass an opponent. In effect, an offensive duel is a dribble with physical contact.) 
As the Brazilian does not have a fixed position, it is difficult to find suitable players to compare him to. However, Liverpool's Mohamed Salah is a useful yardstick in this case because his dribbling style is similar to Cunha – albeit on the opposite flank.
In 2021-22, Salah attempted 5.75 dribbles per 90, completing 46.8 percent of them. He also entered 13.27 offensive duels per 90, of which he won 33.8 percent. 
Cunha, then, compares favourably to one of the world's premier dribblers – but what about his passing? In a 4-1 win over Deportivo Alavés in April, he combined neatly with João Félix in the middle of the park before assisting Luis Suárez with a perfectly weighted through ball:
Cunha's preference to operate from the second line of attack is a double-edged sword. On the one hand, it allows his teammates to move vertically with confidence, reassured by his ability to spot and execute difficult passes. On the other hand, he rarely drops into midfield to receive possession and is less involved than you might expect from a player of his ability as a result.
In his final season in the Bundesliga, Cunha ranked in the bottom 10 percent for passes, pass accuracy, and forward passes per 90, preferring to wait for an opportunity to interact with possession in the final third rather than dropping deep for the ball. However, he is dominant across the final third once the ball arrives at his feet, as shown by his career heat map: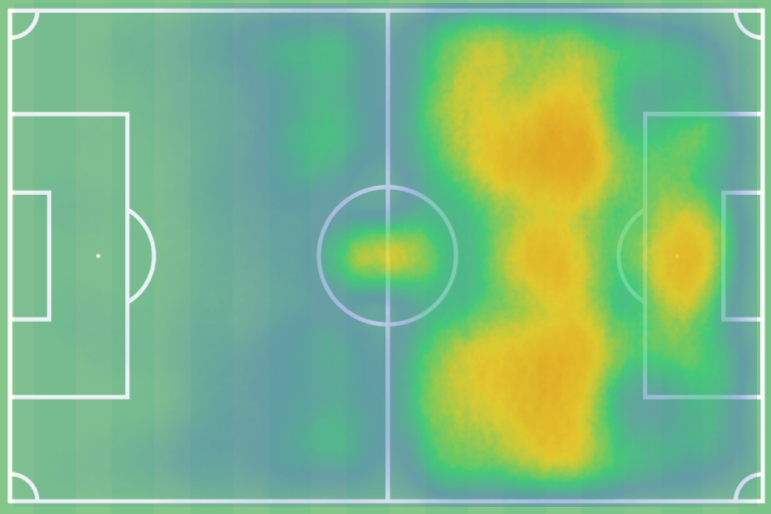 Cunha is also an enthusiastic defender, making him an ideal fit for Diego Simeone's Atleti. He enjoyed a high level of success in defensive tasks during his maiden La Liga campaign, winning 58 percent of his defensive duels (5.4 per 90) and 66.7 percent of his sliding tackles (0.29 per 90). According to fbref, he ranks in the 95th percentile of big five league forwards for pressures, averaging 22.04 per 90 last term. 
(Note: he would be plotted in the 70th percentile if deemed an attacking midfielder.) Cunha demonstrated his defensive aptitude in a 1-0 loss to Real Madrid in May, taking advantage of a technical error by Casemiro to steal possession for the home side:
When stationed on the flank, the fleet-footed forward's willingness to track runners deep into his defensive half is a feature of his style. He is a relentless defender – which, again, can be disadvantageous at times – and a near-perfect fit in Madrid as a result.
How Can Matheus Cunha Improve Further?
For a player of his acumen, Cunha's final production statistics (including club and international matches) do not jump off the page:

While there is no doubting Cunha's ability to make assist-worthy plays or put the ball in the net, his flaky goal contribution figures are a source of frustration for those who expect a higher level of offensive production.
The attack-minded utility player has kept pace with expected goals (0.44 xG per 90) and slightly outperformed expected assists (0.15 xA per 90) since making his professional debut, averaging 0.44 goals and 0.18 assists per 90.
With that said, Cunha is where he should be at this point in his career: he is performing in line with statistical expectations and has the technique to bolster his bottom line in the future. Moreover, he scored in clinical fashion in a 4-1 win over Cádiz CF earlier last November, capitalising on space behind the defence before smashing the ball into the roof of the net.
After the 1999-born attacker has addressed his anaemic record of production, refining his defensive style will become his top priority. Cunha has attracted the attention of match officials too often throughout his career, averaging 2.17 fouls and 0.22 yellow cards per 90. 
He has earned a reputation for committing unnecessary infringements, as demonstrated by clumsy play in the final minutes of a 3-0 win over Getafe earlier this month:
However, the Brazilian is yet to receive a red card and suffers more fouls per 90 (2.33) than he inflicts. He has not crossed the line, yet.
How High is Matheus Cunha's Ceiling?
Exceptionally. Cunha is on track to becoming a world-class attacker, as evidenced by Atleti's commitment to him and the interest he has attracted throughout his career.  For now, though, he is happy in Madrid and set for a breakout season under Diego Simeone.
"I believe I have become an even more complete player [since joining Atleti]," he told Globo Esporte earlier this summer. "The level of intensity of play and training is very high: we always work and train at our limit. It made me evolve. I feel like a much more complete player in tactical, technical and physical terms. Being able to train and play with the best raised my game."
Whether with Brazil at the FIFA World Cup in Qatar or in La Liga with Atlético Madrid, Matheus Cunha is a must-watch player this term. 
By: Luke James / @LukeJames_32
Featured Image: @GabFoligno / Denis Doyle / Getty Images