Amadou Onana: Lille's Belgian Midfield Dynamo
When asked to imagine the perfect midfielder, who do you see? 
Is it someone packed with flair and agility, capable of breaking the lines with intricate moves? Maybe they are the archetypal destroyer, intercepting passes and corralling loose balls as though their life depends on it? Perhaps you are imagining a player from yesteryear: Andrea Pirlo, Zinedine Zidane, Johan Cruyff? 
The list is endless – and pointless – because the perfect midfielder does not exist and never will. Nobody is perfect.
However, there are reasons to be optimistic about the sport's latest crop of rising stars. Born around the turn of the century, these players came of age on the internet and were developed in academies designed for the future, including LOSC Lille's Amadou Onana.
Made in Morocco, Flourishing in France; Is London Calling For Nayef Aguerd?
The central midfielder's path to stardom was routed through Brussels. Born in the Senegalese capital of Dakar, he played his youth football with Anderlecht, RWS Bruxelles, and Zulte Waregem before signing with Hoffenheim in July 2018.
Following three years of development in Die Kraichgauer's academy, Onana joined Hamburg in time for the 2020-21 season and immediately made a splash in the 2. Bundesliga. 
However, the Volksparkstadion club's botched promotion attempt saw teams from across the continent swoop, with Lille snapping up the then-Belgian youth international as a replacement for title-winning midfielder Boubakary Soumaré. Just one year on, he is again the subject of intense transfer interest. And it's easy to see why.
Amadou Onana's Defensive Qualities and Flaws
Since making his Hamburg debut in September 2020, the 20-year-old has amassed 5,645 minutes of professional experience, predominantly in a double pivot or as a No. 8 in a 4-3-3. He stands out for numerous reasons, the most obvious being his 6-foot-4 frame. 
Onana has a significant physical advantage compared to most of his contemporaries and utilises it to devasting effect. He is proficient in the air, has an exceptional defensive work rate, and uses his footspeed to complete difficult covering runs.
Flynn Downes – Life-Long West Ham Fan Secures Dream Move After Short but Impactful Swansea Spell
He also has an extensive set of positive reviews, including from Belgium head coach Roberto Martinez. "He has a strong personality," the Spaniard said of Onana following his international debut against Holland in June.
"We saw him as soon as he started playing. He never hides, he asks for the ball and dares. That's why I wanted to bring him into a situation of pressure. In a full stadium and a derby. He will be able to develop with our team."
Jonas Boldt, Hamburg's director of sport, was also impressed – but not surprised – by Onana's progression during his time in Germany's second tier.
"Technically, Amadou has almost perfect prerequisites," Boldt told Total Football Analysis. "He is fast, technically skilled, tall and strong in tackling. On a tactical level, he still has to develop.

That's why he was planned more as one of two defensive midfielders, as he was not yet able to reliably close the spaces on his own. Overall, though, you'd certainly be well advised to use him as a box-to-box player with a more defensive midfielder behind him."
Onana takes an active, aggressive approach to defending. He averaged 3.91 loose balls won, 9.15 recoveries, and 4.61 interceptions per 90 in 2021-22, indicating his effectiveness as a disruptor. Once his 1.5 sliding tackles and 6.67 defensive duels won per 90 are accounted for, it becomes clear he is not afraid of doing the dirty work.
In the following examples, the 1999-born midfielder acts quickly once he senses the opportunity to steal possession for his side. 
He weaponized his size advantage in a defensive duel against Wolfsburg's Jerome Roussillon, arriving at the scene before the ball and outmuscling his opponent to create a dangerous opportunity. He also made the most of his ranginess versus Marseille, interrupting Arkadiusz Milik on the dribble.
Onana's defensive record is impressive, especially for a player who has been forced to adapt to different coaches, clubs, and leagues at an early stage of his career. However, as Boldt notes, the Dakar-born midfielder is not the finished package.
He struggles in aerial situations against tall opponents and is prone to attracting the attention of referees. Per Wyscout, he has averaged 1.85 fouls and 0.29 yellow cards per 90 since making his senior debut, undercutting his value as a ball-winner. Even so, Onana is on the right path to becoming an elite defensive player.
Amadou Onana's Offensive Qualities and Flaws
Despite boasting solid technique, Onana's playmaking skills are underdeveloped relative to his quality as a ball-winner. Before addressing the 20-year-old's offensive performances, it is worth revisiting his tactical deployment.
Typically, he has featured as part of a double pivot in a 4-4-2 or 4-2-3-1, meaning his primary responsibility is to transition play from defence to attack. Whether in 2. Bundesliga or Ligue 1, his job has involved dropping into the half spaces, receiving the ball on the half-turn, and distributing it to an attack-minded teammate.
Onana is already exceptional at the first two tasks. As illustrated by the Lille midfielder's heatmap, he often drops between the lines to receive possession (note the yellow splodge on the right side of the defensive half) and is comfortable on the half-turn.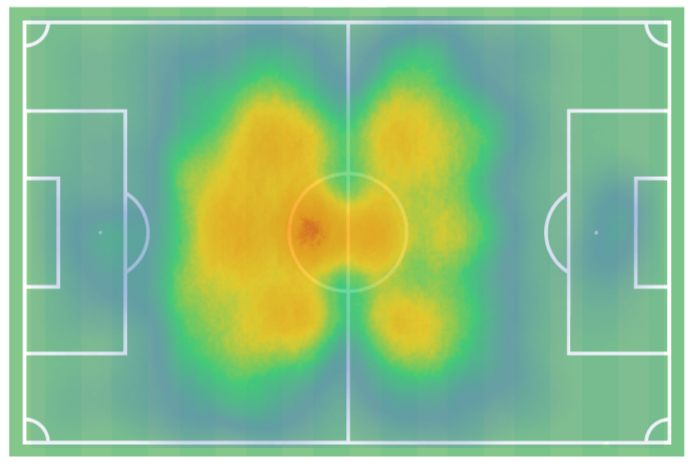 But Onana's lack of ambition as a passer is a major source of frustration and his 85.2 percent completion rate in 2021-22 does not tell the story. 
Despite averaging 34.95 passes per 90 for Lille last term, Onana sent only 9.4 of them forwards. In other words, the overwhelming majority (25.55 per 90) of his distribution was directed sideways or backwards.
However, he took positive steps in his development last season and tends to make the right play when under pressure – in this instance due to a loose touch:
Also of note: Onana's technique is solid. He has all the tools needed to play more ambitious passes but is yet to make the most of his skillset. As a result, admirers of the 20-year-old should take comfort from examples where he has played with the handbrake off, including in this clip against Auxerre:
He also compensates for his lack of progressive passing with his confidence on the dribble. Throughout his career, he has upheld a dribble success rate of 66.4 percent while attempting an average of 2.38 per 90. The former Anderlecht prospect also has a positive record in offensive duels, winning 52.1 percent of the 6.7 he enters per 90.
Onana was impressive in this regard on his international debut, twice advancing possession into or towards the final third:
If he injects more ambition into his passing, Onana has every chance of becoming a top-level ball-playing midfielder.
Perfection and Amadou Onana
Nobody is perfect, but Onana is as close to being the ideal prospect as possible. He is physically gifted, a fearless defender, and boasts robust technique. Moreover, the 20-year-old has already made an impressive impact at the professional level and is on course to enjoy further success in the future.
If he departs Lille this summer, he will generate a significant profit for the French side. His tactical intelligence and physicality make him an excellent candidate for a switch to the Premier League, with West Ham reportedly interested in acquiring his services. Wherever he plays next season, Onana has all the hallmarks of an elite player. But will he deliver on his potential?
By: Luke James / @LukeJames_32
Featured Image: @GabFoligno / Virginie Lefour – AFP