Mattéo Guendouzi and Marseille: A Match Made in Heaven
Despite such obvious talent, there was little complaint when Mattéo Guendouzi left Arsenal for Marseille in July 2021. With a reported obligation to buy for £12 million, the former PSG academy player had all but destroyed his reputation with the Arsenal faithful.
Following problems at a pre-season camp in Dubai and the infamous altercation with Neal Maupay against Brighton in 2020, Guendouzi was sent out to Hertha Berlin on loan for the 20/21 season. His time in Germany echoed similar noises of his time in France with Lorient. 
Coaches from both countries spoke of Guendouzi's powerful voice in the dressing room. His former manager at Hertha, Bruno Labbadia, chuckled that even though Guendouzi did not know how to speak German, he was certainly not afraid to give instructions to his teammates.
This line from Mickaël Landreau, Guendouzi's former Lorient coach, sums him up perfectly. "(He was) really annoying, very hard to manage. But he is a fighter, he never gives up. He has an oversized ego, but you need them." A rebellious mix of talent, ego and anger, when 22-year-old Guendouzi moved to Marseille in the Summer it was easy to expect the same pattern to occur; moments of talent overshadowed by questionable attitude.
However, Guendouzi has been sensational in France. Not only on the pitch, but arguably more so off of it. His fiery temperament has fit with Jorge Sampaoli's gung-ho system like a jigsaw puzzle. Barring a game-stopping altercation with Montpellier fans on his Ligue 1 debut, Guendouzi has been largely well behaved, and subtly promoted as a leader and a role model by Les Olympiens. 
On the Pitch for Marseille: Challenged but Succeeding
Jorge Sampaoli's system at Marseille will be getting a deserving article on BTL very soon. It's tactical complexities probably deserve their own academic paper, but for now let's just note that Matteo Guendouzi is not simply playing as a "Central Midfielder".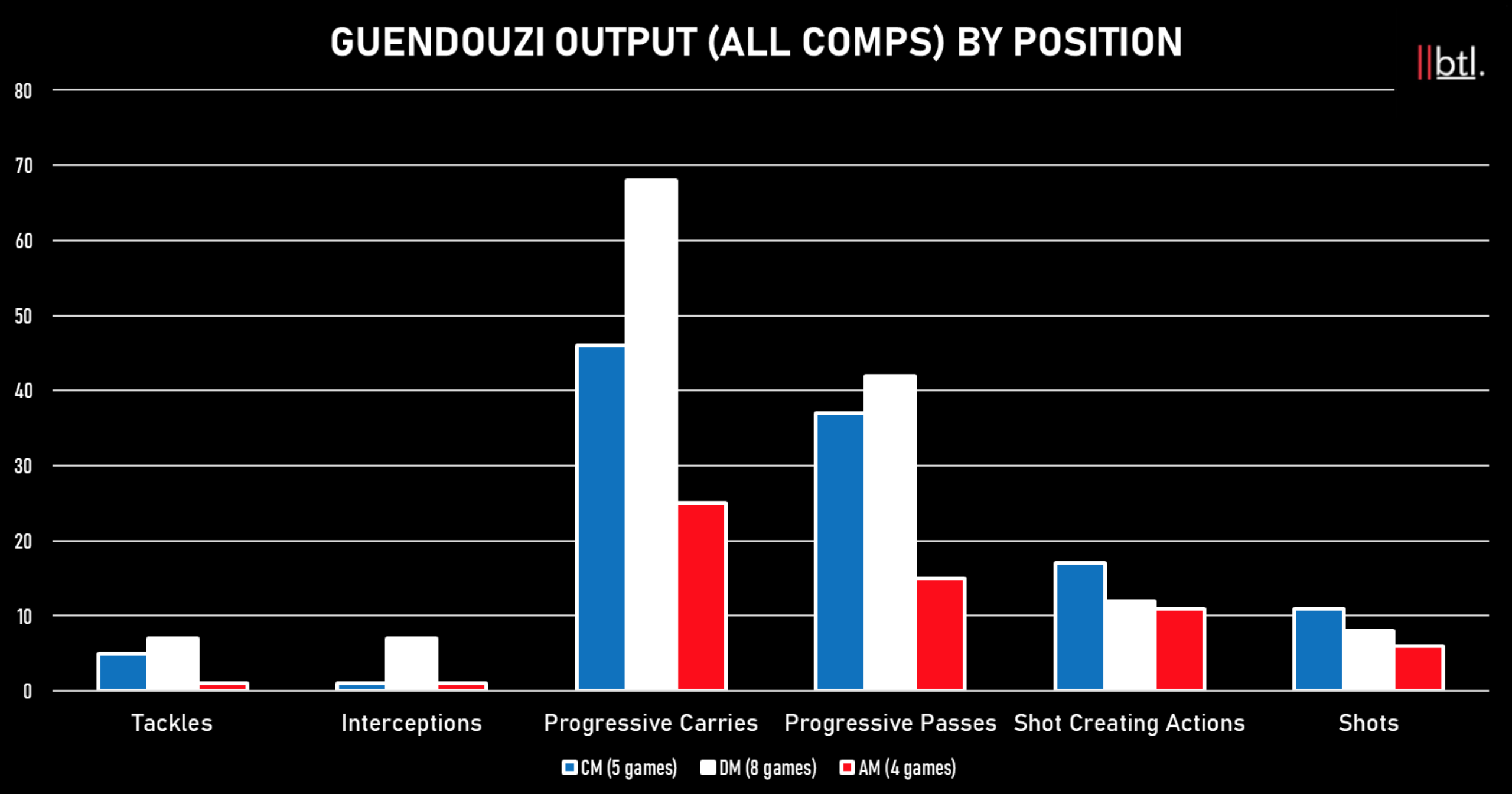 Guendouzi's role at Marseille, and a radar of how he is performing according to Soccerment. Soccerment radar is calculated in comparison to a similar player in his position – further detail on their site.
In a side where every position is packed with individual responsibilities, one player failing to pull their weight could have large consequences to the team's structure. In possession, Guendouzi is tasked with occupying space that a striker would usually find themselves in. When Marseille lose possession though and move into a defensive transition, Guendouzi falls into the first line of four midfielders.
Even that is an oversimplification of his role. Argentine coach Jorge Sampaoli is usually compared to Marcelo Bielsa, as both men like to employ a high-pressing system, with lots of vertical passes. That means Guendouzi needs to apply lots of pressure off the ball, and be able to play incisive passes with it. That was seen against PSG last Sunday. Guendouzi was deployed behind Arkadiusz Milik and was superb at winning possession off Le Parisien's front four.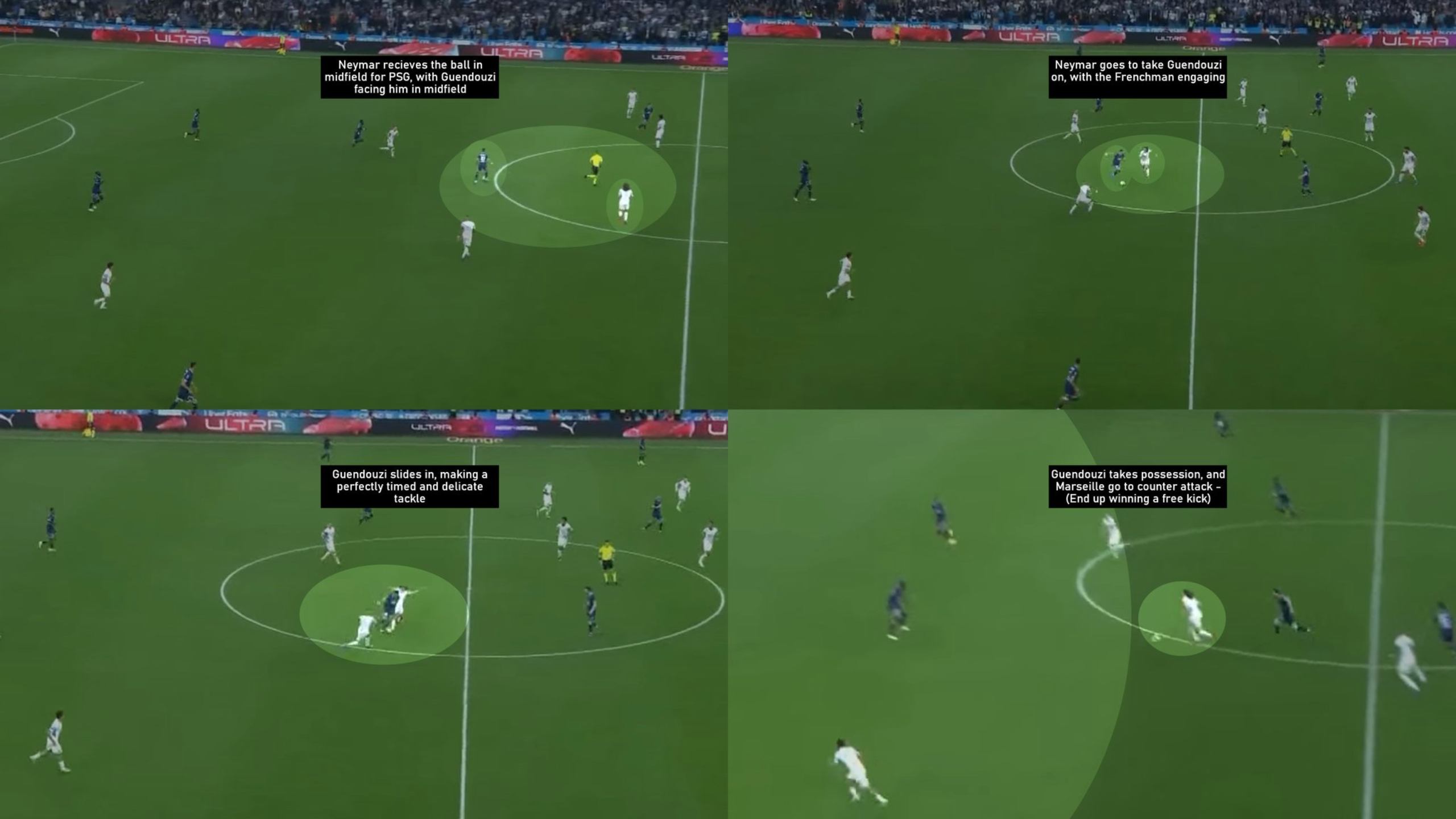 Event of Guendouzi creating a turnover
For someone who averaged three tackles & interceptions p90 in the 18/19 season with Arsenal, this defensive work is no surprise. Yet, Guendouzi's role has shifted throughout the 21/22 season, with his defensive output changing depending on his position in the team.
Guendouzi's attacking statistics have actually been the most consistent facet of his game so far. Only Kylian Mbappé and Angers' Jimmy Cabot have completed more progressive carries in Ligue 1, whilst only four other Marseille players are making more Shot-Creating-Actions per 90 minutes.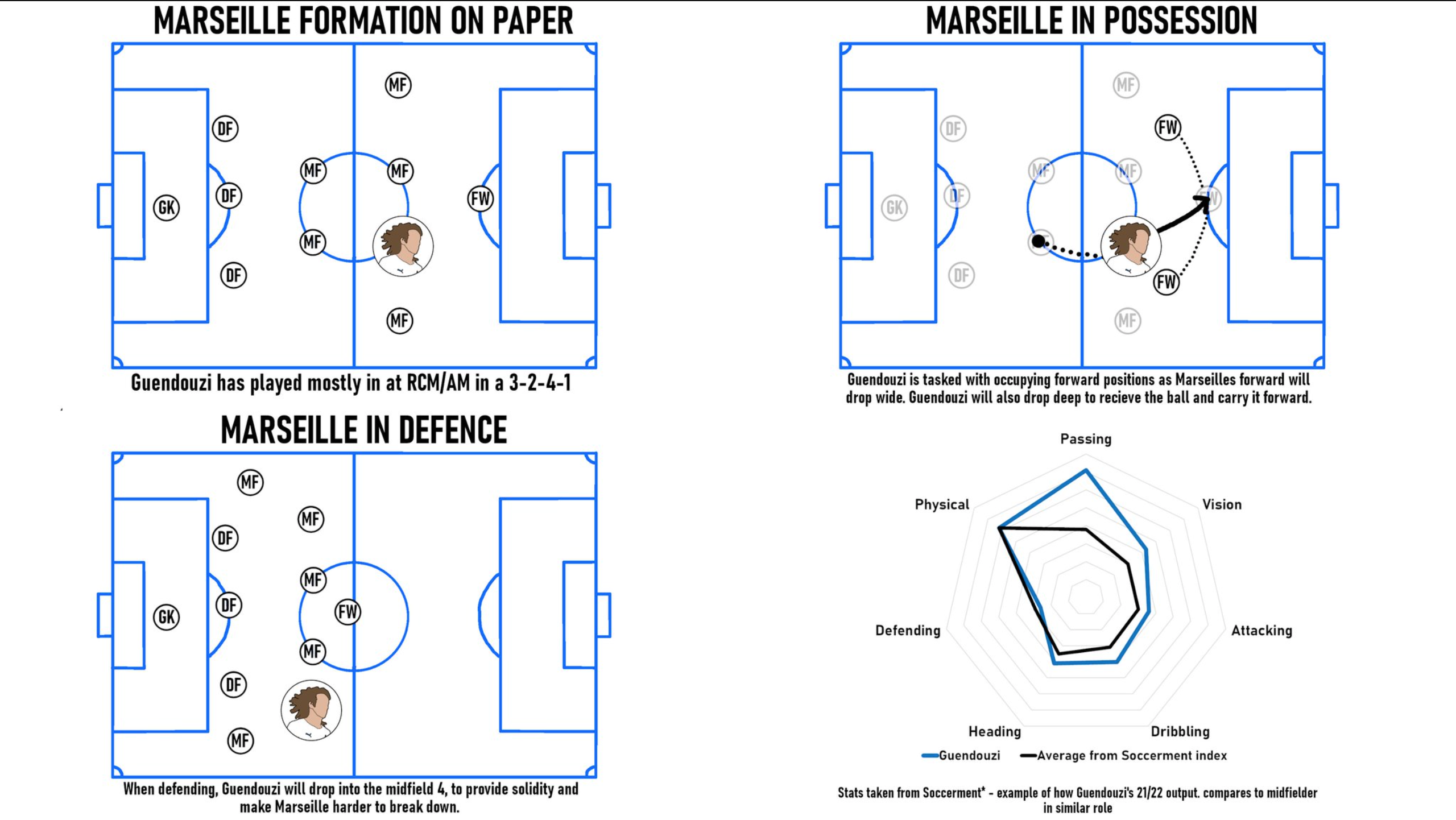 Guendouzi output across positions: "Guendouzi total output by positions (all comps) – positions and data taken from FBREF.
That's mirrored in his output, with the frizzy-haired Frenchman's 4 goal contributions already beating his previous season-best. The combination of his role in Sampaoli's system and the passionate support of Marseille has helped build a stable base for Guendouzi.
"I like to play in a full stadium when I'm at home. I like feeling the supporters' true love for the club. That's what I've found here. I haven't been this happy since the start of my career." – Guendouzi speaking to Onze Mondial on October 7th. 
Off the pitch: Leader and role model?
What Guendouzi does on the pitch is, of course, what matters most to Marseille. Still, it's notable that since he moved to le Midi, Guendouzi has been portrayed in a positive light off the pitch by the media, and the club itself.
For example, Guendouzi was featured on the club website modelling the new Marseille kits along with Dimitri Payet. He has featured in every single game across the league and Europa League. Against Lille, Guendouzi even captained Marseille in a 2-0 defeat.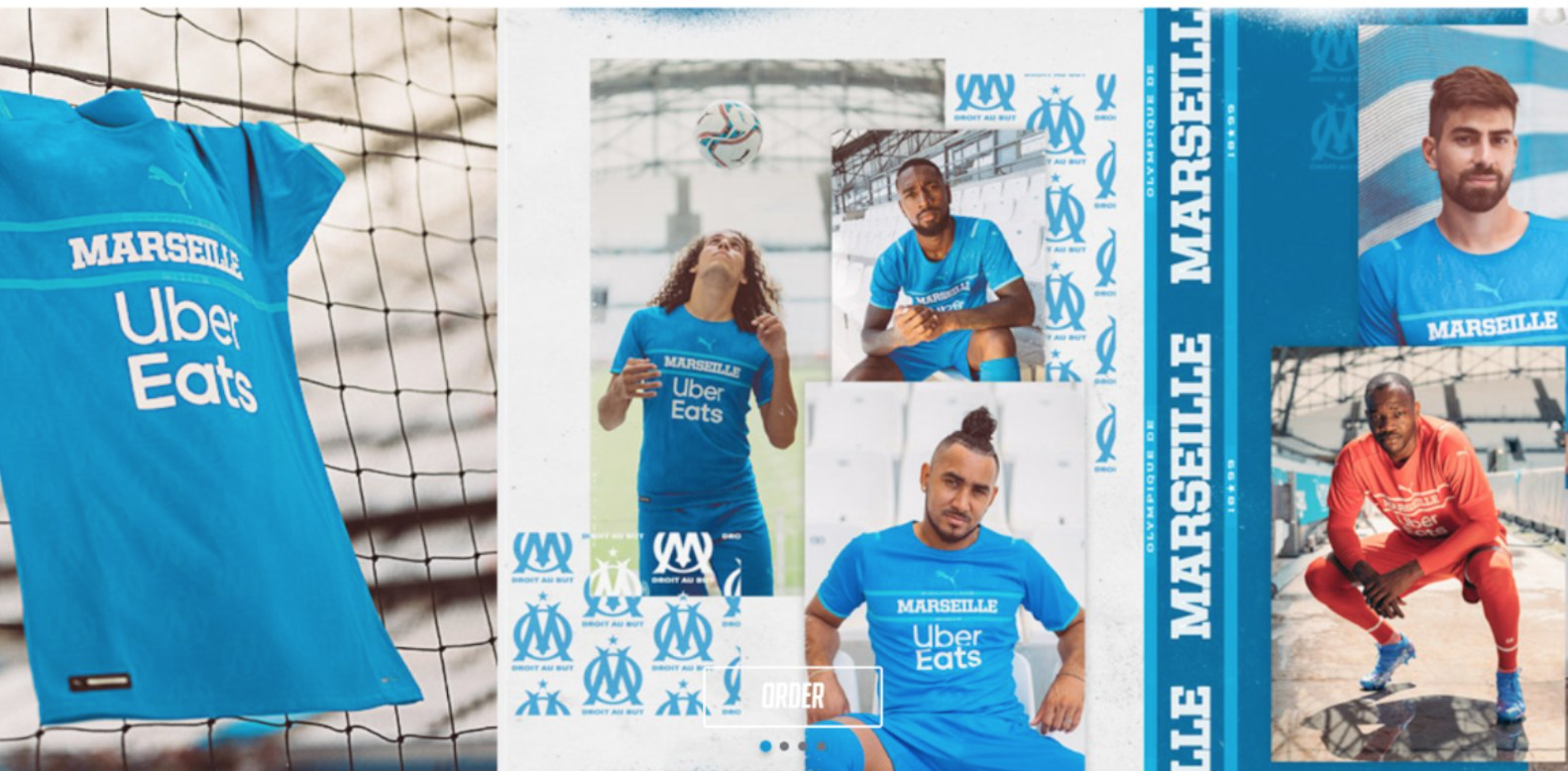 In early September, Guendouzi was one of the main models for Marseille's kits. For a loan player, this is rather unusual.
It appears the loud, commanding Guendouzi has been controlled to an extent. During games you can still see him in a directorial capacity, pointing to space for teammates to move to. What's gone is the bad mouthing, and the rumours of bust-ups.
"You can see it on the pitch. I have a lot of fun here. I learn a lot and I feel very good, very comfortable in the system, with the coach and with my teammates." – Guendouzi recently told Maxifoot.
Perhaps the taming of the Guendouzi fire started during negotiations with Marseille. Guendouzi recently told Onze Mondial that both Sampaoli and the president gave impactful speeches that convinced him OM was the club to be at. What stood out to Guendouzi was a line from Sampaoli: "Matteo, you are a very good player, but with me, you will improve and learn new things."
This is an important turning point in the trajectory of the uncapped Frenchman. An exile from England sandwiched between turbulent spells with Lorient and Hertha Berlin means this season is make or break for Guendouzi. The argument for him was that he simply needed the right coach to put an arm around his shoulder. The more coaches complaining, the thinner the path to European success becomes.
However, it feels like Guendouzi is finally taking control and answering his critics. His personality has not been his weak point; for Marseille it's been a key asset. It's seen him find his way into the French national team squad too. The talent and temperament appear to be lining up for a young midfielder, who still has the potential to set Europe on fire.
By: Alex Barker / @EuroExpert_