The Fight to Make Hertha Berlin a Bundesliga Contender
Despite being the oldest club from the biggest city in Germany, Hertha Berlin have struggled to consolidate a spot in the Bundesliga's upper echelon. After an impressive 2009/10 season that saw them finish fourth in the league, the club yo-yoed between the top flight and second tier over the next few seasons, culminating in a sixth-place finish in 2016/17, which saw them return to the Europa League for the first time in 8 years.
Two mid-table finishes followed, and on June 27, 2019, the present and future of Hertha would be changed forever. Spearheaded by entrepreneur Lars Windhorst, the investment holding firm Tennor Holding B. V. purchased 49% of Hertha's shares for a reported fee of €224 million, making it the biggest investment deal in German football history. With the "German Bill Gates" at the helm, Die Alte Dame are dreaming of their first league title since 1931.
At 43 years of age, Windhorst has amassed a reported net fortune of £320 million from a career in finance that has spanned over three decades. Growing up in Rahden in the state of North Rhine-Westphalia, he launched his first company at 17 alongside Chinese businessman Ming Rong Zhang, where he would specialize in importing electronic tools, computer parts and IT products from Asia and trading them throughout Europe. Within one year, Windhorst Electronics GmbH had employed 80 people and reported a turnover of over $100 million.
Such was the burgeoning financier's success that then German chancellor Helmut Kohl invited him to a trip to Asia as part of the official government delegation, dubbing Windhorst "a global leader of the future." However, trouble soon arose, as the Dot-com bubble burst forced his internet company Windhorst New Technologies AG to declare bankruptcy in 2003. This began a series of controversies and near-misses that threatened to derail Windhorst's livelihood.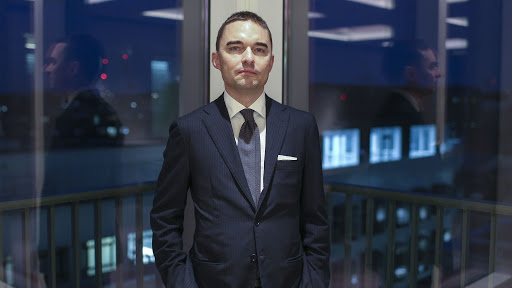 Photo: Charlie Bibby / Financial Times
Four years later, Windhorst weathered severe injuries in a plane crash in Kazakhstan, as the Bombardier Challenger 604 that he was traveling on hit a wall and exploded after leaving the runway. One of the pilots died, but Windhorst survived, albeit with a severed earlobe.
In 2008, his company Vatas Holding GmbH suffered sustainable losses due to the global recession, forcing them to file for bankruptcy. Windhorst faced charges for fraud, breach of trust, and several counts of insolvency for embezzling €800,000 of his personal funds into one of his alternative accounts. He was handed a suspended prison sentence of one year and was forced to pay a fine of €1 million to the government, whilst also repaying €2.5 million to his alleged victim.
Despite facing a labyrinth of lawsuits and financial quagmires, Windhorst has emerged relatively unscathed, with successful enterprises in luxury fashion (La Perla), shipbuilding (Flensburger Schiffbau-Gesellschaft), cinema (Wild Bunch) or real estate (Civitas). His latest acquisition came in the sporting field; after purchasing a minority stake in Hertha in the summer of 2019, he invested a further €150 million a year later, increasing his stake to 66.6%.
Prior to the takeover, Hertha general manager Michael Preetz made the decision to let go of manager Pál Dárdai after a four-year spell in charge, with the Hungarian returning to his youth coaching role at Hertha in 2020. To replace him, they opted for an internal solution in the shape of former player Ante Čović.
A native of Berlin, the Croatian-German had made 72 appearances for Hertha in the late '90s, before leaving for VfL Bochum in 2000. He returned in 2003 to play with Hertha's reserve team, making 108 appearances in 7 years before hanging up his boots at the age of 34. Čović began his coaching career with Hertha's U-19s in 2013, before soon taking charge of the reserve side, where he would manage for the next 6 years.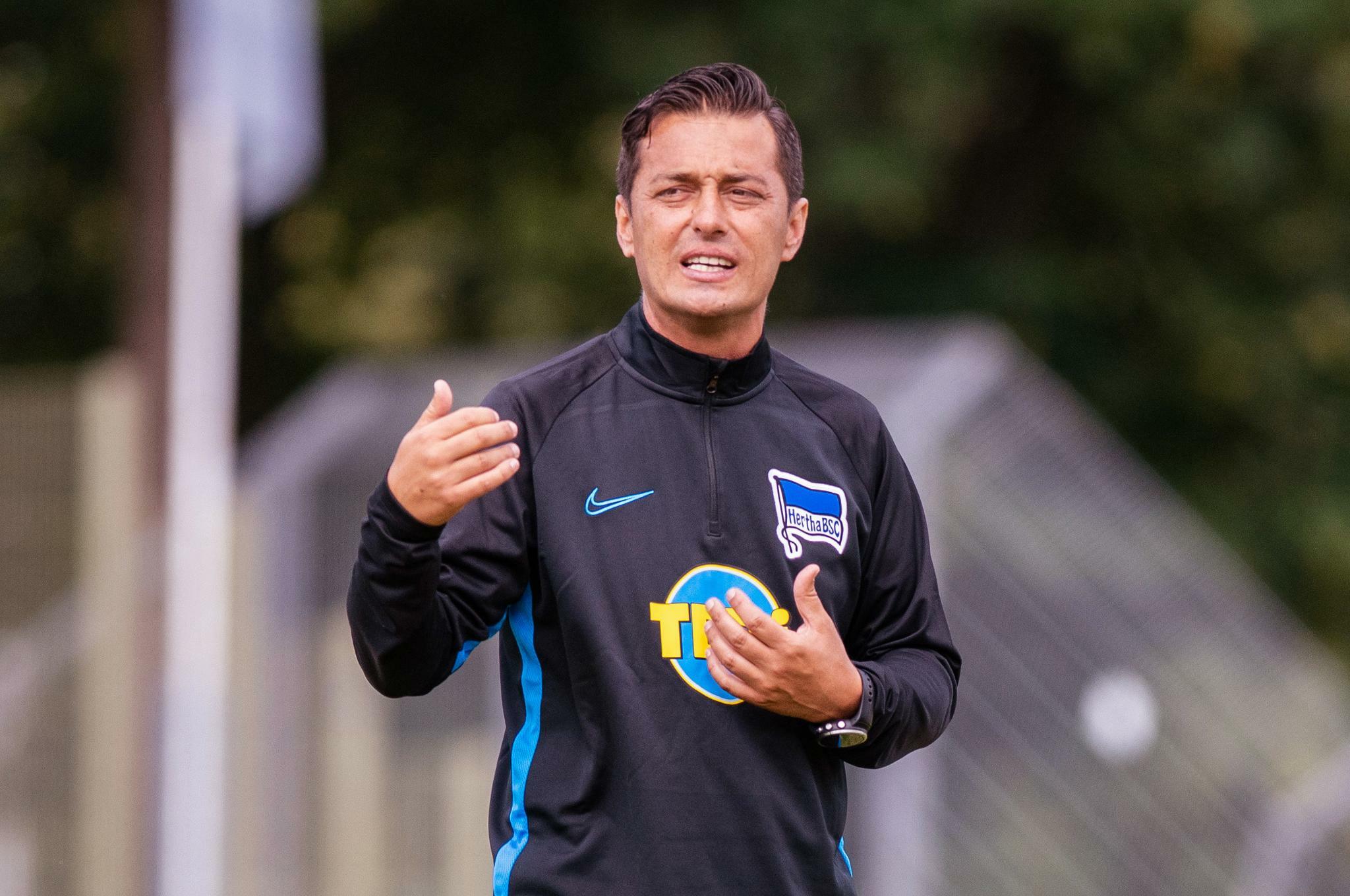 Photo: Stache / DPA
After finding a new coach to take the club forward, Preetz and Windhorst needed to inject fresh new talent in a club that had won just 2 of its last 11 matches, finishing 11th in the Bundesliga. Apart from Dedryck Boyata, who joined on a free transfer from Celtic, and Marius Wolf, who joined on loan from Borussia Dortmund, each of Hertha's new signings were 22 or younger.
Hertha signed Eduard Löwen (22) from FC Nürnberg for €7 million, and Daishawn Redan (18) from Chelsea for €2.7 million, but the cherry on top was Dodi Lukebakio (21) from Watford. Fresh off an impressive loan spell at Fortuna Düsseldorf that saw him register 14 goals and 5 assists in 34 appearances, the Belgian joined Hertha for €21 million, smashing the club's previous transfer record of €8 million when David Selke signed from RB Leipzig in 2017.
On the other hand, Hertha suffered few major departures apart from Valentino Lazaro, who joined Inter for €22.4 million. The Austrian spent a fruitful 2-year spell in the German capital, having joined from Red Bull Salzburg for a €500,000 loan fee that was soon made permanent for €10.5 million. Swiss center back Fabian Lustenberger returned to his native country after a 12-year-spell that saw him register 308 appearances for Hertha.
The Čović era started off on the right foot, with impressive victories in preseason over Fenerbahçe and Crystal Palace, a 5-1 drubbing of fourth-tier side VfB Eichstätt, and a 2-2 draw against Bayern Munich in their league opener. However, a run of three consecutive defeats to Wolfsburg, Schalke and Mainz immediately followed, with Hertha conceding eight goals and scoring one.
Čović struggled to implement a clear-cut playing style, often shifting between a 3-man or 4-man backline, failing to give promising youngsters like Lazar Samardžić and Arne Maier adequate minutes, and failing to find a line-up that could fit in his most talented players such as Lukebakio and Ondrej Duda. Whether it was with a 4-2-3-1, a 3-4-1-2, or a 4-3-3, he never quite managed to draw up a system that could convince his Hertha bosses he was worth the risk.
Hertha managed to rebound in form for a brief period, beating promoted sides Paderborn and Köln, as well as soon-to-be-relegated Fortuna Düsseldorf, before drawing with Werder Bremen. However, their next four fixtures saw them lose to Hoffenheim, draw to second-tier Dynamo Dresden in the DFB-Pokal and win on penalties, and lose to Union Berlin and RB Leipzig.
The straw that broke the camel's back came on November 24, when they lost 4-0 to Augsburg. Less than five months after being appointed as manager, Čović was sacked from his position with Hertha in 15th place, just barely dangling above the relegation zone.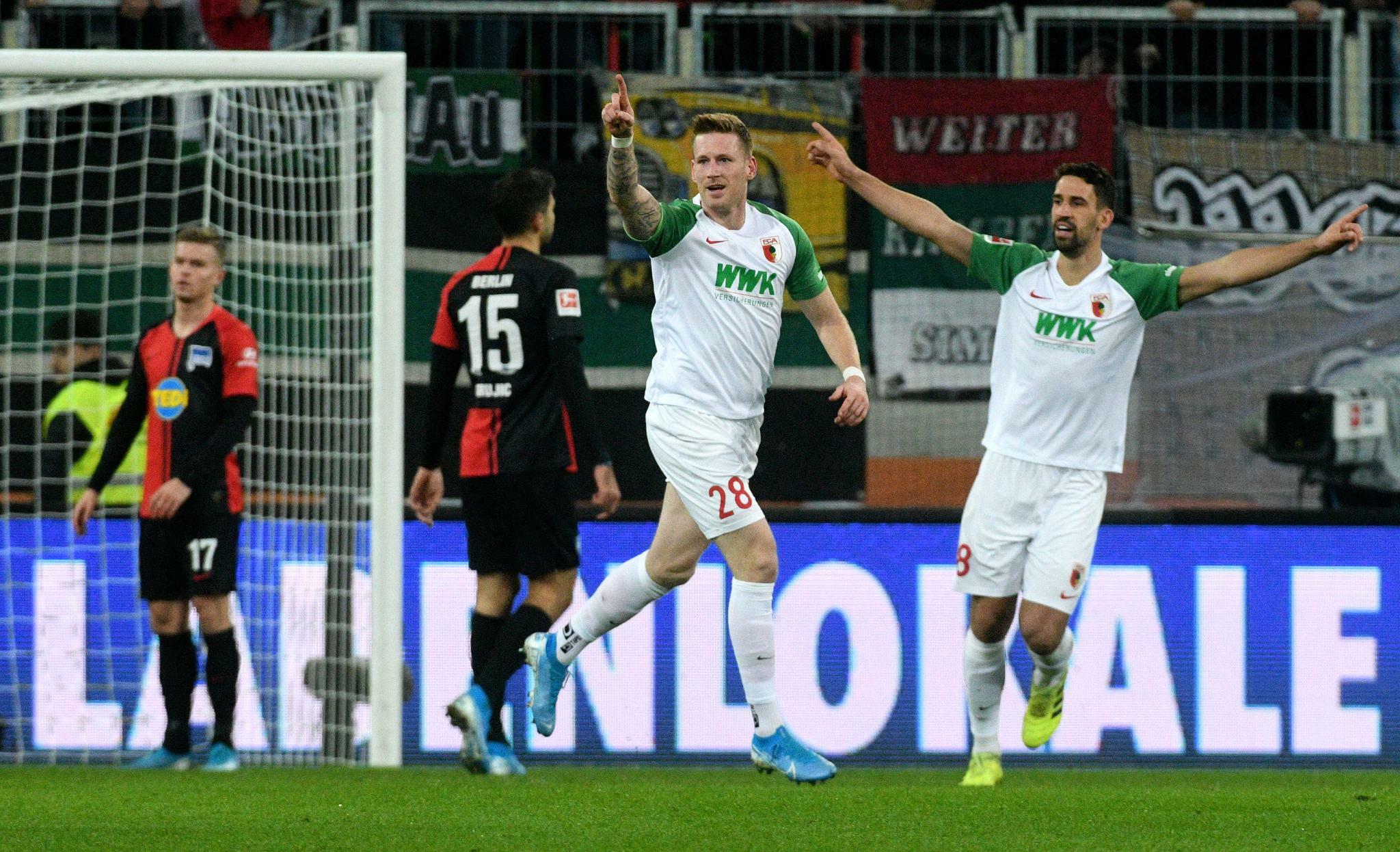 Stefan Puchner / DPA
Hertha attempted to bring in Niko Kovač as his replacement, but Kovač, a close friend of Čović, rejected their approach, having been sacked by Bayern Munich earlier in the month. Instead, they hired ex Germany manager Jürgen Klinsmann, who had been without a job for the past three years since his dismissal from his post as U.S. Men's National Team manager.
In his first Bundesliga job in over a decade since his ill-fated stint at Bayern Munich, Klinsmann brought with him a star-studded supporting cast: ex Werder Bremen manager Alexander Nouri and his former right-hand man Markus Feldhoff joined as assistant coaches, whilst Andreas Köpke, a former teammate of Klinsmann for Die Mannschaft, was hired as goalkeeper coach. Arne Friedrich, who played under Klinsmann during his brief spell as Germany manager, joined as Hertha's Performance Manager.
Having joined on an interim basis until the end of the season, Klinsmann set up with a 5-3-2 in his Hertha debut against Lucien Favre's Borussia Dortmund. Dortmund scored two early goals in the span of 104 seconds, but Vladimír Darida's deflected shot found its way into the back of the net to shorten the margin. Despite Mats Hummels' expulsion before halftime, Hertha failed to break down the Yellow Wall, losing 2-1.
Hertha got off to a 2-0 lead against Eintracht Frankfurt the following week, but they let it slip away in the final 30 minutes due to two set-piece goals from Martin Hinteregger and Sebastian Rode. Nevertheless, Hertha still managed to close out the Hinrunde in respectable fashion, beating Freiburg and Bayer Leverkusen in consecutive 1-0 victories, before holding Marco Rose's Borussia Mönchengladbach to a stalemate.
They headed into the Christmas break in 12th place, but it was clear that he needed more creativity and dynamism in the attacking and midfield positions. Hertha were linked to a bevy of star-studded players ranging from Granit Xhaka, Julian Draxler and Mario Götze, but Preetz ended up pursuing a crop of younger, more promising players with plenty of resale value.
Santiago Ascacíbar (22) joined from Stuttgart for €12 million to add bite and aggression to a stale midfield, whilst Lucas Tousart (22) signed from Lyon for €25 million, although he wouldn't join up with the club until the start of preseason. Having struggled for minutes at RB Leipzig, Brazil youth international Matheus Cunha (20) arrived on a five-year-deal for €15 million.
The biggest blockbuster deal of the window came on January 30 when Krzysztof Piątek (24) joined from Milan for a reported fee of €27 million. The Polish striker was the 'next big thing' in European football the previous season, having become the first player since Gabriel Batistuta in 1994/95 to score in each of his first seven Serie A appearances. He joined Milan from Genoa for €35 million, but he failed to live up to his price tag, and was sold to Hertha a year after his debut at the San Siro.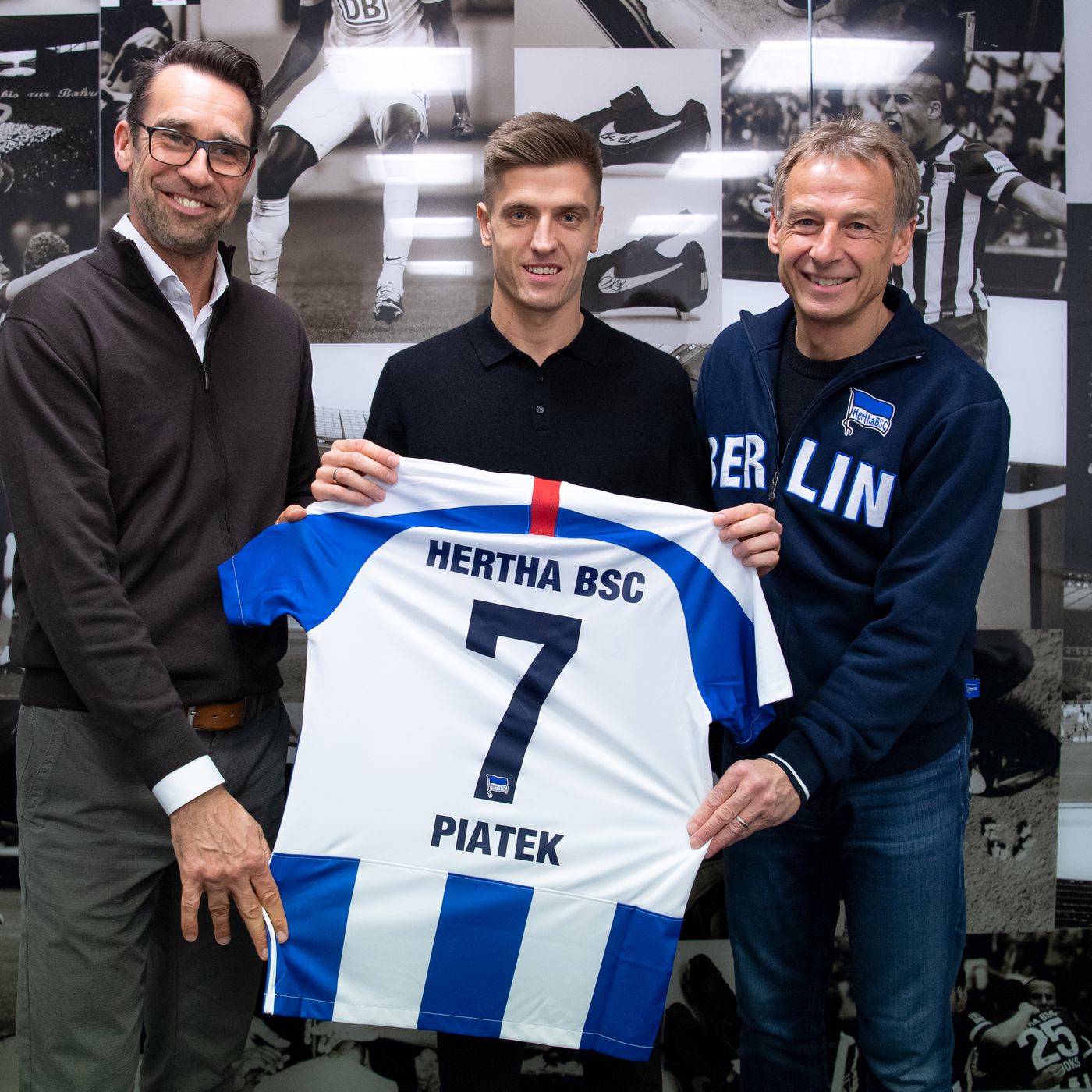 Hertha's first match of the Rückrunde saw them lose 4-0 to Hans-Dieter Flick's high-flying Bayern Munich, but they rebounded the following week, scoring two late goals to down Wolfsburg. A stalemate against Schalke followed, and Hertha were later bounced out of the DFB-Pokal in the Round of 16 when Schalke's Benito Raman scored the winning goal in extra time, with Hertha throwing away an early 2-0 lead.
Despite operating in a 4-5-1 for the majority of his time in Berlin, Klinsmann switched it up next game, going for a 3-5-2, with Pascal Köpke, the son of Klinsmann's hand-picked goalkeeping coach, starting alongside Piątek in attack. Hertha fell 3-1 to Mainz, with Robin Quaison netting a hat-trick for Die Nullfünfer.
After 76 days in charge and €80 million spent in transfer fees, Klinsmann resigned from his position on February 11. In a post on his Facebook account, he cited a power struggle with sporting director Michael Preetz as one of the main reasons for his abrupt dismissal:
"As I understand it, a manager should have total sporting responsibility, including over transfers. That gives the position more power but the system in Germany has developed differently with sporting directors. We couldn't agree on the division of responsibilities. I'm not used to general managers sitting on the bench, talking to referees and players. I was very annoyed by that."
There were other controversies during Klinsmann's time in charge; he prevented his players from wearing sweatpants whenever they were representing the club, he froze out Ondrej Duda — one of the best players during the Dárdai era — and loaned him out to Norwich City, and he demanded "the power to control all aspects of first team affairs without internal oversight, with a commensurate salary that Hertha officials privately described as 'astronomical,' per The Athletic.
In a joint press conference with president Werner Gegenbauer and Preetz, Windhorst stated, "I have spoken with him on the phone and he has apologized for the manner of his departure which was, unfortunately, unacceptable. You can act like that as a young person but not in business among adults."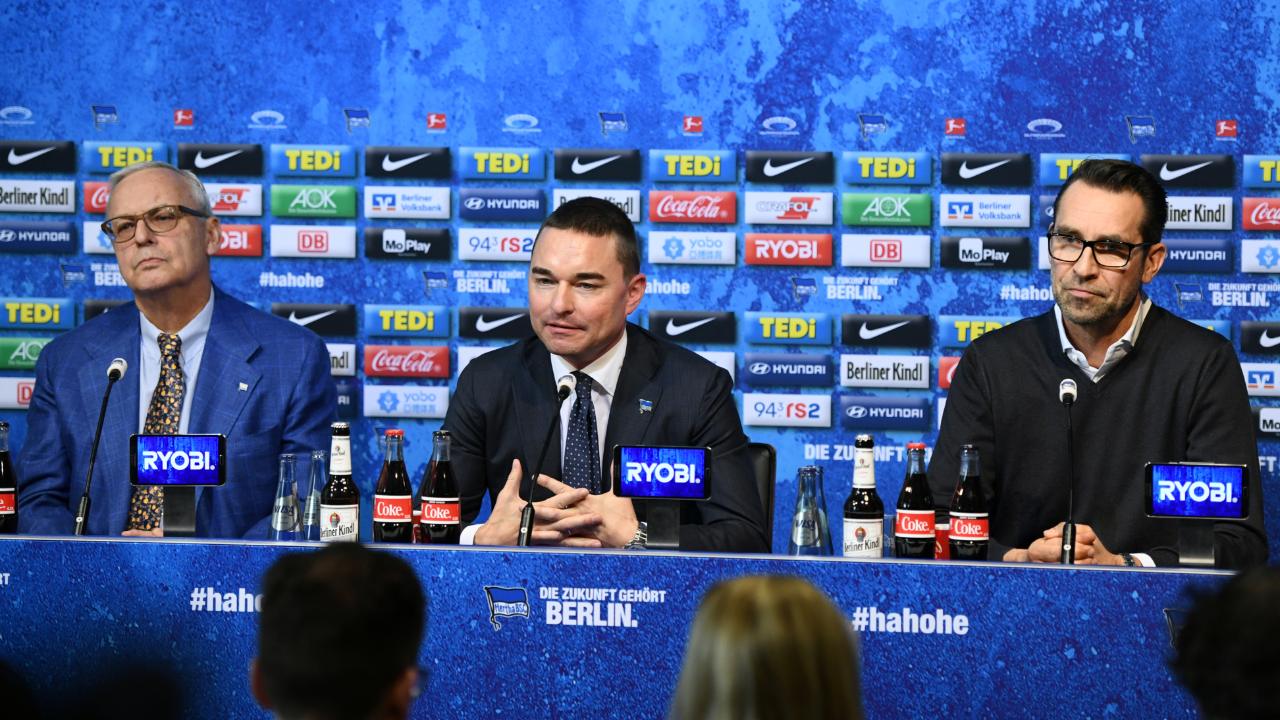 Nouri was promoted from an assistant position to the interim manager role, and he produced a mixed bag of results: a 2-1 victory over Paderborn was followed by a 0-5 humiliation at the hands of Köln, followed by come-from-behind draws against Fortuna Düsseldorf and Werder Bremen. By the time the Bundesliga grinded to a halt due to the COVID-19 pandemic, Hertha found themselves in 13th place, six points above the relegation zone.
On April 9, Hertha appointed their fifth manager over the past year, hiring Bruno Labbadia on a contract through 2022. The 54-year-old had previously saved Stuttgart, Hamburger SV and Wolfsburg from relegation, but over the course of his career, he had built a reputation for being a 'firefighter manager,' rather than a long-term coach with a plan. Between his stints at Wolfsburg, HSV, and Bayer Leverkusen, he rarely lasted more than a year at one club before being sacked.
Labbadia's first course of action was to reintegrate a group of veterans that had been frozen out under the previous bosses; 35-year-old Rune Jarstein came in for Thomas Kraft, who had started in goal in the last two matches, 33-year-old Peter Pekarík, who often found himself on the bench for Lukas Klünter under Klinsmann's reign, came back into the line-up. Finally, 35-year-old Vedad Ibišević, who hadn't started a league match since December, cemented a starting spot under Labbadia and relegated Piątek to the bench.
Hertha got off to a perfect start under Labbadia, smashing Hoffenheim by a margin of 3-0 and defeating crosstown rivals Union Berlin behind closed doors by a scoreline of 4-0. They mustered a 2-2 draw against Julian Nagelsmann's RB Leipzig, before defeating Augsburg thanks to goals from Javairô Dilrosun and Piątek. Labbadia's side lost four of their next five matches to close out the campaign, but it was still good enough to finish 10th in the Bundesliga.
For the first time since the Dárdai era, Hertha had a clear-cut playing style and a set-in-stone formation. Ibišević spearheaded the attack, whilst Lukebakio and Cunha typically played on the wings of Labbadia's 4-2-3-1. Veteran midfielder Per Ciljan Skjelbred usually partnered Liverpool loanee Marko Grujić in the double pivot, whilst Vladimír Darida ran the show in the #10 position; the Czech midfielder broke the Bundesliga record for kilometers run in two straight matches, running 14.3 km against Augsburg and 14.7 km against Borussia Dortmund.
The summer of 2020 was filled with outgoings and incomings at the Olympiastadion. Veteran mainstays Ibišević, Skjelbred and Salomon Kalou departed to Schalke, Rosenborg, and Botafogo on free transfers, whilst fringe players such as Köpke, Dennis Smarsch and Muhammad Kiprit headed to teams in Germany's lower divisions for cheap fees. Promising midfield talent Arne Maier joined newly promoted Arminia Bielefeld on loan, whilst Duda and Karim Rekik left to Köln and Sevilla on permanent deals.
The departures of Skjelbred, Ibišević and Kalou allowed more room for their January signings to grow in importance and solidify their status as regular first-team players. As Nathan Evans wrote in August, "The four players brought to the Olympiastadion over the winter break have an average age of just 22 meaning Die Alte Dame have invested heavily in the long term. The Bundesliga side will either keep these players for the foreseeable future, improving their squad drastically in the short term or they'll potentially make profit from these signings over the next few seasons."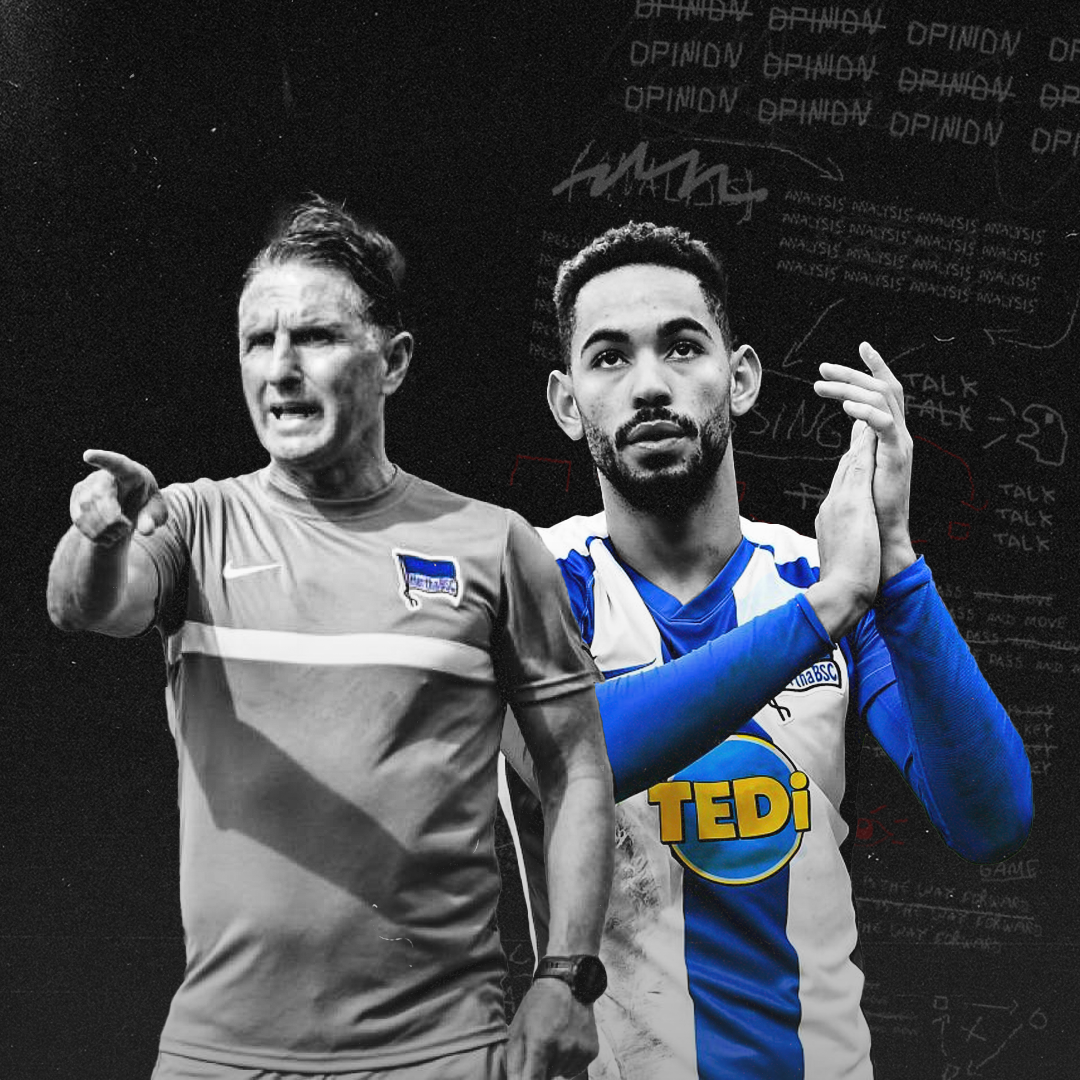 To provide competition between the sticks for the aging Jarstein — whose contract expires in 2021 — Hertha brought in 28-year-old Alexander Schwolow from Freiburg for €8 million. They replaced Ibišević with Köln's Jhon Córdoba, paying €15 million for the man nicknamed 'the Colombian Didier Drogba,' whilst sending Duda the other way. To replace the injury-prone Rekik, Hertha signed Paraguay international Omar Alderete on deadline day, paying Basel €11.5 million for his services.
Hertha also beat out competition from Reims and Southampton to sign 22-year-old Deyovaisio Zeefuik for €4 million, who had emerged as one of the finest right backs in the Eredivisie during his time at Gronigen. The cherry on top came when they managed to pry away France youth international Mattéo Guendouzi from Arsenal, paying €4 million for the loan fee.
The Berliners launched their preseason against third-tier side Viktoria Köln on August 14. Labbadia lined up a 4-4-2 formation, and Hertha dominated possession and created plenty of chances over the course of the match, winning 2-0 courtesy of goals from Lukebakio and Redan. Their next friendly delivered mixed results: Hertha lost 1-0 to Ajax, hardly proving a threat against Erik Ten Hag's possession-heavy side.
Four days later, Hertha hosted Roger Schmidt's PSV Eindhoven. Labbadia went with a 4-1-3-2 with Niklas Stark as a holding midfielder, and the experiment didn't pay off. Donyell Malen opened the scoring in the 36th minute, and shortly after halftime, Stark scored an own goal. Hertha were uncomfortable in possession, clumsy in defending transitions, and unconvincing throughout. Cody Gakpo and Sam Lammers added two further goals, as PSV won 4-0.
A final 'testspiel' saw Hertha take on second-tier Hamburg SV, and Labbadia switched back to a 4-2-3-1 with left winger Mittelstädt curiously standing by Tousart in a double pivot. Mittelstädt conceded a penalty early on, which Aaron Hunt converted. Lukas Hinterseer doubled the lead in the 30th minute, and Hertha's attacking quartet failed to break down the home side's defense.
Their flimsy preseason form was confirmed in their opening match in the DFB-Pokal against second tier Eintracht Braunschweig. Despite dominating possession and attempting 25 shots (7 on target), Hertha's lack of efficiency in front of goal and defensive errors made them pay. Hertha lost 5-4, crashing out in the First Round of the tournament for the first time since 2012.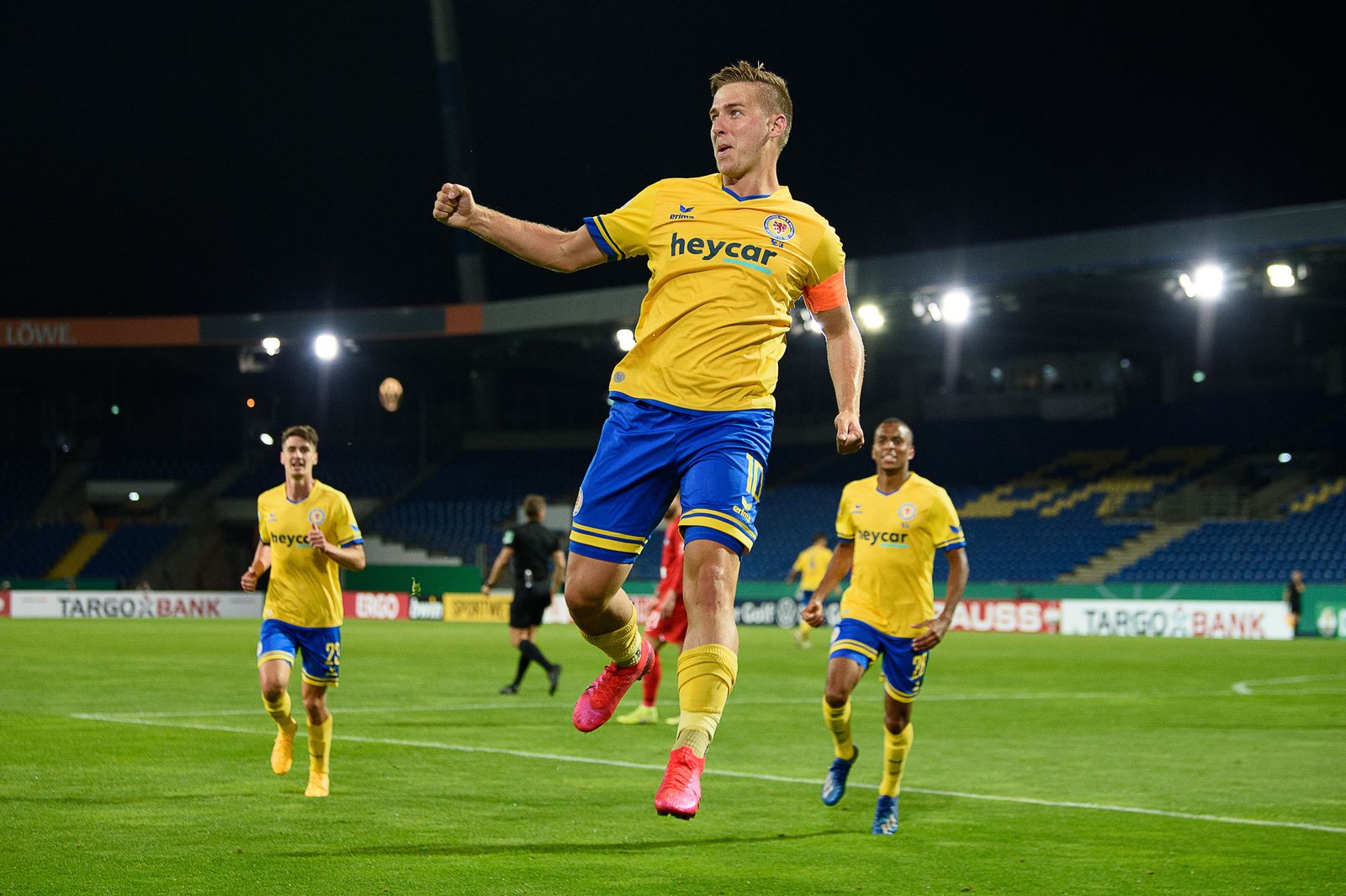 Photo: Swen Pförtner/dpa – WICHTIGER HINWEIS
For the opening match of the Bundesliga season, Labbadia's side paid a visit to Werder Bremen at the Weserstadion. Operating in a diamond 4-4-2, Hertha opened the scoring shortly before halftime; Mittelstädt's cross skipped past the Werder defense and into the path of Pekarík, who tapped home the opener. Goals from Lukebakio, Cunha and Córdoba followed, as Hertha won convincingly and dominated in possession and in transition.
Their next match saw them take on Eintracht Frankfurt, with Labbadia reinstating his diamond 4-4-2 to counteract Adi Hütter's 3-4-1-2. Despite dominating possession and having twice as many shots as the opponent, Hertha lost 3-1 to an efficient Die Adler side.
Hertha paid a visit to the Allianz Arena the following week, and Labbadia switched to a 4-1-4-1 with Zeefuik and Lukebakio as wingers in order to ride out the storm and hit on the counter; the plan worked well, with Hertha recording their lowest possession rate of the season (32%) and scoring the most goals in a league match since May 22.
Bayern Munich went ahead 2-0 via goals from Robert Lewandowski, but they quickly leveled the scoreline with a set-piece goal from Córdoba and some individual brilliance from Cunha. Shortly after Lewandowski put them ahead again, 20-year-old substitute Jessic Ngankam equalized in the 88th minute. However, Mittelstädt was judged to have pulled down Lewandowski in the penalty box just three minutes later, and the Polish forward scored a last-minute penalty to give Bayern the win.
Going up against newly promoted Stuttgart, Labbadia returned to the 4-2-3-1 from last season, only with slight adjustments: left back Mittelstädt started in a central attacking midfield position, whilst Córdoba kept his place in the line-up over Piątek as the lone striker. On the right wing, Labbadia gave Australia international Matthew Leckie his first start in league play since August 16, 2019, with Cunha operating on the left.
The changes didn't quite have the desired effect; Hertha were unable to find their forwards in ideal positions and get into a clear-cut rhythm. Stuttgart went ahead in the ninth minute via a set-piece goal from Marc-Oliver Kempf, and doubled the scoring in the 60th minute via a powerful long-range shot from Gonzalo Castro.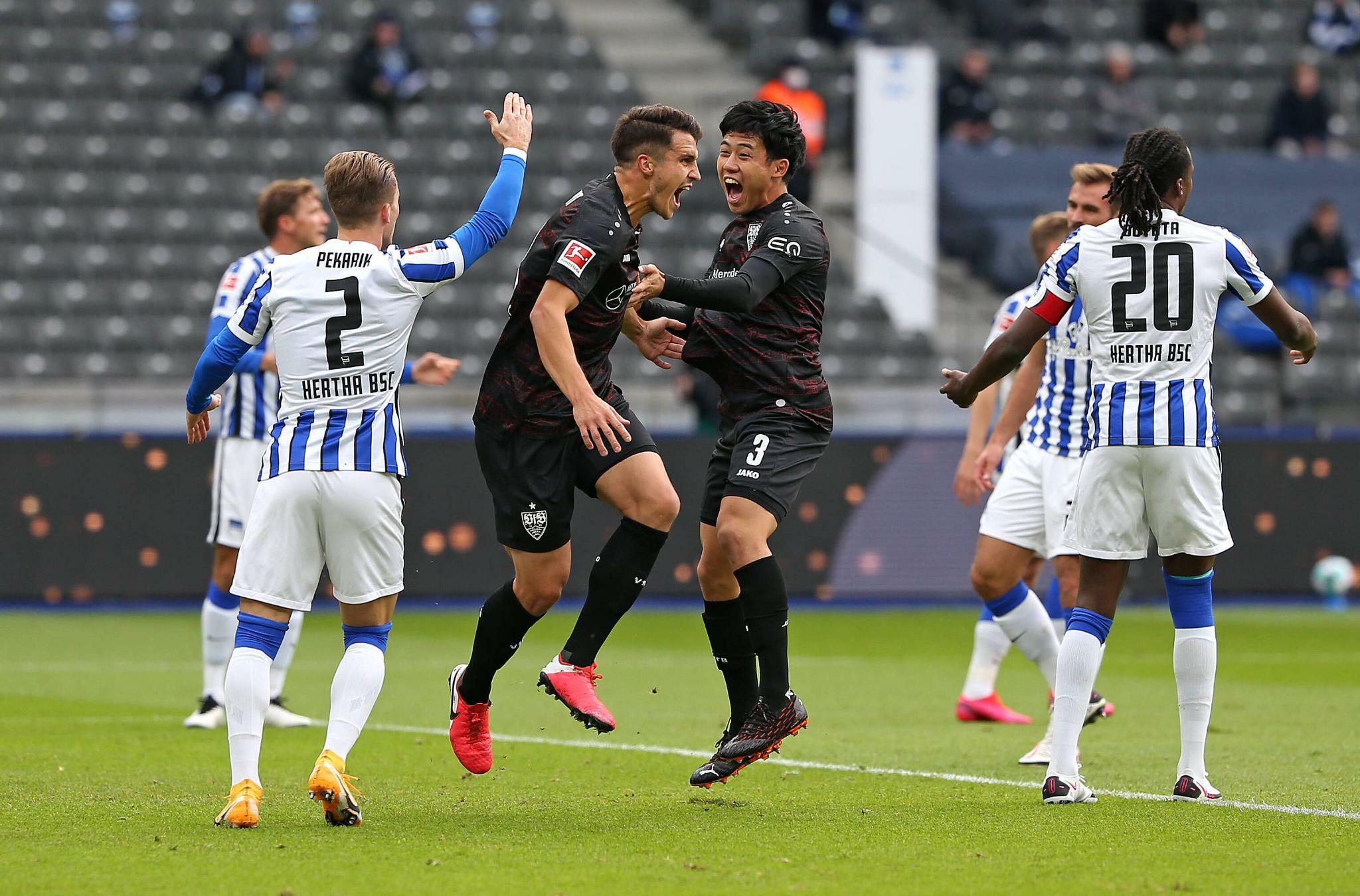 Photo: IMAGO / PRESSEFOTO BAUMANN
They travelled to the Red Bull Arena for Matchday 5, but instead of going with a 4-4-1-1 to exploit the space that Angeliño and Nordi Mukiele leave behind in their buccaneering runs, Labbadia went with a 4-2-3-1, with Stark playing as a holding midfielder and Alderete making his debut as the left-sided central defender.
To open the scoring in the 8th minute, Mittelstädt sprayed a long pass to Darida on the right, who played a through ball into the onrushing Lukebakio, who slid it into the path of the unmarked Córdoba, who slotted it past Péter Gulácsi. It was the perfect counterattack, but Hertha failed to replicate that efficiency.
Leipzig equalized immediately after via Dayot Upamecano and came close to adding another from Emil Forsberg, but his shot sailed above the crossbar. Zeefuik was subbed on for the injured Pekarík at halftime, but after two yellow cards in five minutes, the Dutchman received his marching orders. Leipzig cruised past an uninspiring Hertha, and Marcel Sabitzer's late penalty goal saw Hertha fall to 15th in the league table.
On Sunday, Labbadia faces off against his former employers Wolfsburg, and a loss at the Olympiastadion could cause the latest managerial casualty of the Windhorst era. Only time will tell if the firefighter manager can convince his superiors of his capability as a long-term manager, and if Windhorst and Preetz can finally make a challenger out of Hertha Berlin.
By: @dazzybeat
Featured Image: @GabFoligno / picture alliance