Moussa Diaby: The Undervalued Gem of the New Bayer Leverkusen
A young, intelligent superstar-in-the-making at Bayer Leverkusen, linked to a top six Premier League club – and his name is not Florian Wirtz. The German has become the darling child of football scouting in 2021. Yet his teammate, Moussa Diaby, is also quietly having an explosive season.
Last campaign under Peter Bosz, the Frenchman scored 4 Bundesliga goals across 32 appearances. Diaby has already matched that goal tally in just 7 league games. Not only that, but the rest of Diaby's Leverkusen teammates are building momentum after an incredibly bright summer transition.
2020/2021 Numbers
Diaby moved to Bayer Leverkusen in 2019, aged 20. He had just come off a debut campaign in PSG's first team, scoring and assisting 8 Ligue 1 goals under Thomas Tuchel. Diaby was a winner of the Titi D'or award in 2016; a yearly accolade given to the most promising player in PSG's youth set up.
Since moving to Germany, Diaby has played predominantly on the left wing of Peter Bosz's system (Generally a mix of 4-2-3-1 & 4-3-3). This instantly marked Diaby out as a rarity in Europe. As a left-footed winger, most managers would have looked to utilise his abilities on the opposite flank, yet under Bosz, Diaby's main objectives were not to cut inside but rather cross the ball in.
In the 20/21 season he completed 21 crosses into the box, the most in the Leverkusen side. He finished third for completed dribbles too. Unfortunately, this partly limited his impact in front of goal, with him notching just 9 across the last two seasons in Germany. Worse still, he was converting just 8% of his shots into goals in 20/21.
While Diaby himself has clearly worked on his own abilities, his uptick in the 2021/22 season can also be traced to the summer activities of the Eternal Bridesmaids.
The New Leverkusen
Peter Bosz was sacked in March 2021, when it became abundantly clear Leverkusen were going to miss qualification for the Champions League. They moved to appoint Young Boys manager Gerardo Seoane as a replacement. Sporting director Rudi Völler had probably made his decision further back than May 2021 – potentially when Seoane's Young Boys dumped Leverkusen out of last year's Europa League.
Under Bosz, the aim was to dominate possession. To create passing moves that could dissect opposition defences, and press high out of possession too. Under Seoane though, the aim at Leverkusen is to win the ball deeper down the pitch.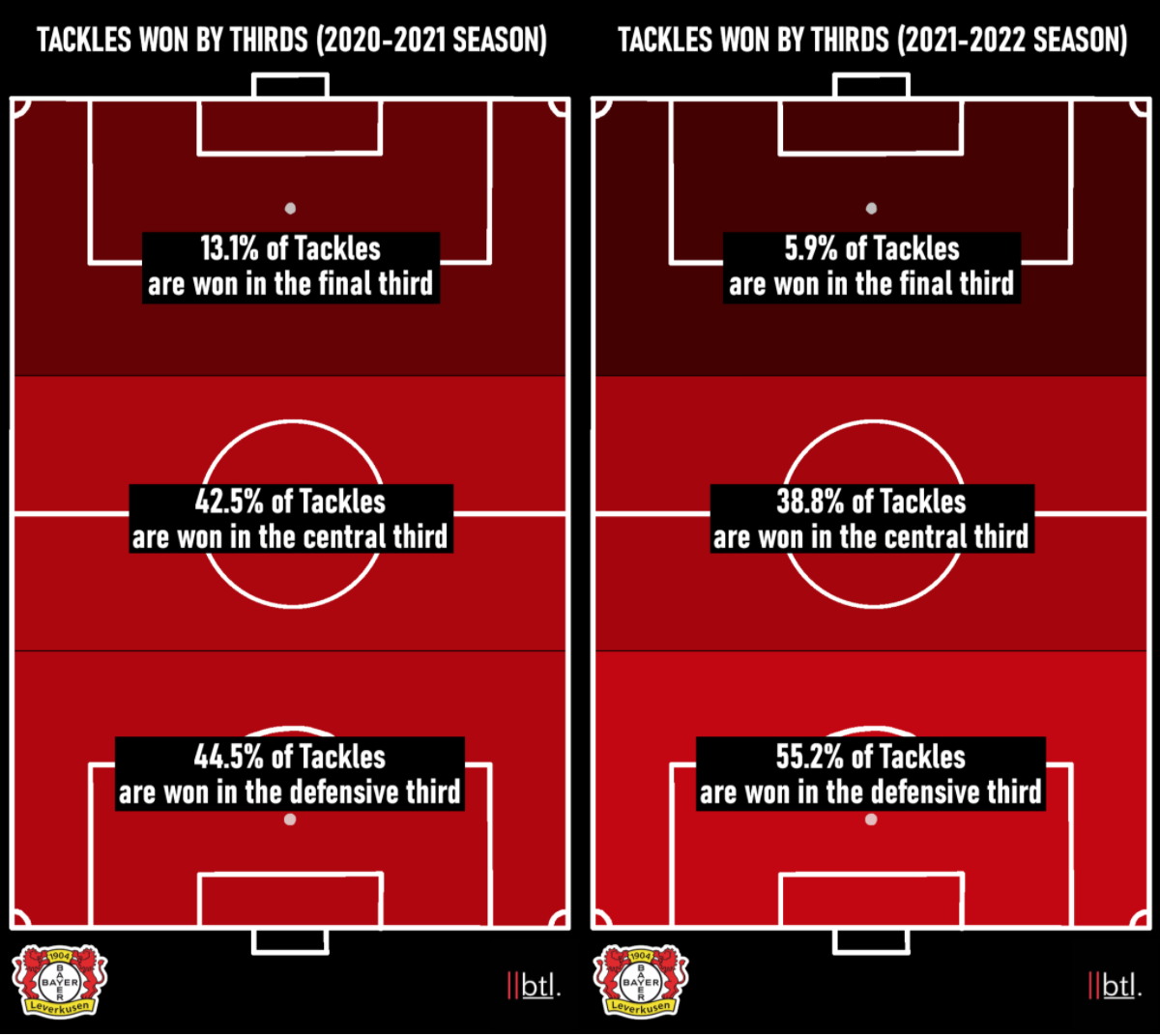 Data from FBREF: How Leverkusen have changed where they look to create turnovers – a 7% drop of tackles in the final third of the pitch.
Leverkusen have on average held 54.9% possession this season – down 5% from 59.9% last season. As you can see by the data above, Leverkusen are winning the ball back in deeper spaces on the pitch. Once Bayer have the ball, their attackers look to charge in behind and stretch the defence. From starting in deeper positions, they have more space to build momentum and speed.
Diaby's New Objectives
Diaby has been deployed on the right wing under Seoane, with an aim to drive inside when Leverkusen begin their counter attacks.  Through his attacking output, we can see that Diaby has eliminated crosses from his game. He is also taking more shots, attempting more from the outside of the box.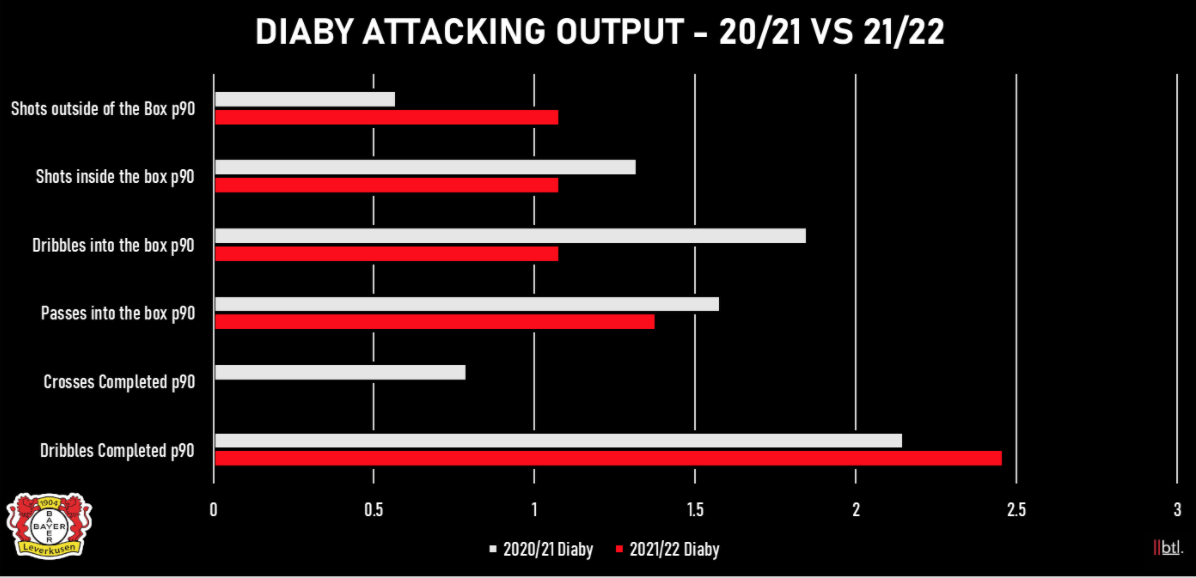 Data taken from FBREF: The attacking output (p90) from Diaby in the 20/21 season and the 21/22 season. 
This can be matched with the eye test too – Diaby has positioned himself well in attacks. His speed has always been frightening, and his runs in behind have continued to be devastating. 
What is noticeable this season is that Diaby has looked to pull back from his marker to create space for himself. This perhaps can be linked to his equal share in shots from inside and outside of the box. Rather than always looking to get in behind, he is taking up positions from further out for his attempts on goal.
Goalscoring, as previously mentioned, has been Diaby's weakness. He has never managed over 5 league goals in a single season, and his efficiency has been questionable. In 21/22 though, not only has Diaby improved; he's currently one of the best finishers in Europe.
Adding Goals to Diaby's Game
Expected goals is a metric used by data providers like StatsBomb to measure the quality of a shot taken. For example; Timo Werner finished poorly in the 2020/21 season – this was reflected in him scoring 6 Premier League goals, when he was 'expected' to score 11.9.
Diaby underperformed last season too, hitting 4 goals compared to an XG of 5. Since August 2021 though, Diaby has overperformed and hit figures comparable to Europe's elite. As seen below, Diaby has been expected to score around 1.4 goals – he has actually scored 4. Only five other players in Europe have overperformed their XG total by more than him.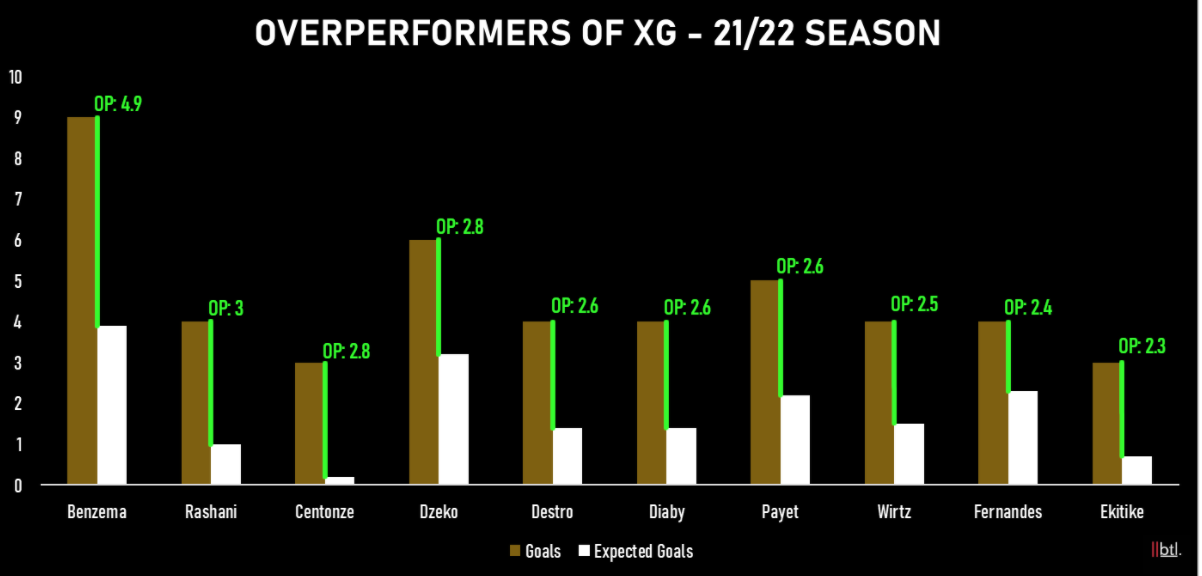 Data taken from FBREF: Green indicates OP (Overperformance) of goals to expected goals.
The cynical view would be that Diaby is simply running hot – his shots have been lucky to go in, and we can expect his goal-scoring habits to calm down. That, and his huge uptick in goal conversion, from 8% in 20/21 to a current rate of 29%. For context, Ronaldo is currently converting 17% of his shots into goals.
However, Diaby's goals have mostly been quality. Besides a deflected shot against Gladbach, he has shown commendable finishing. Take his goal vs Dortmund; a right-footed finish low into the bottom corner from outside of the box. The ball hit the net before the goalkeeper hit the ground.
His effort against Union Berlin was superb too. He showed the change in his style by driving inside from the half-space, keeping the ball with nice close control. Again, his shot was fired low into the bottom corner, escaping past Union's keeper. These shots do not feel lucky, they feel accurate.
Can Diaby Maintain This Level?
As with every piece of work created before matchday 10, the saying must be said; it's still early days. However, the fact Diaby has already bettered last season's surface output is a good omen.
In July 2022, Diaby turns 23-years-old. While his form could still dip, it wouldn't be surprising to see his value of £35 million soar. It also would not be surprising to find Bayer Leverkusen in the top 4 of the Bundesliga table by the end of next season too. 
By: Alex Barker / @EuroExpert_
Featured Image: @GabFoligno / Joosep Martinson – Getty Images