Mykhaylo Mudryk: Shakhtar's Budding Superstar in Attack
Profile
Age: 21
Position: Left wing
Height: 5'9
Weight: 134lbs
Preferred foot: Right
In Ukraine, two clubs stand above the rest — namely Shakhtar Donetsk & Dynamo Kyiv, with the two powerhouses sharing 29 domestic titles between them. For a young Mykhaylo Mudryk, it is with the prior that the exciting winger is starting to make a name for himself, aiming to follow in the footsteps of the likes of the great Andriy Shevchenko, Andriy Yarmolenko, and, more recently, Oleksandr Zinchenko as the next star to stem from the east European nation. 
Born in Krasnohrad, a small city southeast of the capital Kyiv, Mykhaylo took his first steps in football at local club Metalist Kharkiv in 2010. He would go on to stay at the club until 2014 before making a move to FC Dnipro in a bid to enhance his development.
That affair only lasted a couple of years as Shakhtar wasted no time in convincing the starlet to join their youth ranks (one of the best academies in world football) in October 2016 following a string of impressive performances at both club and international level for Ukraine's U15/U16 sides.
From the get-go in Donetsk, it was apparent to see that Mudryk's potential was abundant. Swiftly rising through the youth system, he was quickly promoted to the club's senior side in 2018, making his debut off the bench on October 31st under then-manager Paulo Fonseca.
Going into 2019, a decision was needed to ensure that his development did not stall due to limited minutes in the first team; it was either to continue playing in the U21s or go out on loan. A loan it would be, as he joined Arsenal Kyiv (making 10 appearances) for the duration of the season, followed by Desna Chernihiv (making 10 appearances) in 2020. Mudryk would return to Shakhtar in January 2021, making 3 appearances as the season came to a conclusion.
The Next Young Prospects Who Could Be Set for a Move Away From Russia or Ukraine
Heading into the 2021/22 campaign, Shakhtar appointed Roberto De Zerbi as their new manager; a decision that would benefit Mykhaylo as the Italian is known for his possession-based football and trust in young players, having led Sassuolo (average squad age of 24.9) to a club record 8th place finish in Serie A before making the move to the Ukrainian club. 
"If I don't bring him to a high level, I will consider it a personal defeat", said the Italian coach with regards to the player's potential. Over the course of the next couple of months, Mudryk was eased into the team, more often coming on as a substitute.
This was especially true of Champions League matches, playing 178 minutes over 6 games. However, it was in the league where he had more of an influence — scoring 2 goals and providing 7 assists in 11 matches in the first half of the season. (before Russia launched a full-scale invasion against Ukraine)
Of course, when the country's future was at stake, football had to be put on pause for a while. Off the field, Mykhaylo bravely showed an active position, devoting some time to helping his fellow countrymen by doing volunteer work.
The war factor could've affected the youngster's progression, but this thankfully wasn't the case. Unfortunately, though, it was Shakhtar that once again suffered (having previously had to abandon their state-of-the-art stadium in 2014 due to the conflict in the area) as the club lost almost all its foreign players. 
Side note: In the club's more recent history, foreigners (mostly Brazilians) have played in attack while Ukrainians played in defense. This somewhat unusual philosophy has brought successful results, the most notable being a UEFA Cup triumph in 2009, so in the past, it has been hard for Ukrainian attacking players to establish themselves in offensive positions. 
The plethora of departures has helped the now 21-year-old get more playing time, not only becoming a more important player in the squad but now the club's main asset in such a short period. As far as playing style goes, it is worth noting that Mudryk's main position is on the left wing where he's played predominantly throughout his youth and now at the first-team level. Right-footed, dynamic and fearless on the ball in 1v1 situations, Mykhaylo is thriving with the freedom to play the way he knows best. 
The most impressive thing about Mudryk is how he controls his speed. Fast to slow, and fast again; his tempo switch is devastating. His feet move remarkably quickly — they're a blur, and he needs very little time to accelerate or change direction with his great balance and intensity. This often leaves defenders either leaving him too much space to receive the ball and take them on or overcommitting whilst trying to pressure him.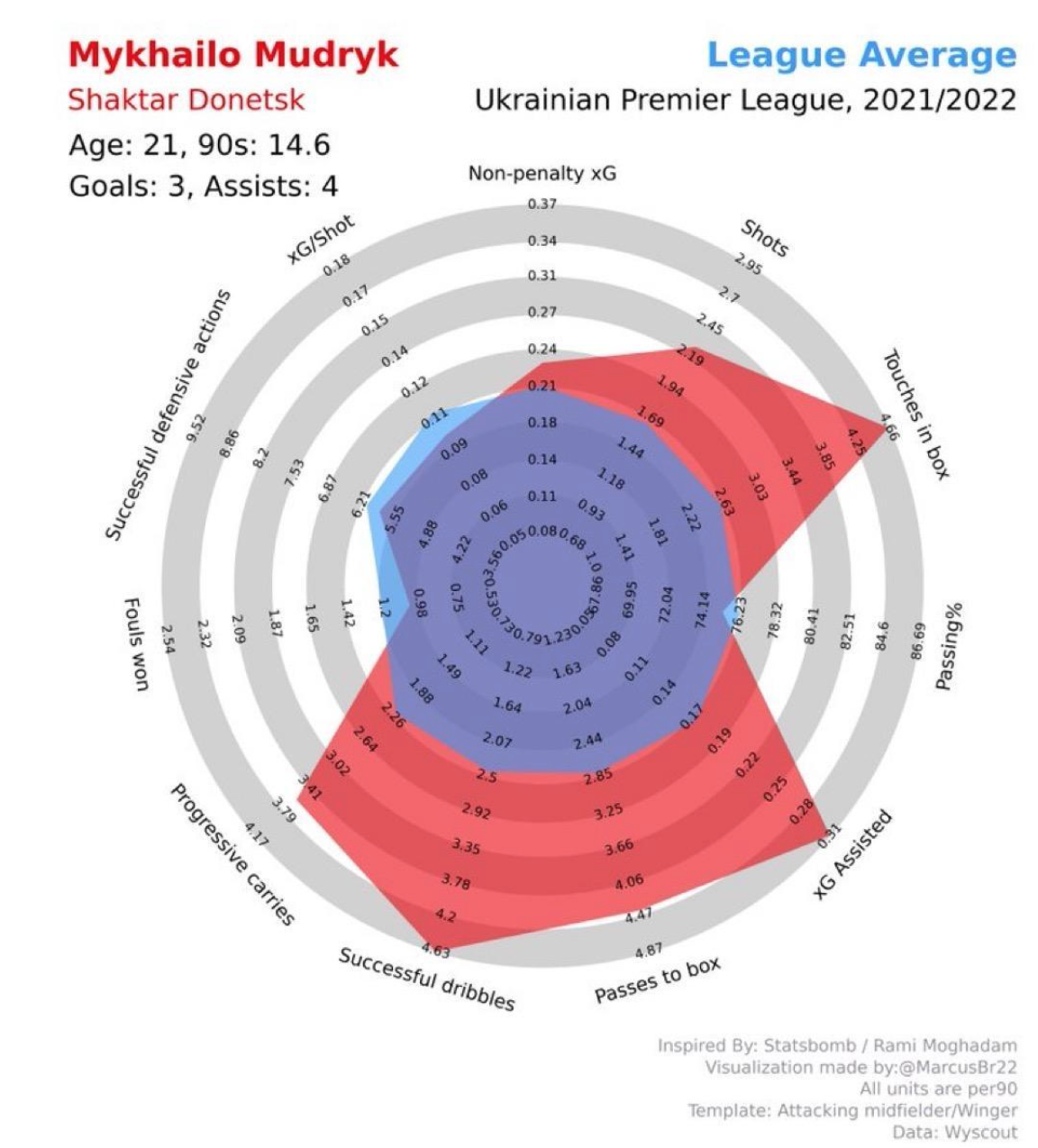 Photo: @MarcusBr22 
Last season, he averaged 3.7 progressive carries per 90 — one of the highest in his team and the entire league. He also attempted an average of 10 dribbles per game with a success rate just below 50%; very impressive for a player. Another notable trait he possesses is the timing of his runs into the half spaces when one of the midfielders has the ball, as he is disciplined enough to maintain the width before making the movement.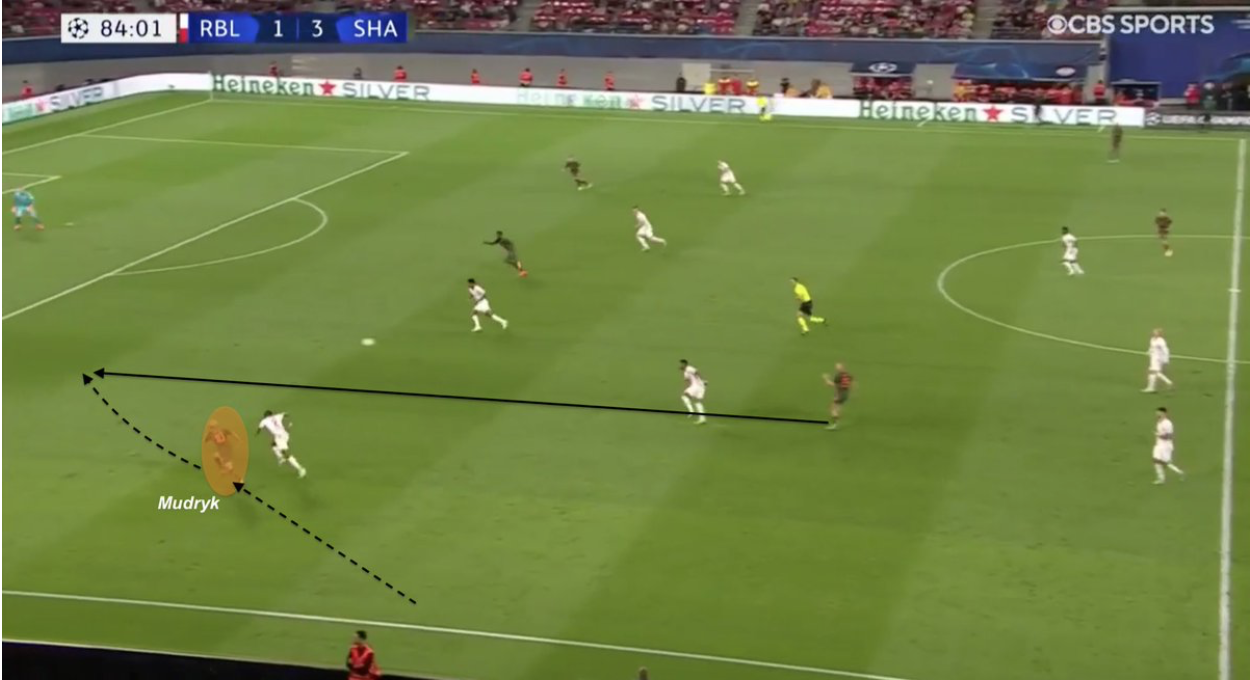 Mudryk's Champions League performance vs. RB Leipzig
His impressive pace is also a huge asset when it comes to transitions, especially as he provides the perfect profile to successfully turn defense into attack at a frightening speed. When the opponent decides to close the passing angle, he exploits that move by attacking central spaces.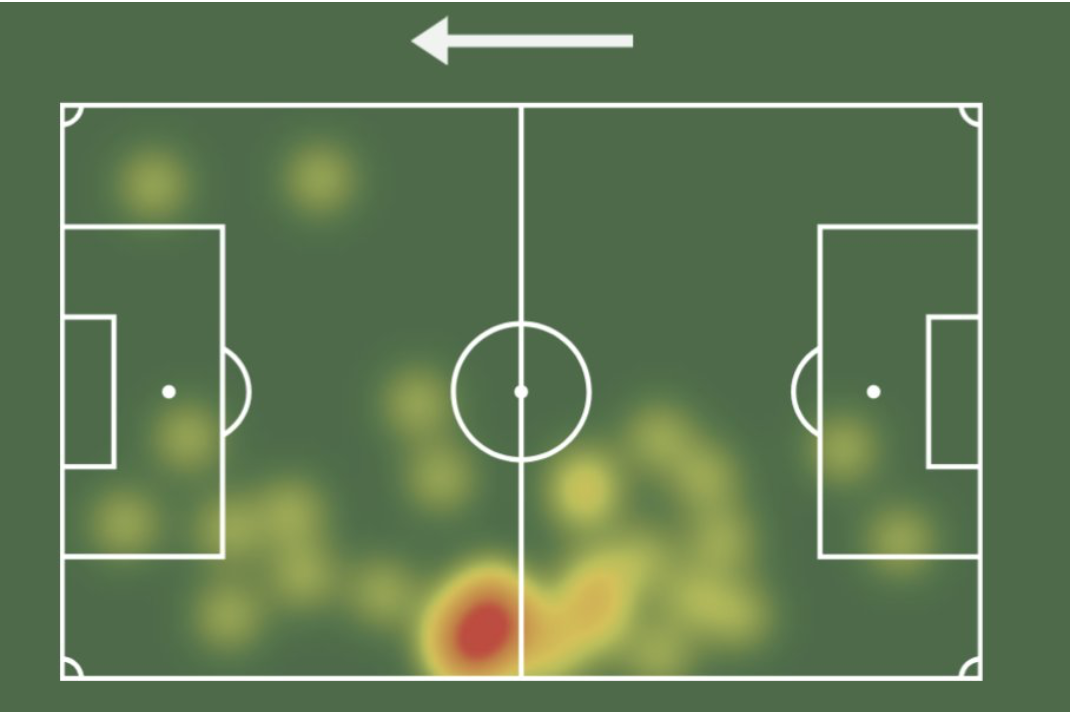 Heat map vs. RB Leipzig
Out of possession, Shakhtar usually switches to a 4-1-4-1 formation which sees Mykhailo operate as a second trigger to the team's press when the full-back on his side of the field receives the ball. He also tends to drop into the half spaces to receive and add an extra man in midfield by helping the nearest midfielder.
This gives his team an extra option to play out of pressure. Defensively in deeper zones, when the full-back pressures the ball carrier, Mudryk slides as a pseudo-full-back to maintain the team's structure.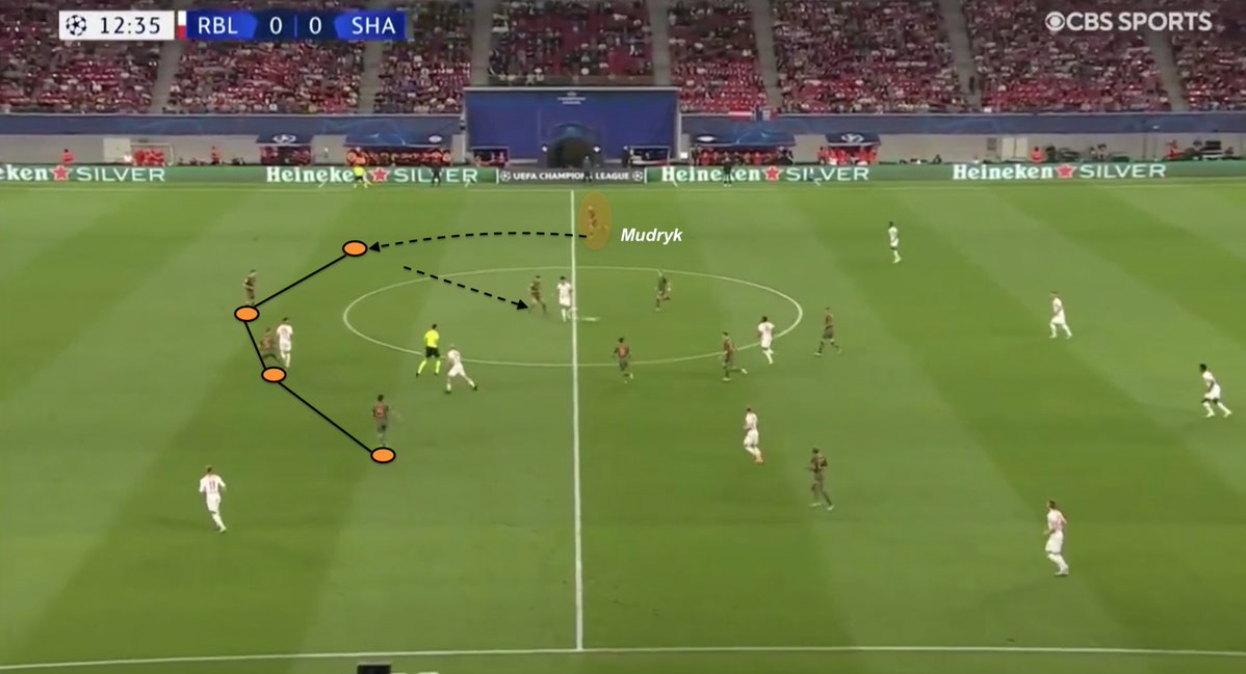 With regards to his positioning in the second phase of build-up, Shakhtar manager Igor Jovicevic demands wide wingers cutting inside only when necessary. This is why Mudryk frequently holds the line out of possession.
There is one particular skill in his game that needs some improvement: shooting. Although most of his shots are from positions with low xG ( Expected Goals) he is not yet as efficient when he does get those chances in the box. Therefore, he is a player who creates a lot of xT (Expected Threat) when on the ball, hopefully, he can start converting that threat into goals.
He is already on his way to bettering last season's numbers, especially catching the eye in the Champions League. Two goals and two assists in two games have seen Shakhtar remain undefeated so far in Europe's elite club competition.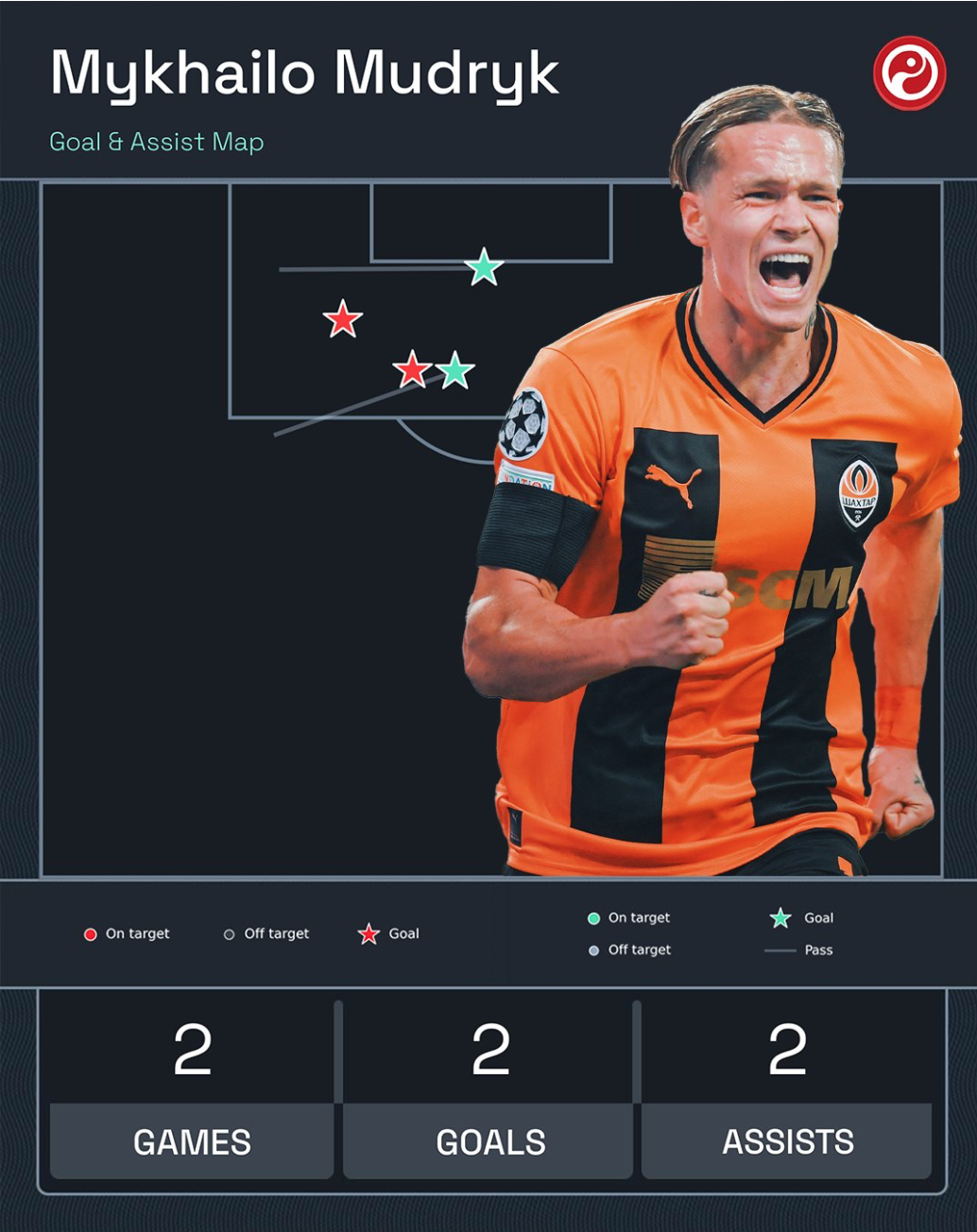 Photo: Squawka
Whilst dubbed by most as the "Ukrainian Neymar", I believe there are more similarities to Vinicius Jr. in his game as both players often use their blistering pace down the touchline (rather than cutting in) to get past their opponents; it's a very flattering comparison nonetheless.
Darijo Srna, Shakhtar's sporting director, was recently quoted in saying, "In this position (on the left), he is the third best youngster in the world behind Vinicius and Mbappé. That was my opinion a year ago. I haven't changed my opinion."
With the quality he has shown in the last two months, it's not a far-fetched statement, but consistency will be key in seeing him secure the big move he craves and Shakhtar cashing in on yet another academy graduate.
The coaches and teammates who work with him unanimously say that he is fully focused on football; coming to training first and staying to do additional practice after. "I have only one dream that surpasses all others, to become a great football player. I want to win the Ballon d'Or and enjoy football", said Murdryk. "I must improve a lot of moments because I think I can play better… I'm only at maximum 20 percent of my potential." 
With this mentality and dedication he has displayed in his young career, it's hard to see why he won't reach the top. Recently, Arsenal and Liverpool have been the biggest clubs linked with a transfer for the player after a late € 30 million bid from Everton was rejected (August 2022). He's said to be valued at around €35-45 million, but we could see him sold for an amount well over this. 
By: Vuyo Regálo II / @RegaloJnr
Featured Image: @GabFoligno / BSR Agency / Getty Images