N'Golo Kanté; Europe's Finest Midfielder, Fiercest Competitor and Chelsea's Most Irreplaceable Asset
Very few times in football does a player transcend their role and become something entirely out of the scope that was once used to define a position. In the early 2000s, there was the Makélélé role, associated with the one man conductor – Claude Makélélé. In the mid-2000s there was the false nine – associated with the great Lionel Messi.
Then seemingly out of nothing came a diminutive little Frenchman, born in Paris who started his journey in the third league of French football. N'Golo Kanté arrived on the scene in English football as Leicester's secret weapon. The understated, and humble central midfielder went on to revolutionize Leicester City Football club by winning them their first league title at 5000/1 odds, but more importantly transcended the role of a destroyer for years to come. 
What Position Does Kanté Play?
If you have had the pleasure of being on football twitter the Sky Sports Broadcast studio or anywhere in between, the age-old debate of N'Golo Kanté's "true position" will have undoubtedly been a topic of conversation if not one of vehement debate between Chelsea supporters. What must be fleshed out, however, is the difference between a player's role and his position.
For example, Kanté's position is central midfielder, his role however, can vary based on systematic requirements, a coach's preference or the game state. Typically, Kanté has been earmarked as a "destroyer" that is, shutting down the opposition's play in midfield, outside, and just about everywhere. But, as I argue, he is so much more. Here are some misconceptions about Kanté that have been dispelled time and time again, not via his words, of which they are few and far between, but by his remarkable ability and spectacular performances.
The first and most obvious one is that he plays as a "defensive midfielder". Though that may be true as a proximate role, it is strikingly lacking in nuance. Kanté isn't just a defensive midfielder, though he is gifted with the best defensive ability in world football as a result of his reading of play, immaculate tackling, ability to over ground both horizontally and vertically and unmatched engine he is as well rounded a midfielder as we've seen at Chelsea. 
Secondly, "N'Golo Kanté cannot play as a holding midfielder", that is categorically incorrect – in France's triumphs at the World Cup in 2018, Kanté played as the deepest midfielder. Kanté can play as a lone pivot, as a holder in a two, as a box-to-box in a two or as a shuttler on the right side of a three-man midfield. To put it bluntly, Kanté can play wherever he's asked.
Alas the conundrum emerges as, that's exactly it, where should he play given he can play just about anywhere? If precedence is anything to go by, Kanté's best role is as a box-to-box in a two-man midfield where he's won two Premier League's a PFA Player of the year and a Champions League. Or, as Tuchel famously refers to it as, he is one of the "double sixes". 
Based on Tuchel's vision of football to "shackle Kanté to one position is to clip his wings" (Thomas Tuchel, 2021). That's just it, Kanté is best when he has freedom to roam, snuff out counterattacks before they happen, catch up to play and make a recovery tackle, lead the team in transition and just about everything else.
You would never see an Olympian weightlifter only strengthen his biceps, likewise, you mustn't expect a complete midfielder to only participate in one aspect of football. Below is Kanté's heat map in Chelsea's Champions League semi-final against Real Madrid.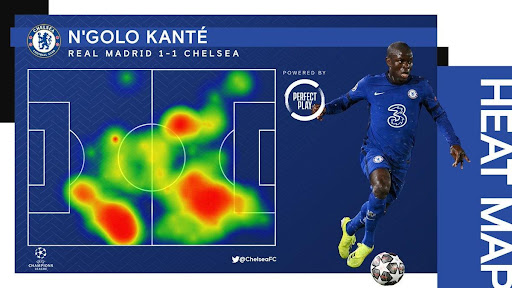 Photo: Chelsea Football Club
The image above is proof that N'Golo Kanté is at his best when he is allowed to spread his metaphorical wings and roam freely around the pitch. On the night Kanté covered every blade of grass, led Chelsea's counter-press and created Timo Werner's goal by bursting between Real Madrid's frail block, playing a one-two with Werner before immaculately laying it off to Kai Havertz as Werner scored off the rebound. 
Statistically, Kanté is one of the best midfielders around, as far as metrics go, no one other than Wilfred Ndidi for Leicester has come close to matching Kante's numbers at Chelsea, and none have matched his output in his title-winning campaign at Leicester City. Under Thomas Tuchel, Kanté has averaged a remarkable 3.4 tackles, 2.42 blocks, 2.45 interceptions and 1.73 dribbles completed per 90 according to Fbref.
He is in the 90th percentile and above for each of these stats, further signifying his importance to Tuchel's impenetrable outfit. Kanté's exceptional defensive nous is no trivial matter, in fact, according to Tuchel, "I've wanted him [Kanté] at every club I've been at, here I finally have him."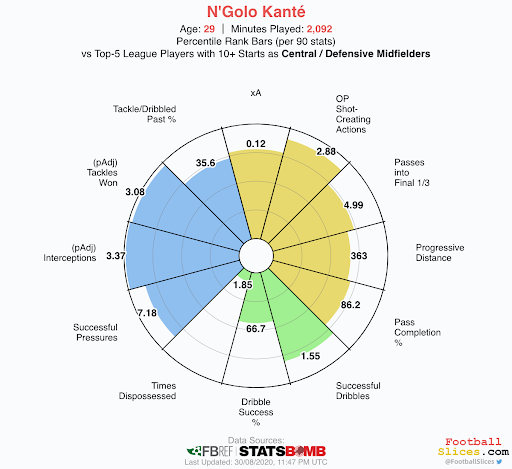 What is most remarkable about the Chelsea ace, however, is his underrated on ball ability. It is no secret that throughout this waxing lyrical Kanté is a defensive phenom, what some people would call a 'generational' midfielder. What is so exceptionally valuable is that Kanté, unlike most of his defensive midfielder/destroyer counterparts, brings unrivaled intensity in his ball carrying, he is is a capable passer on both feet, whether they are diagonals 40 yards away or sliding through an attacker between the lines – the diminutive Frenchman is no slouch on the ball.
In the modern era, the rise of specialists coming back to the fore, Jorginho, Kanté's conducting midfield partner gives credence as his 'regista' title is rearing its head from the days of the great Andrea Pirlo. But Kante is no specialist, he is as complete as they come, whether he is tasked with locking down the entire width of the pitch or making third-man runs, perhaps even joining the goal-scoring party, you can rest assured he will deliver.
Below is Kanté's performance in arguably the biggest game of his club career, the Champions League final where he took home yet another Man of the Match award. On the night Kanté won the most duels and most tackles, capped off by a sublime come from behind tackle on Kevin De Bruyne as the diminutive Frenchman shunted Manchester City's ace all night.
Here we saw Kanté at his dynamite best, he was pinging long diagonals to his left, carried the ball through the heart of Manchester City's midfield, winning tackles at the doorstep of his own penalty box and everything in between. In such a monumental game, as is customary for Kanté, the understated superstar shone brightly, both on and off the ball. He locked down the entire right flank along with Reece James, so much so the Manchester City players were looking as bewildered as their mastermind tactician Guardiola. 
Photo: @H23Football
As Chelsea are poised, primed and regularly mentioned as title challengers for this year's Premier League crown, I'd argue no one is more important to Tuchel's side than N'Golo Kanté. There are few midfielders in world football that match his intensity, dynamism and willingness to work for the team. That is why he is so crucial, in an era littered with superstars accompanied by massive egos, Kanté is the quintessential opposite.
He is receiving his plaudits as one of the best midfielders in the world, but he remains laser-focused on being a team player – that attitude is something money can't buy, Chelsea can't replace and why he has become Tuchel's ace. Following their Champions League triumph, Chelsea smell blood and Kanté will have all Chelsea fans holding their breaths that the legendary midfielder can maintain fitness levels as Tuchel's Blues hunt down rivals Manchester City for the Premier League – English footballs most prestigious honour.
By: @MedianoEra
Featured Image: @GabFoligno / Chris Lee – Chelsea FC