Nicolás González: Stuttgart's Argentine Starlet
A 14-year old Nicolás González is inches away from hanging up his boots, disheartened by his lack of game time, and the six-hour round trip for training every day. A 22-year old Nicolás González is a full international, tearing up the German topflight, and linked with a move to the Premier League. Oh, how football can change!
One of the most exciting young forwards in world football, González is the headline act in VFB Stuttgart's explosive young side captivating the hearts of Bundesliga fans this season. With former Dortmund scout Sven Mislintat heading the recruitment department, Stuttgart have transformed themselves from a club in free fall to Europa League aspirants.
Though Die Schwaben have a clutter of fascinating youngsters ready to take European football by storm in the coming seasons, even the most prominent amongst them pale in comparison to the excitement surrounding González's name.
Arriving from Argentinos Juniors for €8.50m in 2018, a lot was expected of González, overtaking none other than Diego Maradona as the club's most expensive departure in the process. Yet the promise he had shown as a teenager in the Superliga was in short supply in his first season in the Bundesliga, scoring 2 goals all season as Stuttgart suffered relegation for just the second time in 41 years.
Though González's talent was clear to see in his excellent dribbling and aerial ability, the Argentine was extraordinarily wasteful in front of the net, underperforming his xG by almost 4 goals and scoring just 2 of the 49 shots he attempted that season. Few expected the Argentine to stay in Stuttgart that summer, with Die Schwaben required to abandon many of their most expensive assets as a season in the second division loomed on the horizon. However, González remained true to the club, dropping down to the second division where he would become a tremendous force in the sides immediate bounce back.
With 14 goals across 27 appearances, González had shaken his label as a wretched finisher, scoring for fun with his left foot and head, as well as providing a cool presence from the penalty spot. By the end of the 2019/20 season, it would be González's positive performances now leading the rumors of an exit, with his lowly release clause of €11.00m sparking the interest from the likes of Burnley, Brighton, and Leeds United.
But like a year before, the Argentine was persuaded to stay, a decision that Stuttgart are profiting from immensely. Despite a couple of injuries that have seen him miss 5 matches, the 22-year old already has 6 goals this season, silencing any of the doubters who thought he wouldn't be able to replicate his Bundesliga 2 form in a higher division.
The big difference compared to his first spell in the topflight is not actually his chance conversion, with González's current rate of a goal every 7.5 shots far from optimal. Rather, it is his ability to craft opportunities, getting himself into more goal-scoring opportunities where one missed chance doesn't have as sizable of an impact on his total output. Whereas in the 2018/19 season González was attempting 1.95 shots per 90, this season he is hitting a staggering 4.3 per 90.
This improved attacking output can be seen throughout his entire game going forward, with González's dribbles completed, touches in the opposition box, and progressive runs also substantially up from two years ago. In his 14 Bundesliga matches this season, González is not just displaying a superior goalscorer, but a more complete attacking threat on the whole.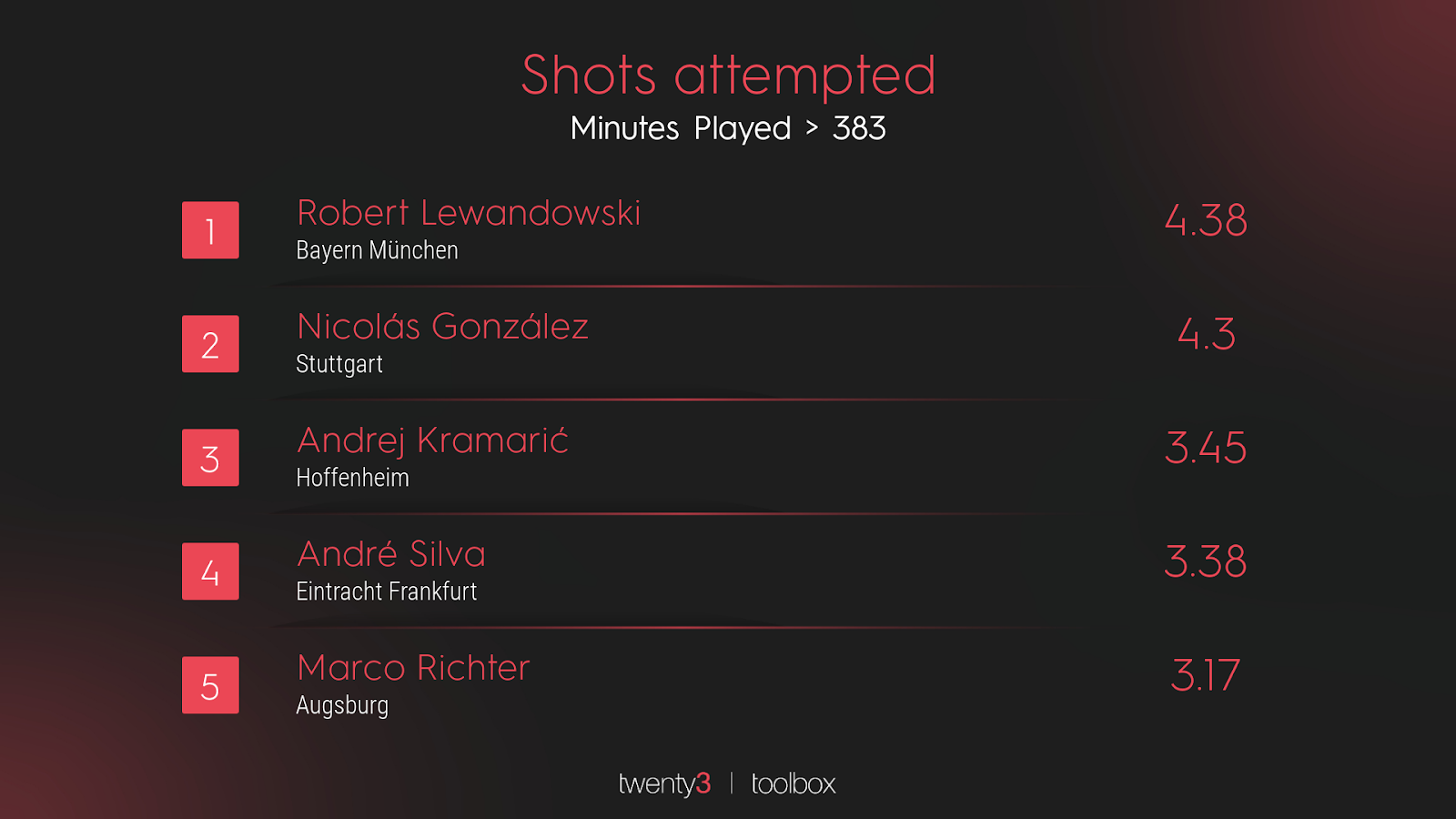 Nicolás González is crafting slightly fewer shots every match than Robert Lewandowski, the top goalscorer in Europe this season by a margin of 7 goals. Though he does need to work on his chance conversion, his ability to create goal-scoring opportunities for himself is amongst the best in the world. [Photo: Twenty3/Wyscout]
There's no doubt that González has benefited from the level of attacking talent around him, building up a great relationship with the host of other forwards who allow Die Schwaben to quickly transition from the defensive third into attacking phases. However, González's aerial dominance has seen its greatest benefits from the introduction of Borna Sosa, a 23-year-old Croatian fullback who has become a sensation on the left side of Stuttgart's 3-5-2 formation. With 80 completed crosses this season, Sosa has the third most of any player in the topflight, always providing the ammunition for a González header.
Whilst Sosa missed most of the 2018-19 campaign through injury, his consistent selection this season has allowed González to flourish. Of the Argentine's 11 headed attempts this season, 5 of them have come directly from a Borna Sosa cross, a fundamental aspect that was missing two seasons ago.
In the 2018/19 season, first-choice left back Emiliano Insúa completed just 5 crosses across 27 appearances, only one of which met the head of his fellow countryman Nicolás González. With Sosa now patrolling the left flank, Stuttgart have a fullback capable of exploiting González's aerial dominance, supplying Die Schwaben with important goals in their push for Europa League qualification.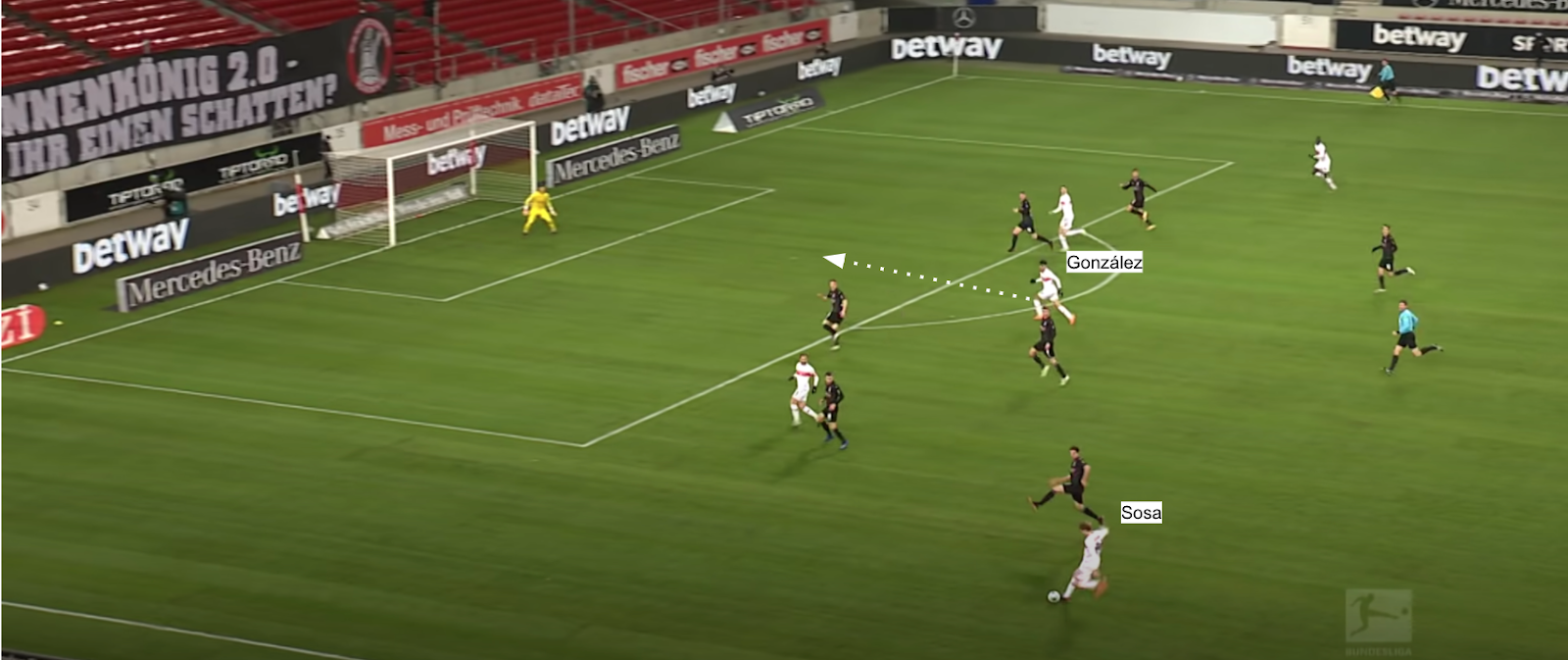 The combination of an exceptional crosser (Sosa), and an aerial menace (González) means Stuttgart are a massive threat when the Croatian fullback is afforded an inch of space to find the advancing run of his Argentine teammate.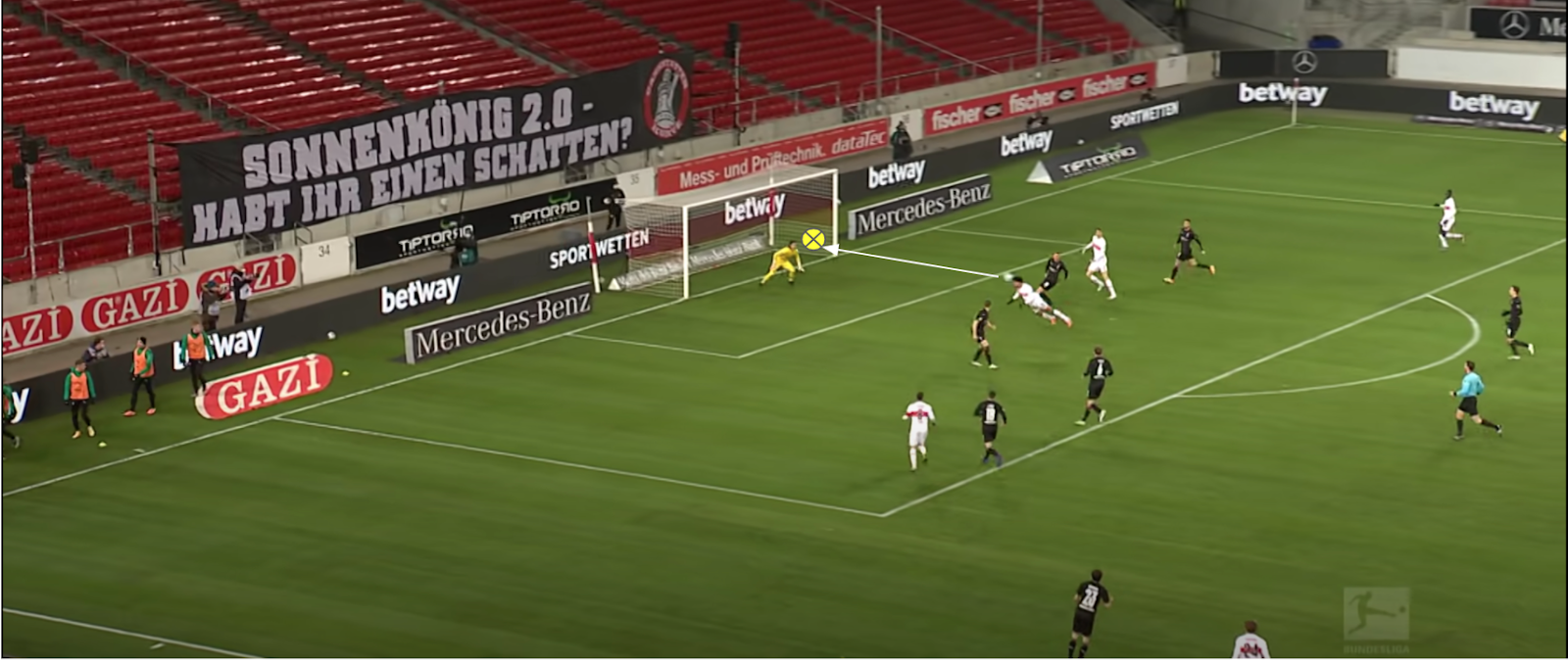 This was on full display against Gladbach this season, when González finished a Sosa cross with a diving header into the bottom right corner.
Perhaps the most influential figure in González's rise has been American manager Pellegrino Matarazzo. Following Mario Gómez's retirement at the end of last season, Matarazzo moved González permanently to center forward, a transition that has worked wonders on González's output in front of goal.
Whilst González is still an impressive winger, playing him through the center has allowed him to get into a higher volume of dangerous opportunities where he can exploit his strengths as an aerial menace and shot creator.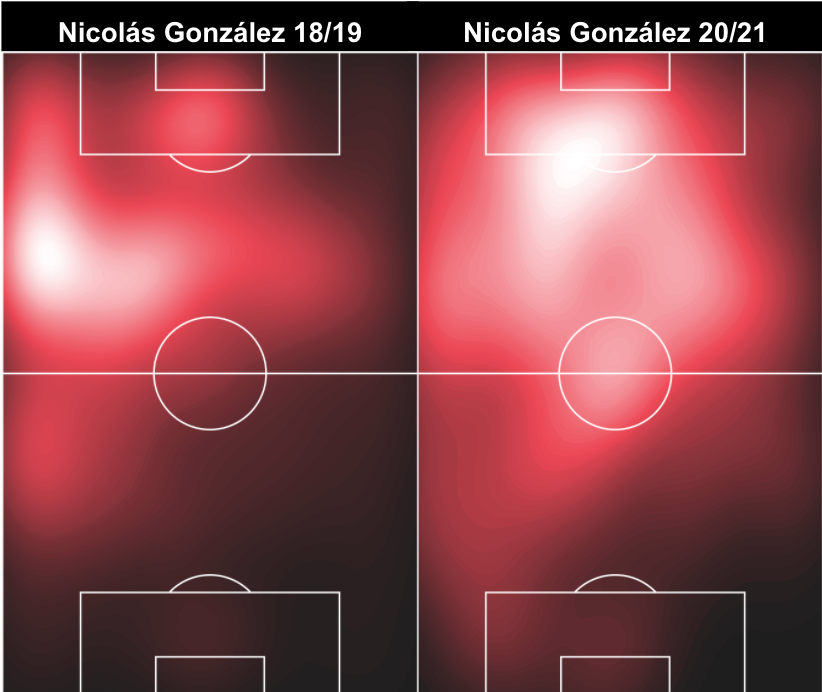 In González's first Bundesliga season he spent most of his minutes on the left flank, far away from areas of the pitch where he could directly cause danger on goal. Under Matarazzo though, González's movements are more inline with a traditional number nine, spending most of the game in and around the opposition box where he is a threat. [Photo: Twenty3/Wyscout]
The only aspect of González's game to have decreased since the 18/19 campaign is his defensive output, making fewer successful ball recoveries, defensive actions, and loose ball duels than in his previous two seasons for Die Schwaben. However, this is not necessarily a sign of González becoming lazy out of possession, still contributing the most defensive actions per 90 of any striker in the Bundesliga who plays in a side averaging more than 50% possession.
Argentinian football should be lucky that a 14-year-old González decided to continue with football. Once a teenager without a hope of playing professional football, González is now headlining a new generation of Argentinians hoping to achieve what Lionel Messi and Co. could not.
With crucial goals in his first two World Cup qualifiers, González is right in line with Lautaro Martinez to lead the line for the national team for the next decade. Though he is just 5 games into his international career, Argentina fans will be hoping they are witnessing the latest Argentinos Juniorss graduate to follow in the footsteps of Diego Maradona. With a golden era of La Albiceleste stars fizzling out without an international honor, perhaps it is Nicolás González who can bring success back to a country starved of a trophy since 1993. 
By: Adam Khan / @XxAdamKhanxX
Featured Image: @GabFoligno / Christian Kaspar-Bartke / Getty Images Sport