Odsonne Edouard: The Final Piece of the Crystal Palace Jigsaw
After links with Brighton, Spurs and even Leicester City, 23-year-old Odsonne Edouard sealed a late £14.67 million move to a new-look Crystal Palace. With a CV including five years spent at PSG & four years at Celtic, Patrick Vieira has certainly acquired a cultured centre forward whose tactical importance is already shining through.
If you're already a fan of Edouard, you likely know about his checkered history. From the day PSG's head scout spotted a 13-year-old Edouard tearing up amateur football, to the time he was suspected of shooting a pedestrian with an airsoft gun from his car window.  
Why the SPFL's Two Best Strikers Can Have a Big Impact in a Top 5 League Next Season
Celtic fans have mixed feelings about Edouard too. Former striker Andy Walker directly called out the Frenchman's attitude last season in their tumultuous SPL campaign. It's a sentiment many Glaswegians resonate with – ferocious talent but questionable attitude.
Often a greediness on the ball, or a lack of workrate. Yet so far in South London, Edouard has attracted nothing but praise. As he showed against Brighton, his compatibility with Palace's cultural transition could not have been a better fit.
The New Palace: Tactical Objectives and Structure
Crystal Palace let go of 11 players in the summer of 2021, all leaving for free. The vacancy in the head coaching role was one Jamie Carragher recently labeled "a good job not to take." The job became even more tainted after Palace's pursuit of Lucien Favre publicly fell to pieces.
That did not put off Patrick Vieira though. With the three-time Premier League winner at the helm, the aim for the recruitment team was optimised; to transition from a counter-attacking side reliant on defensive solidity to a team in Vieira's own words, with "added technical, tactical element".
The work of sporting director Dougie Freedman has been exemplary. The signings of Joachim Andersen, Marc Guehi, Michael Olise and Conor Gallagher (loan) hit the ground running as early as matchday two. However, there was still an issue lurking within the tactical setup. 
At Nice and New York City FC, Patrick Vieira favoured a forward who could not only maintain possession, but effectively regain possession. In New York that was David Villa. In France, Vieira & his staff coached Kasper Dolberg into a forward of that mould.
Upon joining Crystal Palace, Vieira did not have the prototype to instigate his ideal tactical setup. Benteke is great at dropping into channels, to bring high balls down. As already displayed this season though, his ball retention and pressing isn't his strongest trait. With Jean-Philippe Mateta seemingly stuck in limbo too, a forward was still needed going into the last days of the transfer window. 
Palace's revolutionary summer was therefore capped off with the signing of Odsonne Eduoard. There were, and still are doubters, particularly over his transition from Scottish Football and the warning calls of Celtic fans after last season. 
Yet Edouard's performance against Brighton in their 1-1 draw was definitively conclusive. Not only in his impact on the game, but the contrasting negative impact left when Edouard was subbed for Christian Benteke.
Brighton P1: Pressing and Positional intelligence
The A23 derby has surfaced some glorious individual performances in the past. Edouard's may have lacked the star power of a winning goal, but he couldn't have been more integral to Palace's dominance. Vieira set out to dominate possession against a Brighton side who were 4th in the league by that metric. Vieira started Edouard because "he provided a different type of profile to Christian". That could be seen from minute one.
When imagining a pressing forward, it's easy to picture a player charging across the pitch closing down opposition defenders. Edouard was far smarter against Brighton though – he regularly held a position as seen below. His cover shadow continuously blocked passing lanes to multiple Brighton midfielders. This situation occurred 11 minutes in, and led to the ball being played wide.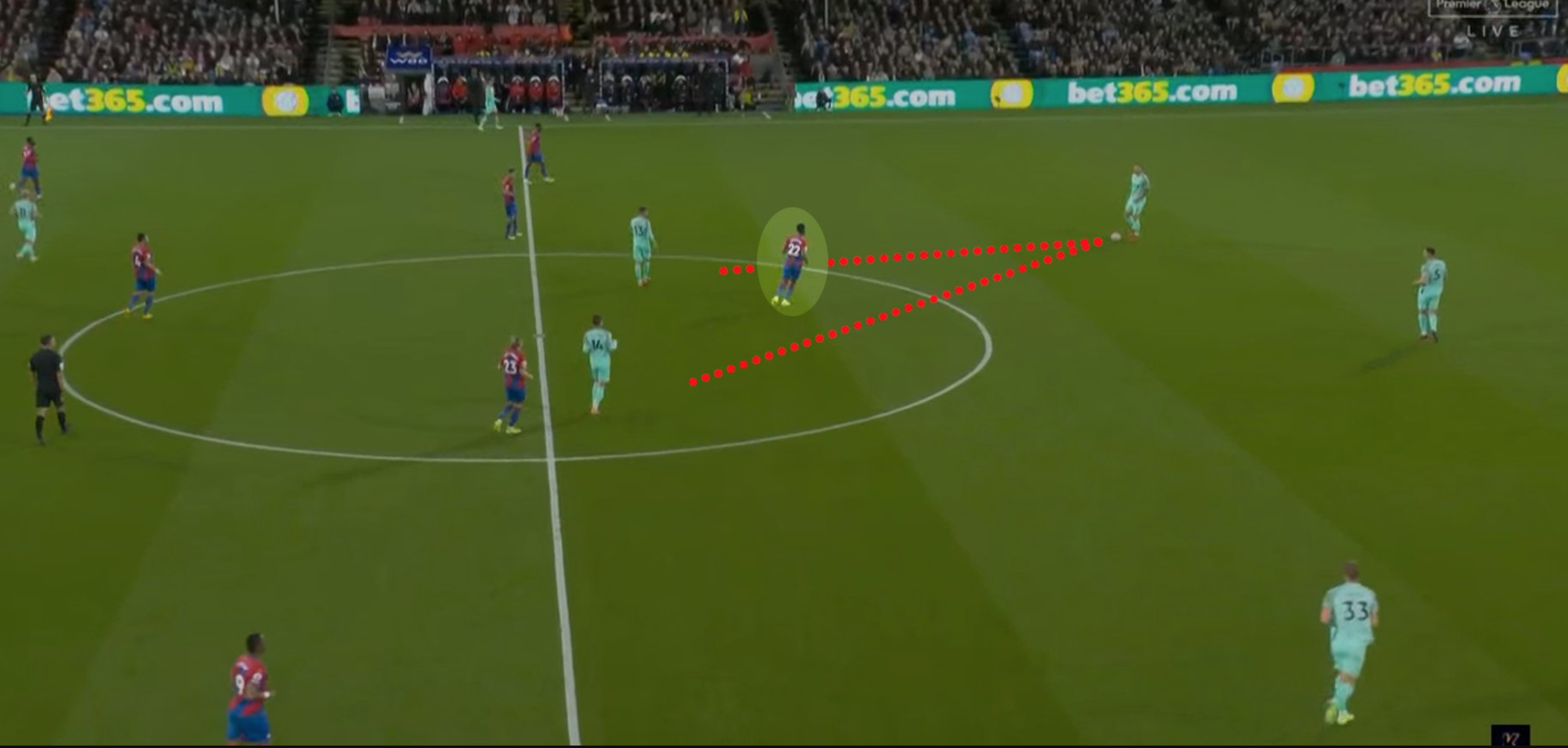 Edouard's self-discipline to stay reserved, and often in line with the midfield, was crucial for Palace. This next situation below occurred 15 minutes into the game and would be repeated throughout; Edouard forming a wall between Brighton's defenders and their midfielders Adam Lallana and Pascal Groß .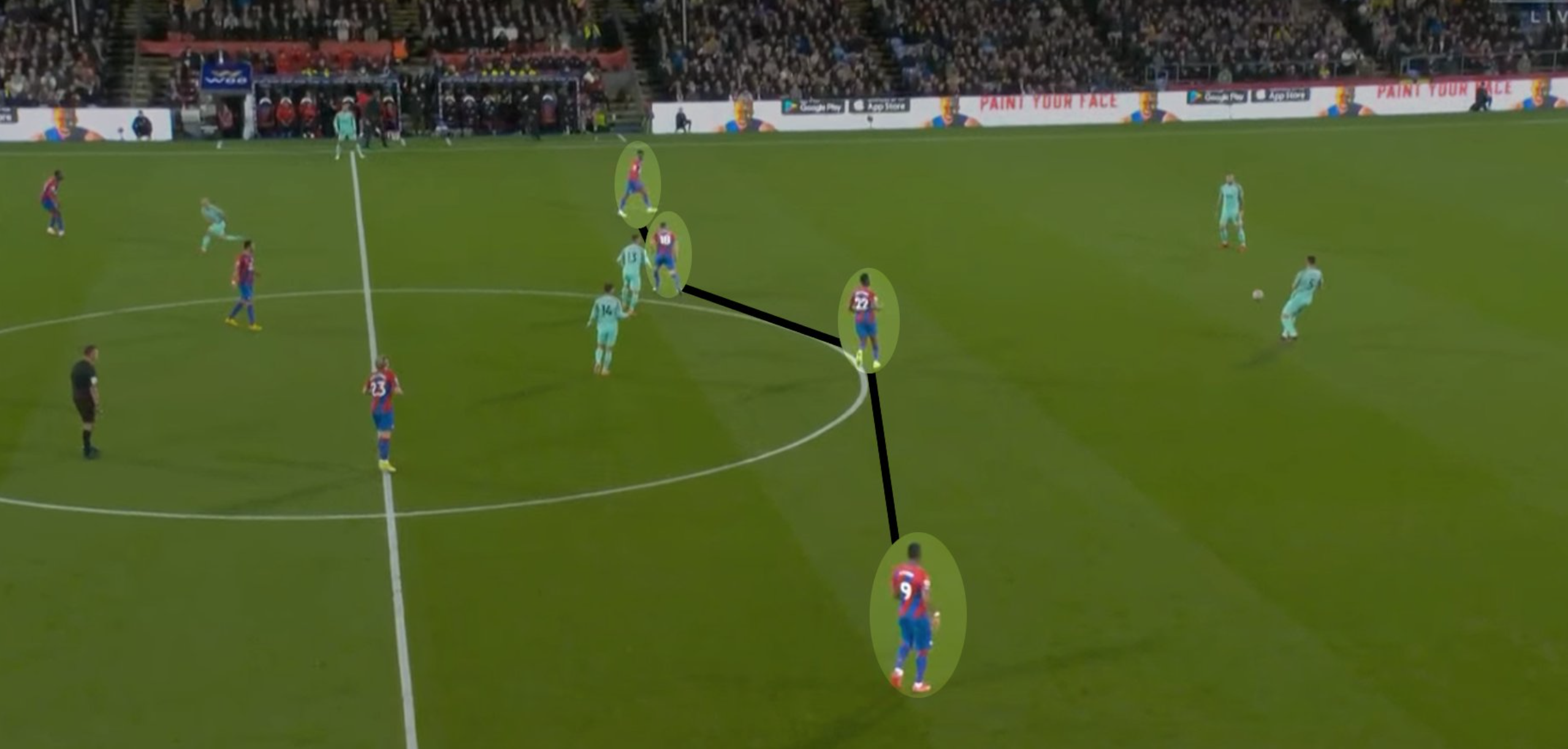 Palace's press and Edouard's positioning forced Brighton to either loop balls down the half-spaces, which usually got intercepted, or play the ball wide, causing intense pressure to the wing-backs in Marc Cucurella and Joel Veltman.
Because of Palace's press, something Edouard enabled, Brighton were forced into turnovers. Before the goal in the 45th minute, the Eagles had 56.8% possession, and Brighton had just 11 touches inside the Palace penalty box. By contrast, Vieira's side had over 50 inside the Seagull's box in the first half. 
Brighton P2: Ball Retention and Progression
Inside his incredibly small sample size of 104 minutes of Premier League football, Edouard is averaging 8.33 progressive passes received p90. It's the exact same stat for Christian Benteke, but Edouard showed against Brighton there was a more focused aim to his play. Here's an example of Luka Milivojevic dropping deep to receive the ball, with limited short-passing options in front of him.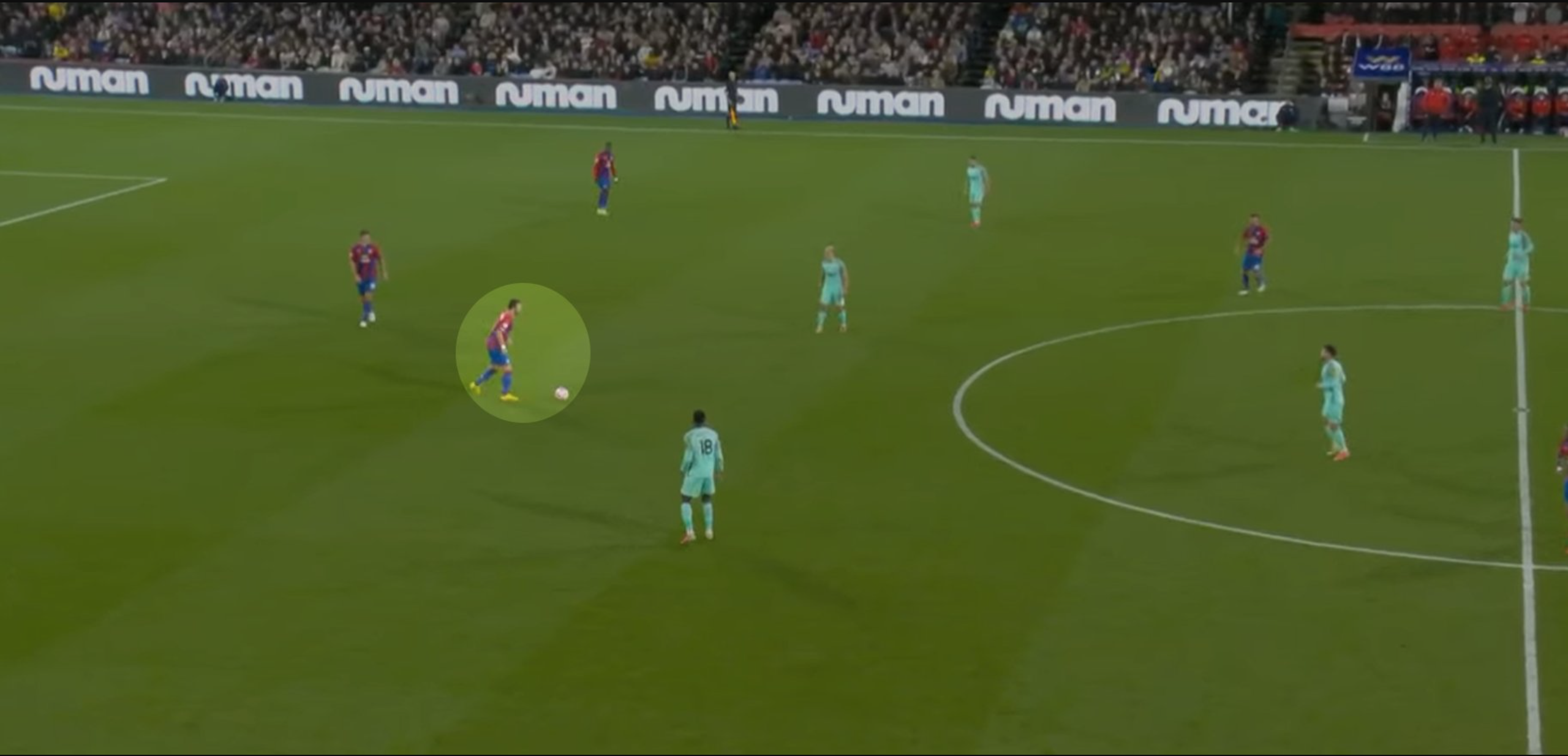 He then makes a great pass into the feet of Edouard, who had dropped off Lewis Dunk to receive the ball. In one touch he laid it to Jordan Ayew, and Palace had pushed up 20 yards within two passes.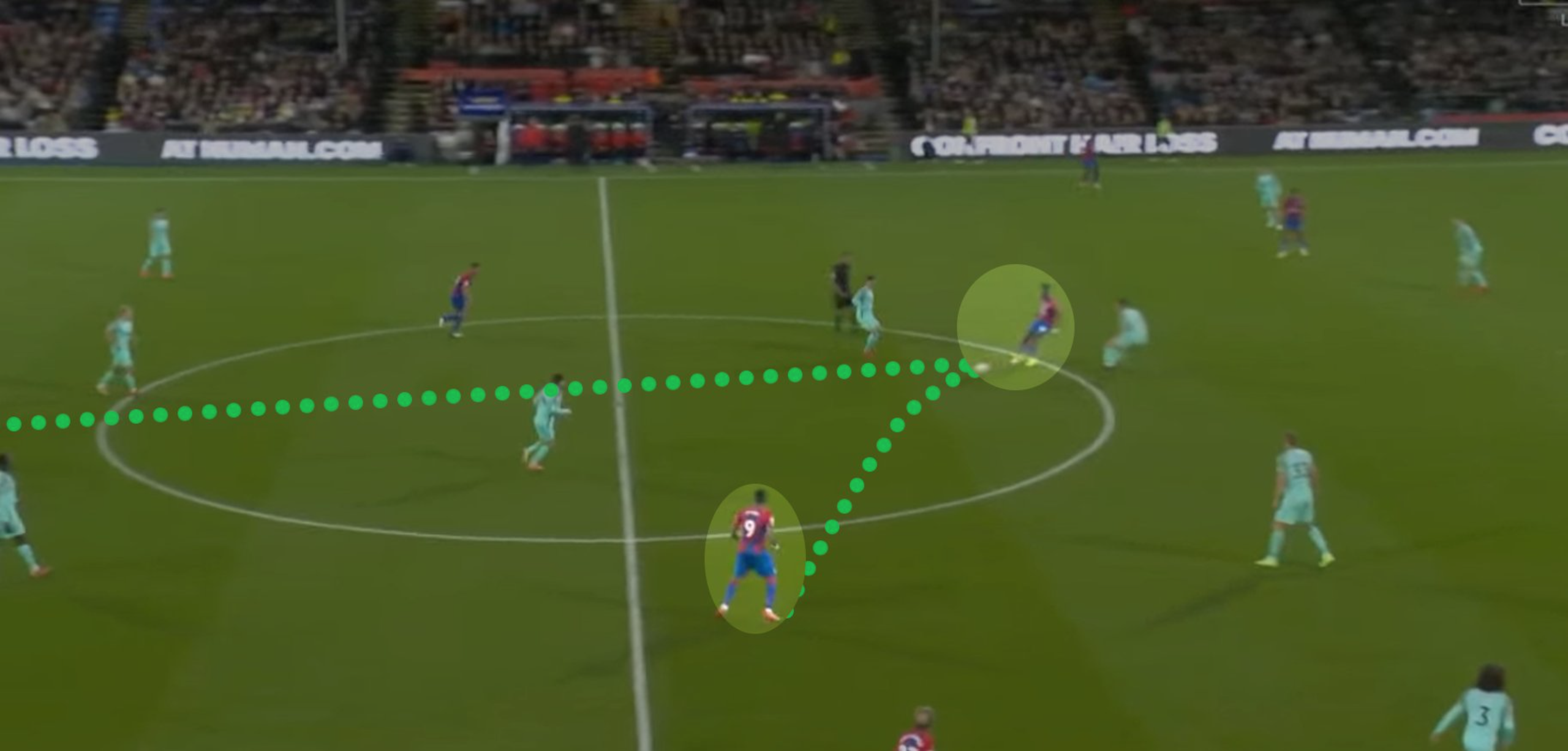 In 70 minutes, Edouard received 4 progressive passes much in the same manner – ground passes fired into his feet before quickly laid off to a teammate. Meanwhile, Benteke received zero progressive passes in the 20 minutes after that. 
Edouard has also completed 78.3% of his 23 passes in Premier League football. Christian Benteke meanwhile, has completed 60% of the 95 he has attempted. It's a comparison that directly hit reality against Brighton, once Edouard was subbed off.
Brighton P3: Edouard's Missing Impact
When Edouard was subbed after 71 minutes, Palace lost control. Benteke is a good striker, who provides far more of a physical presence than Edouard and most players in Europe. There was even a point where Benteke laid off Ayew for a potential knockout-punch goal, only for Ayew to blast wide. Tactically however, Benteke was simply less effective than Edouard.
Take the moments leading up to the Ayew chance. It leads from a Cucurella misplaced pass, which arrived after Benteke casually gave away possession. He received a throw-in, and despite other options, opted to turn and volley the ball away.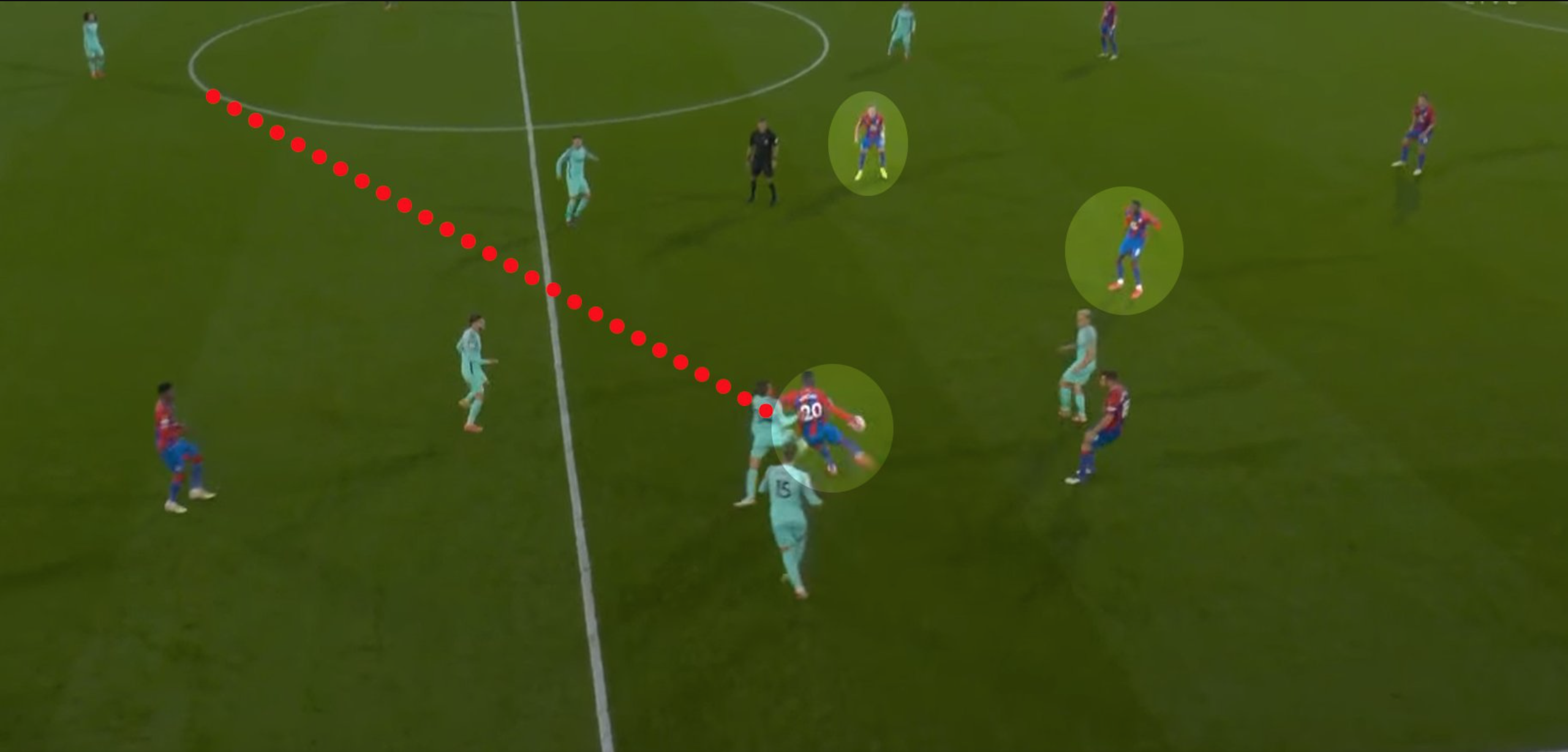 A more frustrating moment came in the 86th minute. Brighton had been forced back well but were allowed to escape pressure below. Despite Zaha still rigorously pressing, Benteke's position meant he was neither causing issues to Lallana or Dunk. This allowed Brighton to eventually play out of the back.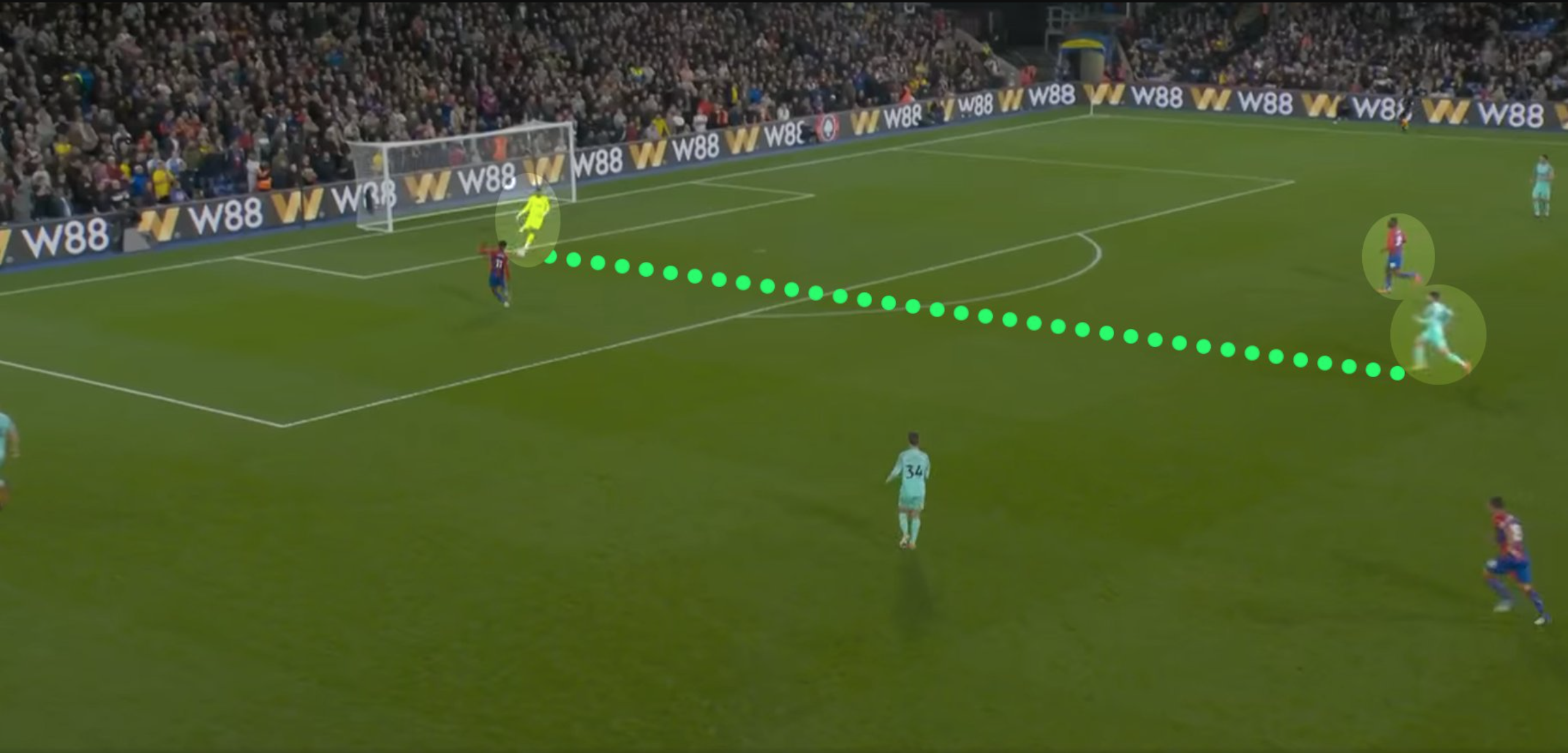 It's in this scenario in the first half where Edouard either covered the central passing lane, or applied more pressure on the keeper. Despite having more energy than most of his teammates, Benteke provided relatively little in direct pressing, or in smart positioning. His cover shadow wasn't nearly as blanketing as Edouard's.
Palace as a whole defended robustly throughout the second half, and the last-minute goal from Neal Maupay felt undeserved to a degree. While Benteke was not awful, these micro-differences between him and Edouard show exactly why the Frenchman was originally needed at Selhurst Park.  
Vieira has said Edouard has been training very well, and we can only hope this positive trend continues. The spine-breaking pressure of the atmosphere under Frank de Boer has so far been successfully avoided. The last thing needed is an unnecessary distraction. If Edouard can learn from his last season in Celtic and keep up this early self-discipline, then Palace are in for a fantastic season.
By: Alex Barker / @EuroExpert_
Featured Image: @GabFoligno / Rob Newell – CameraSport