Player Analysis: Abdallah Sima
Two developments have sparked some well-needed life into Czech football this season: That Tomáš Souček has surpassed expectations since signing for West Ham United last summer for €21 million, and the sudden rise of 19-year-old Senegalese striker Abdallah Sima, who has now scored seven league goals in just nine appearances for first-placed Slavia Prague, taking him up to second place in the Czech First League's goalscoring table.
After progressing through the Thonon Évian youth system in France, in early 2020 he signed from Czech second-league outfit MAS Táborsko before months later, in July 2020, moving to Slavia to play in their B-side. When the Czech First League began in late August, he was promoted to the first team after excelling in pre-season. Yet there was almost no hype ahead of his first appearance in the league, coming on as a sub on matchday 5 in September before his debut in the starting eleven in November.
But two months is a long time in football. At the beginning of the winter transfer window, Sima was linked to a move to West Ham United, who last summer bought two key Slavia players, Souček and Vladimír Coufal. Interest was apparently also shown by Arsenal and several Italian sides. At one point in December, he became one of the most sought-after footballers in the world on Transfermarkt website. However, a transfer during this window now appears to have stalled, with clubs seemingly waiting until the summer.
Waiting would be the sensible option, although rumors suggest Sima (who is under contract until 2023 and has recently had his wages bumped up to reflect his place in Slavia's first team) is keen on a move to one of Europe's bigger leagues. He reportedly has learned English this year but not Czech, either a sign of how difficult the local language is to comprehend or Sima's intentions not to stay in the Czech Republic for very long.
His main breakthrough came in early December with two goals against derby rivals Sparta Prague – one a header from a corner; the other a well-placed strike after finding space between the centre-back and full-back. He then scored another brace against usually top-three side FC Slovan Liberec in the following game, again a header from a corner and the other from a tapped-in cross.
Comparisons have been made to "Thierry Henry," a cliche rarely propitious for the up-and-comer. But just as Henry took several seasons after his move to Arsenal to discover his best position, questions have been raised about Sima's position. He has shown himself a proven goal-scorer in the Czech league, with the majority of his goals this season having been headers, denoting his size, strength, and positioning to startle centre-backs.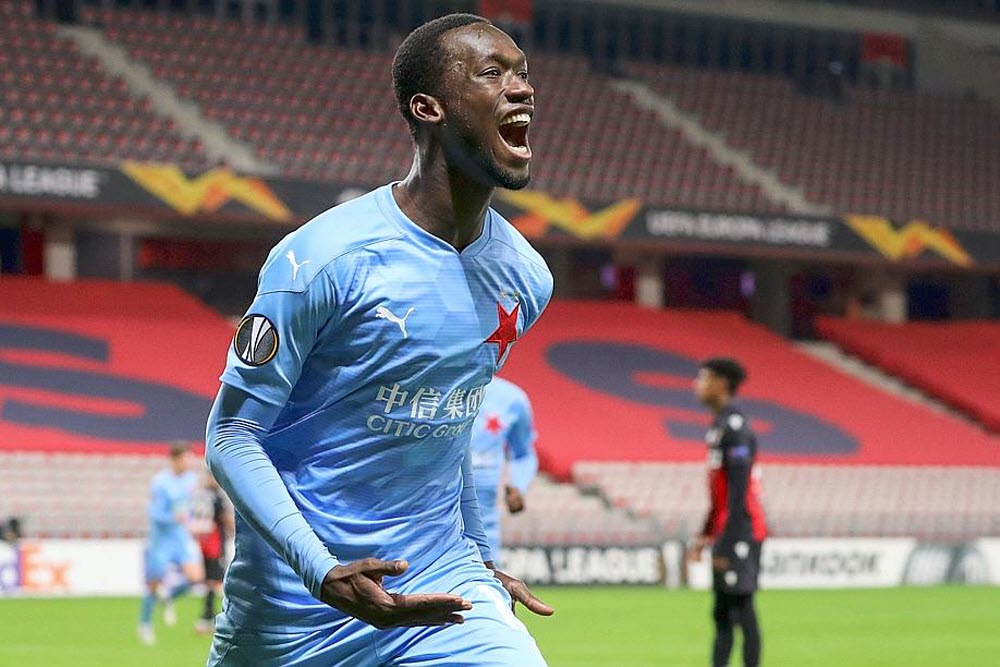 Photo: Valery Hache / AFP via Getty Images
But he's mostly been played as a right-winger in a 4-1-4-1 formation, although in which he often plays very narrow. In Slavia's recent 3-1 victory over Sigma Olomouc, the third goal was created by Sima's cutting run from the wing, although a tap from another player denied him an assist. He currently only has one official assist. And, importantly, he hasn't yet been tested as the sole centre-forward in a 4-3-3, the preferred formation in Europe's bigger leagues.
There's also the question mark over whether Sima's form could be replicated in another league and when he is not playing for easily the best side. Slavia have been champions the last two seasons and are the only team in the Czech First League with a wealthy, foreign owner, Chinese firms Sinobo Group and CITIC Group.
They are now six points clear of second-placed FK Jablonec with a game in hand, at time of writing, and are undefeated this season, having drawn just two of their 14 games and scoring 39 goals whilst only conceding five. And they've had more possession than any other side this season (60.7% on average) and more shots on goal (215).
Despite these caveats, there's no doubting Sima's ability. He has the speed, strength, positional awareness and seemingly the personal drive necessary for the modern-day striker. He's capable of darting dribbles and finding space within the box, particularly between centre-backs and full-backs. His link-up play is first-rate.
That said, his reputation has been somewhat inflated by his miraculous arrival in Czech football this season, his flair in a league known for its more functional style of football, and the departure of many of the league's best talents last summer. He has improvements to make, especially in shooting accuracy (just 43.8% this season).
Gossip in the Czech newspapers would suggest he's staying put until the end of the season. One could presume, then, that competition from other European clubs to sign him will intensify come the summer, if he can continue his form for the rest of the season.
By: David Hutt
 Featured Image: @GabFoligno / Pavel Mazáč – Sport