Player Analysis: Alessandro Bastoni
From Gaetano Scirea to Franco Baresi, from Paolo Maldini to Giuseppe Bergomi, from Alessandro Nesta to Fabio Cannavaro, Italy has been blessed with a long line of world-class defenders over the years, and the latest examples in this list are Giorgio Chiellini and Leonardo Bonucci.
To paraphrase the words of Tottenham Hotspur manager José Mourinho, the two Juventus players 'should give classes at Harvard to teach players how to defend.' However, with Bonucci turning 34 next May, and with Chiellini, 36, coming off a season in which he played just four matches after rupturing his anterior cruciate ligament in August, it appears that next summer's Euros will be the final tournament in which the two legendary center backs start alongside each other for the Azzurri.
As such, Italy manager Roberto Mancini must find a new pair of center backs sooner rather than later. One player who seems guaranteed a starting spot is Milan captain Alessio Romagnoli, who, at 25, has established himself as one of the best center backs in Serie A. There is a laundry list of players who could start alongside Romagnoli in defense, from Juventus's Daniele Rugani to Lazio's Francesco Acerbi to Torino's Armando Izzo. However, it seems the player best positioned to step up into a starting role is Alessandro Bastoni.
After ascending through the ranks of Atalanta's academy, Bastoni made his Serie A debut in a 1-0 win against Sampdoria, playing the full 90 minutes for Gian Piero Gasperini's side. Bastoni made just two substitute appearances against Udinese and Inter over the next six months, before Inter purchased the then 18-year-old for €31 million.
The two Serie A sides had originally agreed for Bastoni to remain at La Dea for the following two seasons, but after struggling for minutes behind Mattia Caladara, Rafael Tolói, Andrea Masiello, Gianluca Mancini and José Luis Palomino, Inter cut Bastoni's loan short in the summer of 2018, before loaning him to Parma.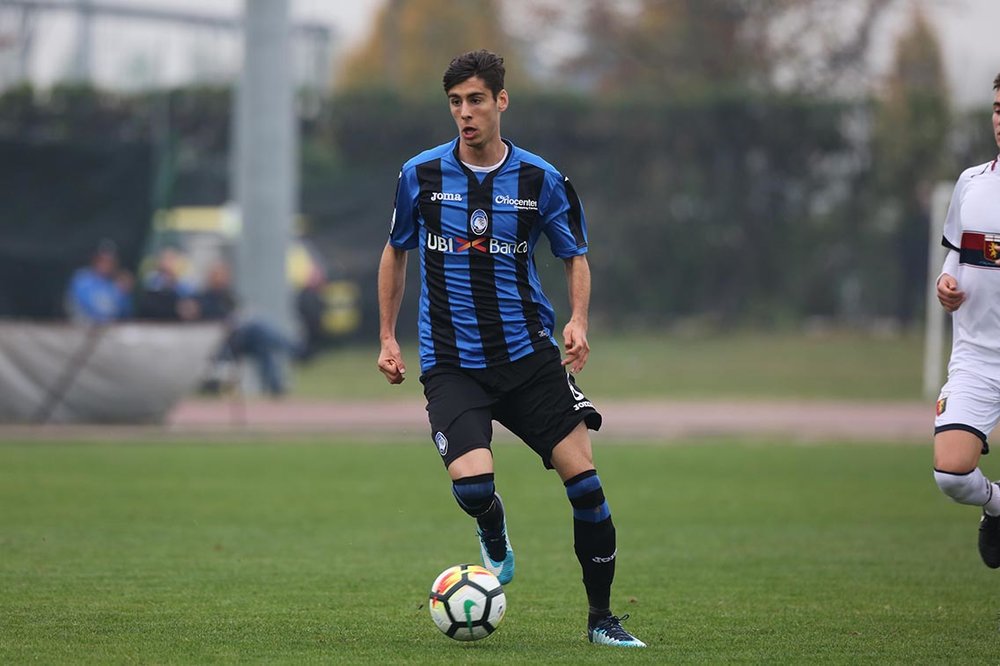 Photo: Alberto Mariani / SILPRESS
Bastoni ascended through the pecking order of manager Roberto D'Aversa, becoming a regular starter in November alongside Portuguese veteran Bruno Alves, mainly playing in a back four but occasionally deputizing on the left side of a back three.
Upon his arrival in Milan this summer, Bastoni was expected to go out on loan again, with Inter's board looking to loan him out again for experience. Nevertheless, manager Antonio Conte only needed a few training sessions during preseason to realize that Bastoni was ready to play an important role for Inter.
As the only left-footed defender in the roster, Bastoni has eventually become a starter for Inter, typically playing on the left side of the back three alongside Diego Godín and Stefan de Vrij. He has not only played 1,922 minutes in Serie A this season; he has also played a titular role in Inter's run to the Europa League Final, churning out impressive performances against Getafe, Bayer Leverkusen and Shakhtar, before losing the Final to Sevilla.
It has been quite the meteoric rise for a player who logged just 87 minutes in Serie A in 2017/18 season. However, despite being starved of first-team action at Atalanta, Bastoni learned the skills under Gasperini that have seen him bench Milan Škriniar and become one of the biggest revelations in Italy this season.
He refined his 1v1 defensive skills, and he improved his timing and aggression, allowing him to anticipate opponents high up the pitch and spring a counter-attack into action. He improved his play-making both in terms of short and long passes, and it has become commonplace to see him break several lines of pressure before picking out a player in space on the right wing.
It should come as no surprise that his role model is Sergio Ramos; similarly to Ramos, Bastoni excels at both dealing with counterattacks as well as launching counters with his passing, the epitome of a modern defender.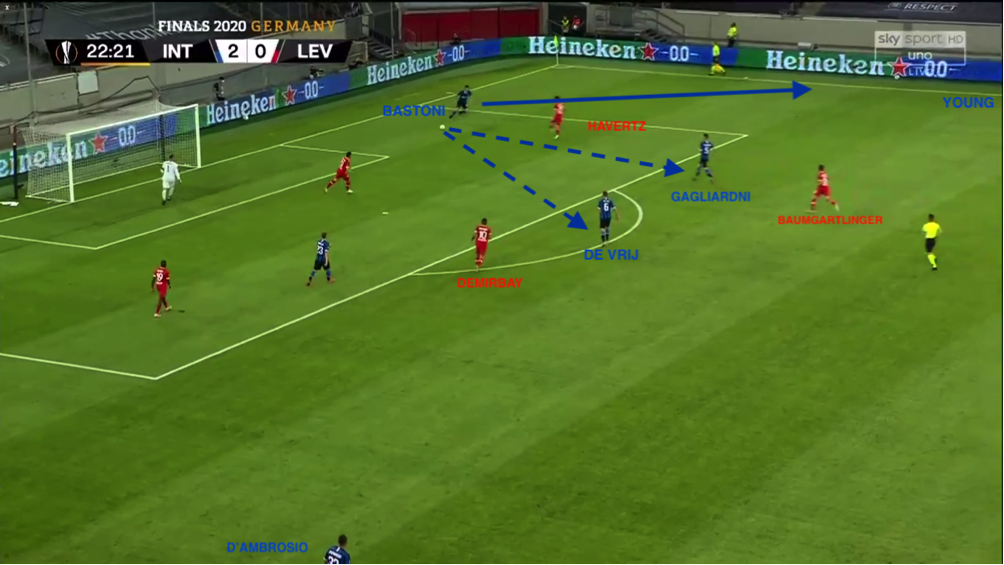 Just like Real Madrid's legendary captain, Bastoni loves to take responsibility with the ball on his feet. In the image above against Bayer Leverkusen, he receives a ball deep in his own penalty box from goalkeeper Samir Handanović. Despite being closed down by Kai Havertz, he doesn't lose control or composure; instead of launching a long ball towards the halfway line, hoping that Romelu Lukaku will somehow control it, he puts his body in a position where he can see as many lines as possible.
In the fraction of a second, he realizes that he can't count on Roberto Gagliardini to recycle possession as Julian Baumgartlinger aggressively presses the Italian midfielder. He also knows he can't give the ball back to Handanović, who is tightly marked by Moussa Diaby and Kevin Volland, and he can't force the play towards De Vrij, who is being monitored by Kerem Demirbay. The only safe choice is Ashley Young, who is retreating down the left flank to offer him a passing option. Despite Havertz breathing down his neck, Bastoni calmly finds the ex Manchester United captain with a lovely pass.
The above scenario is a perfect example of how much Bastoni has absorbed his manager's principles. Conte always obliges his defenders to take risks on the ball, to attract the pressing from the opponents in order to create spaces in attack. Bastoni delivers exactly what his coach asks, and the stats confirm it as he has ended the Serie A season with the 87.1% passing accuracy in over 2,065 passes attempted.
If he can't play a short pass, he's not afraid either to try a long pass, as he did in the Europa League Round of 16 against Getafe. In the 33rd minute, Bastoni broke several lines of pressure by playing an inch-perfect pass into Lukaku, who outmuscled Xabier Etxeita to slot in the opener. Nevertheless, this is an area that he can, and will, improve in, as he finished the season with just 54.1% accuracy in his long balls.
Bastoni's involvement in the build-up is not only restricted to these two factors, as he can also drive the ball up the field with his dribbles, something he learned at Atalanta where it's not uncommon for defenders to advance forward into the opposing half, and he knows exactly when to change position, shifting out wide to stop an onrushing winger or to provide spacing for a midfielder who drops to the defensive line to collect the ball.
On the defensive side, Bastoni shows the same kind of energy and intensity. He's the type of the defender who loves to defend by moving forward and who can eliminate a counterattack when it is still in its embryonic stages. In the example below, rather than running back to cover the space in behind, he steps up to steal the ball off Sofyan Amrabat, killing Hellas Verona's counterattack just seconds after it started.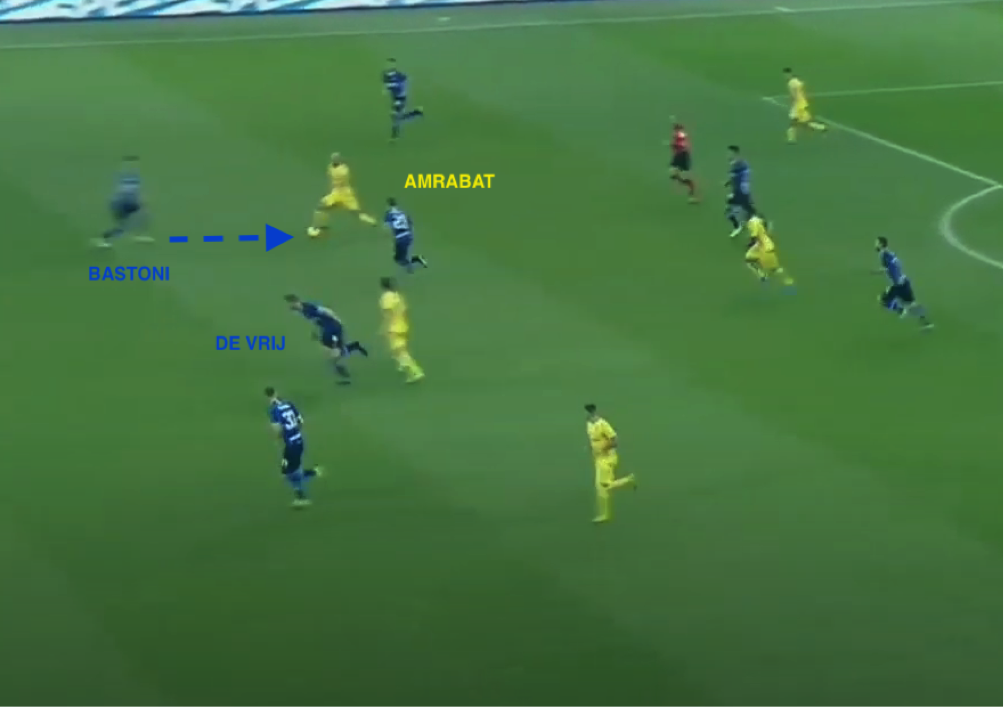 Just like Škriniar, Bastoni is not afraid to use his body to put pressure on the opposing striker. Thanks to his long legs (he stands 6'3"), when he's involved in a 1v1 situation, he can put in a tackle when the opponent is least expecting it.
There are certain things that Bastoni must improve on if he is to hold onto his starting spot at Inter and push for a first-team role for Italy. He isn't the fastest, which can cause his team problems when defending a high line, as he doesn't have the lightning pace to recover and beat his opponent in a foot race. In order to compensate for his lack of speed, he must improve when it comes to his positional awareness, namely, marking his opponent and following blind-side movements.
In the example below against Torino, he's too focused on reading Ola Aina's cross and instructing Gagliardini to cover Bremer's movement that he doesn't pay attention to Andrea Belotti's run in behind. Belotti latches onto Aina's cross, only for his header to go out for a corner after Handanović makes a miraculous save.
Indeed, Conte has spoken of the need for Bastoni to make the step up both physically and mentally. "He has personality, he plays the ball just as I want, but he needs to become much tougher because he's a defender first and foremost. When he'll do that, he'll become a great player."
It remains to be seen whether or not he will be included in the Azzurri squad for next summer's Euros, but if he keeps improving at this rate, he'll be one of the first names on the team sheet in the 2022 FIFA World Cup. By the time the ball kicks off in Qatar, Chiellini will be 38, Bonucci 35, Acerbi, 34. Bastoni, on the other hand, will be 23, and he might just be ready to announce himself as the next addition in Italy's laundry list of elite central defenders.
By: Andrea Agostinelli
Featured Image: @GabFoligno / Claudio Villa / Inter