Simone Inzaghi's 3-5-2: Inter Milan 2021/22 Tactical Analysis
In just six months, Simone Inzaghi has turned Antonio Conte's defensive dynasty into one of Europe's most attacking outfits.
Known for their lethal counter-attacks, Inzaghi has evolved Inter Milan into a possession-based, attacking unit, placing their side amongst the most exciting teams to watch this season and giving Inter a four-point lead atop Serie A (with a game in hand on Milan and Napoli). But just what makes Simone Inzaghi's 3-5-2 a cut above the rest?
System Mechanics
Despite having a back-3 on paper (A), Inzaghi uses a makeshift back-4 (B) in order to progress play.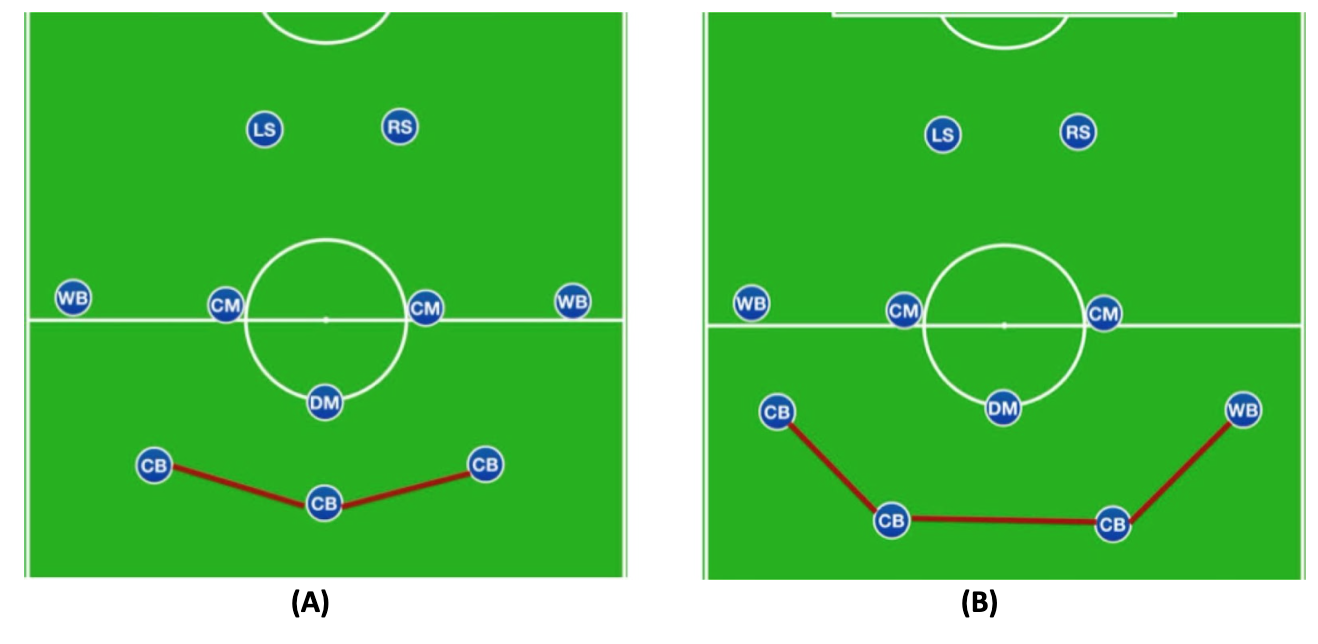 Here, he implements a staggered 2-3-3-2 structure (C) to combat the opposition's press with quick, vertical progression of play (D).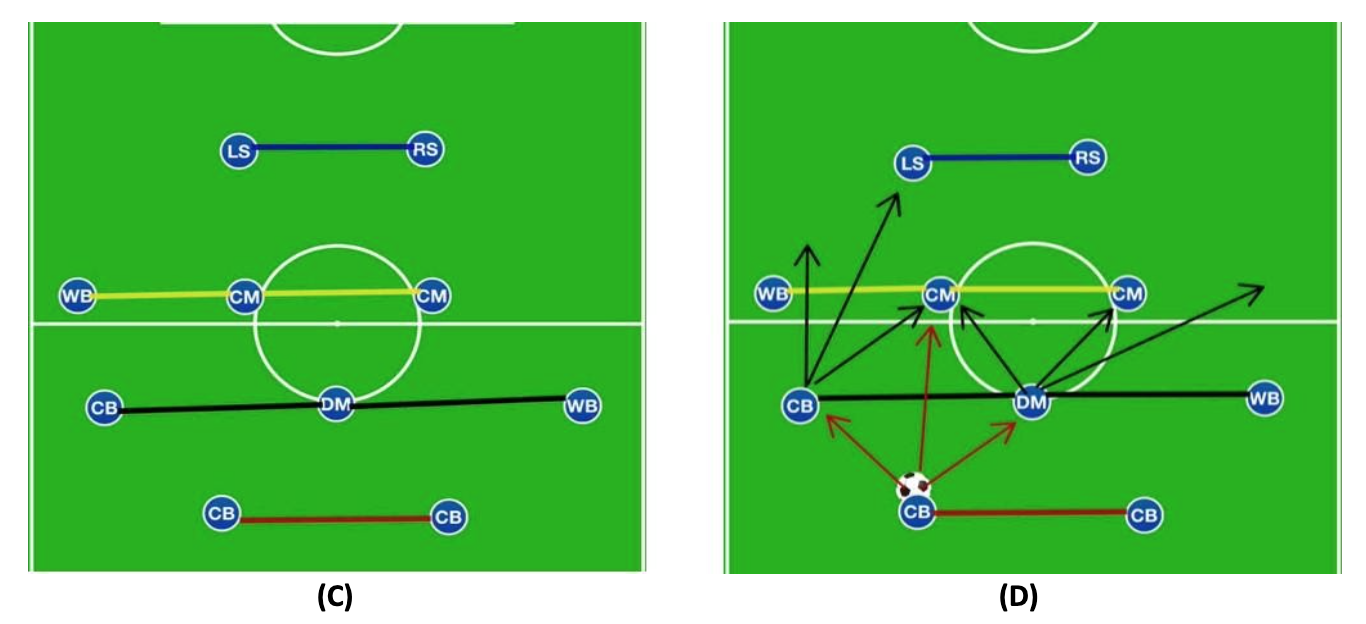 Since opposing teams usually press with central-overloads (E), attacks usually begin from wide areas through Inter's wide CB as such. Here, the wide CB operates as a fullback, allowing the WB to advance forward into winger-like positions as a result (F).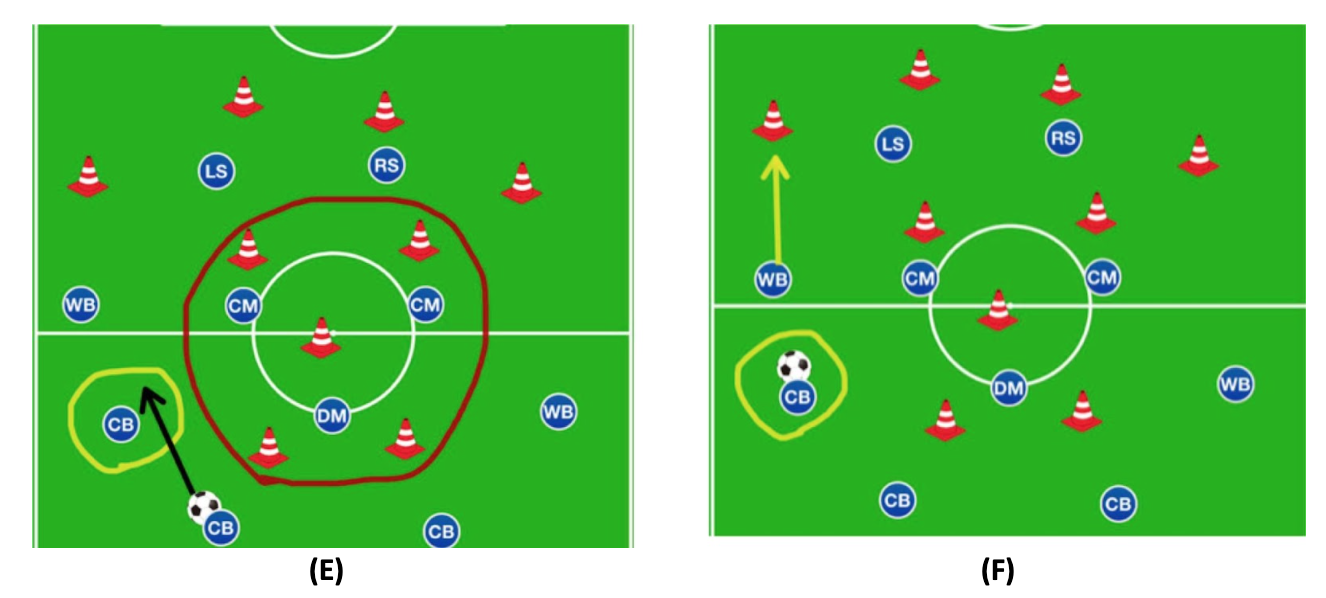 As the ball progresses, Inter's CM and ST join the fold, creating a wide overload as such in attack (G).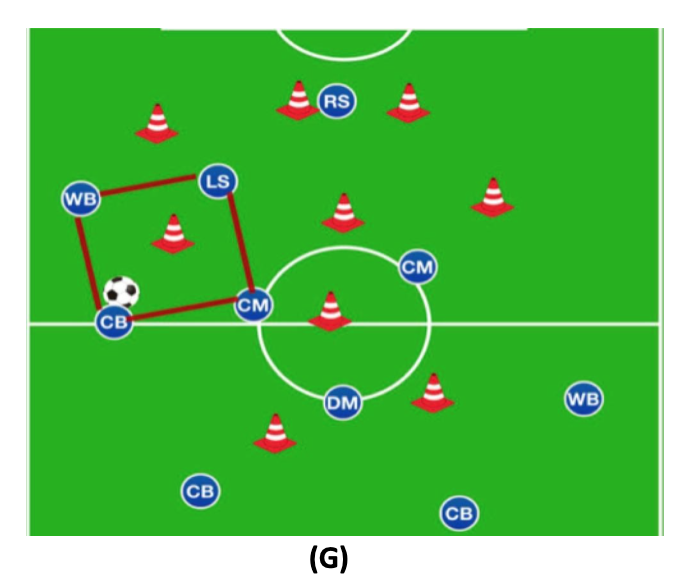 Within this structure, Inter uses a "total football" approach. Here, "every outfield player is able to play in any position as required during the course of the game", making Inzaghi's men near impossible to mark/close down.
The following are examples of such rotations (H-J), whereby the structure of Inter's build-up remains constant, despite alternating personnel.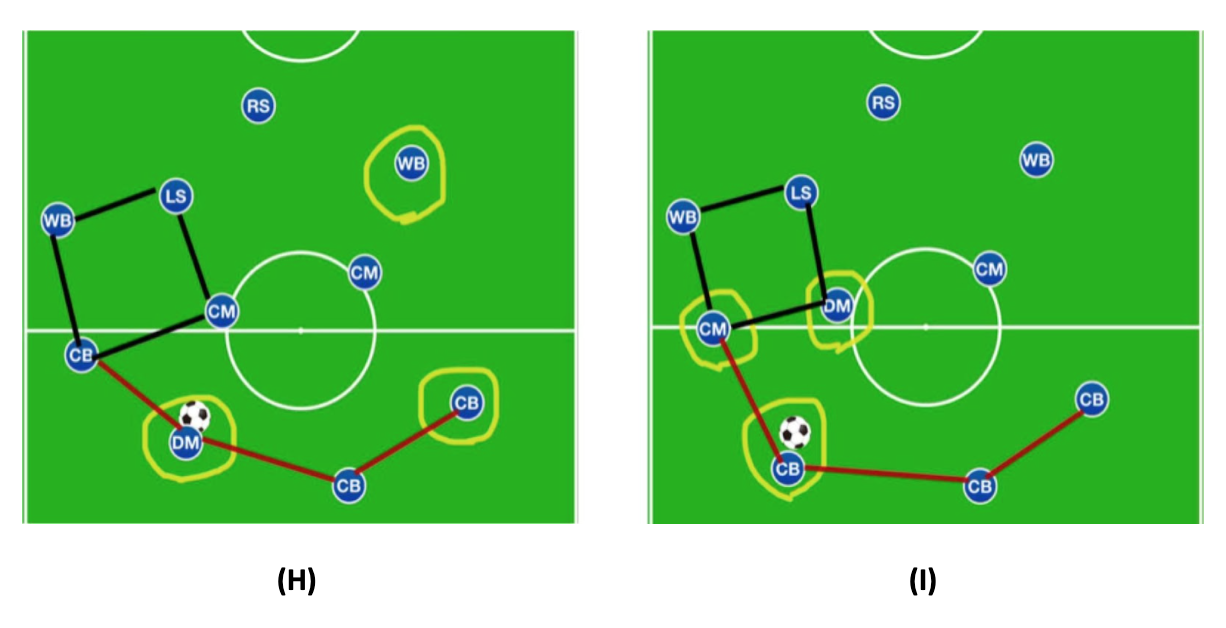 Upon reaching the final third, Inter's wide overload acts as a divergent launch-point for attacks in behind. Here, Inter penetrates the following 3 blocks/areas (K) alternately as follows: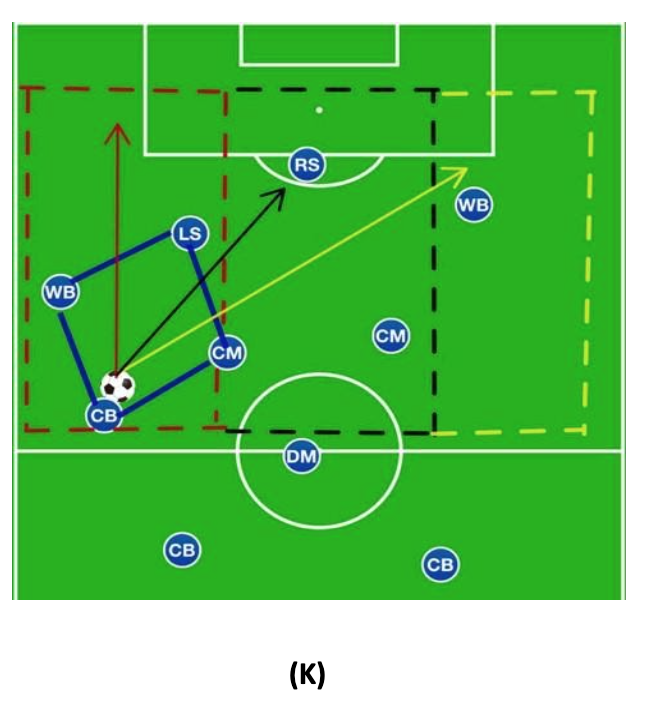 Block 1: Players within the wide-overload rotate/combine in order to:
Get in behind and

send horizontal crosses into the box

(L)

.

Create space and

send diagonal crosses into the box

(M)

.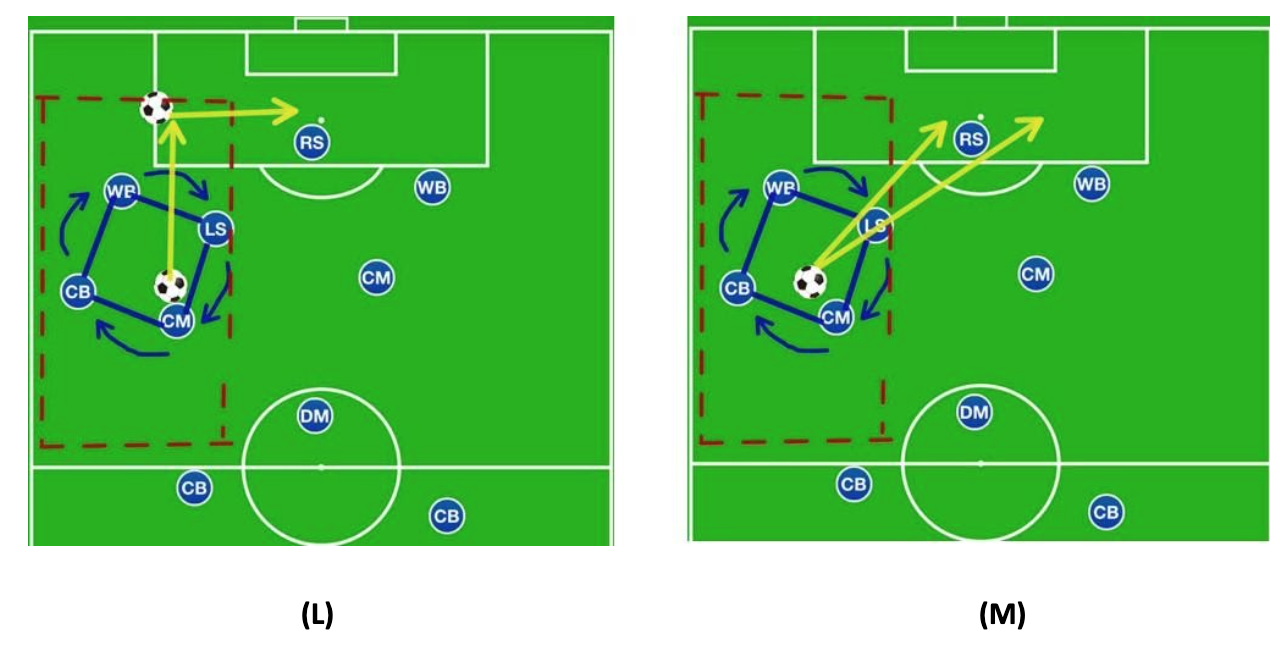 Block 2: Players overload/combine centrally, creating space out wide for runs in behind, typically by Inter's attacking WBs (N).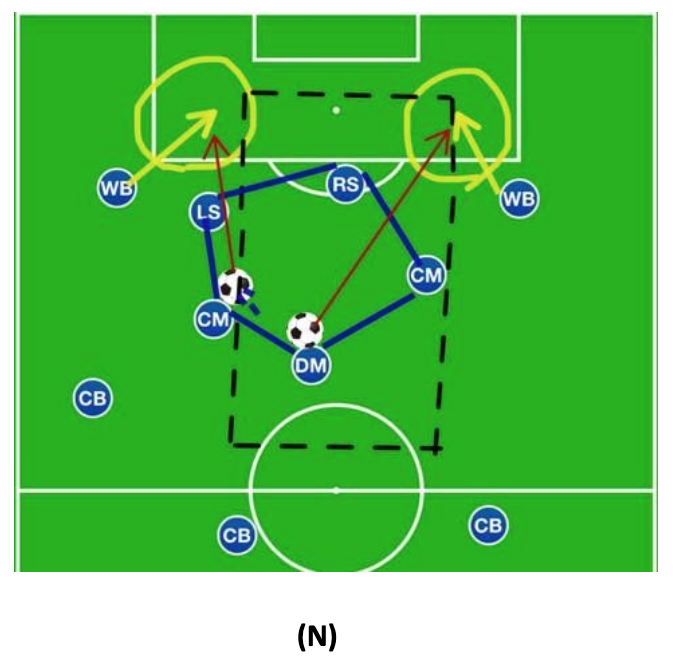 Block 3: The opposite WB keeps the width of attack, allowing for the switch of play to be on (O).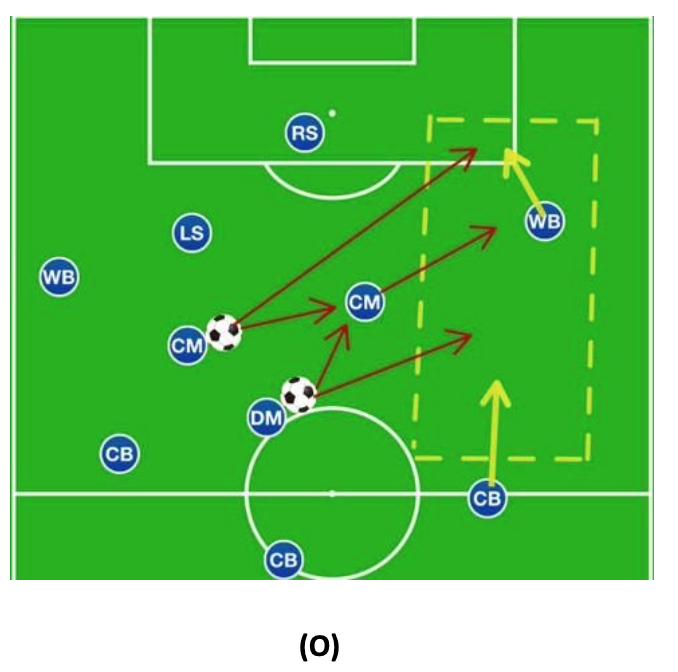 Overall, these are the tactical mechanisms of Inter's attack. However, this only tells half the story, what are the aspects that really bring this structure to life?
Behind the Tactics
A tactical structure sets the stage for action, however, it is the energy and approach within the stage that makes the performance.
A staple of Inzaghi's Inter this season has been their team's great intensity on and off the ball. However, how does this intensity match his system's mechanics previously illustrated?
As opposed to other possession-based teams, Inzaghi's men are not one to "patiently build play" or keep the ball for the sake of it. Their intent is to completely dominate and tear apart the opposition, as opposed to solely "controlling" the game.
Here, Inzaghi's men are quick, direct and decisive both in build-up and attack. Even from his Lazio days, Inzaghi's philosophy has always been one of getting the ball from defense to midfield to attack as quickly as possible, in order to maximize chance creation.
This, together with Inzaghi's "total football" approach, makes his team one of the most exciting to watch in Europe. However, this does not come without a price.
The price of direct, vertical football with incredible positional rotation and great numbers forward, is the eventual risk of leaving your defense exposed.
For this reason, it is absolutely crucial that upon losing the ball, Inzaghi's men press as aggressively as possible in order to slow down/stop potential counters. This constant intensity in attack and defense is what sets Inter apart from the rest, making them a nightmare to play against.
One final aspect which makes Inzaghi special is his ability to get the best out of his personnel, within the realms of his system.
For example, let's think about Inter's wide overload diamond (image G): despite the principles within the overload remaining constant, the manner in which operations are done differs from side to side (depending on personnel's individual qualities).
For instance, within the diamond, Alessandro Bastoni (LCB) is given a more advanced/overlapping role where he can run in behind and find crosses into the box from wide areas.
This is opposed to Milan Skriniar (RCB) who plays a more inverted/underlapping role alongside central midfield in a more ball-playing capacity. On that same end, since Bastoni is allowed to act as a traditional fullback, Ivan Perisic (LWB) is allowed to act as a wide winger instead, the role he is most suited to. 
Additionally, since Skriniar takes up right-midfield positions, Nicolo Barella (RCM) is allowed more freedom to get forward and run in behind.
This is in contrast to Hakan Calhanoglu (LCM), who plays a more ball-playing role, with vertical passes and diagonal crosses. These are just some examples of the tweaks Inzaghi has made in order to get the best of his players, within his philosophy. 

Conclusion
With that, these are the mechanisms that have made Inter Milan one of the most lethal attacking teams in Europe this season. A great testament to both Simone Inzaghi and his players, who together have created something special in just a matter of months.
By: Ryan Gunness
Featured Image: Giuseppe Bellini / Getty Images