Player Analysis: Alex Telles
Manchester United have completed the signing of Alex Telles from Porto for €15 million + €3 million in add-ons. The 27-year-old Brazilian is set to join the Red Devils on a 5-year contract, where he will look to push Luke Shaw for the starting left back spot at Old Trafford. In this analysis, I will discuss the reasons why United decided to buy him to fill their left back problem.
Physical Profile and Heat Map
Alex Telles stands at 1.8 m (5'11) and weights 157 lbs. While he often struggles to get past his man in 1v1 situations due to his relative lack of pace, Telles is physically strong so he isn't necessarily bullied by opposing right backs or opposing right wingers. He also has impressive recovery pace which helps him cope in defensive transitions. 
His height, combined with his good vertical leap, has helped him to win 61% of his aerial duels in Liga NOS and 69% of his aerial duels in Europe over the past two seasons.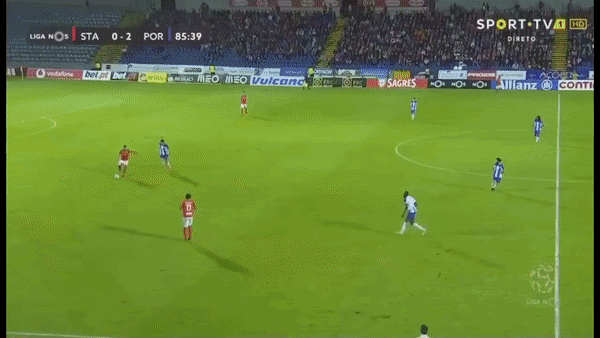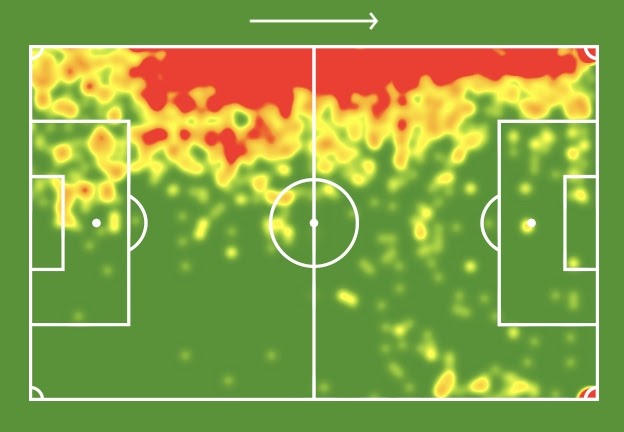 Telles is constantly involved in advanced positions and is eager to come inside to receive and link up with his teammates.
End Product in the Final Third
Between the 2018/19 season and the 2020/21 season, Telles has registered a combined total of 39 goals and assists in 7,236 minutes in the league and European competitions. Out of those 39 goal contributions, only 10 came from open play (5 goals and 5 assists), as most of them were from set-piece situations.
While his end product is exaggerated due to his dead ball scenarios, he does have an impressive long shot that can help his team break down deep blocks, as depicted below in a Champions League group stage match against Monaco.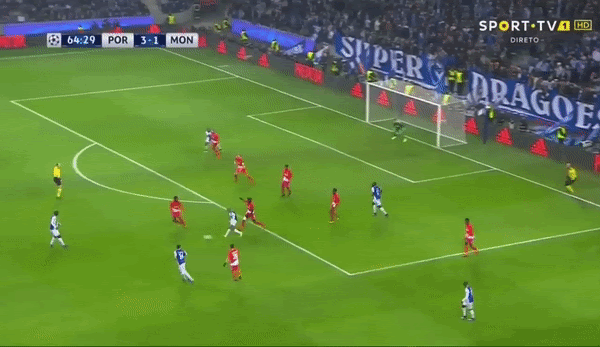 Out of Possession
While Telles has earned a move to United thanks to his attacking end product, his defensive struggles cannot be ignored. Although he can read the game well and often steps off his line to cut off a passing lane, he often prefers to stay deep and elect not to put pressure on the ball carrier.
He isn't the strongest 1v1 defender, and instead of stepping in with an aggressive tackle, he prefers to bide his time and delay the attacker before blocking the pass or guiding his opponent out of a dangerous area.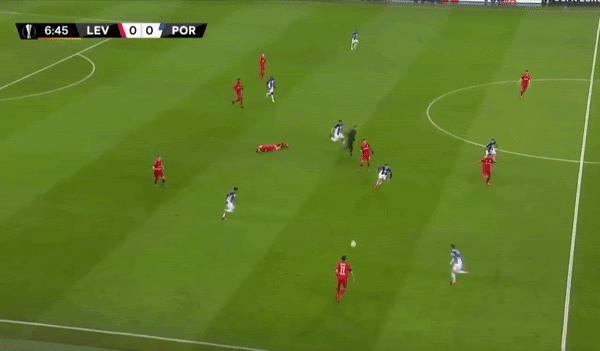 In the first above GIF, Telles is dribbled past fairly easily by Rangers's Brandon Barker, who advances into a deep crossing position. Instead of keeping his man wide, he decided to face him by standing on his feet, leaving himself exposed to a fairly simple dribble and a burst of pace from the English winger.
In the second GIF, Telles didn't time his intervention well, and Nadiem Amiri plays a one-touch pass to Kai Havertz, who can then break on the counter. Telles's flat-footed style of defending may end up being a problem in the Premier League, where he will face the likes of Adama Traoré and Wilfried Zaha on a regular basis. For example, in a Europa League match against Lokomotiv Moscow, he conceded a penalty to Aleksei Miranchuk after staying flat on his feet and lunging in at the edge of the box.
On the other hand, he is also able to anticipate attacks well and his aggressiveness is useful in these kinds of situations. While he isn't particularly aggressive in deeper areas (i.e. when he is close to his box), he is aggressive higher up the pitch but often gets dribbled past as a result of his flat-footed style. We can see that, while he isn't the most aggressive defender in deep areas, he is capable of timing his intervention to stop the pass before it meets the receiver, as seen against Liverpool.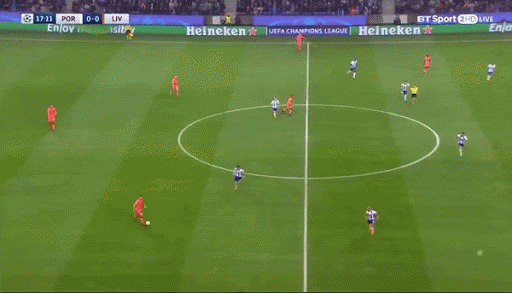 One area of concern for United fans is Telles's defensive awareness, or lack thereof. In this example against Bayer Leverkusen, Telles doesn't spot Havertz behind him, and is instead positioned in no man's land. He gets chipped by a pass from Lars Bender, who finds Havertz with plenty of time and space against Porto's back line.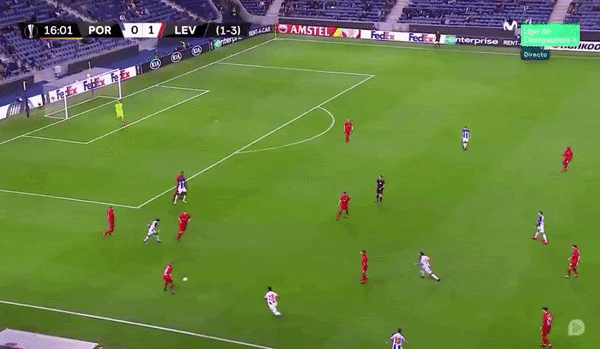 Finally, in the GIF below, Telles is positioned well in regards to the ball but never scans to see if an opponent is behind him. Once the ball comes to his side, he is surprised to see an opponent receiving it.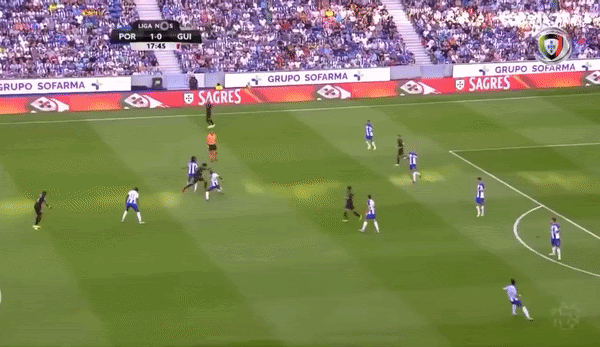 Telles struggles defensively due to his poor awareness and his lack of understanding of when to step in or retreat. He will need to improve his decision-making off the ball in order to help fix United's defensive woes, as Ole Gunnar Solskjaer's side have conceded 12 goals in their first four matches of the Premier League season.
Analyzing Telles's Importance in Porto's System
Following a loan spell at Inter Milan, Galatasaray sold Telles to Porto for €6.5 million, with the Turkish club set to earn 10% of any added value in a future transfer deal. Telles replaced the outgoing Alex Sandro and spent his first season in Portugal under current Wolves manager Nuno Espírito Santo, but he has played the best football of his career under Sérgio Conceição, who was appointed in the summer of 2017.
The former Nantes manager has implemented a 4-4-2 at the Estádio do Dragão, and Telles has played a vital role in Porto's termination of Benfica's dynasty as well as their two league titles in the past three seasons. In this 4-4-2, Telles isn't provided with the freedom to push up and only advances into the final third if he has three to four players behind him. Even when the ball is on the right, Telles typically doesn't provide runs in behind to stretch the opposing defense.
When in buildup, Danilo Pereira often drops deep to split the centre backs and push the full backs higher up the pitch. This system is fairly similar to what we have seen at Manchester United during Project Restart.
In a similar fashion to United with Luke Shaw, Telles can be found wide to put in a cross, but he doesn't link up much with his teammates when the ball is in the final third. On the other hand, he is skilled at linking up in deeper areas to play out of pressure, as seen in this example with Yacine Brahimi against Benfica.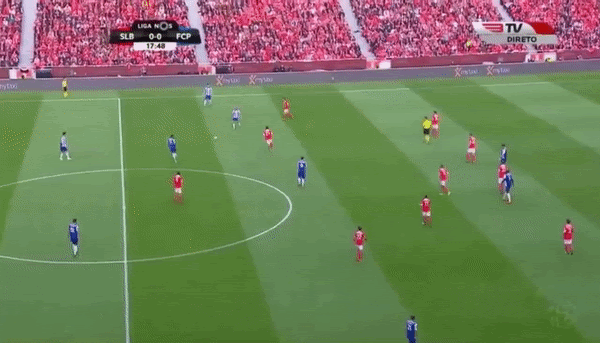 Porto typically build up through the right flank, meaning that Telles isn't as involved in his team's chance creation from open play as Tecatito Corona, who plays on the right flank, either as a right back or winger. Telles will have far more attacking responsibility at United as the majority of the build-up comes via the left flank.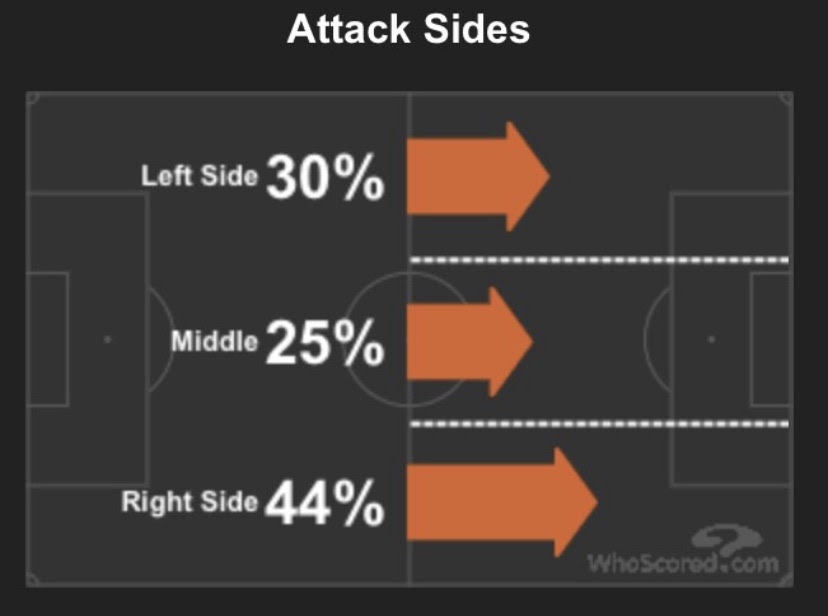 Creativity
Since the start of the 2018/19 season, Telles has provided 21 assists, averaging 3.11 GCA + SCA (Goal Creating Actions and Shot Creating Actions) per 90 minutes. These actions may be passes, dribbles, or drawing fouls. However, if we remove set pieces from the equation, Telles's numbers drop to 1.11 GCA + SCA per 90 minutes. On the other hand, Shaw has averaged 2.02 GCA + SCA per 90 from open play over the past three seasons.
While Shaw is statistically the better creator than Telles, it's worth looking at how many times each player touches the ball per 90 minutes to judge if these stats give a fair depiction of their playmaking value. While Telles is at 1.65 GCA+SCA for every 100 touches, Shaw is at 2.62.
If we only take into account  touches in the final third and in the opponent's penalty area, Telles is at 1.21 GCA+SCA while Shaw is at 2.02 for the same amount of touches. Finally, the Englishman averages 0.07 xA from open play last season while the Brazilian was at 0.045. In general, Shaw comes out on top when it comes to creative numbers.
Furthermore, Telles isn't a willing runner, as he often struggles to provide an overlapping solution to his winger. However, even if he provides an option for a short pass which can then be churned into a crossing opportunity, his winger tends to deny him the option and instead attempts a dribble or cross himself.
Despite not being a willing runner, Telles still has thrice the amount of crosses per 90 compared to Shaw (3.5 crosses per game while Shaw is at 1.25 these past three seasons). The main reason for this lies in his tendency to cross from deep, something he is fairly inconsistent at.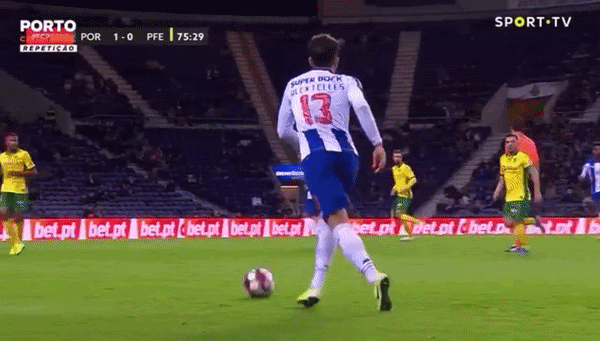 In this example against Paços de Ferreira, Telles makes a pinpoint cross from deep into the box to pick out Zé Luís, who is making a run in behind the two center backs, Marco Baixinho and Maracás. The Brazilian striker controls it on his chest and scores the decisive second goal, as Porto seal the three points.
However, Telles often crosses too early, leading to Porto turning over possession and their promising attack breaking down. In this example against Roma, Telles attempts a cross with his first touch, which is easily cleared by Daniele De Rossi and headed away by Federico Fazio.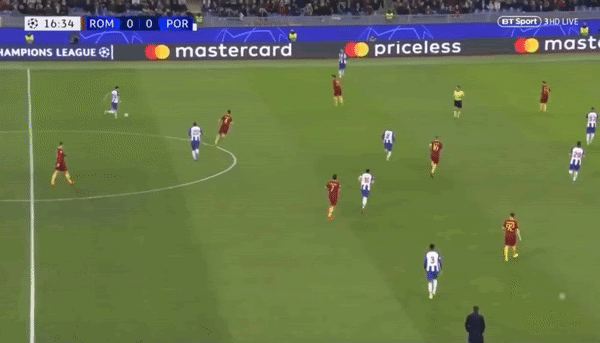 On the other hand, when Telles gets higher up the pitch, his crosses are far more effective and dangerous. The Brazilian has just the right curve and vision to threaten opposing defenses and find a teammate's head with his cross, as seen in this example against Moreirense.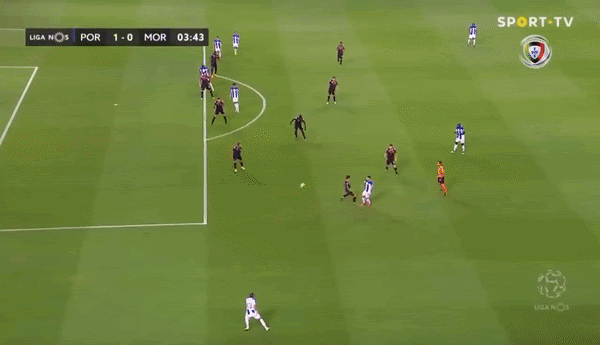 One of the reasons why Manchester United pursued Sergio Reguilón was due to his impressive dribbling skills and Shaw's relatively poor ball carrying ability. According to Wyscout, Telles averaged 1.1 progressive runs per 90 last season, which is rather low (a good ball-carrier at left-back would be around two, an above average one around 1.5).
This low average is mainly due to the fact he struggles to keep the ball close to his feet when he doesn't have too much space to run into, and he also doesn't attempt many dribbles. However, if he is allowed space, he can run into depth with the ball at feet, as seen in this example against Feyenoord, where he exploits the defense's blind side before teeing up Luis Díaz's opening goal.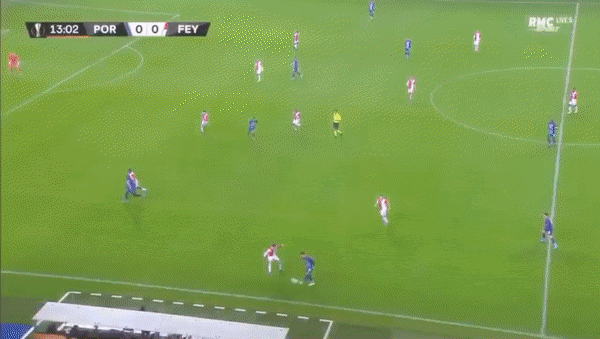 Finally, we must address his efficiency when it comes to dead ball situations: 16 of his 21 assists since the start of the 2018/19 season have come from set-piece scenarios. It is fair to say that Porto wouldn't have been able to pip Benfica to the league title last season without Telles's quality from dead ball scenarios.
In open play, the Brazilian's deadly left foot can help create danger from crosses and pick out forwards in goalscoring areas, but Telles's biggest threat comes from dead ball scenarios, as seen below against Rangers.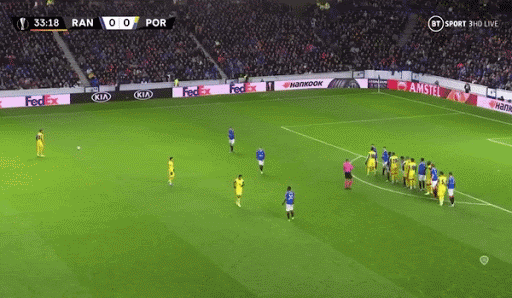 All in all, Telles is an efficient creator considering the amount of time he spends in advanced areas. Nevertheless, his decision-making in the final third has to improve if he is to bench Shaw, especially in his selection of crosses from deep range.
It also remains to be seen if he would be able to provide a bigger creative threat in a United team where the left side is where they attack the most, which is the opposite at Porto.
Ball Progression and Passing Ability
Telles can either progress the ball from deep or find runners into channels thanks to his wide range of passes. He can either pass the ball inside on the ground or break a defensive line with a ball over the top, as seen in the GIFs below.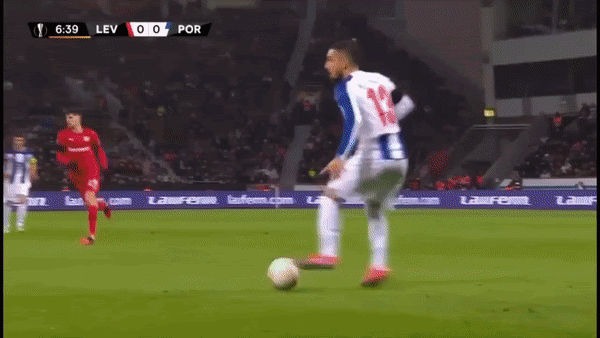 After his crossing from advanced areas, his second most impressive asset is his ability to progress the ball into the channels to find runners. Porto's 4–4–2 relies on the fullbacks's ability to find their strikers in between the opposing fullback and center back. Telles has mastered this pass, with a world-class ability to pick out his forwards with his passing, as seen in this example against Portimonense.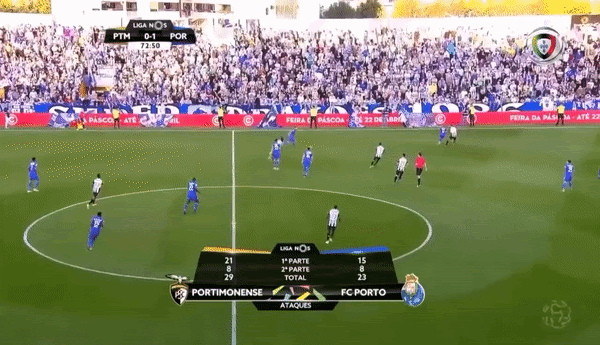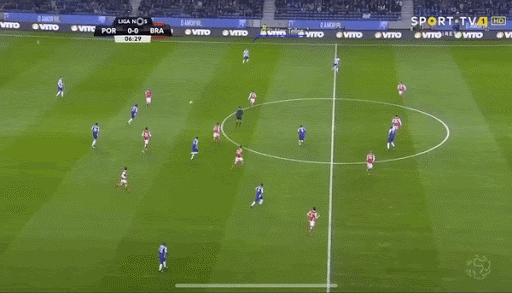 One of the more worrying stats surrounding Telles's game is his turnovers: he losses the ball nearly 19 times a game in Liga NOS fixtures. For every 100 touches, he loses possession 28 times. For comparison, Shaw's turnover percentage is roughly half of Telles's numbers, around 14%. However, it should be noted that the Brazilian is a higher volume crosser than Shaw.
He doesn't fare much better in international competition; Telles ranked in the 24th percentile for dispossessions in the 2019/20 Europa League season. The main reason behind these turnovers is his poor in-game awareness. Telles doesn't scan his surroundings with enough regularity before receiving the ball, and as a result, he dwells on the ball and attracts pressure, as seen below against Marítimo.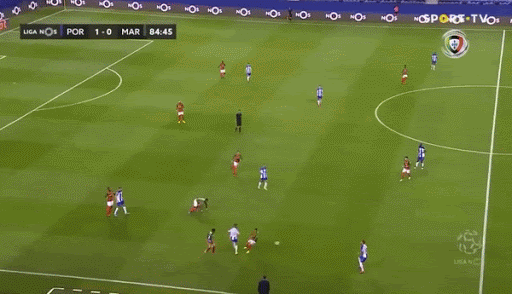 Telles doesn't progress the ball much from deep areas but he does have a wide range of progressive passes. When playing higher up the pitch, he has a trademark move which is to pass the ball to runners into channels. This is a high risk/high reward scenario, but he executes it well enough for it to be a sustainable action.
Do the Stats Confirm the Eye Test?
From the eye test, we concluded that Telles gets dribbled past pretty easily, and that he doesn't make many pressures but is able to intercept the ball due to his aggressiveness. This has been largely backed up by the below StatsBomb radar, where Telles places well in terms of interceptions (71st percentile) but horrendously low in terms of pressures (4th percentile) and tackle/dribbled past %.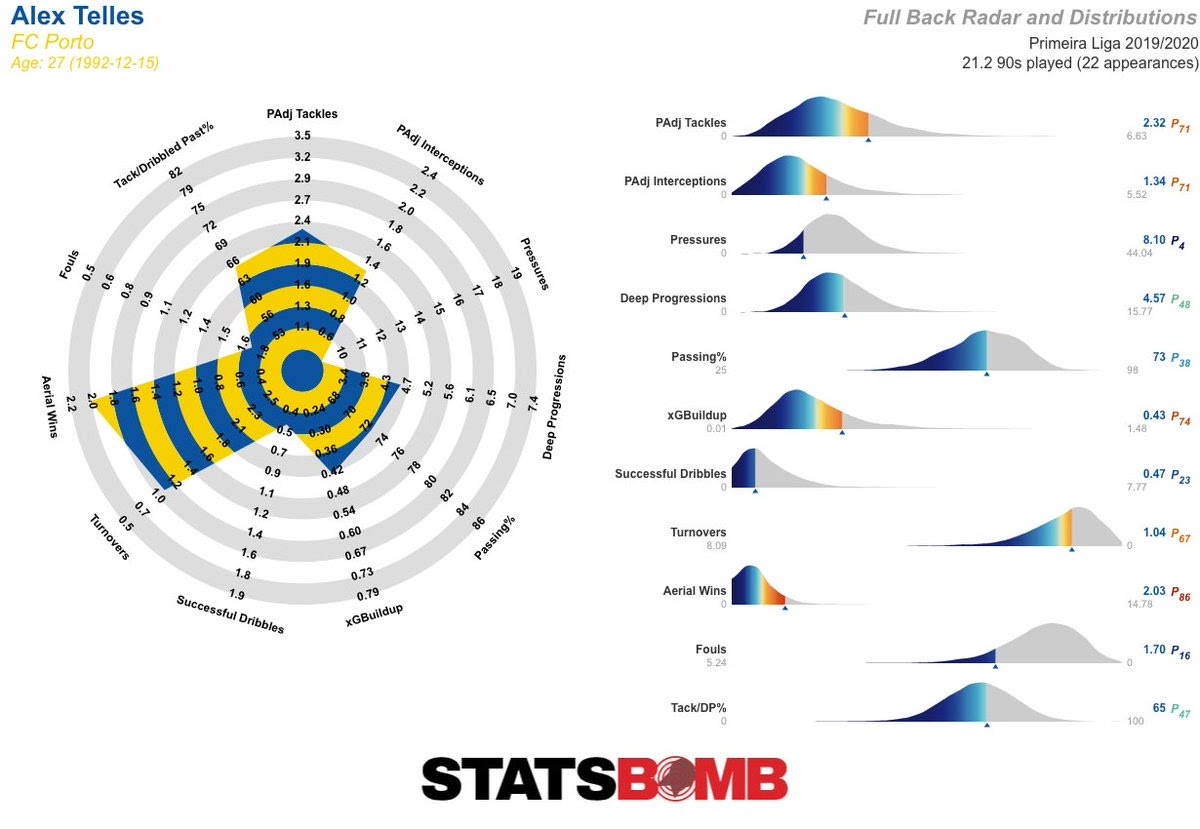 Offensively, we deduced from the eye test that Telles doesn't attempt many deep progressions but when he does, he does them well. He is also a wasteful passer because of his overly high amount of crosses, and he also doesn't attempt many dribbles to bypass his opponent. All metrics above confirm the eye test since Telles doesn't have many metrics above 50 apart from the turnovers and his xGBuildup. However, his low amount of turnovers is a plus.
According to StatsBomb, xGBuildup are all the actions a player is involved in while excluding shots and assists from the possession chains, allowing us to concentrate just on build-up play. Telles is in the 71st percentile for xGBuildup, which means he can contribute offensively without necessarily being involved in goal-creating actions.
Luke Shaw vs. Alex Telles
Luke Shaw has divided opinions within the United fanbase since arriving as an 18-year-old from Southampton for £30 million in the summer of 2014, making him the most expensive teenager in football at the time. At his best, Shaw is a thoroughly decent left back who lacks a final ball. Unfortunately, those days are more and more rare, and six years into his time at United, he is a liability both in defense and attack.
By signing Alex Telles, United would get a player with more European experience than everyone on the team apart from Nemanja Matić, David De Gea and Paul Pogba, with 3,468 minutes played in European competitions.
In addition, he is more reliable than Shaw in terms of fitness; since arriving at Porto in 2016, he has missed just seven games in all competitions. Moreover, he is still in the prime of his career at 27 — just two years older than Shaw, and with his excellent final ball and set-piece threat, Telles provides an immediate upgrade over Shaw at the left back position.
By: @JKFootball
Featured Image: @GabFoligno / Quality Sport Images / Getty Images