Player Analysis: Ander Barrenetxea
21st March 2021, Real Sociedad face Barcelona at the Anoeta. Despite the lack of fans, the excitement was apparent. For la Real, this was a chance to replicate their early season form. Imanol Alguacil's side was imperious when La Liga kicked off. However, as March continue to roll on, their decline became inevitable as they continued to drop in the table.
Following a defeat to Granada, now was their chance to crash Lionel Messi's party for becoming Barcelona's all-time leader in appearances. Winning this match would give them the confidence needed to yet again start performing. These were their hopes. The reality, however, was that 60 minutes in, Alguacil's side was down by four goals. In fact, they had to call upon a 19-year-old attacker to make a difference. Enter, Ander Barrenetxea.
20 km from France's border, in the Basque country, lies San Sebastian, the capital city of the province of Gipuzkoa. It is apparent that little Barrenetxea grew up watching players like Xabi Prieto. Someone who had offers from much bigger clubs but stayed at Sociedad due to pure loyalty and love. Now, just a few years older than him, Mikel Oyarzabal is looked up with the kind of fervour and fanatism that Prieto inspired. Barrenetxea could very well be up next. 
The teenager is already hailed as a hero in the parts where he grew up, thanks to him being the club's youngest debutant since the Spanish Civil War. All of his coaches single him out as an exceptional talent, and he repays their faith. But what makes him stand out from the crowd?
Overview
Ander Barrenetxea is a 19-year-old forward who can play as a winger and striker. Most often, you'll see him play down the wings. Not especially two-footed, he uses his right foot 83% of the times, according to FBRef. Despite this, he can play down both wings. As the heatmap shown below shows us, Barrenetxea has been deployed most often down the left. Interestingly, he has also played as a wing-back recently in the match against Barcelona.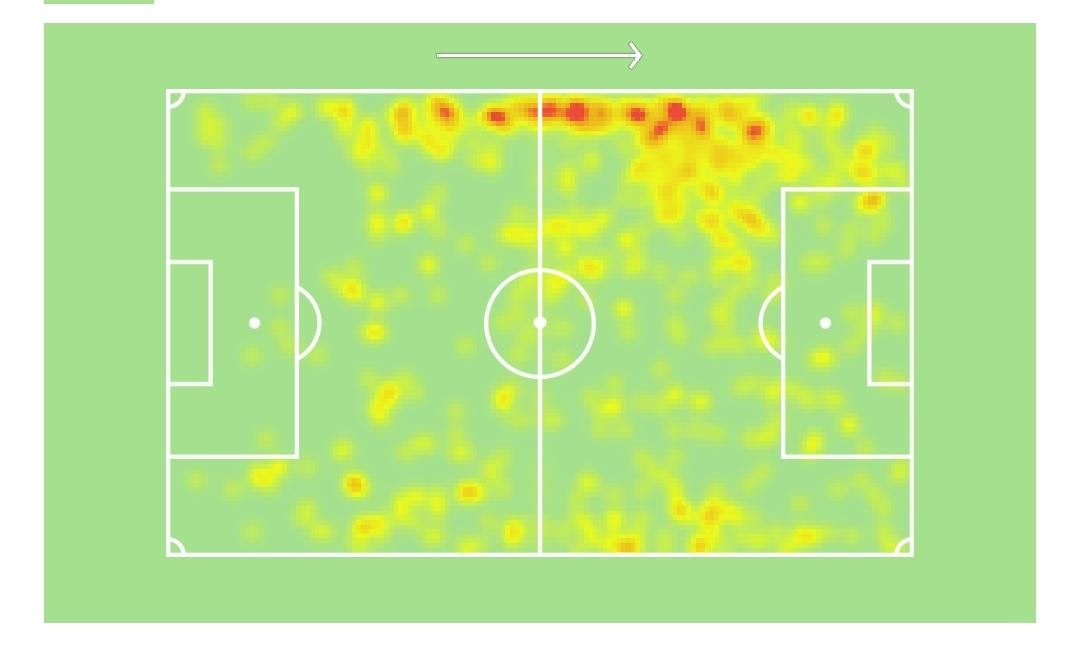 Photo: SofaScore
Under Imanol Alguacil, Real Sociedad set up in a 4-3-3 most often. Occasionally, they have played in a 4-2-3-1 or in a 3-4-3. However, the principles remain the same. Their game model relies on solid technique, intelligent positional play, maintaining possession, and attacking. Starting nine matches this season, Barrenetxea has played most often as a left-winger. With Alexander Isak as the striker and Nacho Monreal as the left full-back, Barrenetxea has a lot of space to drive, into the wings.
He is someone who can cut inside quickly thanks to his low centre of gravity and good balance. He is given creative freedom to rove upwards whenever possible and, based on the situation, take the right decision. Isak performs fairly well aerially, and Monreal is a defender who will come forward but will avoid 1v1s. Due to these circumstances, the Spanish winger is able to make the most use of his dribbling but also has a player to feed the ball to in front of him.
Difference Maker
As a winger, one of Barrenextea's most vital assets is his dribbling. It's not his pure pace that is the best, rather his balance, change of direction and quick feet. At 178cm, he isn't the tallest, but this affords him the aforementioned low centre of gravity. As a result, his turns are often too tight and quick for the opposition players to track. Playing as the left-winger, he can often be seen picking the ball up out wide.
If he sees a chance to drive forward, he will. He averages more than four dribbles attempted per 90 with a success rate of 58.1%. Out of the 1876m covered by him this season through carries, progressive carries account for 1043m. The Sociedad winger cuts in often, using his opponent's momentum against them. Barrenextea is not a fancy dribbler like Neymar or Douglas Costa; rather, he does the simple things very well and makes the most of his physique.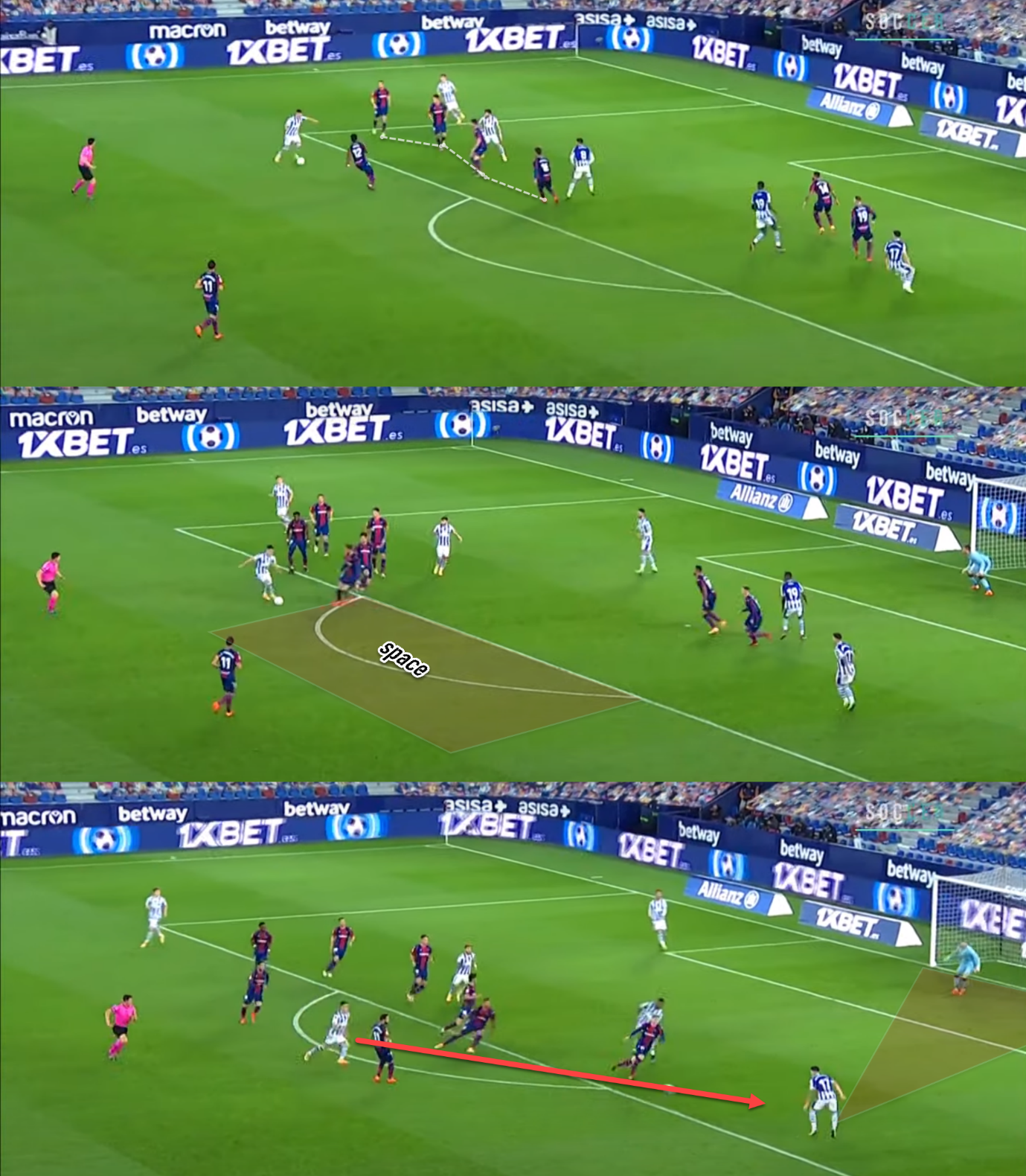 Here, we see him receive the ball on the left just outside the box. Cutting in, he evaluates his options. Spotting the players gathering on the other side of the box, Barrenextea continues to cut in, leaving the defenders tackling thin air, after which he plays the ball into the path of his teammate. These scenarios are relatively common. Barrenextea hosts creative and finishing threats, which make him wildly unpredictable in the final third. 
The Spaniards shooting is something that needs improvement. As the following shot map shows, he failed to score from quite a few reasonably easy chances. Another thing that we can observe from this visualisation is his decision making when shooting. The vast number of purple dots, signifying blocked shots, indicate that he is often rushing to take shots.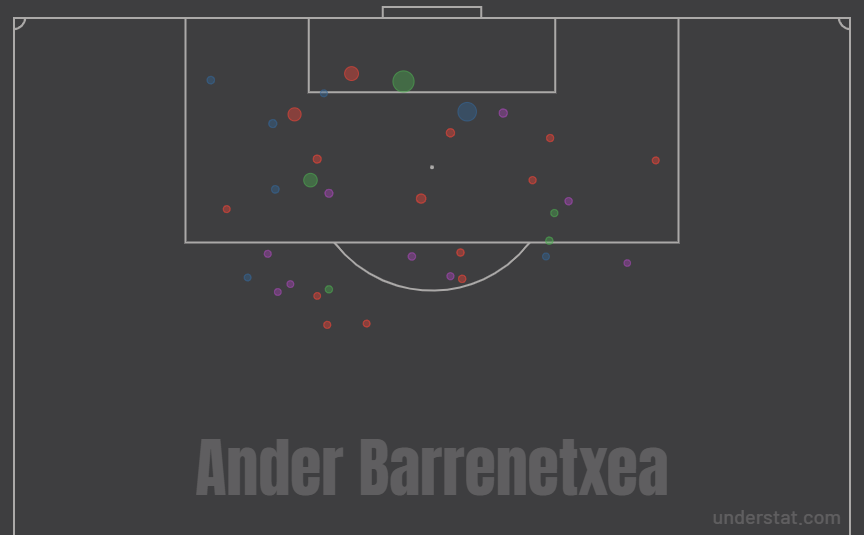 Photo: Understat
40% of Barrenetxea's shots have managed to trouble the goalkeeper this season, which is pretty decent, but far from what he is capable of. As the visualisation above shows us, the number of missed shots, indicated by red dots, are pretty widespread.
Barrenetxea's shooting technique is interesting, to say the least. He cuts in well from the left and attempts to curl the ball into the net at times, but it's his shooting when he plays on the right that stands out. The right faction of zone 14 is the sweet spot for him.
His shot into the top corner against Barcelona is a prime example of this. The 19-year-old just seems to have more confidence when shooting from here. In fact, Alguacil stations him precisely in this spot, to the right of zone 14, when Real Sociedad have a corner. 
Passing and Possession Play
Having played as a striker at times in the past, Barrenetxea's movement is quite polished for such a young winger. He knows when and which space to exploit. In the below example against Levante, we can get a demonstration of his abilities as a space exploiter.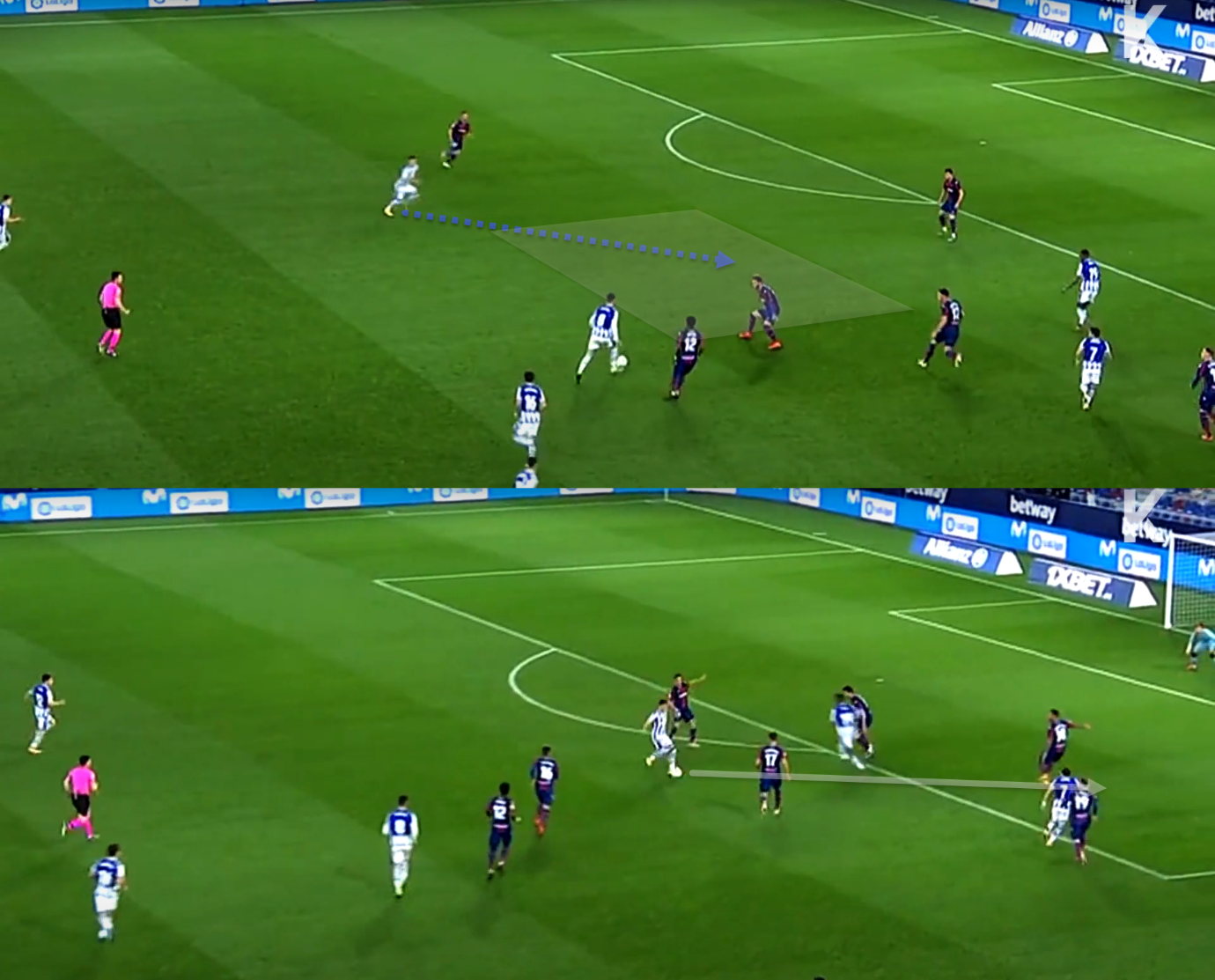 In the first image, Real Sociedad are in the opposition's half and have many players in attacking positions. The problem is transitioning the ball into these threatening areas. The ball carrier is in a position of numerical inferiority. Playing as the left-winger, Barrenetxea spots the space available. As maintaining width isn't a priority, he runs into the open space and asks for the ball.
Dribbling forward just a bit, he then plays a ball through to Mikel Oyarzabal, putting him through on goal. This isn't a one-off situation; however, his vision needs to develop further if he wants to play as a winger. Rather than a necessity, it's more of a natural next step. His dribbling, cutting in, aided by this vision would become many times more efficient than it is now.
Speaking of maintaining possession, Barrenetxea physique comes into play yet again. He does well to shield the ball, but his balance is what stands out. Despite weighing just 69kg, he isn't easily pushed off the ball. Alguacil has counted on him to drive forward and keep possession till reinforcements arrive this season, and this has undoubtedly been a decision influenced by his ability to retain the ball.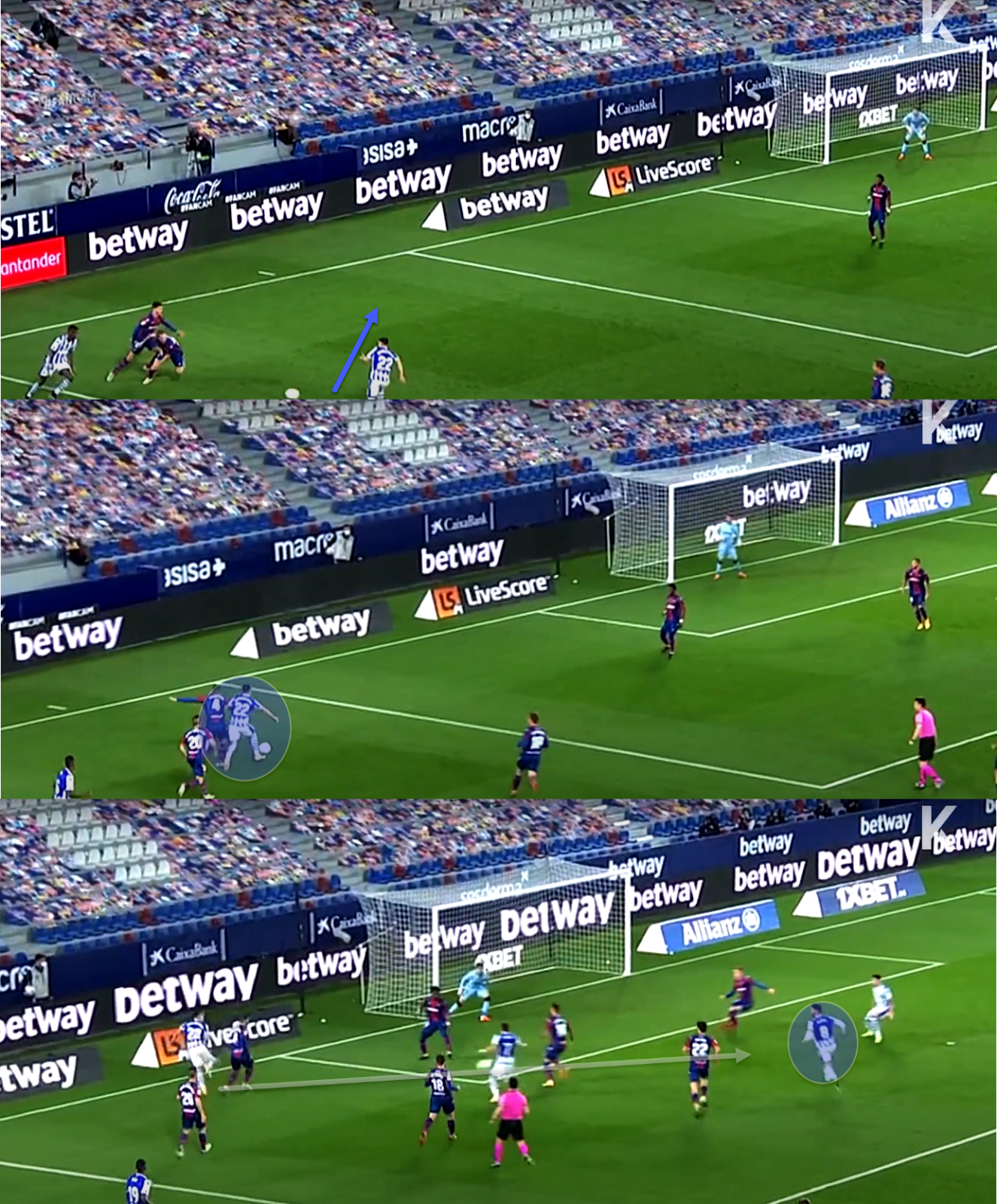 Taking a look at another example of both his passing and possession play, here we see Alexander Isak having just passed the ball to Barrenetxea. The Levante players, caught off-guard, would be unable to catch up to the winger if he were to dribble directly. Understanding this, he immediately pushes the ball forwards towards the touchline and shields it with his body. This makes a tackle impossible without fouling him. Now pretty far up the pitch, Barrenetxea spots a pass and pulls the ball back into the path of Mikel Merino. 
Barrentxea does incredibly well using his left foot when crossing. Though he is predictable when forced wide at times, his ability to get the ball to his teammates is incredible. He prefers to chip the ball using his left foot, and more often than not, reaches the intended target.
Defensive Stats
Ander Barrenetxea is pretty reliable on both ends of the pitch and carries his load to help out the backline more often than not. He regularly tracks back and does his duties well. He does the basics well, and his defensive stats are very impressive.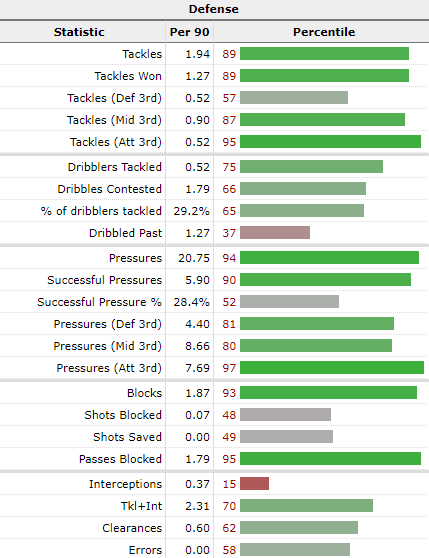 Photo: FBRef.com
As we can see, he is among the best defensively when compared to wingers. What makes this more impressive is that Alguacil is not a particularly defensive coach. Under a coach who practices a higher level of counter-pressing, Barrentxea could improve even further. 
Conclusion
Still just a teenager, Ander Barrenetxea has the majority of his career ahead of him. An electric attacker, he's one of the rare few who can make a difference independently. There certainly are aspects of his game that can be improved, but that is expected from such a young player. His potential, however, is frightening. It seems more of a 'when' rather than an 'if' when speaking about a possible rise to becoming one of the best wingers in La Liga, if not Europe. 
In terms of his career, there are two immediate paths in front of him, unique to a club like Real Sociedad. He might take the Antoine Griezmann route and move to a bigger club when he feels he has outgrown La Real, or he could stay at the club throughout his career akin to Prieto. Irrespective, to sum up, the player report simply, Barrenetxea is excellent, and definitely a player to keep an eye on.
By: @18_zones
Featured Image: @GabFoligno / Soccrates Images / Getty Images