Player Analysis: Mikel Oyarzabal
At 23 years of age, Mikel Oyarzabal is quickly establishing himself as one of the biggest talents in La Liga. Born in Eibar, Gipuzkoa, Oyarzabal joined Real Sociedad's academy in 2011, where he would spend the next few years apart from a brief loan spell at Eibar in 2013/14, before making his first-team debut under then manager David Moyes on October 25, 2015, coming on as a substitute in a 4-0 win against Levante.
The Basque forward would go on to nail down a starting spot under Eusebio Sacristán, who replaced Moyes on November 9, earning a maiden call-up to the Spain national team at 19 years of age and balancing professional football with his studies at the University of Deusto. Midway through the 2017/18 season, Sacristán was sacked after a 2-1 loss to Getafe; in his place, Imanol Alguacil was promoted from the reserve team.
Under the tutelage of Alguacil, Oyarzabal has taken the leap from promising youngster to bonafide-level talent. After providing 14 goals and 4 assists in the 2018/19 campaign, Oyarzabal recorded double figures in goals and assists the following season, and today, he ranks third in the La Liga scoring charts with seven goals (tied with Karim Benzema and Luis Suárez), only behind Gerard Moreno and Iago Aspas.
Oyarzabal plays on the left wing of Alguacil's 4-3-3, typically playing alongside Alexander Isak and Portu in attack. Mikel Merino and Martín Zubimendi have partnered new signing David Silva in midfield, whilst Andoni Gorosabel, Aritz Elustondo, Robin Le Normand and Nacho Monreal make up the back four, with Álex Remiro starting in goal.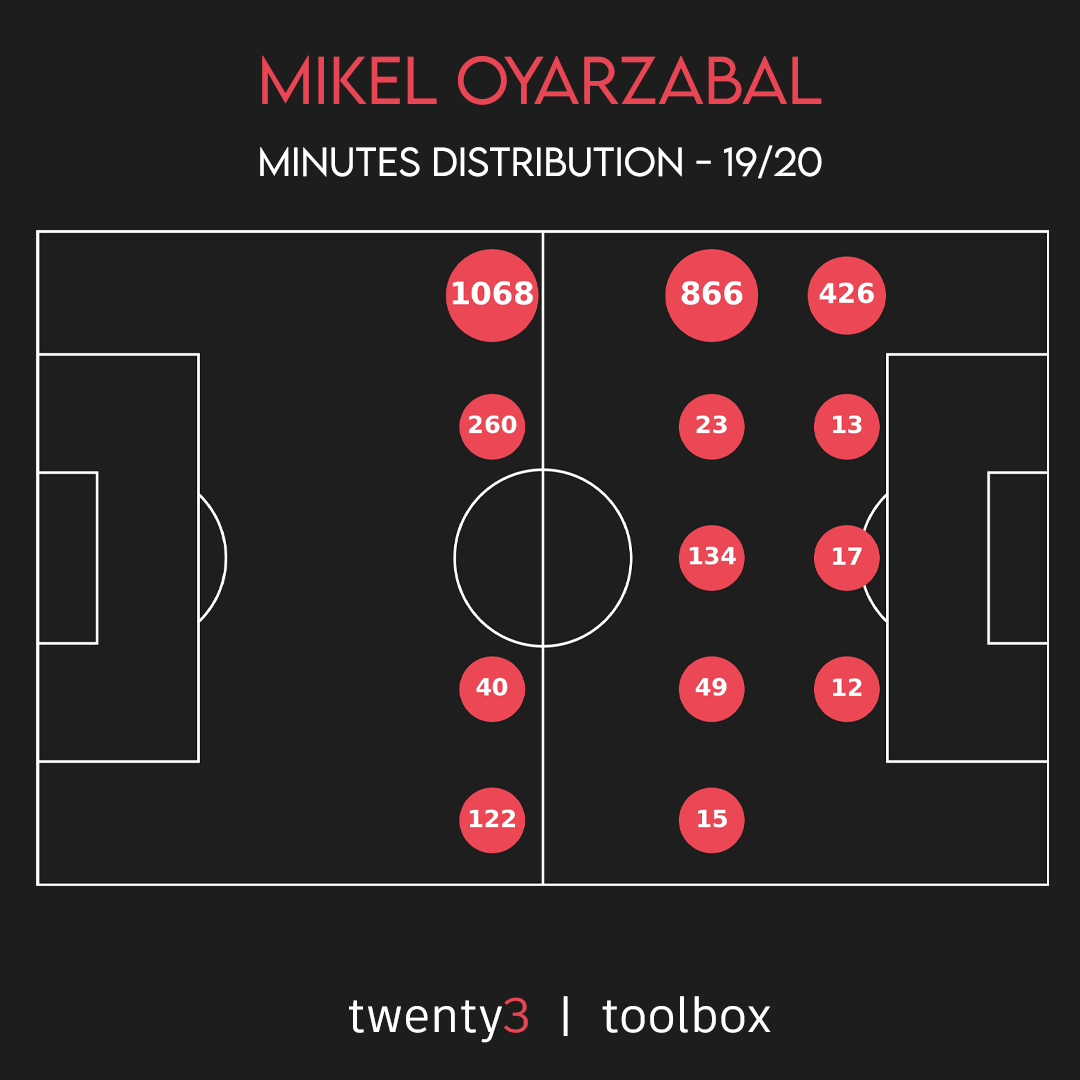 Photo: Twenty3/Wyscout
Statistical Analysis
Before moving to the in-game situations, let's take a brief look at Oyarzabal's statistical profile. We are using last season's statistics to offer a larger sample size here. Straight off the bat, Oyarzabal portrays a very balanced profile but he doesn't shine in front of the goal.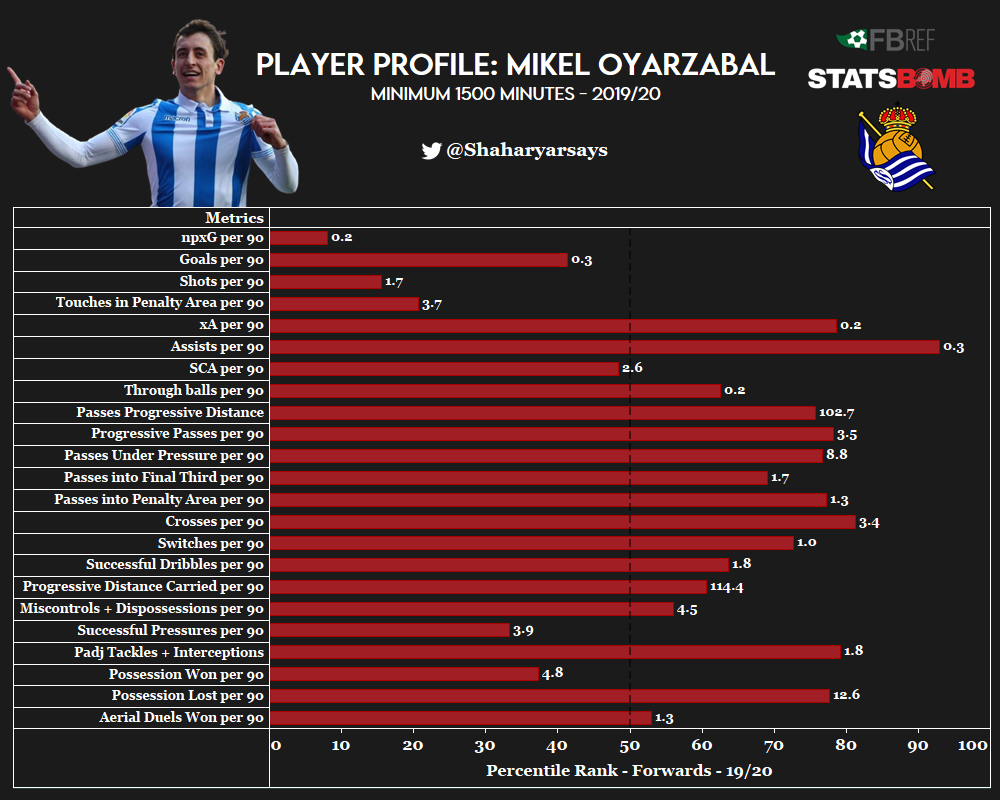 The good thing is that his npxG, Shots, and touches in penalty area per 90 have doubled compared to the last season. Some of this could be attributed to the fact that Oyarzabal is attacking the box more now. He also shows up high in terms of assists per 90, whilst ranking high in terms of possession-adjusted tackles and interceptions, although he seems lackluster in terms of successful pressures per 90.
Off-the-Ball Movement
Oyarzabal's biggest asset – and probably his most underrated trait – is his brilliant off-the-ball movement. Not only does he take dangerous positions on the football pitch to make dangerous runs, but he is also very capable of opening up spaces for his teammates to exploit.
Playing at the left-wing, Oyarzabal hugs the touchline when Real Sociedad have the ball in their own half, but he often moves infield, inviting Monreal to attack the left flank. Once Oyarzabal has moved into the left half space or central regions, he doubles up his threat as he can make dangerous runs beyond the defensive line to get at the end of the chances.
This is a common pattern that La Real try to exploit very often, and it adds another dimension to the possession-oriented side, as Oyarzabal's runs make them dangerous with a threat of direct play and counter-attacking as well.
In this example against Real Betis, Elustondo receives the ball and drives forward. Gorosabel attracts the attention of Álex Moreno, Portu pins back Sidnei, and Willian José drops deep which creates a dilemma for Marc Bartra. Meanwhile, Oyarzabal makes a run beyond the defensive line as he gets ahead of Betis right back Aitor Ruibal. In the end, the ball is a little long and Oyarzabal fails to bring it under control.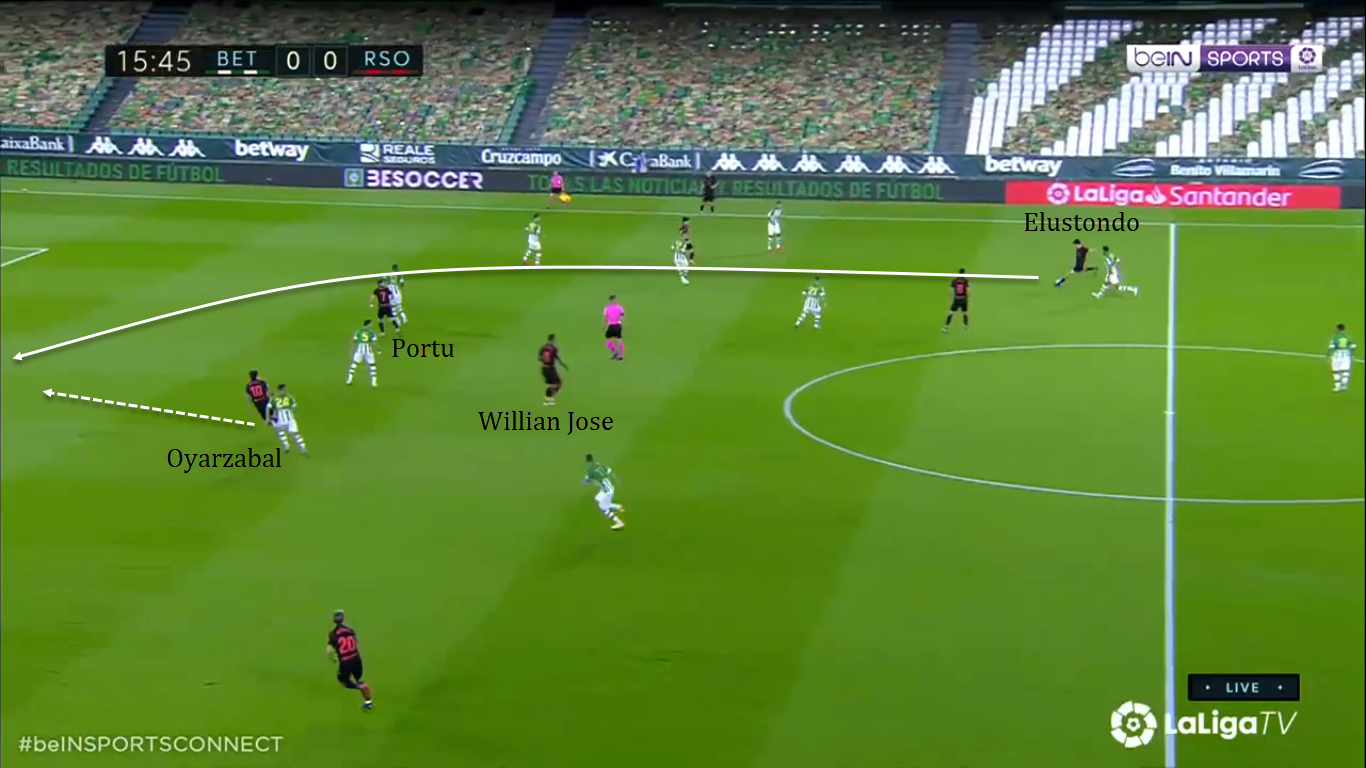 In the below example from last season, Deportivo Alavés are caught ball watching. The Alavés players are slow to close down  Martin Ødegaard, whilst Merino attracts the attention of Lisandro Magallán (LCB). Oyarzabal is able to maintain some distance with Rodrigo Ely (RCB) as he makes the run between both centre-backs. Ødegaard's through ball finds him 1v1 against the keeper but his final shot is frail and blocked easily.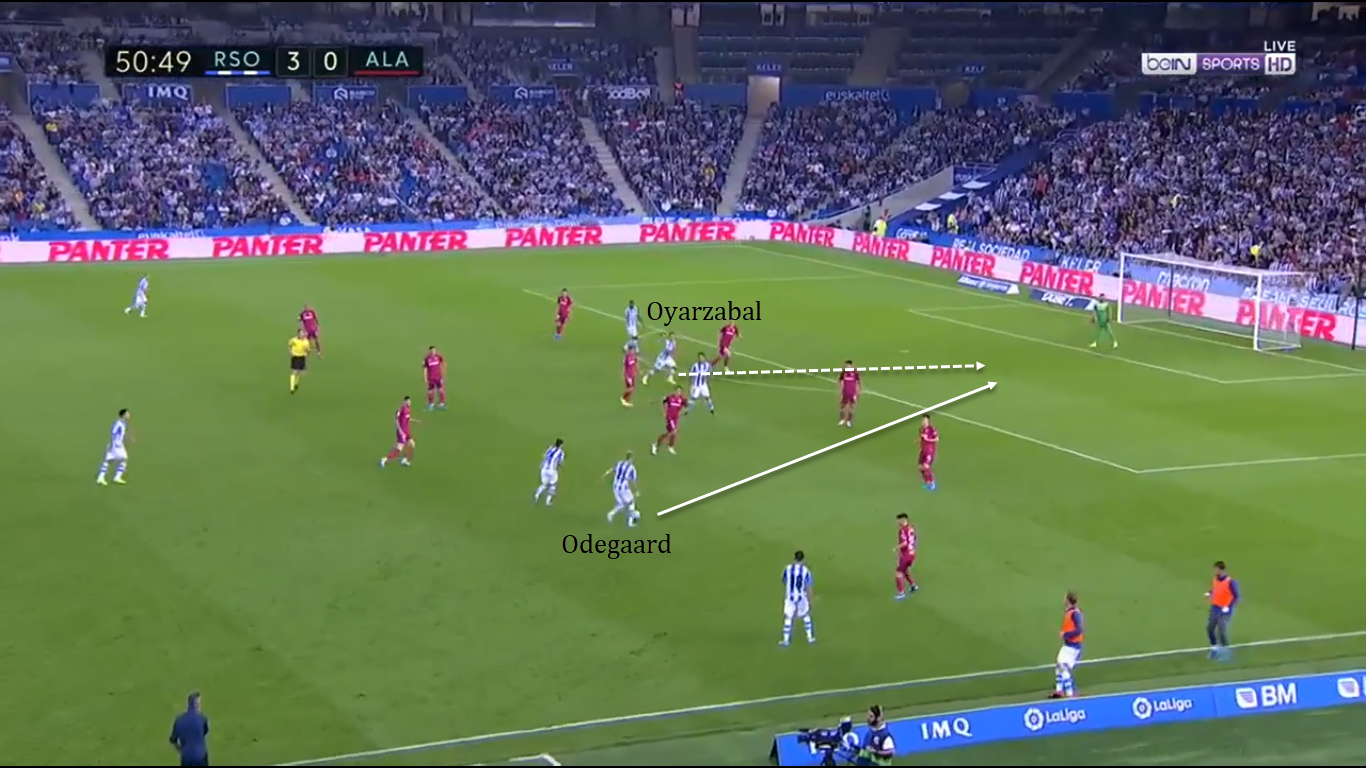 Due to Oyarzabal's ability to create damage in these positions, he is often seen exchanging positions with the striker, particularly Willian José. From here, he can either make runs beyond defensive lines, as mentioned above, or drop deep to force defenders into a decision.
If they follow him deep, Portu can make dangerous runs beyond defenders (as he is one of the fastest players in LaLiga). However, if they let him drop unattended, he can combine with the likes of Mikel Merino and David Silva (or Martin Ødegaard in 2019/20 season) to deliver a through ball for the forwards or stretch the opposition by switching flanks.
In this example, Willian José moves to the left flank, as Oyarzabal drops between the lines in the left halfspace. He plays a pass into Ødegaard, who in turn switches the play and finds Adnan Januzaj on the right flank.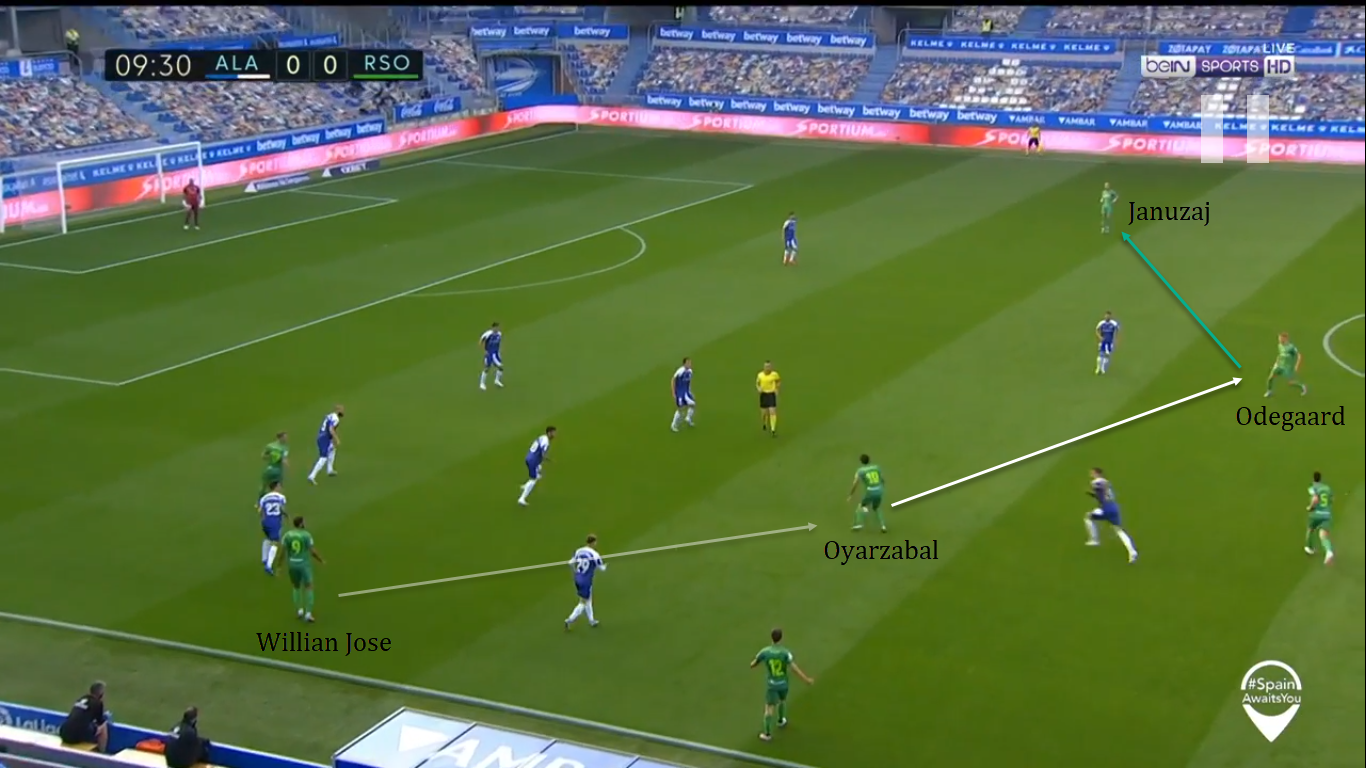 Januzaj receives the ball on the flank and Oyarzabal makes a run from deep, beyond Alavés's defensive line. David Zurutuza pins Alavés LB Rubén Duarte and Oyarzabal makes a well-timed unmarked run between Magallán and Duarte into space. Januzaj's ball finds him perfectly at the edge of the six-yard box and Oyarzabal heads the ball just wide of the target.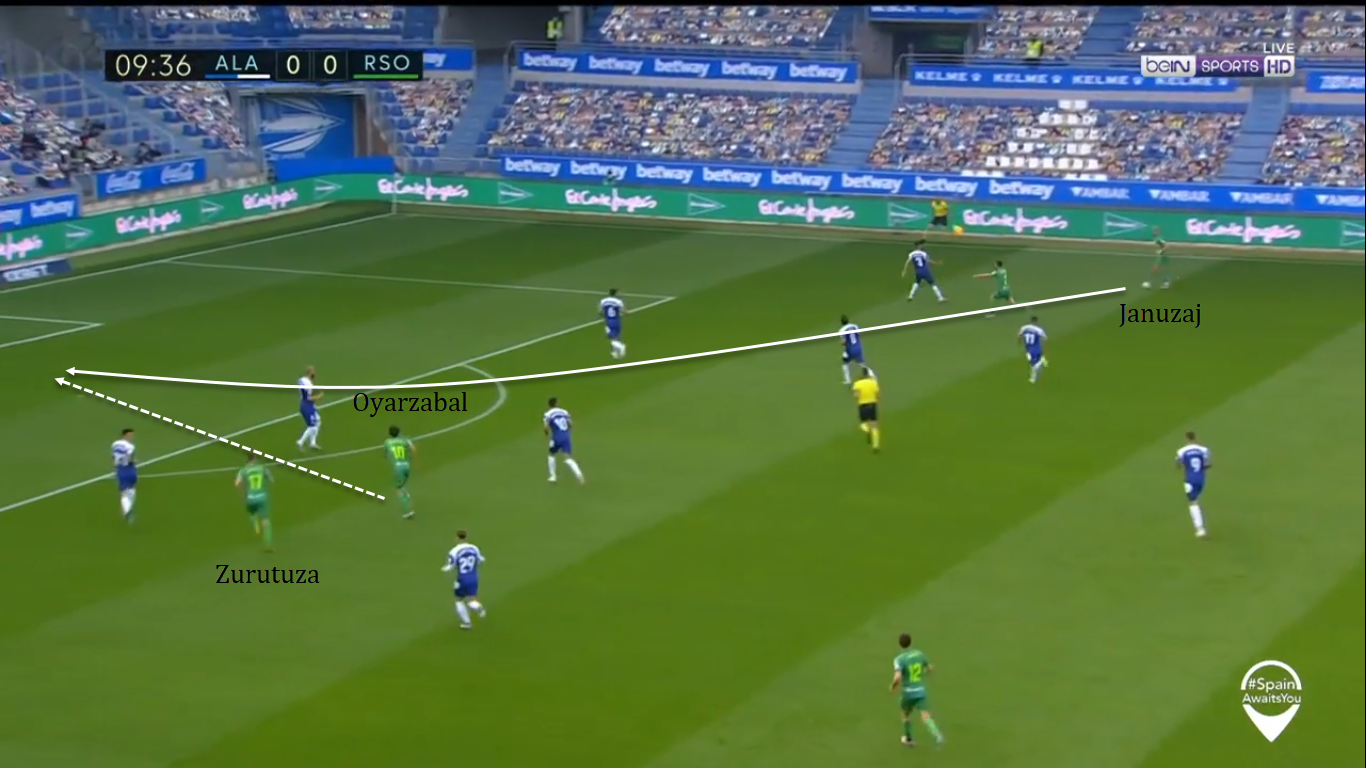 In the above example, Januzaj attracts Duarte, and Zurutuza pins RB Ximo Navarro. As Víctor Laguardia (RCB) is focused on the ball, Oyarzabal is able to make an unmarked run beyond the defensive line.
As a left-footed player who spends most of his time on the left flank (on paper), Oyarzabal naturally tries to come infield to open up his passing angles and impact the game directly. He would often drop between the lines in the left halfspace, again forcing the defenders into a decision. By doing this, he can pin the opposition's right fullback which opens the entire flank for the left-back to attack.
In the below example, Oyarzabal drops deep between the lines and it opens up the space for Aihen Muñoz (LB) on the left flank. He can carry the ball before playing a cross for cutting it back for a teammate. However, the ball played into Muñoz is into his feet, rather than in the space, which gives the defenders time to get back into position.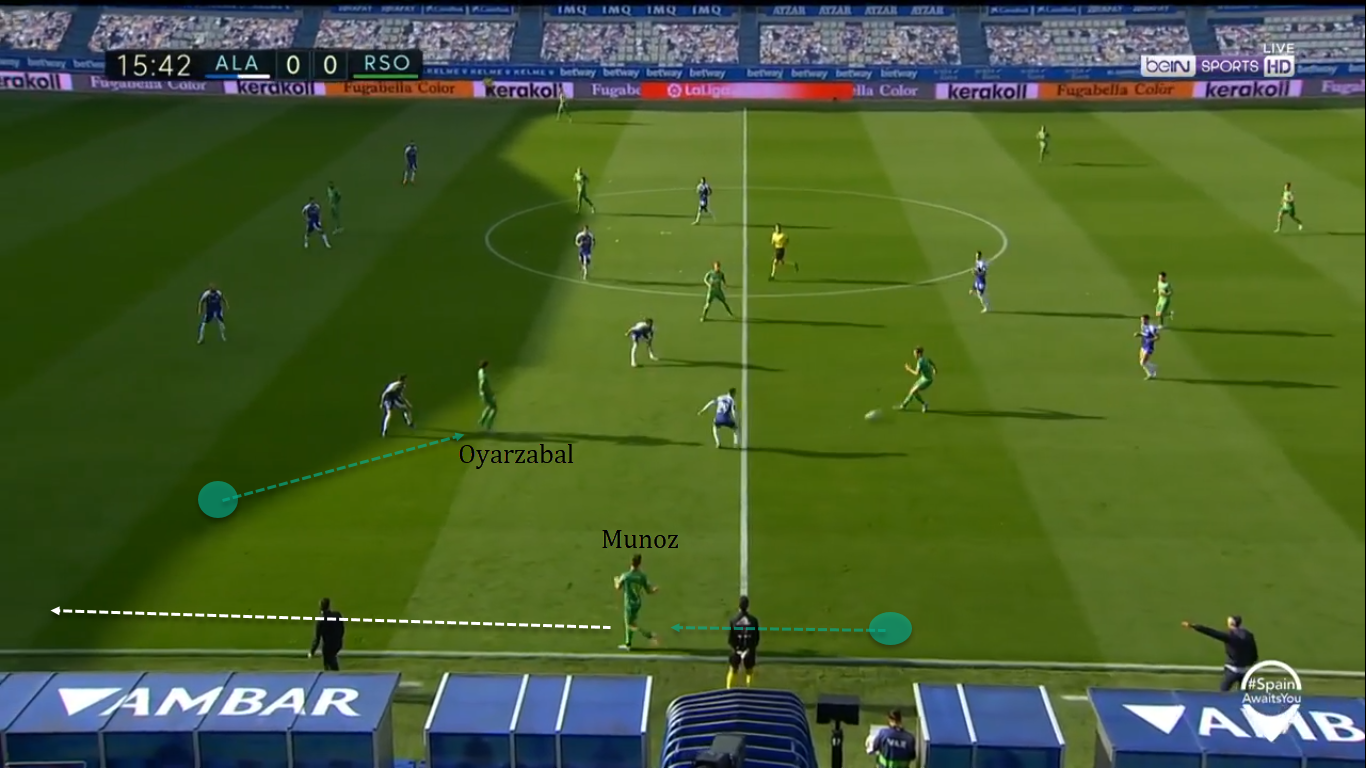 Ability on the Ball
Oyarzabal's technical ability allows him to create dangerous attacks by combining with his teammates in tight spaces, but he is also very adept at carrying the ball. Although his advanced role means that he is not required to carry the ball a lot, he is equally capable of doing this.
In the below example vs. Betis, Oyarzabal drops deep to collect the ball from Monreal. Oyarzabal receives the ball and holds off the challenge from Ruibal, before playing a pass along the touchline towards Merino.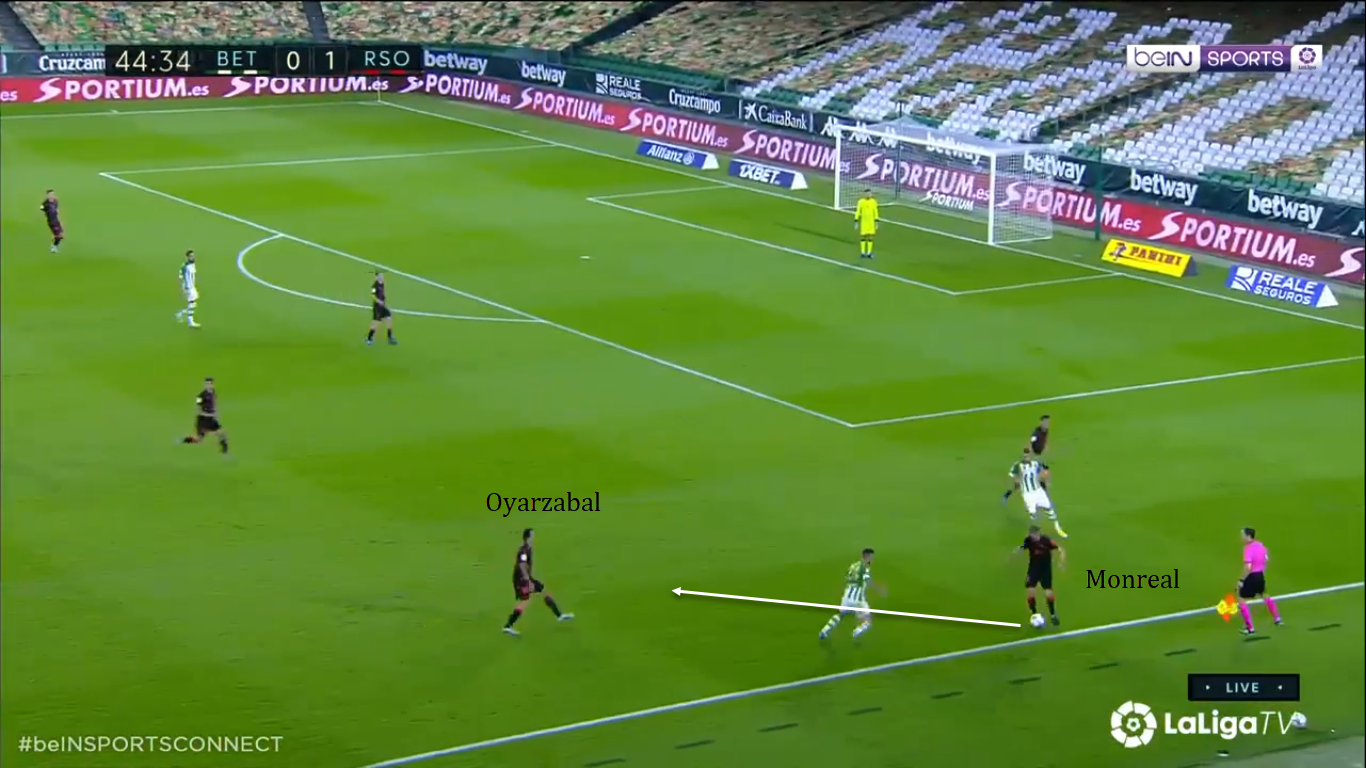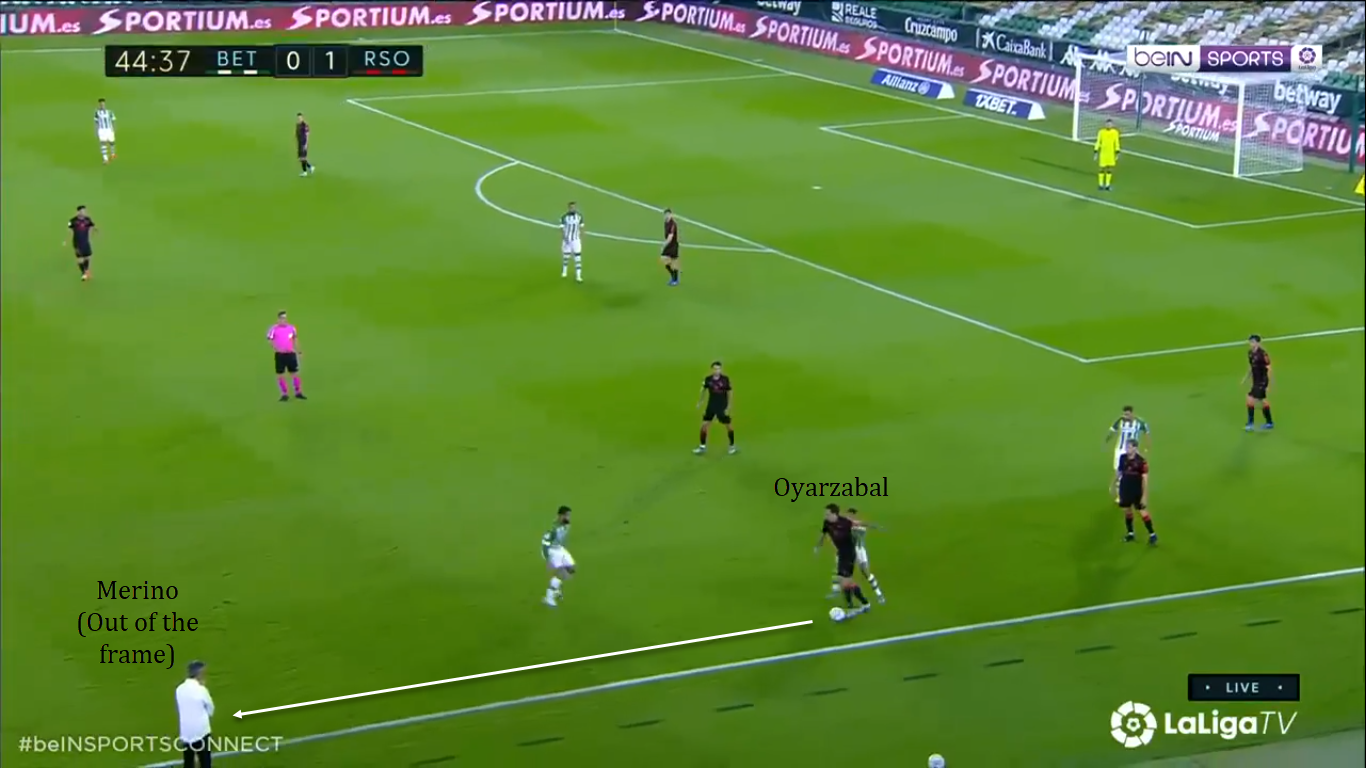 Merino plays a pass back to Oyarzabal who can run into space to create a transition attack with a 3v4. However, it has to be noted that this is a rare event and just shown to showcase Oyarzabal's technical ability.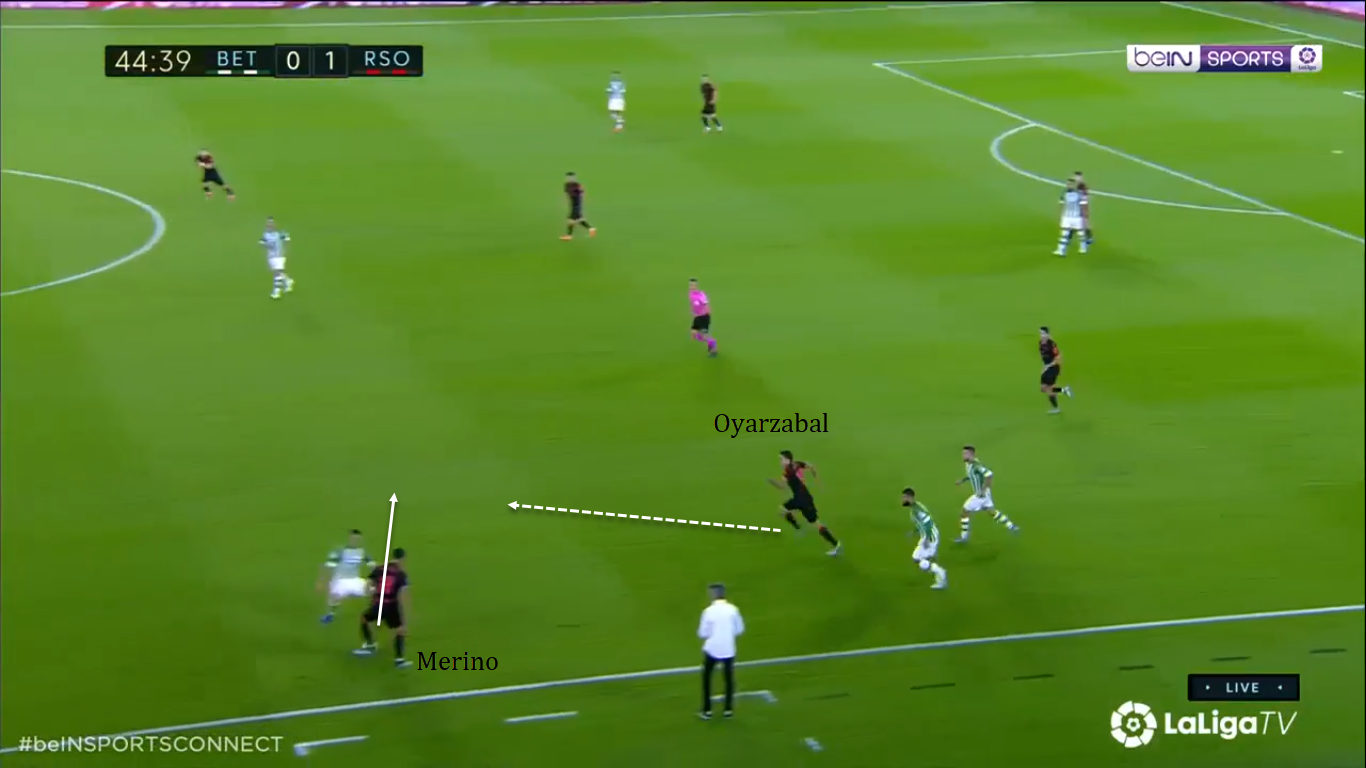 One of the common patterns used by La Real using Oyarzabal and Monreal's positioning to open up space on the flanks. Since Oyarzabal likes to operate in the left halfspace or central areas, Monreal gets the license to storm forward. By doing this, he attracts the opposition fullback (the winger is either slow to track back or gets attracted by a temporary back 3 by Real Sociedad in favour of central compactness). Now, Oyarzabal gets a lot of space to run on the left halfspace.
However, herein lies a bit of an issue. Since Oyarzabal is left-footed, he cannot take the defender on with the threat to come inside. As a result, he is forced to use his acceleration to get some space past his marker and deliver a cross into the box. Then La Real can use the aerial advantage of José, Isak and lately, Merino to create goalscoring opportunities.
In this example, Ander Guevara drops in the backline to form a temporary back three. This forces Alavés RW Borja Sainz to press, leaving Monreal to be pressed by Alavés RB Martín Aguirregabiria. As Aguirregabiria moves towards Monreal, space opens up on the flank for Oyarzabal to attack.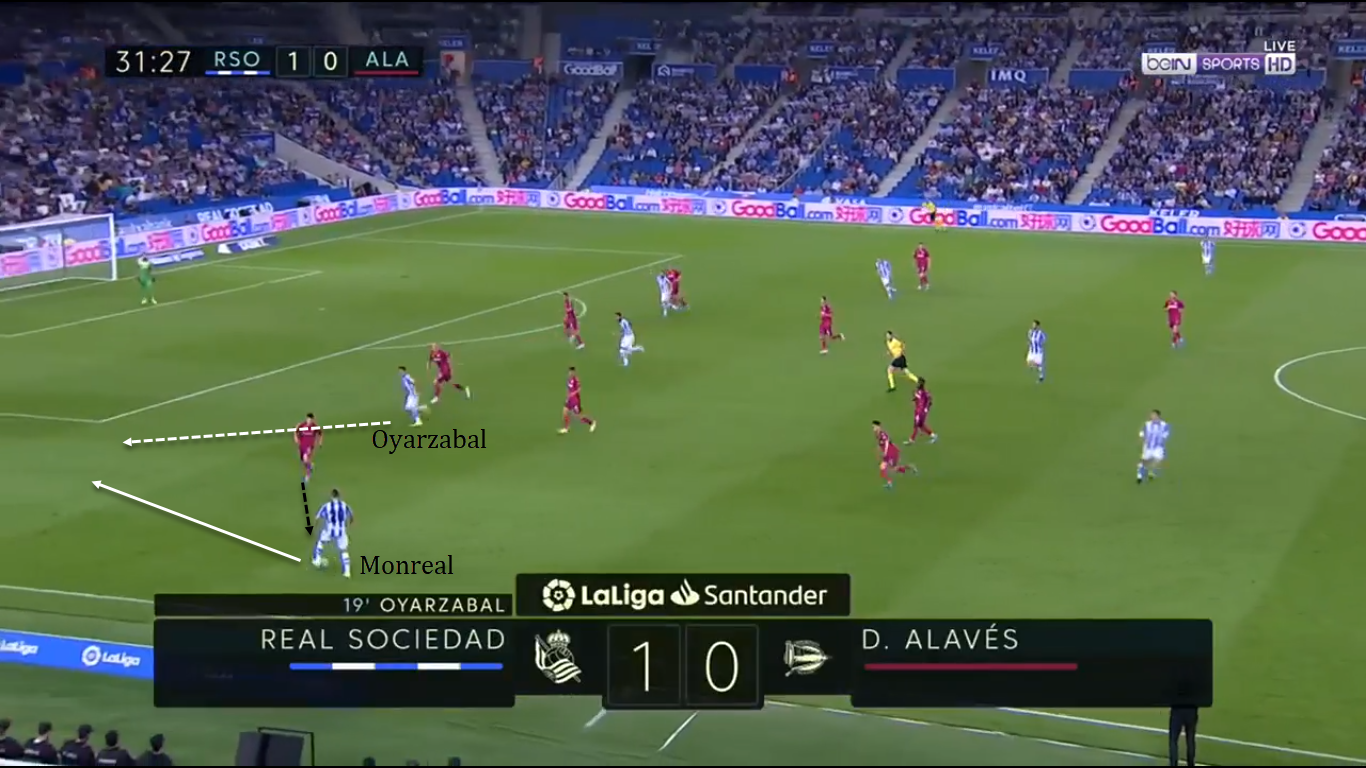 Oyarzabal is closely tracked by Ely so he takes a longer touch to find some gap and delivers a ball into the box where José manages to get ahead of his marker and score off his cross. Real Sociedad would go on to win 3-0, with Oyarzabal adding a third goal before halftime via a penalty.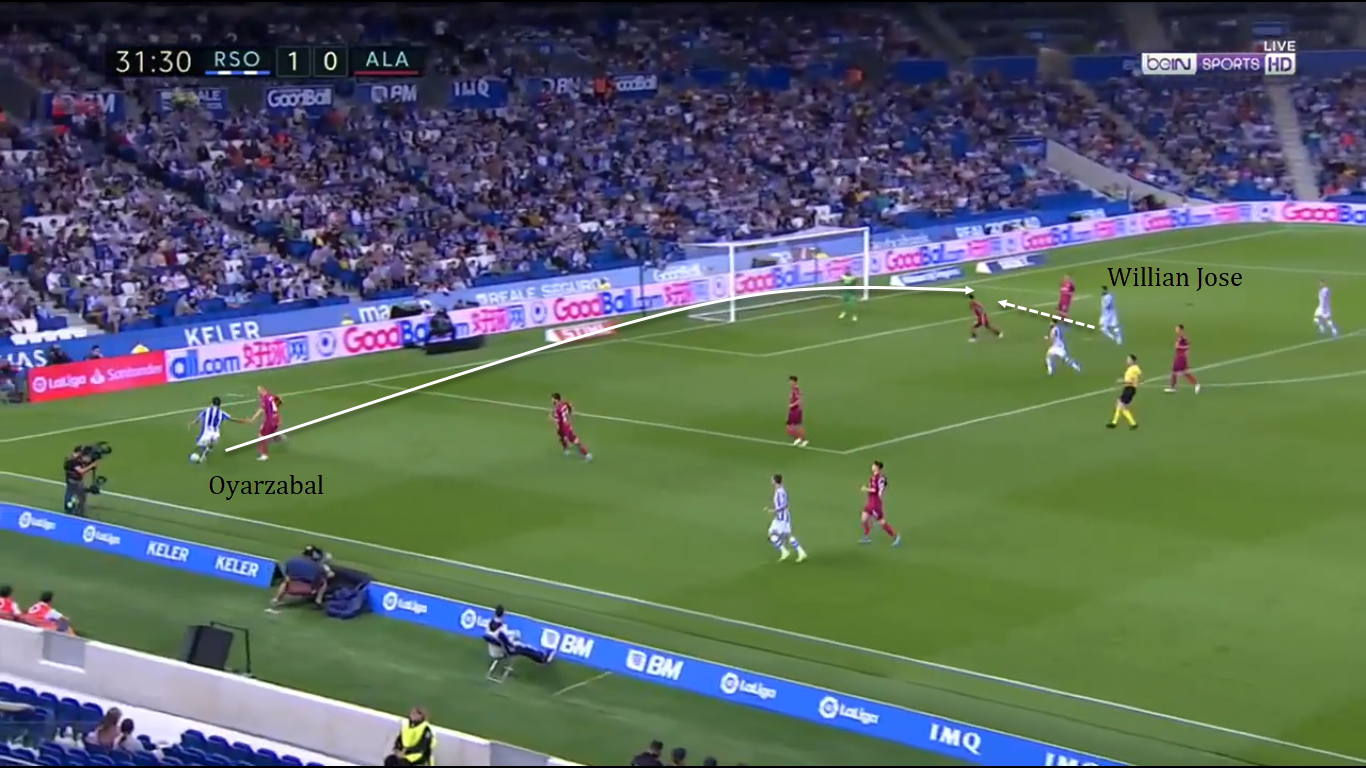 The link-up play between teammates is an important strategy by which Real Sociedad look to dismantle their opponents. They try to use wing-oriented attacks, vertical passing and third man passes to trick the oppositions. Oyarzabal fits in like a glove due to his ability to make accurate first time passes. On the left flank, Oyarzabal usually combines with Monreal and Merino to create a numerical superiority against the opposition's ball-sided fullback and winger as José pins the ball-sided centre-back. 
In the below example, Merino, Monreal and Oyarzabal create a 3v2 against Eibar's midfield as Pablo de Blasis is hesitant to advance from the right back position and press Oyarzabal. Merino plays a pass into Oyarzabal as both Monreal and Merino attack the space ahead of them.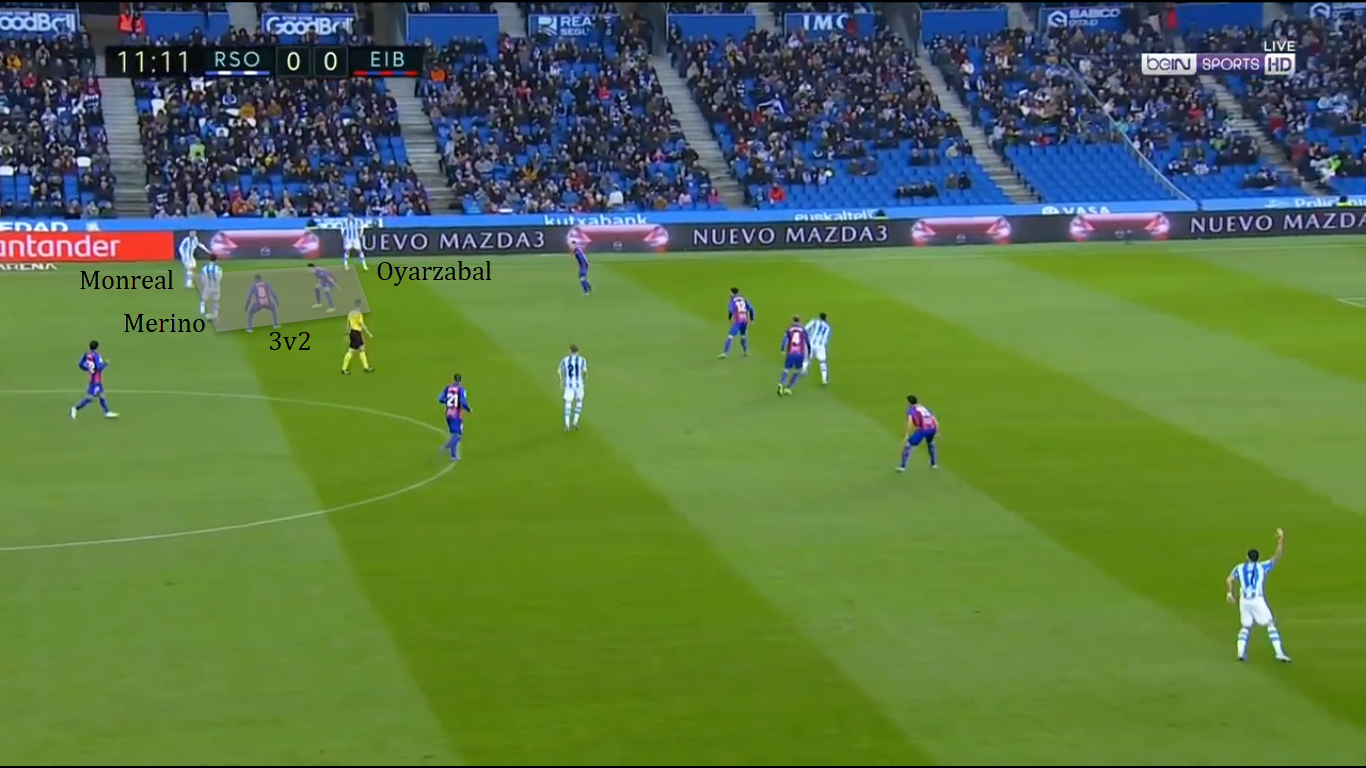 Oyarzabal plays a pass into Monreal, who attracts de Blasis, who in turn passes the ball into space for Merino to attack. As a result, Sociedad is able to create a 4v3 against Eibar's defence.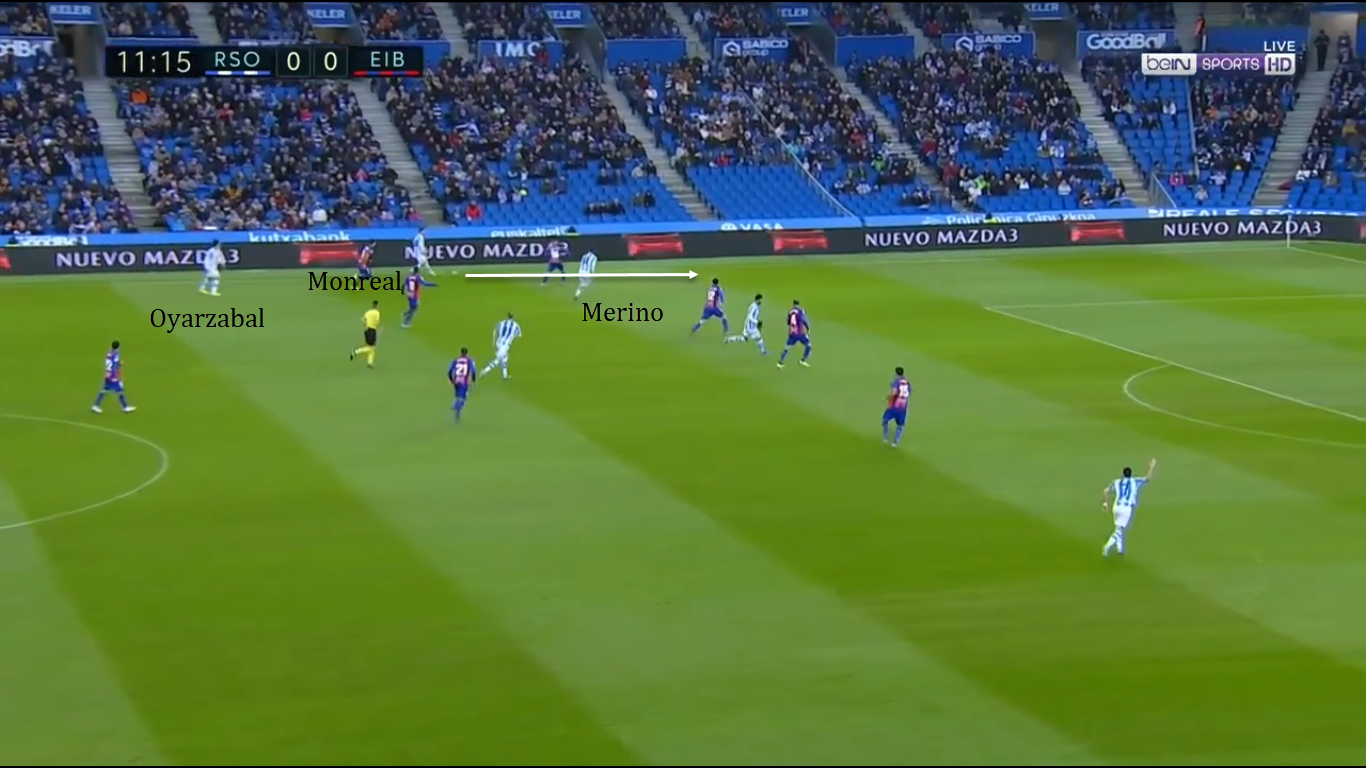 Although Oyarzabal is an extremely technical player on the ball in multiple aspects, he is not a playmaker. This is not to say that he can't pick out a through ball or pass the ball around. This is simply a case of what people assume he can do vs what he is actually good at.
Oyarzabal is still above average when it comes to creative passing ability, but it is not his strongest suit as most people assume; not by a long shot. This will be discussed further later on.
Shot Selection
Although Oyarzabal has scored seven goals already this season, five of them have been from the penalty spot. Taking a deeper look at his shot selection from last year shows that Oyarzabal takes a large number of shots from outside the box, without much success.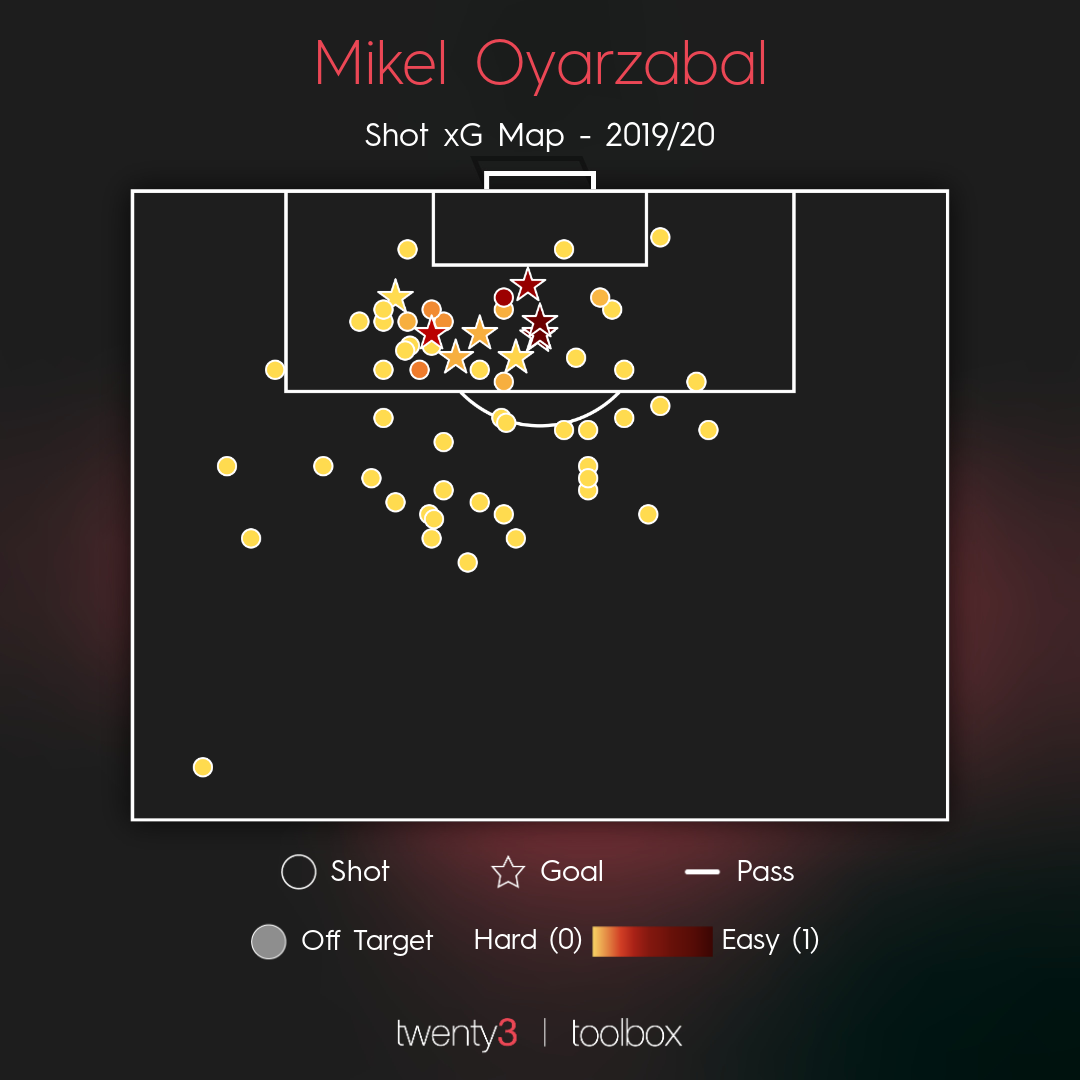 Photo: Twenty3/Wyscout
Oyarzabal has been getting into better goalscoring positions this season as shown by his non-penalty expected goals, and with that, his shots from outside the box have also reduced.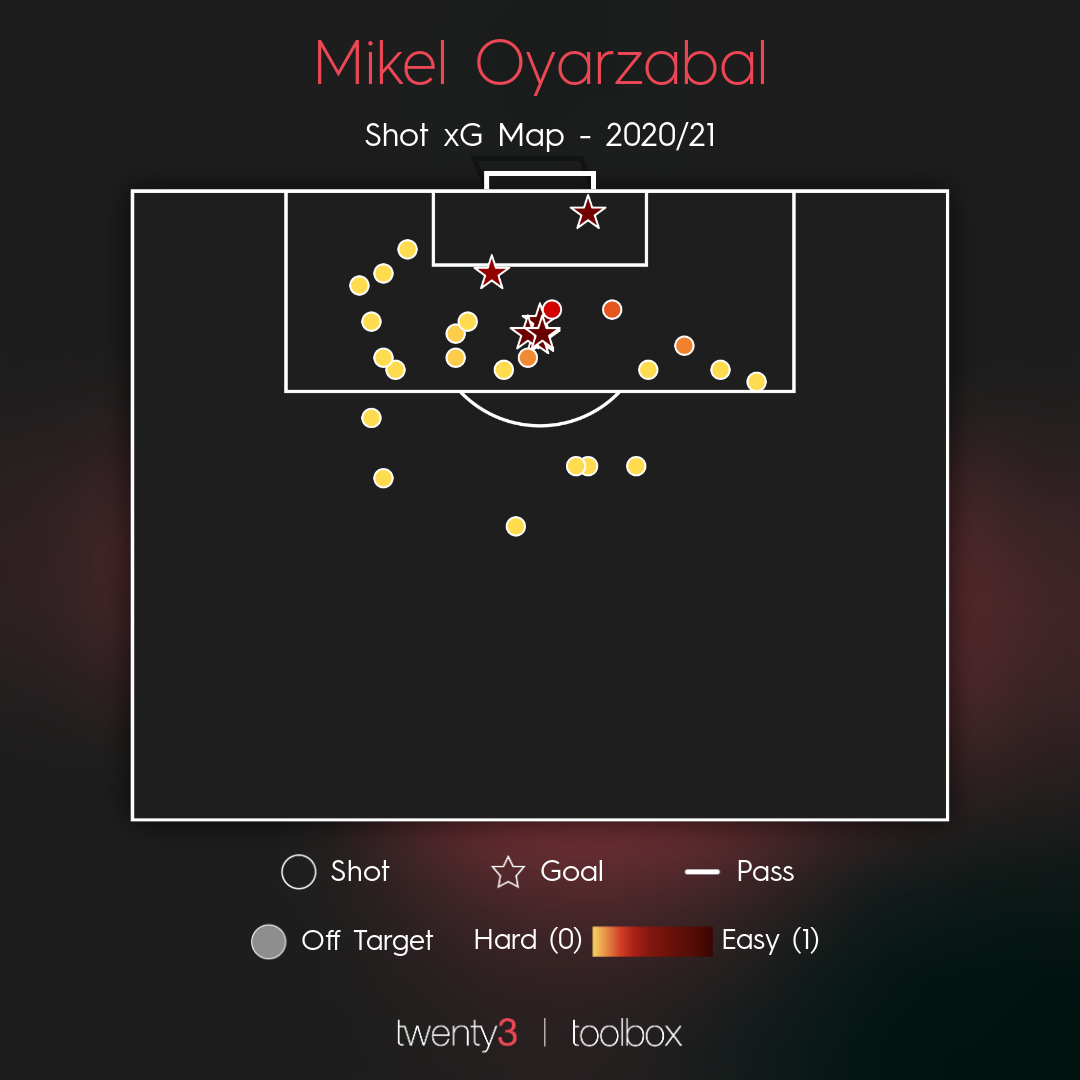 Photo: Twenty3/Wyscout
Last season, Oyarzabal took 33 shots from the box and 28 from outside the box. This season, however, he has taken just six shots from outside the box while 23 have come from within the box. So, not only is Oyarzabal taking more shots this season, but he is also taking them from high-quality areas. Hence, his xG per shot has gone from 0.13 to 0.20 this season.
Defensive Workrate
Executing Oyarzabal's role is not easy. He has to press the defenders when they build out from the back, then track their fullback when they have contained possession, while always being open for a pass if La Real manage to win the ball back. Oyarzabal does all of that brilliantly – for the most part.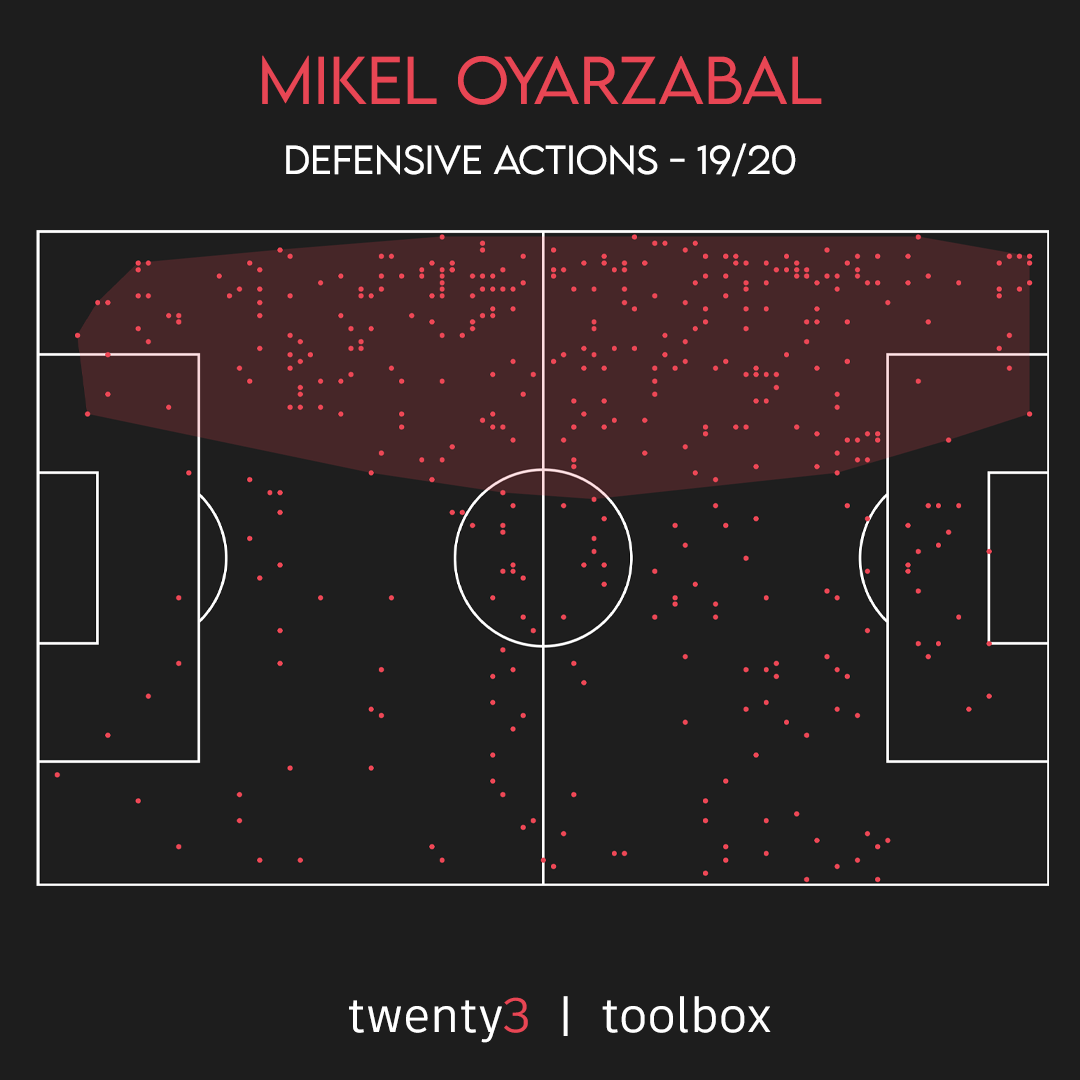 Photo: Twenty3/Wyscout
Real Sociedad defend in a 4-4-2 shape with the attacking midfielder joining the striker in this phase of the game. They try to press opponents high in a man-to-man marking system, to force the opposition long so that they can win the possession of the ball. Oyarzabal usually presses the fullback in the said scheme.
He likes to stay more central to start before he aggressively presses the fullback (once the ball is played to him). By doing this, he cuts down the angles for the fullback, as he can no longer pass the ball into the midfield and he is forced to play a pass by the touchline or pass it backward. 
Oyarzabal doesn't shy away from the dirty work. Sometimes when tracking the opposition's fullback, he can play as a false wingback, but he is not afraid of putting a shift in. This is shown by his (possession adjusted) tackles and interception percentile of above 80 percent among the forwards last season. 
In this example, Ruibal is on the ball and Monreal leaves his post to put pressure on his most likely passing option, Joaquín, but this leaves a massive gap between Le Normand and Monreal. Ruibal looks to exploit this gap by playing a one-two with Joaquin to get beyond Oyarzabal as Monreal is pinned by Joaquín.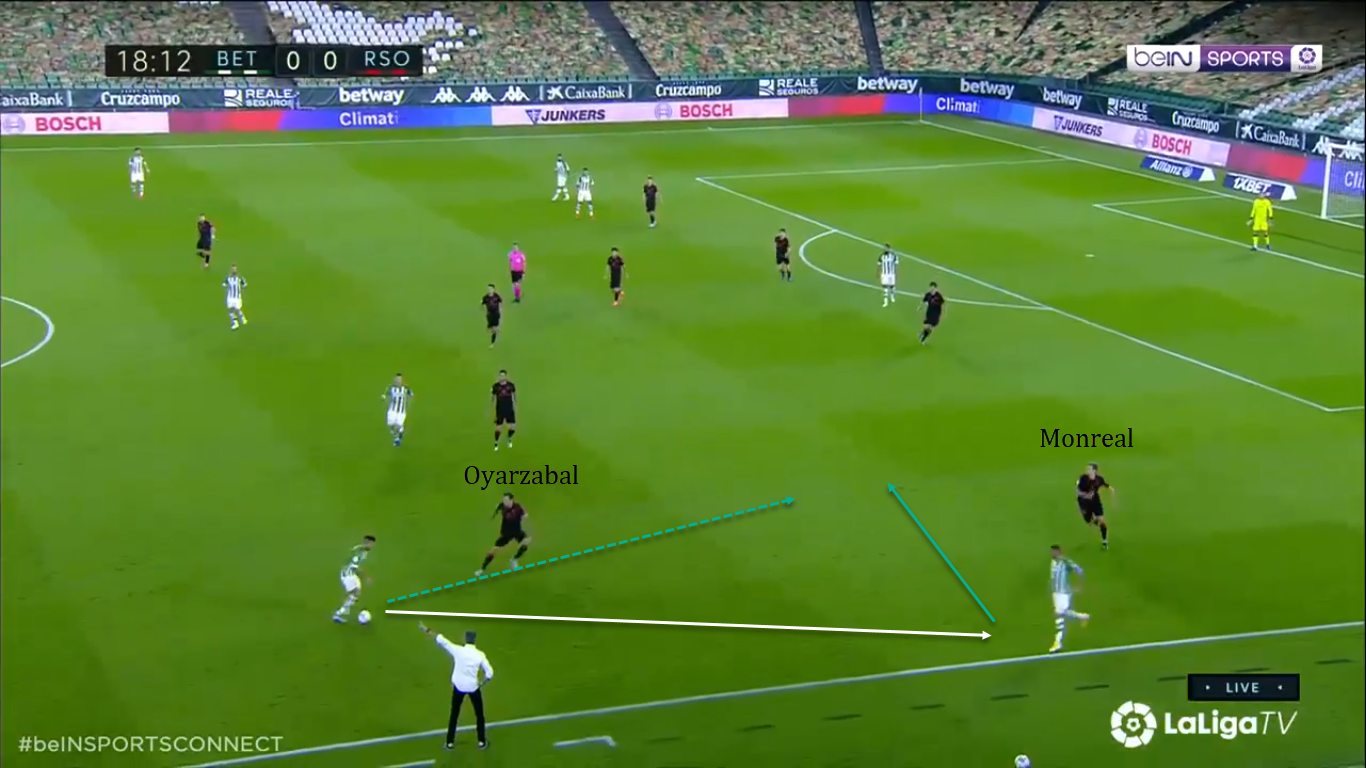 Nevertheless, Oyarzabal does a great job of cutting out Joaquín's pass to Ruibal as he dives into a challenge and cleanly wins the ball for his team. Moments like this show Oyarzabal's commitment, although he has been a little inconsistent in his defensive effort on occasions.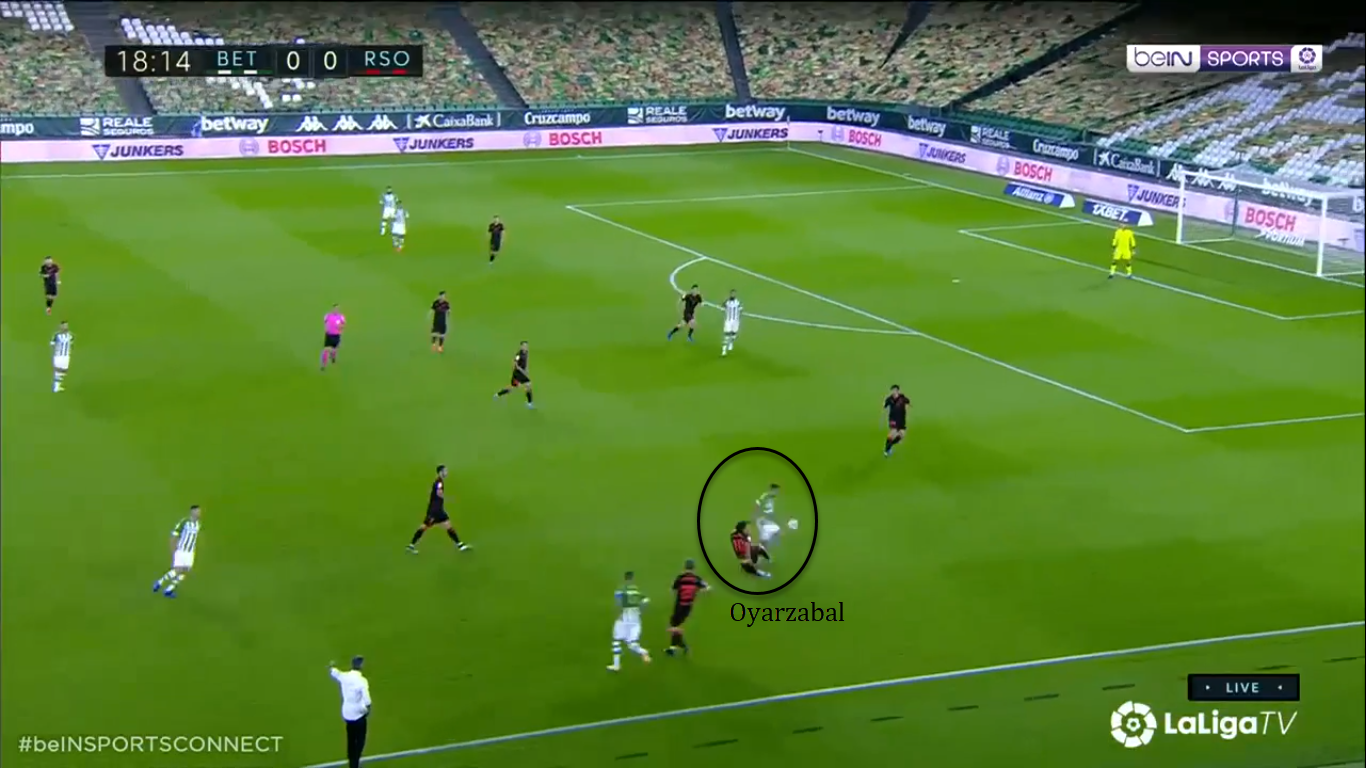 Areas of Improvement
Decision-making
On a number of occasions, Oyarzabal's decision-making and indecision are very noticeable. He receives the ball in a dangerous area and dwells on what to do for longer than he should. As a result, defenders get the chance to snap the ball out of his feet. Although this can be really annoying for the fans, he is still just 23 and decision-making comes with an impeccable understanding of the game and hence – experience.
In this example vs. Elche, Oyarzabal drops between the lines to receive in space. Now, he can find either of Isak or Portu with a timely through ball, or check back and pass it to David Silva, who can, in turn, switch the play to the right flank after attracting the attention of Elche LWB Fidel.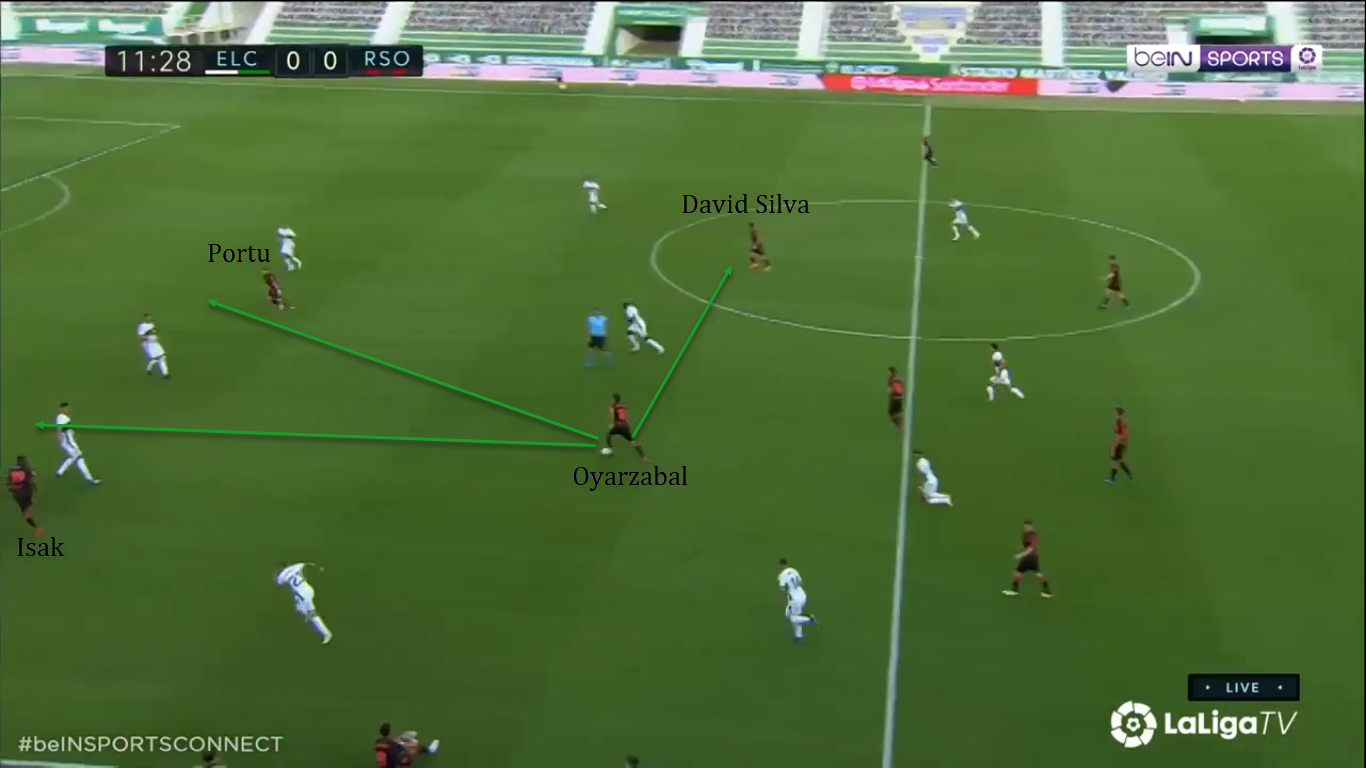 But instead, he dwells on it for too long and then he tries to shield the ball by turning away from the play and ends up losing the possession in an attacking position, with Elche midfielder Omenuke Mfulu winning the ball back for his side.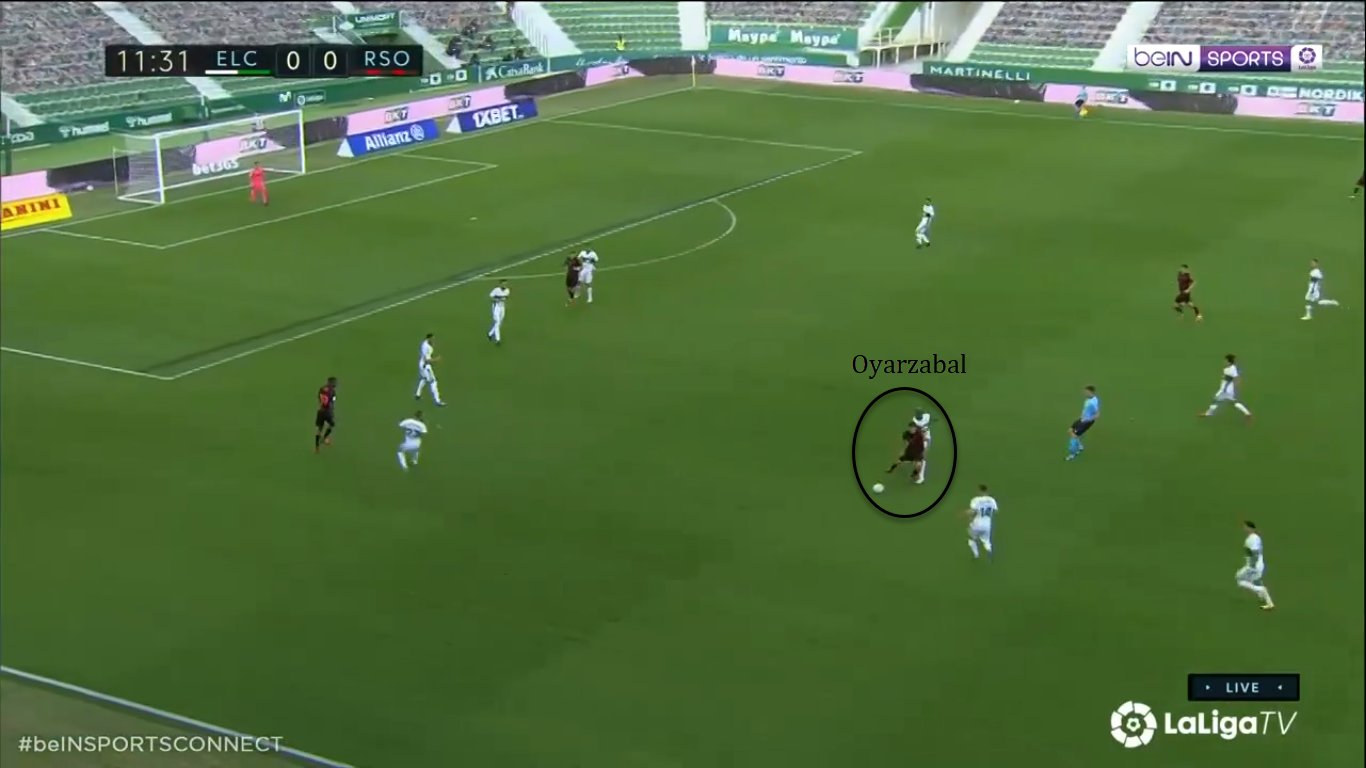 In other instances, Oyarzabal has a very good option available but his final execution is not up to the mark. Again, this is a part of his game that will improve with time.
In this example vs. Alavés, Oyarzabal gets ahead of his marker and gets into a good crossing position, whilst José also manages to find a lot of space between the two central defenders. If Oyarzabal manages to play a cross into that channel (green arrow), the Brazilian striker would get a free header to score a goal. But instead, Oyarzabal plays a cutback (or gets it horribly wrong) and his pass (white arrow) is easily blocked by the first defender.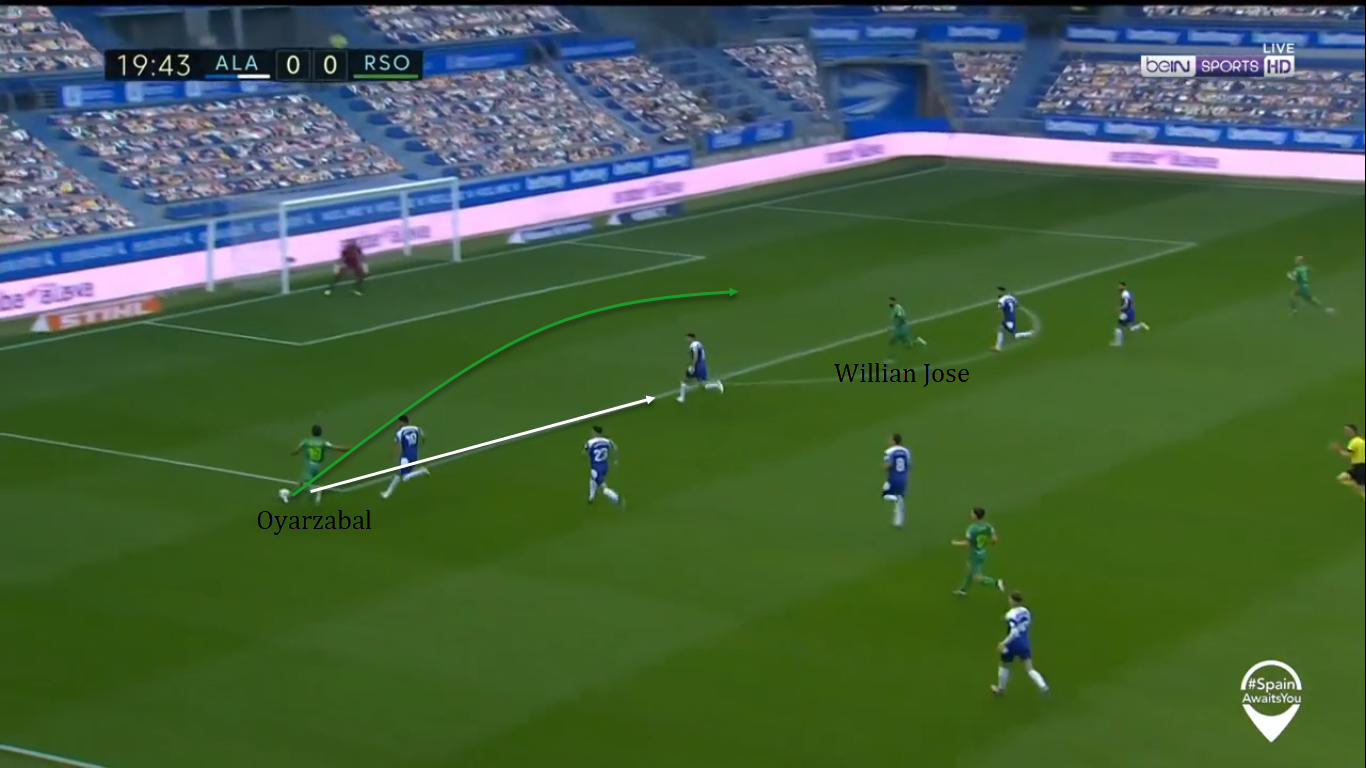 Oyarzabal is not a pacey winger who can consistently beat defenders in 1v1s, and he also isn't two-footed enough to create doubts in defenders' heads. Instead, he relies on his movement and runs into the box to create spacing from defenders and get at the end of good goal scoring chances; as such, he must make significant improvements in both his decision-making and his passing accuracy.
If he continues to get into good positions without exploiting them, he will become just another exciting talent who can light up LaLiga defenses, but who never takes the leap to the world-class level. Alternatively, he can improve on his goalscoring abilities to end up as a more potent threat in front of the goal. In which regard, the rise in his non-penalty expected goals from 0.16 per 90 last season to 0.33 per 90 this season may be indicating that he is treading the latter path (as discussed above).
Inconsistent Defensive Work
As mentioned earlier in the article, Oyarzabal doesn't shy away from his defensive work. However, there are a few moments where he decides not to track back or stop pressing all of a sudden. He seems to have improved a little in the current season, but it is still important to mention.
On occasions, Oyarzabal doesn't press his man, allowing him loads of time to make a decision and find players in attacking positions. This is especially dangerous since Real Sociedad play with a high defensive line. Hence, if the forwards don't press with intensity, the opponents get time on the ball and they can easily make runs beyond the defence to find themselves in attacking positions.
In this example, Aguirregabiria is on the ball and Oyarzabal does not press him high. Since La Real have a high defensive line, this gives the Alavés right back ample time to pick a pass while attackers can time their run behind the defence with great ease. A through ball is played for Lucas Pérez to chase but fortunately for Real Sociedad, the pass is a little long and reaches the goalkeeper straight away. 
Conclusion
After Xabi Alonso and Antoine Griezmann, Mikel Oyarzabal looks set to be the next homegrown talent to rise up from Real Sociedad's Zubieta academy and become a top-level player. Five years after breaking through the first team under David Moyes, Oyarzabal is now the torchbearer for the latest generation of Zubieta talents such as Ander Barrenetxea, Martín Zubimendi, Julen Lobete, and Roberto López.
At 23 years of age, Oyarzabal is not only the club captain, but the talisman in attack as well, and his awareness of the space and willingness to make runs beyond defenders along with his ability to drop between the lines make him a particularly dangerous customer to deal with. However, he will need to adapt his game and work on his weaknesses to reach the next level of superstardom.
By: Shaharyar Atique
Featured Image: @GabFoligno / Pressinphoto – IconSport