Player Analysis: André Todisoa
André Todisoa was born in Madagascar and his formative years were spent with his current club; Madagascan side Fosa Juniors. This season, at 20 years of age, he has become a key fixture in the team starting four out of five games in the Malagasy Pro League (Madagascar's top division) so far.
Todisoa has been a prominent figure in Madagascar's national youth teams for several years. He was part of their Under-17 squad for the 2017 Under-17 Council of Southern Africa Football Associations (COSAFA) Cup. More recently he played for their Under 20 team at the 2019 Under-20 COSAFA Cup and 2020 Under-20 Union of Arab Football Associations (UAFA) Arab Cup.
Position and Role
In the 2021 Malagasy Pro League, Todisoa has been deployed as a deep-lying central midfielder in a 4-3-3 for his club. In the deep-lying midfield role, it looks as if the manager wants him to be a "Regista" type midfielder. It appears he is expected to stay behind the ball when his team are in possession, circulate possession through the defensive and midfield thirds and facilitate attacks from deep with forward passes. When defending it appears the manager expects him to sit deep, just in front of the defence and block spaces rather than press opponents.
Todisoa has played in several midfield positions for Madagascar's Under-20 team. At the 2019 Under-20 COSAFA Cup, he was mainly used as the most advanced midfielder in a 4-2-3-1/4-4-1-1 formation. Whereas at the 2020 Under-20 UAFA Arab Cup he was primarily deployed as either the right or left-sided central midfielder in a 4-3-3 formation. It should be noted that he also played in this position on occasions at the 2019 Under-2020 COSAFA Cup. 
In the more advanced attacking midfield role, Todisoa was expected to be the key playmaker in the side and provide a link between the midfield and attack. This required him to find space across the attacking third to receive the ball and connect with the forwards.
He was expected to play passes into his attacking teammates' feet or play balls in behind for them to exploit as well as support attacks with runs towards and into the box to offer an option to receive the ball and provide goalscoring opportunities for attacking teammates. There did not appear to be much defensive responsibility placed upon him, although he was expected to drop deeper when the opposition had the ball and position himself in front of the two deeper central midfield players.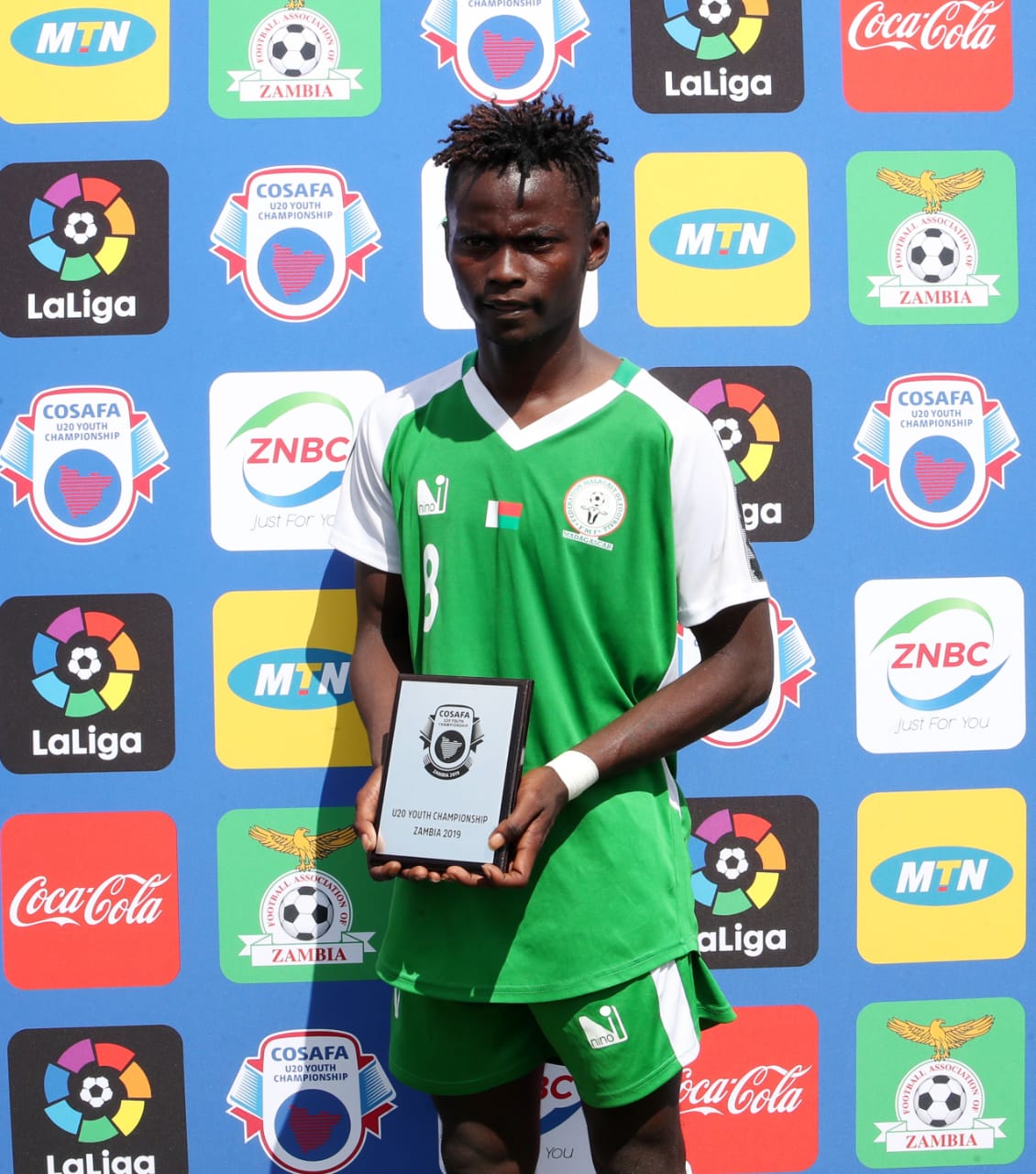 Photo: MySoccer24
When Todisoa played in the box-to-box midfield role on either the left or right side of a midfield trio he appeared to have numerous duties when his team had possession. This included receiving the ball from his defenders and retaining and circulating possession, making forward runs to support attacks, linking up with his more attacking teammates in the final third and creating goalscoring chances for teammates and himself.
Out of possession, he was mainly expected to block passing lanes to prevent passes from being played in behind him for opposition players to exploit. But also, press opponents on the ball in his vicinity and attempt to win the ball off them. 
Attributes and Style of Play
Todisoa is a diminutive player who looks to be around 1.70m or shorter. Due to his small stature, he possesses a low centre of gravity that enables him to turn sharply in and out of possession and maintain his balance. This is particularly useful when he has the ball and is placed under pressure because he can change direction unpredictability to separate himself from opposing players and retain possession of the ball.
Despite his small stature he is not very weak and can hold his own against more imposing players on occasions. However, he needs to build on his strength and power if he wants to succeed at a higher level. He can do this by adopting a strict strength and conditioning regime. Implementing this type of programme will also help improve his stamina, an area where he needs to make improvements. He tired noticeably as games wore on with his influence diminishing as a result. 
Speed is not a vital part of Todisoa's profile, but he does have decent acceleration over the first few steps. This helps him drive past an opponent in midfield areas and allows him to create enough distance between himself and an opponent who is chasing him to release the ball before facing an attempted tackle or being pressurised. His overall speed is average as he is not particularly rapid over longer distances, although he is not obviously slow either. He has just enough speed to drive forward with the ball past opponents over short distances. 
Todisoa is extremely comfortable with the ball at his feet. He displays excellent close control and manoeuvres and manipulates the ball effectively on smooth and uneven playing surfaces. Alongside this, his ability to take lots of cute, delicate touches in tight areas, whether that be with the inside, outside or underside of his feet or a combination means he can cleverly shift the ball away from opponents attempting to pressure and tackle him while retaining possession.
The wonderful close control he displays is exemplified in a moment from his match against Djibouti in the 2020 Under-20 UAFA Arab Cup. There was a high looping ball in the centre of the pitch that was dropping to the ground quickly. As the ball hurtled toward the ground, he positioned himself expertly and lifted his right leg up towards the dropping ball and pulled the ball beautifully to the floor with his right foot in one motion.
With the ball firmly under his control, facing his own goal, he quickly shifted the ball backwards towards two pressing Djibouti players. Yet he avoided them by taking two rapid touches past them into space before they got close enough to make a challenge. He then played a nice outside of the right foot pass for his left-back teammate to run on to and advance into space up the pitch. 
Todisoa's excellent close control is complimented by his awareness of where he is positioned in relation to his teammates and opponents. He demonstrates this consistently throughout games with a good example of this occurring during the 2019 Under-20 COSAFA Cup group game versus South Africa.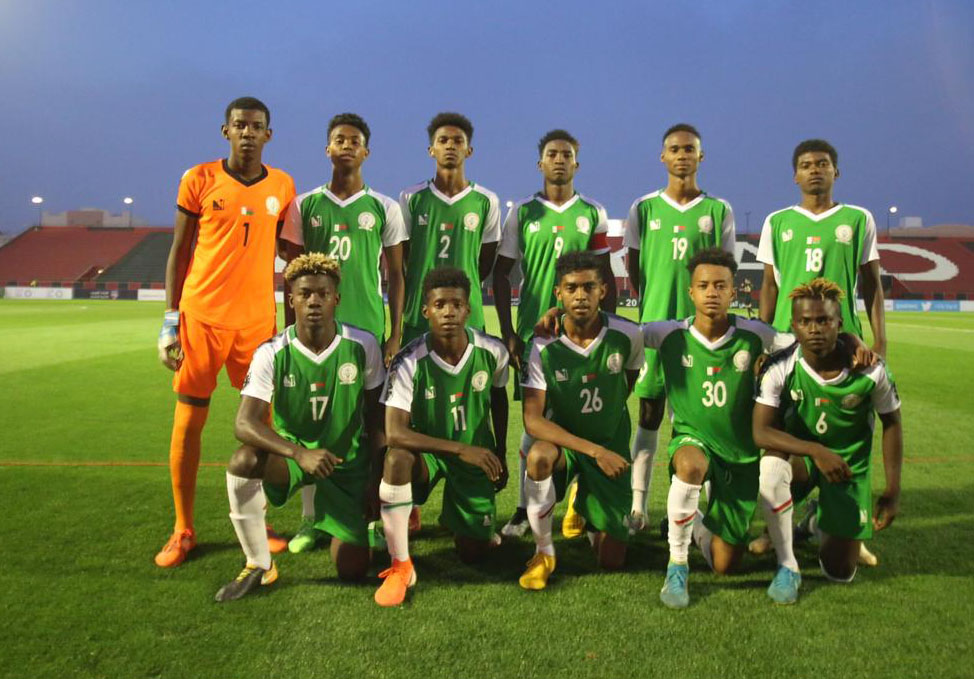 Photo: Goalzz
He received the ball in a central area from the defence and had positioned himself with his back to the opposition in a slightly diagonal open body stance. His right foot was placed in front of his left foot in the knowledge that an opposition midfielder was close by. This meant that when he received the ball on his right foot, he could shield it if he received instant pressure and pass it back to the centre-back without losing the ball.
It also gave him the option to protect the ball by keeping his body between the ball and his opponent while quickly and easily turning with the ball towards his left to enable him to pass the ball out to his right-sided teammates. In this action, he turned to his left with the ball and evidently knew the opposition midfielder was going to press him as he turned.
Just as they sought to tackle him, he spotted a gap between their legs and precisely rolled the ball through the gap. He then coolly ran around the opponent, collected the ball and passed it to a teammate on the right flank. This piece of play epitomised his great close control as well as his awareness. These two attributes make it difficult for opponents to regain possession from him. 
Todisoa is also hard to dispossess because he excels in identifying and receiving the ball unmarked in pockets of space in the midfield and attacking thirds. He is particularly good at placing himself between the lines of the opposition's midfield and defence to receive the ball as well as on the edge of the box as an option for a cutback. This allows him to receive the ball with time and space to make a decision on the ball without physical pressure from opponents.
In turn, he rarely loses possession because he will have received the ball and passed or driven forward and offloaded the ball before facing a challenge from opponents. This was evident throughout his performances at the 2020 Under-20 UAFA Arab Cup and 2019 Under-20 COSAFA Cup. It is a particularly important trait for a player like him to possess because he is not physically strong.
As either the most advanced attacking midfielder or as a left or right-sided central midfielder in a three-man midfield, Todisoa makes good forward off-the-ball runs from central areas diagonally out to the flanks. These off-the-ball runs are hard to track and help break the offside trap as he arrives from a deeper position into space in attacking wide areas behind the opposition's defence.
He becomes the spare man in wide areas due to these runs, allowing his team to outnumber the opposition and enabling overloads, making it easier to create space and move the ball for a crossing opportunity. He should aim to make more off-the-ball runs vertically from his central midfield or attacking midfield position, behind the central defenders to pose more of a goal threat. This is something that is currently lacking in his repertoire. If he could do this more often, he will create more danger for defences and gain more opportunities to score goals. 
Todisoa's passing range with both feet is usually accurate and can be penetrative. He is particularly good at playing two types of passes. Firstly, he is adept at playing disguised forward passes from deeper positions into the midfield and attacking areas. He will open his body as if he is going to play a pass wide and then whip the ball with disguise to a teammate standing in a more advanced position bypassing the opposition players.
In a recent Madagascan Pro League game for Fosa Juniors versus Tia Kitra, he produced this type of pass on multiple occasions. The way he plays this pass is reminiscent of the way Thiago Alcântara plays this pass. Secondly, his clipped or floated through balls from the midfield third into the path of attackers making runs off the backs of defenders are inventive and nicely constructed. Two examples of this are provided below.
Georginio Wijnaldum vs. Thiago Alcântara: A Side-by-Side Comparison
Although he usually takes care with his passes to ensure they reach the intended target, he needs to work on adding a little more venom to his passes as they sometimes lack power and are occasionally under-hit most notably when he attempts long-range passes.
This sometimes results in the pass being intercepted or gives opponents the opportunity to close down the receiver of the pass and place that player under unnecessary and avoidable pressure. This results in possession being lost or the tempo of the build-up or attacking phase of play slowing down. He can improve the speed of his passing by working on his ball-striking technique with his instep and laces of both feet at training daily. 
Todisoa's proficient passing ability combined with his good vision, enable him to spot and execute incisive passes that destabilise and penetrate opposition defences. He demonstrated this in the 2020 Under-20 UAFA Arab Cup group stage match against Djibouti. He received the ball on the left-hand side of the midfield with time and space to play a forward pass.
He looked up, scanned the pitch and quickly identified his right-wing teammate who had made an untracked run from the right channel in behind the opposition's left-back and left centre-back. He took a touch and then pinged a lovely left-footed floated pass over the opposition's defence into the path of his right-wing teammate who made the run.
The ball landed and bounced perfectly for his teammate to collect but they misjudged the bounce and were unable to control the pass. He also created an assist via a similar type of pass from the same zone of the pitch against South Africa in the 2019 Under-20 COSAFA Cup semi-final encounter. In that game, he received the ball on the left-hand side of the midfield.
He again spotted a clever run from his right-wing teammate who ran infield between the opposition's centre-backs. He played a deftly floated right-footed pass over the defenders' heads towards his right-wing teammate. As the ball reached his teammate just inside the box, they produced a flicked header which looped over the onrushing goalkeeper and into the net. These examples show the passing ability and vision that he possesses. 
Defensively, Todisoa struggles. He has poor defensive positioning when the opposition are building up the play and entering the attacking zones. This is exacerbated by his inability to read and anticipate where the opponent could pass the ball and attempt to block off passing lanes and angles. He tends to ball-watch and gets drawn towards where the ball is rather than placing himself in a sound defensive position to anticipate and intercept where the ball will go next.
Consequently, it is too easy for opponents to play balls past him into threatening positions without him impacting or disrupting the passage of play in any meaningful manner. This part of his game can be improved with a coach who focuses on improving his defensive tactical understanding. They can do this by teaching him how to position himself correctly and adopt the best body stance to block passing lanes and angles. 
In addition, Todisoa makes laboured recovery runs when his team lose possession. This could be due to his limited stamina, referred to above, but may also be due to a lack of desire to help defend. He certainly needs to work on his stamina but also needs to improve his willingness to track back quickly and defend. In the future, whichever clubs Todisoa plays for and whatever midfield position he is played in, his managers will expect him to increase his defensive work-rate and show more hunger to defend.
Long-term Potential
Todisoa's performances at the 2020 Under-20 UAFA Arab Cup and the 2019 Under-20 COSAFA Cup as well as in the Malagasy Pro League games showed him to be an intelligent player with bundles of technical quality. The ability Todisoa has demonstrated in domestic competitions and at international tournaments against solid opposition indicates that he has the long-term potential to become a very good player for a club in Europe's top 10 leagues.
The Madagascar native has played in three different midfield roles and performed well in all three. Nevertheless, he is best suited to playing in a box-to-box role where he can contribute to building up play from deep, knitting things together in the midfield third and creating goalscoring opportunities. 
Potential Future Clubs
Todisoa is a regular starter for Fosa Juniors this season. Irrespective of this he should consider a move to a club in a better league in the summer. He certainly has the talent to take the next step in his career. 
Todisoa could move to a South African Premiership team like Orlando Pirates or Supersport United. Either would be a good move for him and with his talent, he could quickly become a key player. Honing his skills in the South African Premiership for two seasons would prepare him well for a step-up to a bigger club in a more difficult league afterwards. However, a problem with clubs like Orlando Pirates and Supersport United is their reticent to give talented under 21 players sufficient first-team minutes. 
Alternatively, Todisoa could move to a small European club in a competitive league. However, it is important that if he moved to a European club that they will nurture his talent properly and give him the time to adapt as well as some first-team opportunities within 12 months. So, let's take a look at two European clubs that he would benefit from joining.
1. Le Havre
Le Havre are currently 10th in Ligue 2 (France's second division) and are unlikely to be promoted nor are they likely to be relegated. Their focus will soon turn to next season and how they can improve their squad to finish higher in the league. 
A position where Le Havre need to enhance the quality and depth of their options is in midfield. They have 5-6 midfield options at present however those players have struggled to control games and create goalscoring chances for their attackers. A player they should consider signing to help address this issue is Todisoa.
He would give them added creativity and control in midfield areas, and he can play in different midfield positions in varying tactical systems. Additionally, he is only 20 years old, has a huge scope for development and would likely be inexpensive compared to similarly talented players playing in France or other parts of Europe because he is contracted to a Madagascan club. His comparatively low cost for the level of ability he has would be particularly attractive to them due to COVID-19 and the financial toll that it has inflicted upon the club. 
Transferring to Le Havre would be a wise next step for Todisoa. They are a solid Ligue 2 team who are renowned for developing talented young players. He would benefit from better coaching that can enhance his strengths and improve his weakness. Alongside this, he would also train with better players and regularly face better opposition who will create more challenges for him and force him to develop and refine his style.
As a versatile midfielder, Todisoa would have more opportunities to play for Le Havre's first team than he would for many clubs of a similar size if he joined them. This is due to the distinguishable profile he has compared to the midfield players presently on their roster.
2. Paços de Ferreira
Paços de Ferreira are having an impressive campaign under Pepa so far and are sat in the top five of Liga NOS (Portugal's premier division). They will be looking to maintain their form until the end of the season. Next season they will need to strengthen their squad if they want to replicate this season's performances and even reach a higher position in the league.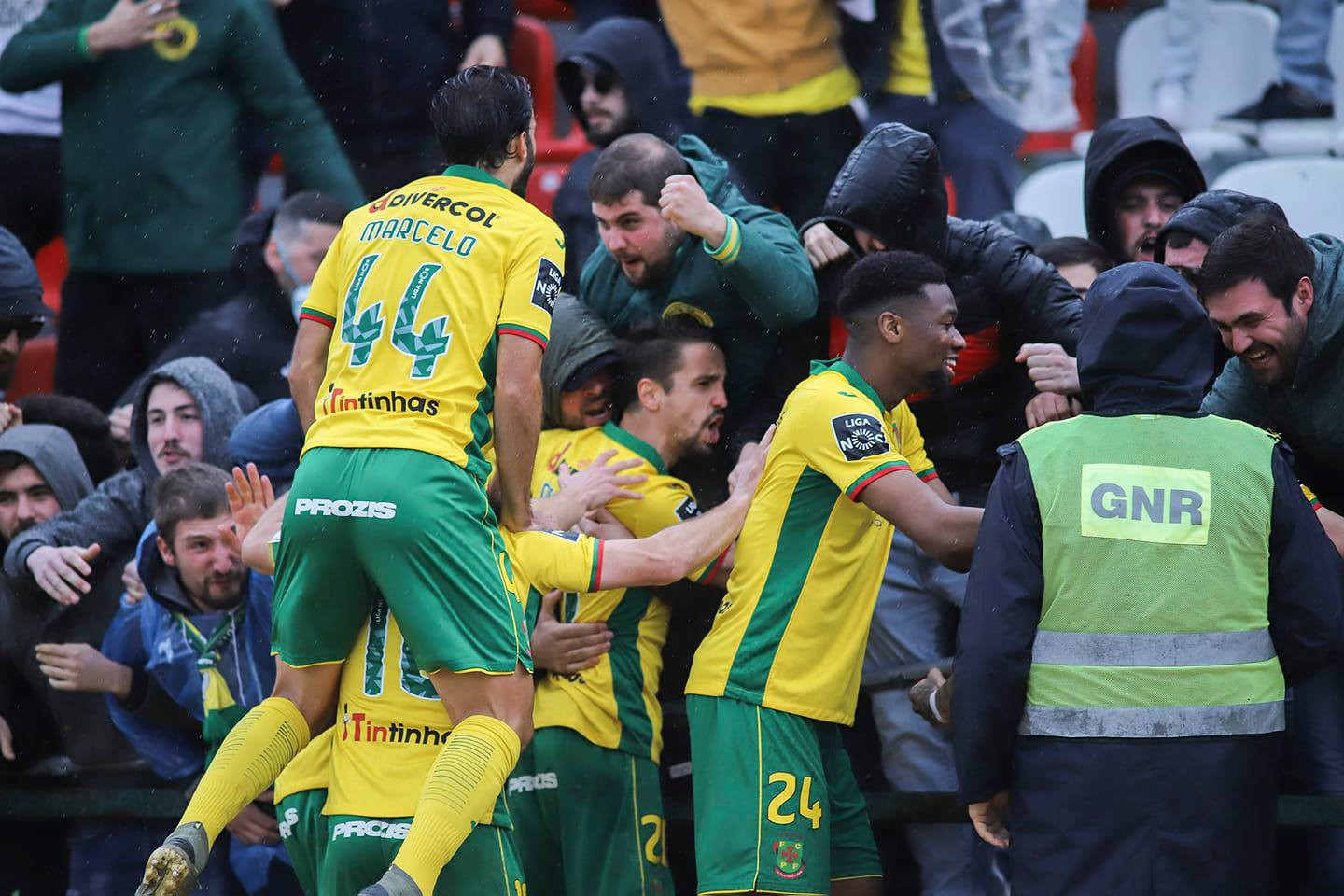 Photo: Telmo Mendes – A Verdade
Currently, Paços de Ferreira have two midfielders on loan for the season who are unlikely to stay beyond this season. They are Spanish central midfielder Martín Calderón and Portuguese creative midfielder Bruno Costa.
With their inevitable departures at the end of the season along with the likely departure of midfield veteran, 36-year-old, Luiz Carlos, they will be lacking depth in midfield. There may be a B team midfield player who can be added to the first-team squad and they will probably sign a couple of players on loan, for low fees or on free transfers from other Portuguese clubs. 
Despite this, Paços de Ferreira should snap up Todisoa as a longer-term midfield option. He is only 20 years old and can play in a variety of midfield roles. He also has great close control, passing and flair plus good balance which make him well suited to the technical style of Portuguese football. A bonus in recruiting him is that he would command a cheaper fee and salary compared to similar level players they would be targeting in Europe or South America.
He would probably not be ready to start in Liga NOS immediately and would require time in the B team to fully adapt. With his talent, providing he is given the conditions to acclimatise, he should be capable of becoming a first-team player within 12 months, especially if they do not significantly strengthen their midfield. If they do, he may have to play a season in the B team before he is ready to be a first-team player. 
Moving to Portugal from Madagascar would be a huge step-up in quality for Todisoa. This move would certainly be a significant risk for him to take. However, it would be worthwhile. Paços de Ferreira are a small club in Portugal so he would have time to adapt to a new country, its language and culture and be able to develop his game without much scrutiny.
Alongside this, the style of Portuguese football at first team and B level is perfect for him. It is not very physical and is played at a relatively low tempo which suits small and slight technical midfield players like him. Additionally, there may be an opening for Todisoa to become a first-team player relatively quickly if Paços de Ferreira signed him but did not sign many other midfield players in the next couple of transfer windows.
By: Daniel Ajuh
Featured Image: @GabFoligno / MySoccer24