Player Analysis: Andreas Christensen
Thomas Tuchel's Chelsea have been resurgent. In their 11 matches, they have racked up eight wins and three draws, meaning that the German tactician is just one match away from potentially equalling Luiz Felipe Scolari by avoiding defeat in his first 12 matches in charge of Chelsea.
Tactical Analysis: The First Weeks of Thomas Tuchel's Chelsea
His tenure has provided many Frank Lampard-castaways with a crucial second chance to show their worth and establish themselves in the Chelsea squad, with the likes of Callum Hudson-Odoi and Marcos Alonso taking this with both hands. Andreas Christensen was not a part of Tuchel's first-choice defence, but an injury to Thiago Silva gave him the chance to work at the very heart of it, as he was selected ahead of Kurt Zouma.
The Danish international, who has been on the Chelsea books since he was 15 years old, has not looked back since. He has looked rock-solid in defence, conceding just once (which was an inexplicable own goal by Antonio Rüdiger) under his new manager. In fact, the only goal that Chelsea have conceded to an opponent came when Zouma was preferred to Christensen against Southampton.
Christensen's brilliant performance against Liverpool was an indicator of just how far he has come since being expelled to the fringes of the first team by Lampard. The last time he started against the Reds, this happened: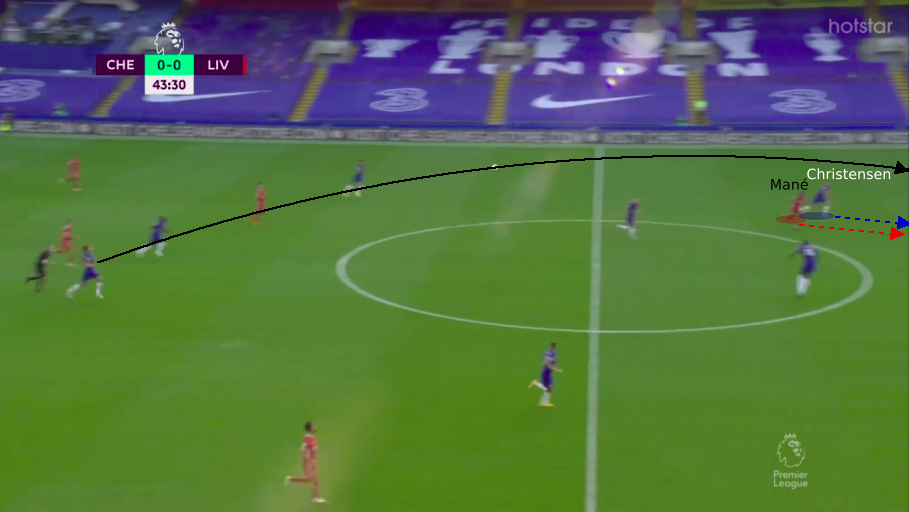 Just before half-time, he was chasing a long ball towards his goal, with Sadio Mané hot on his heels. He chose this intriguing defensive technique: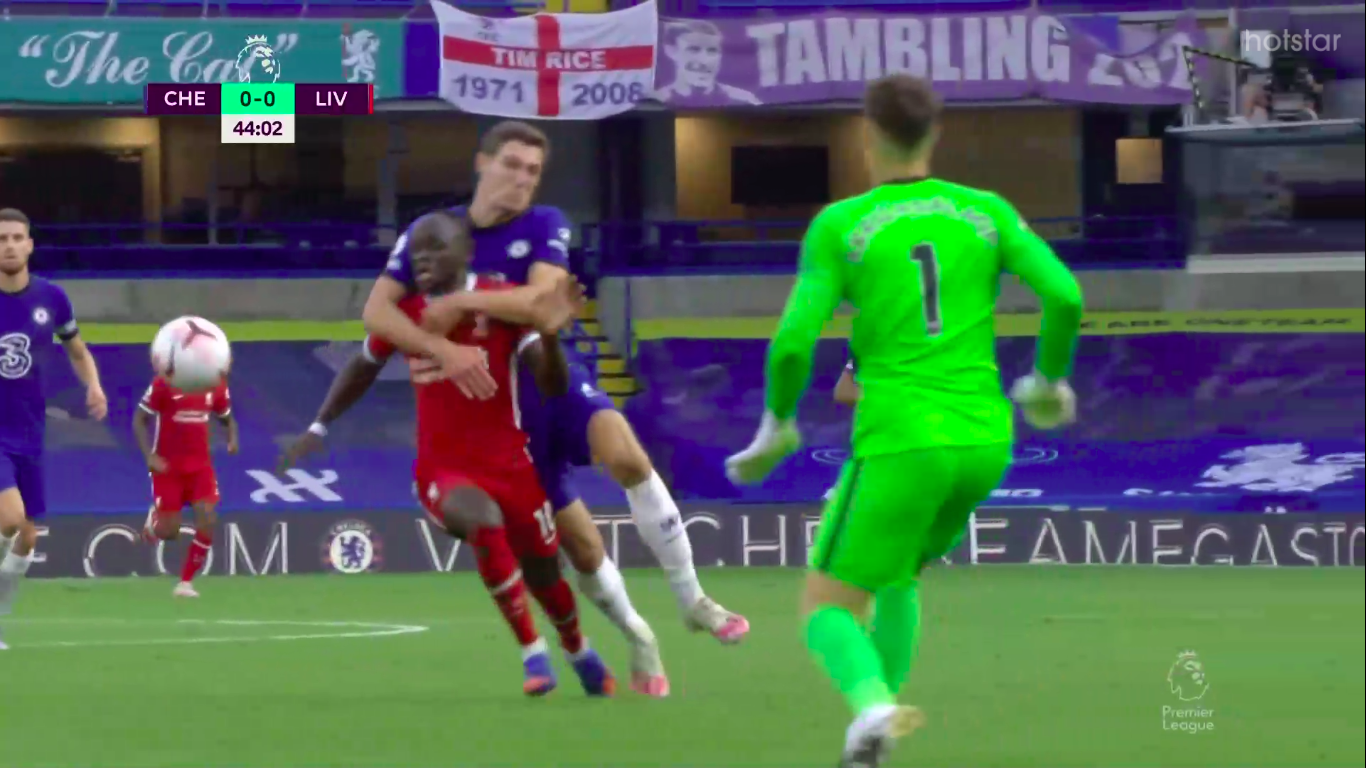 As you might imagine, that was not a very wise choice, and the result of it was a red card. Christensen made just three subsequent Premier League appearances under Lampard, shipping seven goals in that period as his side only picked up three points in those matches. In fact, after this incident, he only played one more match for Lampard (6) than he did for his country (5).
After failing to appear in Tuchel's first two matches in charge, Christensen was brought on in the first half against Tottenham Hotspur following an injury to Silva, and as aforementioned, he has not looked back ever since.
Defensive Positioning and Anticipation
The most important aspect of a defender is – as the designation suggests – defending, and Andreas Christensen has certainly done that quite well under Thomas Tuchel, as is proven by the fact that he is yet to watch an opponent score past his keeper while on the pitch.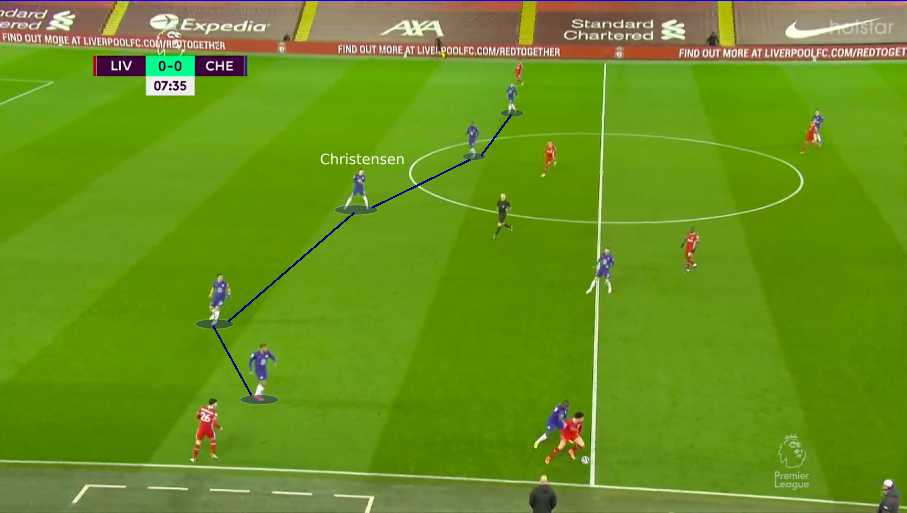 Tuchel has always used a back-five in defence with Chelsea, as the wing-backs drop alongside the three centre-backs. The Danish center back is usually at the centre of this.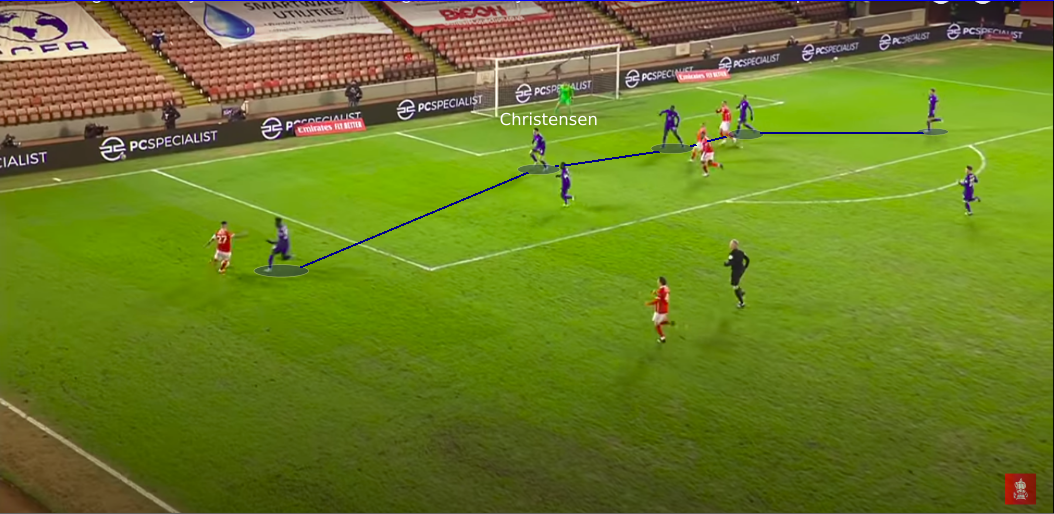 He was used in the right-centre-back position, but that was only for the first half of the FA Cup tie against Barnsley. Given the fact that Tuchel has not tried him in that position again, we can safely dismiss it as a one-off experiment.
Going back to the very centre of defence, though, let's see some of the good work that Christensen has done at the back under Tuchel.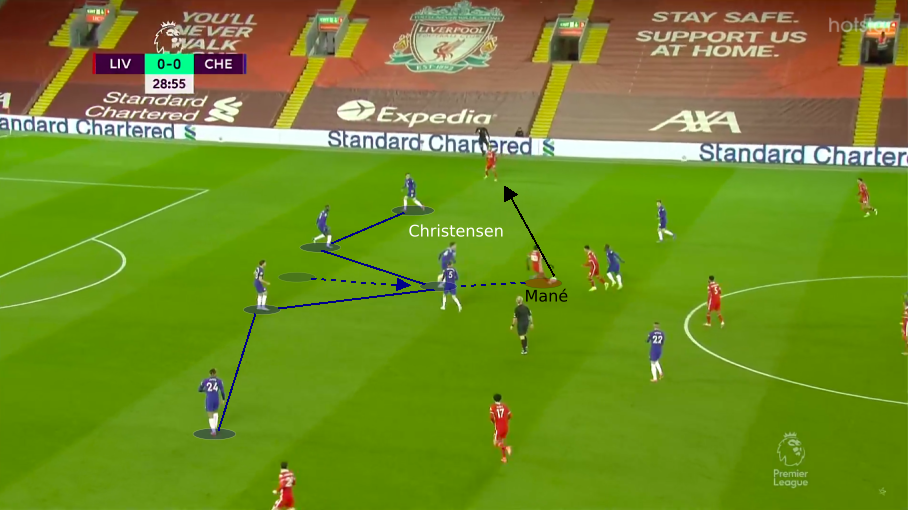 Here, he pushes up from the back-five to push Mané back. The Senegalese international does have a passing option, though, as he can find Mohamed Salah on his right.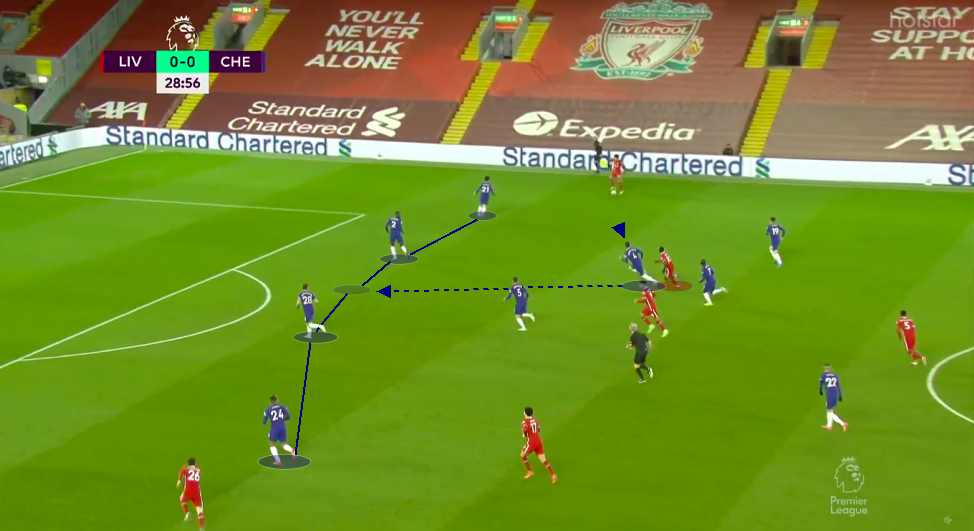 When attackers drop deep, their objective is to drag a defender out of position, pass the ball to a teammate, and finally outpace the defender and access the space he vacated. Christensen, however, is well alert here, so he made sure that he is goalside of Mané while sprinting to quickly get back into position.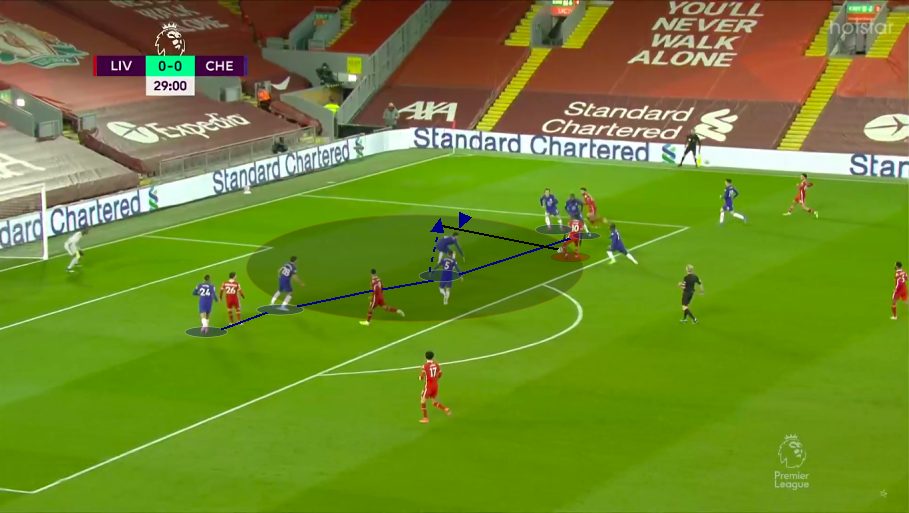 Therefore, when Salah plays the ball back to Mané, Christensen is well in position. However, there are some gaps in the Chelsea defence, which Mané is looking to use by slipping a through pass to Salah, but Chelsea's Danish centre-back can prevent the ball from going past him with his smart positioning and correct anticipation.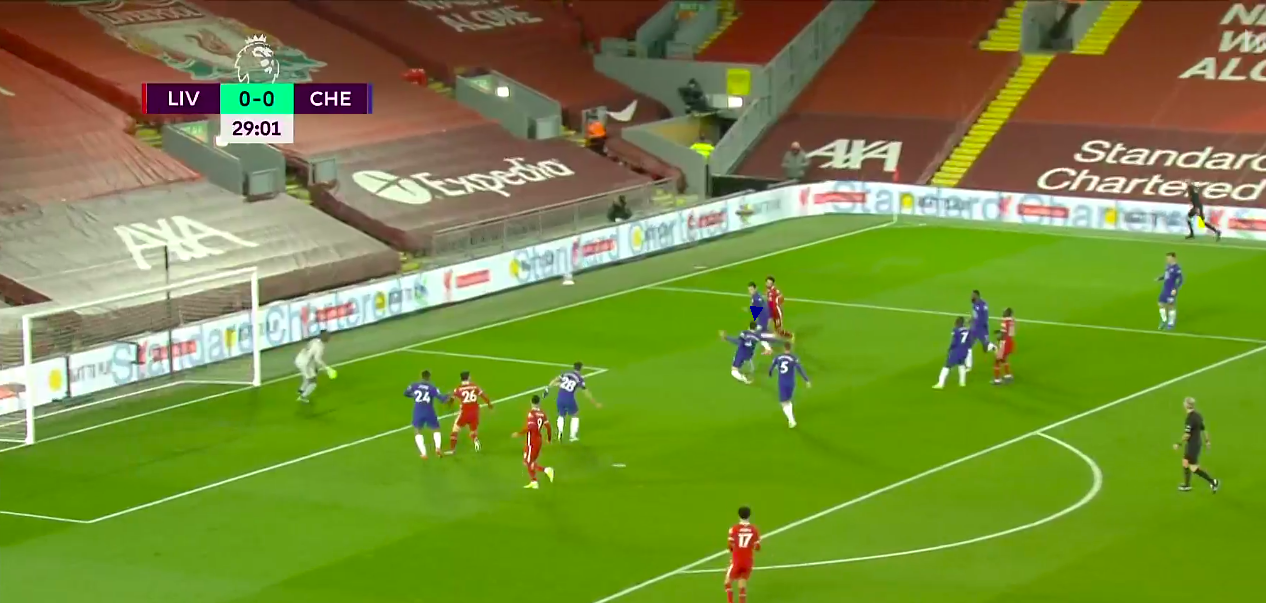 All of that enables him to make this important interception. A defender with great positioning and anticipation is key when defending in transition, and this is another reason why Christensen has a key role in Tuchel's system, which can easily be exploited with width in transition.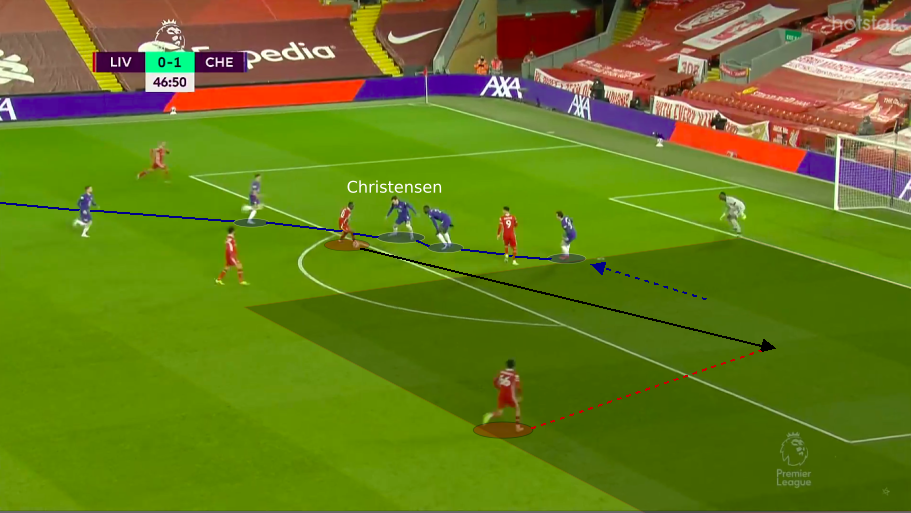 Chelsea are in such a predicament here – even their left wing-back is on the right side of the pitch, allowing an opposition player to creep up unmarked on their left.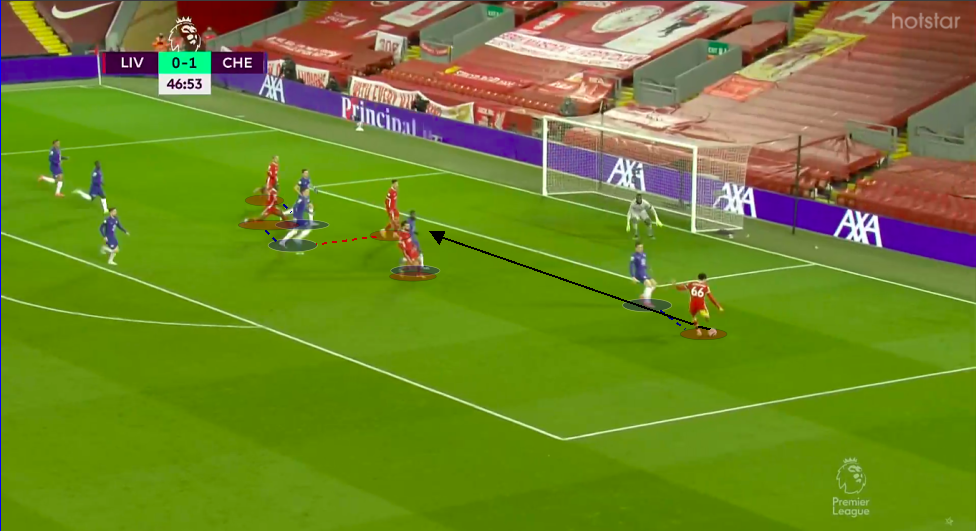 So, when the ball is played out to the side, Chelsea's defence is badly stretched, and there is a 4v5 scenario in the danger zone. The mismatch sees the opposing striker free (played onside by the Chelsea left wing-back) and well-clear of Christensen or any other defender.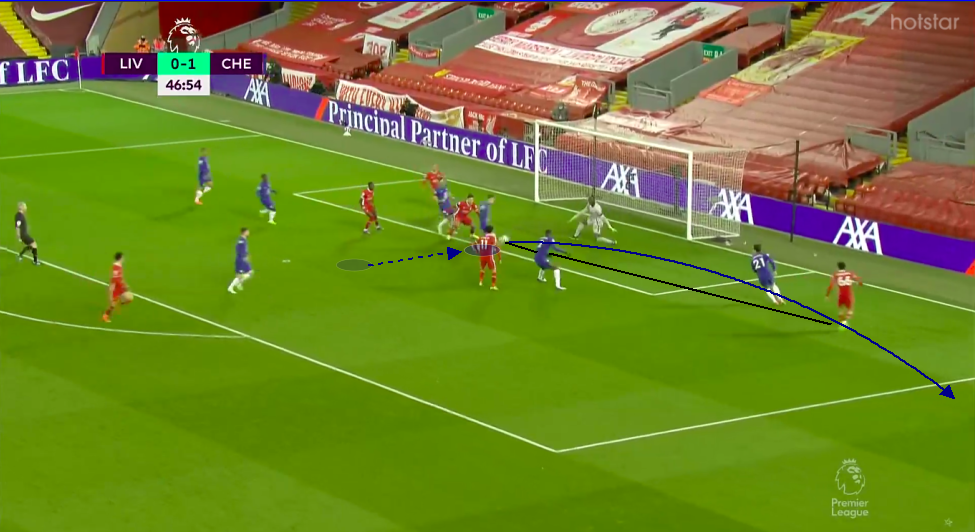 The Danish defender quickly gets across, though, making yet another crucial intervention to deny a massive scoring opportunity. A good centre-back should also have the ability to cover for his partners.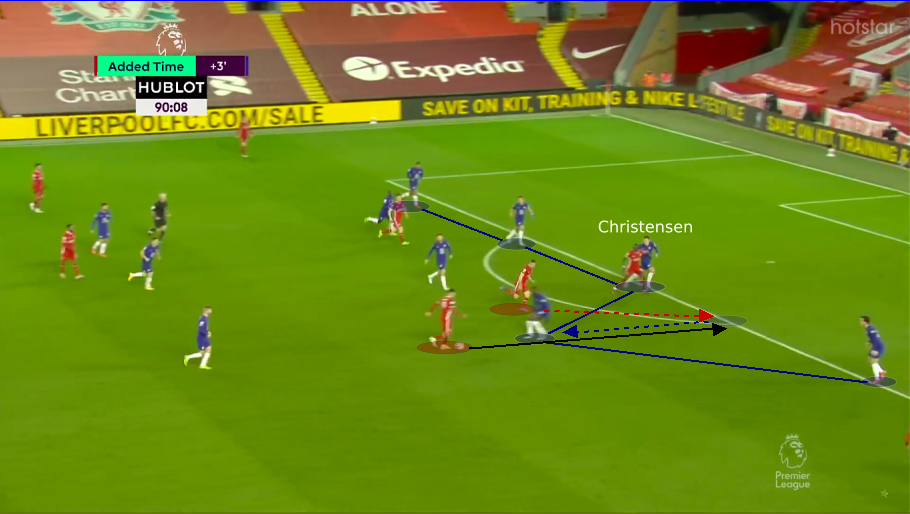 Here, Rüdiger steps forward to meet the opposition striker, who has dropped back. In doing so, he vacates a large gap in Chelsea's back-five, which Liverpool naturally look to exploit.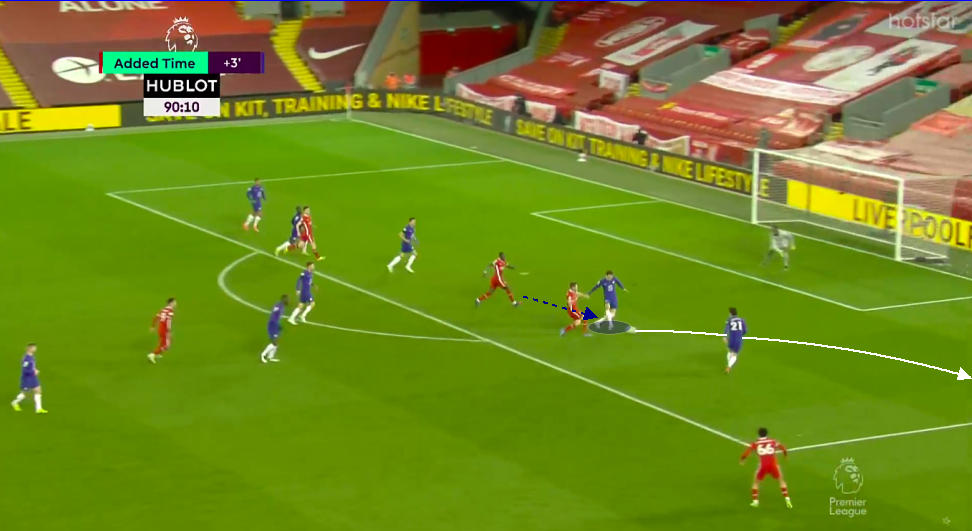 A midfielder makes a run into the area, but Christensen had already seen the danger, so he got across and dealt with it calmly once again. The extent of Christensen's revival was fully displayed when he found himself chasing yet another long ball with Mané on his heels.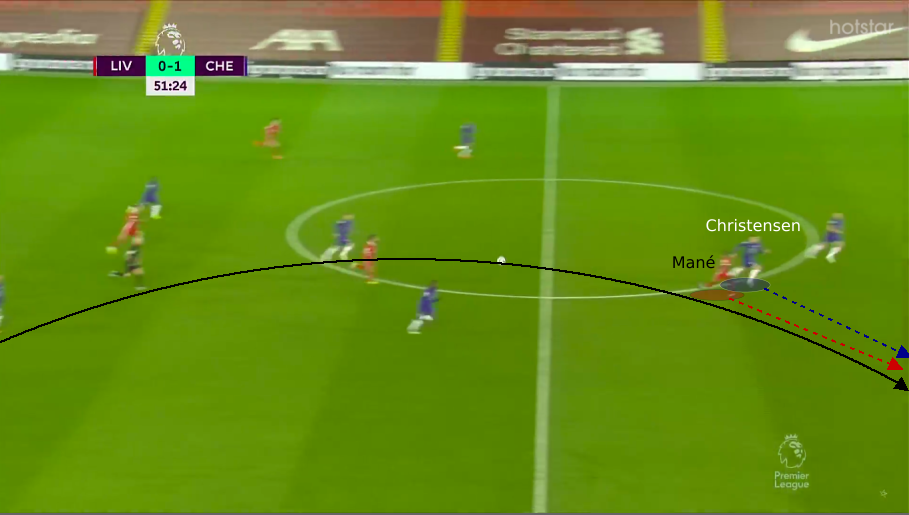 This time, though, he decided to take him on for pace instead of recreating a wrestling match.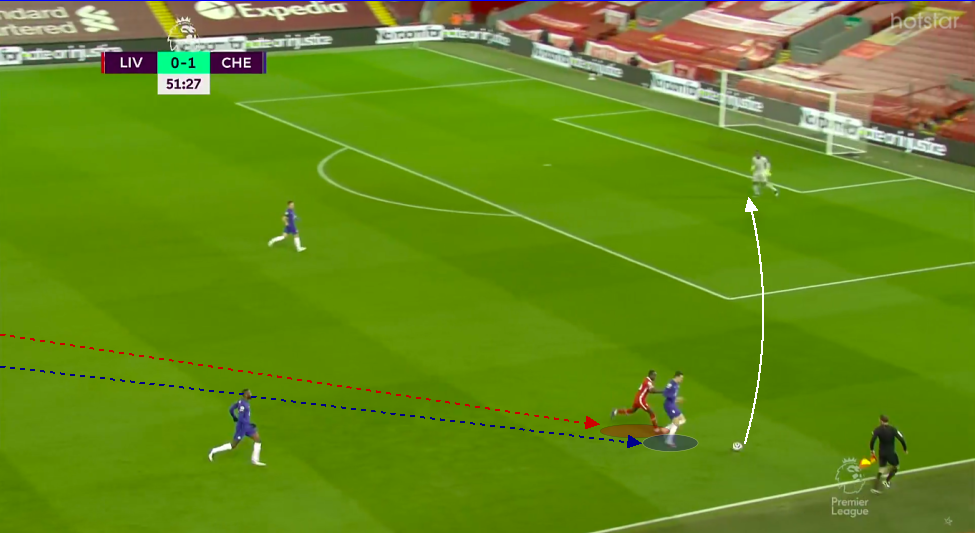 That was a wise decision, as the Danish centre-back got to the ball first and played it back to his goalkeeper under pressure. Christensen's smart positioning and anticipation have another important use in this Chelsea team, as they are often called upon to help prevent opposition counterattacks.
Defending in Transition
All defending is not done in your own third, though, especially in a possession-based side. In such teams, counter-defending (defending in transition) is quite important too.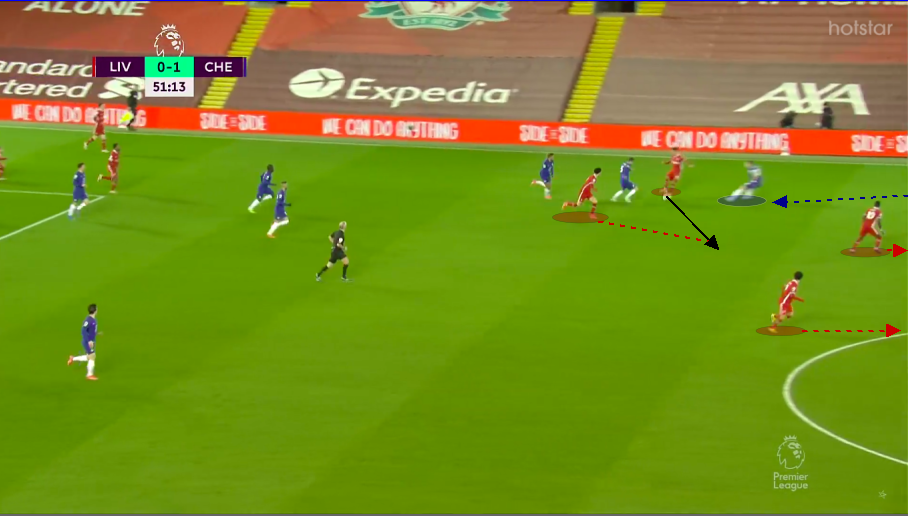 In this instance, Liverpool seem to be in quite a good position. They are breaking quickly, and, having forced one Chelsea centre-back to commit, are left in a 3v2 situation.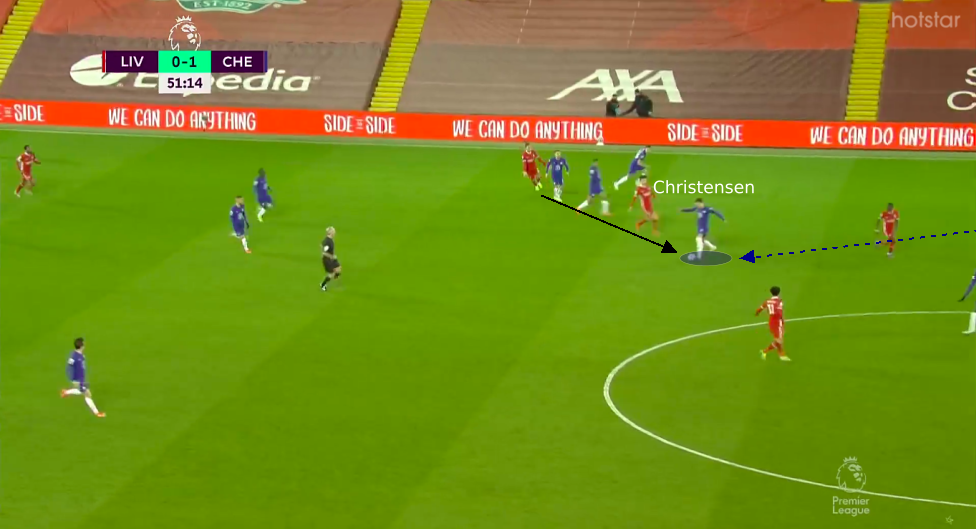 Christensen does an outstanding job to prevent the situation, though, as he steps forward and snuffs out the danger by making yet another crucial interception. This was a crucial piece of judgement that he had to get right because if he too got caught out, his side would surely be punished in a 3v1. Another way Chelsea can get caught in transition is when their midfield is bypassed.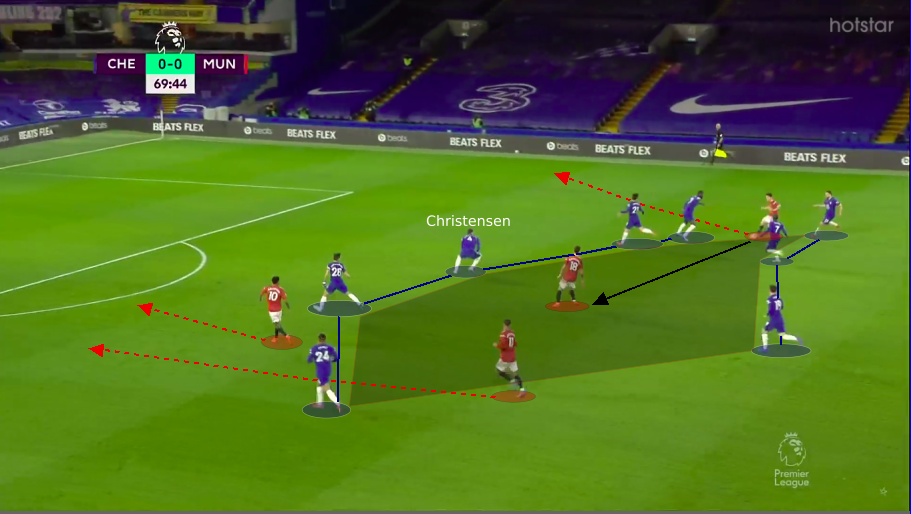 Once this happens, the opposition has a nice amount of space to work with in between the lines, which is the case here. With runners going left and right, time to take a look and pick a pass for the opposition could prove deadly.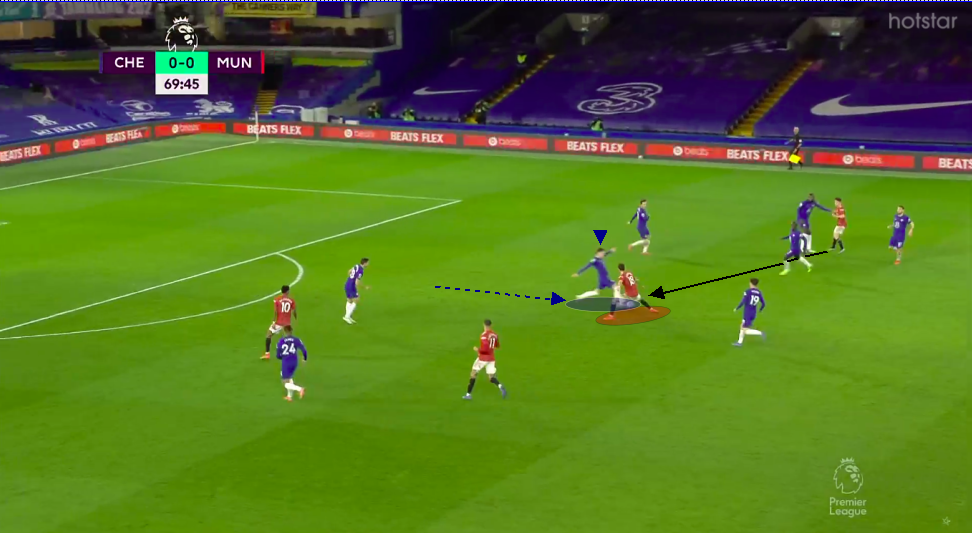 Therefore, Christensen decides to step out and make yet another crucial interception, once again displaying his great anticipation and awareness. Of course, there is a risk attached to stepping out like this; you leave a massive gap behind you which can be exploited if you miss. Therefore, good decision-making is quite important as well.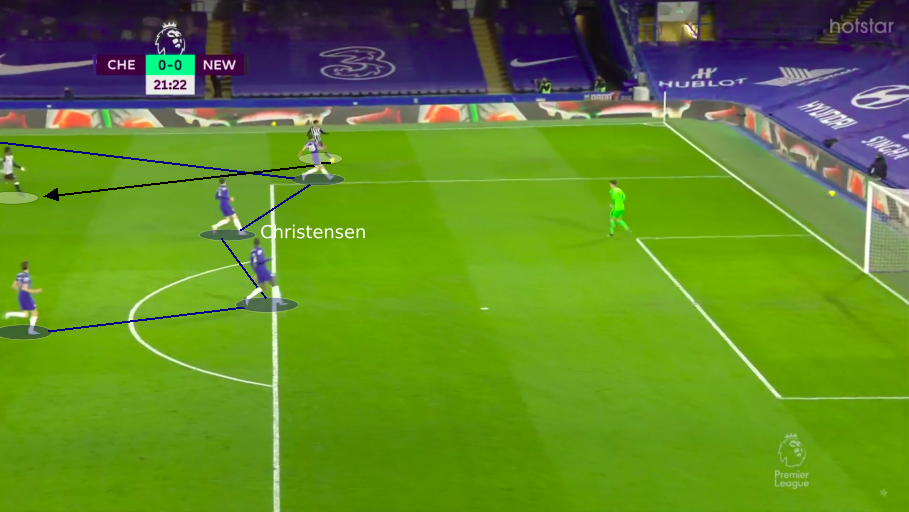 Christensen has that in his locker too. This is one more scenario where Chelsea's defence is being threatened down the wings in transition, with the midfield nowhere to be seen.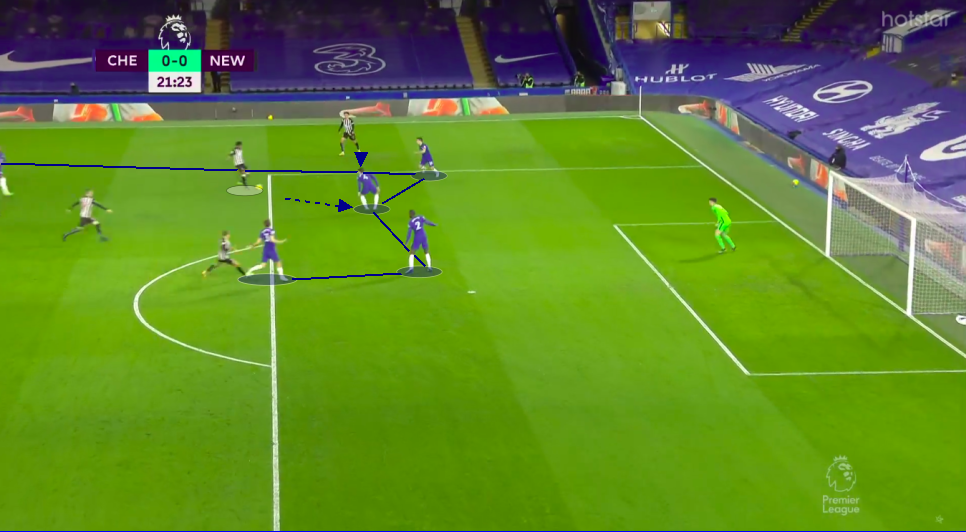 The Danish defender realises that he is not in range to make an interception, so he decides to stay in line and defend one-on-one.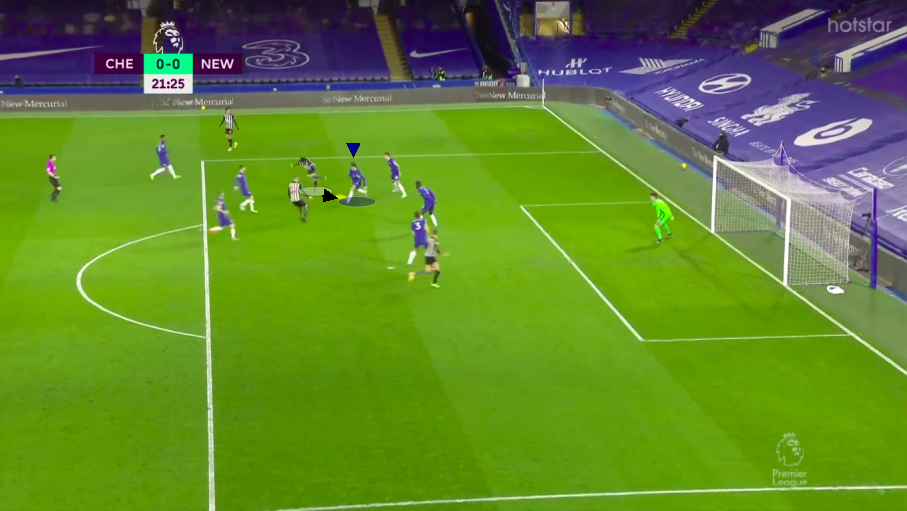 This proved to be the right decision once again, as the 24-year-old centre-back blocked the shot. Clearly, Christensen's decision-making has been on-point too, with his boosted confidence undoubtedly contributing to this.
Ball-playing Ability and Press Resistance
Equally important for the modern-day defender is ball-playing ability. This is yet another one of Andreas Christensen's strengths, which has been magnified well in Tuchel's possession-based system.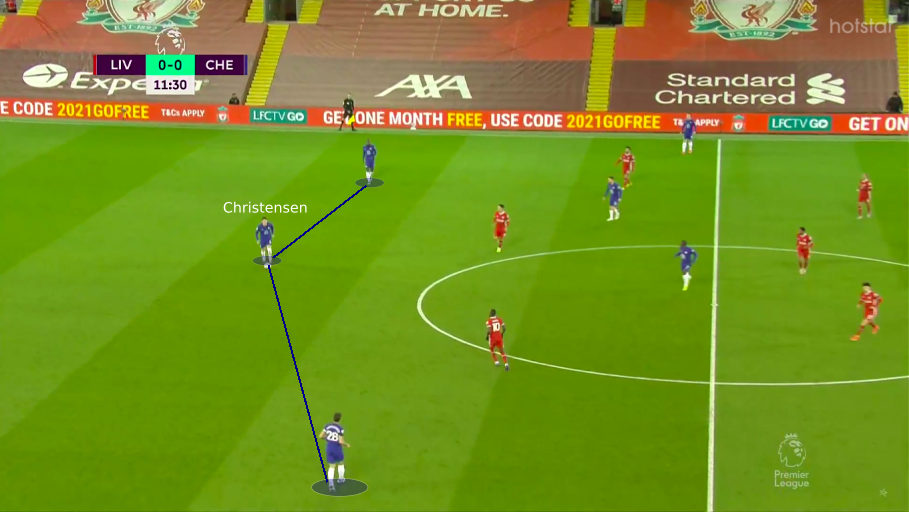 The German tactician has employed a back-three in possession, and here too, Christensen is positioned in the middle.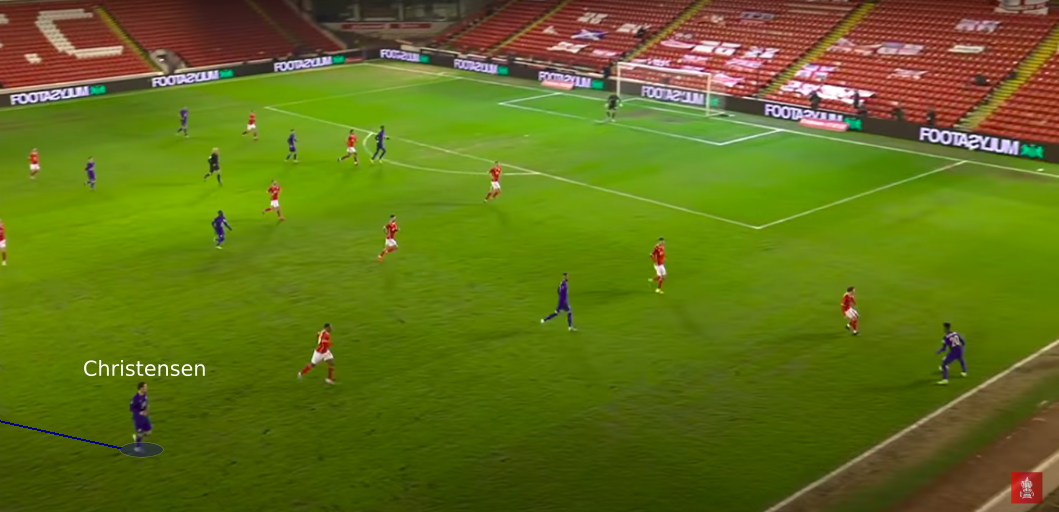 Again, he spent the first half of the Barnsley FA Cup tie on the right, but he has not been used there ever since. So, let's take a look at Christensen's work with the ball from the centre of the back-three.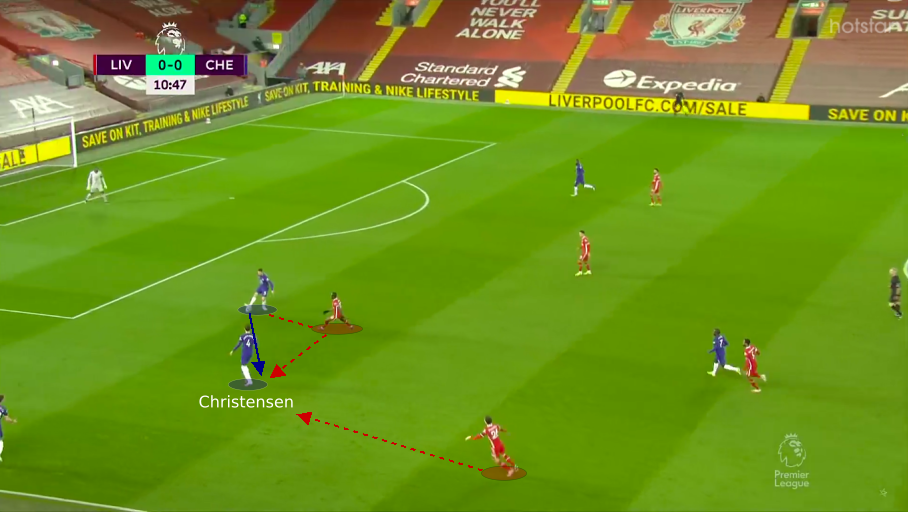 Here, Jorginho puts Christensen into potential jeopardy by fizzing a pass towards him with Sadio Mané in close proximity and Andrew Roberston in pressing range as well.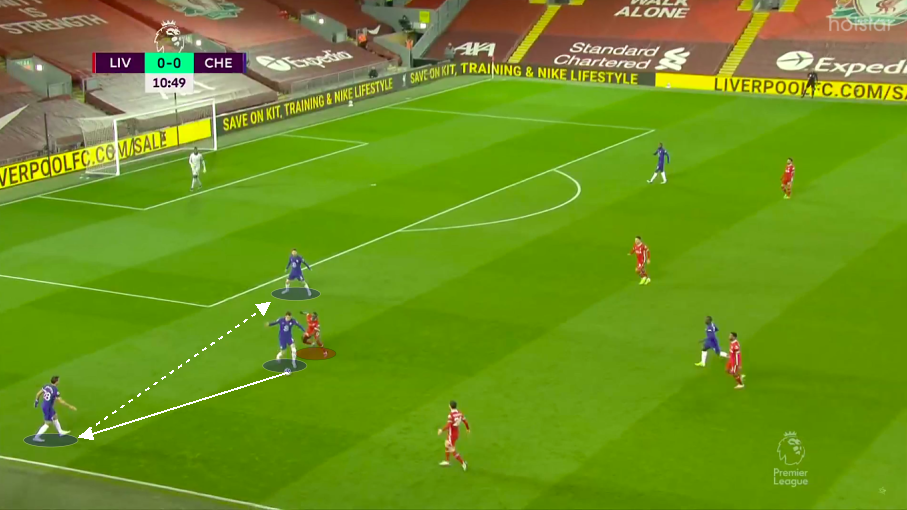 The Danish international handles the situation very well, though, as he controls the ball on the half-turn and quickly pokes it towards César Azpilicueta, who can find Jorginho in a much calmer place. Below is yet another example of Christensen's smart decision-making under pressure: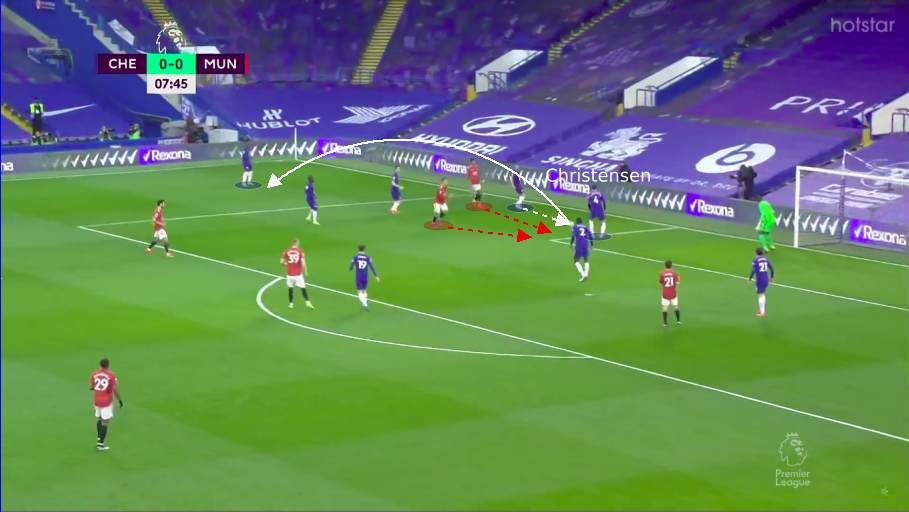 Azpilicueta plays a short pass to the 24-year-old centre-back, who is at the edge of the six-yard box. With two opponents close by, you would forgive him for punting the ball into Row Z, but Christensen assessed his options calmly and opted to chip the ball into Callum Hudson-Odoi, who was relatively free.
One of the main objectives of Tuchel's slow build-up is to search for and pry gaps in the opposition. This is another reason why Christensen is one of the best options at centre-back – he can do that pretty well. After pulling the opposition lines out of position, some quick passing can be used to cause damage at the sharp end.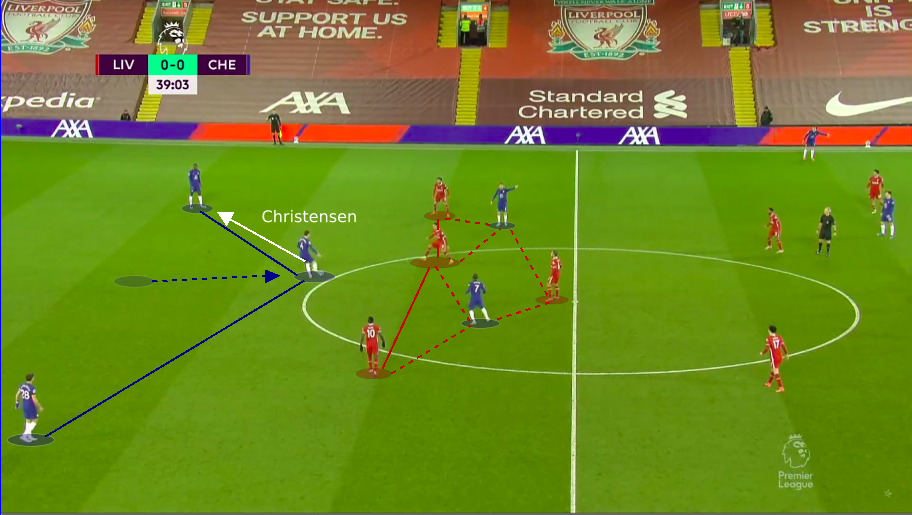 In this instance, you can see that the opposition front line is well in shape, and they are a fair distance away from the ball so it would be too risky to attempt to thread a ball past them. Therefore, Christensen passes to Rüdiger.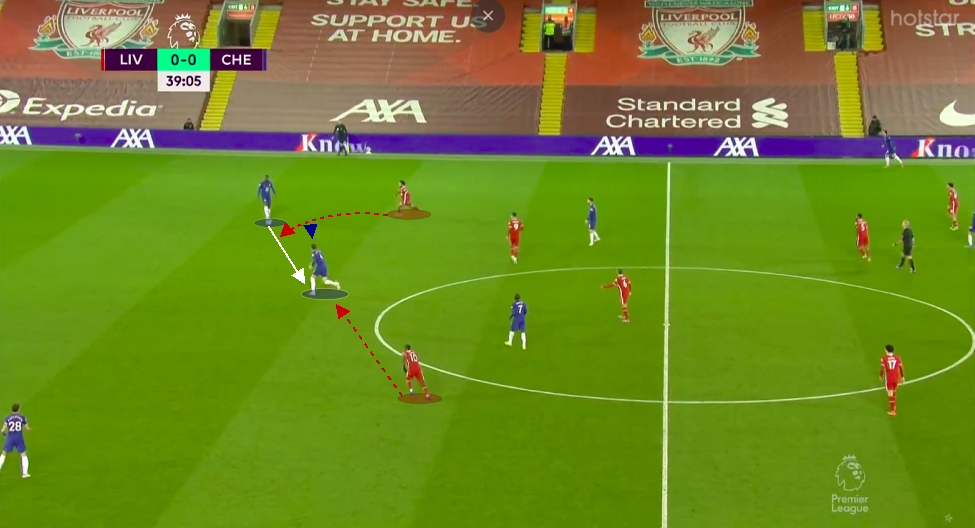 As the ball is played backwards, Liverpool sense a chance and quickly look to initiate a press. Mohamed Salah closes down Rüdiger while angling his run in a way that his momentum will be in Christensen's direction, while Mané looks to block any possibilities of turning for the Danish defender.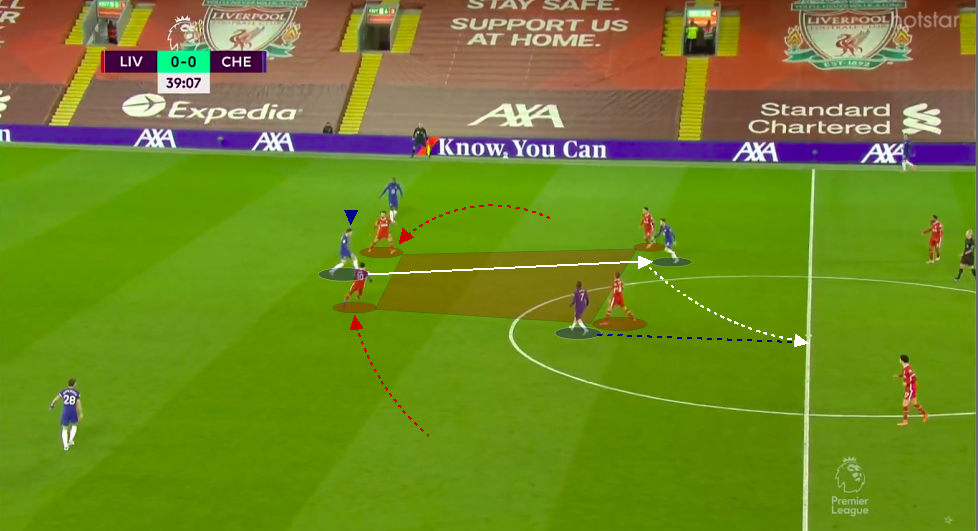 Rüdiger quickly opts to return the ball to Christensen anyway, who is forced to play a pass into midfield as he is being closed down on both sides. Chelsea have a couple of men in position between the lines, though, and with just two opponents around them, they could break through with some quick movement. Besides good footwork, modern-day centre-backs need to be great passers of the ball, and this is another one of Christensen's attributes.
Passing
With an average of 61.97% of possession, Thomas Tuchel's Chelsea have seen a fair amount of the ball. In their system, the centre-backs – and particularly the man in the middle of the back-three – are quite involved, so their passing needs to be clean.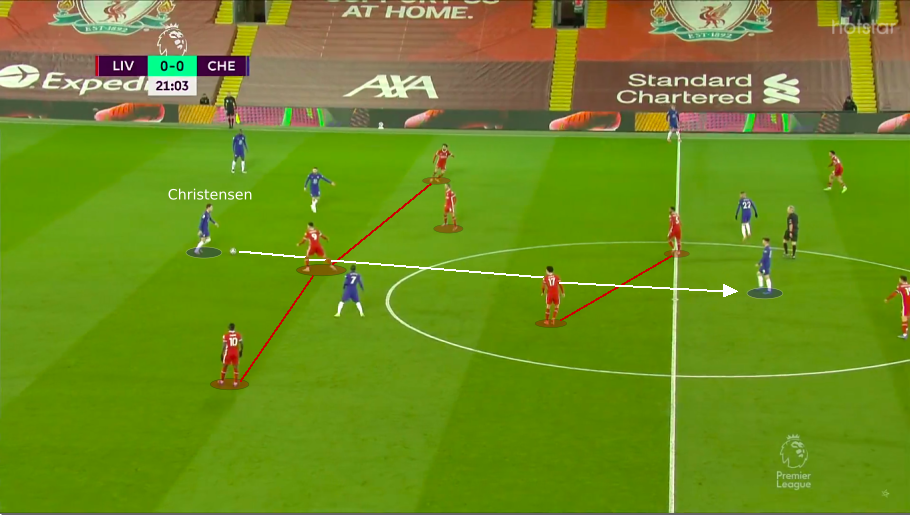 If a gap in the opposition lines has already been opened up, it is up to the centre-back to use it. Precise line-breaking passing is important for this, and that is another one of Christensen's capabilities. There are other ways to seek out gaps in the opposition defence too.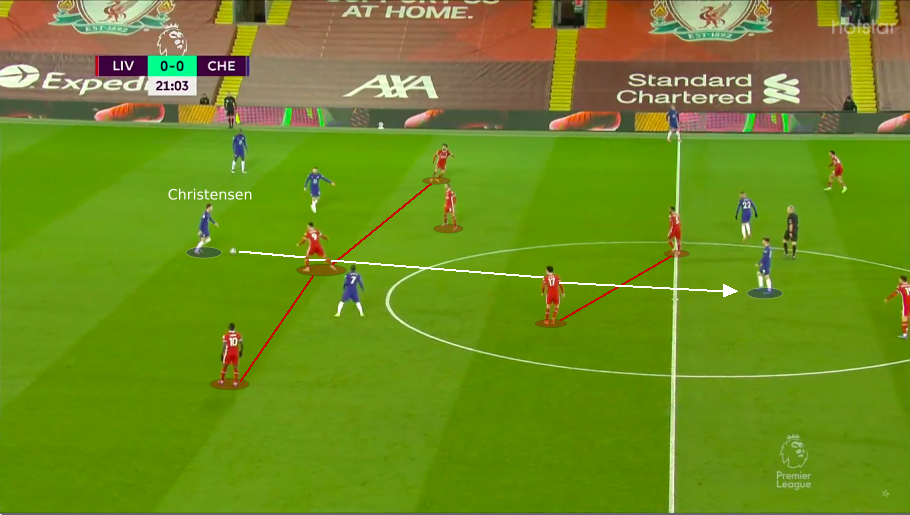 In this sequence, Christensen takes seven touches in seven seconds before releasing a pass. With those touches, he explores his multitude of passing options, faking a couple of passes to move the opposition around and create an opening.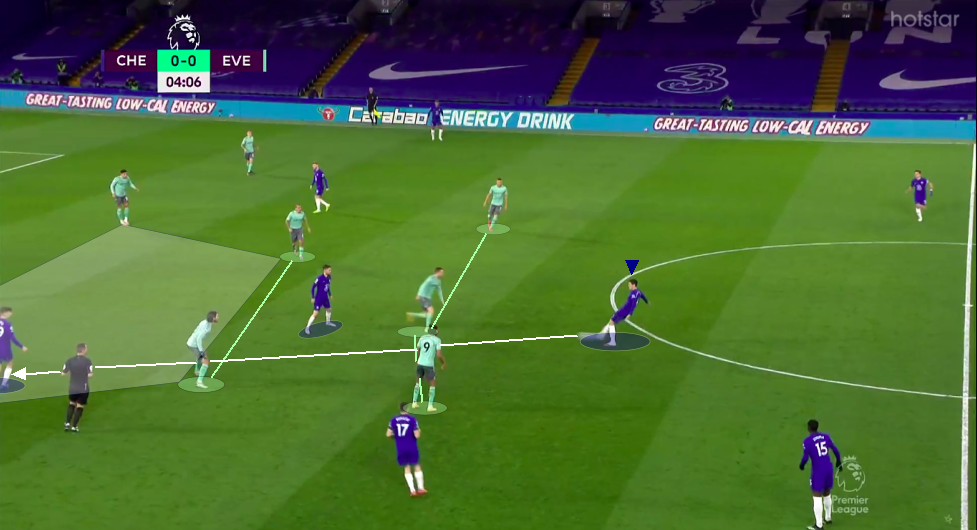 Once that is done, he quickly exploits it by playing a line-breaking pass into a teammate in space. A lot of Christensen's passing is directed to the centre of midfield, but the more directly damaging balls are often played out wide.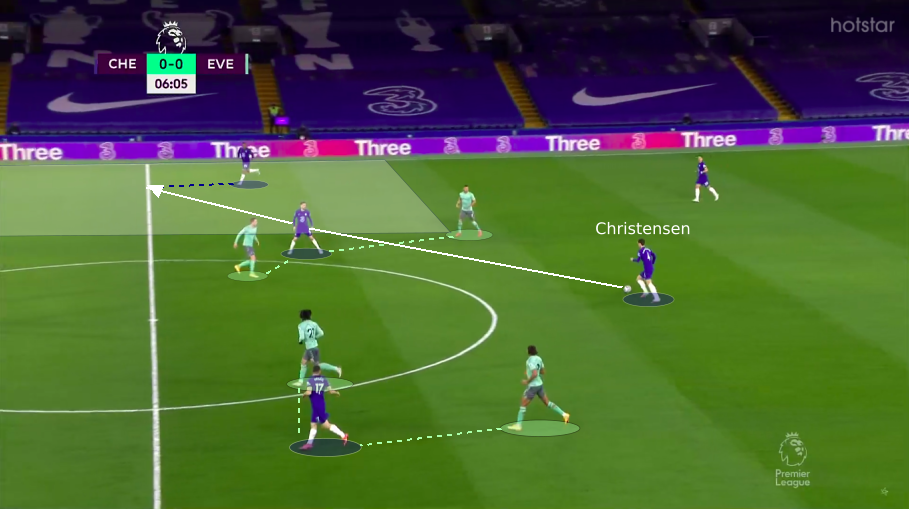 This is because Chelsea's wing-backs are their main attacking threats due to how wide they stay; it is near-impossible for teams to deny them from having any space when Chelsea focus their passing centrally.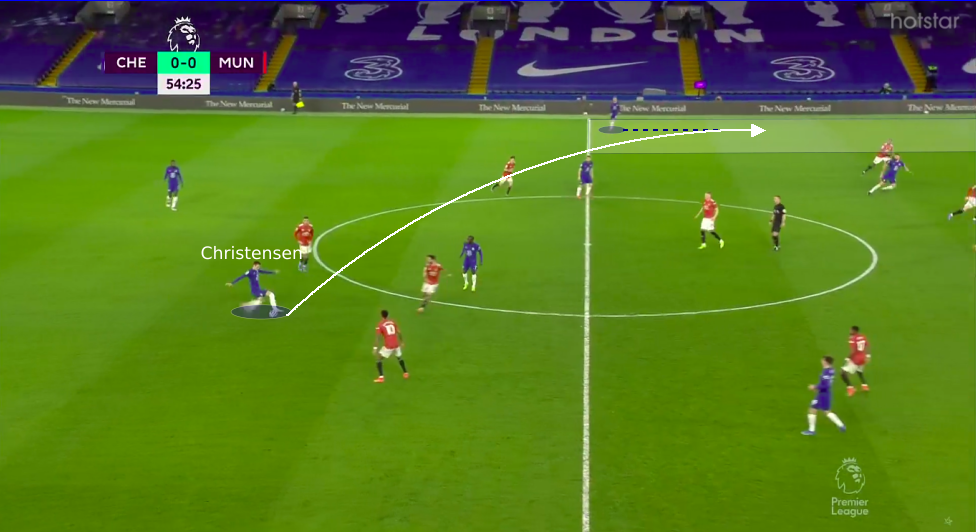 At times, long passing is required to find the wing-backs. Christensen has been asked to play it safe under Tuchel (only 17% of his attempted passes are long balls), but he obviously has the license to switch the play if a clear opportunity presents itself. Clearly, Christensen has become one of the league's best centre-backs in terms of passing under Tuchel, and the statistics back that claim up too.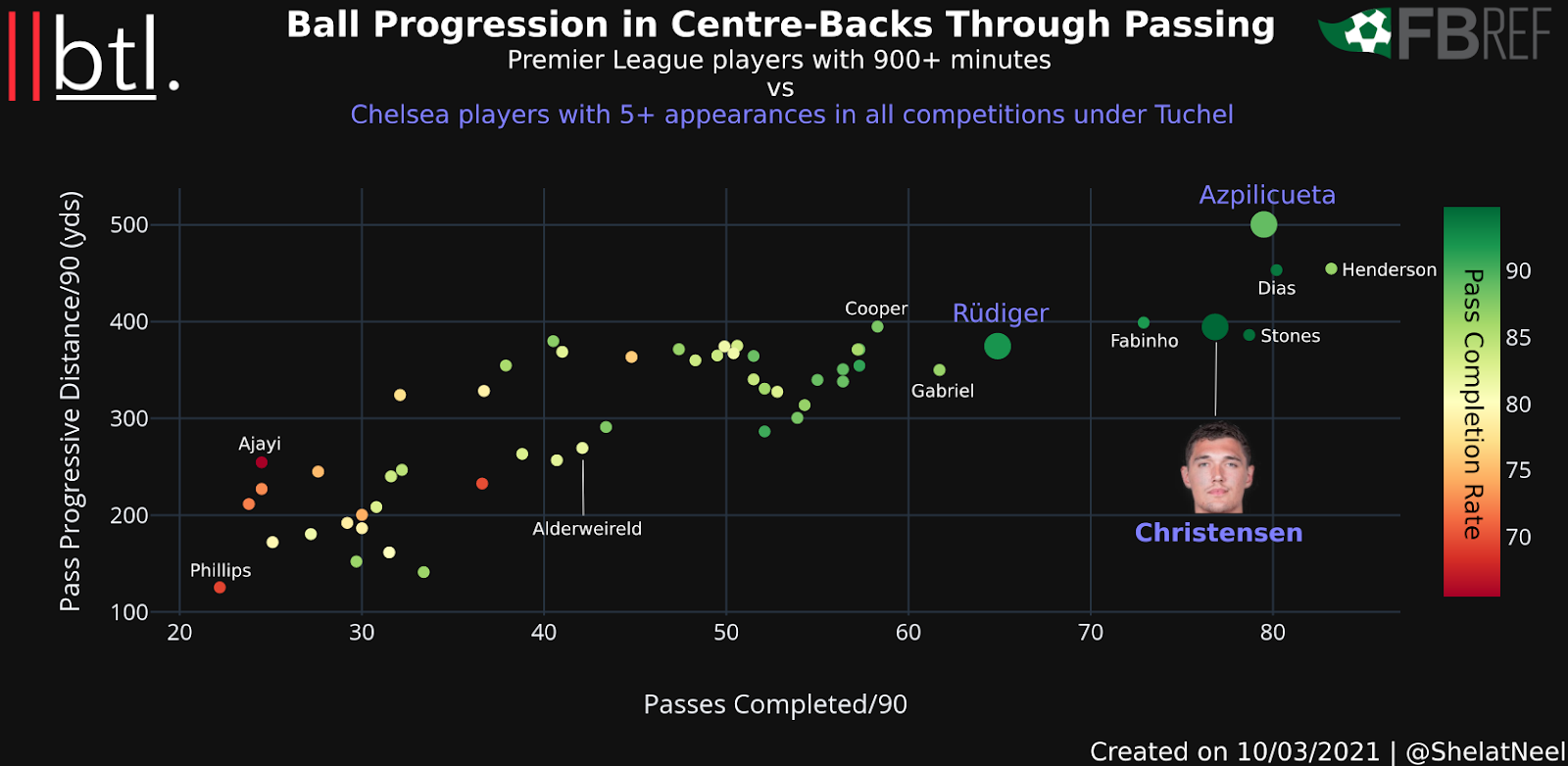 In his nine appearances under Tuchel, Christensen has maintained the best passing accuracy in the league's centre-backs, while both his number of passes and ball progression are in the top five. This is a testament to both his ability and his manager's style of play.
Conclusion
A number of Chelsea careers have been revived or massively boosted with the arrival of Thomas Tuchel, including the likes of Callum Hudson-Odoi, Jorginho and Marcos Alonso. Andreas Christensen, however, might be the most-improved Chelsea player, but his resurgence has gone under the radar due to the nature of his position and his relatively slow start.
There can be no question about the fact that Thiago Silva's injury helped the Danish international, but he has taken his chance very well and his flawless performances should make him irreplaceable even after the ex-PSG veteran completes his imminent return to full fitness.
That event will prove to be Christensen's greatest test under Tuchel, but going by his last nine performances, he should emerge victorious in this battle too. Either way, he will surely be a part of Tuchel's long-term plans, so these two months could well have secured his Chelsea career with a contract extension reportedly set to be offered soon.
By: Neel Shelat
Featured Image: @GabFoligno / Glyn Kirk – PA Images
Stats courtesy WhoScored and Fbref and Transfermarkt.