Tactical Analysis: The First Weeks of Thomas Tuchel's Chelsea
The past 12 months have been quite a crazy time at Chelsea Football Club. It was just one year ago when Chelsea confirmed the signing of Hakim Ziyech from Ajax, a transfer that would introduce a record spending spree after qualifying for the UEFA Champions League, with the West London club splurging over £200 million on the likes of Timo Werner, Kai Havertz, and Ben Chilwell.
With such a huge injection of cash in the midst of a pandemic, the board clearly indicated that they were prepared to back Frank Lampard and his project in the long-term. Things were going according to plan initially as they even reached the summit of the Premier League in early December, but it all unraveled quickly.
After the 3-1 win over Leeds United which saw Chelsea take the top spot in the Premier League, they only picked up seven points from eight matches, slipping out of the European spots altogether. This spelled the end of Frank Lampard's tenure as Chelsea manager, and his replacement was quickly appointed.
Ex-Borussia Dortmund and Paris Saint-Germain manager Thomas Tuchel was hired by the Blues in keeping with their tradition of chopping and changing head coaches whenever possible. Although he has only overseen six matches so far, Chelsea look a transformed side and are creeping their way back into top four contention.
Thomas Tuchel: The Making of Paris Saint-Germain's Great Hope
Tuchel has quickly uncovered his go-to formation at Chelsea, and so far, the results have been promising. After a stalemate against Wolves, Chelsea have beaten Burnley, Tottenham, Sheffield United and Newcastle to move back into fourth place, whilst they eliminated Barnsley to advance into the quarterfinals of the FA Cup.
Éduoard Mendy has won the battle in goal 4-2 against Kepa Arrizabalaga, but the Spaniard won both of the last two rounds. César Azpilicueta, Thiago Silva and Antonio Rüdiger are in the favoured back-three in front of them, with Andreas Christensen looking to be the trusted back-up defender.
Callum Hudson-Odoi has been used at right wing-back most often, but he has also been deployed further forward at times and Reece James has taken his spot in such cases. Marcos Alonso is evidently higher up the left wing-back pecking order than Ben Chilwell, while the midfield pivot has already been established with Jorginho and Mateo Kovačić.
The front three (either a 2-1 or a 1-2) has seen the most rotation. In the wide attacking roles, Kai Havertz, Hakim Ziyech, Christian Pulisic, Mason Mount and Timo Werner have all been tried, but in the 1-2, Mount has made the number 10 role his own, with only Havertz challenging him for it. Werner seems to be the favoured striker (but he has been used out wide too, as aforementioned) ahead of Tammy Abraham and Olivier Giroud, but Pulisic and Hudson-Odoi have also been tried out next to him.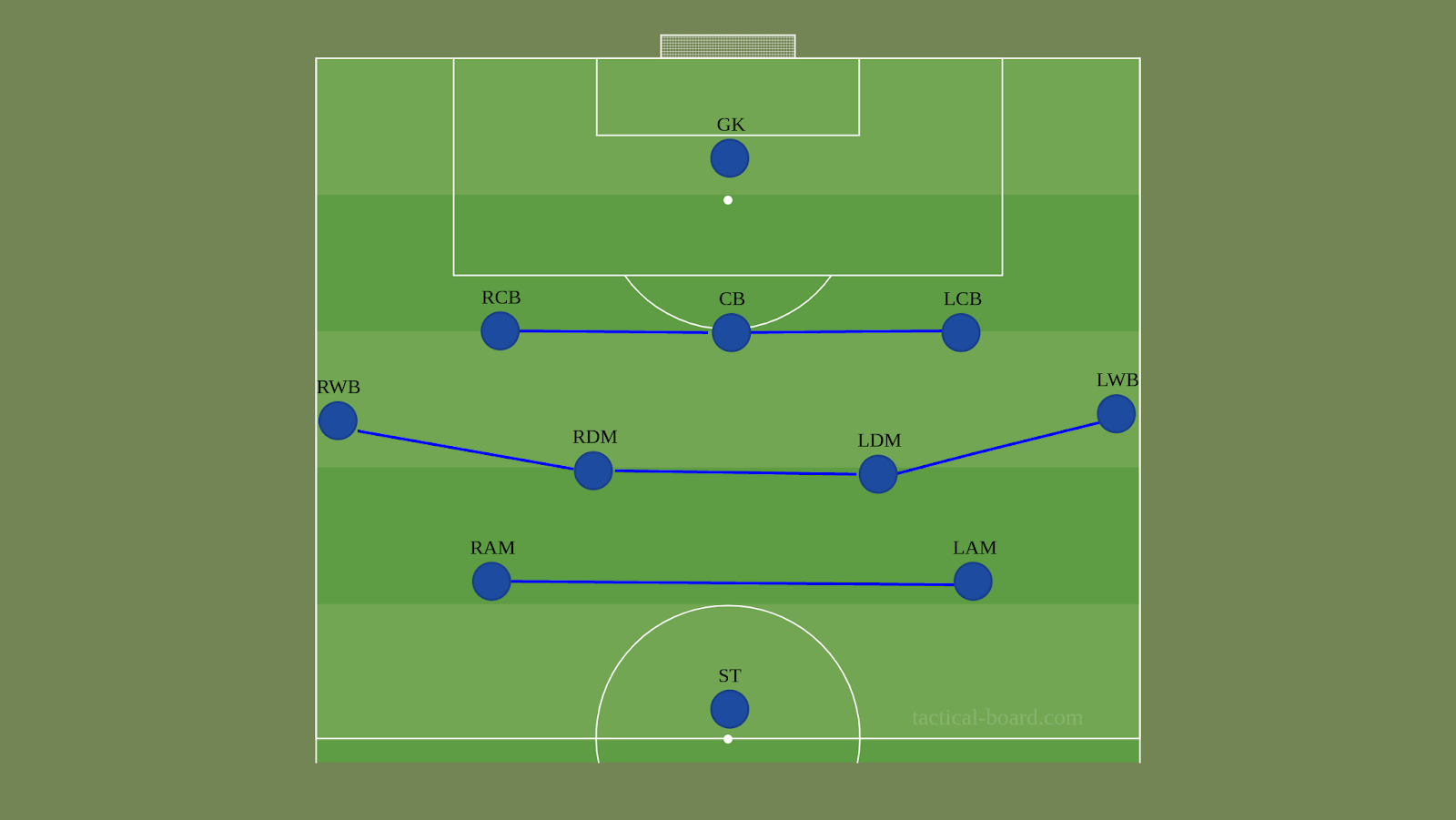 So far, Tuchel's Chelsea have lined up in one of these two formations – either a 3-4-2-1 or a 3-4-1-2. This was a bit of a surprise to all those who have been following Tuchel, given the fact that his go-to systems have usually involved a back-four, but it has worked brilliantly so far. In this analysis, we will attempt to dissect just that.
Build-Up in the Defensive Third
Tuchel's Chelsea have dominated the ball in every single match they have played so far, with an average possession of 69.12%. Although many of the sides that have come up against the Blues have decided to sit back, one or two have tried pressing them high up the pitch, so here is how Chelsea build out from the back in their defensive third.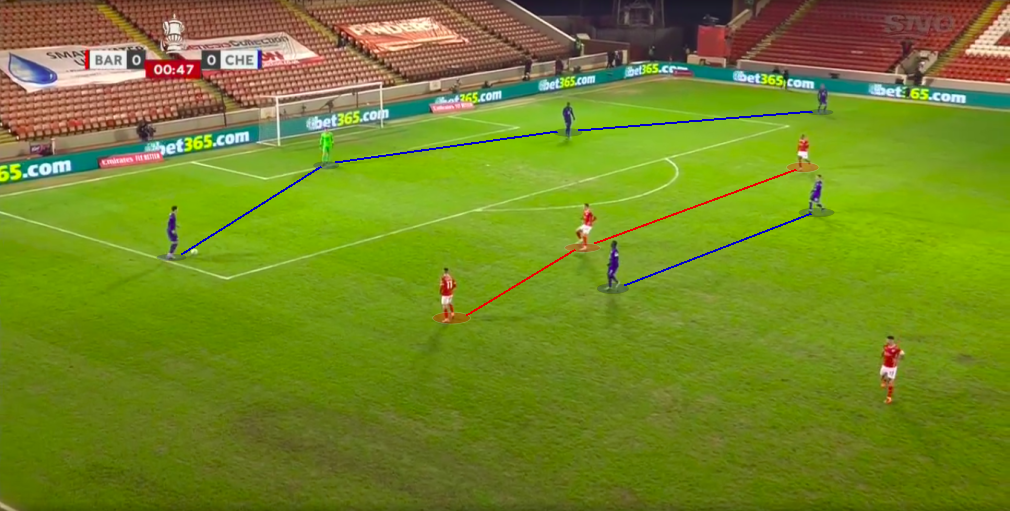 The wing-backs always push up, so that leaves the three centre-backs and two holding midfielders to do the building up. In their own third, the goalkeeper comes into play as well, as you can see here. The goalkeeper's key involvement is proven by the fact that Kepa got 80 touches against Barnsley.
With him included, Chelsea have a back-four in the build-up (which ensures numerical superiority against a three-man press), while the two midfielders position themselves in the half-spaces on the opposite side of the first line of pressure to provide an option to play past it.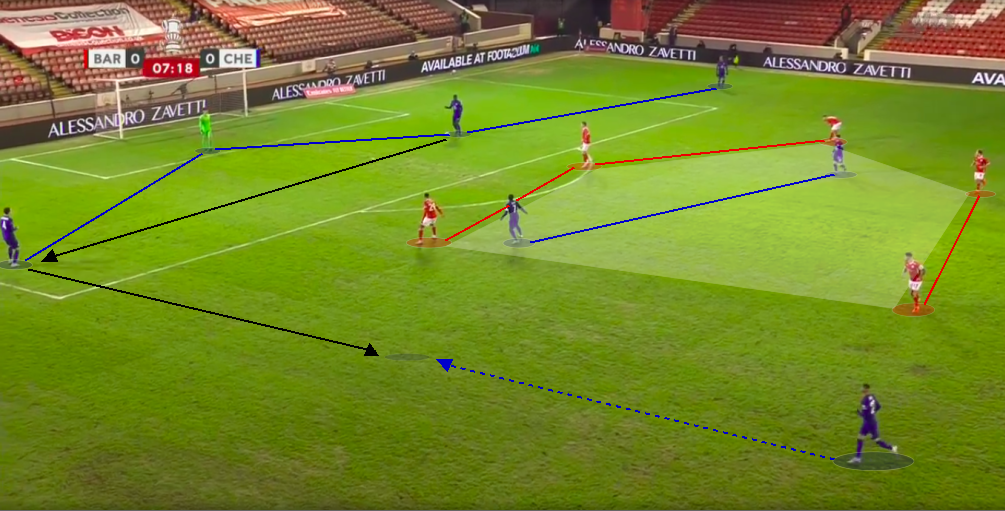 To help with the build-up in such cases, one of the wide attacking midfielders (in the 3-4-2-1) would drop deep to provide an additional passing outlet.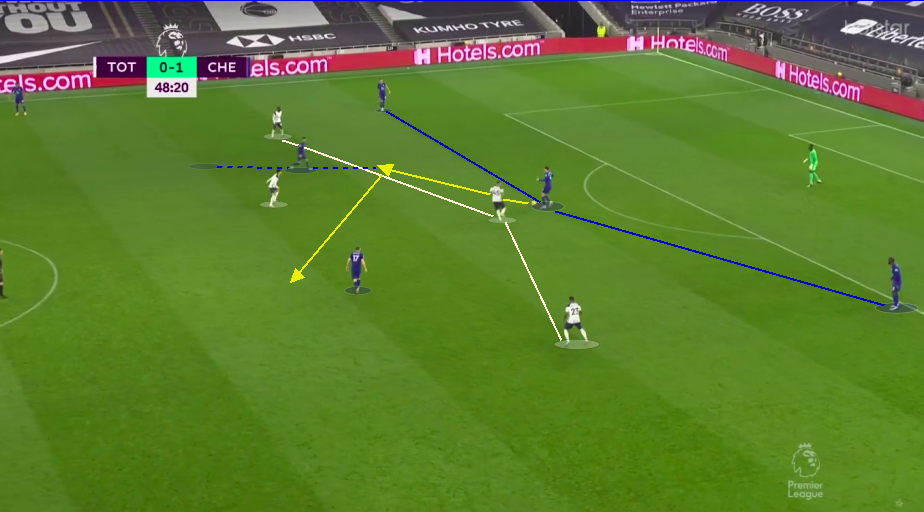 As they advanced out of their own box, Chelsea left their keeper behind to continue their build-up with a 3-2. In their favoured midfield duo of Jorginho and Kovačić, the former most often drops deep to help progress the ball, while the Croatian midfielder advances to provide an option to play through the press. Now, let's get a bit further up the pitch.
Build-Up around the Halfway Line
As aforementioned, Tuchel has mostly faced low blocks in his short tenure as Chelsea manager. In such, advancing to the halfway line is no challenge, and the real building up of attacks starts from there.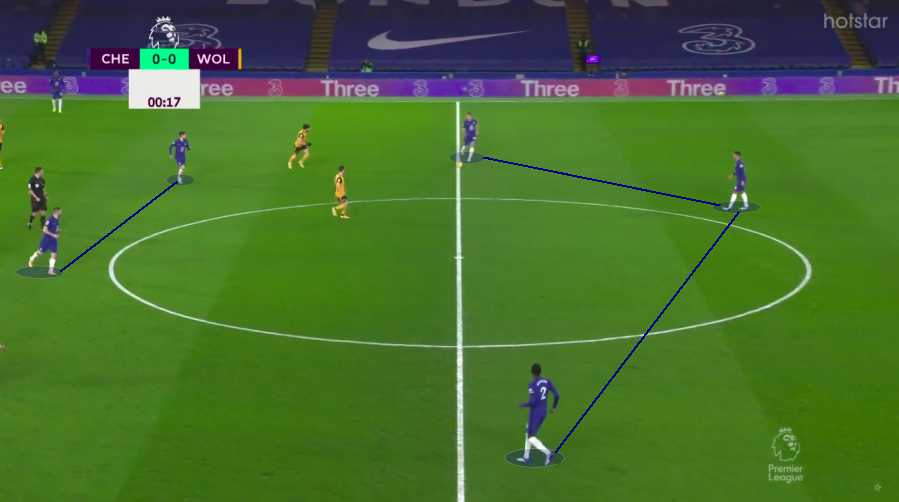 Here too, they start with a 3-2, as the wing-backs push far up the pitch. Usually, one of the two midfielders drops behind the first line of defence to help progress the ball, while the other stays on the opposite side.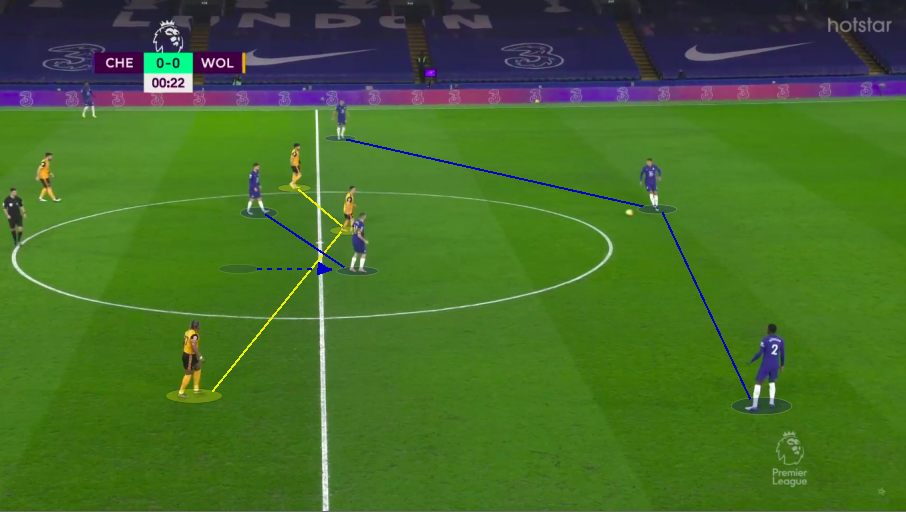 Kovačić was the man who dropped deep in Tuchel's first match against Wolverhampton Wanderers, but he has been asked to go forward in almost every match after that.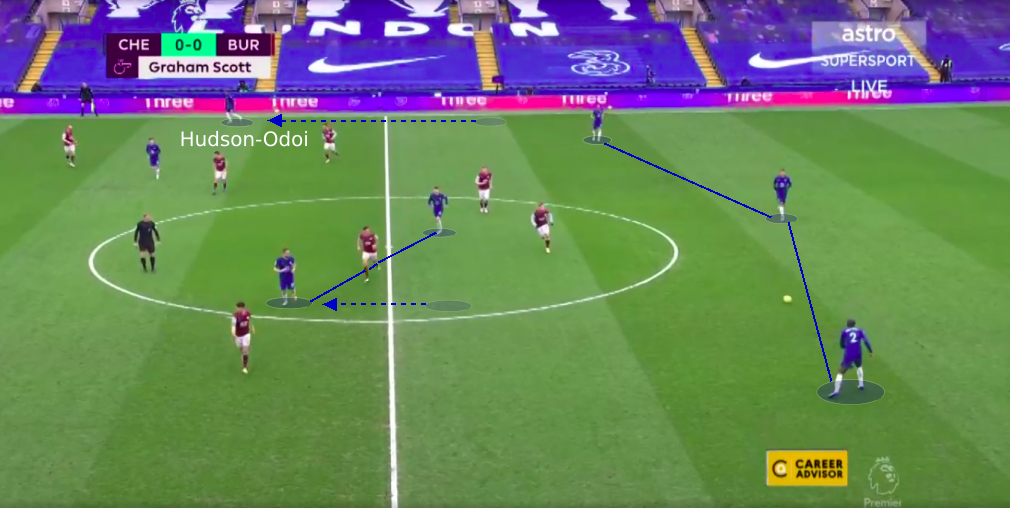 We can see an example of that below; note the right wing-back's (Callum Hudson-Odoi) advanced positioning here: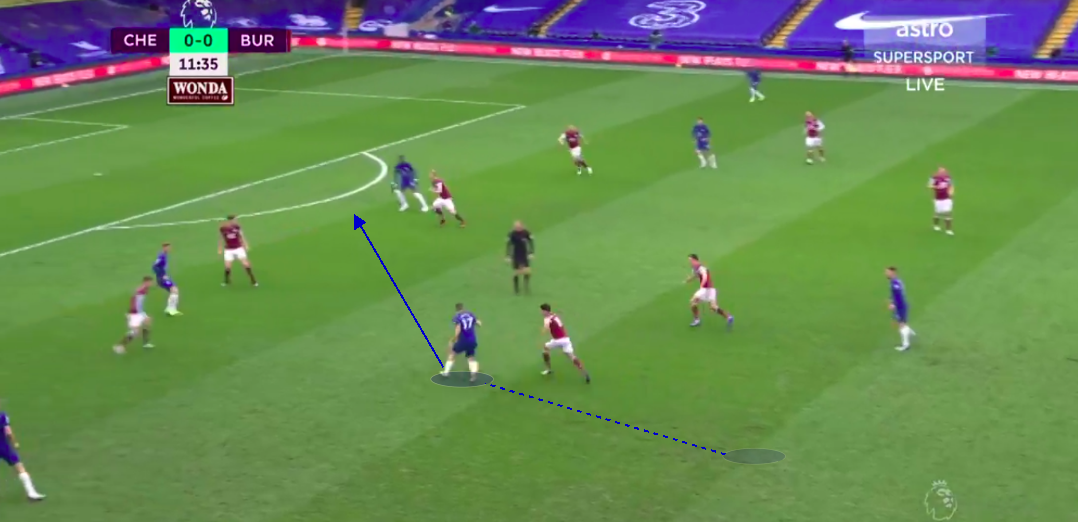 This adjustment was made because Kovačić is better adept at getting forward than Jorginho, so he makes more and better late runs towards the edge of the box to provide an additional attacking presence.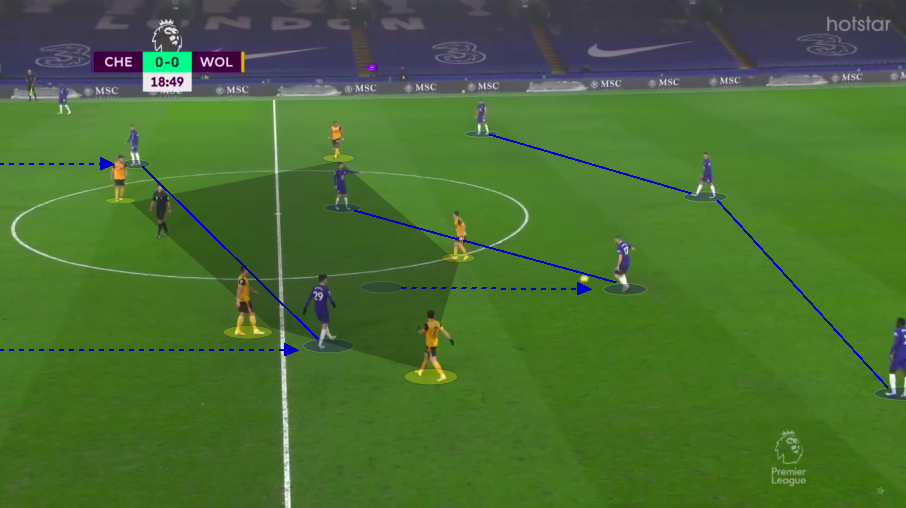 In the 3-4-2-1 system, the two wide attackers also drop deep at times to help play past the opposition midfield, as you can see above. In this way, Chelsea have a 3-2-2 in the build-up.
In the 3-4-1-2, the sole attacking midfielder (Mount more often than not) does something similar, but he drops all the way in between the holding midfield pivot, creating a 3-3. Here, he is providing an additional passing option into midfield. A key facet of Chelsea's build-up under Tuchel has been César Azpilicueta's role, which deserves a segment of its own.
César Azpilicueta's role
One of the more intriguing parts of Thomas Tuchel's build-ups with Chelsea has been César Azpilicueta's advanced role, which also translates into something useful in the final third at times.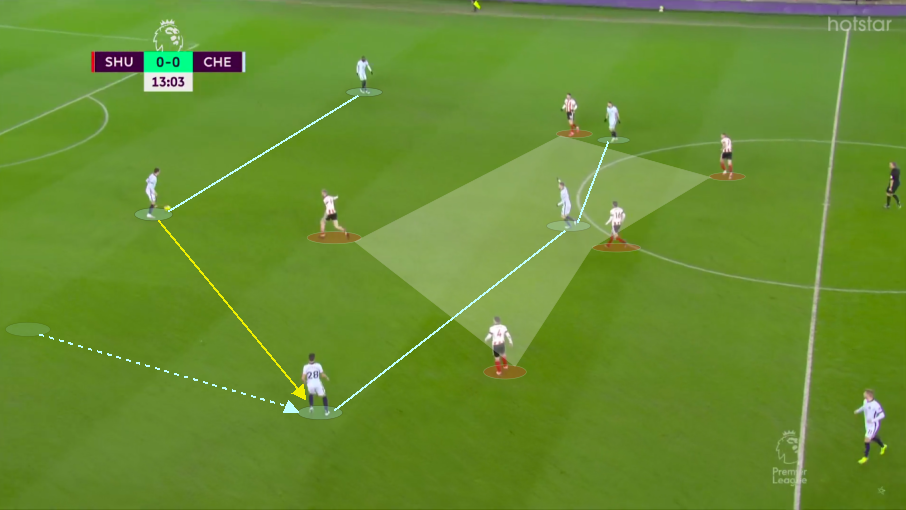 In the build-up, he usually pushes up on the right, almost getting in line with the midfielders. Again, this helps provide a passing option into midfield when the Jorginho-Kovačić pivot is surrounded by opponents.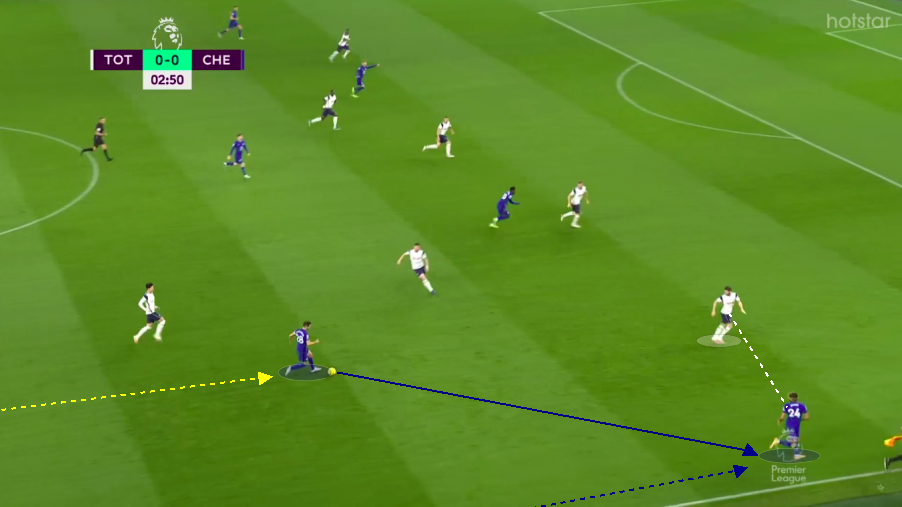 After receiving the ball from a centre-back in such positions, Azpilicueta can advance with it himself as the opponents mainly focus on blocking passes to the midfield pairing. Here, he receives additional support on the flank from the advancing wing-back. Azpilicueta's advanced role is also quite important in the final third.
Attacking Movements in the 3-4-2-1 – Azpilicueta's Advances
As aforementioned, the key difference between Tuchel's two formations at Chelsea is visible in the final third. So, we will go over them separately, starting with Azpilicueta's role in the 3-4-2-1.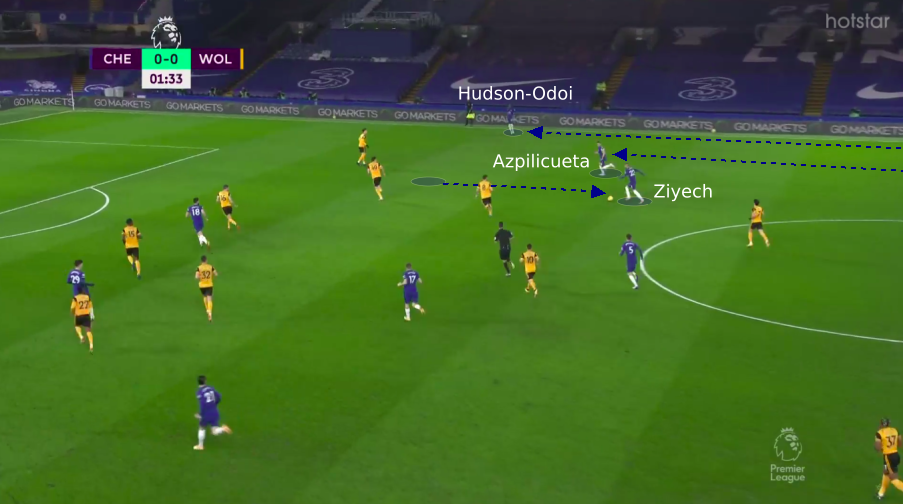 Hakim Ziyech is a player who often likes to drop deep in possession. Therefore, if he is deployed on the right in a 3-4-2-1, he can free up Azpilicueta to get forward. You can see precisely that here, as Azpilicueta and the wing-back are both making overlapping runs to overload the right.
Such side overloads are not foreign to Tuchel teams. He often used this tactic at Dortmund, where the left flank was his favourite to overload. At Chelsea, he has mostly looked to congest the right, with Azpilicueta playing a crucial role here too.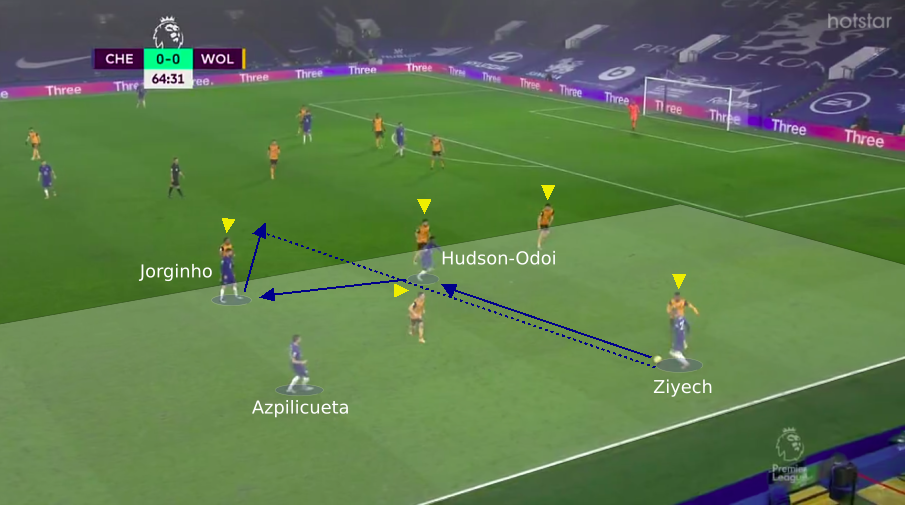 In this instance, four Chelsea players (including Azpilicueta) have overloaded the right flank, dragging five opponents there. Then, with the help of some quick one-touch football, they can play their way out of it.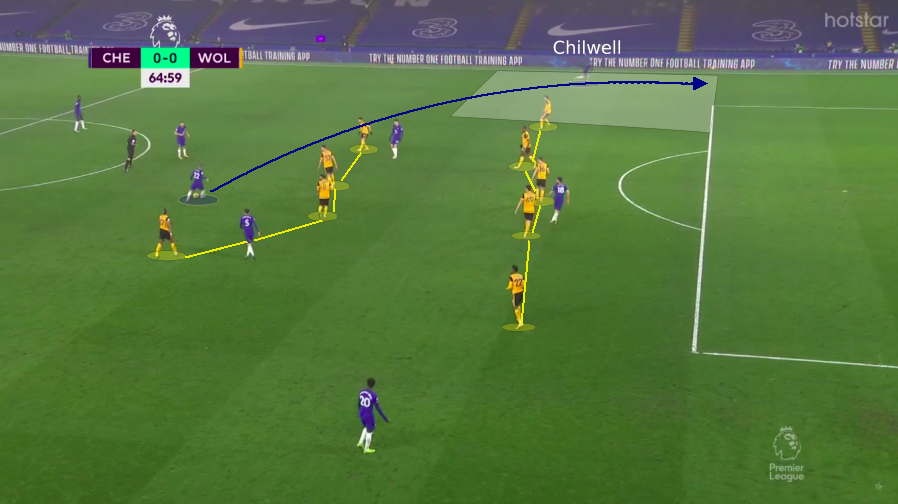 With half of the opposing outfielders stuck on one flank, the other was naturally quite empty, and this where an accurate crossfield ball could be used to find the advancing wing-back on the left.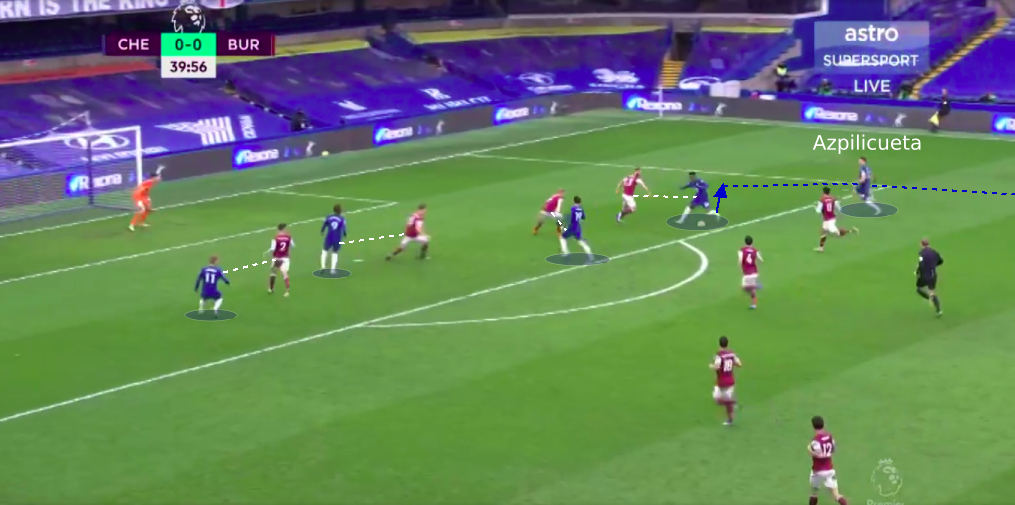 Azpilicueta could also use his runs to make a late entrance into the box. In fact, he scored the first goal of Tuchel's reign in such a way. After a stalemate against Wolves, the Basque fullback opened the scoring against Burnley just minutes before the break.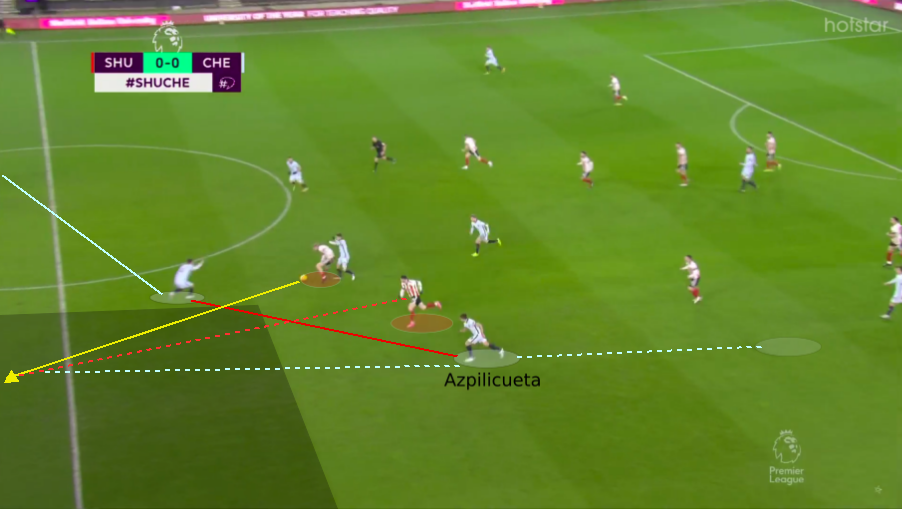 The one weakness here is that if Chelsea lose the ball high up the pitch, they would have a whole on the right of their defence because of Azpilicueta's advanced position. This should explain why 43% of opponent attacks have come from his side in the 3-4-2-1 system.
On the other hand, 38.25% of Chelsea's attacks come from the right with Azpilicueta on the pitch in a 3-4-2-1, so it's easy to understand why his role is so important.
Attacking Movements in the 3-4-2-1 – a False Forward
In Tuchel's first match against Wolves, he had a 2-3-5 in possession, as one of the wide centre-backs (usually Azpilicueta) pushed alongside the two midfielders.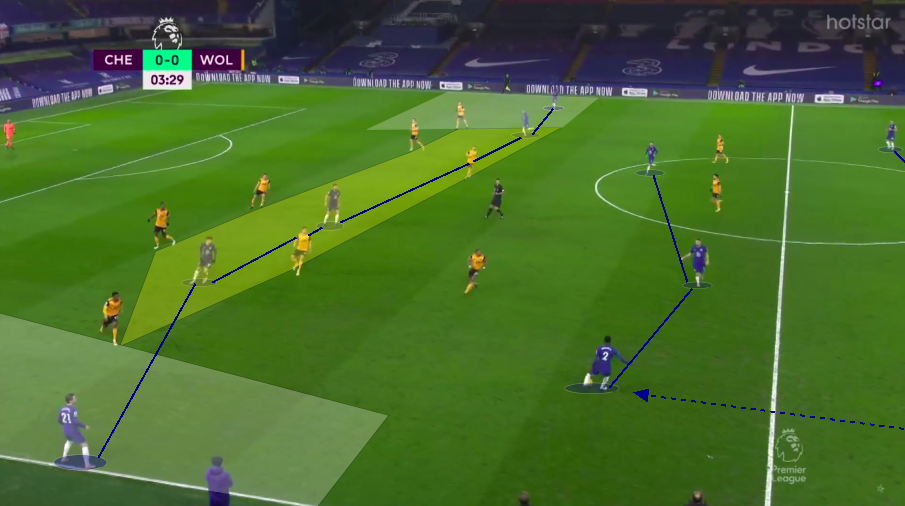 The front-three would position themselves in between the opponent lines and look to congest the centre, opening up space in the wide areas for the advancing wing-backs to use. In this system, Tuchel attempted to use Olivier Giroud as a pure striker to little avail, as seen below.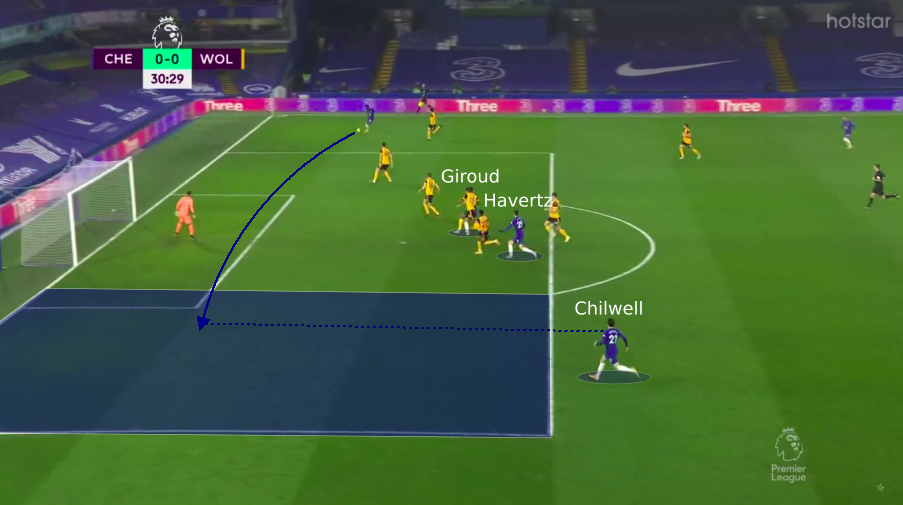 40% of Chelsea's attacks came from the right and another 29% came from the left, so a lot of crosses were involved – 36 to be precise. However, there were usually only two bodies in the box attacking such crosses – Havertz and Giroud – since Ziyech dropped deep as previously discussed. Chilwell was an additional late runner to the far post (the left wing-back), but he could not be counted as a presence in the box.
So, contrary to what most might think, a pure striker was not the best option for Chelsea if crosses were to be their main form of attack.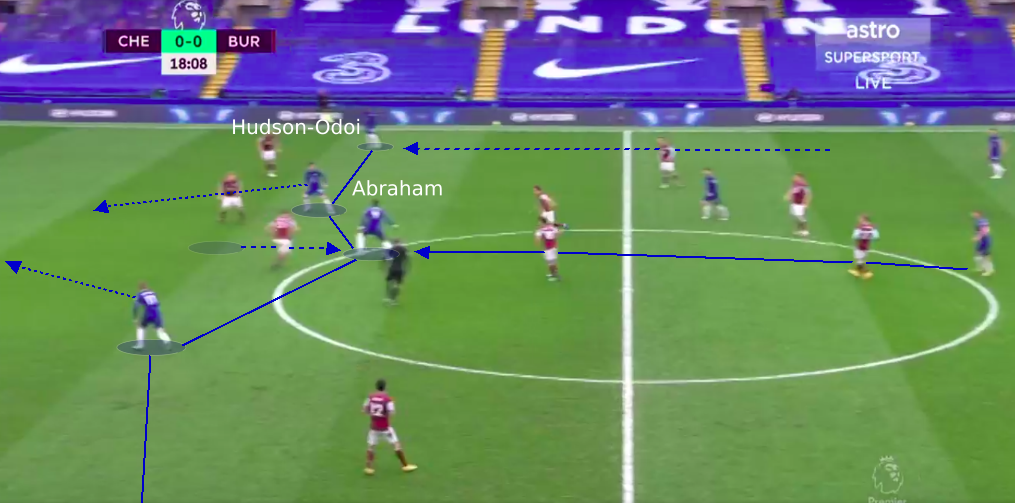 Instead, a sort of a false nine was the way forward. That is the role Tuchel gave Abraham in his second match in charge. So, he often came deep to receive passes, while the two wide attackers made runs in behind at the same time.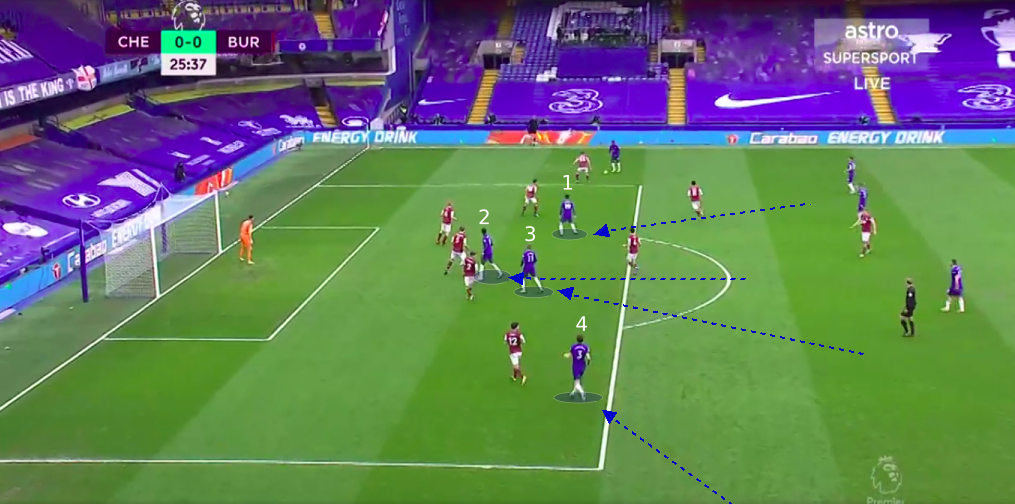 Therefore, when Chelsea got into a crossing position, both wide attackers got in the box, while Abraham managed to get in there as well. On the left, Alonso had better attacking positioning sense than Chilwell, so he made it four blue shirts in the box.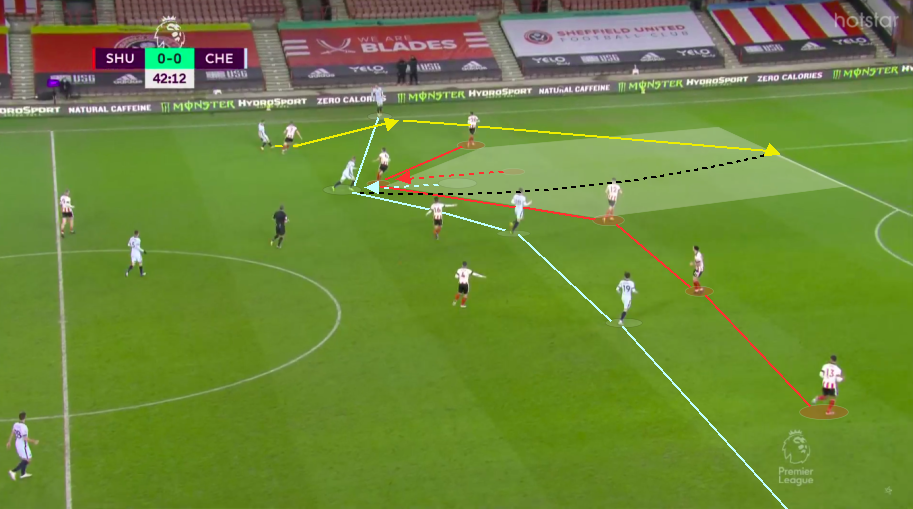 It is not always the striker who dropped off the front line. The wide attackers do it at times too, with the aim being to create and then exploit spaces in behind the opposing defence through a third man run. That is exactly what Werner did to set up Mount's opener against Sheffield United.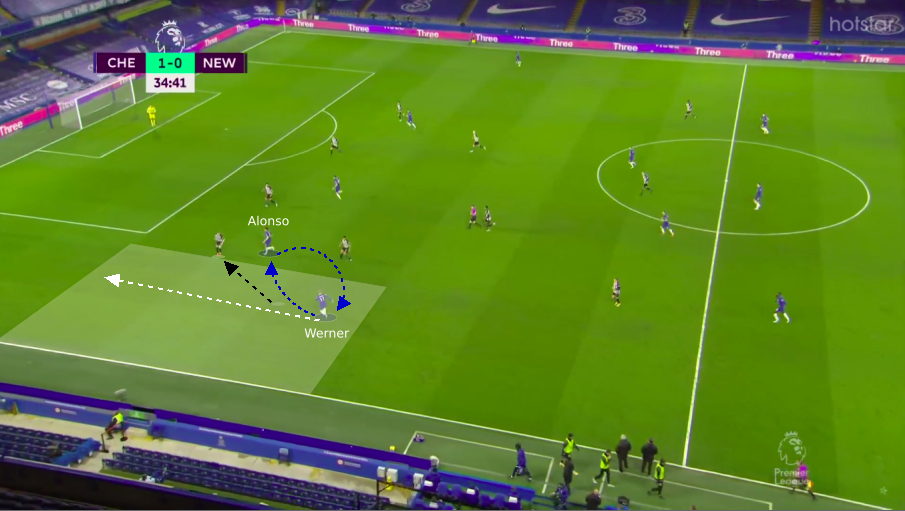 Against Newcastle United, we got to see the left-sided attacker and left wing-back exchange places, with Alonso dragging the right-back away from Werner to create space for the German attacker. That is depicted above, in an instance just before Chelsea's opener in this match.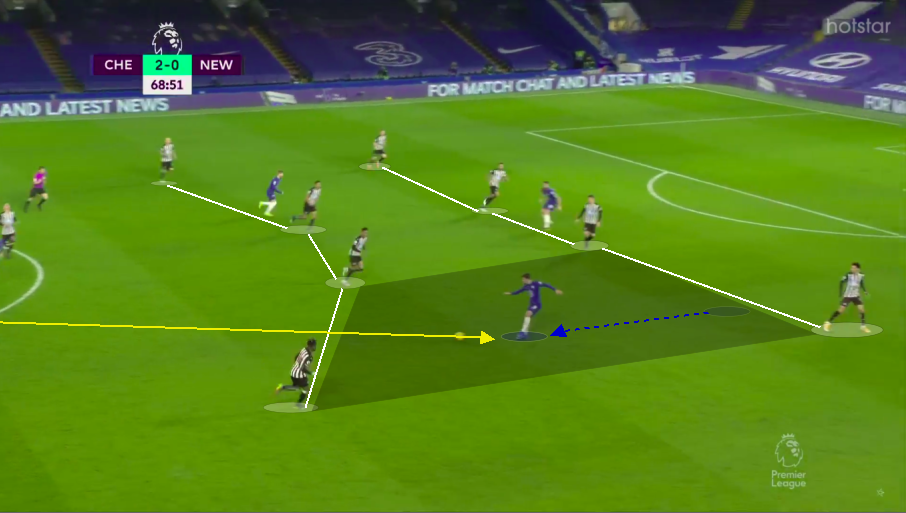 When deployed on the right, Mount dropped away from the line to receive the ball in a pocket of space most often. After taking it on the half-turn, he could drive at the opposition backline, and would usually have his right wing-back in front of him waiting to be slipped in behind.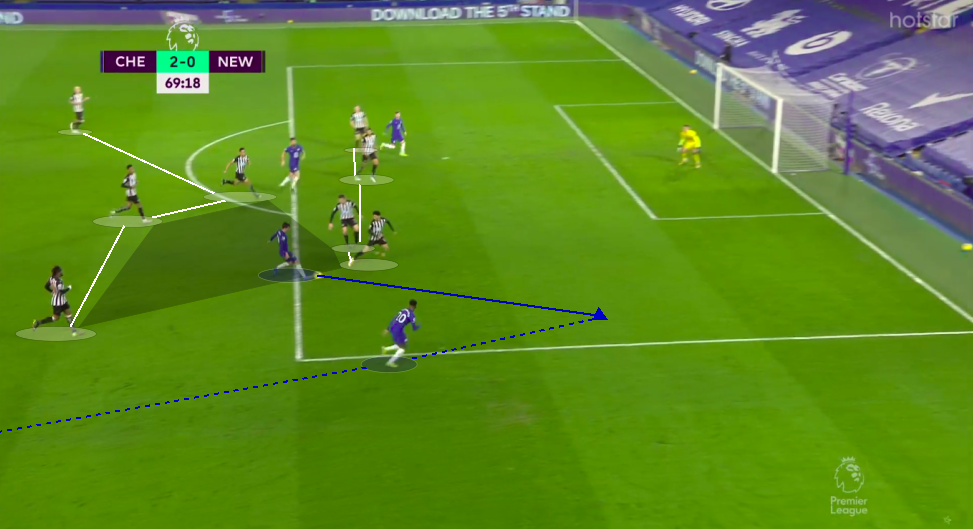 A similar idea is used in the 3-4-1-2, but it creates spaces elsewhere.
Attacking Movements in the 3-4-1-2
In his second match against Burnley, Tuchel made some half-time changes which saw Chelsea switch to a 3-4-1-2. The Blues persisted with this system against Tottenham Hotspur but returned to the 3-4-2-1 thereafter. However, the 3-4-1-2 system remains a very feasible option, so here is a quick look at the attacking movements it uses.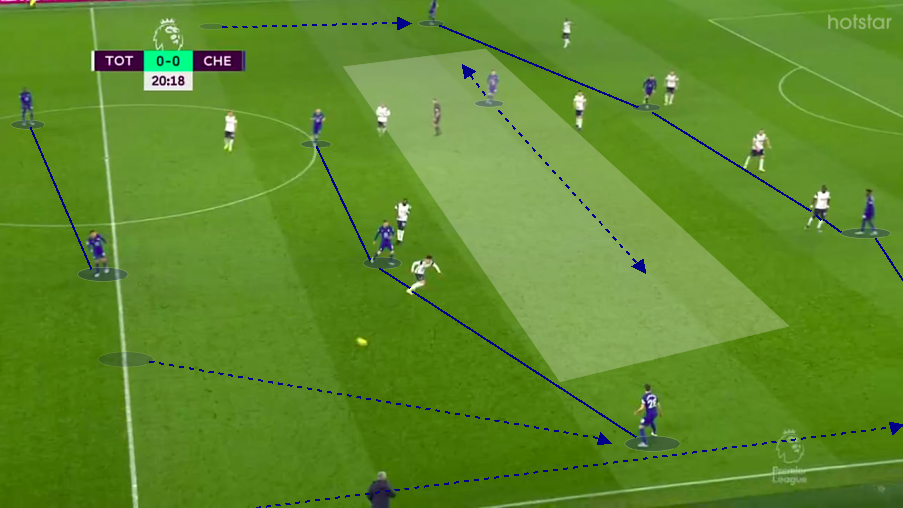 Here, Chelsea's formation in possession is a 2-3-1-4 (with Azpilicueta pushing up again, but only for the build-ups and not into the final third). The key difference, evidently, is in the front line, where there is a 4 instead of a 5, with the number 10 (Mount in most cases) dropping in between the opposition lines in a sizable pocket of space, where he has full freedom to drift horizontally.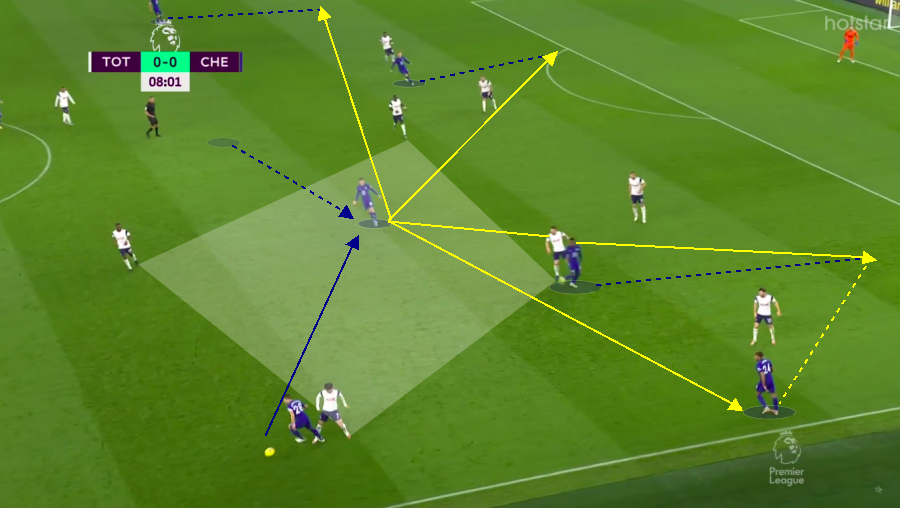 Mount can then look to drift into pockets of space within the midfield, receiving the ball on the half-turn and being in a position to release the front two or four in behind the defence.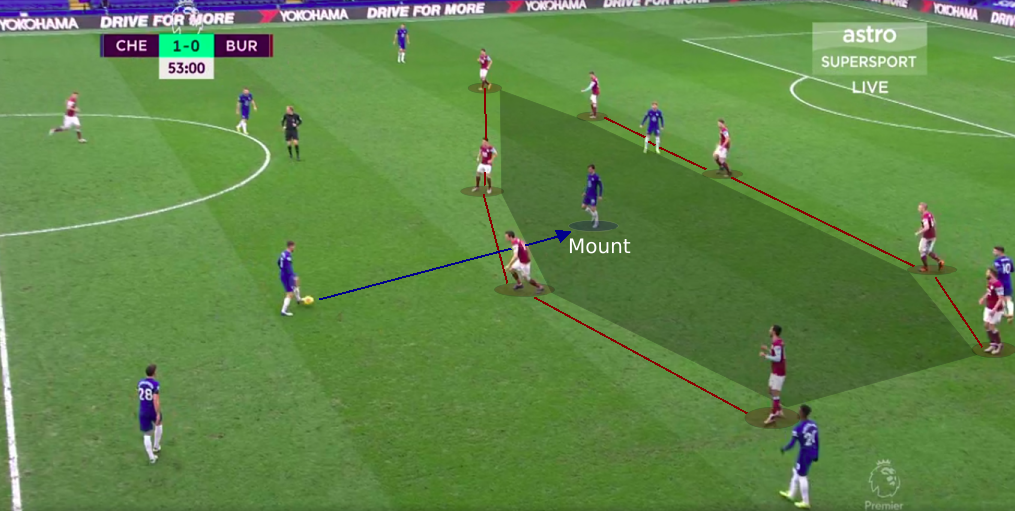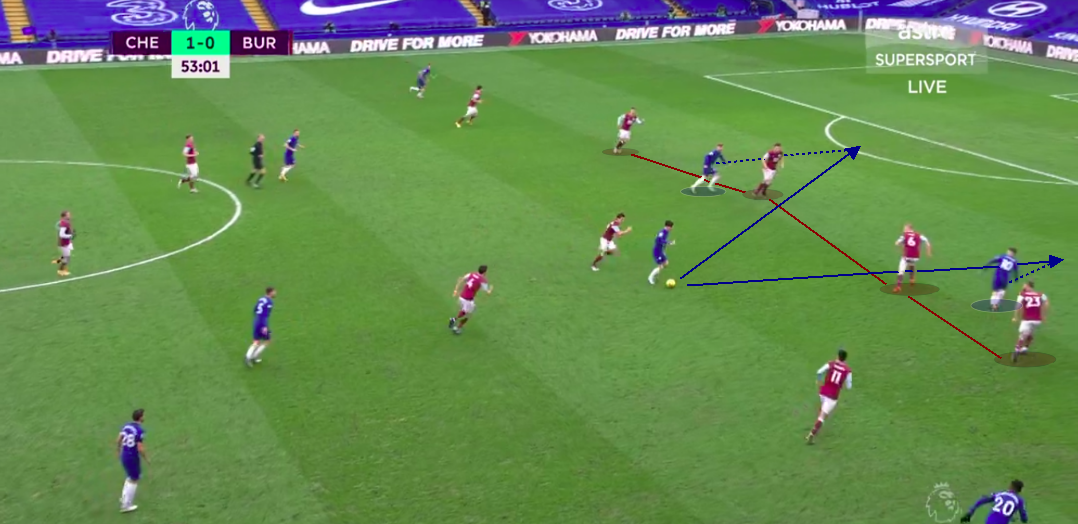 The right striker has an interesting role in this system too – he is something between a false nine and right winger.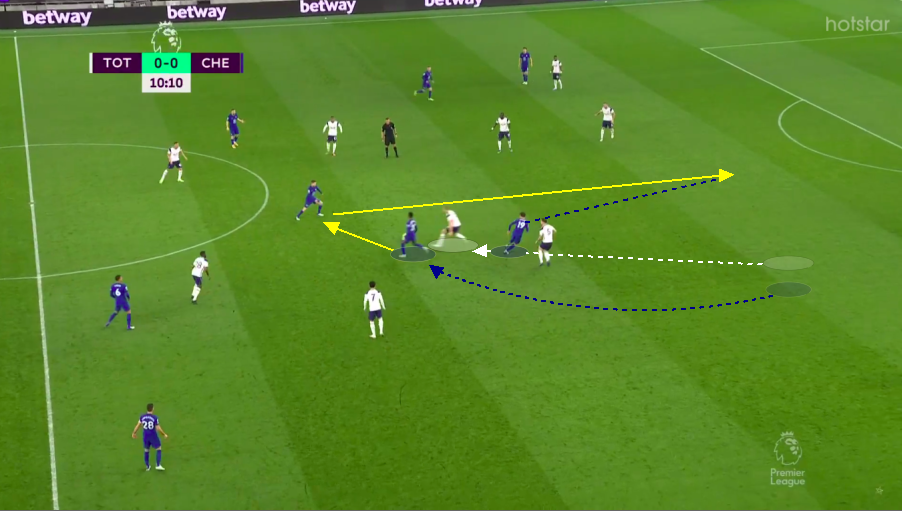 You can see the false nine bit in action here. Hudson-Odoi has dragged a defender with him as he is dropping deep to play a pass to Jorginho. Meanwhile, Mount (the attacking midfielder) is making a third man run into the space that Hudson-Odoi vacated, preparing to run onto a through pass from Jorginho.
Hudson-Odoi often drifted out to the right wing as well, as he is doing above.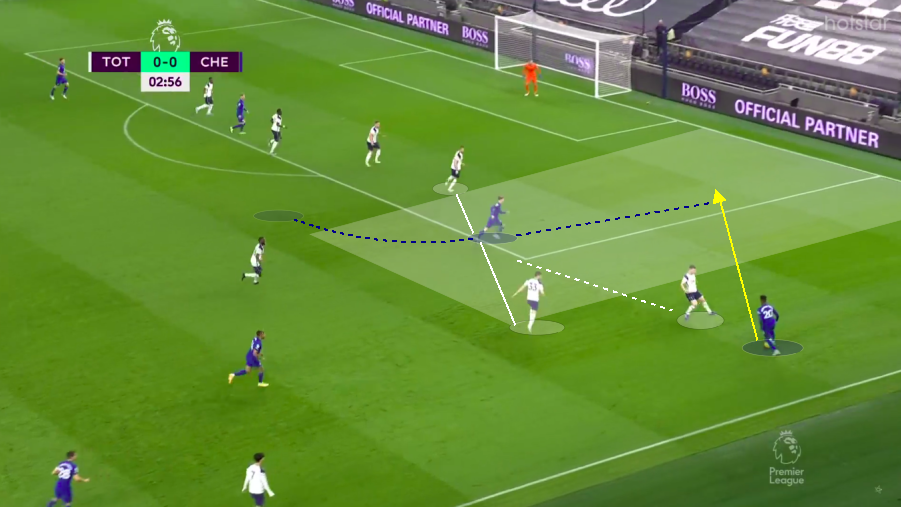 Again, the idea was pretty much the same in theory. Hudson-Odoi's movement creates some space behind the defence, and Mount looks to use it.
Pressing
Throughout his coaching career, Tuchel's teams have been renowned for their intense and structured pressing, but we have not seen a lot of that from Chelsea. This is largely because they are yet to face a side that has given them a serious run for their money in the possession stats. The first real structured press we saw from Tuchel's Chelsea came against Tottenham Hotspur.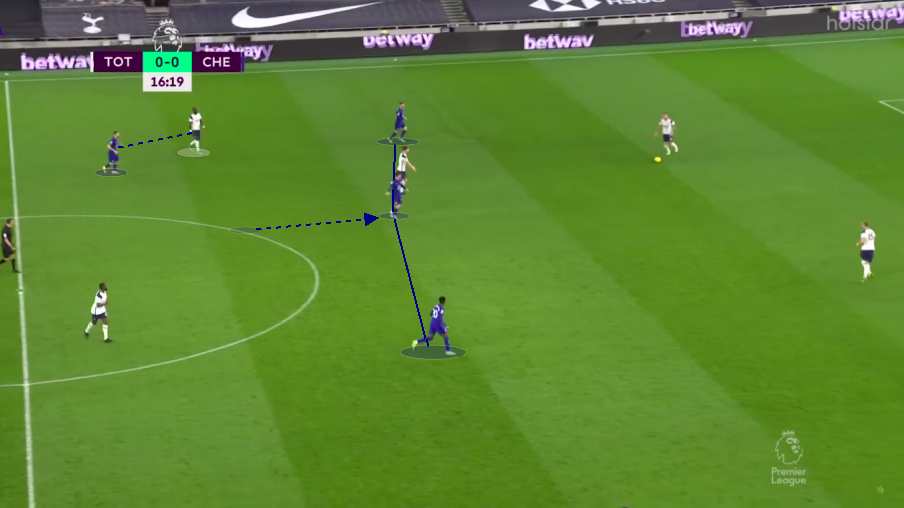 Lining up in a 3-4-1-2 meant that they had two strikers on paper, but their press had a front line of three, as Mount pushed up from the number 10 role.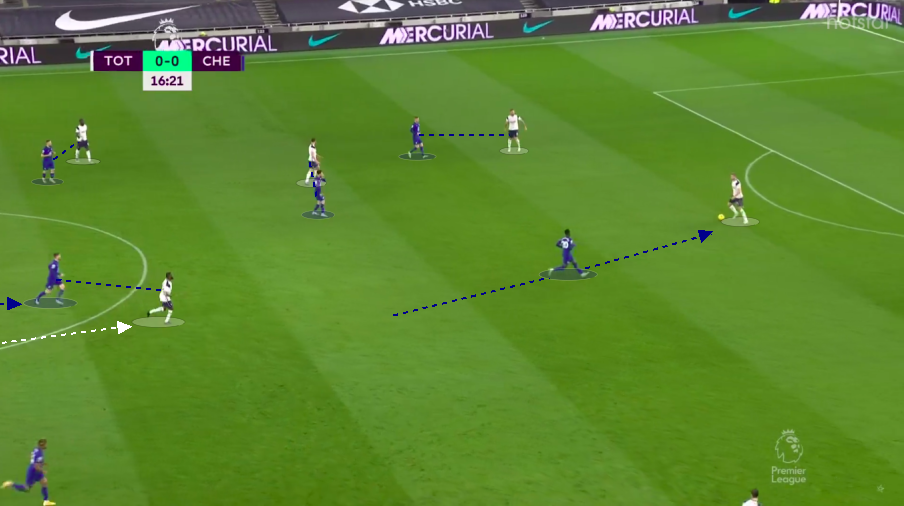 The pass to Tottenham's right-footed left centre-back Eric Dier was the trigger for Hudson-Odoi to go and press the ball. Werner would look to eliminate the passing option to the other centre-back in such a case, while Mount sat in front of the holding midfielder. Behind them, the midfield pivot marked one opposition each.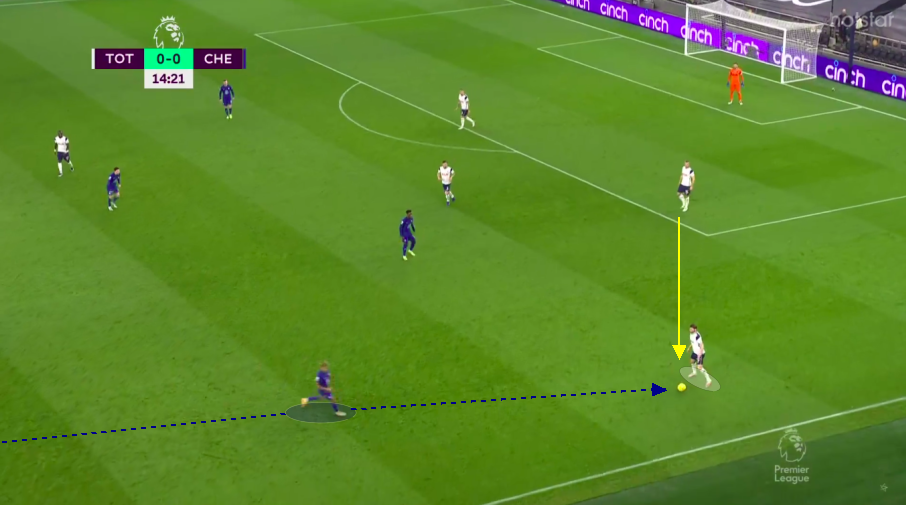 Tottenham's right-back was Serge Aurier, who often pushed far up the pitch, so their main passing options were on the left of defence. If the ball was played out there, James would push up from right wing-back to close the left-back down, forcing him to go back infield and repeating the cycle. Ultimately, Tottenham would have to go long.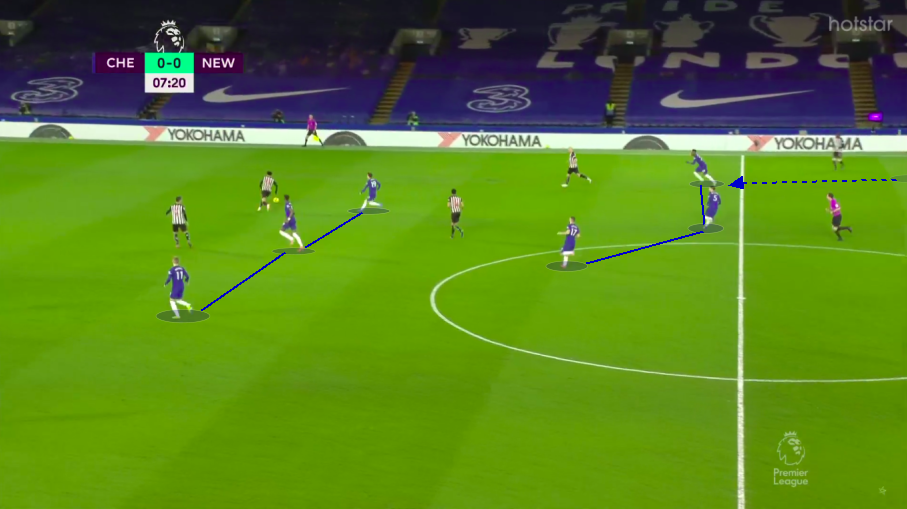 Against Newcastle United too, Chelsea pressed with a front three. Behind them, the two midfielders were joined by one wing-back depending on which side the ball was on. However, we are yet to see the full extent of Tuchel's press, and given the congested fixture schedule, it may yet be a while before we get it.
Defending
As we discussed previously, Chelsea have rarely been made to work hard for possession, so they have not had to defend too often. In fact, the only goal Tuchel's Blues have let in was quite a silly own goal – they are yet to concede to an opponent. We have seen two defensive shapes from them so far, with the difference stemming from the choice between a 3-4-2-1 and 3-4-1-2.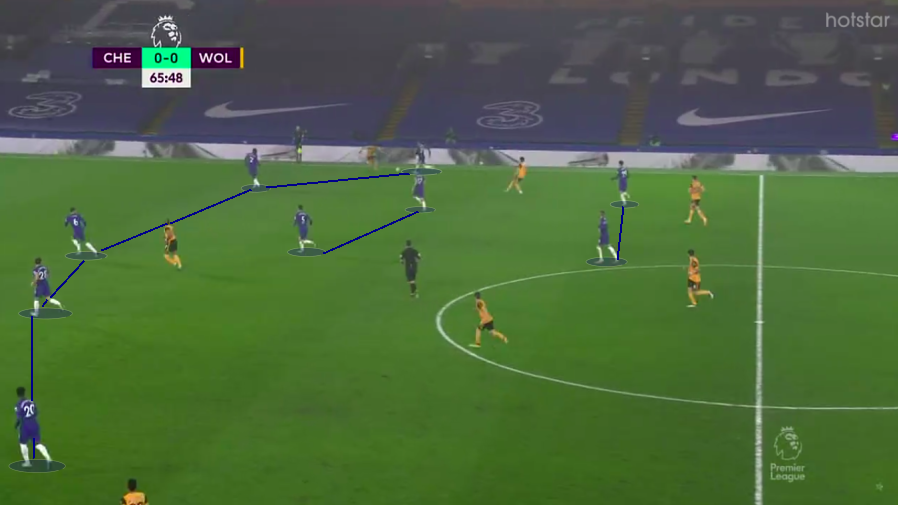 In the former, Chelsea drop into a 5-2-2-1 in defence, with the wing-backs going in line with the defence, while the two attackers drop away from the striker, who is left alone up front.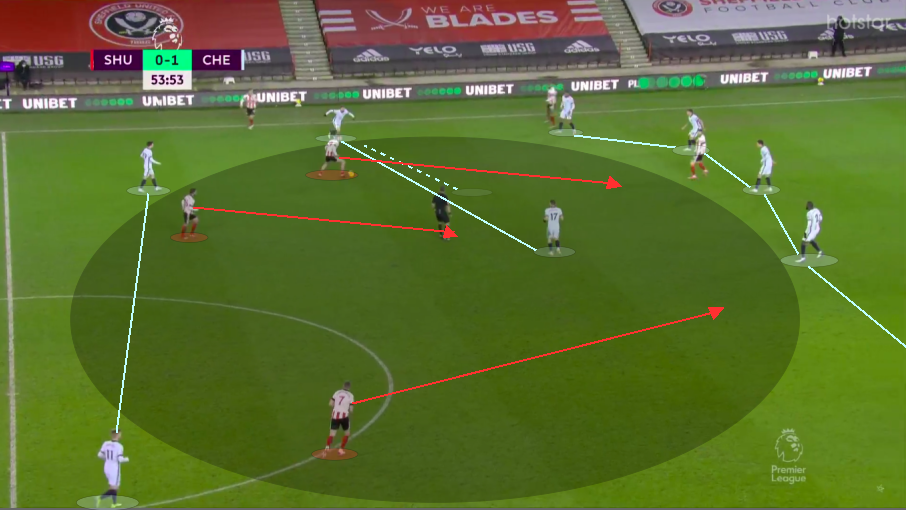 The main weakness in this shape is naturally in the middle of the park. The holding midfield duo have to marshall the entire region, and they get little help from the two in front of them. Therefore, if even one midfielder is dragged away from his position, Chelsea are left centrally exposed. The 5-3-2 aims to solve that.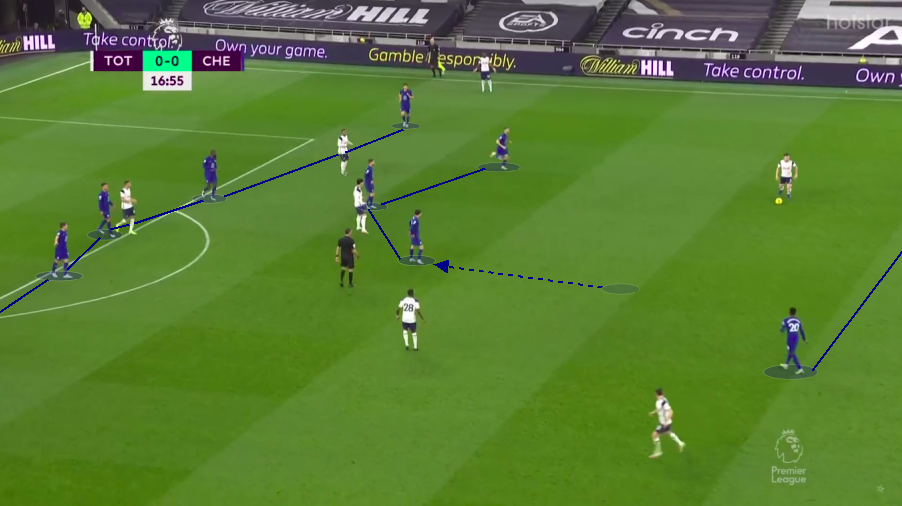 When Chelsea have fielded a 3-4-1-2, their defensive shape has been a 5-3-2 with the attacking midfielder joining the midfield pivot to bolster the middle of the park.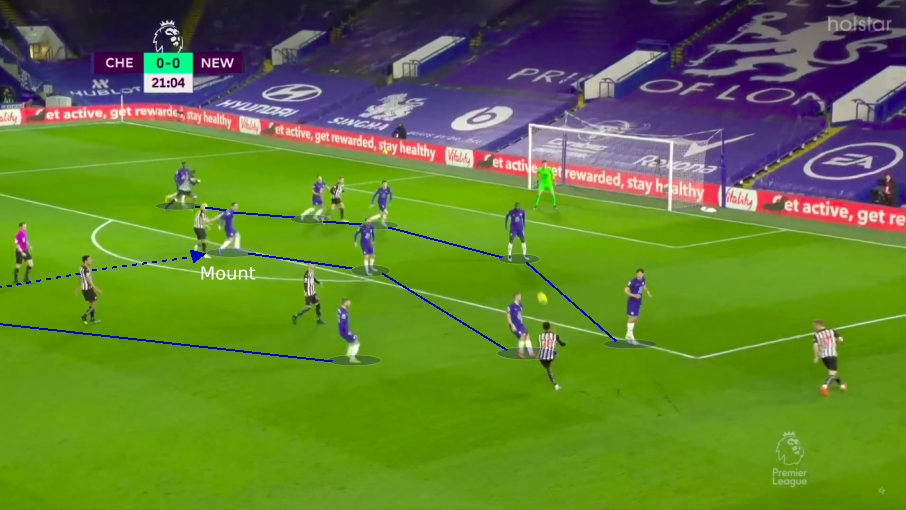 Chelsea played in a 3-4-2-1 against Newcastle United, but with Mount in one of the wide attacking positions, they had the choice to drop into a 5-3-2 in defence. So far, this looks to be the best-of-both-worlds approach for the Blues.
In truth, Chelsea's defence under Tuchel is yet to be fully tested as they are yet to meet a properly attacking side. Matches against Manchester United, Everton and Leeds United in the Premier League and the Champions League Round of 16 tie with Atlético Madrid in the span of a month should give us better answers.
Winners & Losers
As is always the case when a new manager comes in, there are many winners and losers as far as players are concerned.
WINNER – Callum Hudson-Odoi
The German contingent was expected to benefit the most with a fellow countryman as their boss, but Callum Hudson-Odoi has profited more than anyone. He was Frank Lampard's go-to 88th-minute substitute, but under Tuchel, he has already made more than half of his league starts this season.
No one expected to see him at right wing-back, but he has done very well in that role so far – even giving Reece James a serious run for his money – while also slotting into the right forward role that we previously discussed. His dribbling has been particularly impressive as the Englishman has completed 138 carries and 31 progressive carries in the first four Premier League matches under Tuchel.
LOSER – Hakim Ziyech
Something has to go wrong quite badly if a player is contemplating his future within half a year of joining a club, but that is the case with Hakim Ziyech. Injuries have certainly not helped the highly-rated ex-Ajax star, but he does not seem to have a clear role in Tuchel's system.
As aforementioned, Ziyech likes to drop deep on the right quite often, which is evident in his activity map from 2019/20 with Ajax. There is no such role in the 3-4-1-2, and the 3-4-2-1 does not accommodate him either given the fact that it is the striker who usually comes short to receive passes. Having not started a league match under Tuchel bar the Wolves clash and not even managing a full 90 in the FA Cup, things are not looking good for Ziyech.
WINNER – Antonio Rüdiger; LOSER – Kurt Zouma
Many Blues faithful would have led you to believe that the best thing Antonio Rüdiger did for Frank Lampard's Chelsea was help attract Kai Havertz and Timo Werner to Stamford Bridge, but he is certainly more than just an agent under Tuchel.
The German centre-back has played every single Premier League minute under Tuchel, looking solid at the back save for a comical own goal. He has already played more league minutes under Tuchel than he did with Lampard as his manager this season. Kurt Zouma, on the other hand, is yet to make a league appearance for the ex-Paris Saint-Germain boss despite starting 15 matches under Lampard as a mainstay central defender.
WINNER(s) – Jovačić; LOSER – N'Golo Kanté
Tuchel already seems to have struck gold (at least in the short term) with his midfield duo of Jorginho and Mateo Kovačić. The two have spent all but 16 Premier League minutes together on the pitch with Tuchel giving them instructions from the sidelines, having started just two together previously throughout the campaign.
Their stats have also been boosted accordingly – the pair have attempted more than 195 passes in all but two league matches, tallying a whopping 287 in one match alone (Wolves). Further, they have completed 205 or more touches in every match bar one), nearly reaching 300 in their first match with Tuchel. Better yet, Jorginho's jumps are back on penalty duty.
N'Golo Kanté, on the other hand, is not having so much fun. With the midfield pivot settled, there seems no way for him to break into the team, which should explain why he is yet to start a league match under Tuchel.
WINNER – Marcos Alonso; LOSER – Ben Chilwell
It was the exact opposite under Frank Lampard, but Tuchel clearly has seemed to have found his favourite left wing-back in Marcos Alonso. The Spaniard was not trusted by his last English manager because of his defensive ineptness, so he went and bought Ben Chilwell from Leicester City in the summer to use him as his first-choice left-back.
However, as we have deeply discussed, Tuchel has used a back-three so far, so defending is not as important as going forward for the wing-backs. Including Burnley where he scored, Alonso has completed 90 minutes in all but one league match after it.
WINNER – Kepa Arrizabalaga
The world's most expensive goalkeeper had fallen far out of favour with Frank Lampard after a series of high-profile errors, but he looks to be getting a second chance under Tuchel. After failing to make any of the German manager's first four starting line-ups, he got a run in the cup against Barnsley, where he impressed enough to stay in goal in the Premier League against Newcastle United. He was tidy in that match too, surely giving Tuchel a lot to think about before his next match.
All the same, Mendy cannot be considered a loser, because he has kept three clean sheets in four starts, conceding only one own goal. Therefore, it does not seem too unfathomable to see the pair alternating often, with Kepa's superior footwork getting him in against pressing sides, while Mendy's shot-stopping should see him start against low blocks.
If that is the case, the question will revolve around who starts in big games against high-pressing sides like Liverpool. Will Kepa be risked for his footwork when he has proven to be erroneous there too, or will Mendy's no-nonsense work in the box get him the start? Only time can tell.
Conclusion
While it still is early days, it is safe to say that Tuchel's Chelsea are shaping up to be quite a team. The German tactician already seems to know his best eleven, something that Frank Lampard could not manage in over 18 months, so there are some evident improvements.
However, there are many things we are yet to discover. Tuchel may have passed his initial tests with flying colours, but he is yet to face any of the big boys. The next couple of months include big matches against Manchester United and Atlético Madrid, so these should give us a better indication of Chelsea's chances as title-contenders under Tuchel next season.
For now, though, they must focus on progressing in the Champions League and finishing in the top four. With Liverpool struggling, they are already (NEW) where they need to be for that, but if there is one thing we have learnt from table-topping Tottenham this season, it's that getting somewhere and staying there are two very different challenges.
From a tactical point of view, no one could have ever doubted Tuchel, and he has delivered the goods so far with an unexpected back-three system that does look good both in terms of results and viewing pleasure, but it is yet to be fully put through its paces as well. From early indications, though, the TuChelsea era looks to be on course for some sweet success.
By: Neel Shelat
Featured Image: @GabFoligno / Pool – Getty Images
Stats courtesy of WhoScored and Fbref.
Images: https://drive.google.com/drive/folders/1-QgI2940w6ySvGLcuRaOcoeQ7Tpr1mHe?usp=sharing (Note: All images numbered in order except ones from the Newcastle match)