Player Analysis: Anthony Nwakaeme
Located on the shores of the Black Sea, the city of Trabzon in Turkey is known for its rainy and cold weather during many months of the local football team's season. The supporters of said team, Trabzonspor are known for their hard edge and undying passion but also for a sense of gloomy pessimism.
They were the only club located outside Turkey's capital city to win a league title (6 times in total during a glorious run in the late 70's-early 80's), until Bursapor achieved the feat in 2010. Still, there is a sense among Trabzonspor's supporters and the country at large that the team's fortunes will fade toward the end of the season.
No more was that apparent than at the end of the 2019-2020 campaign. Trabzonspor were flying high in first place in February, with the outstanding contribution of loanee Alexander Sørloth at striker. New signing Daniel Sturridge appeared healthy after an injury-ravaged career, and John Obi Mikel provided a steady veteran presence in the midfield. 
Suddenly, it all came crashing down in the month of March, as Sturridge became embroiled in a betting scandal that led to his contract being terminated, while Mikel refused to play due to the Süper Lig's decision to keep running amid the height of the coronavirus. Trabzonspor wound up finishing second, and the final insult came in the form of a ruling by UEFA that disqualified "The Black Sea Storm" from competing in Europe in 2020-2021 for violating Financial Fair Play rules. 
After the chaos struck, there was one stalwart player who remained with Trabzonspor. Anthony "Tony" Nwakaeme had been something of a football nomad before joining the team in August of 2018, with productive spells outside of his home country of Nigeria playing for three Romanian and two Israeli clubs. A left-winger by trade, Nwakaeme combines physical strength with speed and an uncanny ability to dribble by opposing defenders.
Now that he is the main figure in Trabzonspor's starting XI, Nwakaeme has really started to shine. He is the engine of the offensive attack, as he will hold up the ball towards the left side of the midfield and either drop it off to another player or dribble farther forward before delivering long crosses. Nwakaeme may look for the roving striker Djaniny, or pick out Caleb Ekuban, the opposite winger who is one of the fastest players in the Süper Lig.
When Nwakaeme is at his best, he receives the ball on the left flank and runs with the ball at pace. He sometimes cuts towards the center before involving his teammates or will go towards the corner flag, all the while showcasing his brilliant dribbling skills. On numerous occasions this season, Tony has departed from the corner flag and miraculously dribbled around (you might even say through) a defender appearing to block him off by standing on the goal line.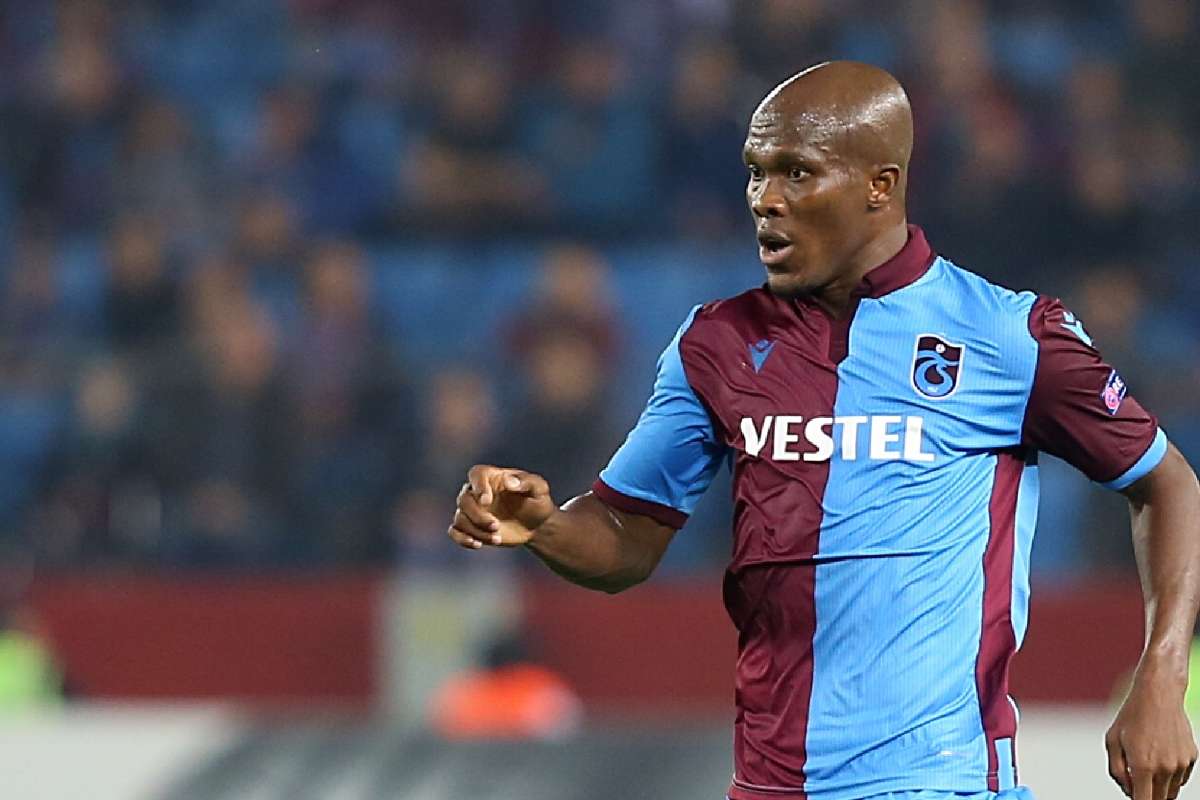 Photo; AA
Trabzonspor have won a remarkable 13 out of their last 16 matches, currently sitting in 4th place, 9 points behind the leaders Galatasaray. Everything seems to have clicked for them since the hiring of manager Abdullah Avci on November 10, 2020. The centre-back pair of Vitor Hugo and Edgar Ié provide stability while Marlon's energy and composure at left-back are noteworthy. Even new signing Anastasios Bakasetas has scored 4 goals in 7 appearances. 
Make no mistake though, Nwakaeme has been the central figure in Trabzonspor's resurgence. He has 6 goals and 4 assists in 22 appearances, but his impact goes beyond the statistics. His hold-up play settles the squad before they embark on their next foray forward, while his direct attacking moves can cause panic and open up the opposing defense. 
Trabzonspor's fortunes appear to have turned after a slow start and a coaching change. It remains to be seen if they can maintain their form and avoid a late-season slump. They would not be where they are now thought without the impressive skill set of Anthony Nwakaeme, a wanderer who has finally found his home. 
By: David Lang
Featured Image: @GabFoligno / Anadolu Agency