The last few years have proven that MLS has transformed from a "retirement league" to a top exporter of young talents. Alphonso Davies, Miguel Almirón and Tyler Adams are just a handful of the players who have gone from playing in MLS to starting in top five leagues. Rather than go for declining, big-name stars such as Bastian Schweinsteiger and Andrea Pirlo, more and more American teams are utilizing their economic force to sign promising, young South American players.
After winning the Copa Sudamericana, Ezequiel Barco left Independiente to link up with his compatriot Gerardo 'Tata' Martino at Atlanta United, who would go on to win the MLS Cup on the back of a 31-goal season from Venezuelan striker Josef Martínez. Eight months after losing in the Copa Libertadores Final, Cristian Pavón joined LA Galaxy on loan from Boca Juniors. Brian Rodríguez and Diego Rossi departed Peñarol to test their skills in Los Angeles FC, whilst Cristian Cásseres Jr. left Deportivo La Guaira to take flight at New York Red Bulls.
In the wake of the COVID-19 pandemic, teams have been forced to tighten their belts and find new, cheaper ways to strengthen their squads. According to a recent FIFA report, the number of transfers decreased by 36.2% whilst the collective transfer spend decreased by 49.1% in comparison to January 2020. More and more MLS teams have taken advantage of the pandemic's economic repercussions, using their financial strength to pounce on relatively vulnerable South American sides and sign promising youngsters.
Portland Timbers purchased Claudio Bravo from Banfield for an undisclosed fee, Déiber Caicedo left Deportivo Cali for Vancouver Whitecaps, whilst Argentine talents Santiago Sosa and Tomás Pochettino headed for Atlanta United and Austin FC, respectively. Arguably the biggest move occurred in Ohio, when FC Cincinnati purchased Brenner from São Paulo.
More Money, More Problems: Why Spending Big has Failed to Bring Consistent Success in MLS
Since being announced as the latest expansion franchise on May 29, 2018, FC Cincinnati have struggled to make a lasting impact in MLS. The club finished with a league-worst 6-22-6 record in their inaugural season, setting a record for the most goals conceded in a single season (75). They did not fare much better the following year under manager Jaap Stam, finishing 14th in the Eastern Conference with a dismal 4-15-4 record, although they did manage to impress in the 'MLS is Back' tournament, finishing second in a group of Columbus Crew, Atlanta United and New York Red Bulls, before being eliminated by Portland in the Round of 16.
Given the fact that Brenner had already been linked with European giants such as Juventus, Arsenal and Paris Saint-Germain, his arrival in Cincinnati caught many by surprise. In a recent interview, FC Cincinnati General Manger Gerard Nijkamp stated, "Normally, this kind of talent goes directly to Europe, but now, he's coming to our club. In the past, there was a lot of opportunities for top Brazilian talents to go directly to Europe, but we took this opportunity. Brenner is an impact addition which will help a glaring need for us: Scoring goals."
Whilst São Paulo were originally demanding the full payment of Brenner's €50 million release clause, they were forced to settle for a fee of €12 million for the 21-year-old forward, as Cincinnati took advantage of the Tricolor club's financial difficulties and snapped him up for a lower price. "These are difficult times for clubs…in a normal world, it would be tougher for a club like FC Cincinnati…we made the investment and put the money on the table," said Nijkamp.
Born in Cuiabá, Brazil on January 16, 2000, Brenner joined São Paulo's academy at 11 years of age, polishing his skills in the same Cotia training ground that produced other talented attackers such as David Neres, Anthony, Oscar, Luiz Araújo and Lucas Mouri. He was given his professional debut by legendary Tricolor goalkeeper and current Flamengo manager Rogério Ceni, coming on as a substitute in a 0-1 defeat to Club Athletico Paranaense.
He would make just one more substitute appearance before jetting off for India to participate in the 2017 FIFA U-17 World Cup. Alongside the likes of Paulinho (Bayer Leverkusen), Vitão and Marcos Antônio ( Shakhtar Donetsk), and Yuri Alberto (Internacional), Brenner impressed on the left flank and scored three goals throughout the tournament. Brazil advanced to the semifinals before being eliminated by the eventual champions England, who booked their ticket to the Final via a hat-trick from Rhian Brewster.
Despite scoring his first professional goal in the final matchday of his debut campaign, a 1-1 draw against Bahia, Brenner struggled for playing time in the 2018 season, making just 6 appearances in the Brasileirão, with his sole goal coming in the Paulista Derby against Corinthians. Unable to find consistent playing time in São Paulo, Brenner headed for Rio de Janeiro, joining Fluminense on a season-long loan. However, his fortunes worsened under manager Fernando Diniz, providing zero goals in 230 minutes of football.
Upon his return to the Estádio do Morumbi, Brenner reunited with Diniz, who had taken charge on September 27, 2019 following the dismissal of Cuca. This time, however, Brenner finally enjoyed a breakthrough season for the Tricolor, providing 22 goals in all competitions. São Paulo, who in recent years had splurged millions on veteran forwards such as Alexandre Pato and Pablo, had finally found their decisive goalscorer.
The then 20-year-old striker led São Paulo to the semifinals of the Copa do Brasil with six goals, with his standout performance coming in the first leg of the quarterfinals against Flamengo. Brenner scored a brace at the Maracanã to lead them to victory over the defending Copa Libertadores champions, but he was unable to find the back of the net in the following three matches as Grêmio advanced to the Final, where they will face Palmeiras.
Brenner was a constant threat in the Brasileirão Série A campaign as well, scoring 11 goals and providing three assists in 27 appearances. But just when it seemed as though his performances would lead them to their first league title since 2008, the team's form fell off a cliff at the turn of the year. São Paulo took two out of a possible 18 points in January, leading to Diniz's dismissal on February 1.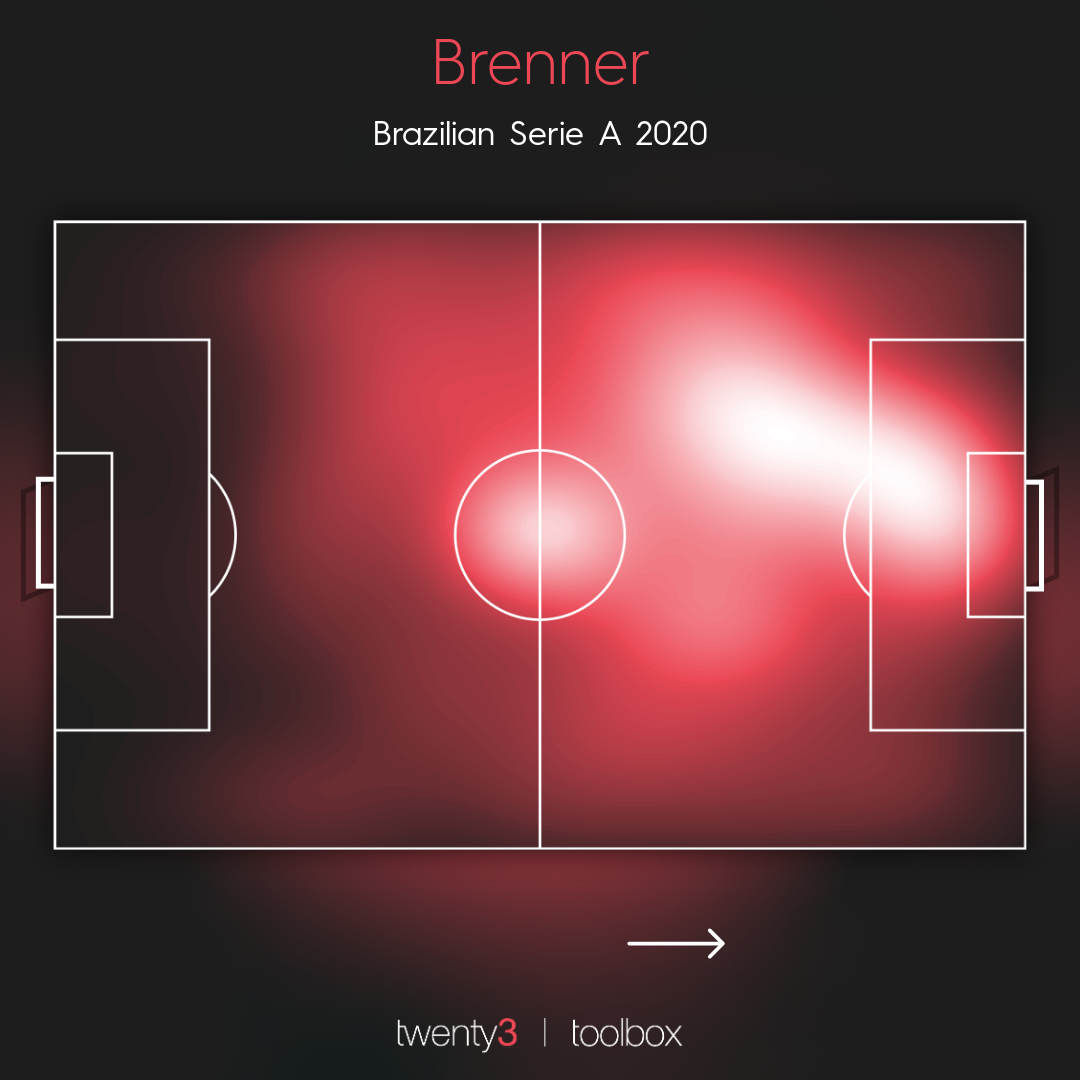 Photo:  Twenty3/Wyscout
Diniz's most commonly utilized formation at São Paulo was a 4-4-2, with Brenner partnering Luciano in attack. As seen in the above heat map, Brenner often occupied the left side of the pitch, combining with Igor Gomes on the left flank. In terms of his movement, Brenner utilized his blistering pace to infiltrate the box, whether that be receiving a cross from the left back (Reinaldo) or latching onto a through ball from Gabriel Sara or Luciano.
More than just his movement, Brenner's intelligence in positioning himself in advanced areas and creating deadly goalscoring chances can be seen via his Expected Goals tally. Amongst players in the 2020 Brasileirão season, he ranks second in xG behind Vasco da Gama's Germán Cano. His tally of 12.96 puts him ahead of last season's top goalscorer, Flamengo's Gabriel 'Gabigol' Barbosa.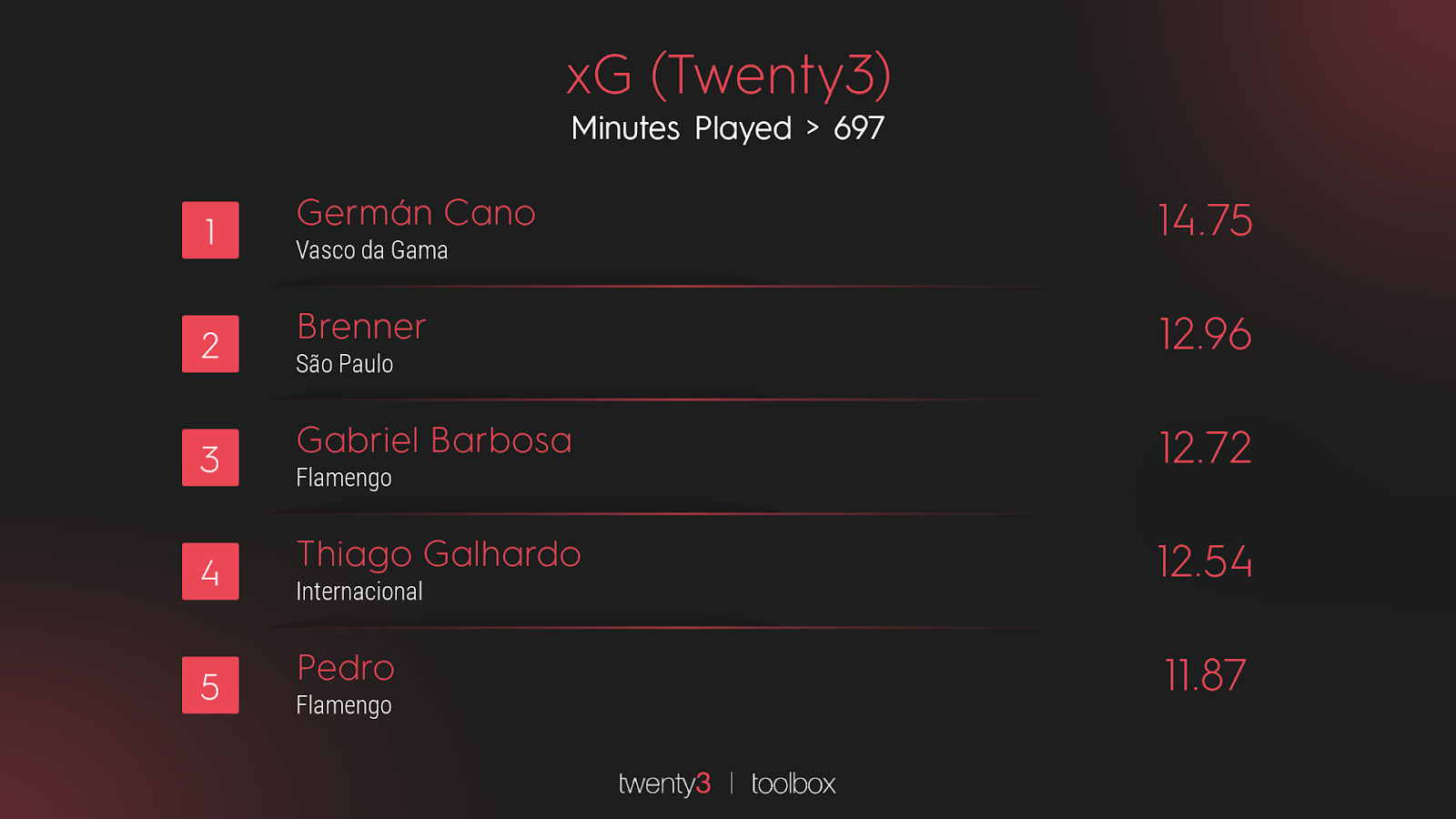 Photo:  Twenty3/Wyscout
It is worth noting that unlike many in the list, Brenner was not his club's main penalty taker; Reinaldo is. Excluding penalties, Brenner averages a non-penalty xG of 0.57 per 90 minutes, which puts him in first place amongst all players in the ongoing Brasileirão campaign.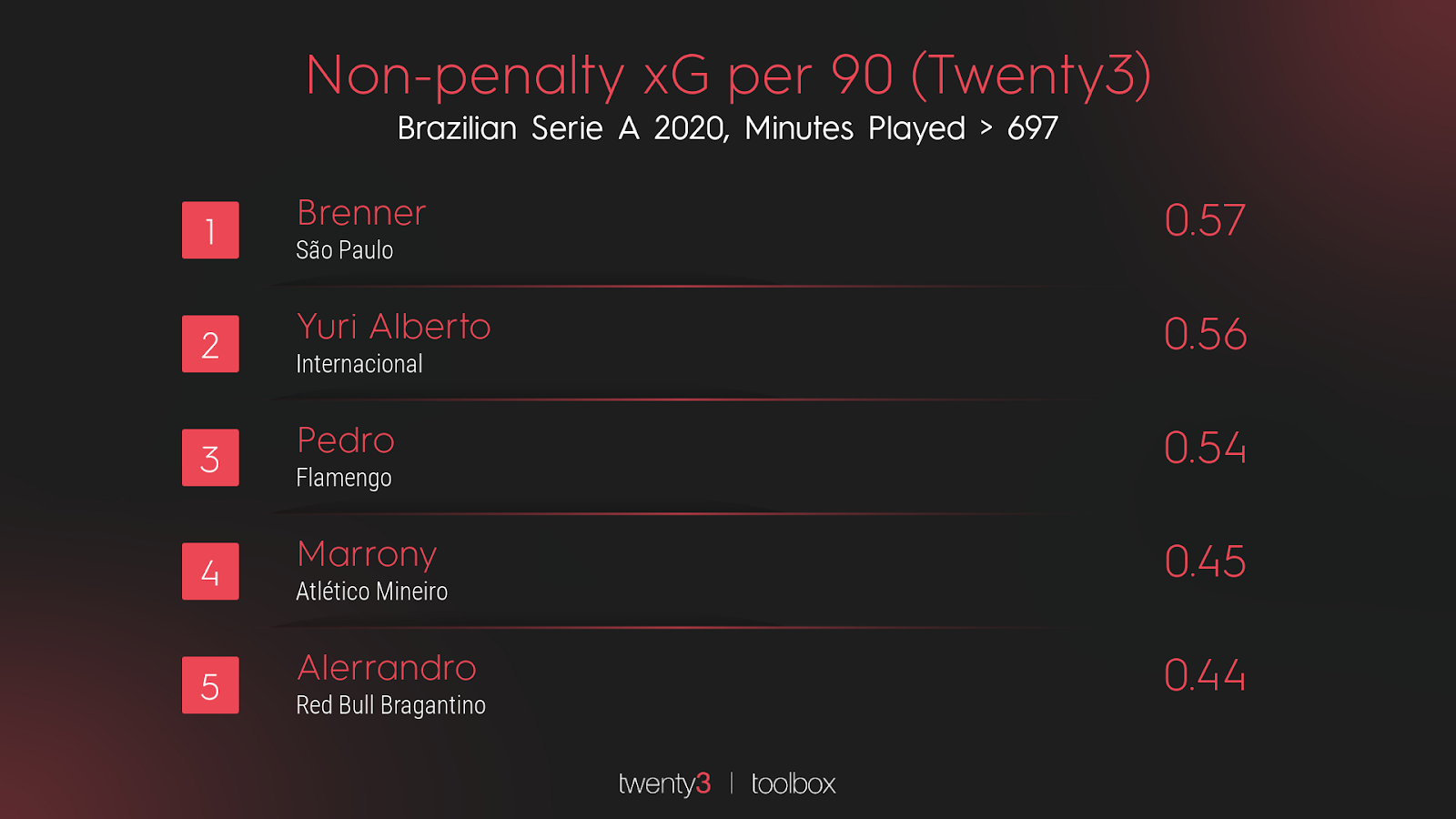 Photo:  Twenty3/Wyscout
Brenner is a natural goalscorer who, despite being right-footed, can finish with either foot. Even at 5'9," the Brazilian is a constant aerial threat in the box, with the second-most attempted headers in the league. In the below diagrams, we can get an even better idea of his shot distribution and the quality of his chances created with each part of the body.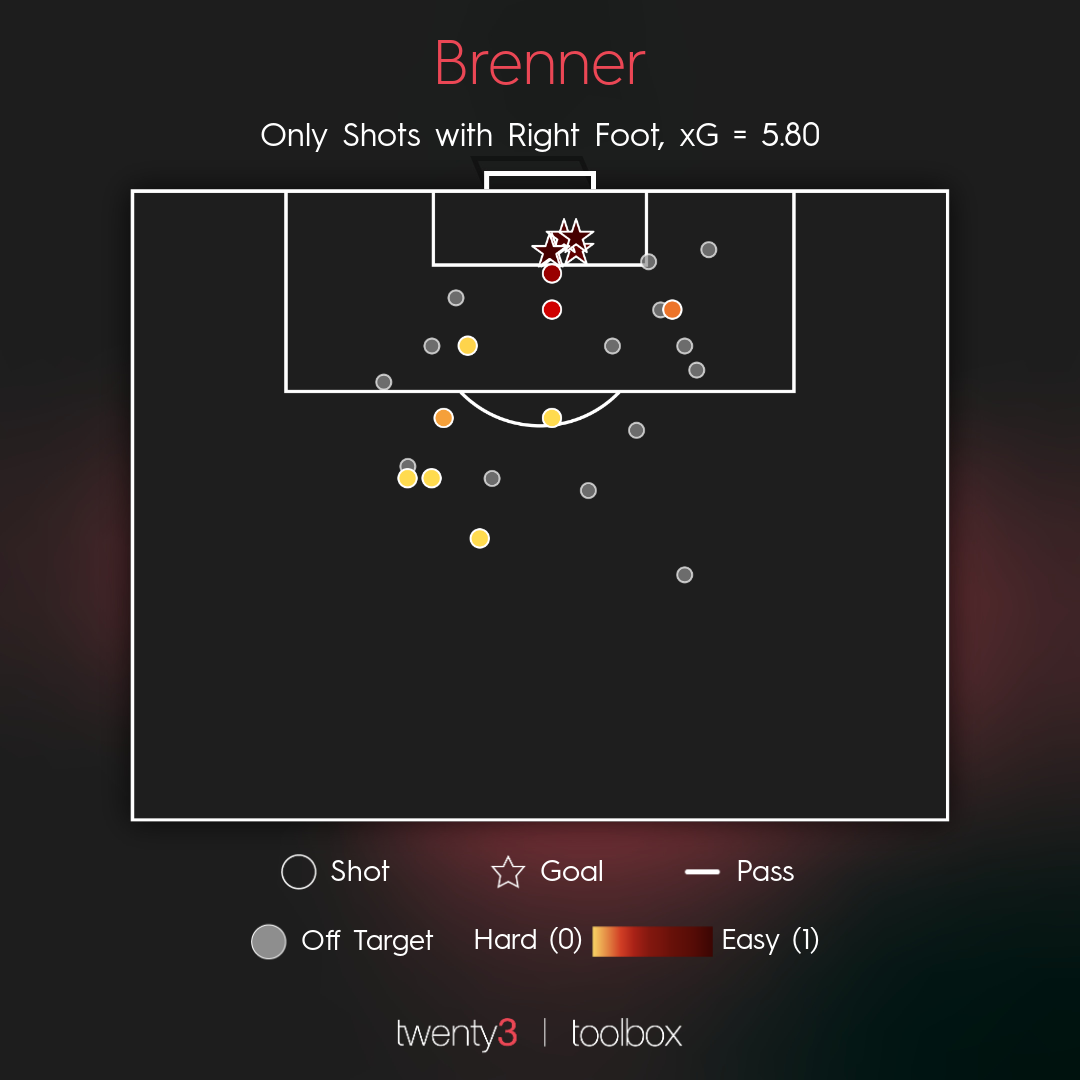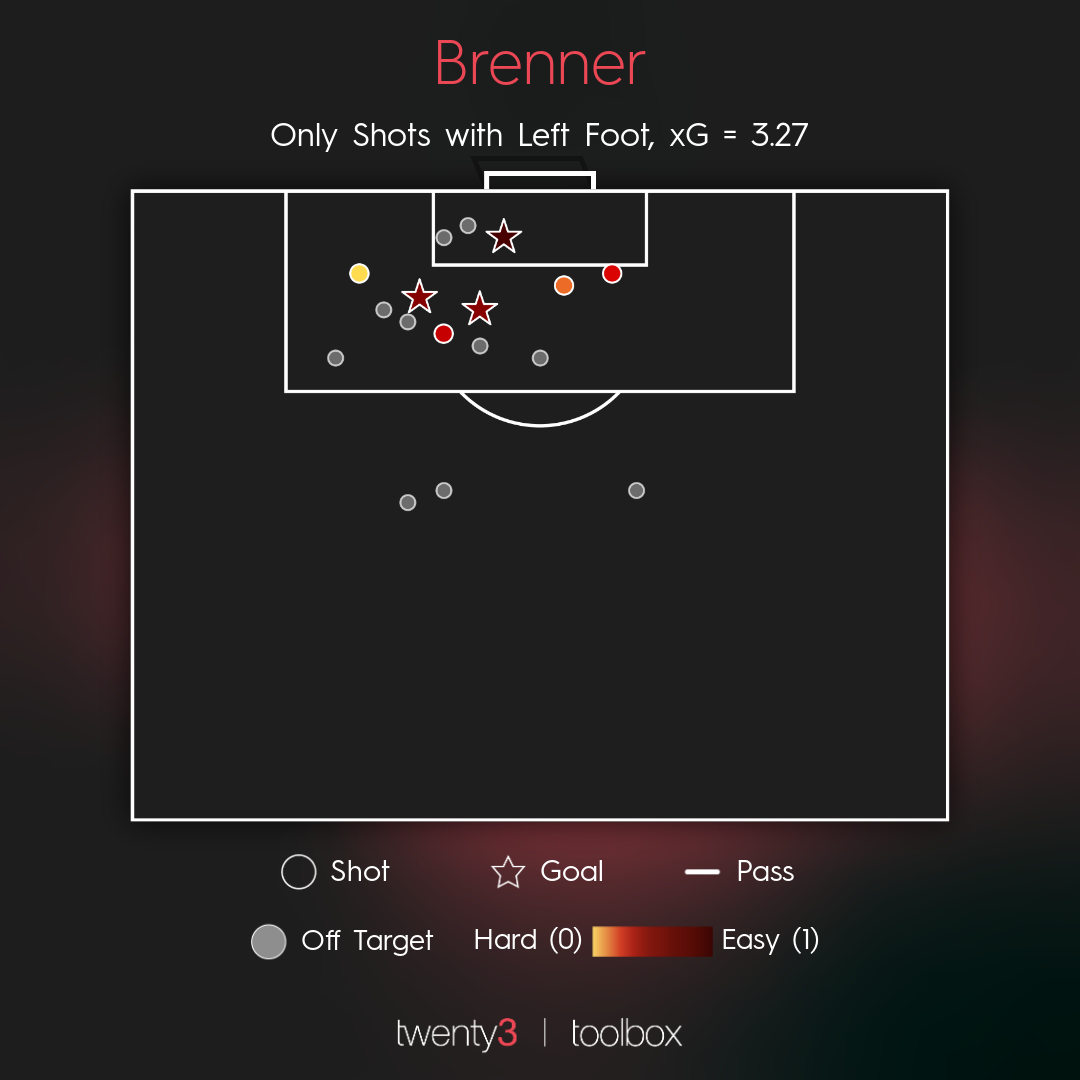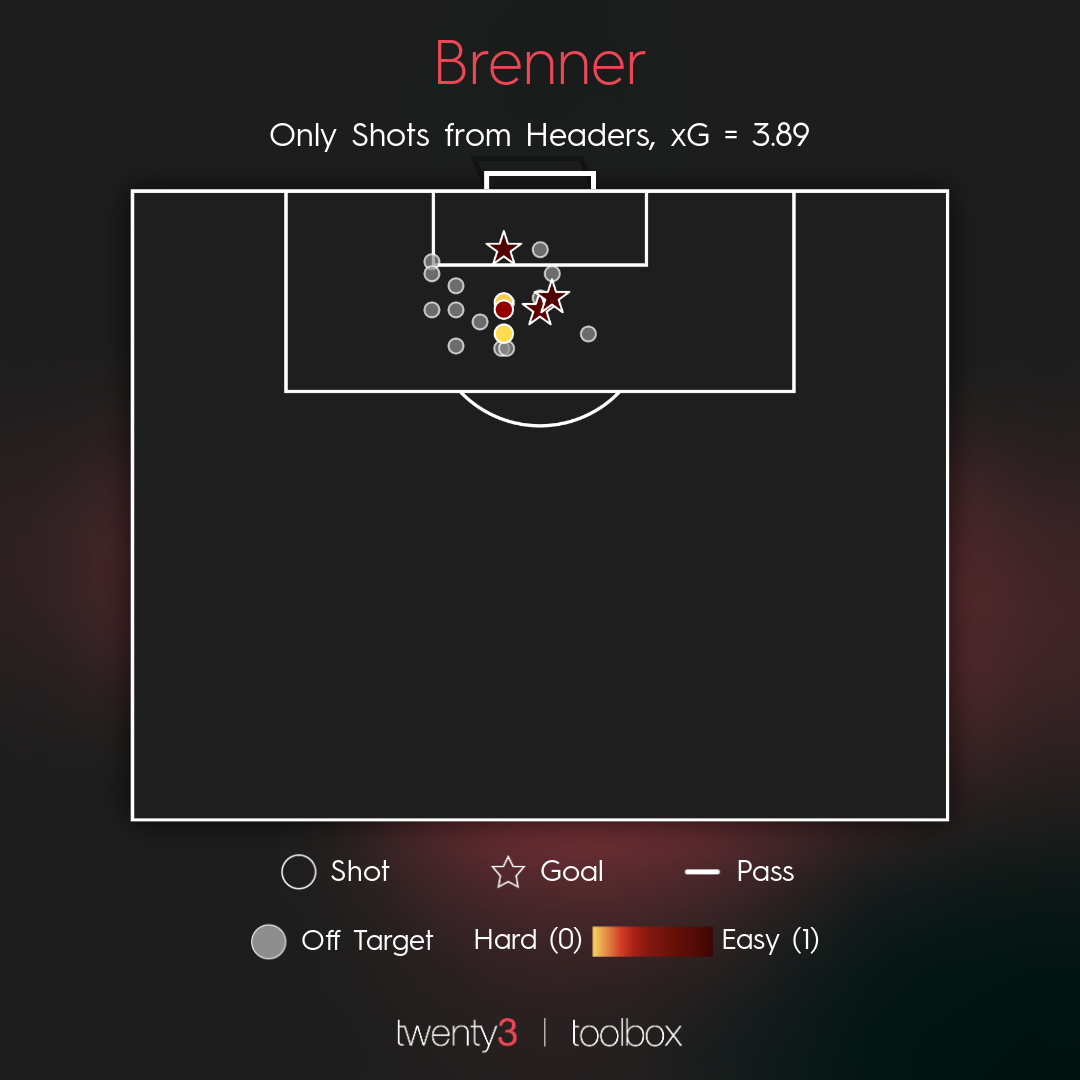 Photo:  Twenty3/Wyscout
A large part of Brenner's shots come from his intelligence and quickness to move into dangerous areas and confuse the defenders. We can get an even better idea of his incisive movement from São Paulo's 2-1 victory over Fluminense on December 26.
As Dani Alves and Igor Gomes play a quick one-two, Brenner hangs on the edge of the penalty area, marked closely by Fluminense right back Danilo Barcelos. Note Brenner's inclined body stance that allows him to pounce quickly on a potential cross.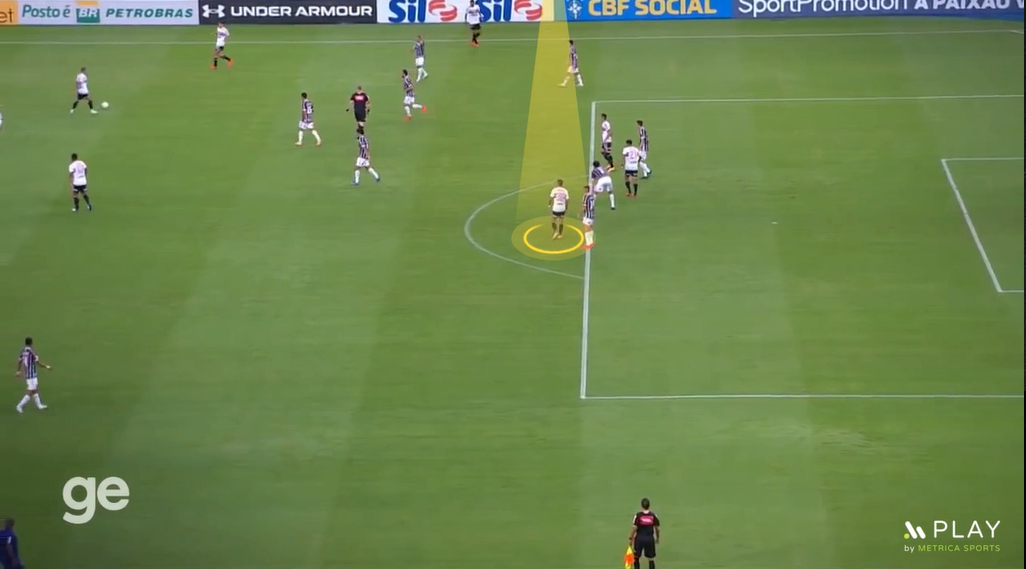 When Reinaldo receives the ball in ample space, Brenner takes a step back and quickly exploits the space in behind, running into the blind-side of Barcelos.
This quick thinking and intelligent positioning allows Brenner to utilize his explosive movement and make contact with the ball at the far post, blasting the shot past Marcos Felipe. Whilst ex Seleção striker Fred evened the scoreline after halftime, Brenner fired a second goal in the 72nd minute to lead São Paulo to victory against his former club.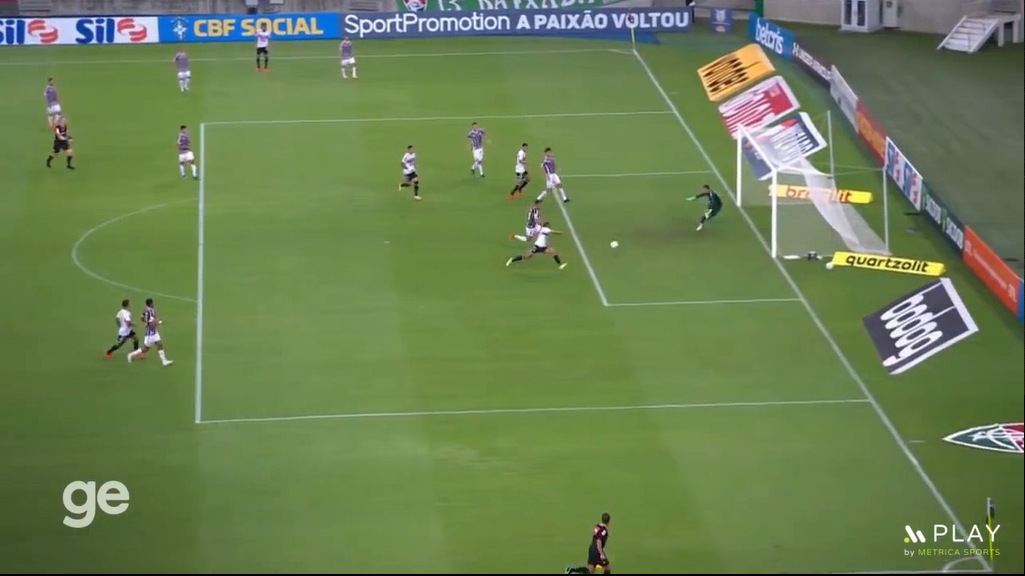 Off the ball, Brenner is a tactically disciplined striker. One thing that Diniz constantly demanded from his strikers was aggressive pressing, and in terms of attempted pressing duels, Brenner ranks 7th overall amongst players in the Brasileirão. This restless pressing gives his team a constant threat, as seen in the first leg of the Copa do Brasil quarterfinals; goalkeeper Hugo Souza took a heavy touch whilst trying to play out from the back, and Brenner capitalized on the mistake and scored the go-ahead goal.
Nevertheless, Brenner still needs to improve his decision-making in order to become a roaring success at MLS. He is an impulsive player who struggles to retain possession, often keeping his head down and attempting a shot rather than looking up and searching for better passing options. In order to be a better 'team player,' he must improve in this facet of his game.
Brenner is one of Brazil's brightest young attacking talents, but he isn't a miracle worker. Last season, FC Cincinnati boasted the worst attack in the entire MLS, with a total xG of 17.49 and a total of 12 goals scored in 23 MLS matches; the second-worst team, Atlanta United, scored 23. Gerard Nijkamp knows that the team needs at least three more transfer windows before they are ready to compete, and as such, he has retained Jaap Stam as manager for the following season.
It has been 31 years since a professional sports franchise in Cincinnati won a national championship, and FC Cincinnati are still far away from breaking that duck. However, if there's anybody who can end the string of mediocre performances in southwestern Ohio and build FC Cincinnati into a perennial playoff team, it's Brenner.
By: Caio Batatinha
Featured Image: @GabFoligno / Buda Mendes – Getty Images