Player Analysis: Alan Velasco
Born on July 27, 2002, in Berazategui, Buenos Aires, Argentina, Alan Velasco is one of the biggest prospects of Argentine soccer. At 19 years old, he has already played in nearly 70 official matches, with 8 goals and 10 assists, wearing the shirt of Club Atlético Independiente, one of the biggest clubs in South America and the winner of the most Copa Libertadores (7) in history.
He grew up playing in the "potrero", in the neighborhood with his friends. "I stayed up playing all day, until the night when my mom called me to have dinner and sleep," Alan said in an interview on Independiente's official YouTube channel.
As is common in Argentina, the potrero is where many of the greatest Argentine talents grew up: the fields of the neighborhood where each player develops. Diego Maradona grew up in the paddocks of Villa Fiorito, Carlos Tévez in his neighborhood, Fuerte Apache (hence his nickname, "El Apache"); Lionel Messi, in Rosario and so on, in the vast majority of cases.
Velasco entered the academy of Independiente at the age of 10, in 2012, but six years later, he had already been promoted to the first team under the management of Sebastián Beccacece, one of the best coaches in Argentine football and former assistant to current Marseille manager Jorge Sampaoli.
Alan grew by leaps and bounds in the Avellaneda club, becoming an increasingly important piece of the first team and making his official debut in 2019 in a match against Río Negro Águilas from Colombia for the Copa Sudamericana.
The club's financial crisis has caused them to give more opportunities to youngsters from the academy due to being unable to provide foreign players and big-name veterans with mouth-watering salaries. Recent years have seen the likes of Emiliano Rigoni, Maximiliano Meza, Nicolás Tagliafico sold for hefty profits.
One of these players was Esequiel Barco, who, after two years at the club, joined MLS side Atlanta United for a league-record $15 million in January 2018, just a few months before Velasco was promoted into the Independiente first team.
Speed, daring, dribbling, physical strength and composure are among the Argentine's greatest strengths. Despite his short stature, his daring style in 1v1 situations makes him a rare gem that can transcend much more than just Argentine football. The dribbler, that player who seeks the 1v1 situation to get rid of defenders, is a transformative talent.
Many times, we associate physical strength with height or weight, or even with those who are physically large. However, players like Velasco, who know how to maintain their composure in the face of dangerous tackle, become strong and manage to overcome (statistically) most of the duels they face.
Another of the great virtues that he possesses is his versatility on the attacking front. He can play in any of the offensive positions: he is a great companion for a center forward, as he has demonstrated with Silvio Romero, the top scorer in Argentine football and an old-school striker.
He feels more comfortable starting from the left wing, able to take advantage of his powerful long-range shot and his fast dribbling, but he can do it perfectly on the opposite wing or even in a central role, thanks to his great ability when passing the ball.
He drops deep on the pitch to command his team's attacks, be it dribbling, passing, or finishing. In doing so, the teenager has become a fundamental piece for the team currently led by Eduardo Domínguez, who finished ninth in the league table, albeit just eight points away from second place.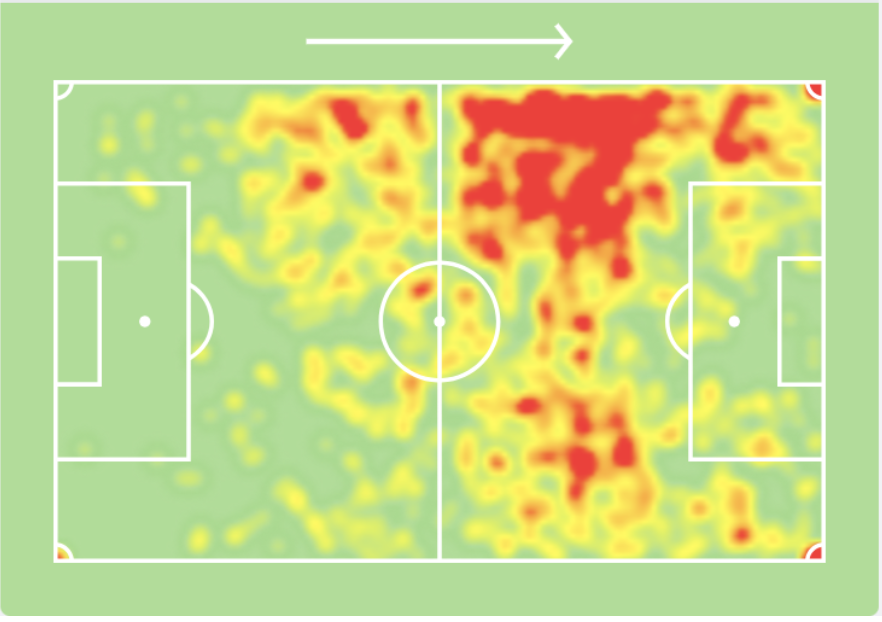 Velasco's 2021 season heat map for Independiente [SofaScore]
Recent years have seen a plethora of young South American talents make their way to MLS for the next step in their career — Thiago Almada, Miguel Almirón, Pity Martínez, Brenner, Brian Rodríguez, Matías Pellegrini, Talles Magno, Yeferson Soteldo, Emanuel Reynoso, Edison Flores, Santiago Sosa, Kaku — the list goes on and on.
It seems like Velasco could be the next South American player to follow this path to MLS. Argentine journalist Matias Martinez has reported that FC Dallas have offered $5.5 million and $1.5 million in performance-based objectives for Velasco, and whilst Independiente are demanding a slightly higher fee, it seems an agreement is imminent.
Few clubs have exported more talents to Europe than FC Dallas, with Bryan Reynolds, Reggie Cannon, Tanner Tessmann, Weston McKennie and Chris Richards just a handful of names who have moved to European clubs. After the sale of Ricardo Pepi to Bundesliga side Augsburg for $20 million plus add-ons, Dallas have money to spend and reinforce their squad.
FC Dallas have already signed Guinea-Bissau fullback Nanu on loan from Porto, and Velasco could be their next arrival. Whilst they have struggled to compete for major honors in MLS due to a lack of investment, if they manage to sign Velasco, then the Texas side could be a force to be reckoned with under new manager Nico Estévez.
By: Santiago De Ciancio / @santideciancio
Featured Image: @GabFoligno / Marcelo Endelli – Getty Images