Player Analysis: Bryan Gil
Ever since becoming the first player born in the 21st century to score a goal in LaLiga, Bryan Gil has been much talked about as a potential superstar, but it wasn't until this season that he displayed his potential at the highest level. In his first loan stint at Leganés, he played for just 558 minutes in 12 league appearances. Even then, it wasn't hard to notice him as he would glide down the pitch with the ball at his feet showing no signs of slowing down.
However, it was the move to Eibar which made the 20-year-old Spaniard really hit the radar of all the big clubs in Spain and beyond. As a left-footed player playing on the left flank, Gil is one of the rare players who play as a classic winger in this modern age. This season, Gil has managed to attract the attention of Barcelona and Real Madrid among several others, so let's break down what makes him such an exciting prospect.
Statistical Profile
This season, Bryan Gil has been one of the standout performers in LaLiga. After joining Eibar on loan from Sevilla at the start of this season, Gil has established himself as a vital cog for José Luis Medilibar's system.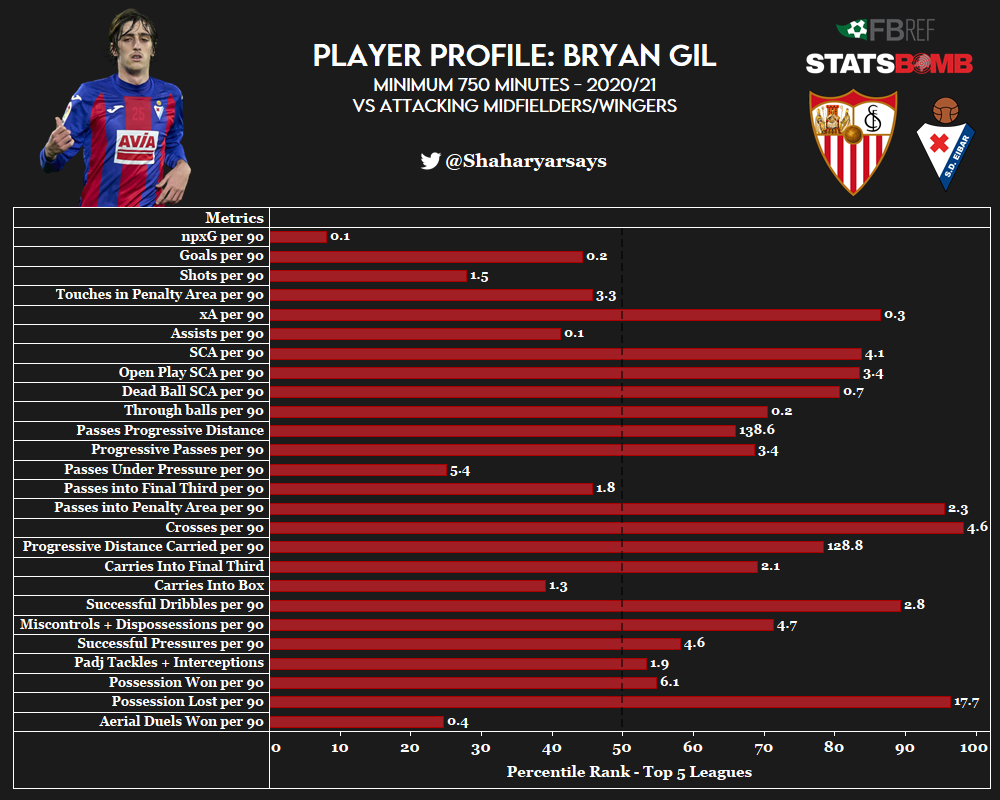 As can be seen from the chart, Gil excels in terms of creative ability. His game revolves around carrying the ball into dangerous areas and delivering crosses into the box. He excels in ball-carrying, and creativity and shows an above-average defensive work rate.
His numbers are not particularly attractive in terms of passing play and possession, which is understandable given his role (explained later) and the fact that his numbers are being compared to some of the best passers in the game – midfielders – when his role is more unique. His attacking output is not very encouraging but his style of play restricts him in this regard.
Off-the-ball Movement
In the Eibar team, Bryan Gil is tasked to provide the width on the left flank. On occasions, he does not hesitate from coming deep and moving infield to receive the ball, but he spends the majority of his time stretching the pitch horizontally for Eibar. This can be easily interpreted from Gil's heatmap this season. The Spaniard hugs the touchline and provides width during the first and second phases of the game while moving infield towards the final phase.
It can be seen from this snapshot that Mendilibar wants his team to hold the width in the buildup phase. As a result, Gil is positioned on the left flank, stretching Cádiz's defensive line horizontally.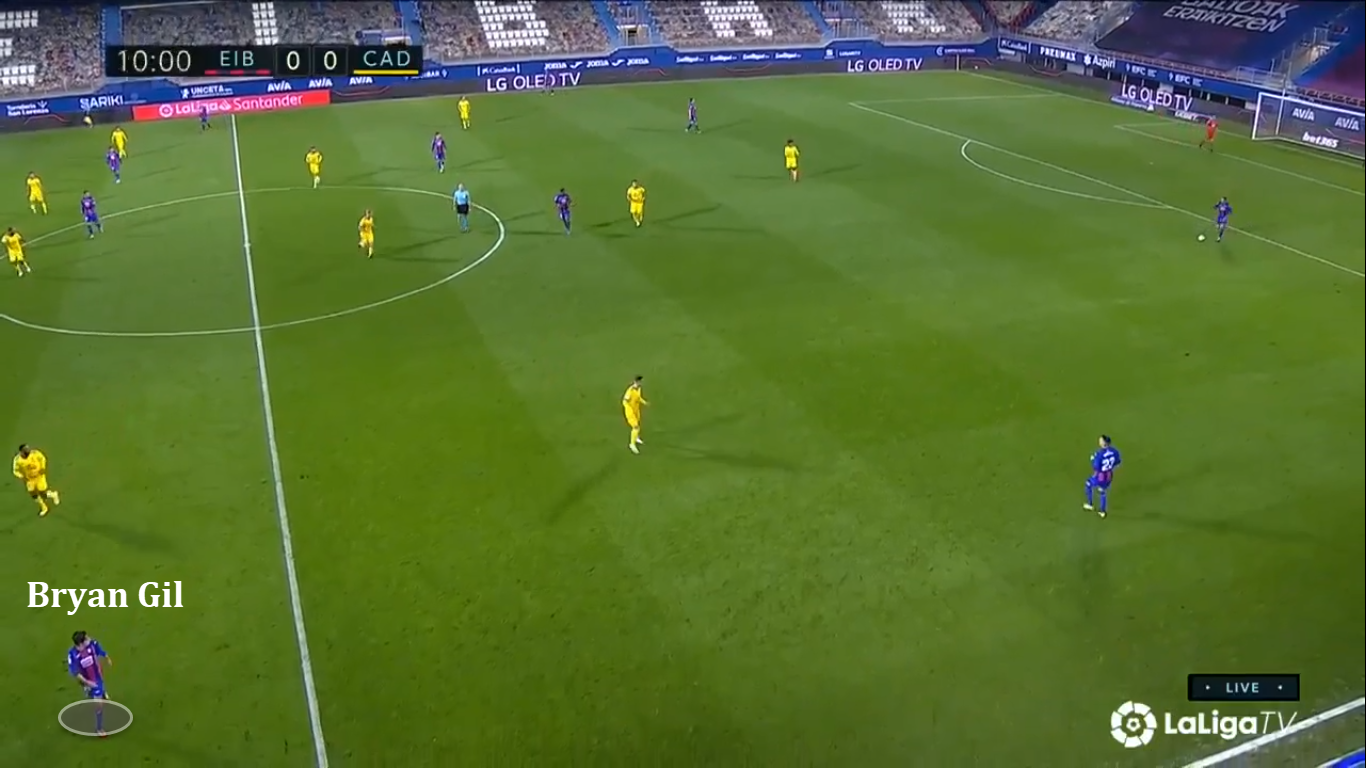 However, Gil is continuously on a move, creating spaces for himself and his teammates. He likes to drop deep (usually inwards) and move infield to drag defenders out of position, or to attract the attention of players marking his teammates, resultantly opening spaces for his teammates.
In this example, Bryan Gil drops deeper and attracts the Cádiz fullback (Carlos Akapo) with him. This opens up space on the left flank for a striker (Kike García in this case) to attack.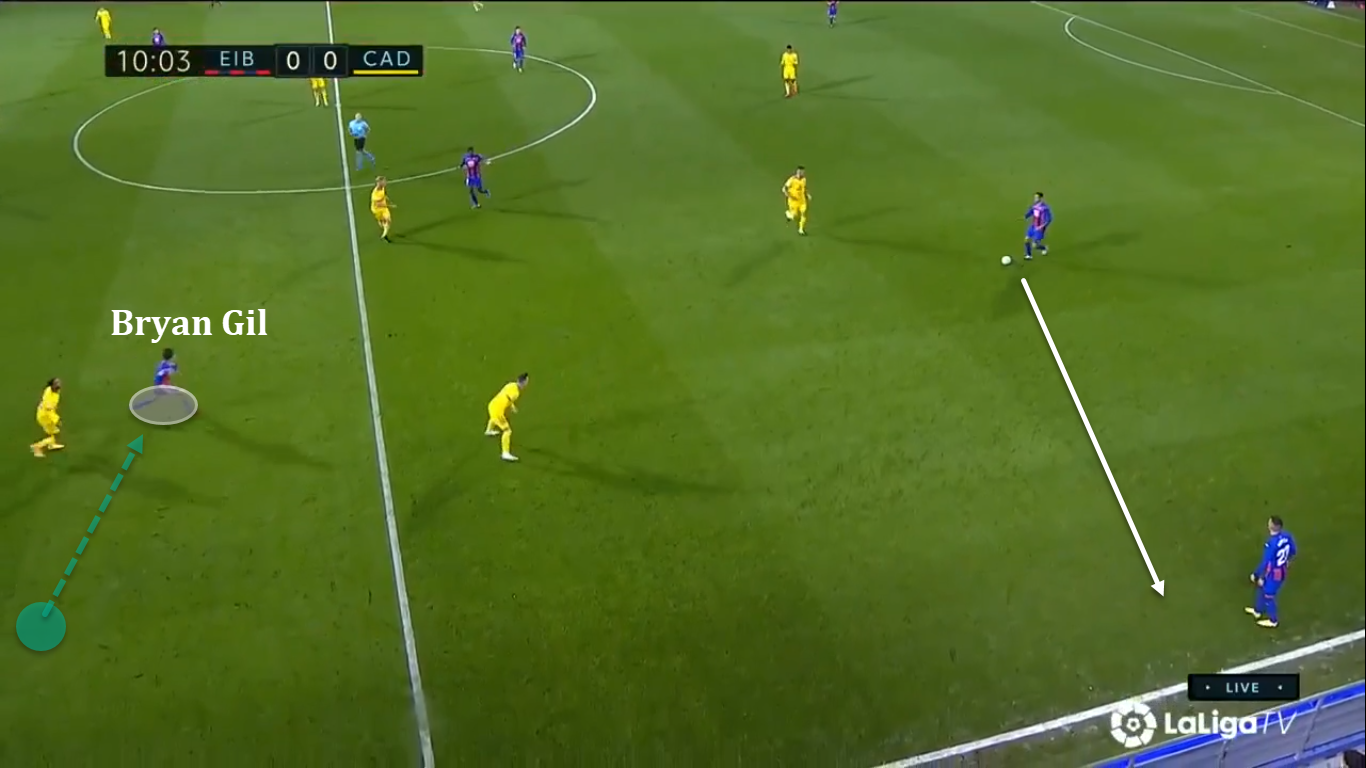 Kike García wasn't able to attack the space vacated, as a result, Cádiz wins the ball back. However, it is to be noticed that had he made his run sooner, Eibar could've exploited the massive space opening up between the two centre-backs here.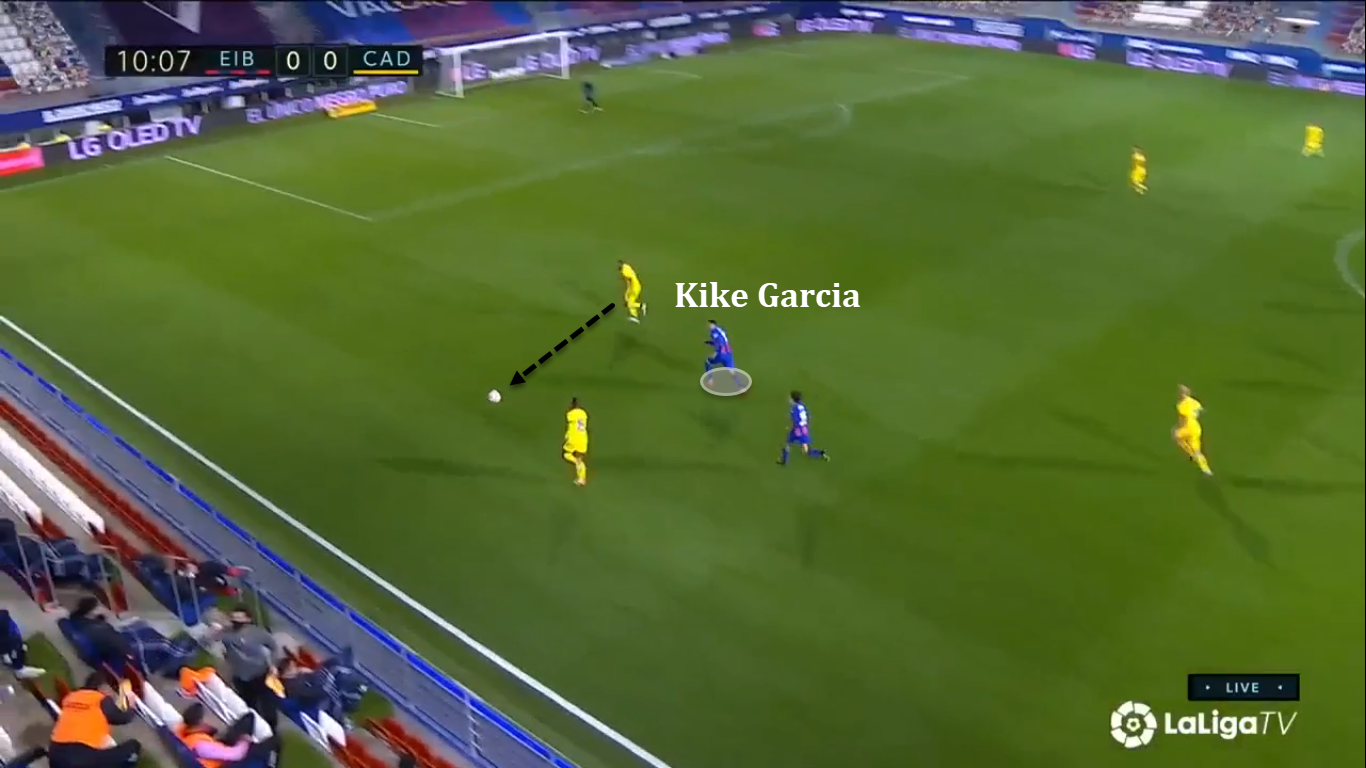 Such movement from Gil creates a dilemma for opposition defenders whether to follow him and leave spaces behind or to let him drop and receive the ball. The latter is also dangerous due to Gil's creative ability (we'll talk about that later).
In this next example, Akapo is pinned by Takashi Inui so Akapo can't leave his post to mark Gil. As such, the Andalusian winger drops and gets the attention of the central midfielder.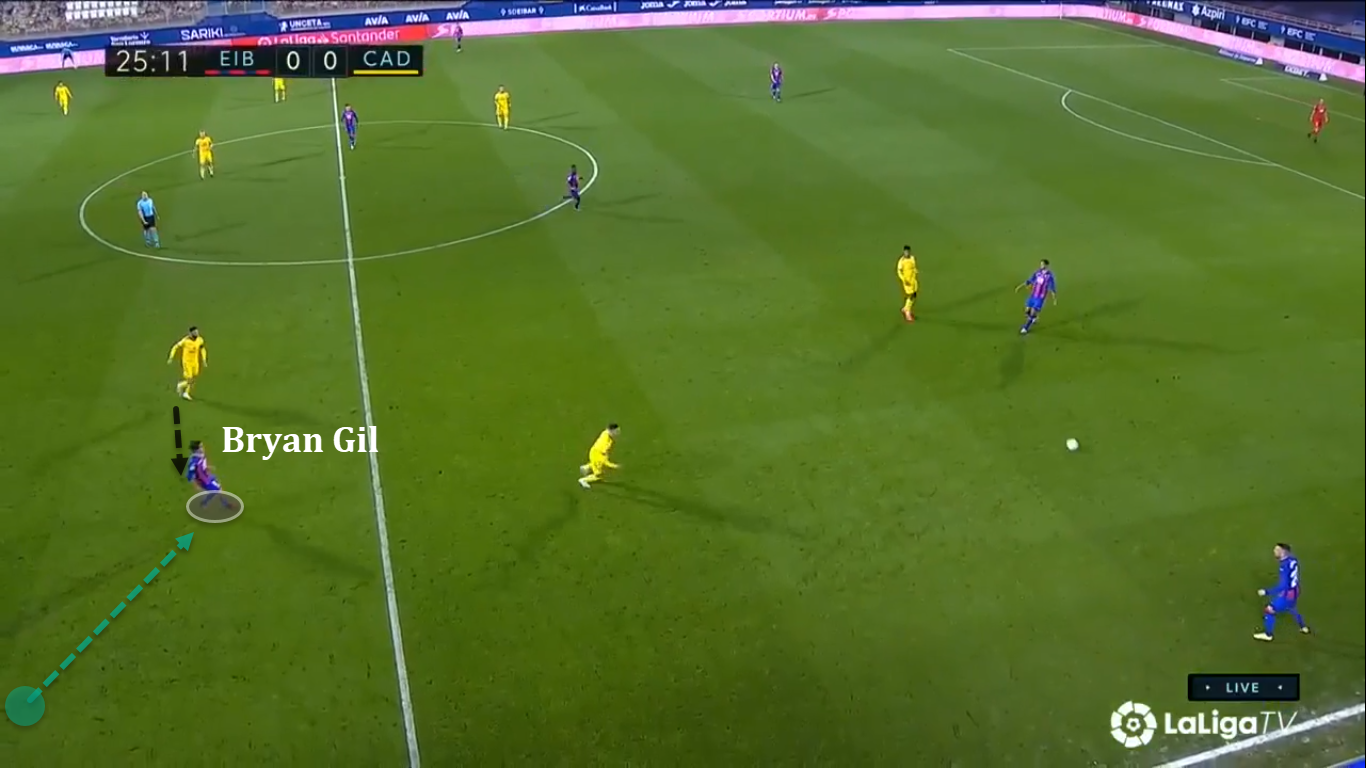 The Spaniard then drags him wide, opening up space for Pape Diop to attack who receives the ball in plenty of space.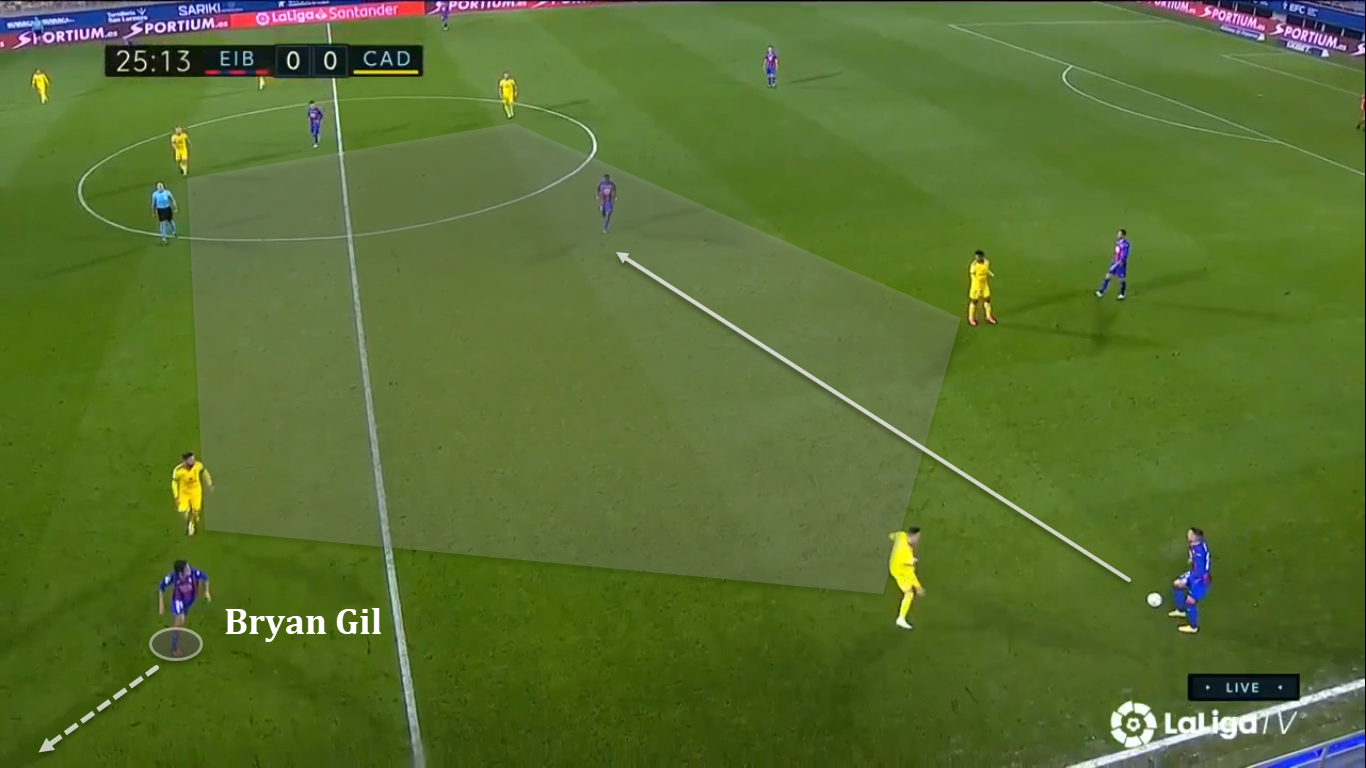 Bryan Gil also makes overlapping supporting runs on the flanks, stretching out the opposition horizontally. In the example below, Kike García is on the ball and Gil makes an overlapping run on the left flank, taking Daniel Wass away from him. García chooses to deliver a low cross into the box, but Gil's dummy run provides him with more space and time to pick out a pass.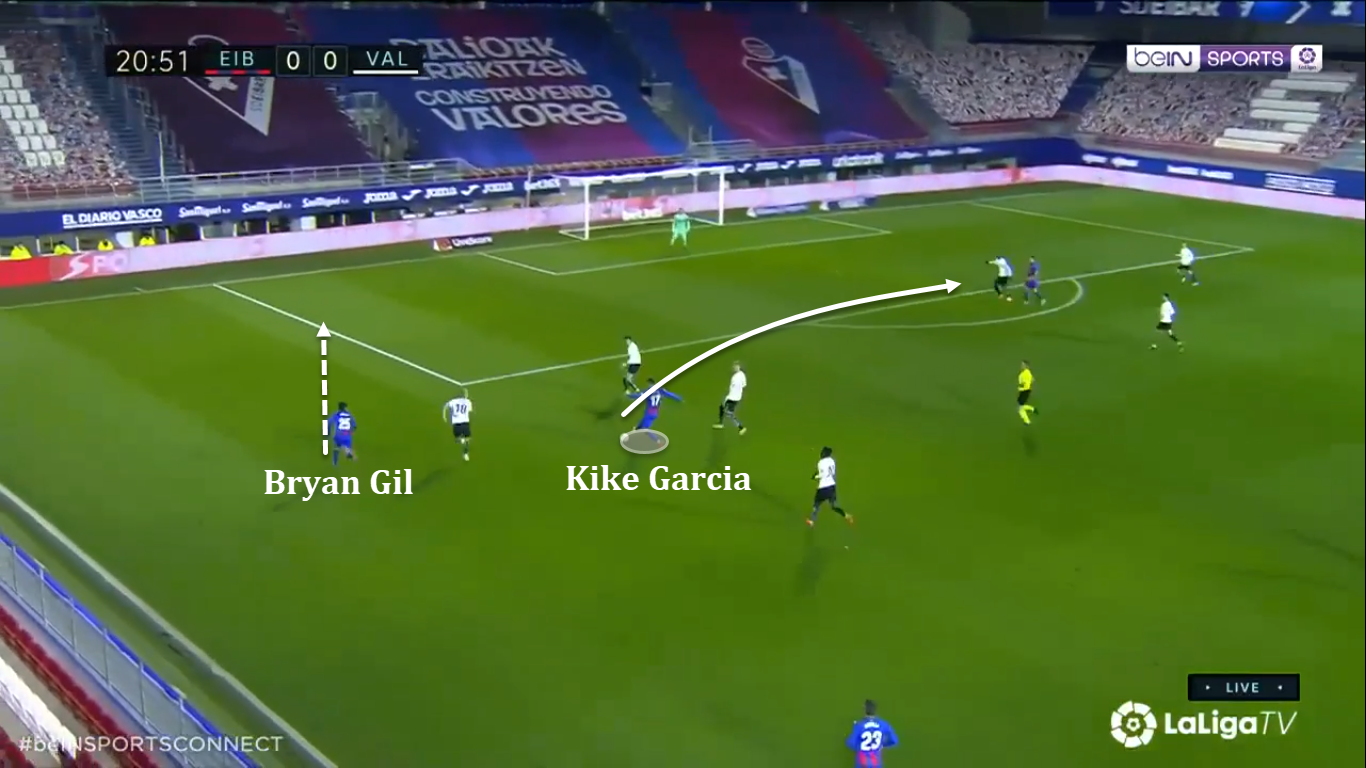 When the ball progresses on the right flank, Bryan Gil does make runs into the box. However, his runs are slightly wide to get at the end of chances that are missed by the opposition fullback. The reason for such runs is twofold. Gil does not possess the aerial presence to compete for the aerial challenges. Secondly, this allows him to latch onto the second balls and loose balls that fall beyond the defenders.
As it can be seen here, Eibar is in a crossing position from the right-flank and Gil makes a wide run into the box. In order to deal with the Eibar forwards, the fullbacks can get sucked in, which leaves him free to take a shot.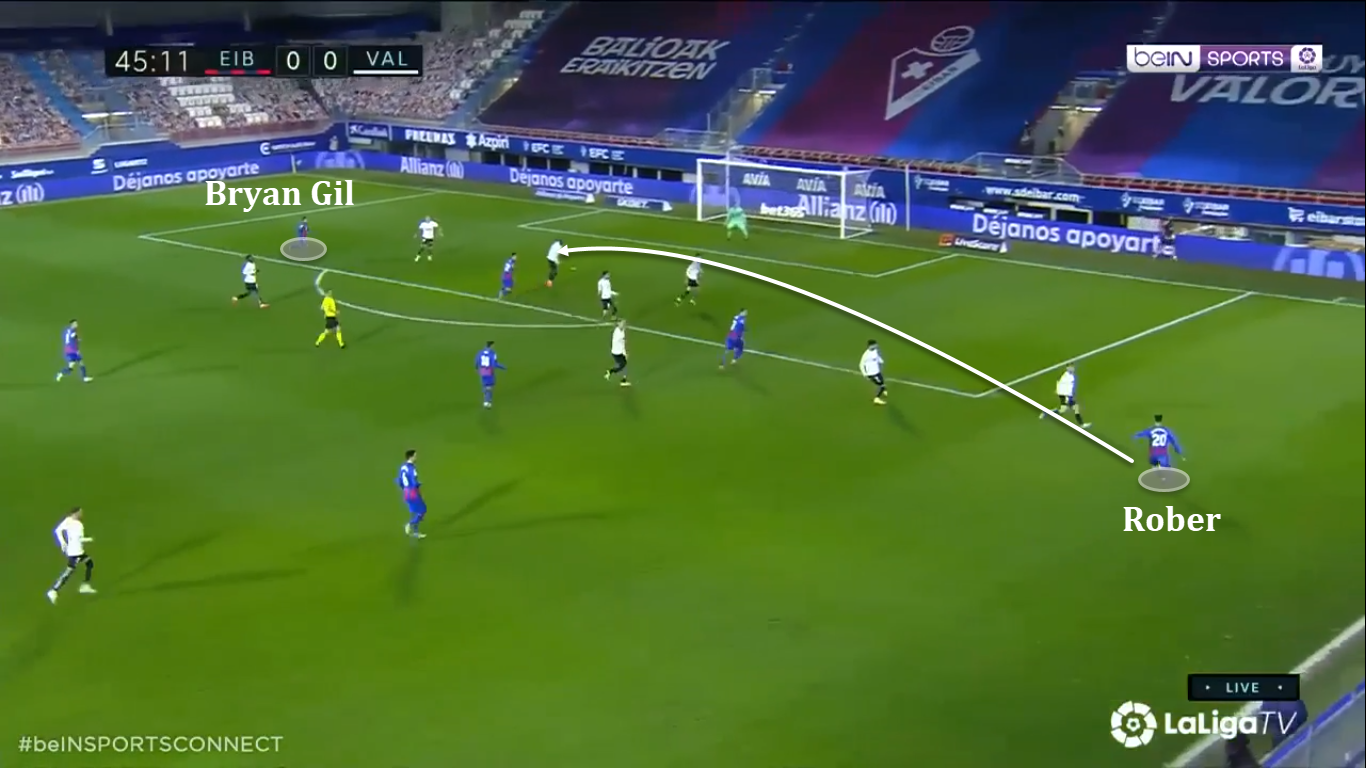 Bryan Gil's desire to win the loose balls and second balls is also massive. This can be seen from various aspects of his game, but a key example comes from him getting at the end of this saved penalty. Here, Edu Expósito takes the penalty but as it gets saved, the ball is deflected into the dangerous area by Granada goalkeeper Rui Silva.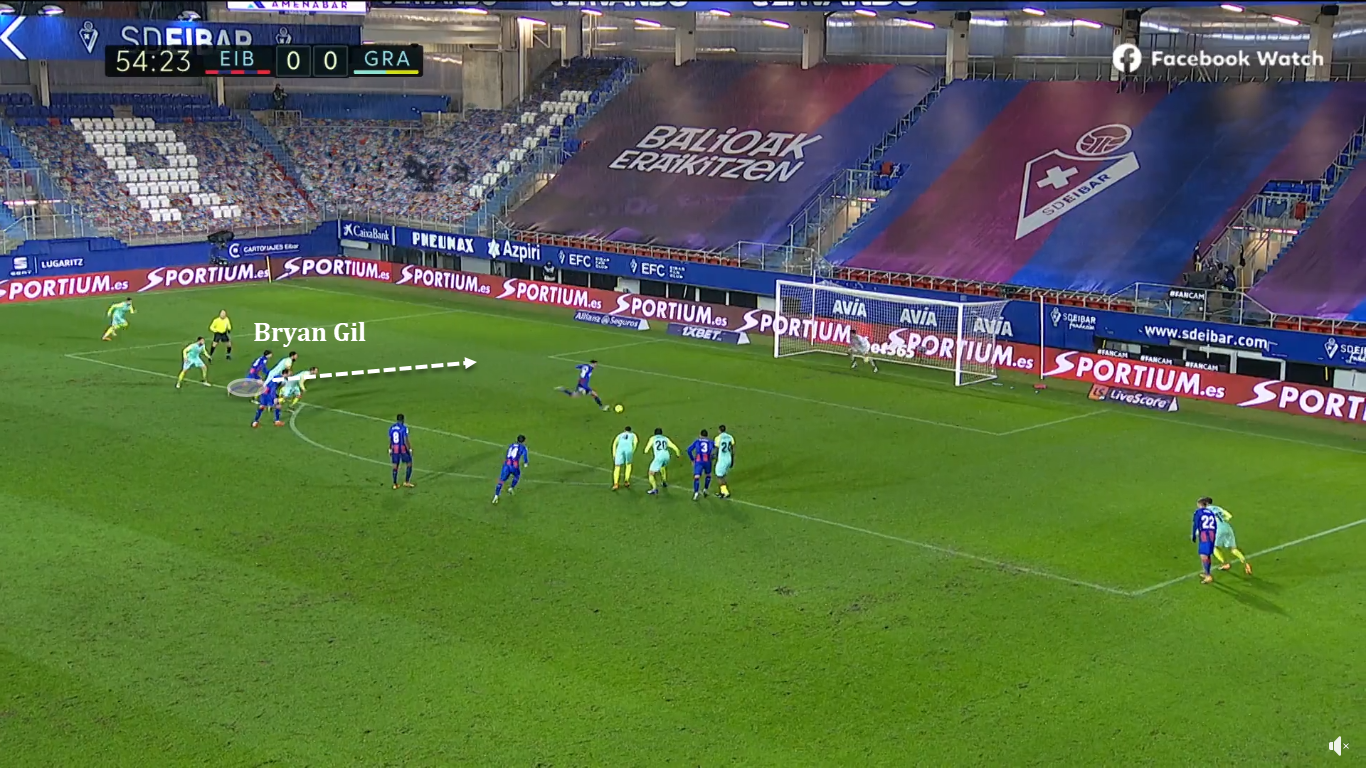 Gil is the quickest to respond and ends up scoring the rebound, scoring his first goal for Eibar.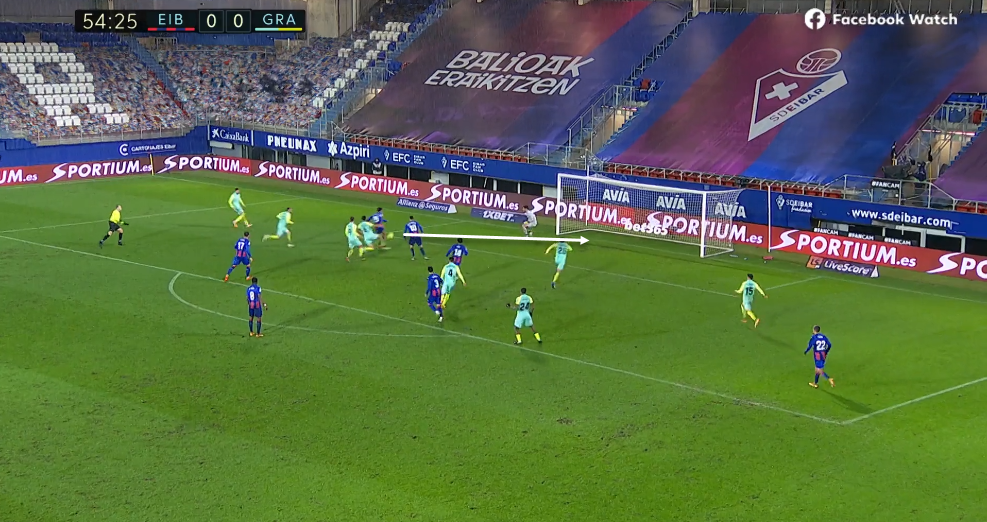 On-the-ball Ability
Bryan Gil is an extremely talented player on the ball. One of his greatest strengths is his ability to deliver dangerous crosses into the box from different areas of the pitch. This part of his game really stands out because Eibar usually goes with a 4-4-2 setup allowing two target men up top. As a result, they can easily overload the box with quality players as the ball goes wide allowing for a promising attack.
This is why  Gil's role is limited to receiving the ball wide, winning 1v1s and delivering crosses into the box for his forwards, and the 20-year-old does his job really well. In this example, Bryan Gil gets some separation from the defender and delivers a cross into the far post for Inui to attack.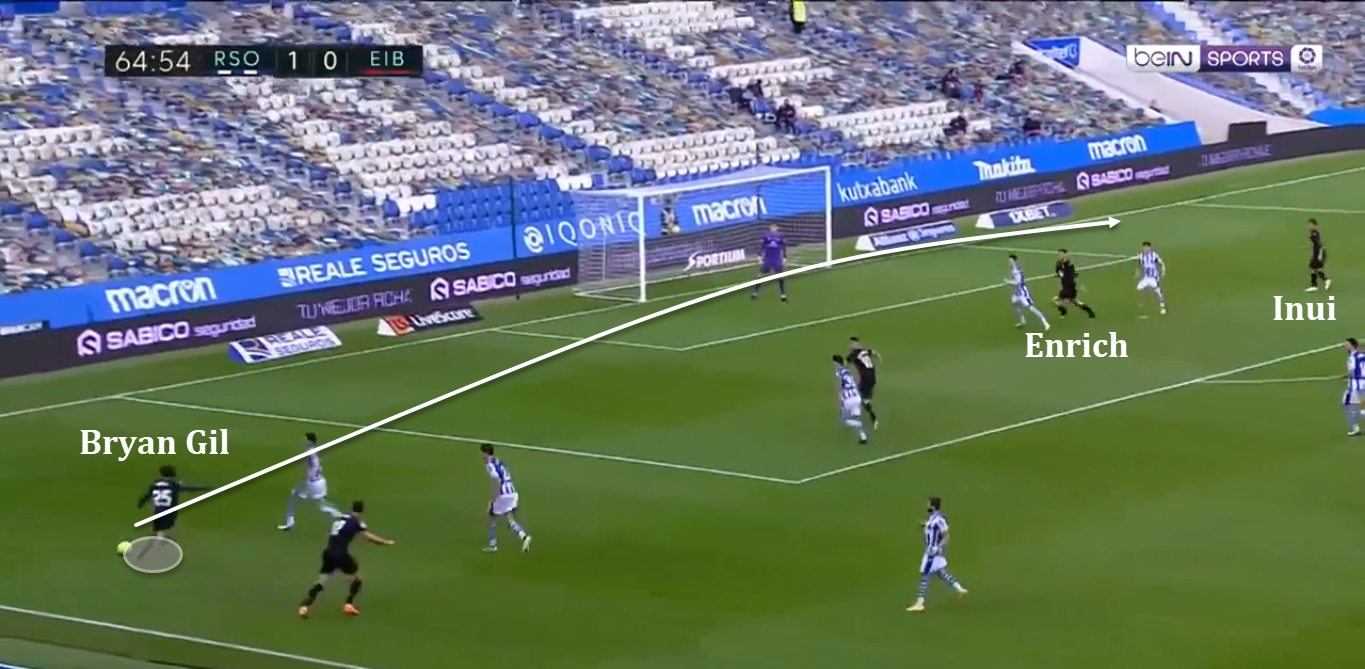 Inui lays the ball off for Sergi Enrich, who scores an easy first-time goal, as Eibar went on to seal a vital point at Anoeta.
Another characteristic of Bryan Gil's crossing is that not only does he deliver good looping crosses for his forwards, but he can also drill his crosses at pace. This is extremely beneficial when the forward is in front of the defenders, as he just has to place the ball and not worry about getting a lot of power behind it.
In this example, Yoshinori Muto manages to get in front of his man, so Gil delivers a low-cross at pace for Muto to attack. The Japanese striker scores the chance, but the ball hits his hand before going in, so the goal was called off.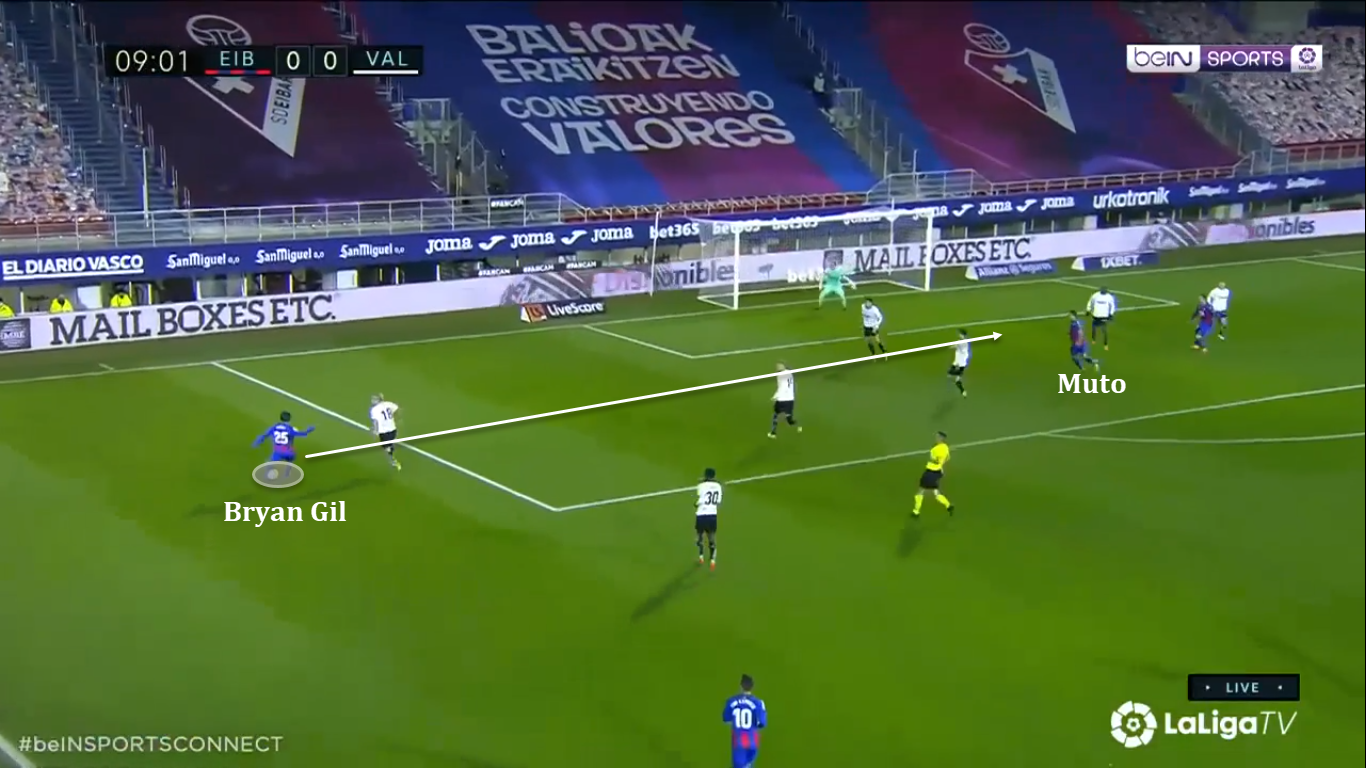 The 20-year-old Spaniard is also very creative in terms of his passing, although his role in the Eibar team (and his preferred style of play) does not always allow him to express this ability to a full extent since he is required to be the wide outlet so often (although it is a perfectly reasonable strategy to get the best out of available players).
In this example, Gil is on the ball on the left flank and Eibar have managed to drag out Wass, allowing Expósito to attack the space between the fullback and the centre-back. Gil sees the opening and manages to deliver a well-timed through-ball for Expósito, taking three Valencia players out of the game. Expósito's cross into the box is blocked by Gabriel Paulista and Eibar win a corner.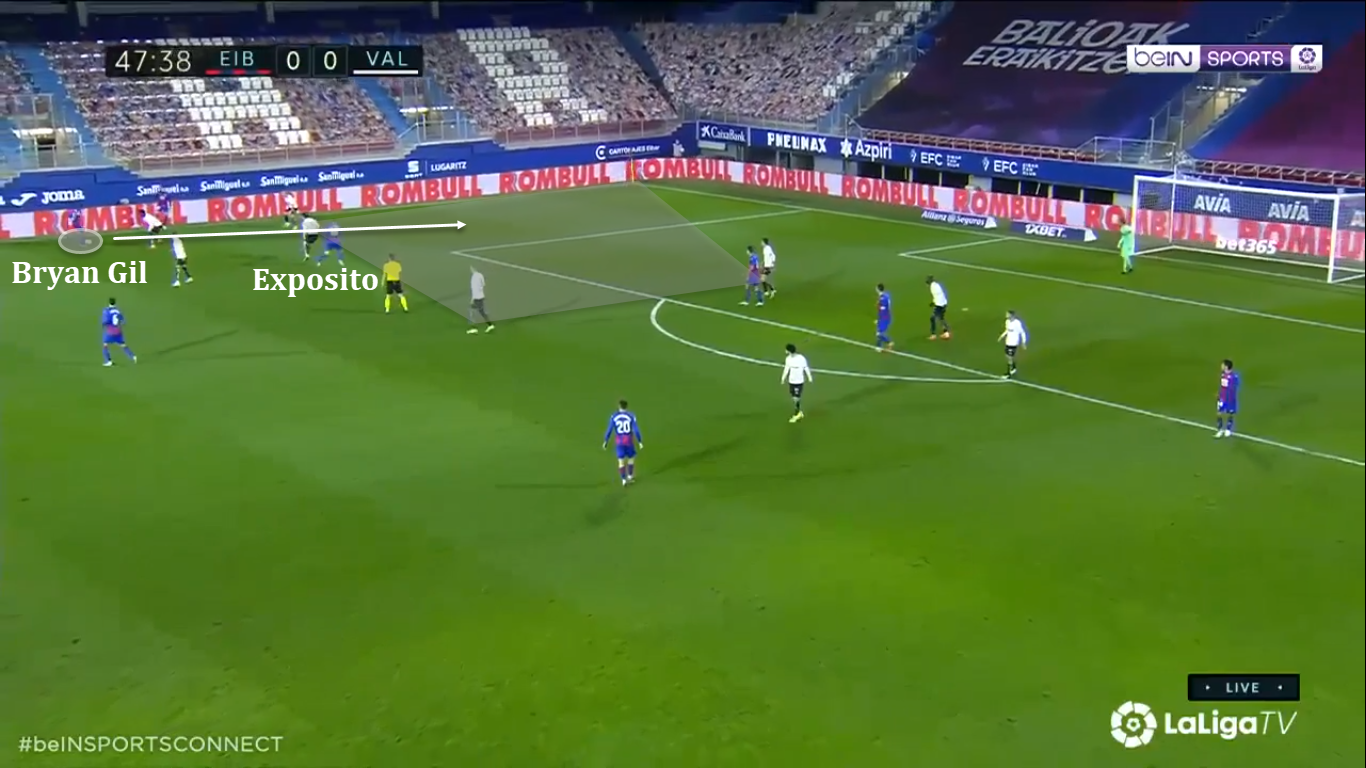 Bryan Gil is also impressive with his set-piece delivery. He is among Eibar's go-to players for corners, direct and indirect free-kicks. In this example, he delivers a floated cross towards the near post (just behind the two zonal markers). Enrich makes a well-timed run to reach at the end of the cross but his header is barely wide.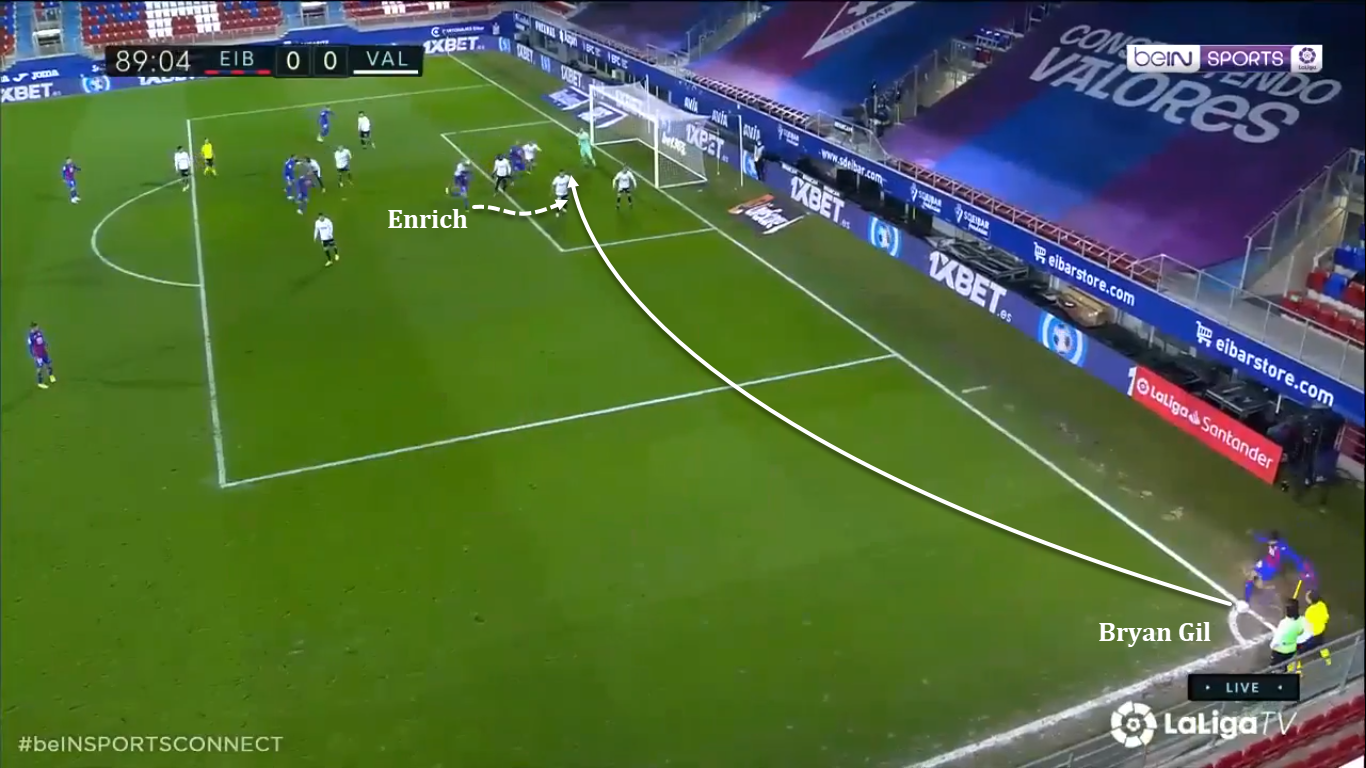 Ball Carrying
Gil's ability to take on players and dribble past defenders is arguably his most impressive trait. Helps him to create separation before delivering a cross. He is small in size and has a small centre of gravity, which provides him with the agility and balance to take players on with great ease.
The Spaniard is not the quickest in long distances but has decent acceleration, as seen below in the example against Valencia. Gil is isolated in a 1v1 against Wass and the Spaniard manages to turn the fullback inside out with his agility as he hints at moving inside before cutting back towards the byline.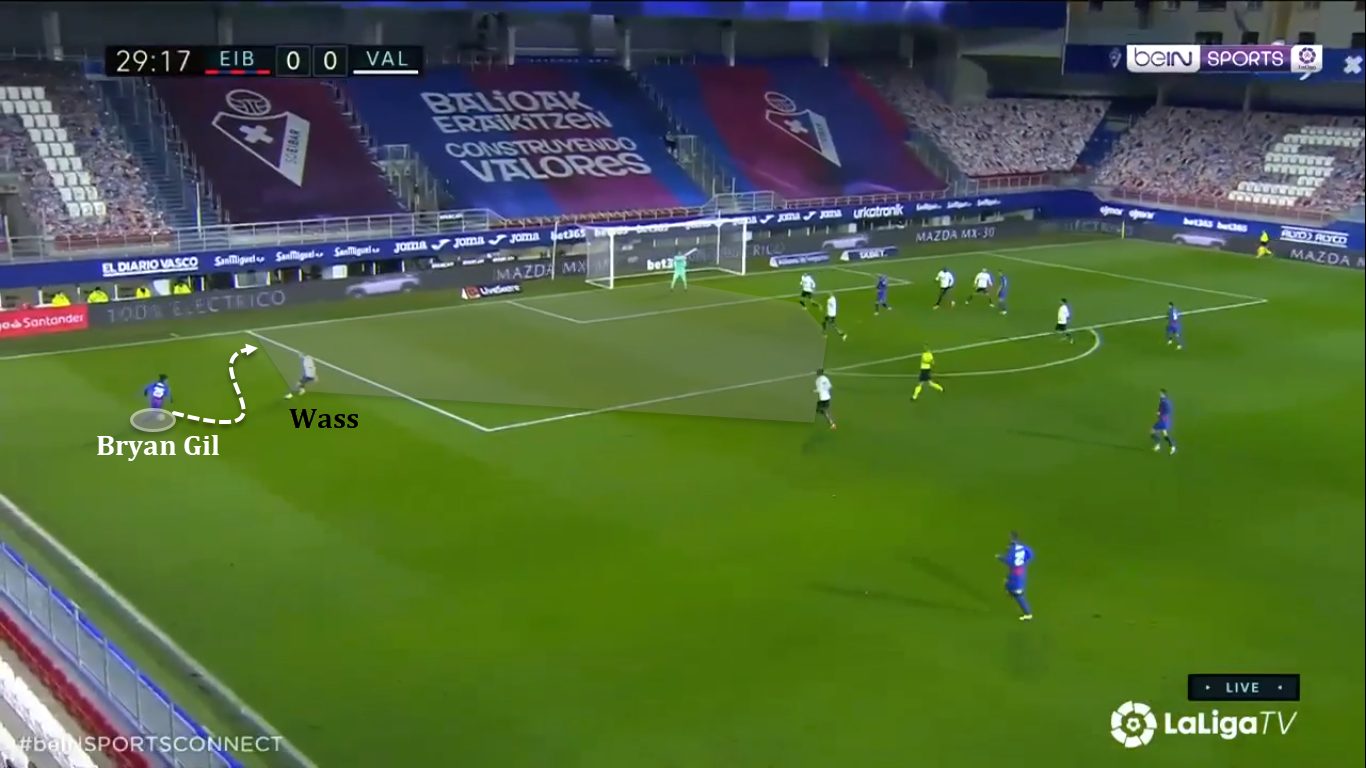 This allows Bryan Gil to create separation from his marker who drills a low-cross for Kike García, who attacks the space in front of the defence. However, the 31-year-old forward's shot is just wide of the target.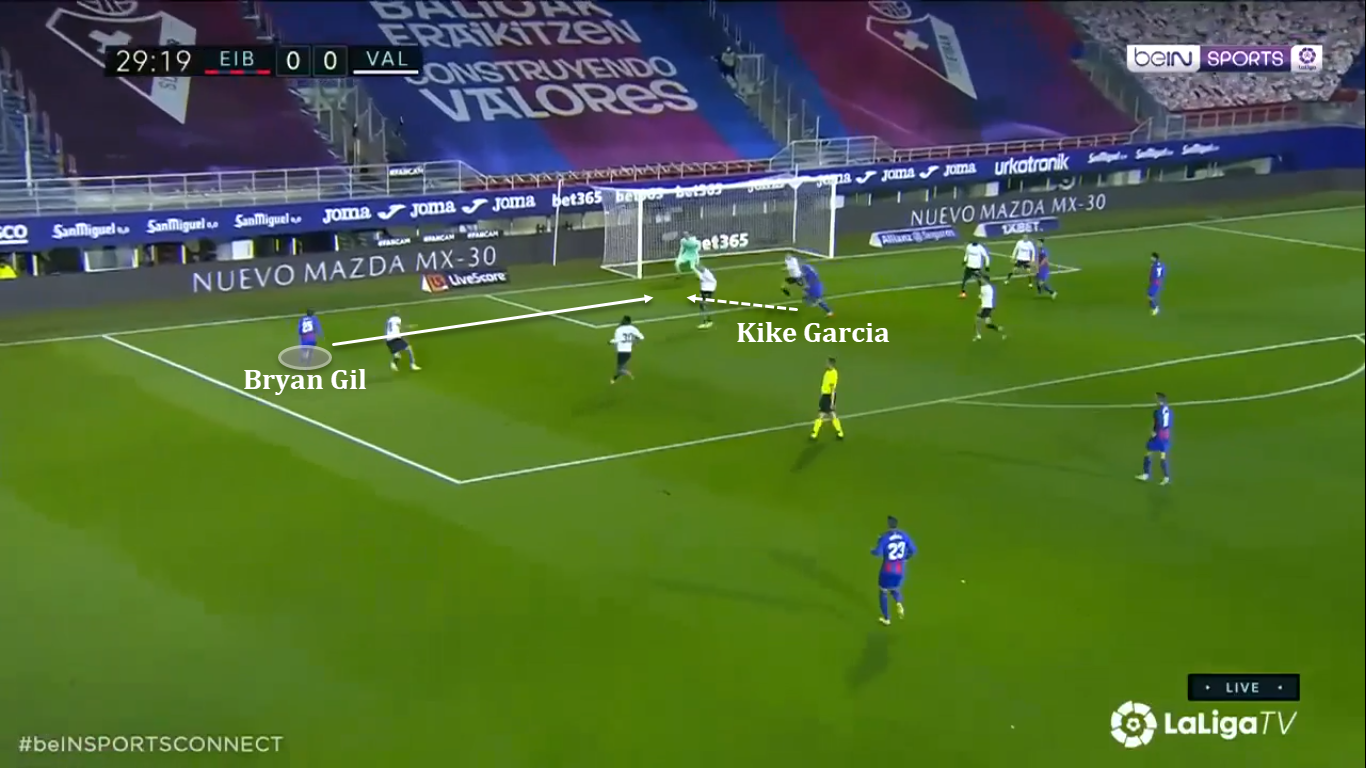 Gil also uses his ball-carrying ability to open up spaces for his teammates by the principle of opposite movements. Here, Inui starts his run from the centre to the left flank. As a result, Gil carries the ball towards the centre, attracting three Cádiz defenders with him. Also, Inui's movement leaves the centre-back in a dilemma on whether to mark him or close down the centre.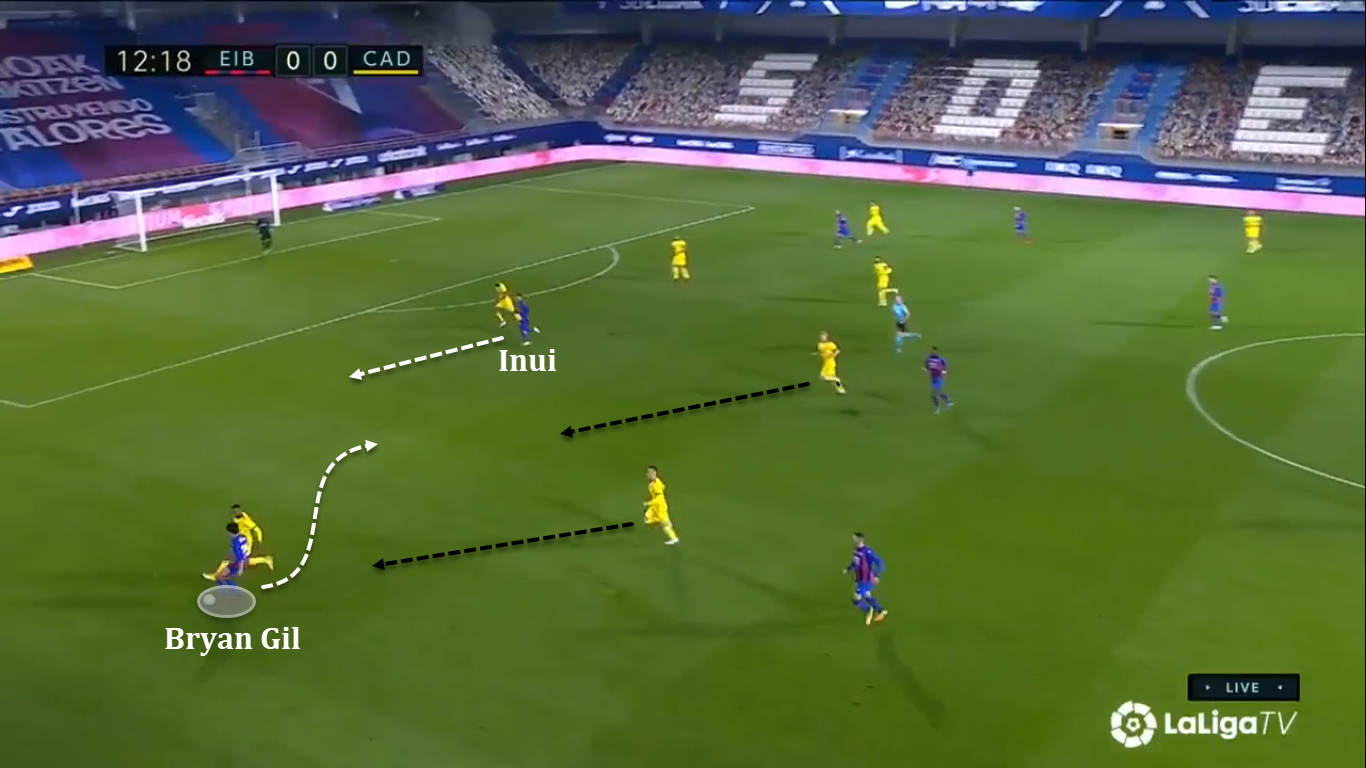 Fali chooses to guard the centre, allowing Bryan Gil to play Inui in space, who can deliver a cross into the box.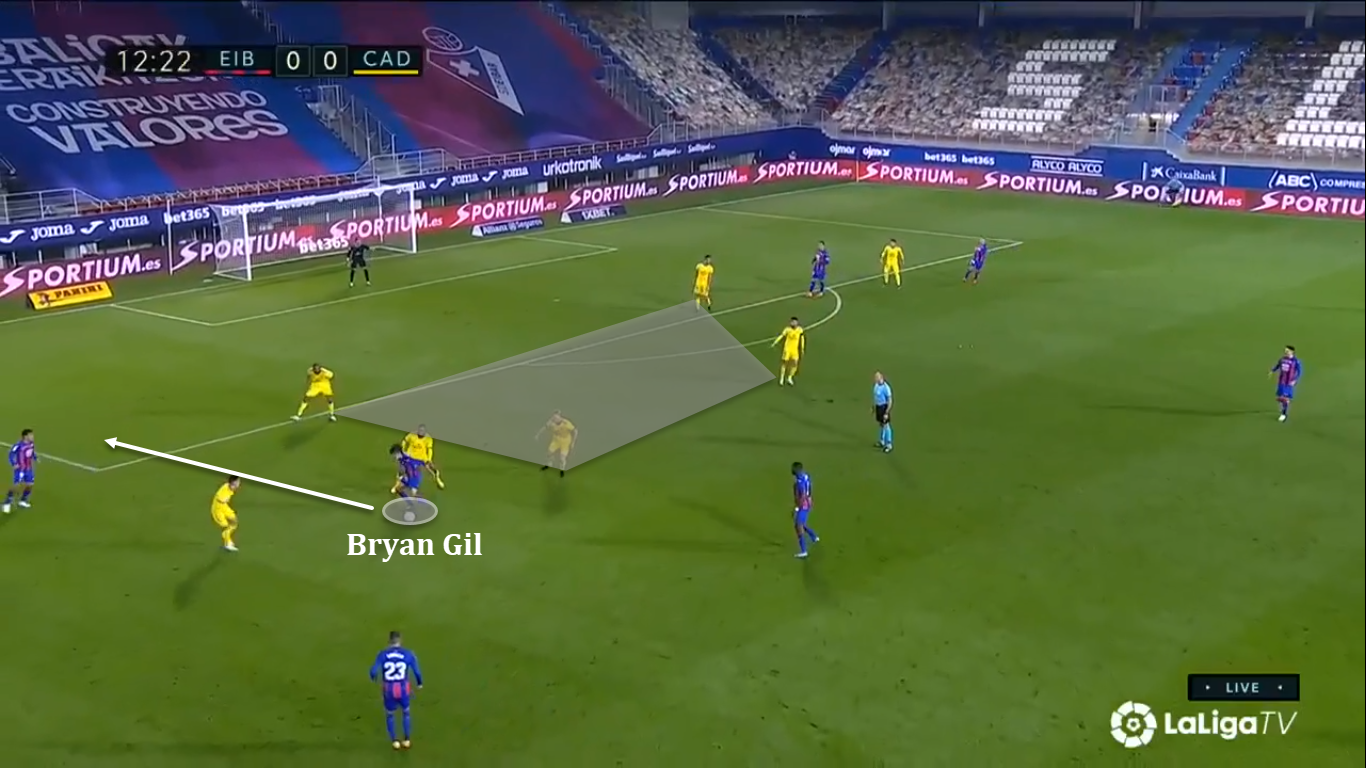 Bryan Gil is also extremely capable of dribbling out of tight areas. His strength lies in attracting the defenders towards himself and then finding passing angles to disorganize the defence.
In this example against Real Sociedad, Gil receives the ball on the touchline as José Zaldúa, Ander Guevara and Ander Barrenetxea look to close down the spaces. Gil simply dribbles his way out of their pressure before playing a pass back to Expósito.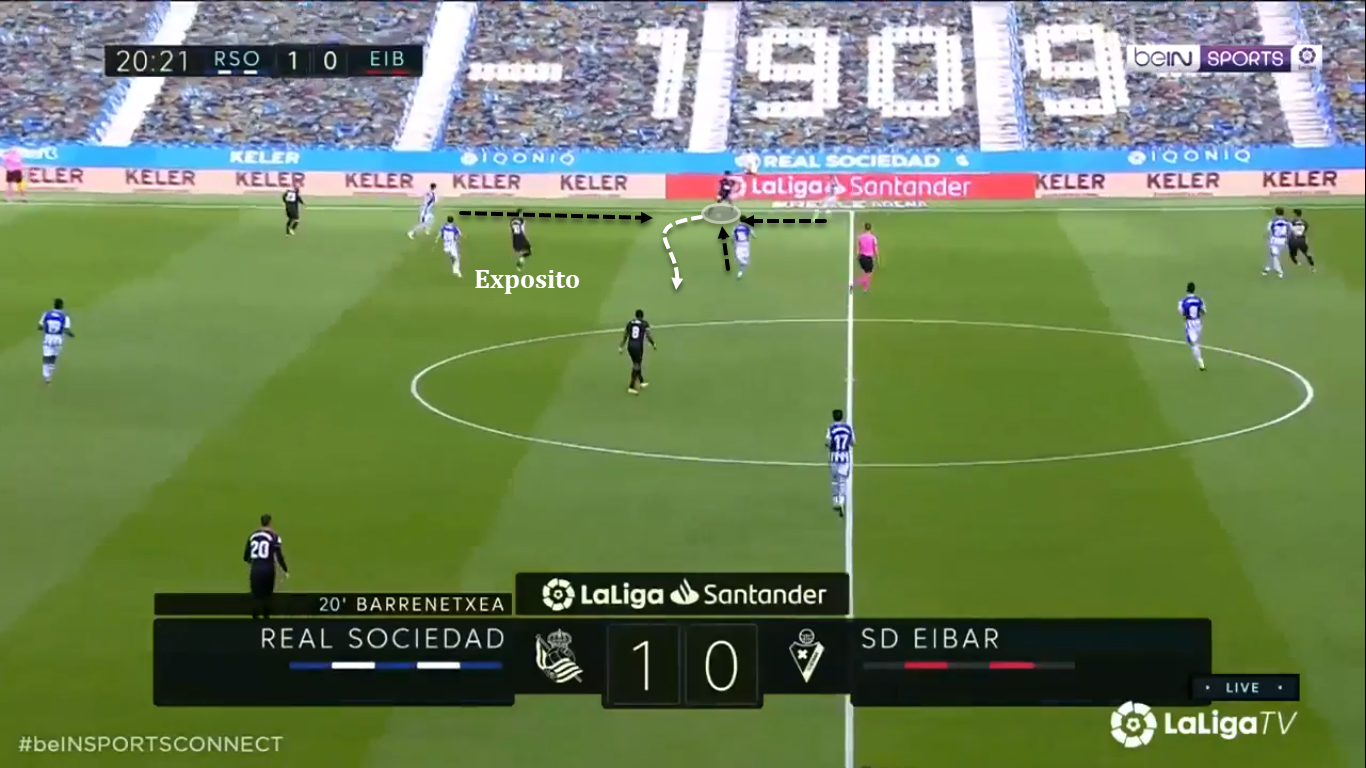 Defensive Workrate
In the Eibar system, wide players aren't always required to press high, but Gil does press with intensity when a trigger is activated. Some of them include the poor receiving position of the defender, receiving with the back to goal and switching flanks. Here, Wass slips as he goes to receive the ball. As a result, Gil initiates his press and wins the ball high up the field.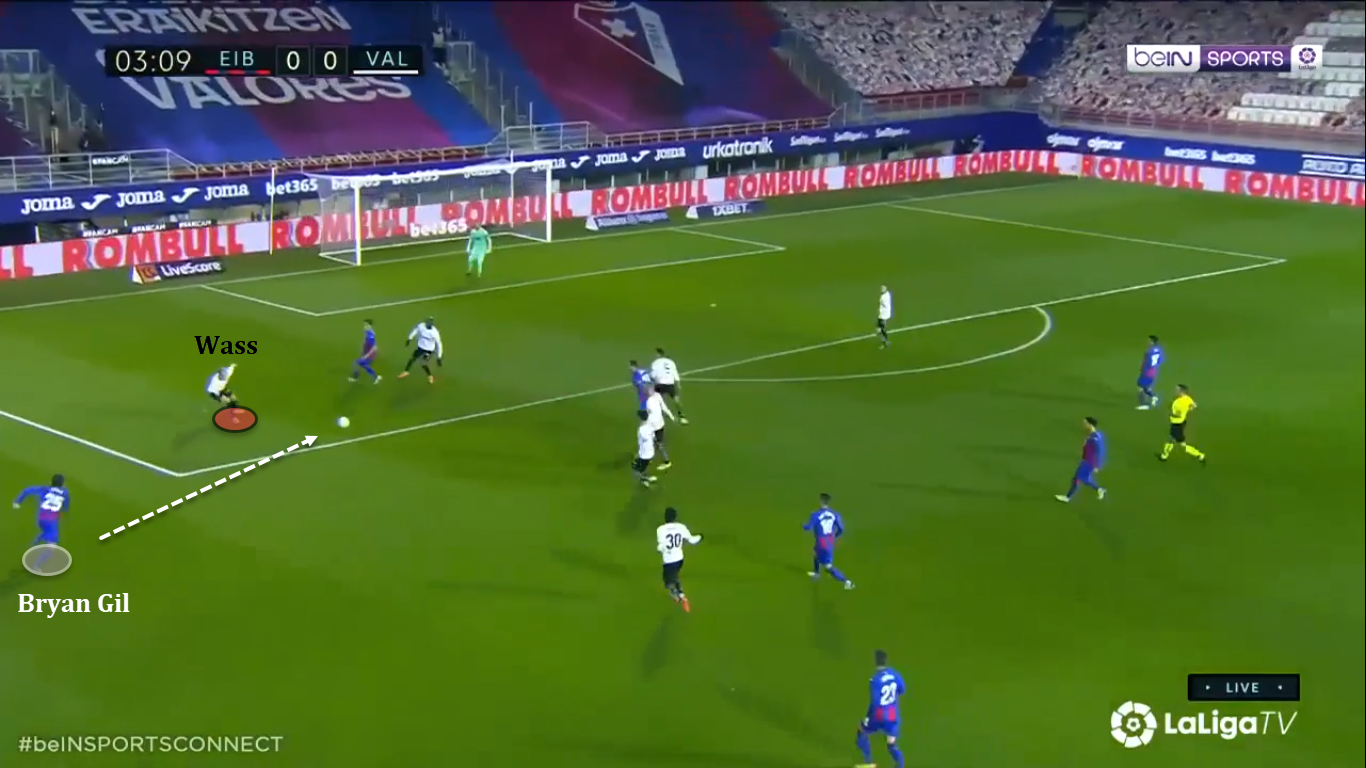 The Spaniard also shows a great hunger for winning the ball back in counter-pressing. In this example, Inui misplaces a pass towards Akapo and Gil puts pressure on the fullback.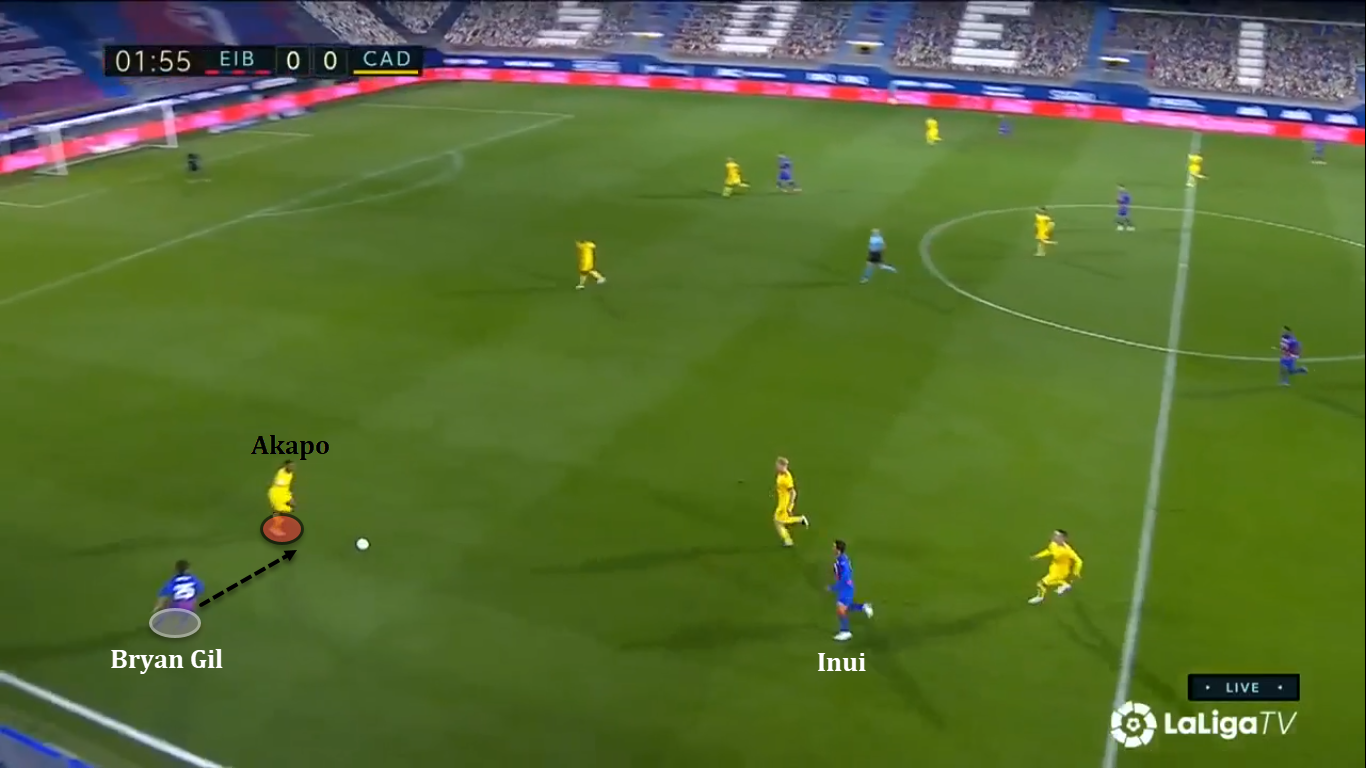 As a result, Akapo's first touch is poor and Gil ends up winning the ball, initiating an Eibar attack. Gil then continues to carry the ball into the box and takes a shot that goes over the bar.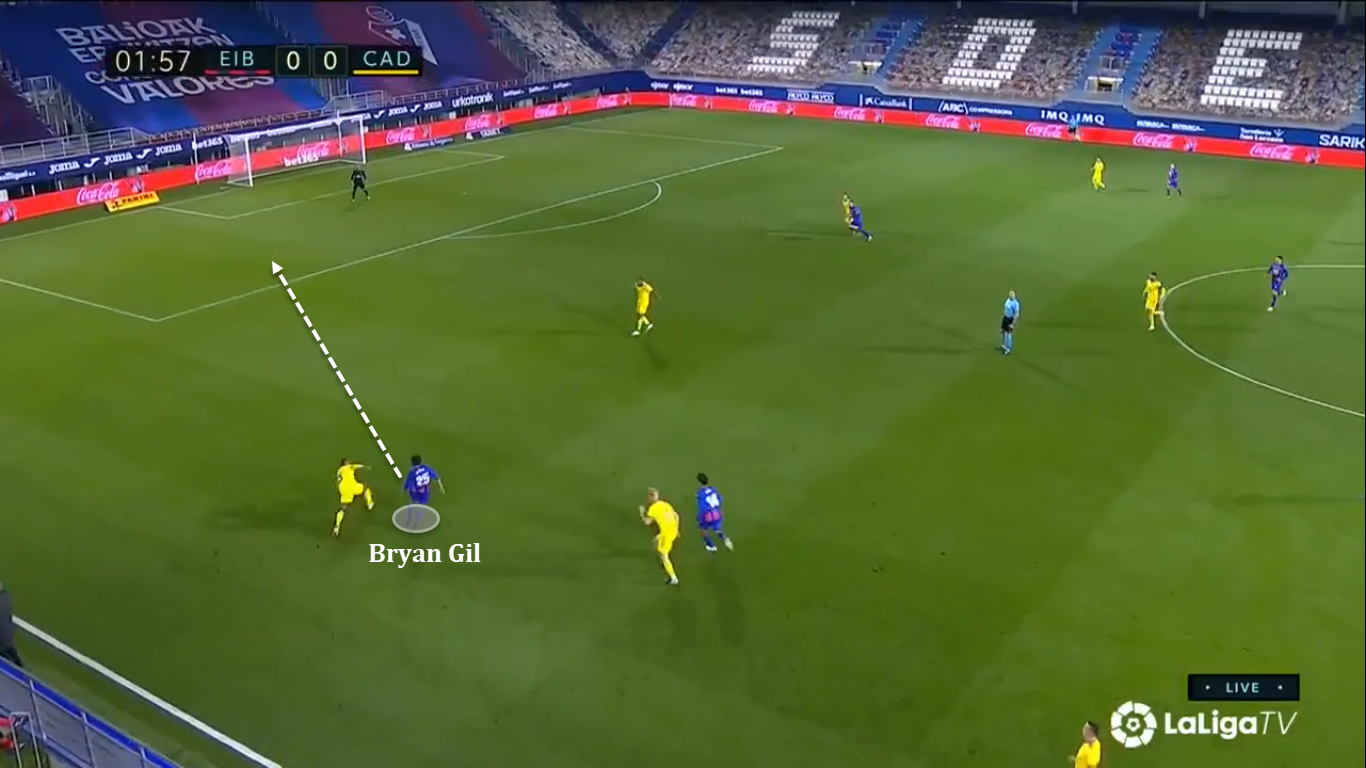 Bryan Gil is also required to put in a defensive shift in the Eibar system and he does a fairly good job at it. The Sevilla loanee isn't afraid to stick a tackle and marks his man pretty well throughout the game. Here, Iván Alejo is on the ball and Akapo looks to make an underlapping run between the fullback and centre-back. But Gil is attentive to this threat and marks him all the way.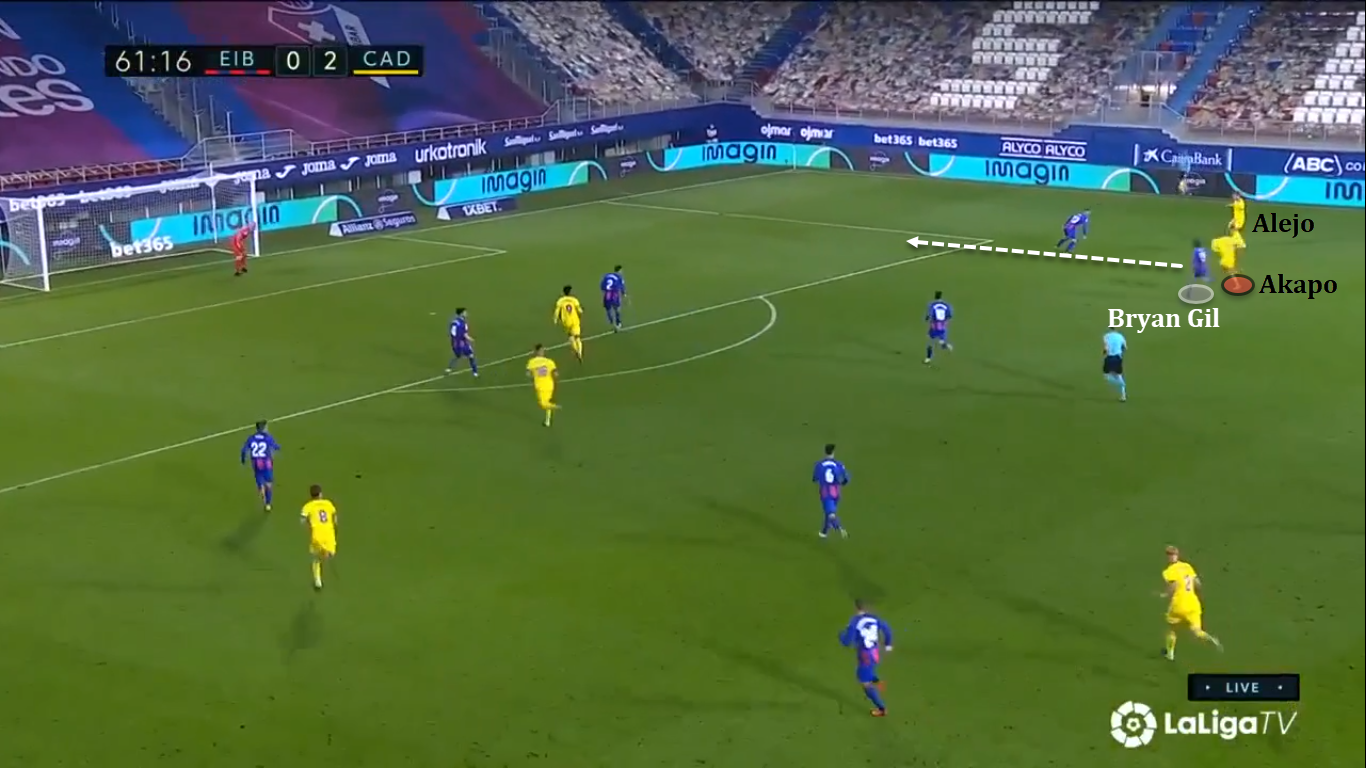 As Akapo receives the pass, Gil continues to stay with him and wins the ball with a clean tackle.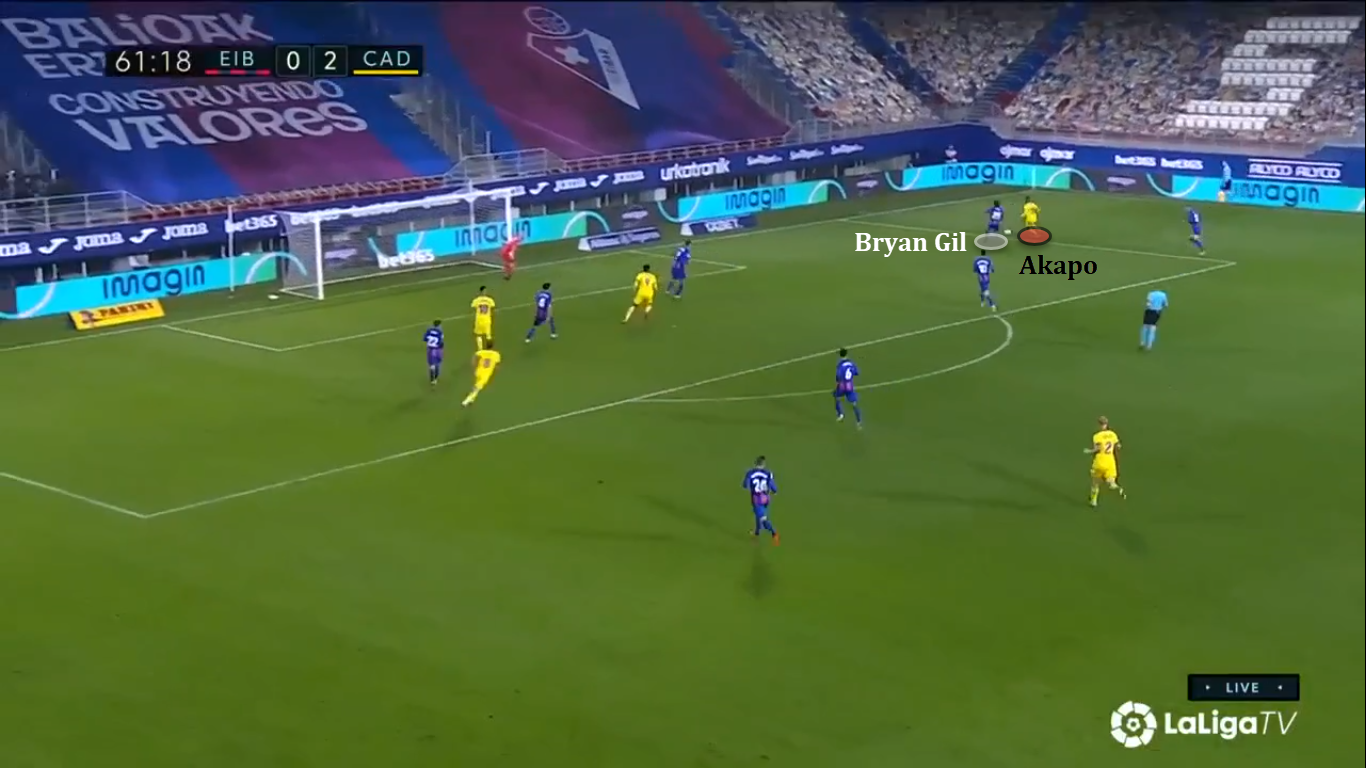 This run of the play against Valencia shows his great desire and stamina. The play below is a great summation of Bryan Gil's role in the Eibar team. Here, Maxi Gómez plays a wayward pass towards Carlos Soler but Gil intercepts the ball and quickly plays a pass into Kike García.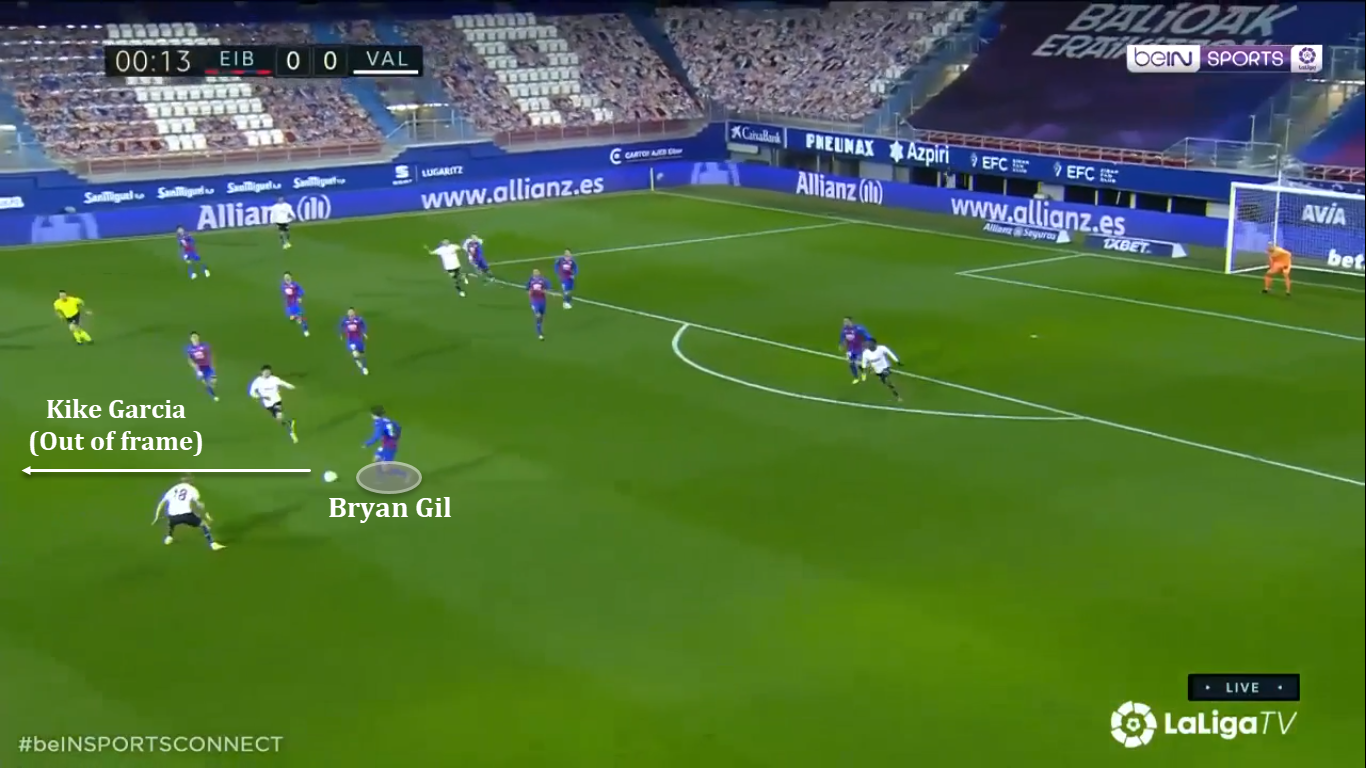 Having played the pass, Gil continues his run into space and receives the return pass from García.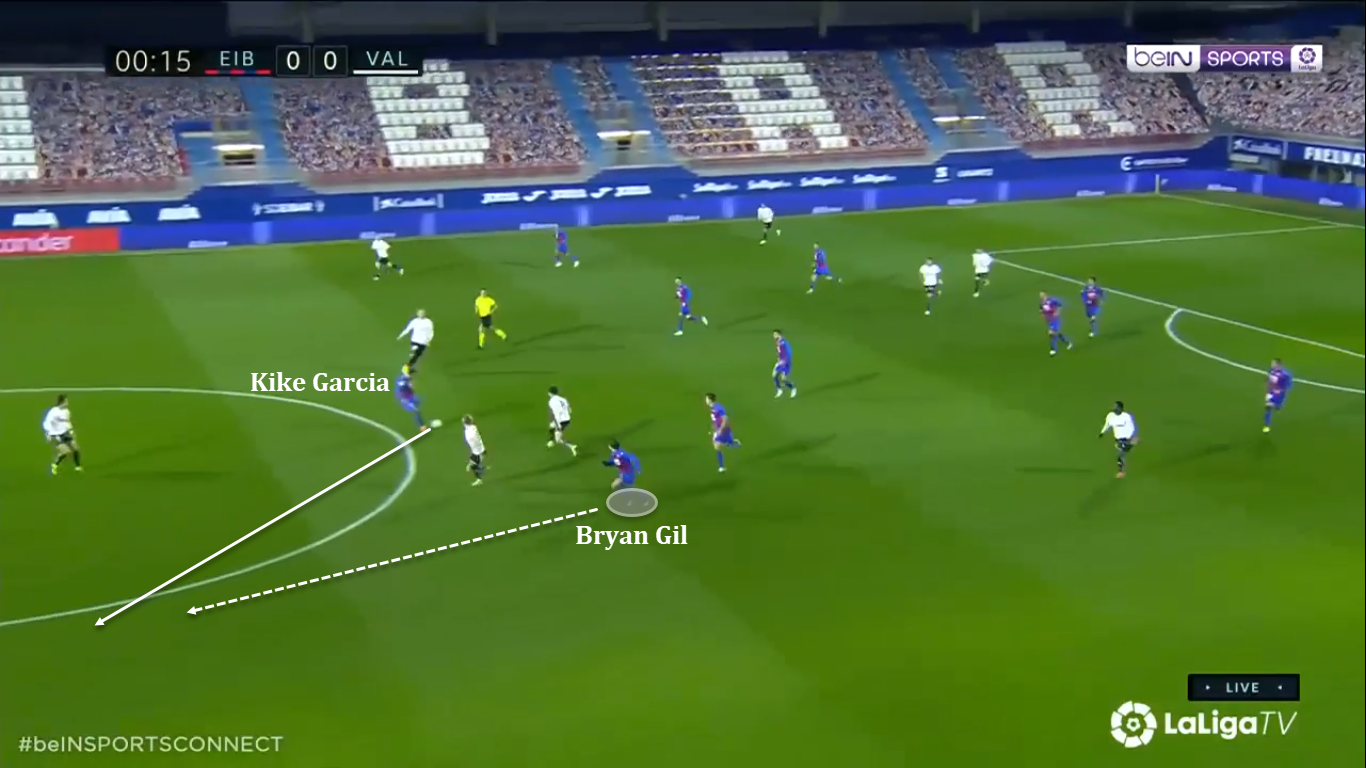 Gil then carries the ball to the edge of the box and looks to deliver a cross into the box, which is intercepted by a recovering Wass. But this play was a great example of how Gil contributes to Eibar's defensive and attacking play.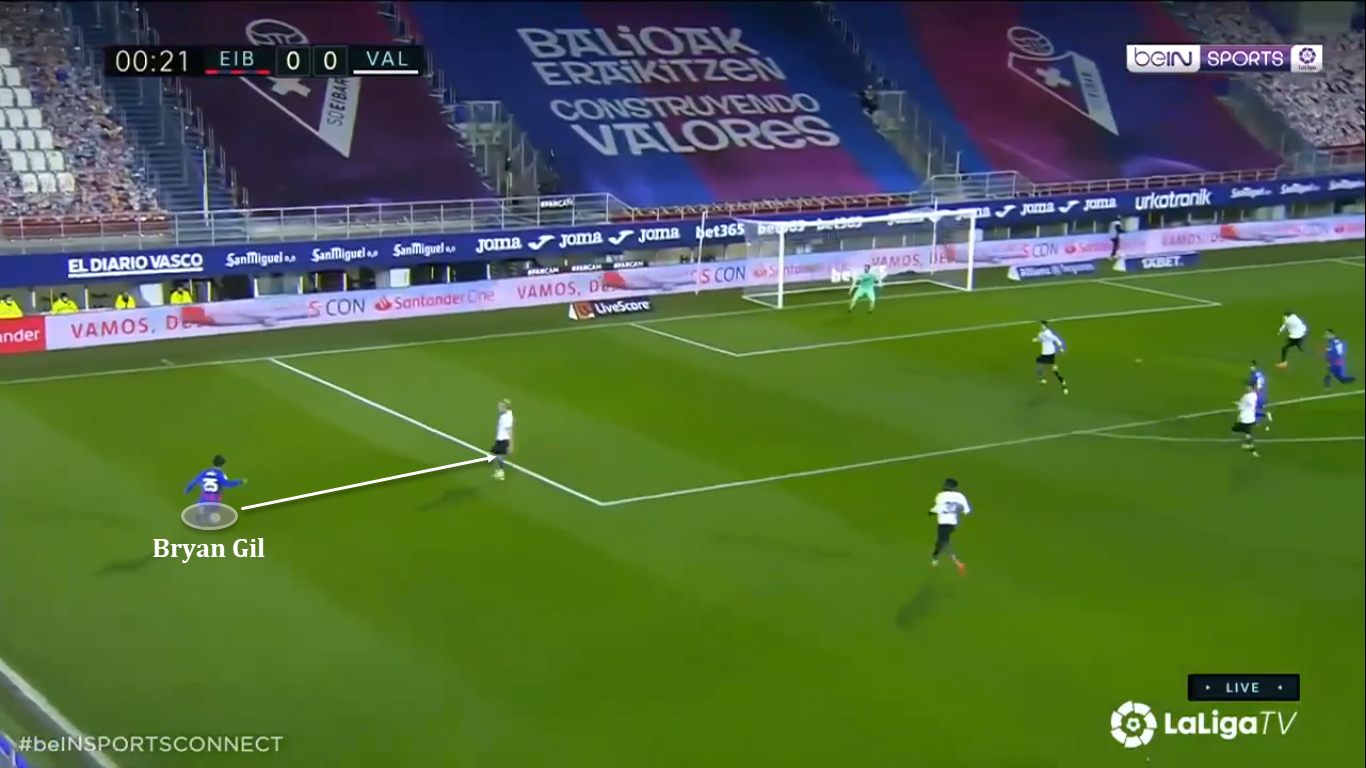 Areas of Improvement
Runs Into Space
As mentioned before, Bryan Gil always looks to occupy the flank and provide width. As a result, he rarely attempts to make threatening runs between the fullback and the centre-back even when the opportunity is available. As it can be seen from this example, Inui is on the ball and Gil is in a position to make a threatening run into space to get behind the Cádiz defence.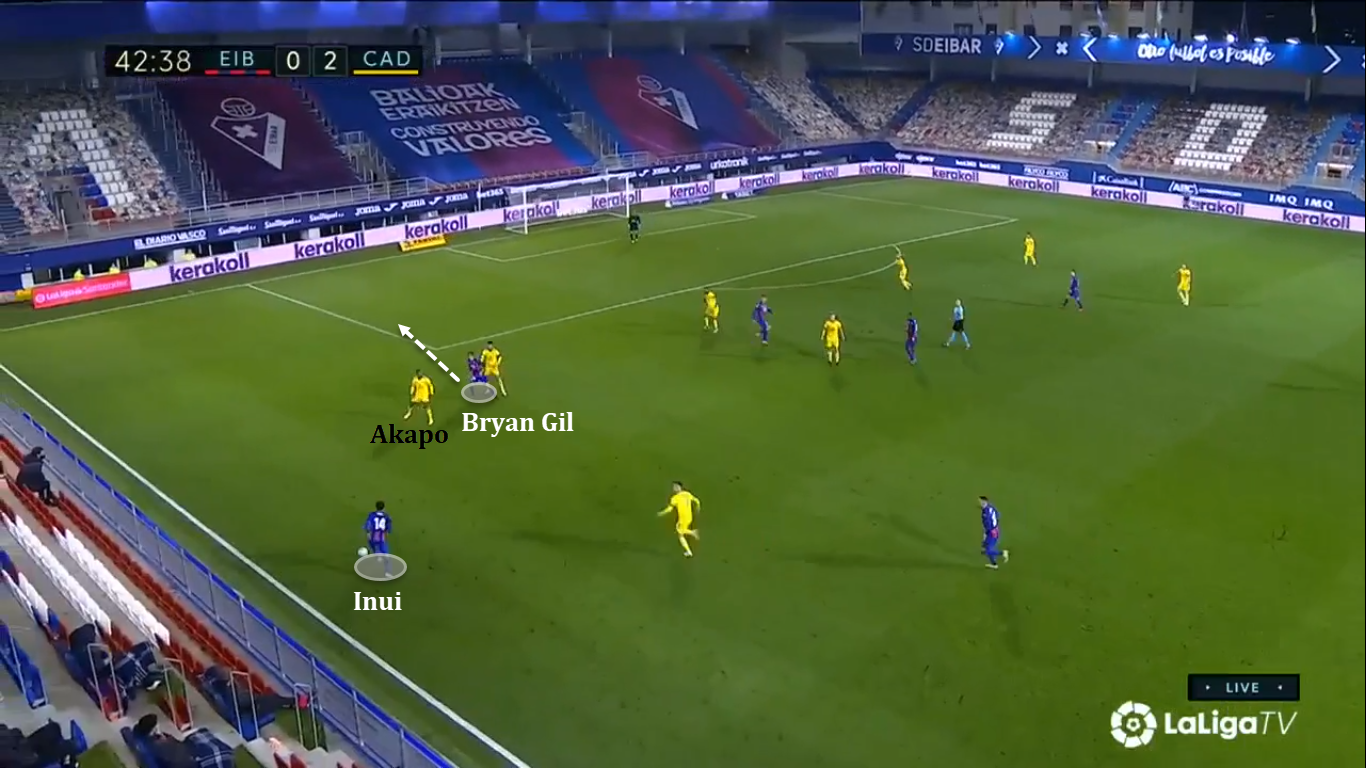 However, the youngster decides not to make that run and instead moves towards the left flank which puts him, Inui and Anaitz Arbilla in the same vertical channel with no one attacking the space between the fullback and centre-back.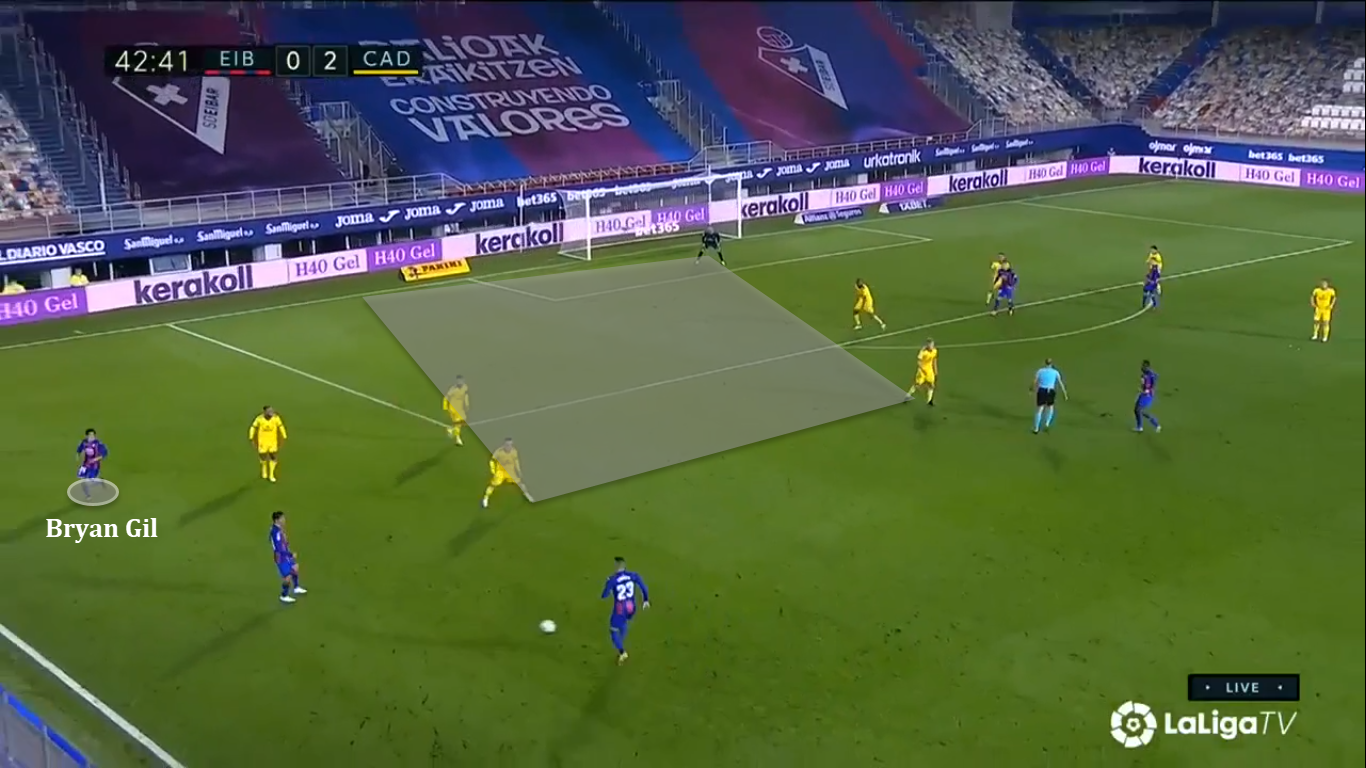 Whether it is a demand of the system or a personal preference, Bryan Gil needs to improve in this regard as this will also allow him to raise his offensive output in terms of goals and assists as he'd be attacking more valuable positions on the pitch.
Also, it will take a load off his dribbling ability (which tends to deteriorate with age) to create crossing situations and make him much more unpredictable as a player. In this regard, he can take some inspiration from his Spanish counterpart, Mikel Oyarzabal. The Real Sociedad man has used his off-the-ball movement to increase his offensive output massively.
Physical Strength/Aerial Ability
Standing at 1.75 meters (5'9"), the Spaniard does not stand out for his physical attributes. He is often muscled off the ball and fails to win most of his aerial duels. This is not a massive problem since his current role does not require him to take part in aerial duels anyway. However, it could have a potential effect on him in future (discussed in the next section).
What Does the Future Hold?
Currently, on loan from Sevilla, Bryan Gil has had a breakout season playing for Eibar. This has earned him interest from the likes of Barcelona, Real Madrid and Arsenal among others. But the Spaniard needs to polish his game and find his identity on the pitch before he can make that big move.
Bryan Gil is one of the very few orthodox wingers in the game right now and very few teams currently employ that role since overlapping fullbacks have taken over. Having said that, playing this role for Eibar, it does look like his creative ability has been restricted. So, what role may suit Bryan Gil's attributes the best?
Right Winger
Playing at the right flank might be a good move at some point in Bryan Gil's career as it would allow him to channel his creative side a lot more. On a few occasions where he has made some advances on the right flank, he has looked very encouraging. In this example, Gil receives the ball on the right flank and Inui looks to make an underlapping run between the fullback and centre-back.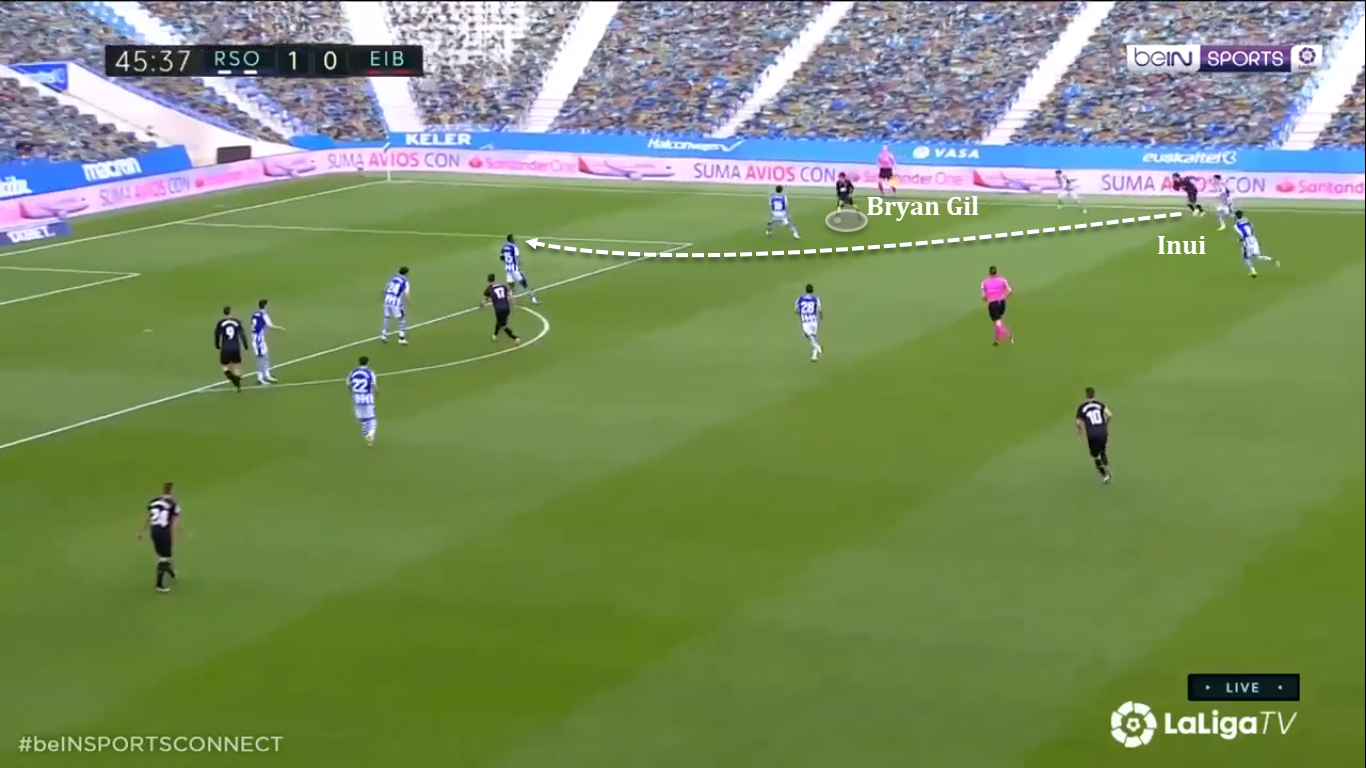 Bryan Gil delays his pass and delivers a perfectly timed through-ball for Inui as he enters the box. The Japanese midfielder takes a first-time shot which is saved by Álex Remiro.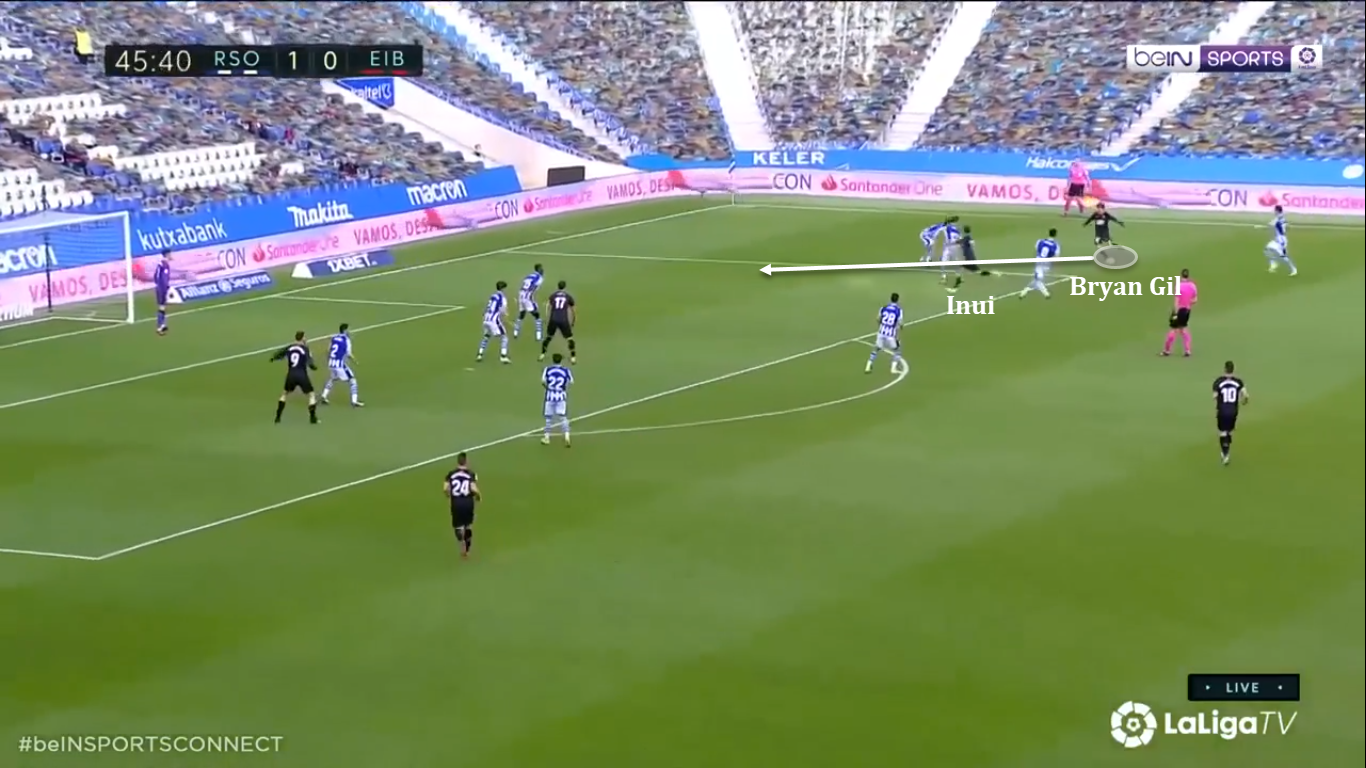 However, Bryan Gil may have to remodel his game a little playing in this position as it may require him to take more shots and get more entries into the box. He will no longer be able to deliver crosses into the box after hitting the byline but he may be able to impact the game from more valuable areas.
Attacking Midfielder
Given Bryan Gil's technical ability, it is a common belief that the Spaniard would excel as a no.10. However, it may come with its disadvantages. Unless he plays in a team using transitions and counter-attacks heavily, his ball-carrying may take a dip which is currently his biggest strength.
Secondly, I don't think that he has the receiving angles of a no.10 as he is at times seen giving the ball away as he turns with the ball in the middle of the pitch. In this example against Huesca, Gil receives the ball with his back to the goal. By doing this, he is essentially inviting the defender to press him.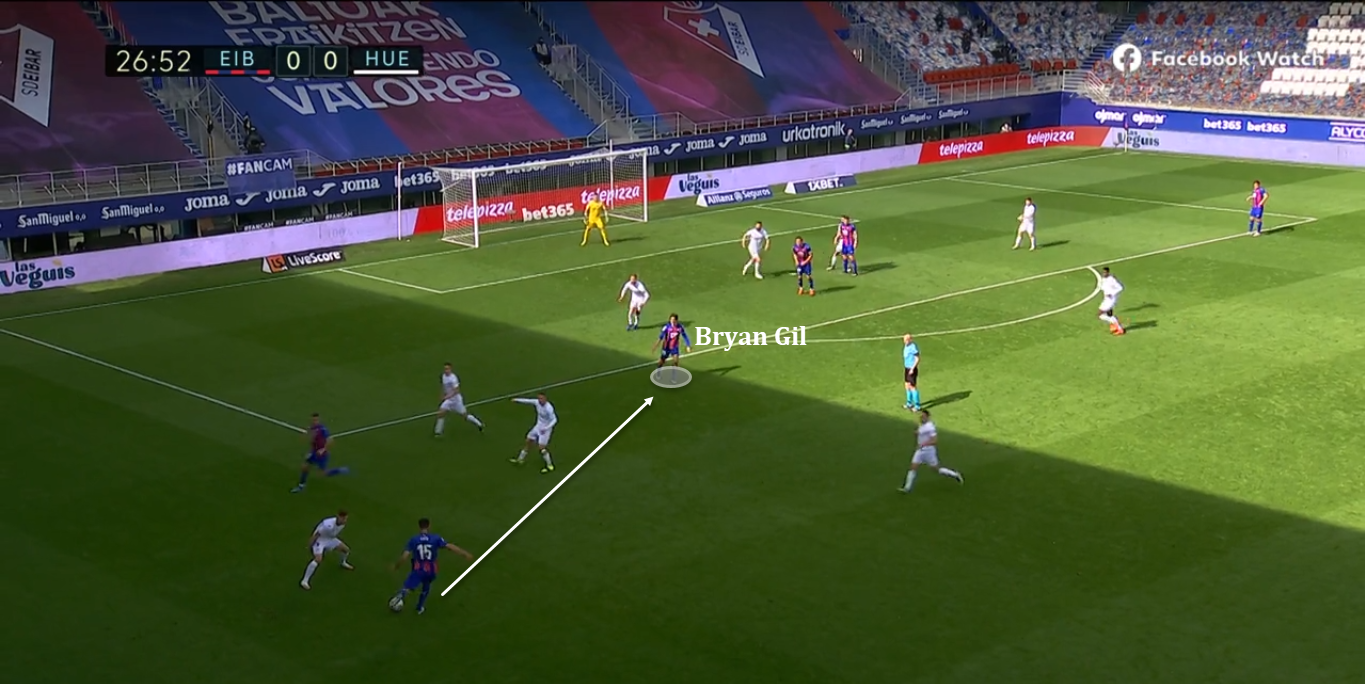 However, when he receives the ball, he is neither quick enough to release the ball nor does he move to drag the defender away. Essentially, losing the ball cheaply as he didn't check his shoulders to look for the defender's movement.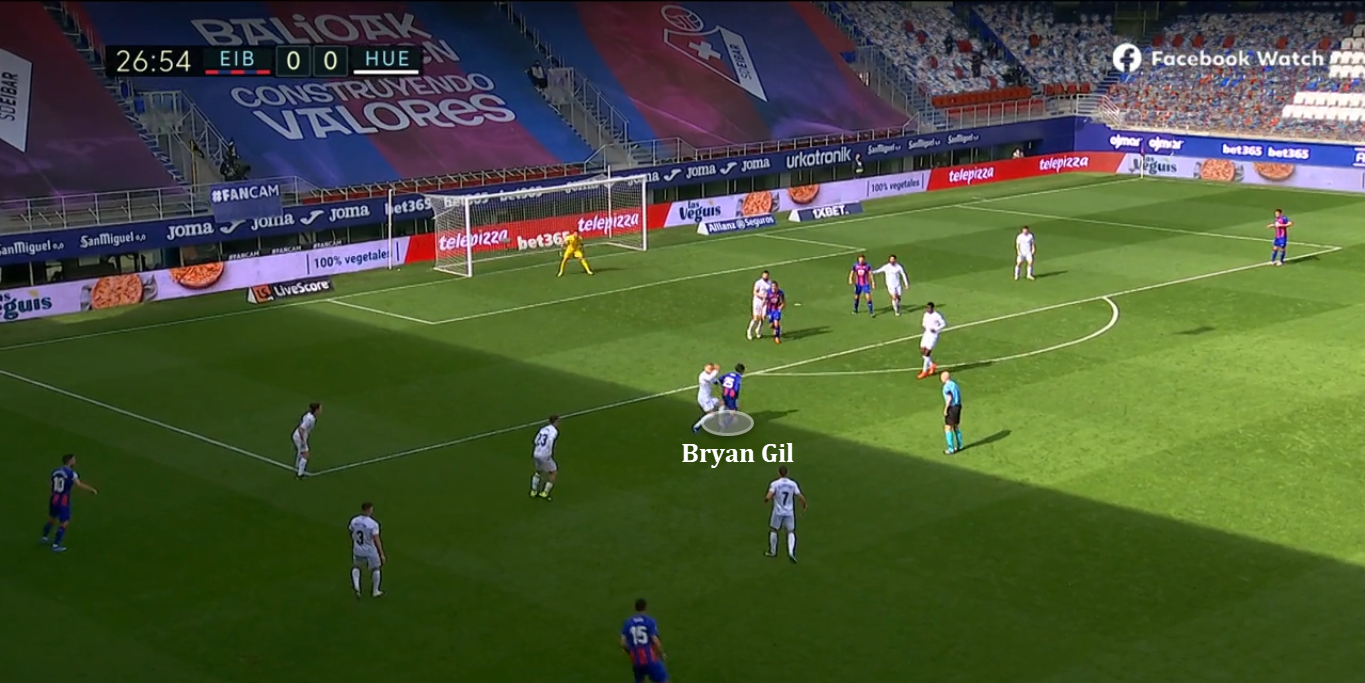 Although losing a ball is not a big deal but knowing that the defender was going to press him, Bryan should've either combined with a teammate or carried the ball to drag the defender out of position. Having said that, this could be a one-off incident but since Gil hasn't played this role extensively, I am not convinced that he could succeed as an attacking midfielder without making some adjustments.
Fullback
Considering how Bryan Gil's playing style is heavily inspired by his idol – Jesús Navas – it's not surprising to say that he can be seen playing the fullback role in the latter stages of his career. His current role at Eibar is pretty similar to the job profile of a modern fullback anyways.
However, if he does end up playing this role, he will definitely have to work on his physical strength and aerial ability as it is one part of his game that can be exploited if he makes that shift. But considering  Gil's reliance on ball-carrying ability and crossing, shifting his role to fullback position might not be a farfetched idea.
What this means is that Bryan Gil's playing style can evolve in a lot of ways. However, he will have to decide how he wants to approach the game but irrespective of how he evolves, his raw ability is a testament to the fact that Sevilla have a gem in their ranks, and they should keep a keen eye to get the best out of him.
By: Shaharyar Atique
Featured Image: @GabFoligno / Pressinphoto / Icon Sport