Player Analysis: Cade Cowell
Since the start of 2020, Major League Soccer has moved 10 homegrown players to European clubs for over $40 million before bonuses. America's top division has quickly moved from "retirement league" to a league developing both domestic and foreign talent at an impressive rate. The rate of these sales is not going to decrease in the immediate future and is more likely to increase for a multitude of factors.
Cade Cowell will soon be a beneficiary of the work of his predecessors who have gained the trust of clubs around Europe. FC Dallas and Philadelphia Union are largely to thank for the aforementioned $40 million figure with Brenden Aaronson, Mark McKenzie, Bryan Reynolds, Reggie Cannon, and Tanner Tessmann making up more than half the transfer sum. Cade Cowell would certainly not be out of place on this list of players and will join the United States players in Europe sooner than later.
Despite an inevitable departure from MLS in the future, Cowell will be leaving a team who hasn't had a notable departure since Eddie Lewis went to Fulham in 1999. Unlike the FC Dallas and Philadelphia Union players, Cowell has made a name for himself at an organization which is not known to produce great talent and has done so before turning 18-years-old.
At the time of signing for the Earthquakes in 2019, Cade Cowell was the youngest player to sign a homegrown contract for the club. With this contract, Cowell adopted a great deal of pressure from both local Quakes fans, and USMNT fans. Despite this, his ascension has been nothing short of spectacular and has exceeded the expectations of many at a young age.
Cowell made 17 appearances in MLS in 2020 but was mostly featured as a substitute as a 16-year-old. Just a year later and with half a season remaining, Cowell has matched his total appearances from last season, but started 13 of them. Throughout this breakout campaign Cowell has spent many matches being Matias Almeyda's most dangerous player on the field.
Style of Play
Before noting exactly what Cowell does on a pitch it's important to talk about why he's able to do so. At just 17-year-old, the forward is physically strong, and superior in pace to any defender he comes up against. One thing that often gets lost when analyzing the teenager due to the work he does in possession, is how good he is off the ball.
Through a combination of strength and skill, Cowell makes himself a great outlet for his teammates when needed. If a Quake defender is under pressure, and Cowell is left with just one opponent in his vicinity, it's likely Cowell will control the pass with his back to goal and hold the defender off for long enough to relieve pressure for the time being.
This is a trait which he has been working on since the beginning of the season and will be talked about with a quote from Cowell later in this article. Additionally, his pace makes him even more dangerous running onto the ball than he is when the ball is coming into his feet. Despite this, it's obvious after just a few minutes of watching Cowell play that his physical assets are an added perk to a player who appreciates the use of feints and flicks.
In a game vs FC Dallas earlier in the 2021 campaign, Cowell showed just how good he can be on the ball in dangerous areas of the field. In this instance, he found himself alone in the penalty area with 3 Dallas defenders and the goalkeeper to beat. Like many elite dribblers, Cowell shares the trait of not needing to touch the ball itself to beat a man. For him, body feints are often enough. In this clip, he beats two Dallas defenders with feints before finishing in the bottom corner.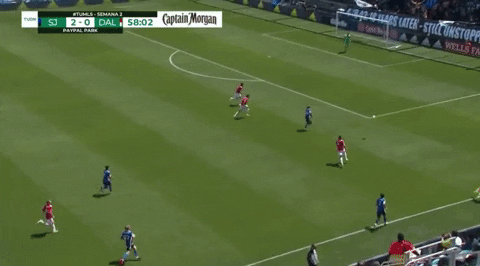 At just 17 years old, it's important to remember the forward is far from a finished product. Like many other exciting teenagers around the world, Cowell shows glimpses of what he will become in the future. It's clear Cowell likes to take his defender on 1v1 and can certainly progress play in this manner. However, he has shown he can become more well-rounded than many 1v1 specialists. Sticking to the FC Dallas match, let's have a look at how Cowell can progress the ball with his passing.
In this clip, the teenager picks up the ball in his own third and immediately begins running at a retreating FC Dallas team. Just after crossing midfield, Cowell decides it's the right time to split the last defender and his teammates with a perfectly weighted outside of the boot pass to a teammate who runs on to it and converts to give Cowell the assist.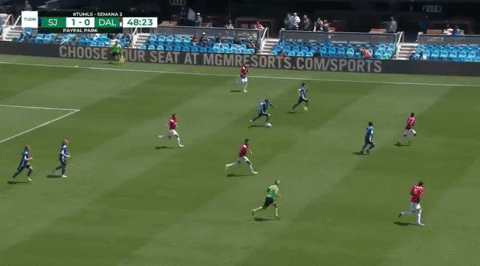 Many young center forwards begin their professional careers out wide before growing into a more typical number nine. Cowell will likely follow this path. While he is often deployed as the most advanced central player for his club, a quick look at his heatmap from the 2021 season will tell you he prefers to drift to the left touchline and take on defenders.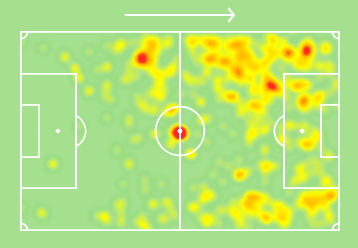 Cade Cowell Heatmap 2021 (SofaScore)
Even despite drifting in the matches, Cowell sees himself as a number nine in the future. "Right now, I'm a winger. I like to dribble at players one-on-one. With my back to goal, it's still pretty challenging to me, but as soon as I learn how to do that, I'll be a number nine, I think." This is what Cowell said in the beginning of the MLS campaign and has since improved on as mentioned earlier in this article.
Statistical Analysis
Cade Cowell is as raw as many 17-year-olds are, and certainly must improve in certain areas. While his outside of the boot pass was highlighted above, it does not tell the story of an effective passer. The moment shows a certain amount of quality than can speak to a higher ceiling for a player, but ignores the fact that Cowell is in the 1st and 3rd percentiles respectively in pass attempts and passes completed among MLS forwards in 2021.
Poor passers can remain effective in other ways, and Cowell proves this to be true. The Earthquake teenager is in the top 3% of MLS forwards when it comes to successful dribbles that lead to a shot attempt and the 83rd percentile of successful dribbles that lead to a goal. Additionally, Cowell averages an impressive 7.89 pressures per 90 in the attacking third which aids in him being in the 92nd percentile of 2021 MLS forwards in tackles in the attacking third.
These stats show that despite Cowell being an ineffective passer, he can do more than just score goals using flair and pace. Being an accomplished dribbler and effective presser has led to Cowell averaging .33 assists per 90, which puts him in the top 15% relative to MLS forwards. Like his growing confidence in being an outlet with his back to goal as a number nine, it's likely his confidence in passing will increase making him more dangerous than he already is.
There's a reason Gregg Berhalter has already invited the 17-year-old to train with the United States and why clubs around Europe are keeping an eye on Cade Cowell. For now, he'll continue to improve his game before making the jump to join the fleet of Americans being shipped to Europe from MLS.
By: Jay Stucchio / @JayStucchio
Featured Image: @GabFoligno / Lyndsay Radnedge/ ISI Photos / Getty Images