Scouting Report: Mark McKenzie
While Brenden Aaronson has received plenty of hype with the Philadelphia Union this summer, his teammate Mark McKenzie has been making headlines of his own in the City of Brotherly Love. The 21-year-old center back has had an impressive 2020 campaign so far and was a crucial part in the Philadelphia Union's semi-final run in the MLS is Back Tournament.
His performances have caught the eyes of Celtic, RSC Anderlecht, and now reports are saying the Bundesliga side Union Berlin are interested. A move to Europe seems imminent and his head coach Jim Curtin agrees. When asked about Aaronson and McKenzie, Curtin stated that he'll enjoy each day he has working with them, because he doesn't think they'll be in the MLS for too much longer. "Long story short, Mark and Brenden are both ready to go to Europe"
So what is it about McKenzie's game that has caught the attention of these European clubs? Let's dive in.
Born in the Bronx, New York, McKenzie grew up playing soccer in Delaware for the Delaware Rush and Wilmington Rangers. His play caught the eye of the Philadelphia Union and was brought into their academy in 2015.
McKenzie spent two years in the Academy and earned himself a call-up to the Bethlehem Steel FC (now the Philadelphia Union II) and made his professional debut against the New York Red Bulls II in June of 2016. He then committed to Wake Forest and led the Deacons to a 5th place finish in the polls in 2017.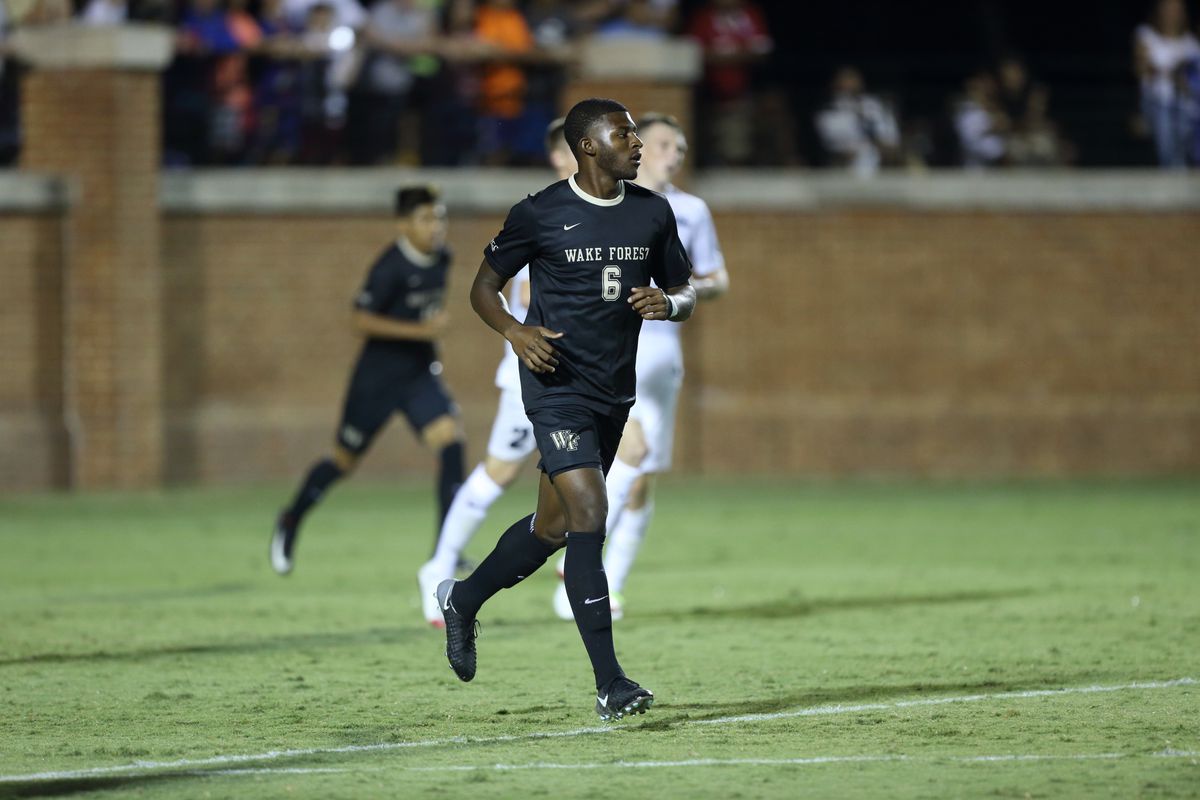 Photo: Brian Westerholt/Sports On Film
McKenzie would only spend one season at Wake Forest and signed a homegrown player contract with the Philadelphia Union in January of 2018. McKenzie had an impressive 2018 campaign, making 20 appearances and earning a nomination for the 2018 MLS Rookie of the Year Award.
His play for the Union has also caught the eye of the USMNT, working his way through the youth ranks, helping the U-20 side make an impressive run to the quarter finals in the 2019 U-20 World Cup in Poland, before receiving a senior squad call up and earning his first senior cap in a friendly against Costa Rica in February of 2020. McKenzie has now cemented himself in the Philadelphia Union backline and it appears he could be on the move again.
Standing at about 6 feet (183cm), 185 pounds (84kg), the center-back possesses good physical qualities and strength to excel at the next level. Out muscling most MLS forwards, McKenzie is strong in the air and doesn't shy away from a physical duel on the ground. When matched up against a forward whose back is to goal, McKenzie does not overcommit and foul the opposition and is timely with his tackles.
He does well to size up the opposing player and not allow the forward to make one move and turn, using his size and strength to shrug attacking players off the ball and dispossess them.
However, despite his physical attributes, McKenzie needs to work on his technique, especially in 1v1 defending situations. At times he tends to stand too upright, not low enough to the ground, and on his heels instead of on his toes. He can be caught flat footed and allow the attacking player to make one simple move or turn to get by him.
At times he does show flashes of his potential to be a great defender. Here against LAFC, McKenzie does well to close down Vela, get his feet set, bend his knees, get low to the ground, and stay on his toes, so that when Vela makes his move, McKenzie can adjust and stay with Vela every step of the way before making a strong tackle.
Another area McKenzie can improve upon, is the mental aspect of the game, especially his concentration. There are instances where he switches off and is caught ball watching. McKenzie can tend to rely heavily on his physical attributes, like his recovery speed, to get him out of trouble and can look very nonchalant in his tackling.
Jake Castillo of OneGoal.US said it best, "McKenzie's lapses in concentration can put him in situations where he has to do some emergency defending, rather than putting out the fire before it starts."
In the example below, McKenzie is caught ball watching and fails to track the run of Inter Miami's Rodolfo Pizarro, allowing the Mexican forward to get in front of him and score.
Even though he is quite good with his last-minute defending, you would like to see McKenzie more focused and aware of what's going on around him, anticipating the play, rather than reacting to it.
 However, when he is fully focused, McKenzie is one of the better defenders at reading the game. When locked in, McKenzie can be seen regularly checking over his shoulder for back door runs from opposing wingers and shouting out commands to his fellow teammates. When he takes a proactive approach to the game, rather than a reactive one, McKenzie anticipates passes and movements well, intercepting the oncoming pass and tracking runs to prevent them from coming in.
As seen below, McKenzie scans the field around him and notices the open FC Dallas player at the top of the box. Before the pass is even made, McKenzie begins to close down the attacking player, and by the time the pass is made, he is already there to dispossess him.
Again, McKenzie reads the field well, notices the Atlanta United attacker in the space in front of him, anticipates the pass before it is made, allowing him to close down the attacker and make the interception.
Some may point to the competition and the league he plays in as a reason for his lapses in concentration and nonchalant tackles as his recovery speed and strength allow him to out run and out physical most strikers in the MLS. A move abroad and to a tougher league will require him to be focused at all times as he won't be able to rely on just his physical characteristics to get him out of trouble.
While McKenzie possesses solid defensive qualities, it is his on the ball ability that makes him stand out as one of the more exciting prospects in the MLS. McKenzie is exactly what you look for in a modern-day center-back. He is very comfortable on the ball, possesses a wide range of passing ability, and is a multi-dimensional asset to his side in possession.
His passing range allows him to vary between exploiting the space in behind, finding attackers in between the lines, and switch the play. As seen below, he has an impressive ability to weigh passes appropriately so that his teammates can control the ball in tight spaces.
With a long ball completion percentage of 83.2% (according to FBref), McKenzie displays an ability to switch the point of play with long diagonal balls across the pitch, exposing the opposition on the underloaded side.
Even though he prefers to progress the ball through his line breaking passes, he is comfortable dribbling into the midfield and drawing defenders out of position, before making a pass in behind.
McKenzie is also calm and cool under pressure, dribbling away from defenders and making passes with ease. He doesn't panic and if confident with the ball at his feet. 
The best part about McKenzie's distribution is he is excellent with both feet. Listed as a right footer, McKenzie can ping balls just as accurately with his left as he can with his right.
In fact, according to FBRef, this season McKenzie has attempted more passes with his left foot, 146, than his right, 135. His two footedness makes him very multi-dimensional in his passing and allows him to make passes from anywhere on the pitch. Force him to his right and he'll be on his favored right foot. Force him left and he can still slice through the defense with a left footed pass. 
It's easy to see why McKenzie has been linked to a handful of European clubs recently and in order for him to take the next step in his career, a move to Europe would benefit him greatly. Tougher competition will force him to work on his lapses of concentration as he won't be able to rely on just his physical traits to bail him out of trouble.
If he can improve his 1v1 defending technique and take a more proactive approach to his defensive game, combine this with his technical and distribution qualities, he can be molded into a class modern day center back.  The U.S. already have a top center back prospect in Chris Richards, they may have just found his backline partner in McKenzie.
By: Conner McCoy
Featured Image: @GabFoligno / John Dorton / ISI Photos