Player Analysis: Caden Clark
There are few American players who have displayed technical skill as well as New York Red Bulls' Caden Clark has since signing an MLS contract in October of 2020. At 17 years old, Caden Clark burst onto the scene scoring a volley from the top of the penalty area against Atlanta United just one day after signing for a New York Red Bulls team chasing a spot in the playoffs.
Clark scored again in his second MLS game, this time an even more impressive strike with his weaker left foot from 25 yards out into the top left corner of the Toronto FC goal. This goal was more telling of the player's ability as he drifted between the lines, turned, and convincingly fired into an unsavable spot for the helpless goalkeeper. RBNY had just 7 games left when Clark was signed and went unbeaten in all but one – a derby game with New York City FC. Clark appeared in all seven games and helped his club reach the playoffs.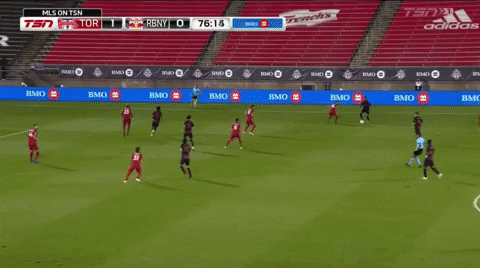 Since his rise to MLS stardom, Caden Clark has turned 18 years old, signed a contract with RB Leipzig, who he will join in January, and added seven more direct goal contributions in under 1000 minutes. Clark will not be the lone American upon arrival in Leipzig as he follows the path of Tyler Adams who made the jump from New York in 2019, and newly appointed manager Jesse Marsch who has been in the Red Bull system since 2015, starting with New York and having a successful spell with Salzburg between 2019 and 2021.
Thankfully for Clark, who's often the most creative player on the field playing beneath a striker or as a winger, staying in the Red Bull family will help him adjust to the sport in Europe. The Red Bull teams in New York and Leipzig follow many of the same principles and made the transition easier for Adams in 2019. "The philosophy of play here is almost the same as in New York. That made things much easier for me," Adams said after his move across the Atlantic.
Prior to joining the Red Bull system in 2020, Clark had a series of interesting move – two in particular, but for different reasons. In a concept foreign to most European readers, the New York Red Bulls had to acquire the rights of Clark from MLS side Minnesota United who never helped in the development of the player. Instead, much of the development was done by Barca Academy AZ, a residency academy that has also helped produce Matthew Hoppe of Schalke and Julian Araujo of LA Galaxy.
Technical skill is valued here, as would be expected in a Barcelona academy, and is likely where Clark separates his game from many players who grew up in MLS academies where this is valued less. A combination of an academy that focuses so heavily on technical ability, and the Red Bull system which gives a unique tactical thinking which can be applied directly in Leipzig created a player bound to succeed in Europe.
Style of Play and Statistical Analysis
Caden Clark links up play from defenders and deeper midfielders to the attacking players – but like many players his age – often fades out of matches for far too long which leads to an underwhelming statistical analysis in some areas. For the duration of this section, Clark will be compared solely to attacking midfielders and wingers in MLS to ensure the percentiles and statistics used accurately depict a comparison between players often tasked with the same things.
Most, if not all managers hope to find goals from their midfielders and this is something Clark adds at an impressive rate, especially considering his age. Since entering MLS, Clark is in the top 10% of all MLS attacking midfielders and wingers in non-penalty goals. He's also impressively in the top four percent of goals per shot, and goals per shot on target. Considering half of his goals come from volleys, this is an impressive ratio – but also speaks to technique rather than fortune.
However, not every part of Clark's attacking play reads well when analyzing his stats. Speaking to him fading out of games, the Barça Academy product has a completion rate of 65% and while it's not uncommon to find lower passing rates from players tasked with creating opportunities, this is in the 4th percentile of players in similar positions in MLS.
Like Cade Cowell, a fellow 2003-born MLS player, Clark creates opportunities for his teams in other ways. Clark is an elite presser of the ball in all areas of the pitch, a staple in any Red Bull team. Even relative to his teammates playing in the same system, Clark is impressive. In a pressing team, it is normal for Clark to be in a higher percentile regarding pressures (97th). However, it is a fact that he maintains the same percentile when shifting focus to a successful pressure percentage. 
Additionally, Clark is in the 97th percentile when it comes to tackles per 90 and the 91st percentile in passes blocked. Despite being a player who fades when the Red Bulls are in possession, Clark remains an annoyance to the opposition for the duration of the time he's on the field. Here's an example of a successful pressure can leading to a goal.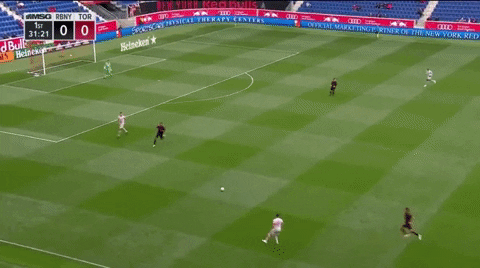 Clark also roams for the New York Red Bulls. If you look at his heat map, you'll see he tends to operate on the left side of the attack, as well as centrally in the final and middle third. This is due to the way RBNY has been set up this season, with Clark not being the sole player tasked with creativity. Often times he has been pushed wider as to allow space for Frankie Amaya or Wikelman Carmona to operate in a creative role as well. Either way, Clark is an important piece of the press for RBNY.
By: Jay Stucchio / @JayStucchio
Featured Image: @GabFoligno / Icon Sportswire