Player Analysis: Callum Styles
Barnsley are taking on the world: they find themselves in the play-offs and with a genuine shot at promotion after some great consistent form. However, it's not just that fairy tale story that is taking over the headlines. Under Valérien Ismaël, who was appointed on October 23, they play such an incredibly aggressive, modern, and high-risk style of football. A style that is associated to the top modern coaches in the game and certainly not a team in the second tier.
Mainly with a 3-4-3 shape, Ismaël's Barnsley play with a very high energy pressing game: they set out to swarm opponents in advanced positions in the pitch. This naturally comes with a big risk, but when all the players are performing with such cohesion and in such a well-drilled nature – it's hard to answer the big questions that Barnsley ask of you.
As always with a set-up like this, wing-backs are a key component in Ismael's machine. So, welcome Callum Styles: the left wing-back who is the key to Barnsley's promotion chase. The 20-year-old deservedly won the EFL Young Player of the Month award in February and is a player that will, in time, be in the upper echelons of the English football pyramid.
His Role in Possession
Naturally, the two wing-backs are the only two players with specific instructions to stay wide and provide width. They are also key in more controlled, build-up phases of play – they do this by creating safe passing options, often triangles, with the closest central midfielder (usually efficient central midfielder Alex Mowatt). This helps progress the ball higher up the pitch well especially with few Championship side's adopting heavy pressing tactics for these situations.
After brushing past Tranmere Rovers and Norwich City, Barnsley faced off against Thomas Tuchel's Chelsea in the 5th Round of the FA Cup. Chelsea would go on to win at Oakwell via a goal from Tammy Abraham, but Barnsley gained plenty of plaudits for their approach, with 14 shots and 4 shots on target compared to Chelsea's 6 shots and 1 shot on target.
In the below example, Styles has drifted inside to receive a loose ball, and Chelsea right wingback Callum Hudson-Odoi, charged with nullifying and marking him, is forced to come inside to track his movement. This leaves space on the left-hand side, and Mowatt has license to make a run in behind the midfield line of engagement.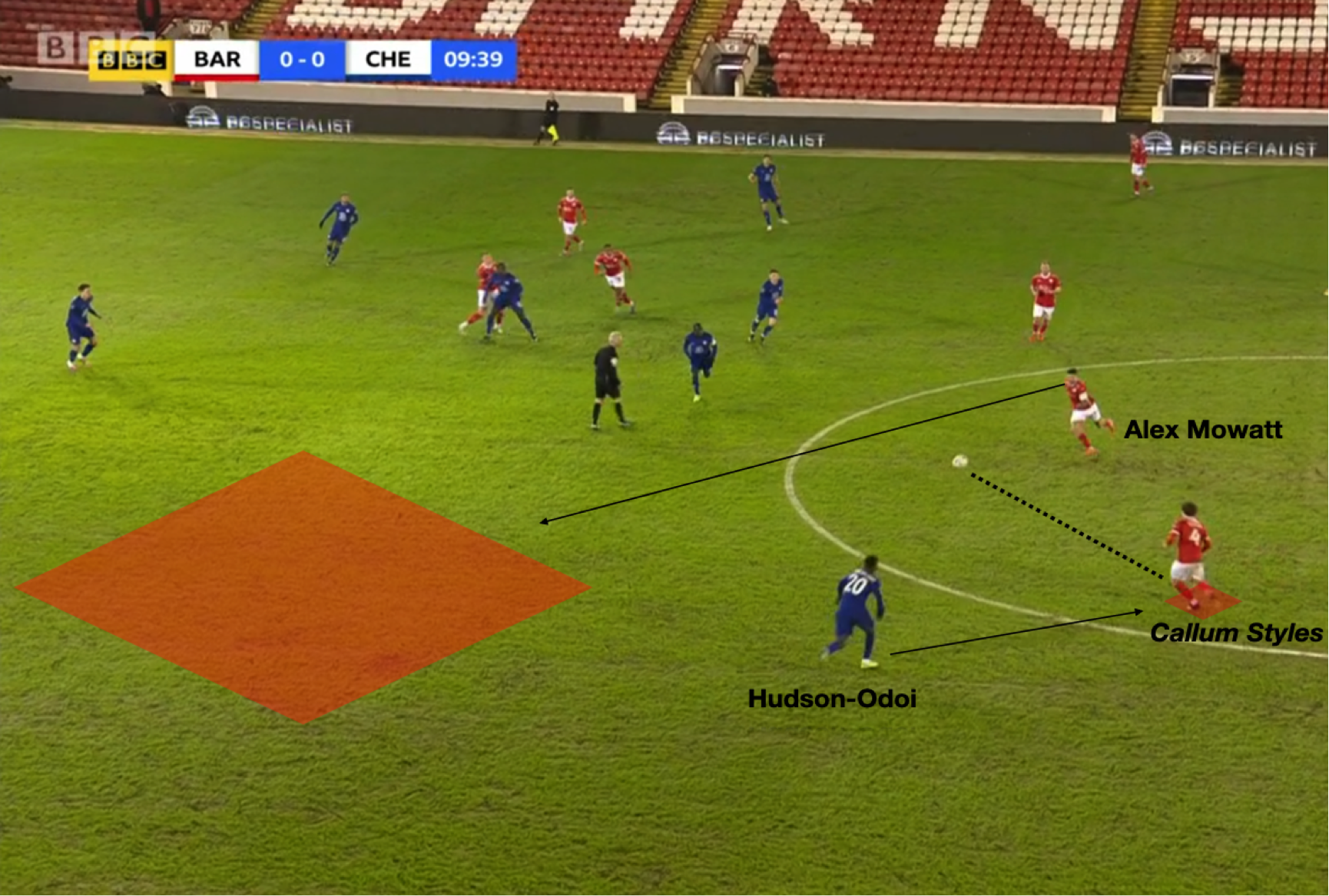 Mowatt then begins his run into the vacant space and Styles, with one touch, has laid off the ball to the left centre midfielder Herbie Kane under pressure from Billy Gilmour.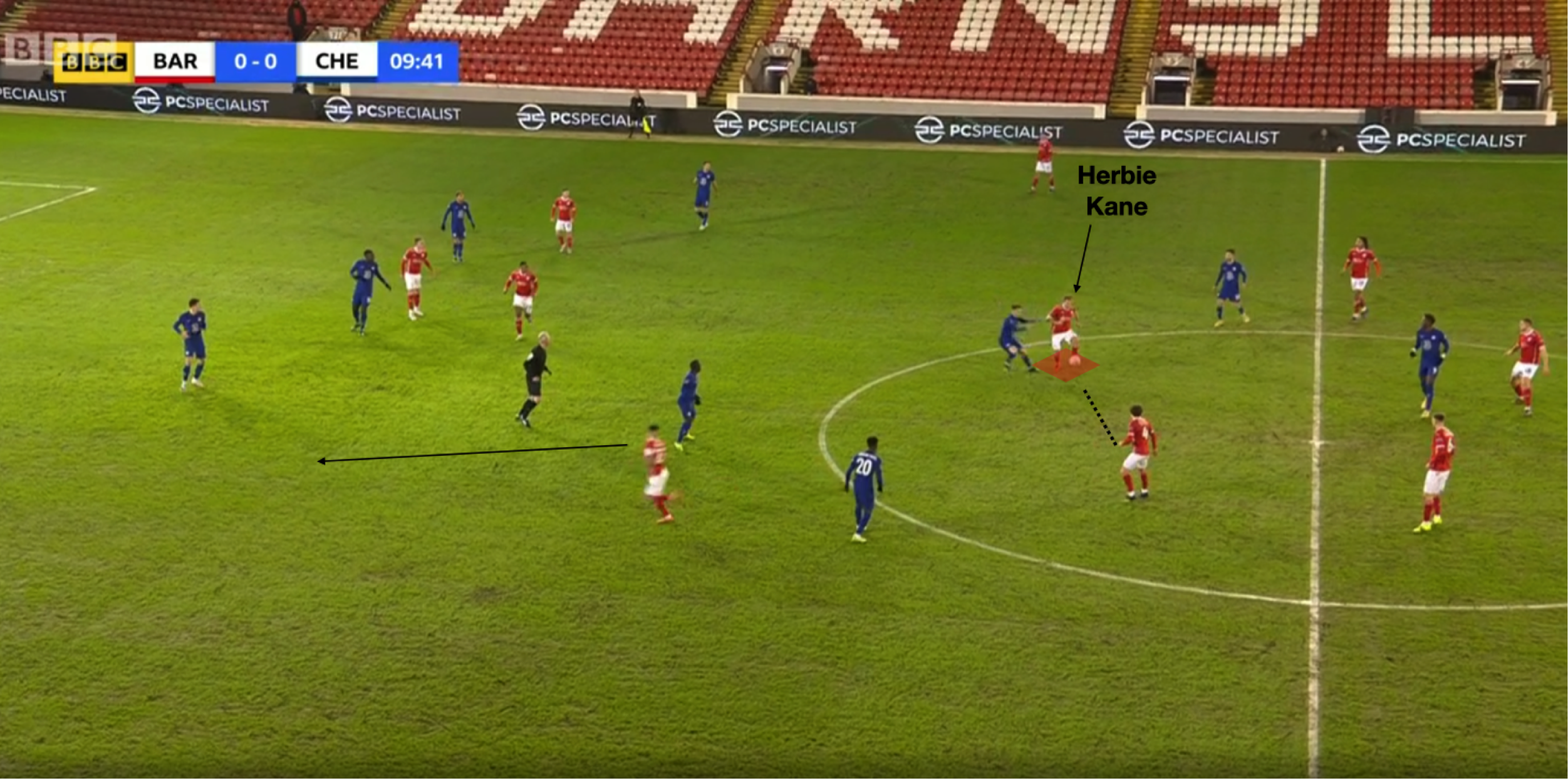 Kane did well to find Mowatt with a long ball in behind. And so, within three touches, Barnsley are in a good position on the left-hand side: Chelsea are stretched and Mowatt can exploit this channel. N'Golo Kanté and Hudson-Odoi having to shuffle across to shut him down.
This is a very good example of Barnsley's good interplay between Styles and his two midfielders. This was one of Barnsley's best chances in the match – Mowatt put in a great cross in which right-wing back Callum Brittain should've put in the back of the net.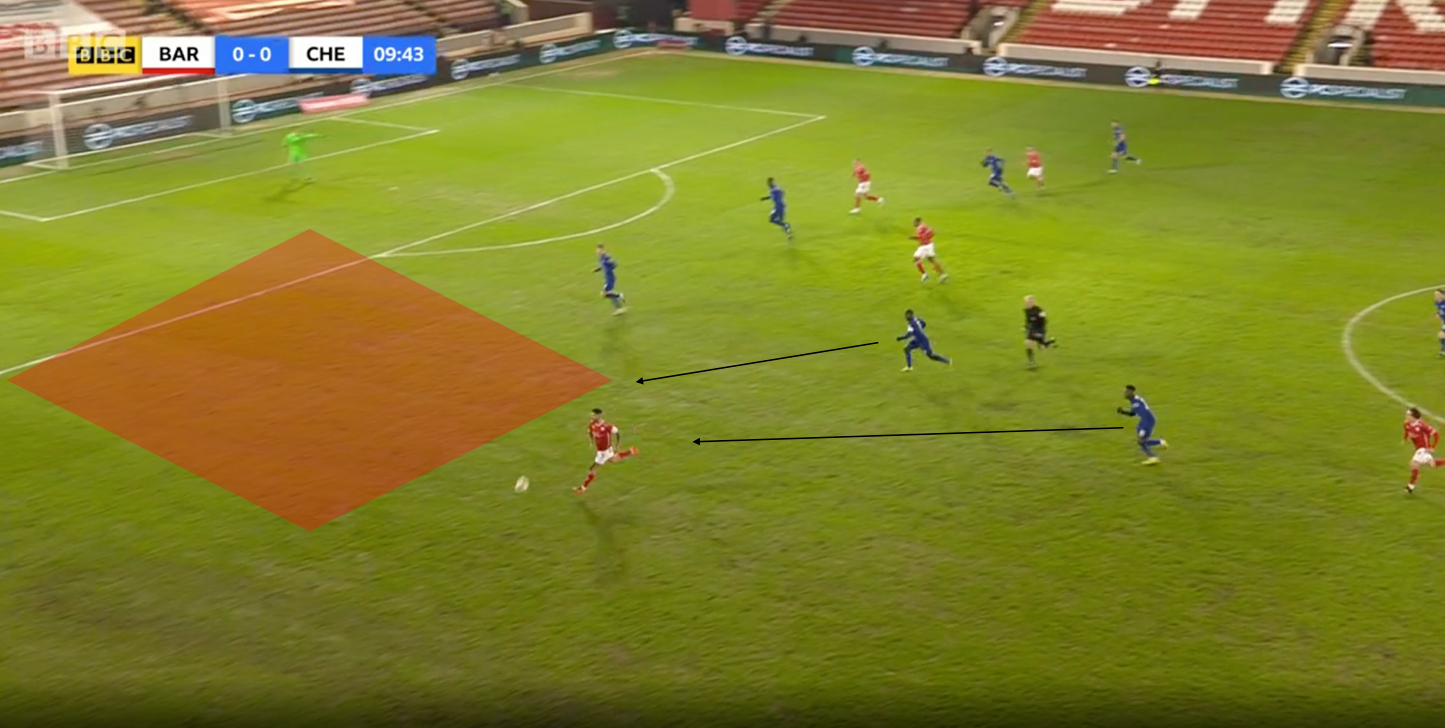 Barnsley commit a lot of bodies into the final third, especially in quick transitions when there is space to attack. Styles has a complete license, as does the other wing-back to play a part in the final third. Ismaël has a very simple, but clever strategy to create space on the wing. 
Firstly, the wingers will operate within narrow half-spaces, to then make a diagonal run into more central areas, to drag the opposition to their position.  Styles will then dash into the space created when the time is right. The image below is a great example, and it is the build-up to Barnsley's second goal at Rotherham away.
Cauley Woodrow has the ball on the right-hand side. Immediately, there are two narrow runs on the same side from Victor Adeboyejo and Dominik Frieser but pay attention more specifically to Mowatt – who is performing a decoy run for Styles. All three runs are being marked very tightly, but the most important one is that Mowatt's run has been tracked by right-wing back Matthew Olosunde.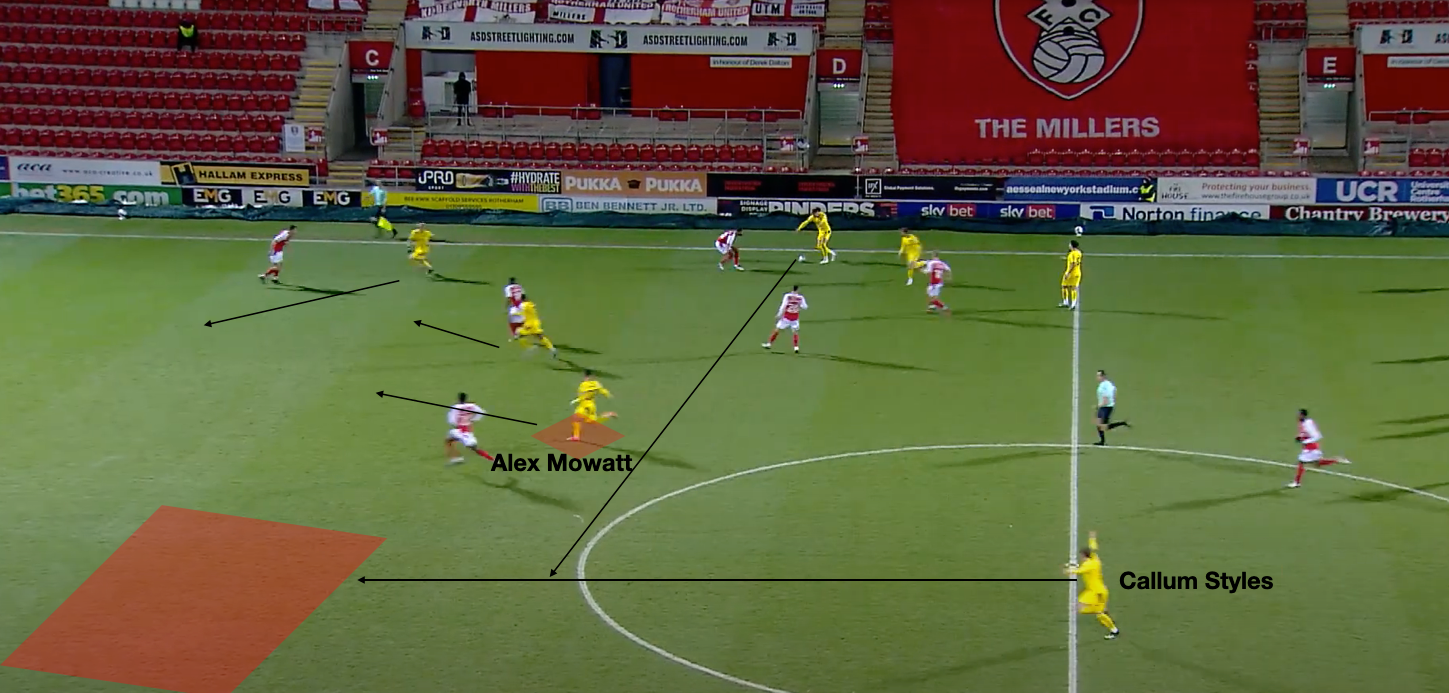 Now, look at this 4v3 scenario below. In these situations, the front three all come together within the penalty area. The opposition defence is then forced to become more compact to mark each player which can be difficult for team's using a back four. Meanwhile, this creates one-on-one scenarios for the wing-backs.
 Olusnude has to shut down Styles, and that leaves Mowatt free – with also two crossing options in the box. There is also space in behind the right-wing back, possibly leaving Styles available to dart in and shoot. Styles teed up Mowatt who dispatched it well, which gave Barnsley a 2-0 lead. A great example of Styles' clever runs mixed with lighting quick transitions that can leave Barnsley with numerical superiority in the final third.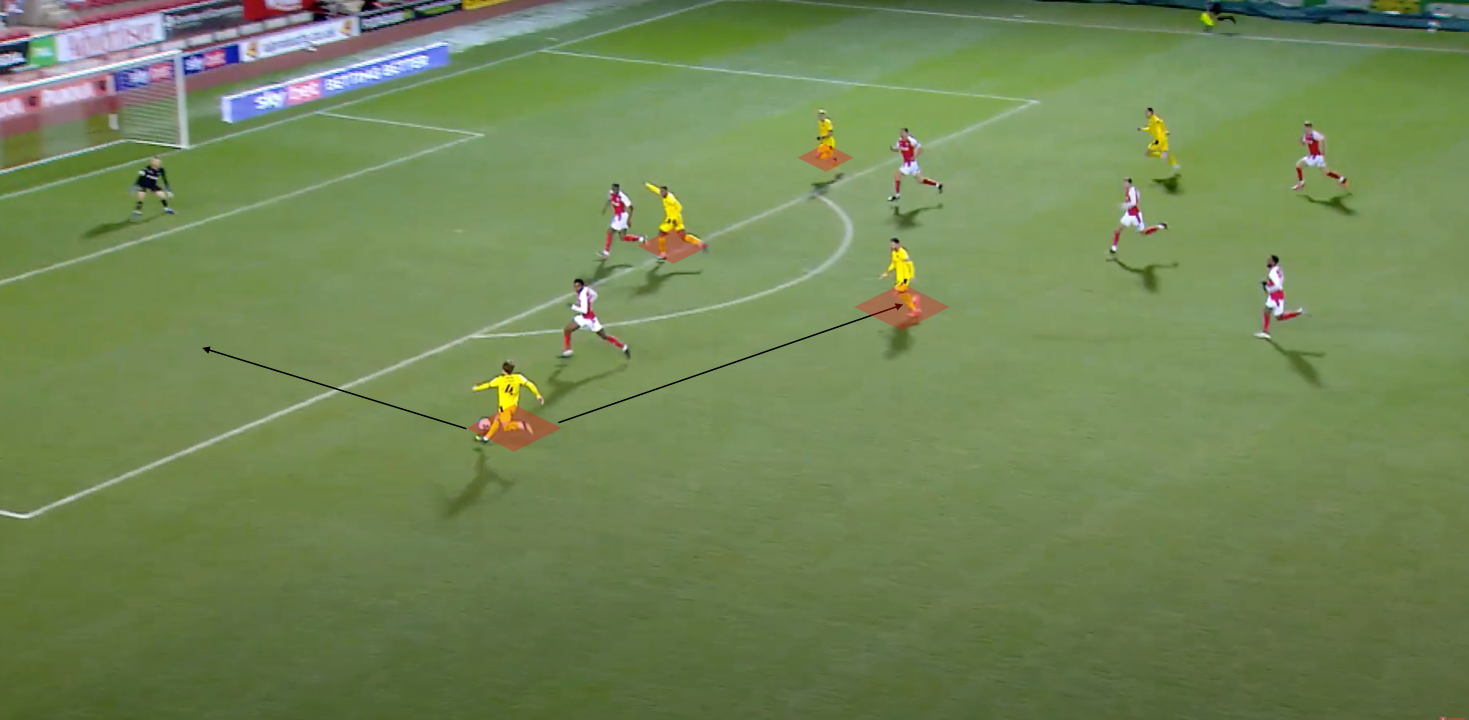 Styles affecting attacking situations is a common sight this season. His presence in the final third, or the box, as shown below is a big problem for the opposing right-backs, as seen below against Wycombe Wanderers. Like Rotherham in the previous example, Wycombe are stretched and Barnsley have several players arriving in the box.
This time, Styles shows off his more offensive traits, one that you would associate of a natural winger, or even an inside forward. The 20-year-old takes on Jack Grimmer, shifts it onto his left foot and buries it in the bottom right-corner with fantastic precision. Joe Jacobson would level the scoring from the spot after the break, but Cauley Woodrow gave Barnsley the victory with another penalty goal.

Styles has a vast skill set: he was previously an energetic workhorse in midfield at Bury, but he has developed these traits and become a master in the left-wing back. If he can turn these situations into goals and assists, he can go to the very top. 
His Role in the Press
Ismaël's Barnsley adopt a very high press and are very committed, fit, and determined to win the ball off their opponents in very advanced areas of the pitch. Again, Styles is very important in squeezing an opponent high up the pitch. The three centre-halves always hold a very high line – which can cause issues if the space behind is exploited – but it allows Barnsley to advance their engagement in the press. The game in which this was most recognised was where they attempted to press Chelsea high.
In games against higher quality opposition, they rarely begin their pressure trigger on a defender. But as you can see below, the front three have all blocked a direct passing lane into the midfield pivot – a clever ploy to stop teams progressing the ball up the pitch with the ball. Andreas Christensen has two safe passing options: his goalkeeper and Kurt Zouma. 
But as soon as the ball reaches the midfield, specifically in the wide areas – the press is turned on. Due to Barnsley's compact and high-risk nature, numerical advantages (4v3 in the example below) can be created high up the pitch. As seen below, Hakim Ziyech has come deep to become a passing option, and for Styles: that is the green light.
He presses Ziyech in an intense nature, and he is backed up by Woodrow, Mowatt and Conor Chaplin who are all blocking passing lanes for the Moroccan winger. Barnsley have now boxed Chelsea in, and find themselves in a good position to win the ball back and transition the ball into a dangerous attack. 
Ziyech gives the ball away to Mowatt and Styles then wins a corner from the resulting pass. This is a great example of how Barnsley's press triggered in the wide areas by Styles, can create turnovers for Barnsley. Once the ball is recovered, Barnsley can then attack at speed, with overloads when the ball has been retrieved.
At the moment where the ball is won back, Barnsley can attack with a band of five forwards, where the two wing-backs join the attacking unit. This is, by the way, against Tuchel's Chelsea: a team that pride itself on pressing high and slick build-up play to progress the ball.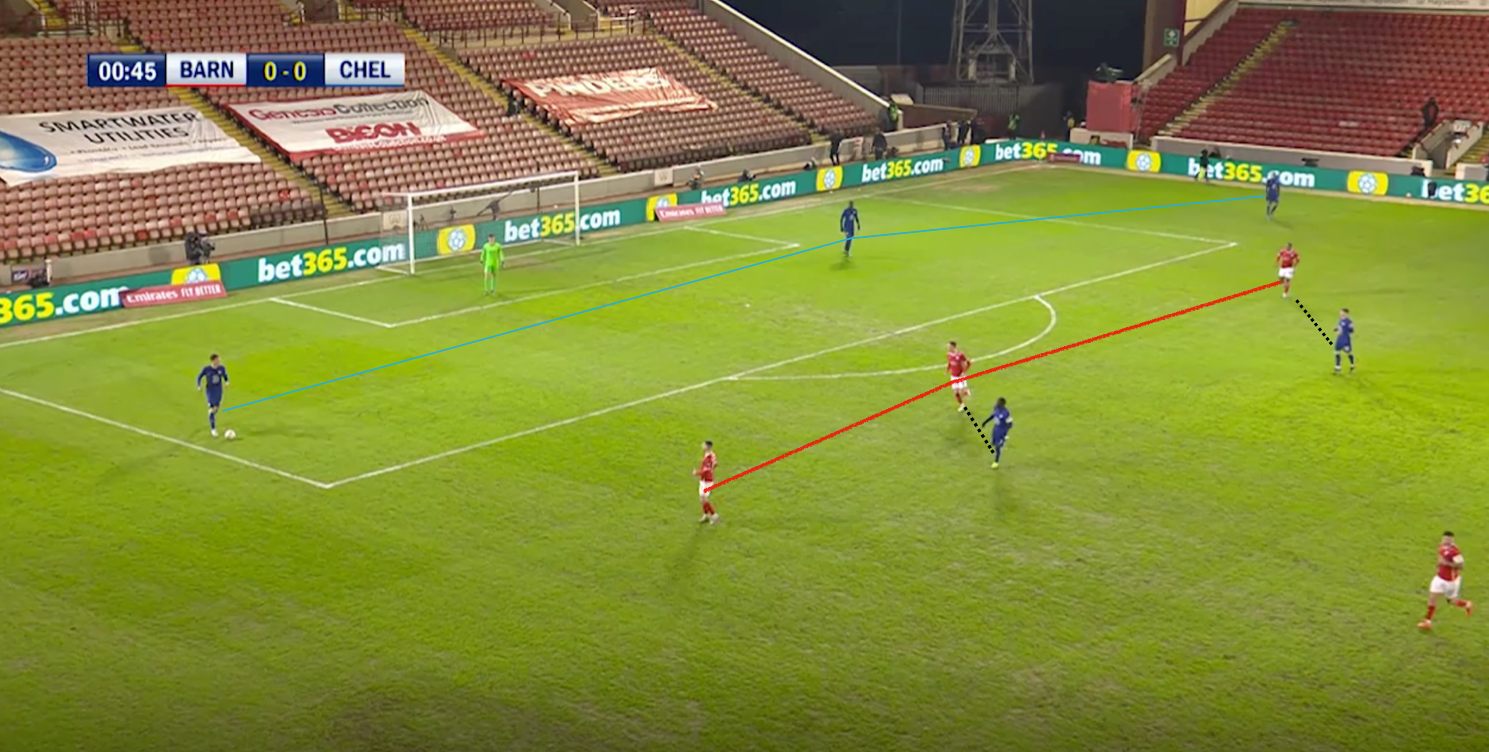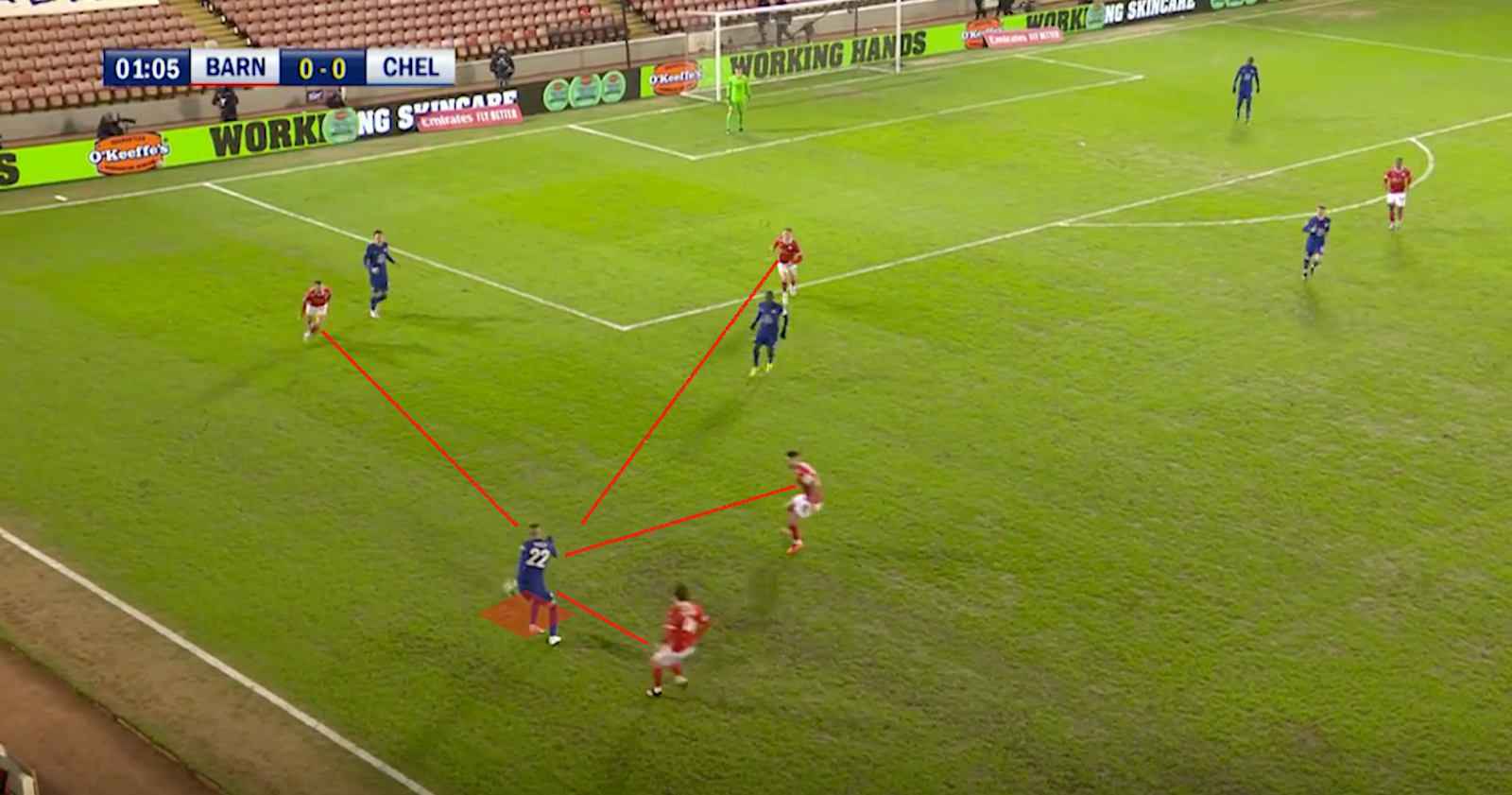 There is a similar situation here, this time away at Birmingham. Barnsley have allowed Marc Roberts the ball, but Woodrow and Chaplin have blocked any passing opportunities forward or across. Maxime Colin has come to receive a pass, under the impression that there is no pressure.
Similar to Ziyech before, this is a pressing trap set up by Barnsley. As you can see, Styles and Kane are already well on their way to pressure Colin when the ball is about to be played. Styles wins the challenge, and this turnover has big potential with gaps all across the Birmingham backline.
In the end, the ball fell for Woodrow, who is lurking behind Iván Sánchez in the image below. His shot required a very good save from Neil Etheridge. Another great example of the Barnsley press in wide areas, specifically Styles' trigger can create transitions into good opportunities for Barnsley.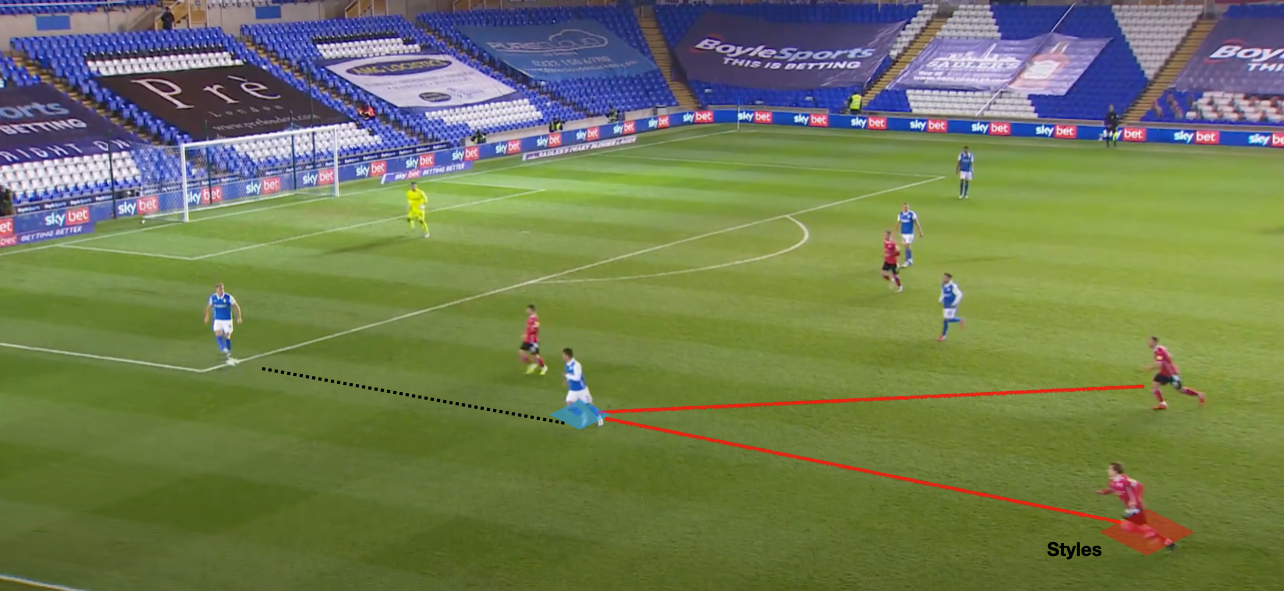 His Role in Defending 
It's important to state this is not always effective. Such an aggressive press and high line can be exploited through good interplay or balls in behind if Barnsley push too many players forward. This is especially the case with Barnsley's wing-backs, who as mentioned look to operate high and wide in possession. 
This is an example against Bournemouth this season. Moments before this, Barnsley lost the ball and in transition, Adam Smith has time to play the ball in behind Barnsley's high-line. Styles as described before made himself a passing option before Mowatt high up before lost the ball.
Styles is way out of position – and this has left a massive space on the left-hand side, and gaps are everywhere due to the extremely high-line. Barnsley are now in a vulnerable position. Sam Surridge got in through the right-hand side, rounded the keeper, but didn't convert. This is one example of how you can exploit the wide areas in turnovers due to Styles' attacking nature on the pitch. 
At times, when Barnsley have to retreat when under pressure – Styles can slot in to make Barnsley a five at the back operation. This has been successful: take this great interception against Nottingham Forest deep in the box as an example.  Styles has been dragged in to track Miguel Ángel Guerrero, which means Joe Lolley is about to come on the end of the cross behind Styles.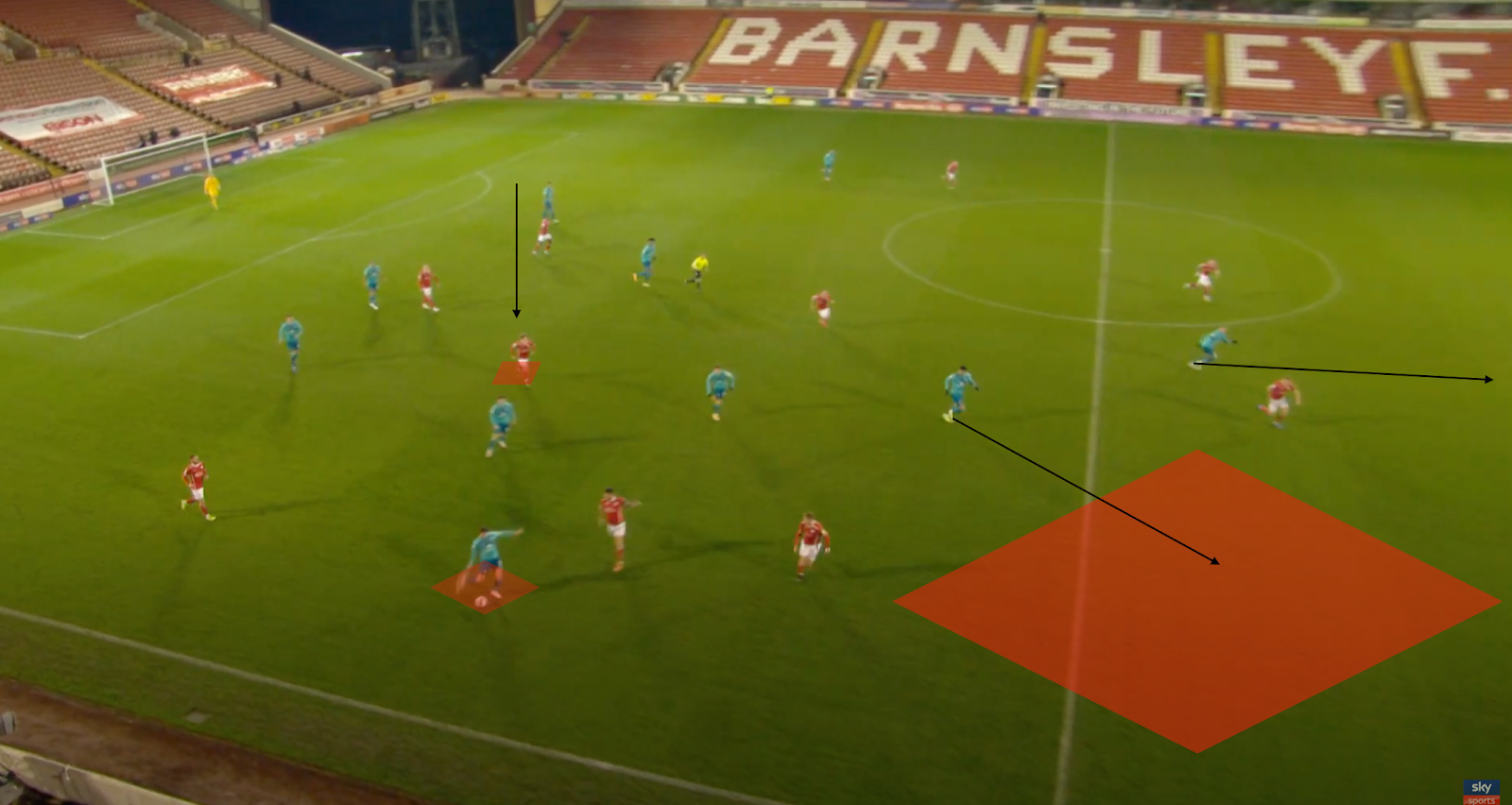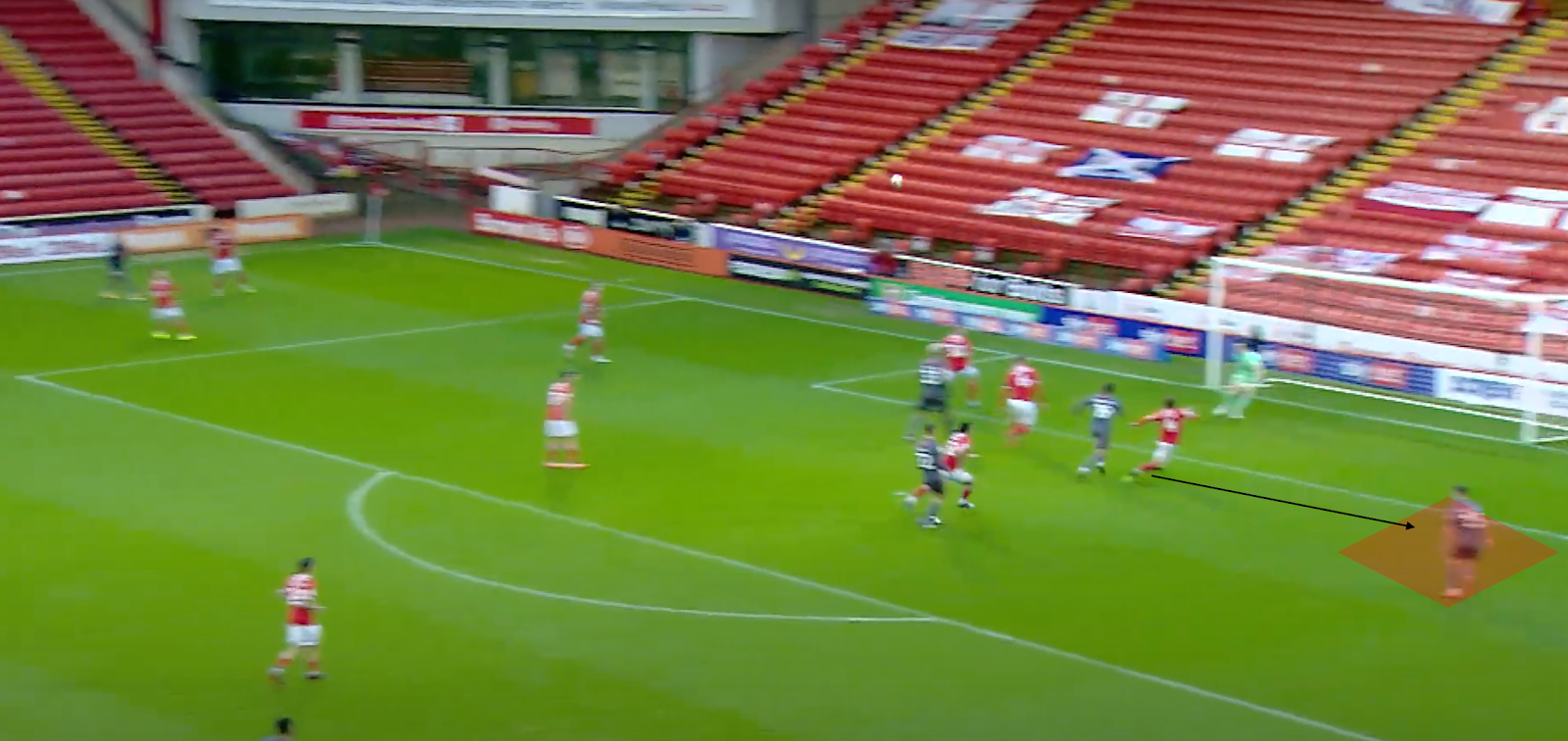 But Styles does magnifically, as seen below, to adjust his body and block Lolley's shot which is probably a certain goal. Situations like these mean it's vital that Barnsley can switch it up, even if it's for just one pattern of play to become more compact and rigid, and this is all due to Styles slotting in to stop numerical overloads.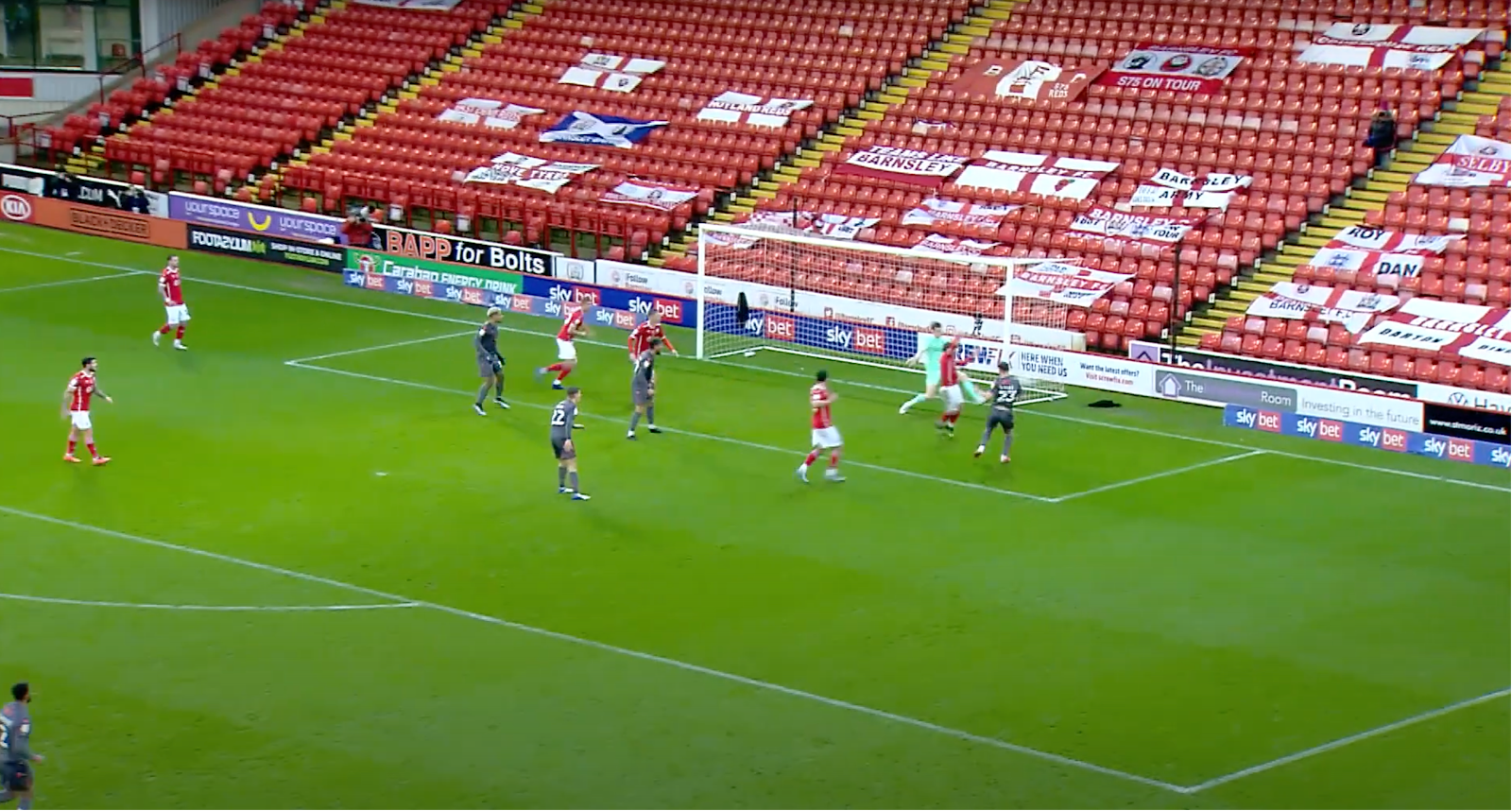 Conclusion 
There is so much to like about Barnsley: they are the underdogs in the Championship promotion race, and they've got there through a philosophy that has deep roots into the modern game – and everything suggests that they could be there to stay. Despite having one of the lowest budgets in the division, the Tykes currently sit in fifth place, with a five-point cushion over seventh-placed Bournemouth, and they haven't lost in the league since January 19.
Valérien Ismaël is doing a fantastic job, and his well-drilled system is a massive hit. Styles is one of the key components in this high-risk outfit and you feel with his level of performance this season he might be in the Premier League next season with Barnsley or not.
There are still tweaks needed in his game, his two goals and four assists are not bad by any means but a left-wing back with an attacking license like himself could want more numbers to reach that next level. But Barnsley don't look like stopping for anyone and neither does Callum Styles: the next EFL star who has all the tools for the top.
By: William Furness
Featured Image: @GabFoligno / Martin Rickett – PA Images