Player Analysis: Carlos Alcaraz
Name: Carlos Alcaraz 
Age: 20
Position: CAM/CM/LM
Height: 6'0/1.83M
Preferred foot: Right
Just over a year on since Southampton's official ownership change, they currently languish at bottom of the Premier League table after back-to-back 15th-place finishes in the previous seasons. With Rasmus Ankersen, former Brentford co-director of football entrusted with the Chief Executive position, most Saints fans would've had hopes for instant success – similar to that of the Bees in West London, who have enjoyed a seamless transition into the top flight thanks to their innovative recruitment strategy that mainly consists of a data analytics approach, however, things haven't quite gone to plan on the south coast.
In the summer transfer window, the club spent approximately €70 million on new acquisitions but due to their bad run of form, they've had to spend a further €64 million in January on reinforcements in hopes of surviving the drop. One of their latest additions is the exciting 20-year-old midfielder, Carlos Alcaraz, who could be a key player for them in the second half of the season and as part of their long-term project. 
Born in La Plata, Argentina on the 30th of November 2002, Carlos started his youth football journey at local club Deportes Infantiles de Villa Elisa at the age of 10 before taking the step up into the Racing Club academy in 2017. Struggling with poor discipline and generally keeping his cool, the youngster threatened to leave the club on a number of occasions, especially when he was left out of a youth tournament final as a result of his behavior.
Thankfully though, the appointment of experienced coach Sebastian Beccacece as head coach of the first team proved to be pivotal in his development. The former national team assistant (to current Sevilla manager Jorge Sampoli) was patient enough to mentor the feisty youngster, as he started to give him game time between both the senior side and the reserves. Alcaraz would subsequently make his professional debut in a 1–1 Argentine Primera División tie with Atlético Tucumán on 26 January 2020.
Sékou Mara: The Latest Gem to Emerge from Bordeaux's Academy?
His fine form coincided with Racing's struggles, which inevitably meant that he was permanently promoted to the first team at such a young age. This was the perfect opportunity for Alcaraz as he impressed, soon becoming the youngest goal scorer for the club in the 21st century at 17 years old in May 2020 vs Aldosivi. In the Copa Libertadores at the Maracana against Flamengo, he displayed a lot of bravery to step up and score in a penalty shootout as Racing came out 5-3 victors. He followed this up with another strong showing at the hostile La Bombonera versus archrivals Boca Juniors in the same competition. 
With Fernando Gago succeeding Beccacece at the helm, Alcaraz became a constant fixture in the team, rewarded with more game time from the start which led to consistent performances, but Gago made sure not to make him feel too comfortable in the first part of the 2022 season, forcing him to earn his role which the then 19-year-old did, becoming an integral part of an upturn in form for Racing.
The highlight of his time at his boyhood club was without a doubt the goal he scored in the 2022 Argentine Cup Final against Boca Juniors in extra-time sparking a large melee – being one of ten red cards –  as Carlos celebrated cheekily with his shirt off in front of the home fans.  
¡GOLAZO DE CHARLY! Alcaraz y un cabezazo espectacular para el 2-1 de La Academia sobre Boca. ¡Y se picó todo!

Suscribite al PackFútbol en https://t.co/TUGBtaKXcg pic.twitter.com/Kr2tRuW06a

— ESPN Fútbol Argentina (@ESPNFutbolArg) November 6, 2022
As far as his style of play goes, Alcaraz is most effective in a box-to-box midfield role, although especially so in an attacking sense, with his high work rate and decision-making blending well to make him influential both in and out of possession. He is a great ball carrier, with good core strength to glide past defenders, and his positive first touch allows him to smartly drive forward into vacant space, with a tendency of going deep into the opposition half whilst orchestrating his team's attacks, either on the counter or in slow build-up play situations.
Granted that he doesn't usually like to receive the ball deep in his own half, when he does so, Carlos tries to keep it moving fluidly; switching play precisely (3 long balls per ninety last year) and making smart-one touch passes which facilitate quick attacking transitions. In his 10 starts, (9 games as a sub) he completed 19 dribbles. As a result, he is a player who typically draws almost a foul in each game, which could be an asset as his team can either capitalize on the set pieces won or slow down the tempo of the game. Such a trait also illustrates his capacity to shield the ball well.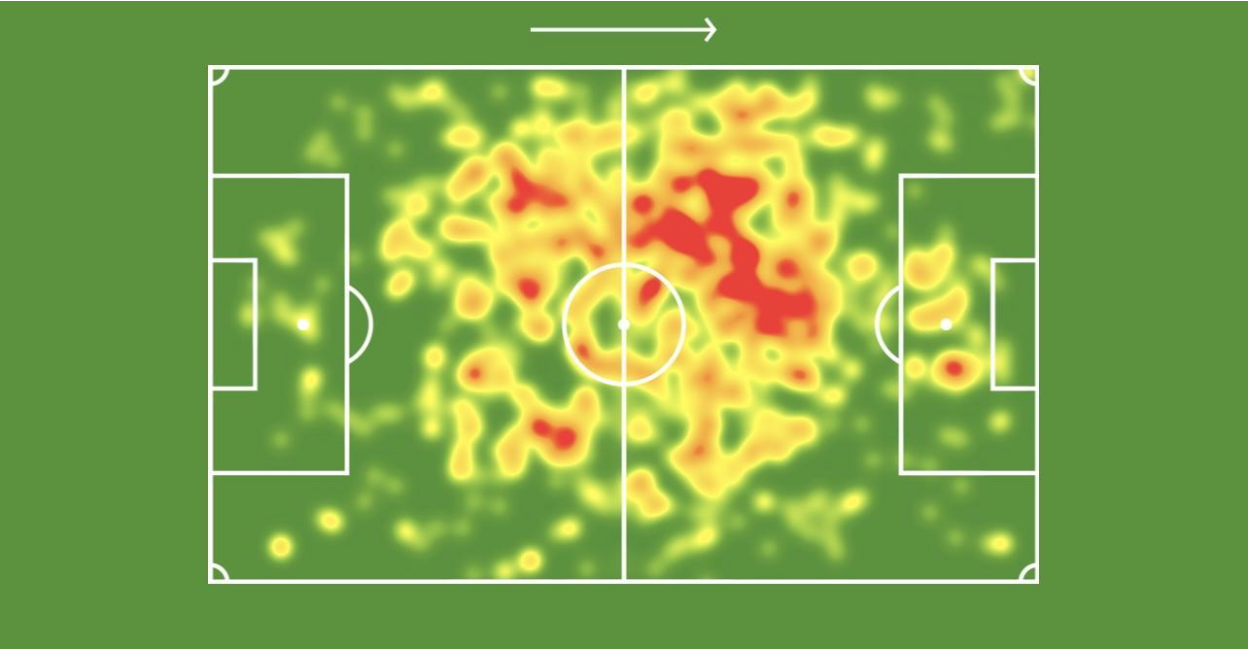 Alcaraz's heatmap in the 2022 Argentine Primera Division [SofaScore]
Furthermore, Carlos has shown glimpses of his inventive side at the top level, creating 15 chances last campaign at an average of 1.3 per ninety. With an impeccable passing technique and boundless creativity, he is often entrusted to find solutions in breaking the other team down, notching up 39.5 touches and 20.7 accurate passes per game, with an 88% completion rate in his own half and slightly lower 73% in the opposition territory.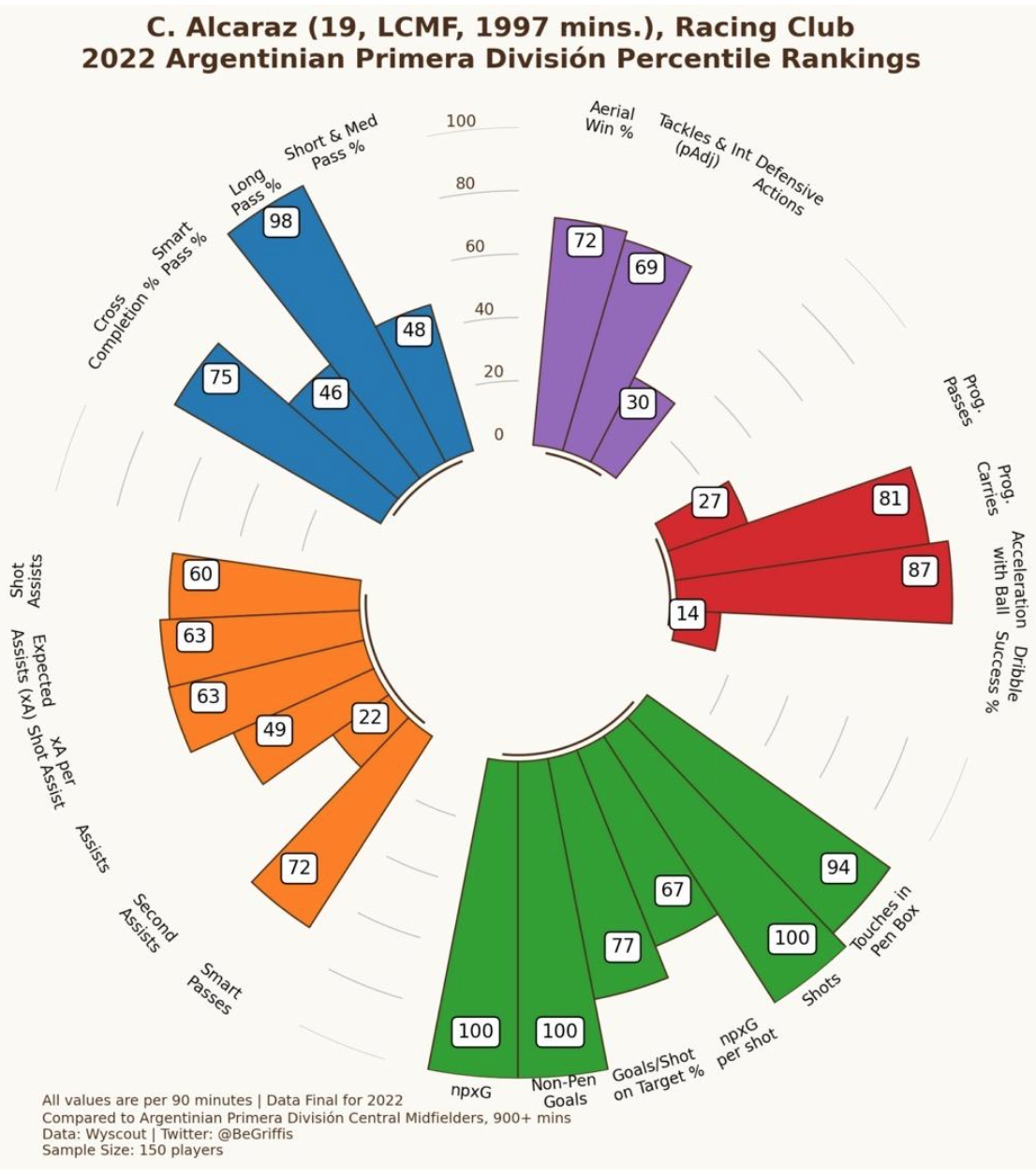 When the center of the park is congested, he has the spatial awareness to drift out wide and is capable of providing quality service into dangerous areas. Alcaraz's ability to provide penetration with his positioning is a huge part of his game.
His typical movements involve looking for free spaces between the lines in the middle and final third, as he has a great understanding of when to allow the ball to roll across his body or lay it off for a teammate to make the next pass. This usually drags markers out for position and in turn, creates gaps for his teammates to exploit. In 2022, he managed to score 5 goals and notch up an assist across all competitions. 
#CopaDiegoMaradonaEnTNTsports | ¡Gran corrida! Walter Montoya hizo la diferencia por la banda y asistió a Carlos Alcaraz para abrir el partido ante Unión.

Racing 🆚 Unión pic.twitter.com/tkOZMOCE3U

— TNT Sports Argentina (@TNTSportsAR) November 28, 2020
Moreover, his inordinate anticipation has aided him in developing a goal-scoring trait, becoming a threat with late, intelligent maneuvers in and around the opposition box while also having surprisingly dominant aerial prowess at the near post and back post alike. Carlos has mastered when to hold his run or dart in behind defenses, possessing the composure and quality to apply the finishing touch.
@futsulamerica_ pic.twitter.com/lWYhB8wQJz

— História e Geografia. (@Sigahistoria) May 10, 2022
He has a fine understanding with his teammates, wisely picking where to position himself – with increased game time and experience, he will go on to score more goals. Highly technical, Alcaraz often oversees set-piece responsibilities for his team as he can deliver deadly accurate balls into the box and has already scored direct free kicks on a number of occasions. His masterly shooting technique adds an invaluable facet to any player's locker.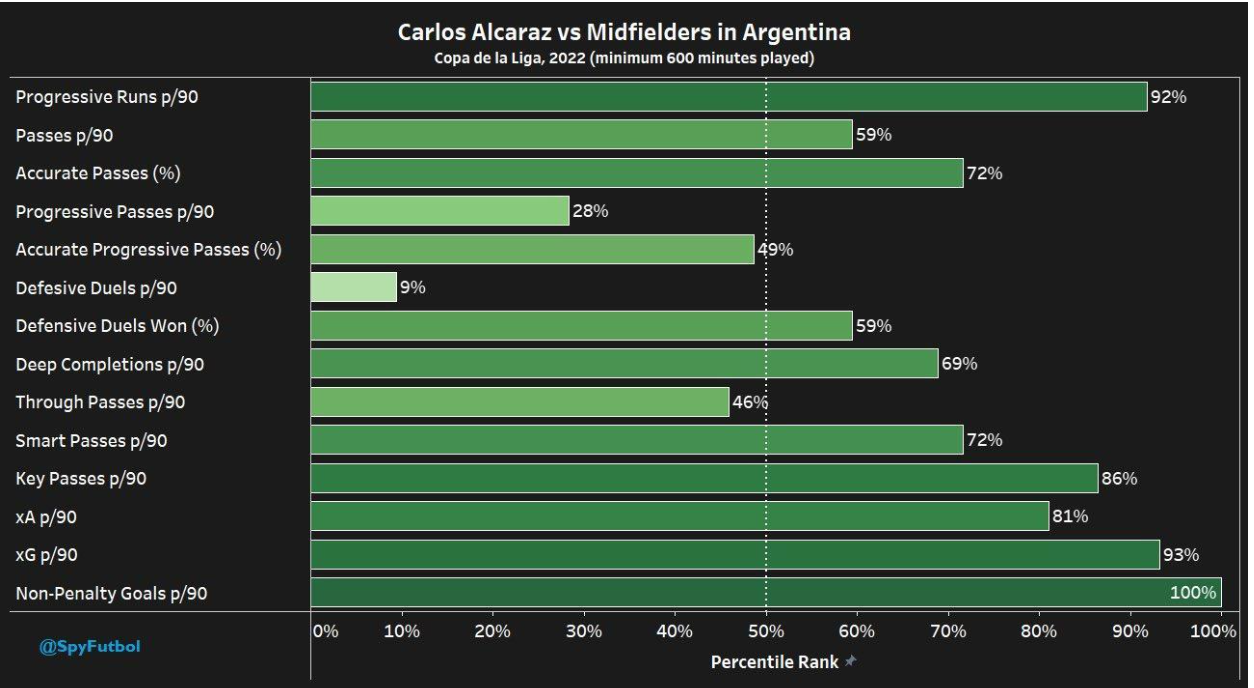 Photo: @SpyFutbol
Without the ball, he's equally capable of impacting games with the tenacity and mobility to contribute defensively from the opposition's half by leading the team's counter-press. Willing to cover ground to make timely challenges after his team loses possession, Carlos is often the first to apply pressure as soon as possible.
He particularly displayed this skillset well under Gago, winning possession in the middle and opposition third 4.7 times per ninety, the second highest rate of any Racing attacker. When it comes to ground duels he normally comes out on top 2.7 times per game as he's not one to shy away from getting stuck in. To add to those characteristics, he does fairly well in anticipating the opposition's intention to either dribble or pass into potentially dangerous areas, averaging about 1 tackle in each appearance. 
Some areas that could use some work are his shooting and the timing of his tackles. Alcaraz actually has a pretty good ball-striking technique, which can be seen especially from set pieces. When afforded the space and time he likes to try shots from long range, however, he seems to lack accuracy despite hitting the ball with a pretty good amount of power. This is an area of his game that could potentially take him to the next level if sufficiently improved. As far as tackling goes, it's mostly a matter of timing. 
His mobility enables him to (re)cover quickly and shuttle effectively in defensive and transition phases, but Carlos'  technique has a big margin for improvement. Sometimes he's quick to dive in, too upright in body shape and flat-footed which makes him easy to beat. Consequently, he struggles to control players in longer defensive periods.
He needs to be more mindful of committing rash challenges as this could lead to increased cards in the future and eventually missed game time. With that being said, there's definitely a lot to like about his game as a whole and the signs for a successful career in Europe look very promising. So far he has been eased into the firing line at Southampton but I have no doubt he will soon be an important player for the club in seasons to come. 
By: Vuyo Reggie Ndebele / @RegaloJnr
Featured Image: @GabFoligno / Stephanie Meek – CameraSport