Player Analysis: Carlos Soler
Carlos Soler is an adored player over in Valencia, seeing as he is staying at his childhood club despite being able to be in a better team and Valencia CF's unpredictable nature. However, he is not only being valued at Valencia, as Luis Enrique called him up to the Spanish squad, where Soler has played at a good level, even scoring a goal. 
This is because he is a technically good player who understands his positioning in the field, as well as attacking efficiently and being able to play in various positions. We will talk about this more in-depth in this article, and the data shown here will be offered with the help of FBREF.com.
Central Midfielder
Originally, Carlos Soler started out as a central midfielder, but that has also changed as we will see later. Now he is either usually playing in a 4-4-2 at Valencia where he was part of the double pivot, or as a midfielder in a 4-3-3 with Spain, where he has more freedom. 
When Carlos Soler plays in the double pivot position, he loses some of his attributes because to be a midfielder in a 4-4-2, you have to be very aggressive and physical as well as closing spaces down and being able to provide quality in the attack.
When he plays here, he does alright but doesn't excel seeing as he is not the typical box-to-box midfielder. It is apparent that in this position, the midfield becomes too big for him to defend and as a result, the team cannot close spaces down well. This was clear last season where Valencia's midfield struggled consistently.
However, when he plays with more freedom as a midfielder in a midfield of three, his game improves because he can concentrate less on defending and more on creating danger. Through this, he can get in more advanced positions where he does well and enjoys being.
For example, in the game against Barcelona, he came inside into a dangerous position and surprised Barcelona. Here, he quickly controlled the ball and shot, which hit the post.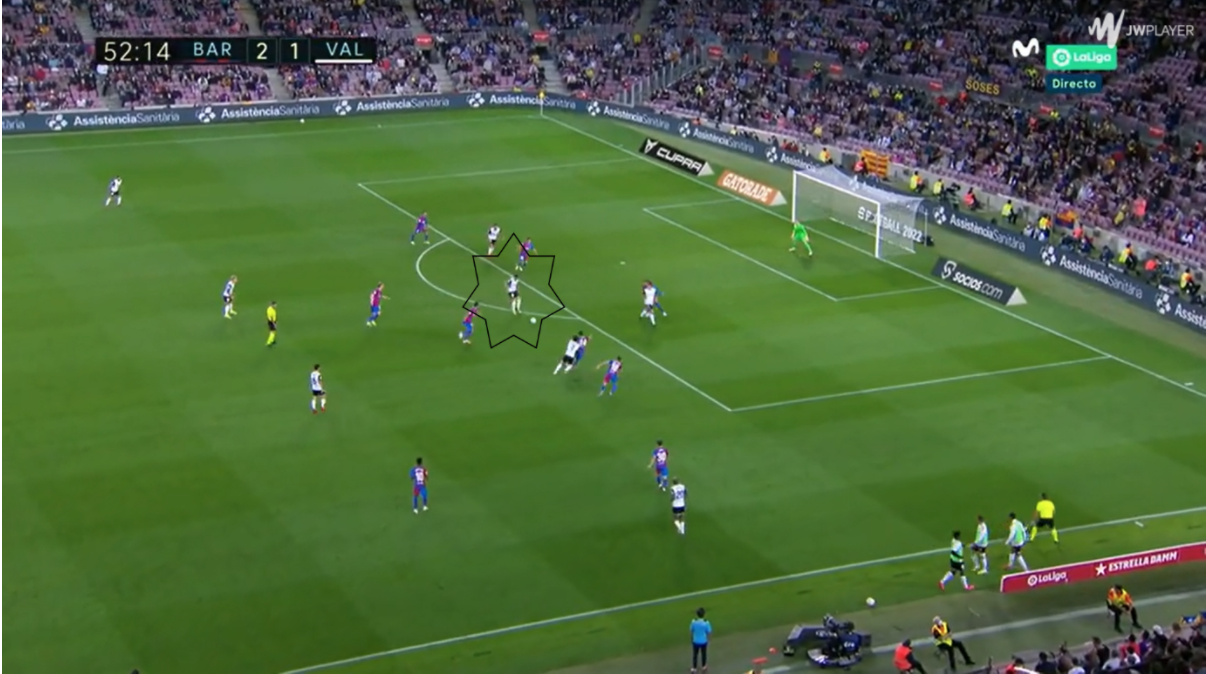 Moreover, Soler has goal threat as he excels in attacking from the midfield line and catching the opponents off guard. Soler is sometimes even more dangerous than the strikers because the strikers are permanently in the area and so have to fight for their space.
However, when a midfielder comes in from behind, it is difficult to mark him and requires extreme attention from the opponents. Soler takes advantage of this and scored while playing for Spain against Sweden.
As we see below, he is running into the area from the position of midfielder in a 4-3-3, so he is higher up. Ferran Torres has been smart here and has caught the attention of the Sweden left-back.
This means that Soler is running into the area with no opponent knowing it. As a result, he can finish the play and score a goal, which is seen in the second image below.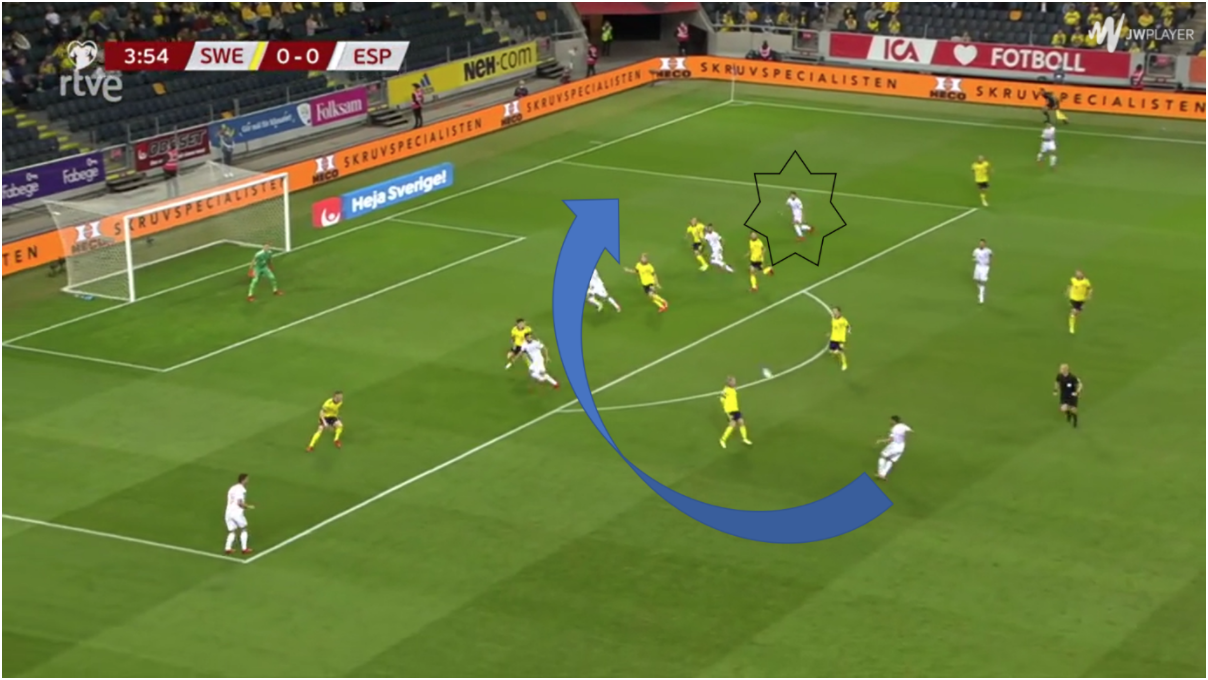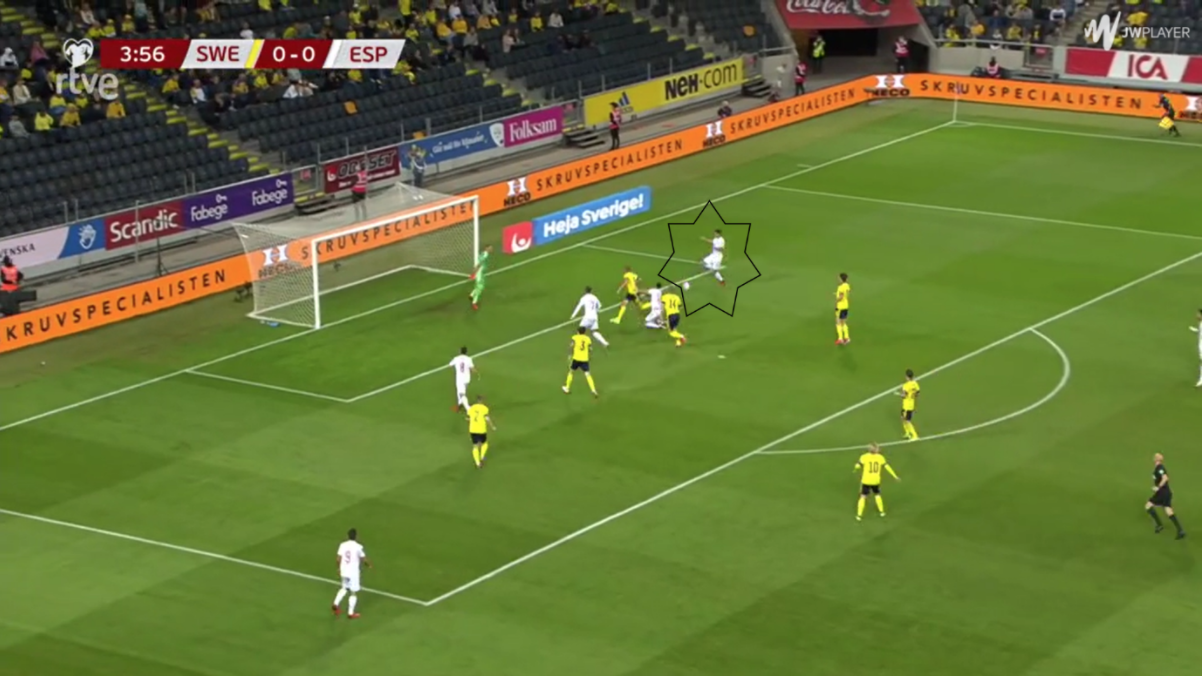 In fact, in the second half of this game, it is clear that the Sweden coach called the attention to his players on Soler's threatening runs, because in the next plays when he made these runs, there was a midfielder covering him.
We see below that Soler is trying a similar run but this time, Emil Forsberg, the left-midfielder is following his run and manages to clear that cross.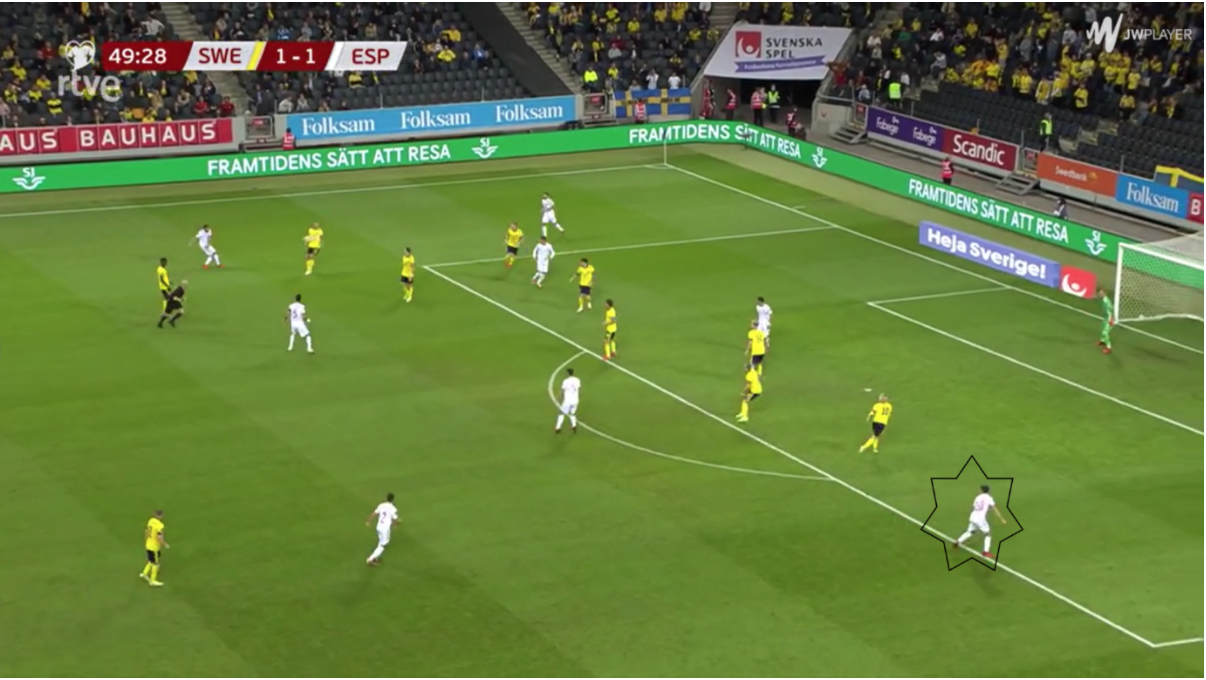 Connected to this is another good movement that Soler likes making and is effective. By being in the half-space, he is concentrating the opponents to the middle, so that Soler won't receive the ball.
Therefore, this leaves more space out wide. Once the pass goes to the wing, Soler makes a run in behind on the wing, surprising once again the opponents.
These movements are rarely followed by midfielders and since the left-back would be on the winger, it would have to be the centre-back who comes to defend Soler. Therefore, this messes up the opponent's defence. 
Below we can see this happening where Soler is running into the wing. The right-winger will give him the pass and Soler will be able to get a cross in. Therefore, this is another way that Soler's characteristics can help Spain's attack.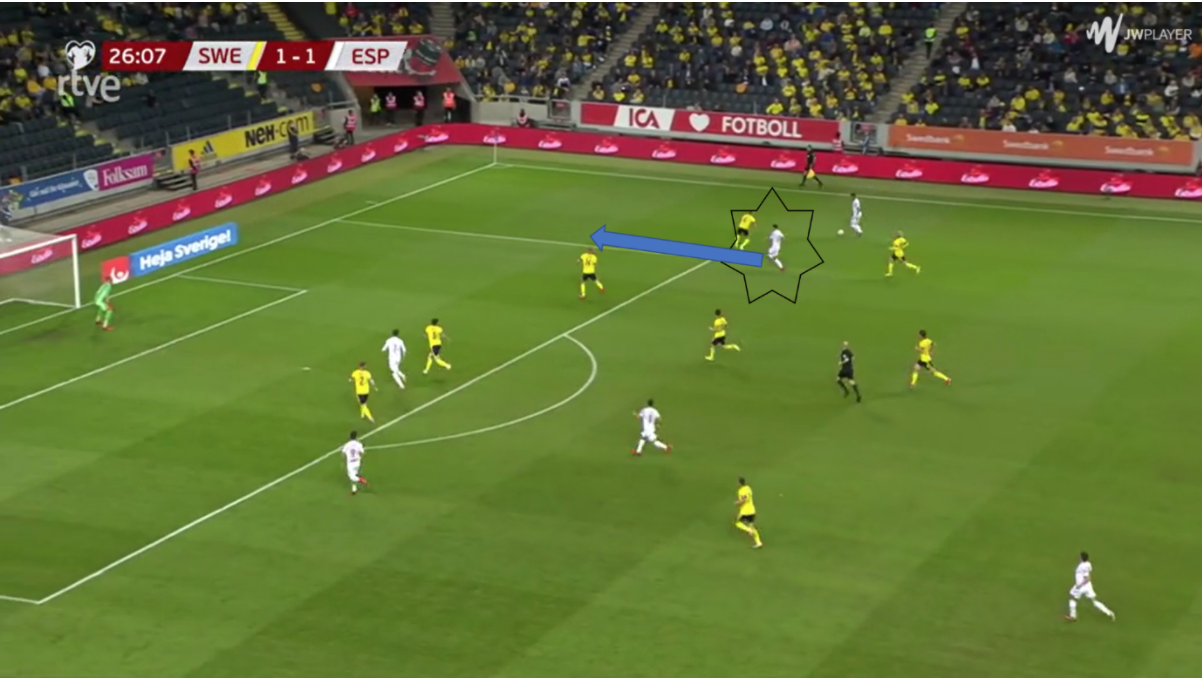 When playing with Spain, he likes the freedom given to him and creates danger through this. In the build-up phase, he places himself in the half-space between the defensive and midfield line so that he makes 4 players have to be aware of him. This is seen below.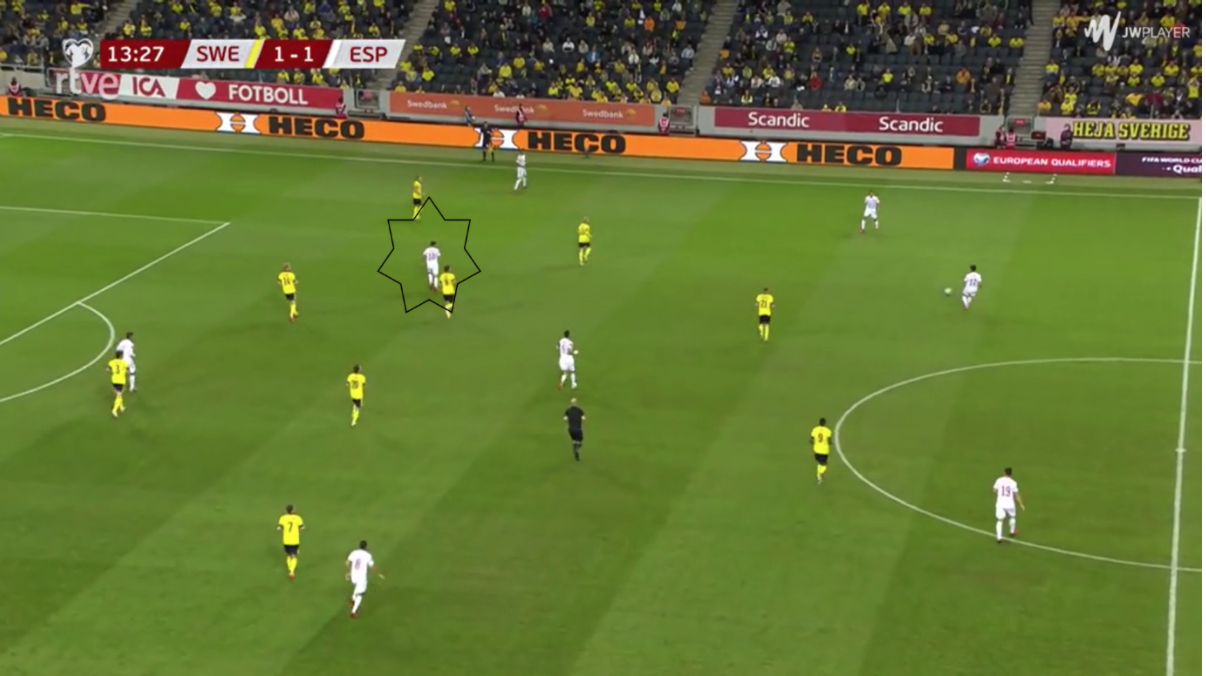 Luis Enrique places him here because he has the technical ability and awareness to quickly find a solution if he receives the ball. Moreover, if he does receive here, it is the most dangerous area for a player to turn around and attack because he has so many options from here: shoot, dribble the defender, find a connection with a teammate, etc…
To prove his awareness and technical ability, in a situation in this game he received the ball with his back towards goal. However, he knew that Álvaro Morata was in a 1vs1 situation with the other defender and with his first touch, he backheels it to him successfully.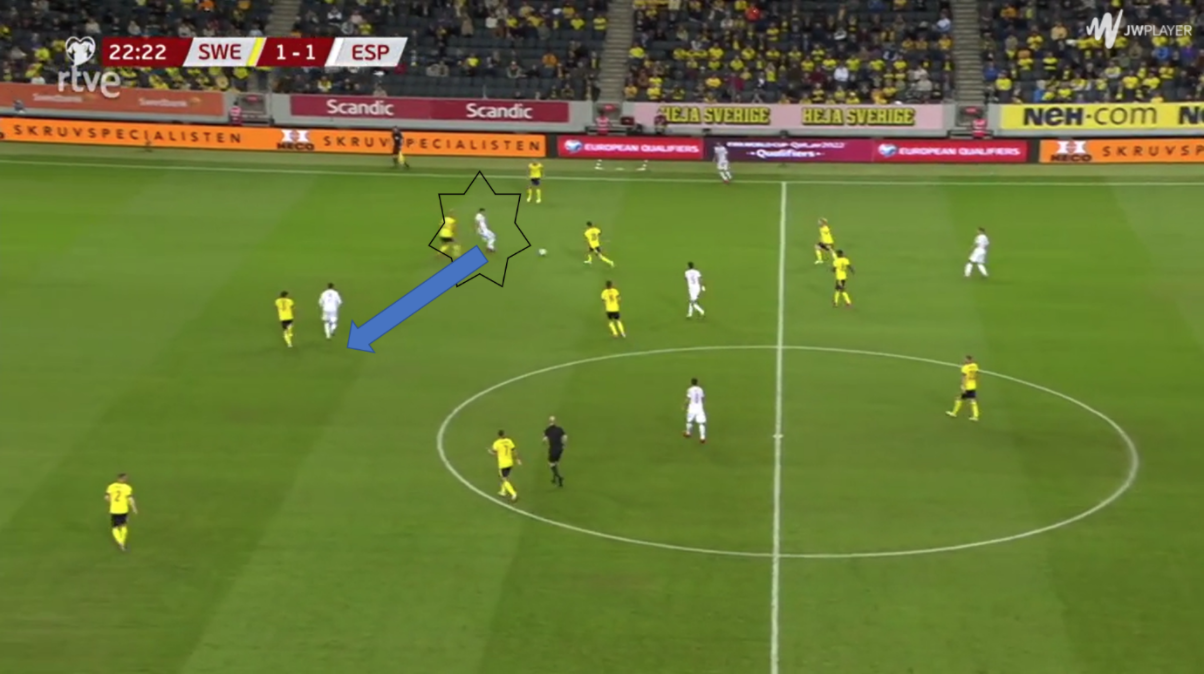 Another example of his technical ability happened in his game against Barcelona. The sequence is shown below. He receives a heavy pass with his back towards goal and in his half. On top of that, Gavi is quickly coming to close him down from behind to steal the ball and counter-attack.
Soler reads the situation well and takes a touch to his right side. Doing so, he manages to get away from Gavi's pressure and into a counter-attack situation for Valencia.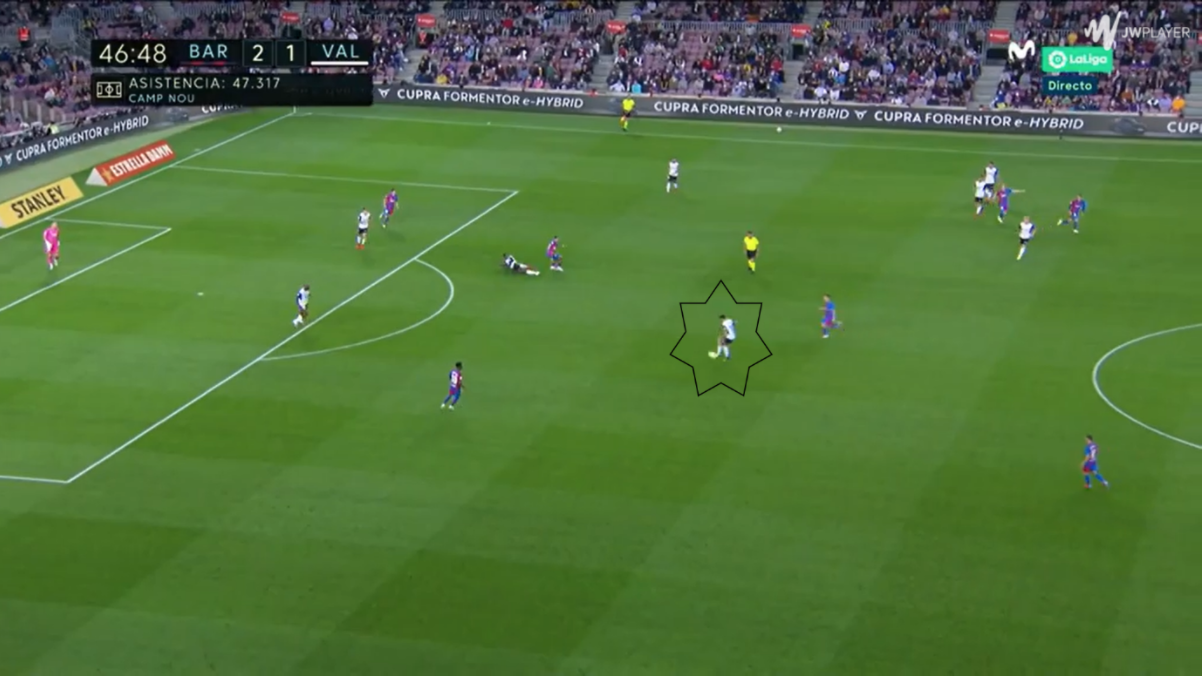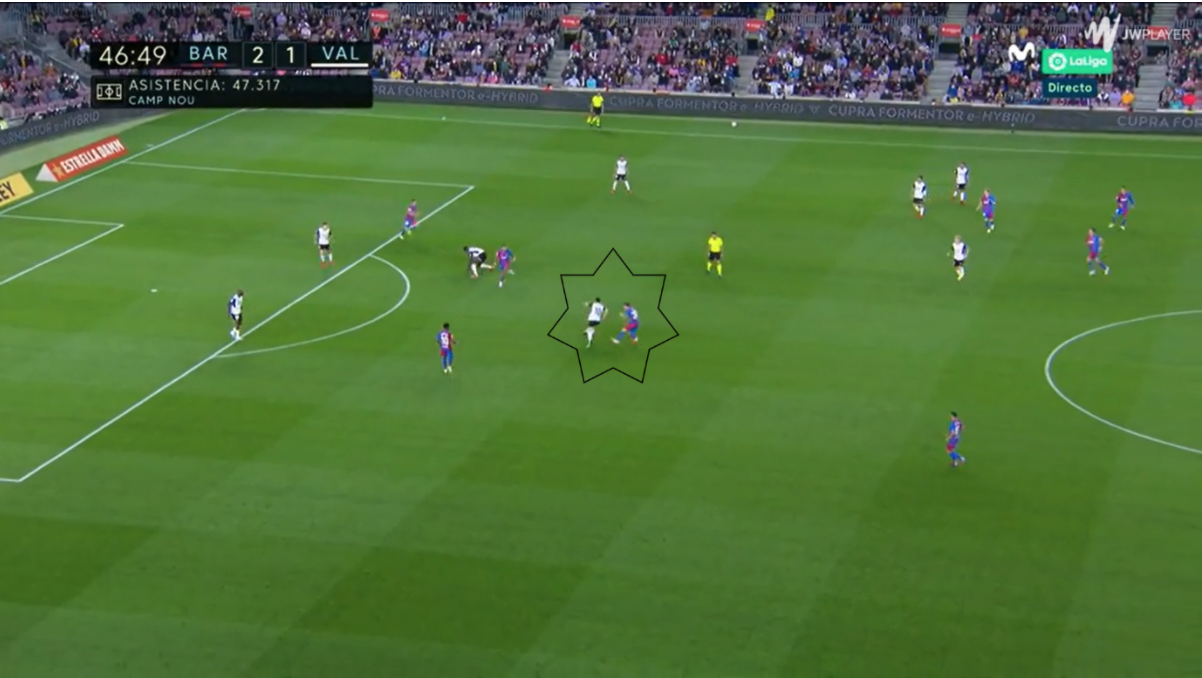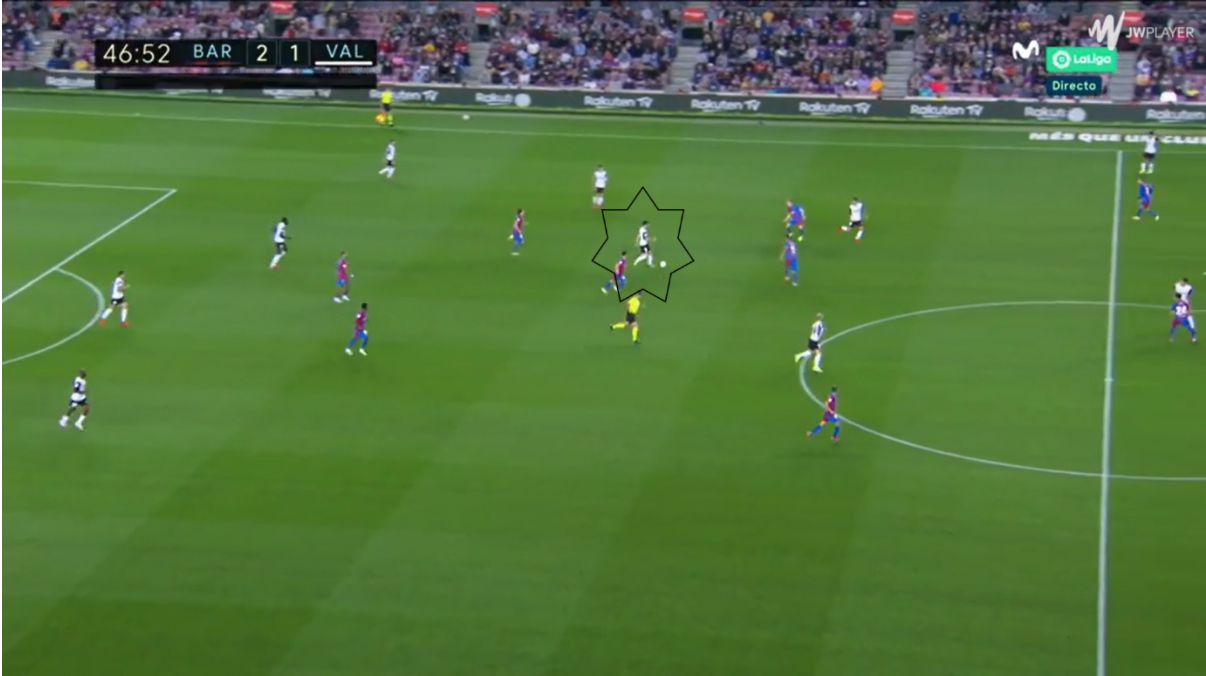 Right-sided Midfielder
Even though Soler is technically a centre midfielder, some managers at Valencia have decided to use him as a right-sided midfielder in the 4-4-2. This is because Soler can still help with his offensive attributes and can focus less on defending, which he struggles with when there is lots of space.
He defends better playing in this position because he has less space to defend and has a clear player to defend. On the wing, he helps out the team well, running back many times to follow his player. Below this is clear as he has basically formed part of the defensive line to follow Jordi Alba.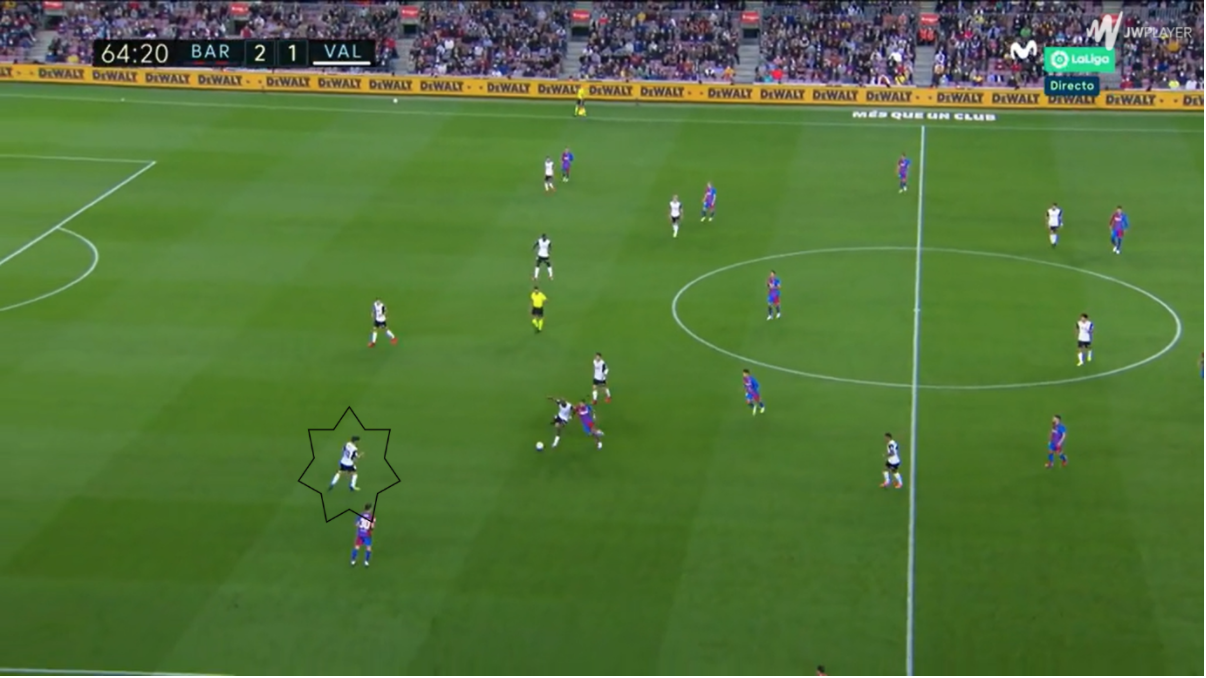 Another reason for him to play as a right-midfielder is that he is a good carrier of the ball, which is connected to his great technical ability. Furthermore, he is also quite quick and all this connected helps him create danger. 
In the sequence below, we see how he receives the ball on the wing with space in front of him. He quickly attacks this space and manages to get to the by-line to cross the ball dangerously. Unfortunately, no teammates could finish it.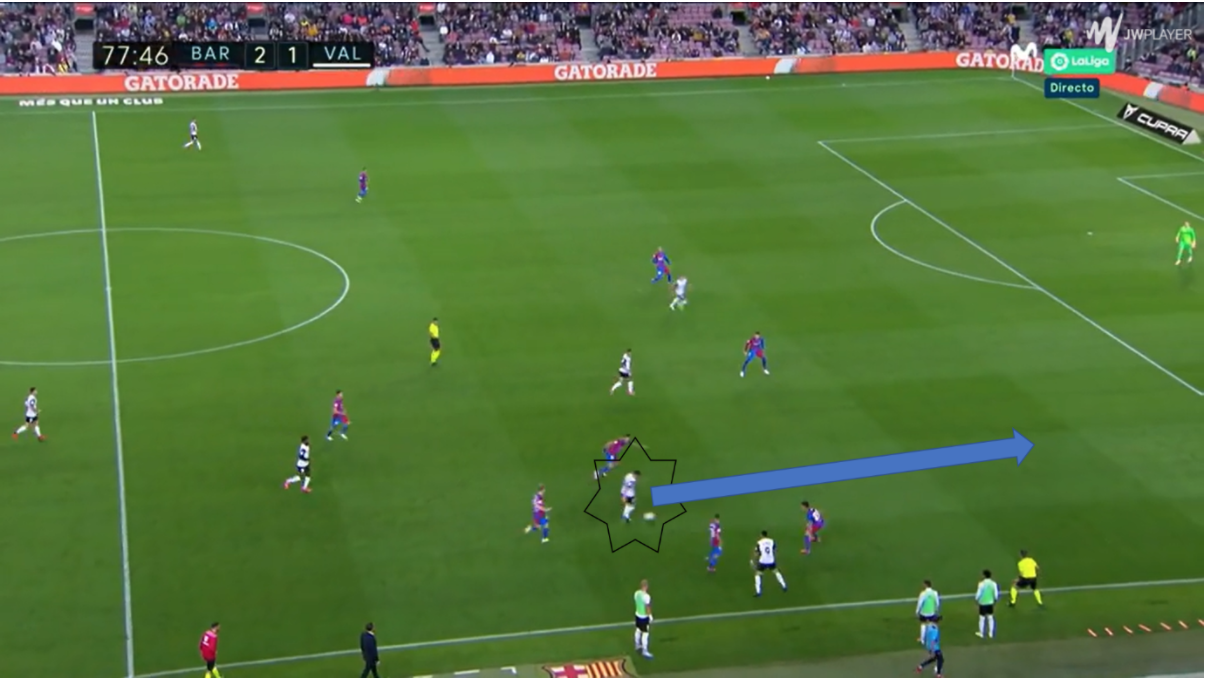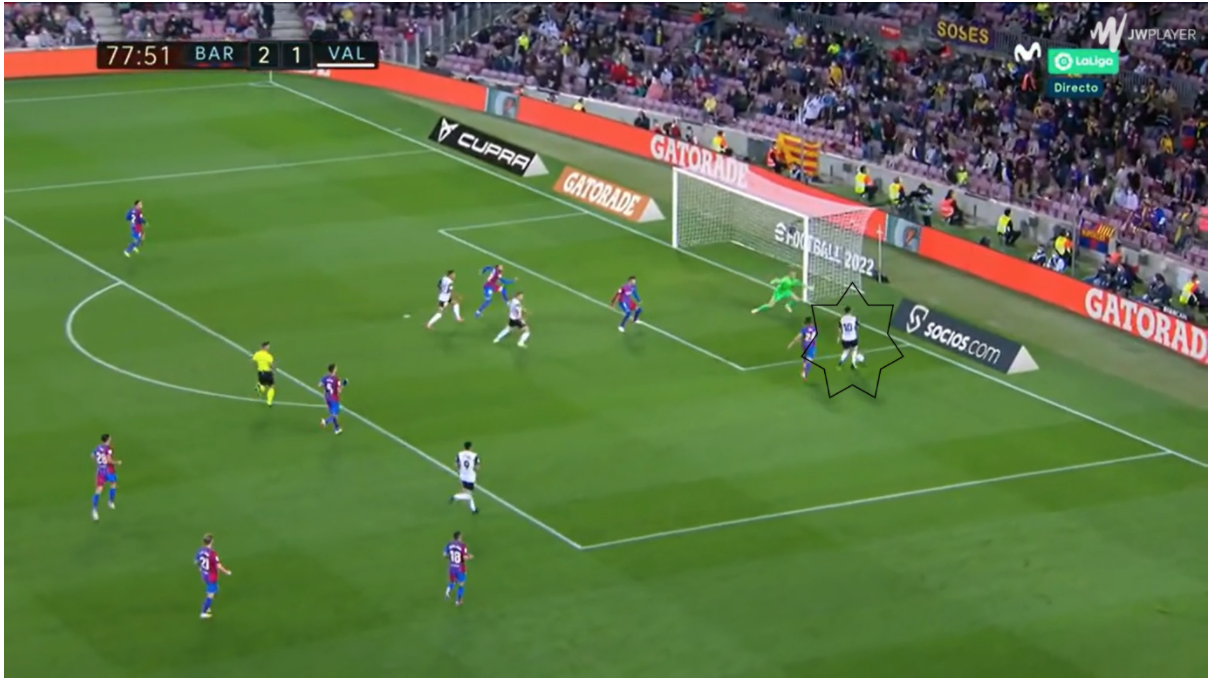 Additionally, Soler is a great passer, both from set-pieces and in-game situations. He knows how to pick a pass into dangerous zones and has 0.20 assists per 90 minutes, which places him in the 88th percentile.
An example of him breaking the lines with his passing is shown below, where he manages to find the striker even though Ansu Fati is blocking the pass. With this pass, the striker received the ball in a dangerous area.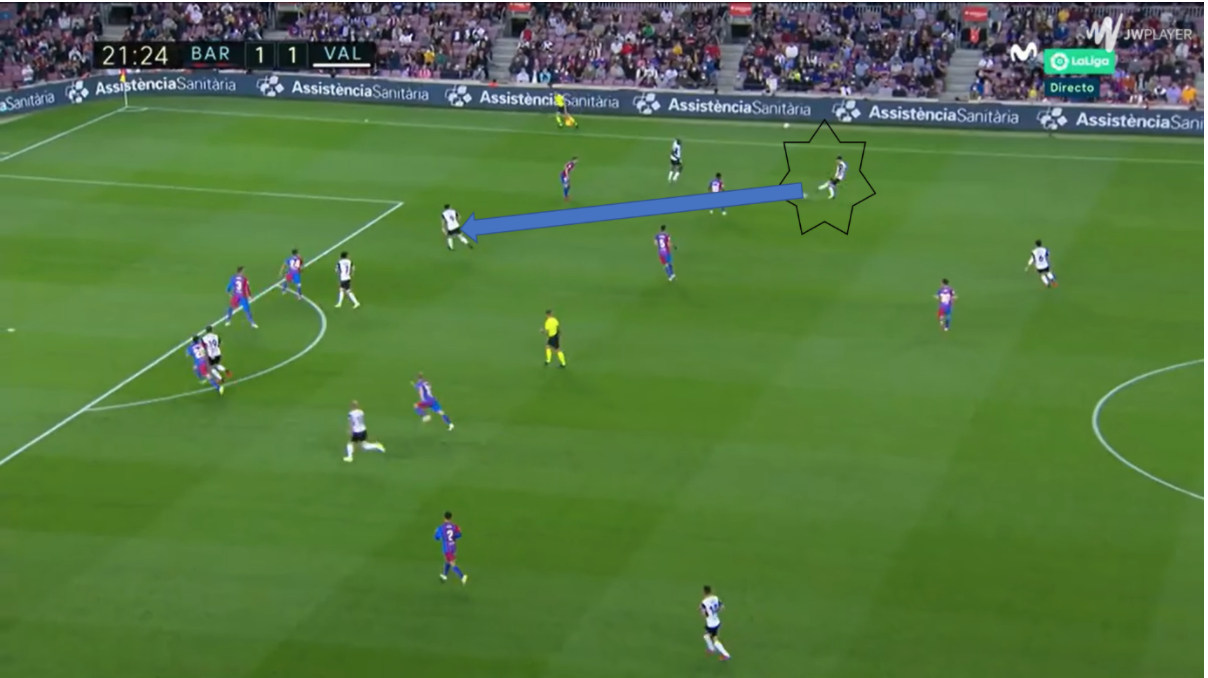 Related to this is the fact that he is the set-piece taker for Valencia and even for Spain when he plays. The main reason why he has 7 goals this season is because he takes the penalties for Valencia. Also, he creates 1.09 shot-creating actions from set-pieces which puts him in the 96th percentile. 
Conclusion
Overall, Carlos Soler is a player who can play in various positions, although he plays best when he is at right-midfielder or is a centre midfielder with the freedom to attack. This is because he has great offensive skills, reads the game situations well, and is a good passer among others.
It is a shame that sometimes at Valencia he has to play as a midfielder in a 4-4-2 when there are injuries as that diminishes the impact he makes.  However, he is performing at a good level this season which is obvious as he was called up to Spain, where he played well. Now it is time to see whether he will renew with his childhood club or go to a more successful club.
By: Jaime Fernandez Valencia / @jaimeferva
Featured Image: @GabFoligno / Quality Sport Images / Getty Images